an Indo-Chinese twist to our humble desi kabuli chana aka Chickpeas !
Are you an Indo-Chinese food lover ?
For me, it is definitely yes. I love to pick the Indo-Chinese dishes from the menu easily without any guilty 😉 That list can start from Chili Chicken, varieties of Chowmein and Fried Rice, Manchurian etc. and like that the list goes on. Indo-Chinese is the Indian adaptation of Chinese cooking techniques and seasonings with an unique tadka. To please our desi palate, this variation actually has come out. That is why the Chinese food is the most popular foreign cuisine in India surpassing Italian or Thai. Well here I have come up with a that kind of dish as Chili Chole / Chili Kabuli Chana / Chili Chickpeas. Does it sound interesting ? Yes, it is actually 😊 Like we do for other chili dishes from the Indo-Chineese cuisine, this one is similar to that.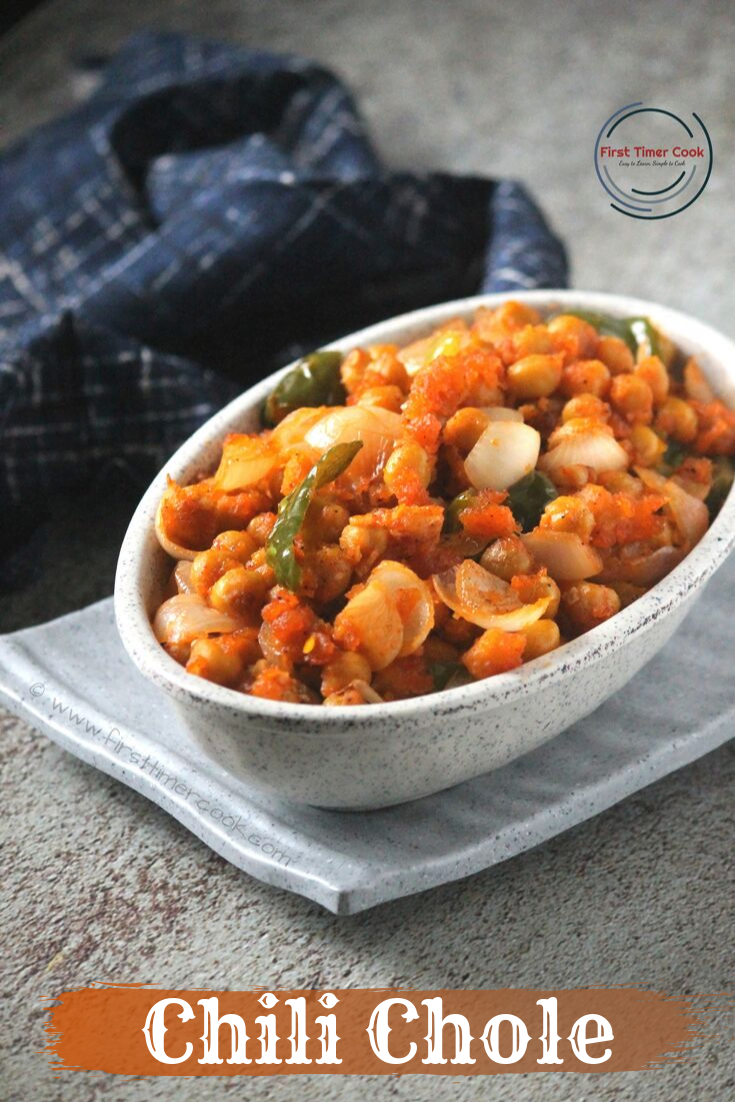 What has to be followed exactly ?
The chickpeas here has to be cooked separately keeping in mind not to over cook. Else while frying the chickpeas there will be a whole mess. After cooking the chickpeas, some cornflour along with red chili powder is added and everything is gently tossed so that the kabuli chana are coated well. After that one can deep fry or even shallow fry the chickpeas to make crisp. I have followed the shallow fried version here.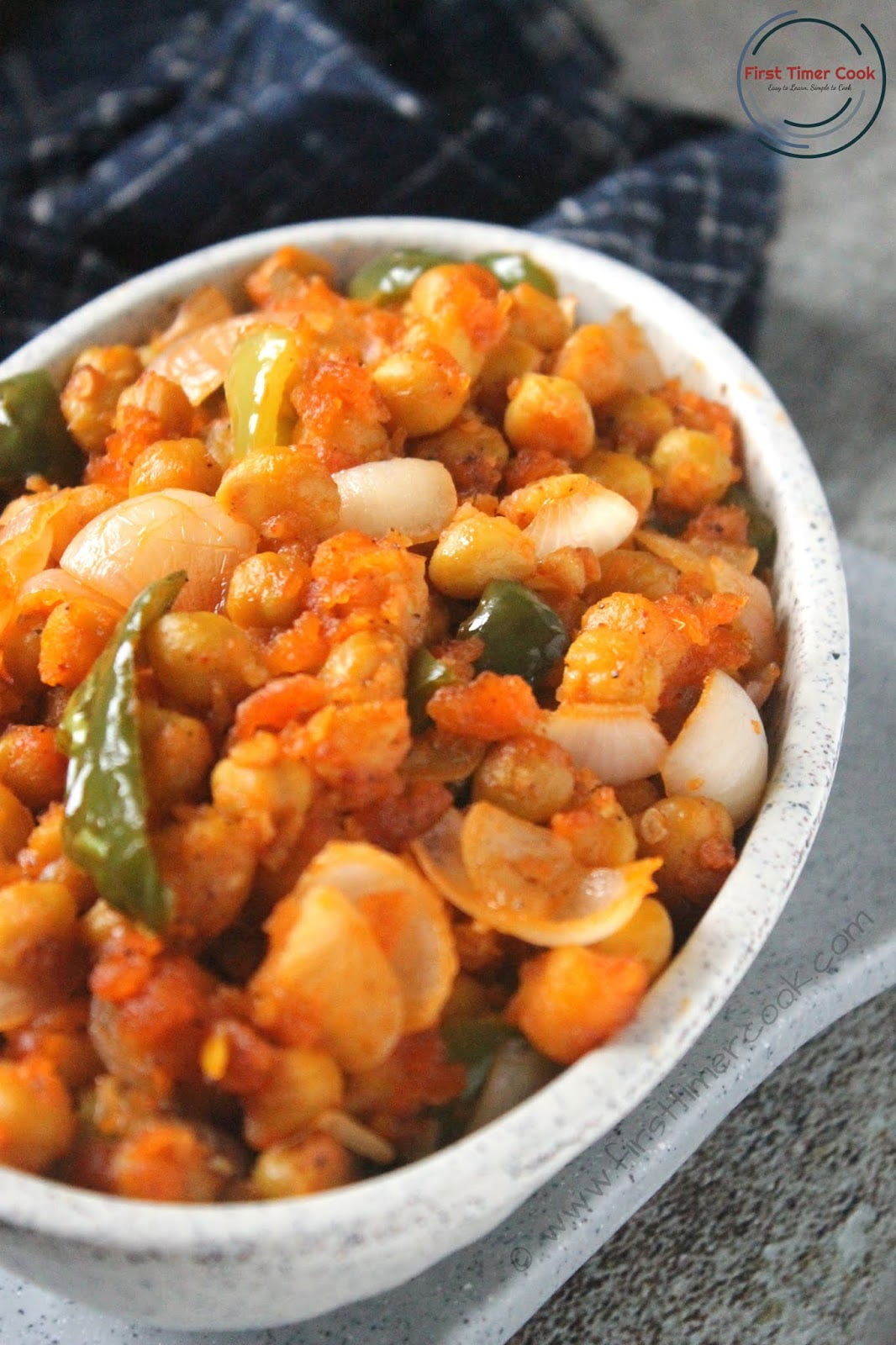 After that those fried chickpeas are stir fried with a varieties of sauces and some other ingredients which is similar to any Indo-Chinese cuisine chili recipe. This chili chole / chili chickpea is extremely simple to prepare. Within few minutes, this can be prepared. This is common Indo-Chinese dish at my place and loved by all my family members. For party starter this dry dish is an ideal option to choose. This is completely Vegan and Gluten free dish. As we like the dry version of chili dishes, so I have not kept any gravy consistency. But one can add little more cornflour slurry to get the desired thickness in the dish. So do try these spicy and delicious Indo-Chinese dish using Chickpea / Kabuli Chana / Chole.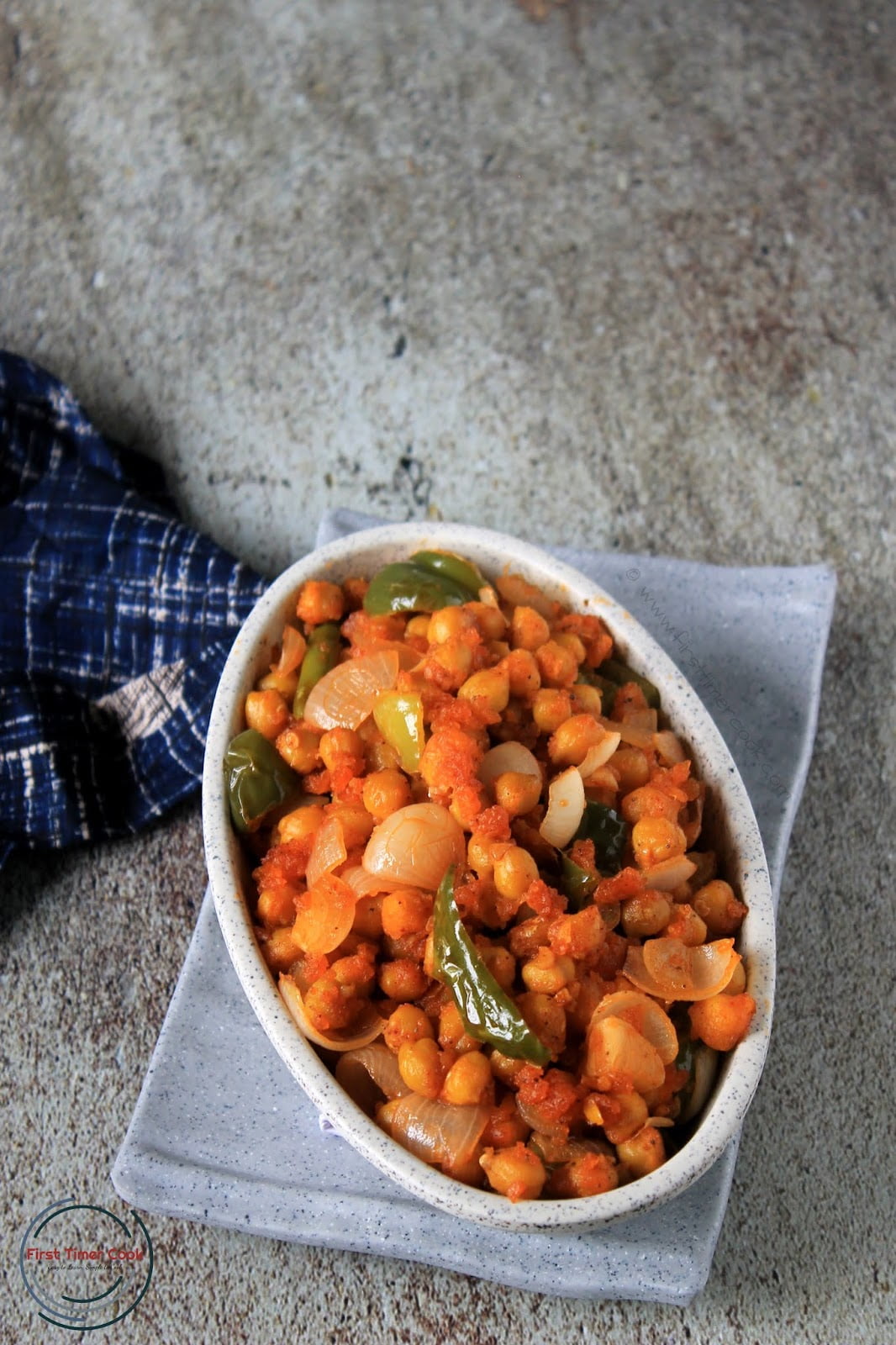 MLLA event link up :
This month, September I am hosting an event featuring lentils / legumes along with The Well Seasoned Cook and Lisa of Lisa's Kitchen. Details of that event one can get here. So for that the dish we have to make having any legume as a main ingredient. I pick Chickpea as the main ingredient for my dish and prepared Chili Chole Dry and contributed.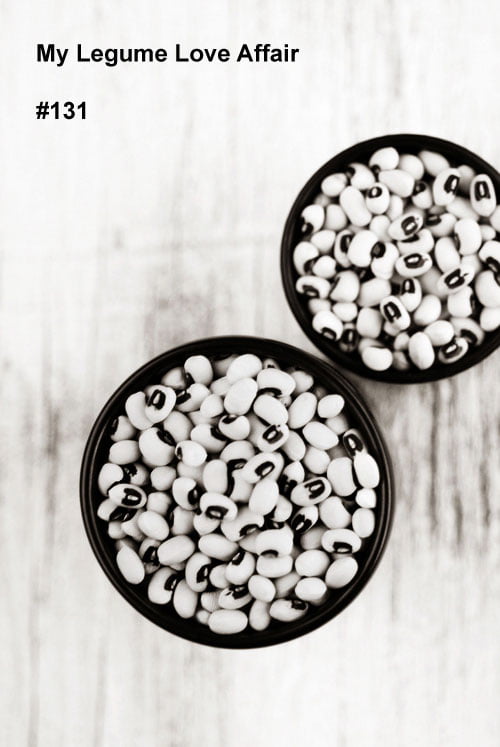 Recipe Card for 'Chole chili / Chana Chili (Dry Version)' :

Dry side dish, chole, kabuli chana, vegan snack, corn flour, capsicum, onion, Indo-Chinese cuisine
VEgan, Gluten free, Snack, Chickpea,
Indo-Chinese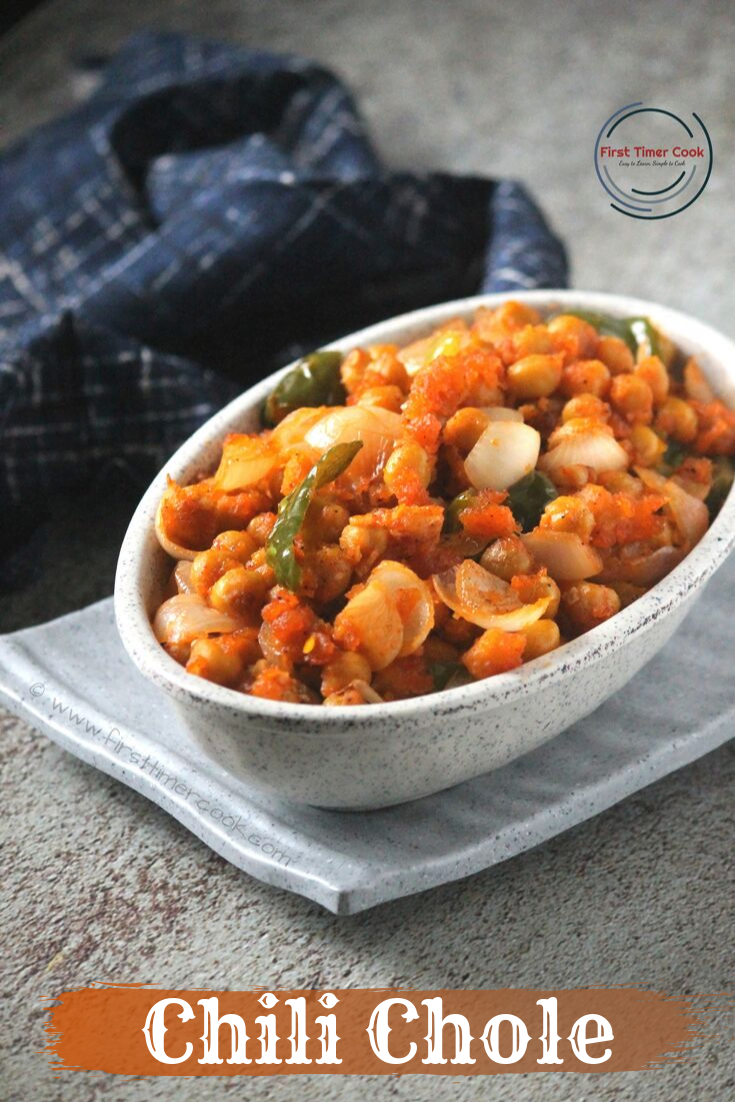 Chole chili | Chana Chili (Dry Version)
an Indo-chinese twist to our humble desi kabuli chana aka Chickpeas
prep time: 10 Mcook time: 25 Mtotal time: 35 M
ingredients:
Chickpea (chole) 1 cup
Corn flour 3 tbsp
Onion (1 inch cube) 1/3 cup
Capsicum (1 inch cube) 1/2 cup
Garlic (finely chopped) 1 tsp
Ginger (finely chopped) 1 tsp
Green chili 2 no.
Tomato sauce 2 tbsp
Chili sauce 1 tbsp
Soy sauce 1.5 tbsp
Red chili powder 1/4 tsp
Black pepper powder 1/4 tsp
Sugar 1/4 tsp
Salt as needed
Oil 4 tbsp
instructions:
How to cook Chole chili | Chana Chili (Dry Version)
First in a pressure cooker, put the washed chickpeas / chole along with salt and enough water.
Pressure cook till soft and drain into a colander.
Now take the cooked chole in a mixing bowl and add red chili powder and corn flour.
Gently toss everything so that each chickpea gets well coated.
Heat 3 tbsp oil in a broad pan.
When oil is hot enough, add the chickpeas and fry till crisp and golden in color.
Transfer to a plate lined with paper towel.
Next to the same pan add 1 tbsp oil.
Then add finely chopped ginger, garlic and saute for few seconds.
Add stilted green chilies, onion and capsicum cubes along with salt.
Stir fry for 2-3 minutes more.
Add black pepper powder, tomato sauce, chili sauce, soy sauce and sugar.
Mix everything well and allow to cook till the sauce starts to thicken a bit.
Now add fried chickpeas and give a nice mix.
Stir fry for 1 minutes more and turn off heat.
Serve as it is for snack or as a side dish with fried rice, noodles or roti !
NOTES:
Spiciness is as desired.
Some finely chopped spring onions can be sprinkled on top. As I was run out of that so skipped the addition.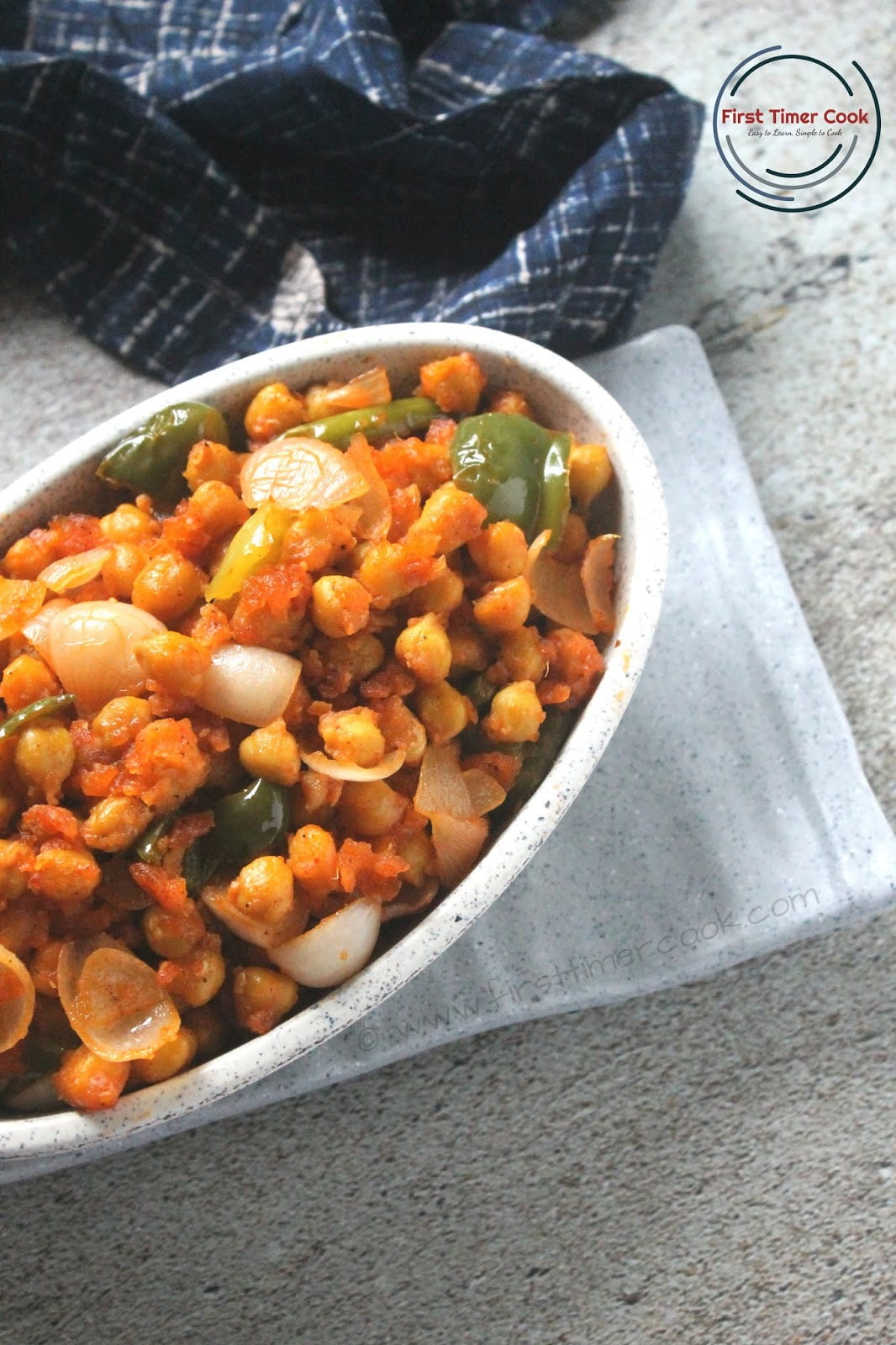 If you tried my recipe and enjoyed fully, then please share some pictures of your creation with me. Also kindly rate the recipe below, give your valuable feedback either in the comment box below or tag me as @firsttimercook on Instagram.
You may also follow me on Facebook, Pinterest, Twitter, Google+, Instagram and can subscribe for free to get new recipes directly into your inbox 😊
PIN for later :