an Instant version of paniyaram / appe using semolina with a stuffing of potatoes mixture !
What is Paniyaram ?
Paniyaram is a dish from Tamil cuisine that is made of steaming batter using a mould with cavities. The dish has also various names in other states of south India such as paddu in Kannada and Gunta Ponganalu in Telugu. The batter is made of rice and black lentils, similar to the one used for idly and dosa. People have experimented with the dish in many ways, it can be made spicy, savoury, sweet depending on personal likes. Only ingredients like jaggery, chillies, masala vary. There is a specially designed pan (Appe Pan) which contains multiple round molds, used to make Paniyaram. Apart from the above names, Paniyaram is also called as gulittu, gundponglu, ponganalu, guliappa, appe and so on.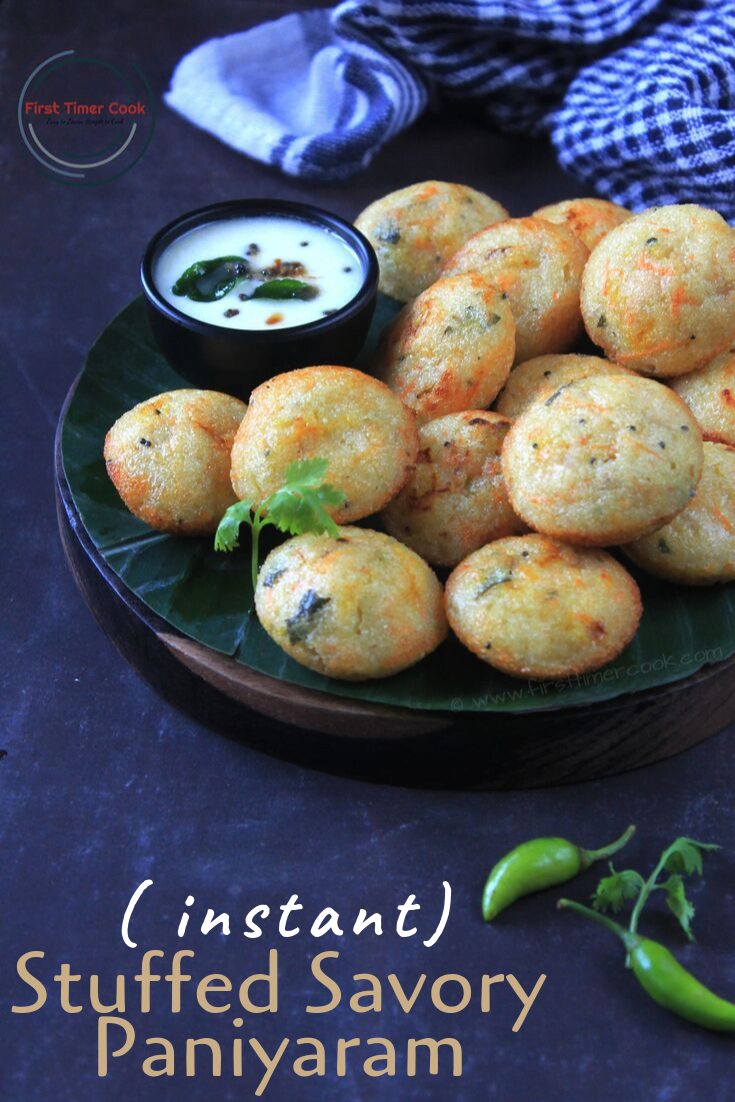 Tamil Cuisine in details :
Tamil Nadu is located in the southern part of India. It is one of the hottest states of the country. An integral part of Tamil culture is food. Tamil cuisine in its authentic form is that of the Iyengars or Tamil Brahmins which remains true to its roots. t originated from the ritual of ANNADANA, a custom of serving food to God and then distributing it to the people in Tamil temples. That meal is pure vegetarian fare served on banana leaves and is called Ilai Sappadu. Here 'sappadu' means a full course meal that accommodates all the six tastes as 'sweet, sour, bitter, salty, pungent and astringent'. It consists of a never-ending array of dishes such as Poriyal, Rice, Varuval, Pachadi, Idli, Paniyaram, Payasam, Sambar, Thokku, Vadai, Rice, Kuzambu etc. Tamil food is mostly vegetarian because of the presence of a large population of Tamil Brahmins, but there are non-vegetarian dishes as well like Meen Kozhambu, Chicken 65, Chicken Chettinad etc.
Why here is a dish from Tamil Cuisine ?
Well, the September month challenge in 'Shhhhh Cooking Secretly Challenge' group was 'Tamil Cuisine'. You may check this Tandoori Momo post where I have described about the group in details. So for the current theme, my partner was Lathiya who gave me 2 secret ingredients as Potato & Onion and I gave her as Coconut & Fennel Seeds. Do check here for her dish 😊 And as usual, using mine two ingredients I had to prepare a dish from Tamil cuisine. So I have come up with the famous street food using semolina as Stuffed Savory Paniyaram.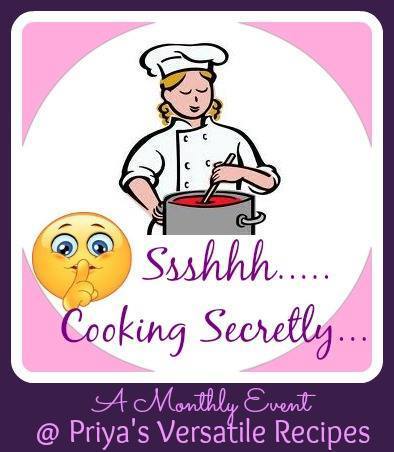 What is Sooji Paniyaram / Appe :
Although the authentic paniyaram is prepared by using a batter from black gram and rice (basically soaked overnight and then blended into a smooth batter), these days there are some variations found. Here I have come up with paniyaram prepared using semolina / sooji as the main ingredient. Any texture of semolina means either fine or regular one will work to make these appe.
Is it INSTANT ?
Unlike the traditional appe where more the time of fermentation, more softer the appe will result into; these sooji appe can be prepared within few times. There is no need of any fermentation. A pinch of baking soda or even the fruit salt (ENO) plays the role to make the appe softer and floppy. Just before pouring into the appe pan for frying, this ingredient has to be added to the batter.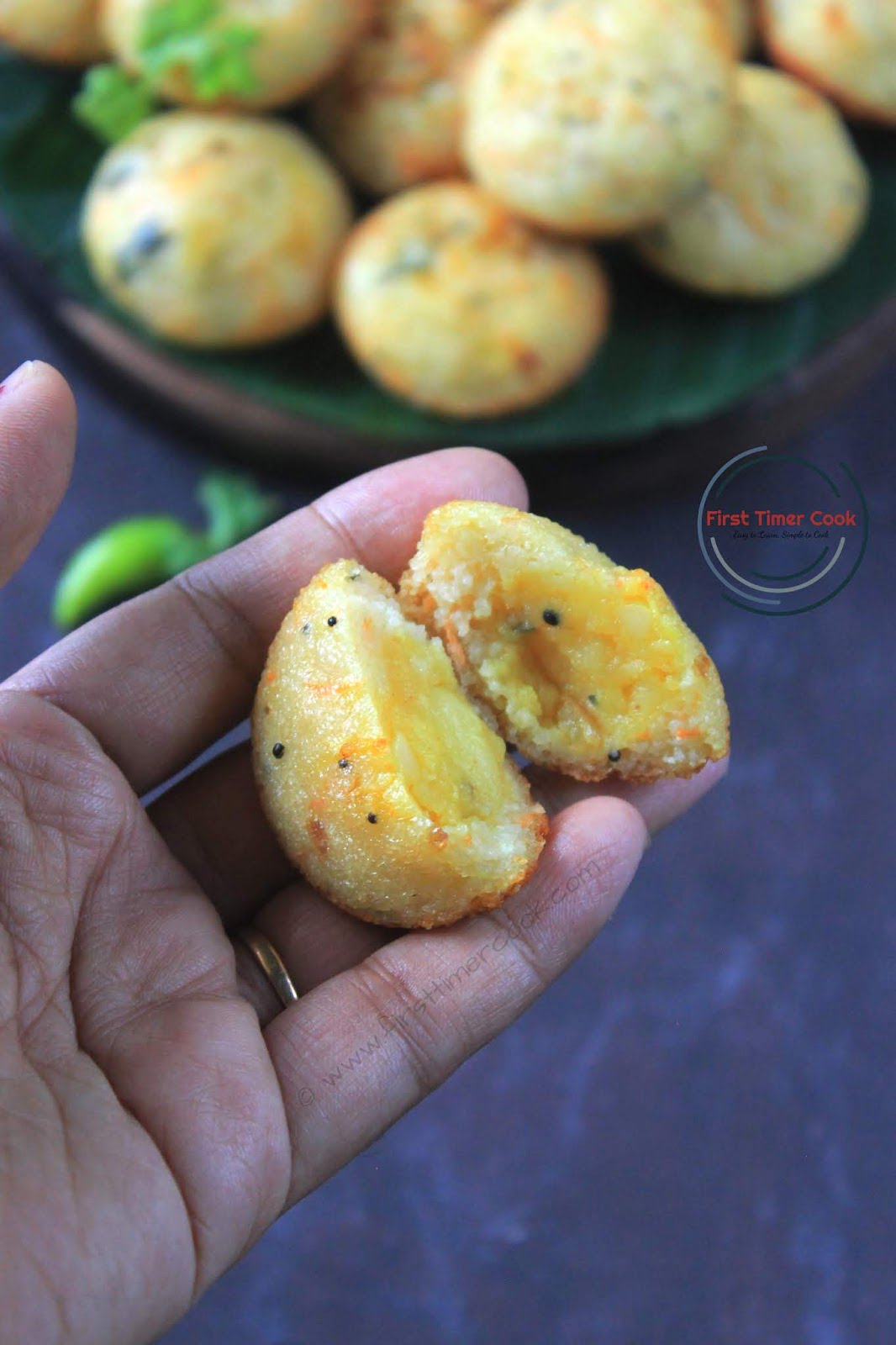 Few points to keep in mind while preparing these appe :
The ratio of curd to semolina should be 1/2 : 1
Add wet ingredients little by little to avoid lumps formation
Just before pouring the batter to the appe pan, add the baking soda / fruit salt and mix well
After adding the soda, the batter should be used immediately without keeping aside
The stuffing must be at room temperature before putting over the batter in the appe pan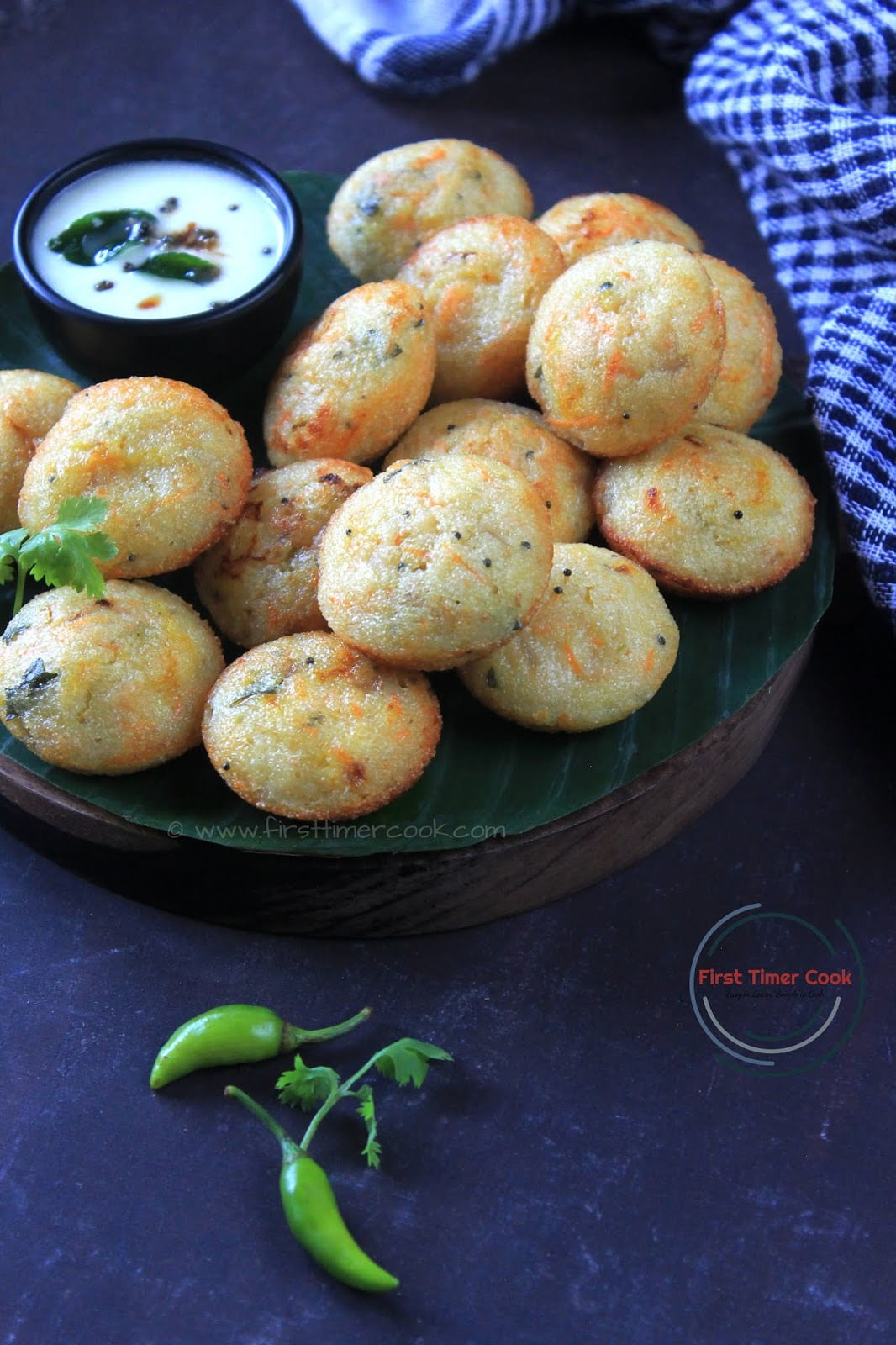 Preparation of sooji appe in details :
First the curd and semolina is mixed up well. Then a tempering is prepared and added to the semolina mixture. Water is added little by little and a fine batter is formed without any lumps. For the stuffing here I have used potato and just mixed up with little spices and didn't add any tempering to this potato mixture. Actually one can avoid the tempering part to the batter and add to the stuffing. Even both batter and stuffing can be tempered, totally depends upon individual choice. Just before pouring into the appe pan, baking soda / fruit salt is mixed to the batter and then immediately pour into each hole of the pan. The pan is covered and allowed to cook by drizzling little oil till light brownish from both side over low-medium heat.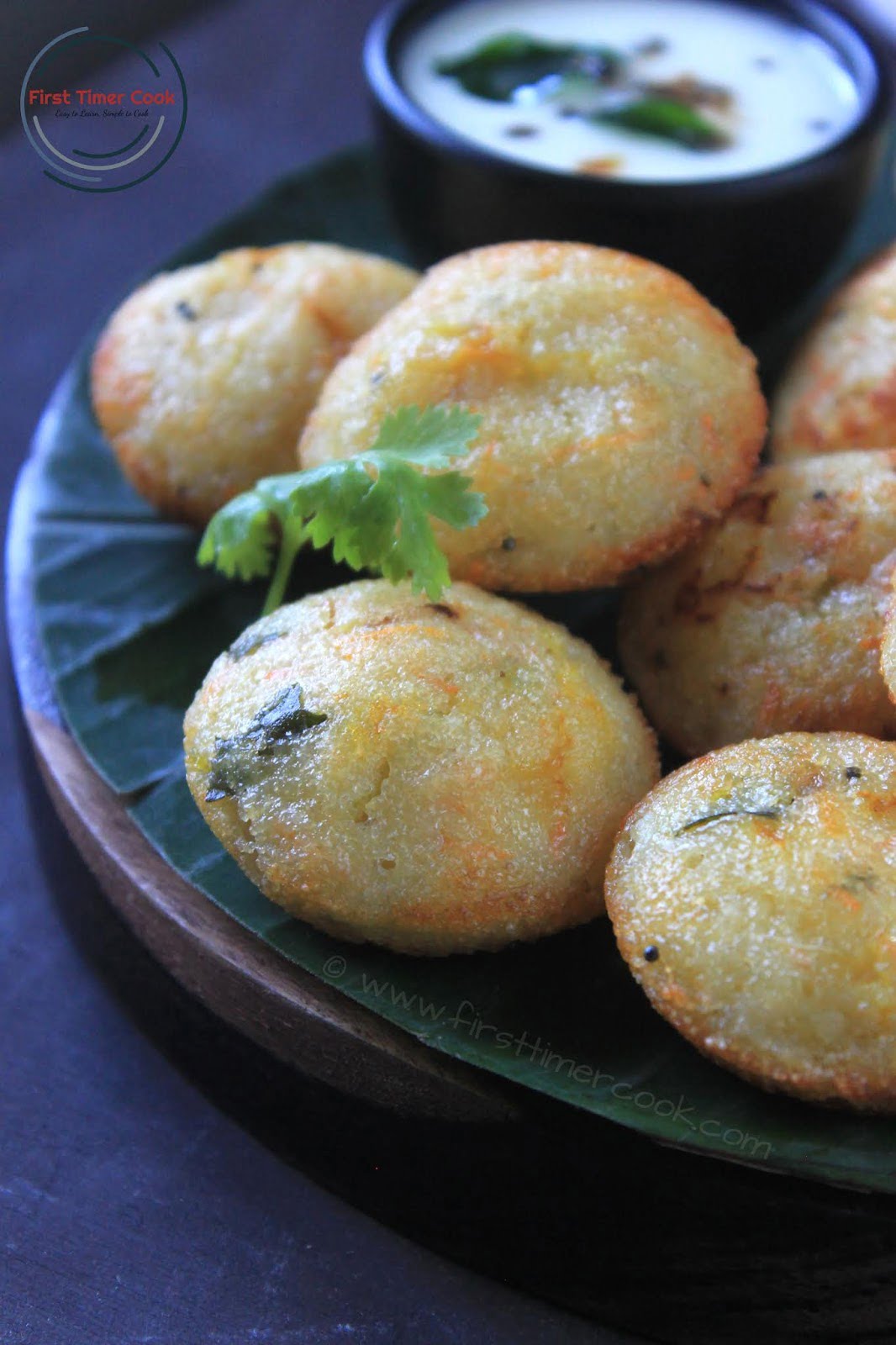 Serving suggestions :
These savory stuffed appes one can have as it is like me. Also these team up well with any spicy chutney or the most popular coconut chutney. For kids tiffin box, evening snacks and even for breakfast option it goes very well along with sambar as well. One will surely satisfied while having these cute stuffed balls which are being prepared instantly. Do try !
Recipe Card for 'Stuffed Savory Paniyaram (INSTANT appe)' :

Appe, Stuffed paniyaram, vegan snack, potato stuffing, Low oil snack, Savory dish, breakfast option, instant appe
Snack, Paniyaram, Vegan, Semolina
Tamil cuisine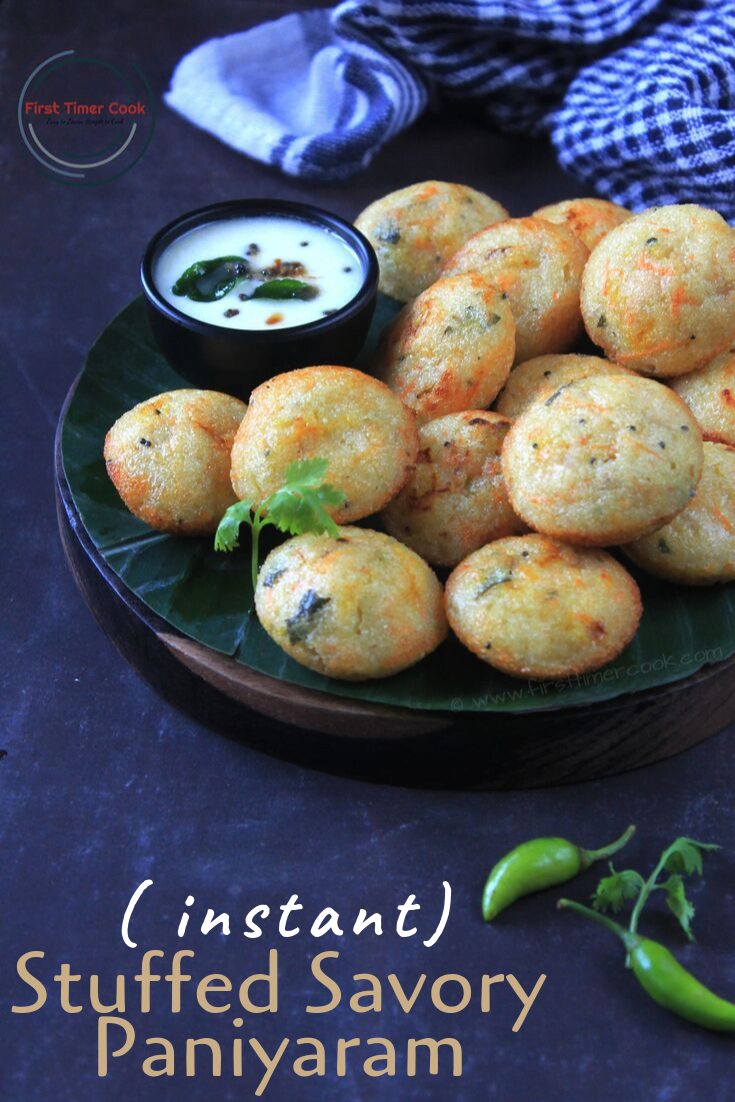 Stuffed Savory Paniyaram
an Instant version of paniyaram / appe using semolina with a stuffing of potatoes mixture
prep time: cook time: total time:
ingredients:
for Appe :
Semolina (sooji) 1 cup
Yogurt (curd) 1/2 cup
Baking soda 1 pinch
Carrot (grated) 2 tbsp
Mustard seed 1 tsp
Curry leaf 1 sprig
Oil 1/2 tsp
Salt as needed
Water 1/2 cup
for Stuffing :
Potato (boiled) 2 no.
Ginger 1 inch
Green chili 2 no.
Coriander leaf (finely chopped) 2 tbsp
Coriander powder 1 tsp
Oil as needed
Salt as needed
instructions:
How to cook Stuffed Savory Paniyaram
In a mixing bowl, take semolina / sooji along with curd and salt.
Mix everything well and then add 1/2 cup water little by little without making any lumps. Keep aside.
Heat oil in a pan.
Add roughly chopped curry leaves, mustard seeds and allow to splutter.
Put this tempering to the batter along with grated carrots.
Mix well and keep aside for 15-20 minutes by covering the bowl.
Meanwhile, in another bowl take the boiled potatoes.
Smash the potatoes very well using a masher.
Then add grated ginger, salt, finely chopped coriander leaves and green chilies, coriander powder.
Mix well everything and make balls (1 inch size) for equal stuffings in the appe. Keep on a plate.
Now heat an appe or paniyaram pan.
Take the batter bowl and give a quick mix first.
Then add baking soda to the batter and nicely mix again.
Drizzle few drops of oil in each hole of the pan.
Pour 1/2 tbsp of batter first in each hole, then put one potato ball in each hole and gently press down.
Finally cover the hole with another 1/2 tbsp of batter.
Cover the appe pan and allow to cook for 2-3 minutes over low-medium heat.
Then flip the appes and allow again to cook till they turn light brownish in color from both side.
Transfer to a serving plate and serve with any kind of chutney / sauce !
NOTES:
Along with coriander powder some red chili powder one can add for more spiciness.
The tempering part for the batter is optional, but I love to add as that brings a nice color and flavor to the appes.
Also some tempering can be added to the potato mixture, I have omitted that as I added to the batter.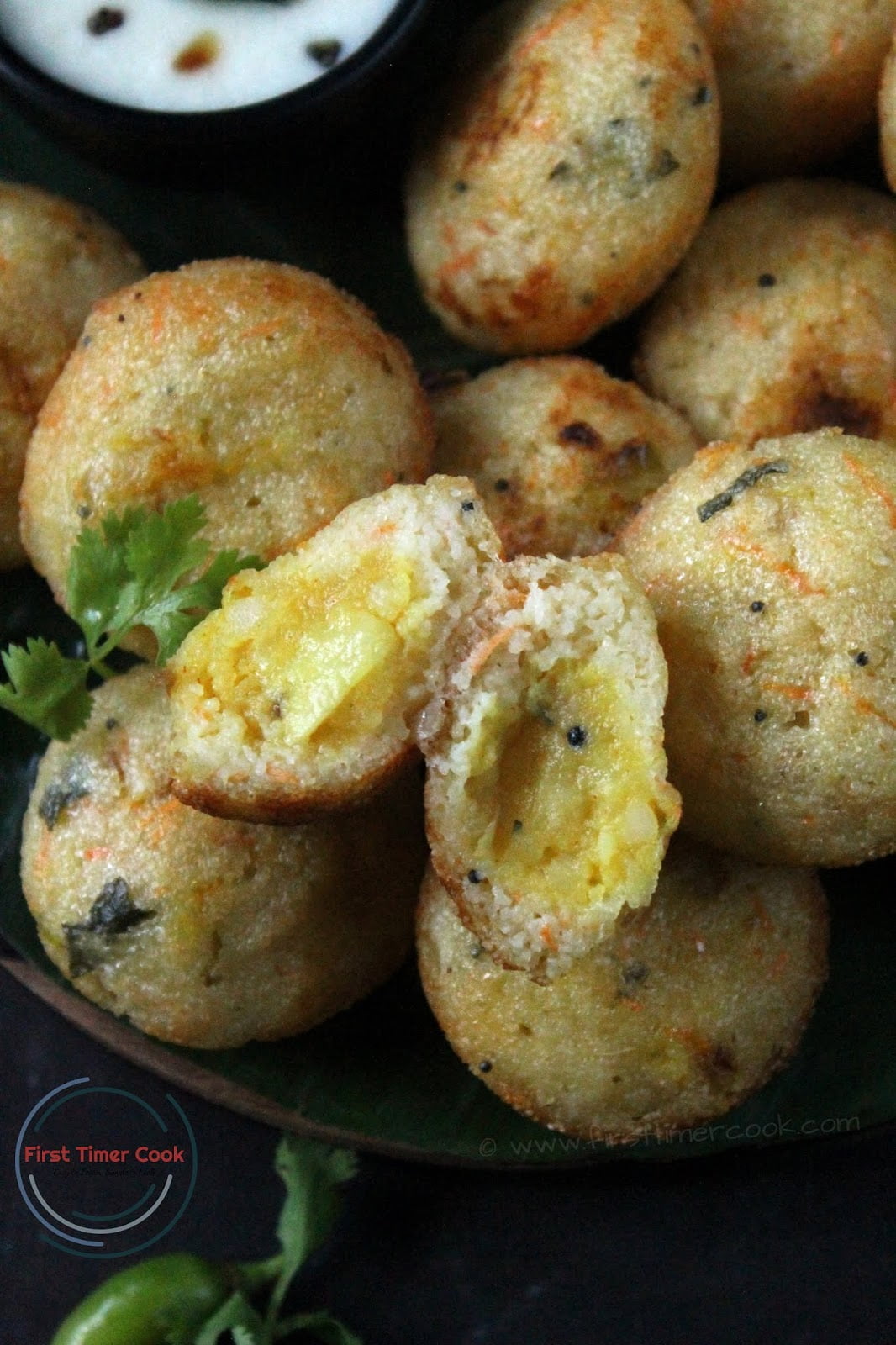 If you tried my recipe and enjoyed fully, then please share some pictures of your creation with me. Also kindly rate the recipe below, give your valuable feedback either in the comment box below or tag me as @firsttimercook on Instagram.
You may also follow me on Facebook, Pinterest, Twitter, Google+, Instagram and can subscribe for free to get new recipes directly into your inbox 😊
PIN for later :