Raj kachori is a mouth watering and spicy chat bowl. In hindi, raj indiactes royal and kachori indiactes a big puri filled with a variety of delicious flavorings. All the flavorings can be choosen depending upon the taste pallete. It reflects an beautiful garnishing. Basically this is a variety of chat where a lot of things (i have used potato, kala chana, moong as main fillings) are filled in a big poori along with green chutney and tamarind chutney. Normally a single raj kachori feels like a complete meal.
So below is the step by step method of preparation.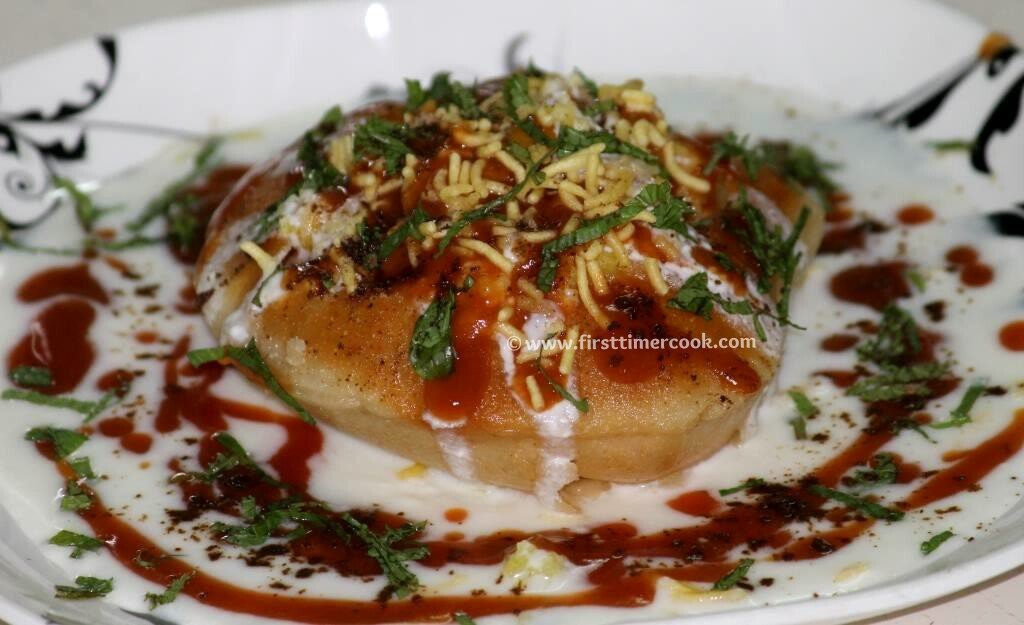 Preparation Time : 20 mins | Cooking Time : 20 mins
Ingredients :
| Ingredients | Measurements |
| --- | --- |
| Gram flour (besan) | 1 cup |
| Wheat flour | 2 cup |
| Semolina (suji) | 1 cup |
| Whole green gram (moong) | 1 cup |
| Brown chikpeas (kala chana) | 1 cup |
| Boiled potato | 2 no. |
| Green coriander (finely chopped) | as per taste |
| Red chilli powder | 1 tsp |
| Salt | as per taste |
| Sugar | 1 tsp |
| Oil | for frying |
| Curd | 1 cup |
| Papdi | 5-6 no. |
| Chat masala | as per taste |
| Green chutney | as per taste |
| Tamarind chutney | as per taste |
| Sev | as per taste |
Method :
Combine gram flour, wheat flour, semolina & salt in a bowl well and using water knead a semi soft dough.
Divide the dough into equal portions depending on how big will be the kachori. Roll out into little thick big puris using little wheat flour for rolling.
Heat oil in a pan at a high flame and then reduce the flame to low & deep-fry the puris till crispy and brown in colour. Remove on absorbent paper and keep aside.
Combine moong, kala chana, potato and salt in a bowl and mix well and keep aside.
At the time of serving, make a hole in the center of the kachori and fill it with the mixture of moong, kala chana, potato, salt and then a crushed papdi. Add both the chutneys.
Beat curd smoothly with little salt and sugar. Top the kachori with generous curd, both chutneys again and sprinkle sev over and garnish with more kala channa, moong and coriander leaves. Sprinkle the chaat masala and red chilli powders as needed. Serve immediately !
​Notes :
The puri should be crisp for this, so always fry in low flame to make it crisp.
Both chutneys can be either homemade (green chutney&tamarind chutney) or store bought.
Prepare all the ingredients before day & keep well for quick serve.
Amchur powder can also be sprinkled.