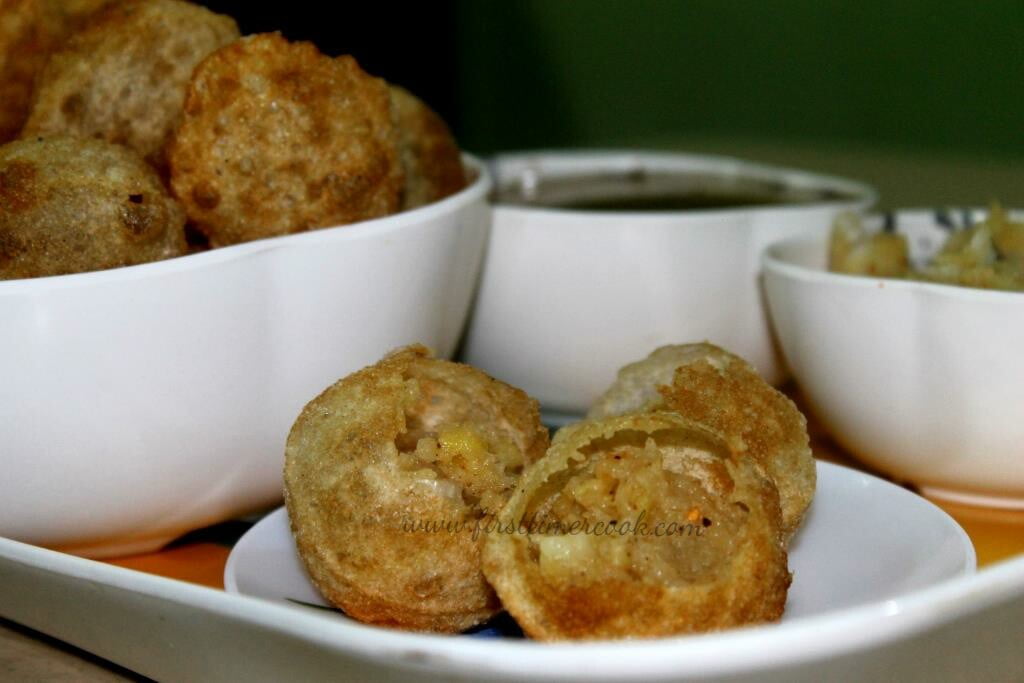 Preparation Time : 20 mins | Cooking Time : 10 mins
Ingredients :
Ingredients

Measurements

Puri for panipuri
30 no.
Pani for panipuri
2 cup
Onion (medium)
1 no.

Sev

(Optional)

1/2 cup

Tamarind chutney

(Optional)

1/4 cup
Potato (boiled, peeled, mashed)
1 & 1/2 cup
Kala chana (boiled)
1/4 cup
Red chili powder
1/2 tsp
Roasted cumin powder
1/2 tsp
Chaat masala powder
1/4 tsp
Salt
as needed
Coriander leaves
as needed
​Method :
Soak the kala chana for 7-8 hours / overnight in water. Boil chana and potatoes with salt and water in a pressure cooker for 3-4 whistles over medium flame / until cooked.
Take mashed potato, kala chana, red chili powder, roasted cumin powder, chaat masala powder, coriander leaves and salt in a bowl. Mix them together with a spoon.
Now the time starts to assemble panipuri. Take eachpuri

and gently make a large hole on its top-middle side (thin side) by poking it with a spoon / finger for stuffing.
Stuff it with masala. Sprinkle onion and sev followed by tamarind chutney over it.
Takepani for panipuriin a medium bowl. Dip each puri in the pani and pop in mouth immediately !
​Notes :
The stuffing can be as desire. Several items that can be stuffed in the puri are – boiled white channa, boiled green peas, boiled green gram (moong) sprouts, boiled mixed sprouts etc.