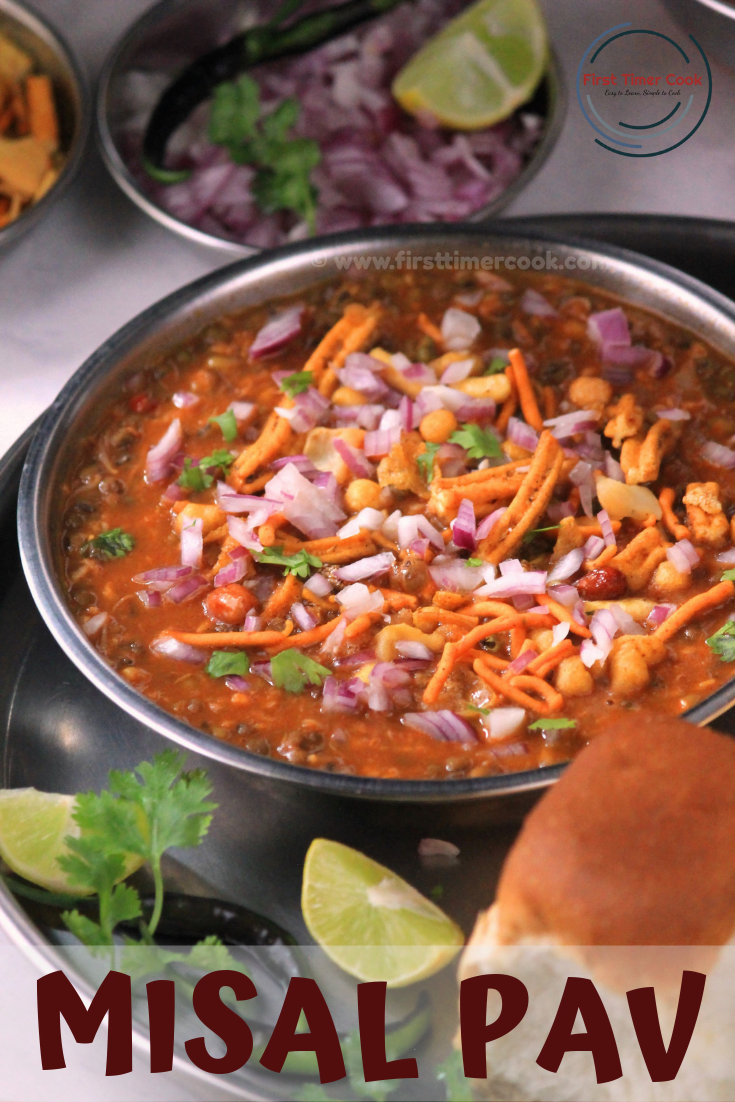 India has a varieties of cuisines particularly because of demographics and cultural boundation. Among them, Maharashtrian or Marathi cuisine is the cuisine of the Marathi people from the Indian state of Maharashtra. From the world famous pav bhaji to the delicious poha, Maharashtra has a lot to offer to food lovers. Maharashtrian recipes mainly consists of wide variety of vegetarian and non-vegetarian food as being one of the coastal states predominantly the sea food has got quite an impact over the cuisine.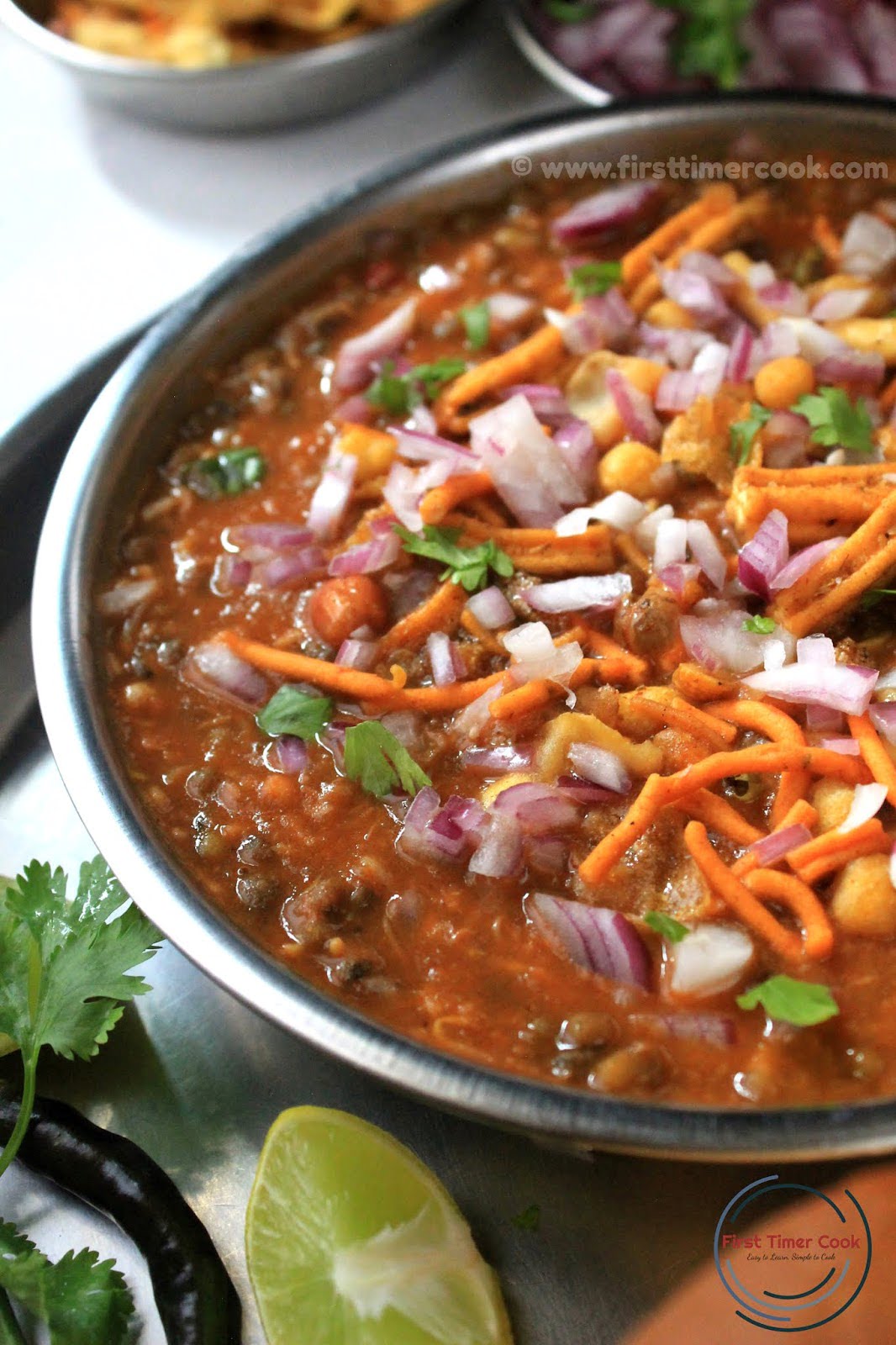 Here I am discussing about the cuisine of Maharashtra state in Indian subcontinent as the theme for 'Shhhhh Cooking Secretly Challenge' group is related to 'Maharashtrian / Marathi cuisine'. For this theme, my partner was Vidya Narayan who gave me 2 secret ingredients as Tomato and Goda masala and I gave her as Peanut and Buttermilk. As usual, using mine two ingredients I had to prepare a dish from Maharashtrian cuisine. So I have come up with the most popular and famous Mumbai street snack 'Misal Pav' using these two ingredients.
As the dish name says, it is Misal and Pav. Usal is actually a sprouted lentil gravy. When Usal is topped with some chopped onion, tomato, coriander leaves, farsan / sev then it is named as Misal. Usually this snack is served and fully enjoyed with some pav buns or some also prefers to have with some buttered pav bun. If the lentil sprout is readily available at your place, then the dish is so easy to make and also has loaded with a lot of nutritional values. This dish is perfectly fit for breakfast or snacks. Although I have used sprouted mung beans / moth beans. But the choice totally varies, one can use any lentil sprouts here. Accordingly the taste of the dish is also varied. The misal pav is one of the extremely popular street food in Maharashtra state.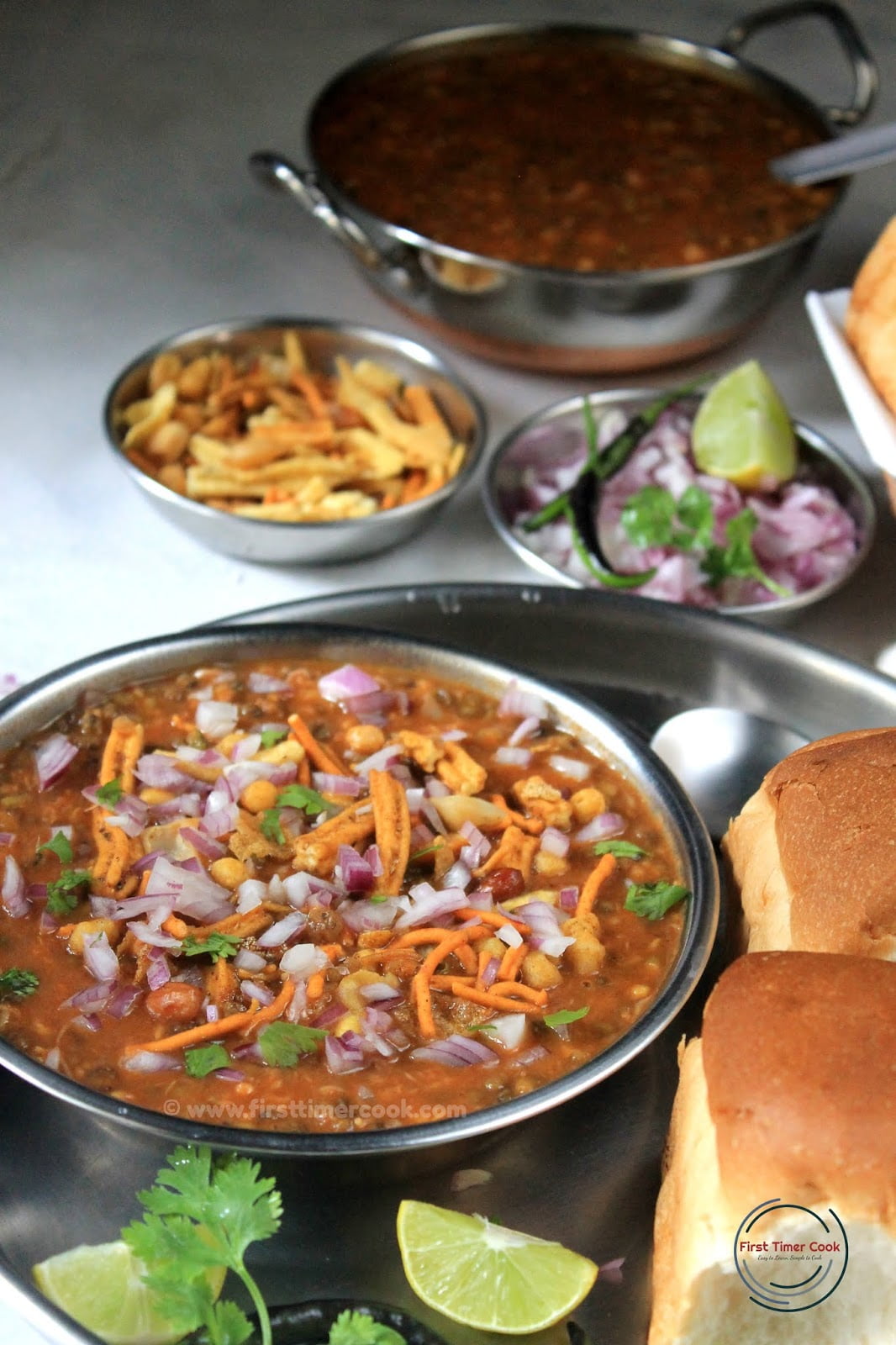 Maharashtrian / Marathi cuisine
Author: Sasmita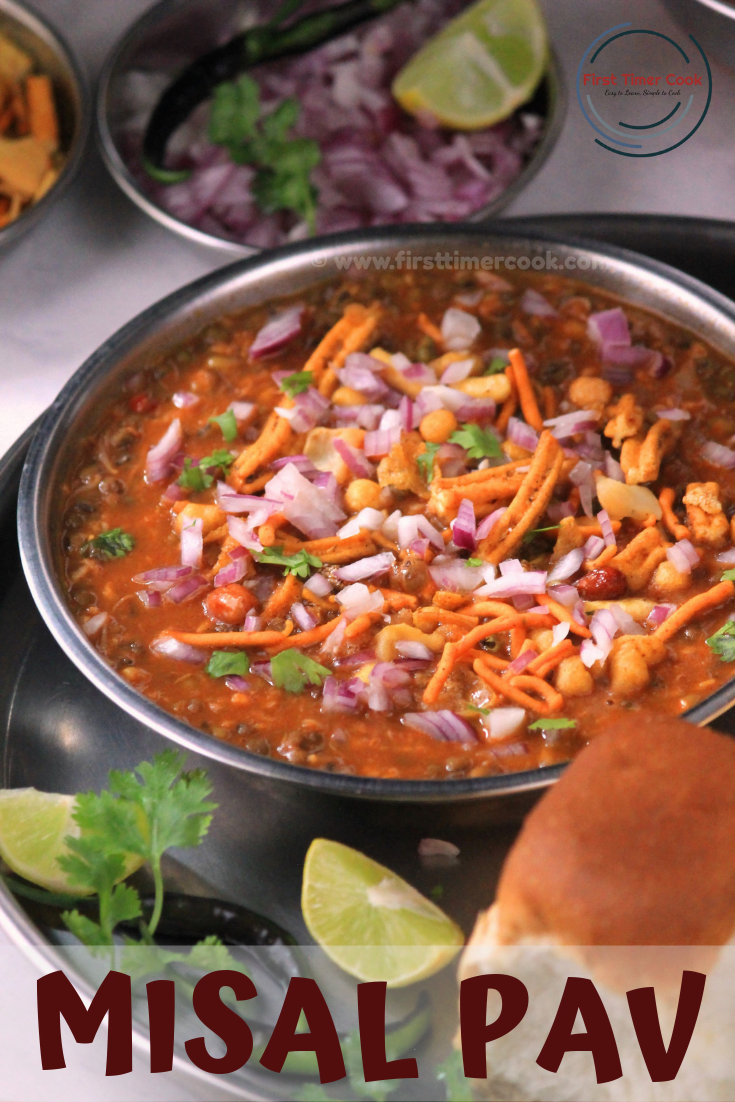 Misal Pav
one of the extremely popular street food of Maharashtra state in Indian subcontinent.
prep time: 15 minscook time: 50 minstotal time: 65 mins
ingredients:
Misal
Sprouted mung beans / moth beans 1 & 1/2 cup
Onion (finely chopped) 2 no
Tomato (finely chopped) 1 no
Ginger-garlic paste 1 tbsp
Cumin seed 1 tsp
Goda masala 1 tbsp
Coriander powder 1 tsp
Cumin powder 1 tsp
Turmeric powder 1/2 tsp
Red chili powder 1 & 1/2 tsp
Tamarind pulp 1 tbsp
Oil 1 tbsp
Salt as needed
Water as needed
Assemble the Misal Pav
Onion (chopped finely) few
Farsan / sev few
Coriander leaves(chopped finely) few
Lemon slice as needed
Pav buns as needed
instructions
Misal :
First rinse all the sprouts well in water and drain completely. Keep aside.
In a pressure cooker, put these drained sprouts along with chopped tomato, salt, turmeric powder and water.
Cook till 1-2 whistle over medium heat and keep aside.
Next heat oil in a pan.
Add cumin seeds and allow to crackle.
Next add finely chopped onion and saute till translucent.
Add ginger garlic paste and saute till raw smell goes off.
Then add turmeric powder, goda masala, salt, red chili powder, cumin powder, coriander powder and mix everything well.
Cook for 1-2 minutes till masala releases oil.
Now add tamarind pulp, the boiled sprouts along with tomatoes.
Give a nice mix and then add water (1-2 cup).
Allow to simmer for 10-12 minutes or until the desired consistency is reached.
Assemble the misal pav :
Now take a serving plate / bowl.
Pour 1-2 ladle full of gravy into the bowl.
Put some chopped onion, mixed farsan, finely chopped coriander leaves on top.
Serve hot immediately with some buttered pav and lemon slice !
NOTES:
Any sprouts can be used like moth bean sprouts or even mixed sprouts.
Some finely chopped tomato also can be chosen as toppings.
If goda masala is not available, then use garam masala instead.
The consistency of the misal is choiceable, so accordingly add water after adding boiled sprouts.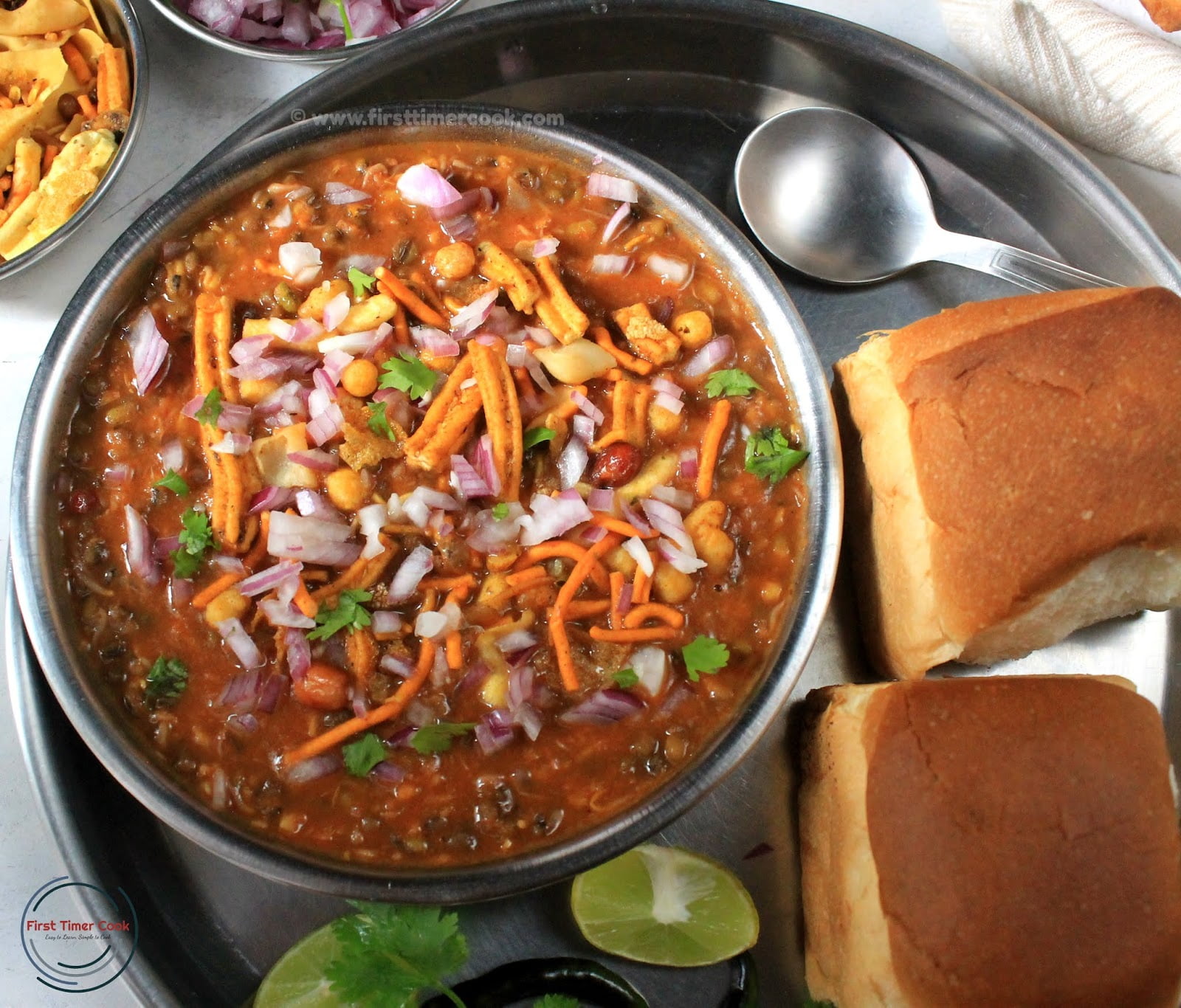 So do try this Misal Pav from Maharashtrian / Marathi cuisine. If you tried my recipe and enjoyed fully, then please share some pictures of your creation with me. Also give your valuable feedback either in the comment box below or tag me as #firsttimercook on Instagram. You may also follow me on Facebook, Pinterest, Twitter, Google+, Instagram and can subscribe for free to get new recipes directly into your inbox 😊. Lets go in details.
PIN for later :