Cuisines across the world use dates in small and large quantities, but it is also important to note that the fruit of the date palm tree also comes with a lot of health benefits. These sweet fruits are packed with plenty of nutrients, making them an excellent snack in moderation. Dates normally grow on date palms in small clusters. And the term date comes from the Greek word daktulos, which means fingers. Dates are a good source of various vitamins and minerals, energy, sugar and fiber. It also contains calcium, iron, phosphorus, potassium, magnesium and zinc.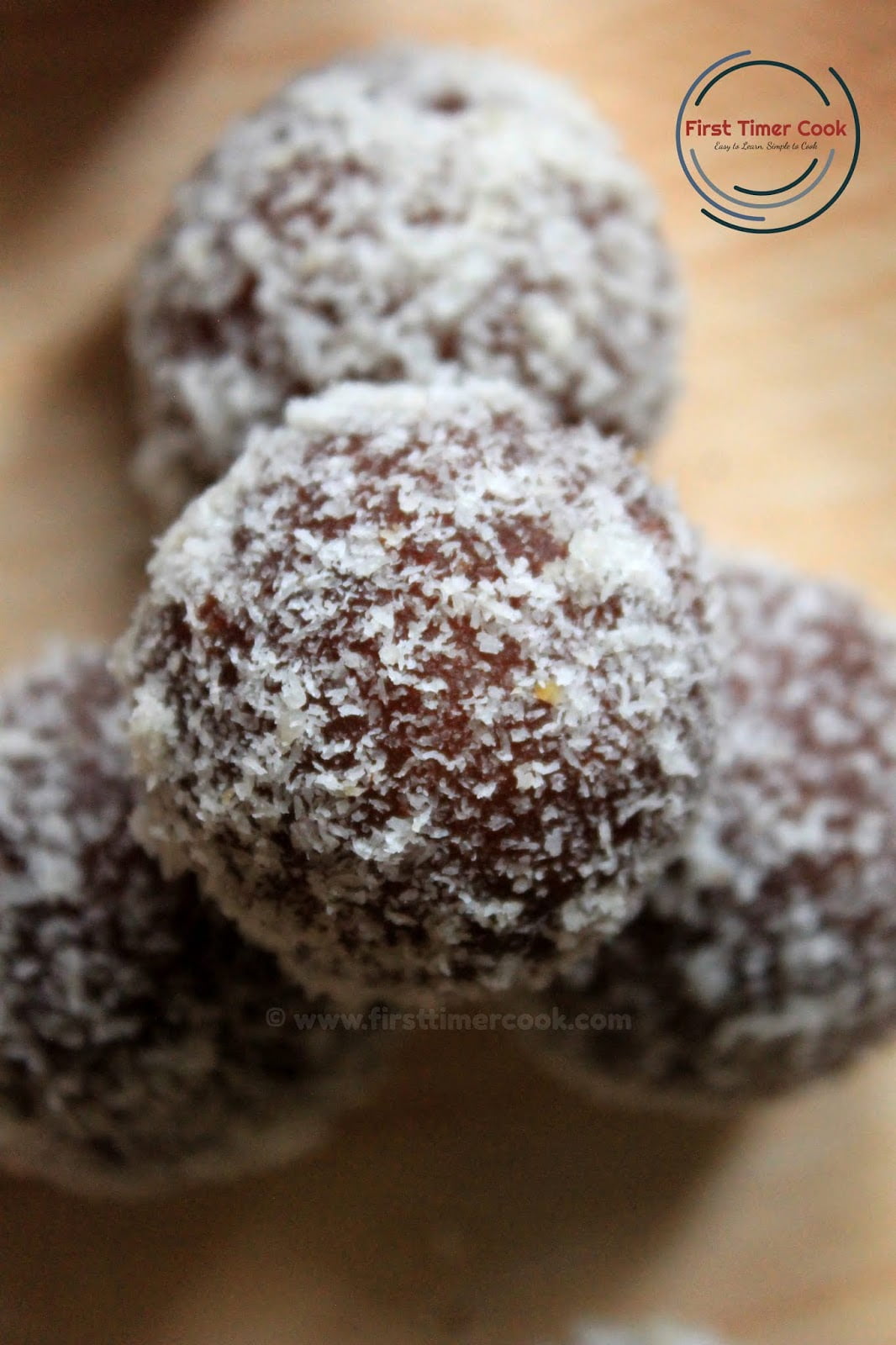 Well here I have come up with a truffle recipe using date as 'Date Truffles using Oats'. These are completely sugar free and easy to prepare as well. Some oats here I have used as a binding element. Before adding the oats, those are dry-roasted and then grinded to a powder texture. Although only walnut and almond are used, still any other dry fruits can be used as desired. These are so perfectly fit to satisfy our hunger pang surely. Also kids'll enjoy to grab while playing mood on 😉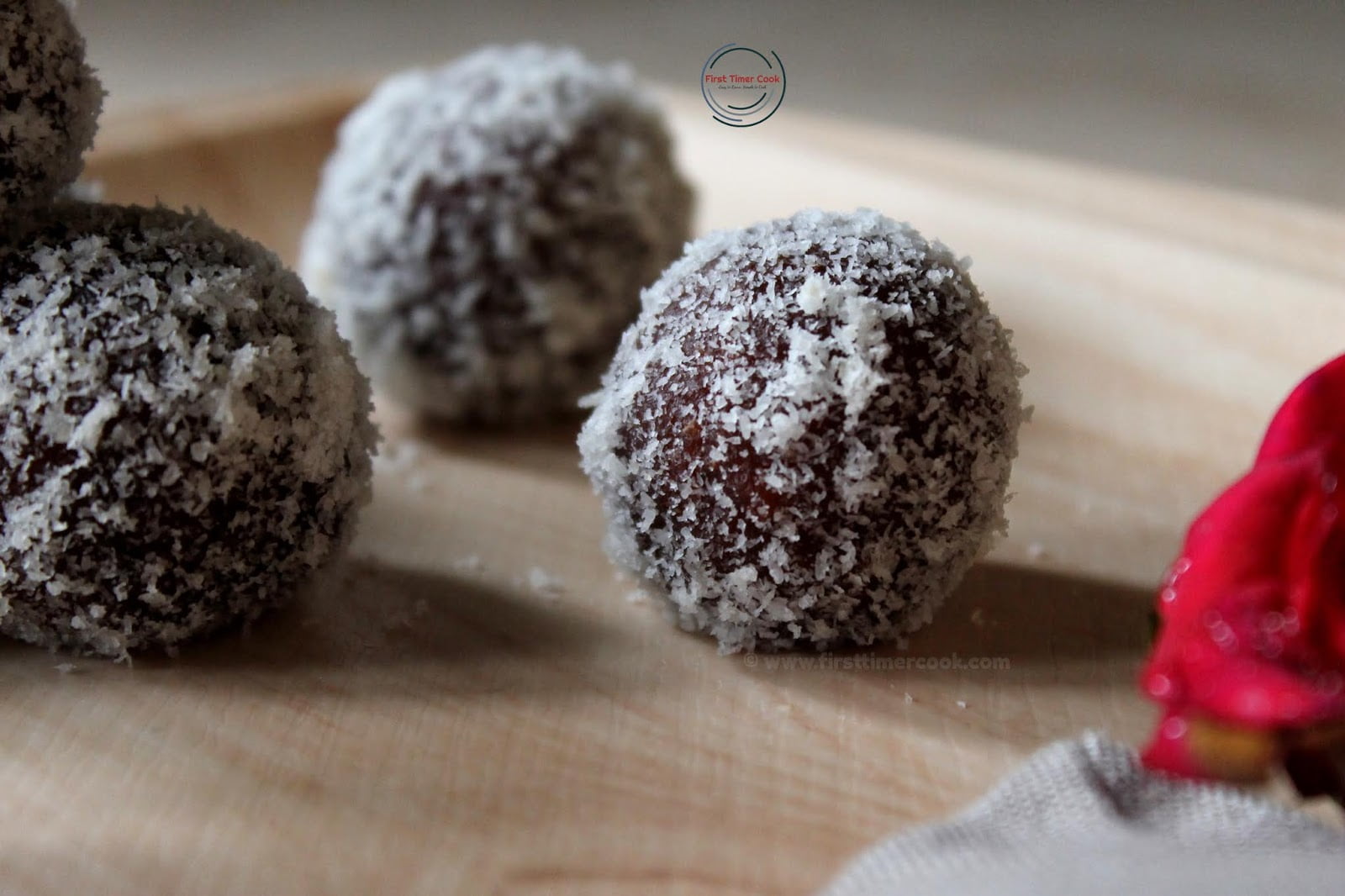 Recipe Card for Date Truffles using Oats :
Author: Sasmita
Date Truffles using Oats
Completely sugar free and easy to prepare truffles using dates and Oats
prep time: 15 minscook time:total time: 15 mins
ingredients:
Dates (deseeded) 18-20 no
Almond 1/4 cup
Walnut 1/2 cup
Oats 1/4 cup
Desiccated coconut (for rolling) 2 tbsp
instructions
First dry roast oats on medium heat for about 5 minutes and then allow to cool down.
In a grinder jar, take all the roasted oats and grind to make a powder texture.
Add dates, walnuts, almonds and grind again for approximately 10-12 seconds. Do not over grind to make a paste.
Transfer the whole mixture into a plate.
Scoop out 1-2 tbsp of the mixture, roll in palm and shape into ladoo.
In a plate put desiccated coconut and gently roll the ladoo over it.
Repeat for rest of the mixture and make ladoos.
Enjoy these delectable Date truffles using oats right now or keep in an air tight container for later !
NOTES:
While grinding after adding the dates, if the dough is too wet then add some more roasted oats powder.  
These truffles'll stay fresh for 3-4 days in the refrigerator.
https://firsttimercook.com/2018/12/date-truffles-using-oats.html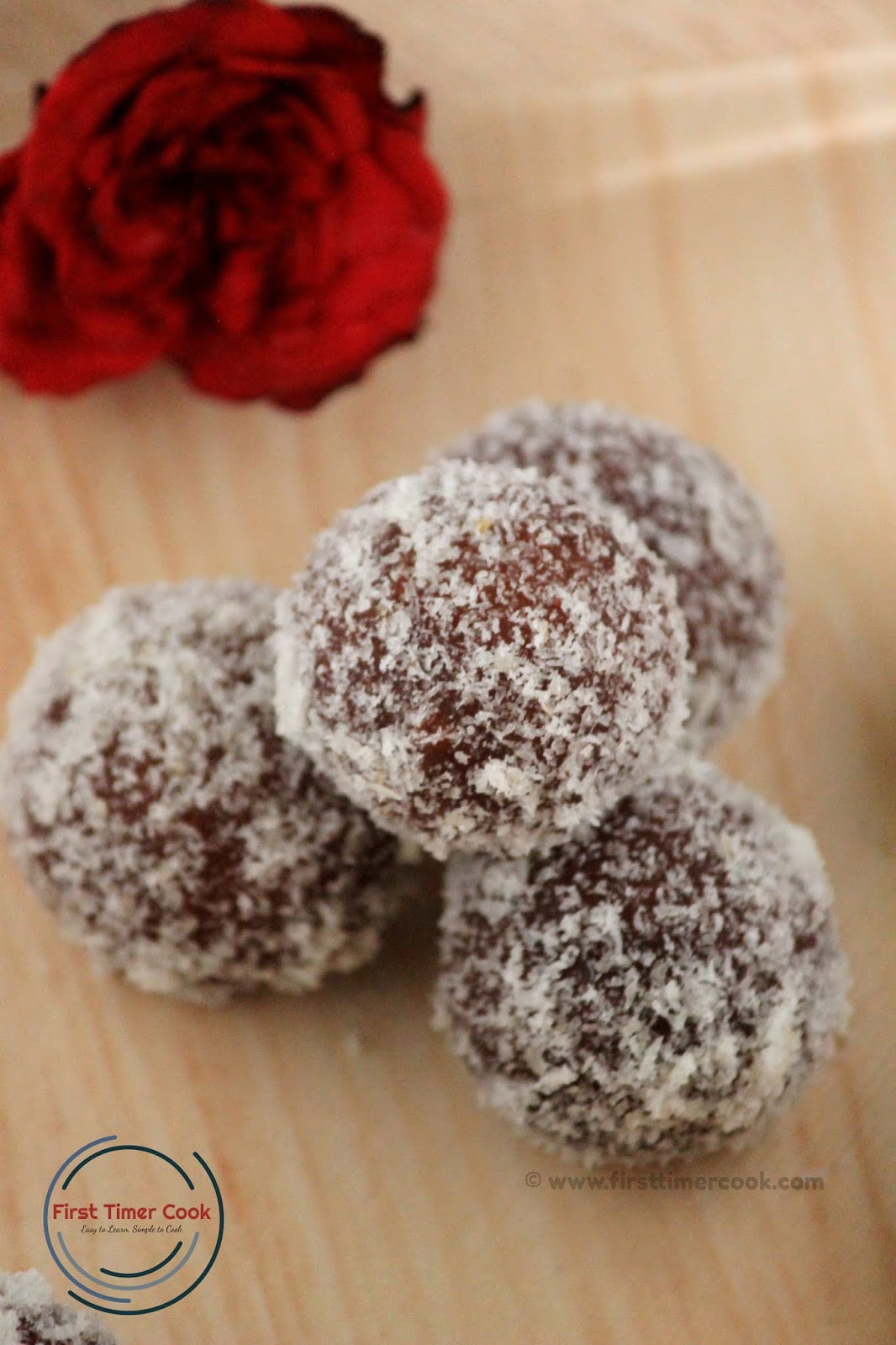 So do try this Date Truffles using Oats. If you tried my recipe and enjoyed fully, then please share some pictures of your creation with me. Also give your valuable feedback either in the comment box below or tag me as #firsttimercook on Instagram. You may also follow me on Facebook, Pinterest, Twitter, Google+, Instagram and can subscribe for free to get new recipes directly into your inbox 😊. Lets go in details.
PIN for later :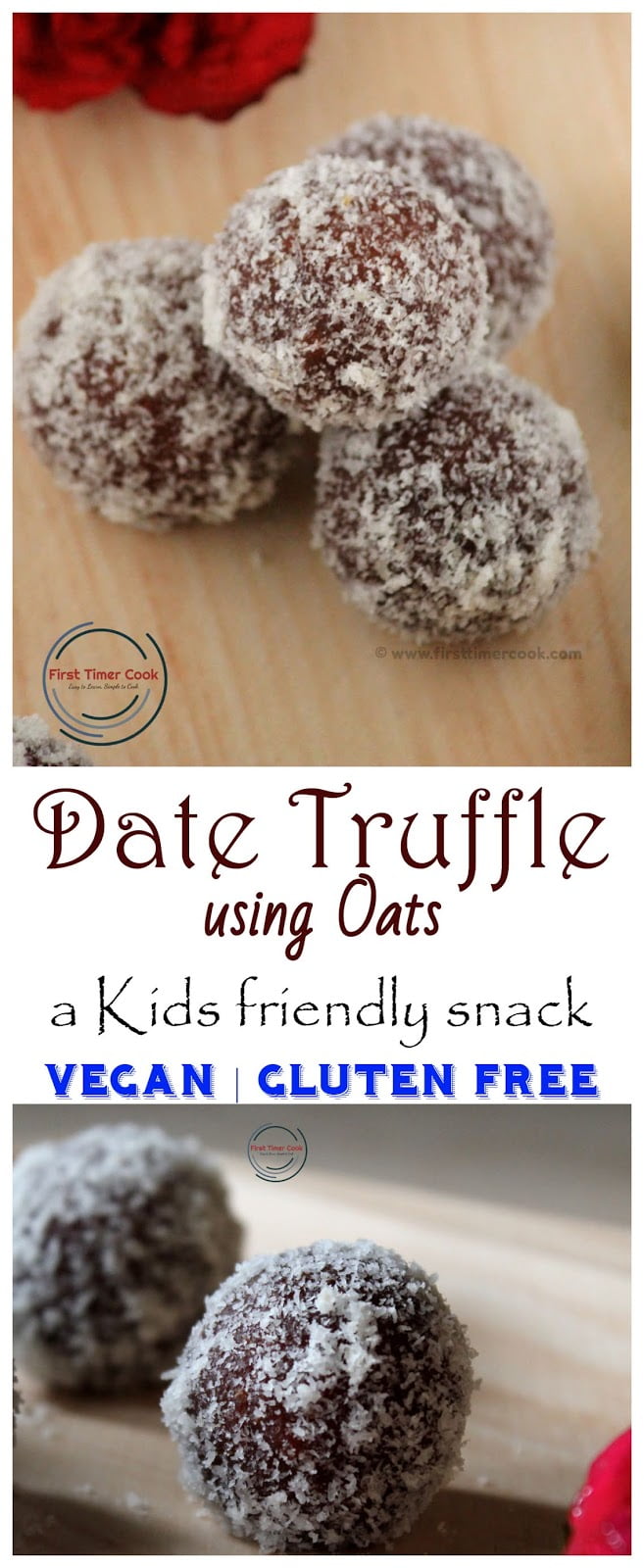 This 'Date Truffles using Oats' is contributed for 58th Healthy Wellthy Cuisines where the theme is 'Nutty Nut at HW'. Here are more similar recipes shared by our Healthy Wealthy Group members as Masala Kaju in microwave, Badam Puri, 5-Minute Pavlova Parfait, Nutty Fruity Cookies, Shahi Mewa Korma/ Royal Nuts Curry, Healthy Homemade Granola, Fruit and Nut Raita, Monaco Mango Bites, Zarda Pulao .