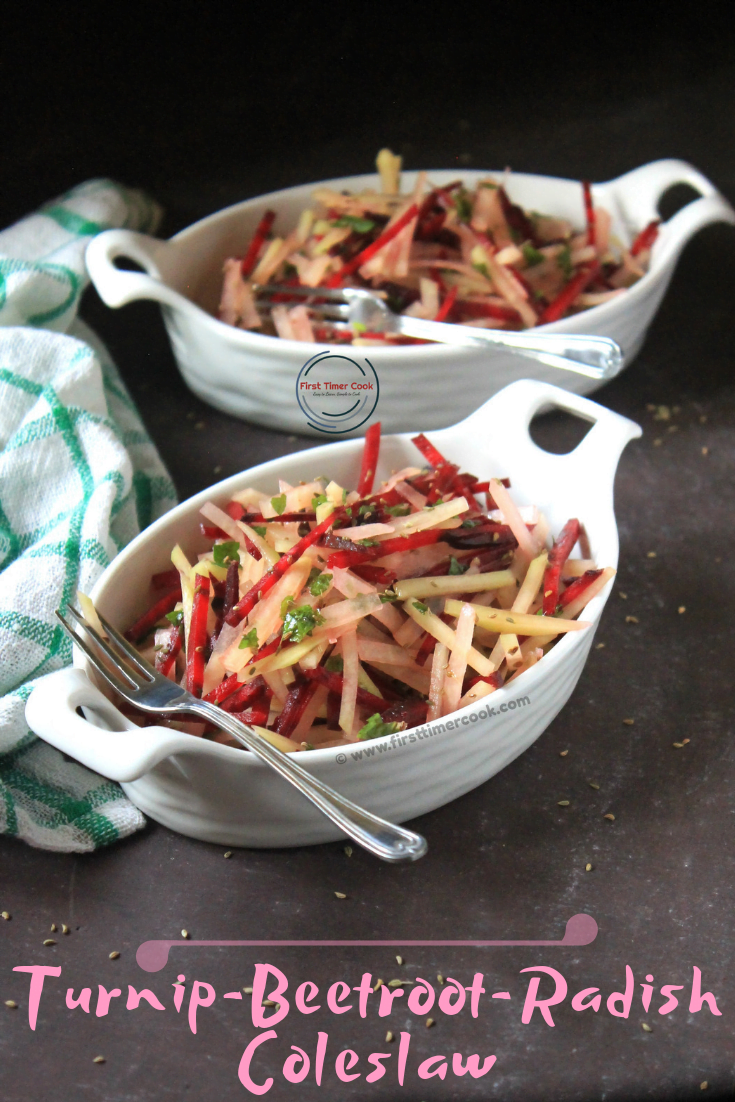 The classic coleslaw / cole slaw / slaw recipe is made of cabbage and topped with a delicious dressing. One can say that this is a kind of salad which works perfectly as it or as a filling in sandwiches, tacos or even as a side dish with so many dishes like grilled dishes, burgers, hot-dogs etc. Especially during the summer days, the coleslaw is a perfect light and refreshing option with all the cookouts.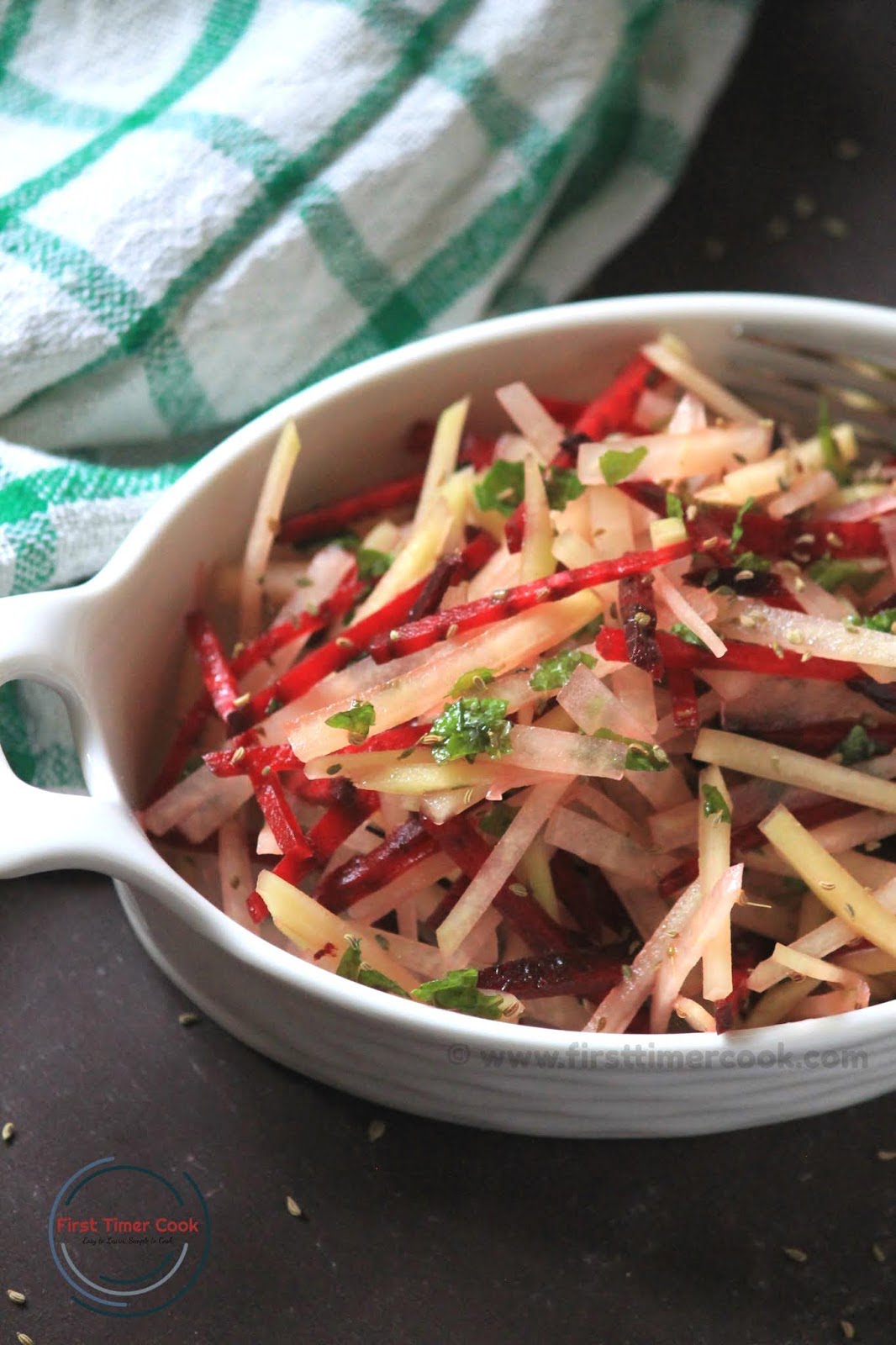 The dressing part is choice-able but must be a vinegar based. One can use mayonnaise or yogurt to get the slight creaminess in the dressing. The crisp chickpea coleslaw I have shared already where the yogurt is used in the dressing. If you are running out of time then these coleslaw are the better option for those last minutes.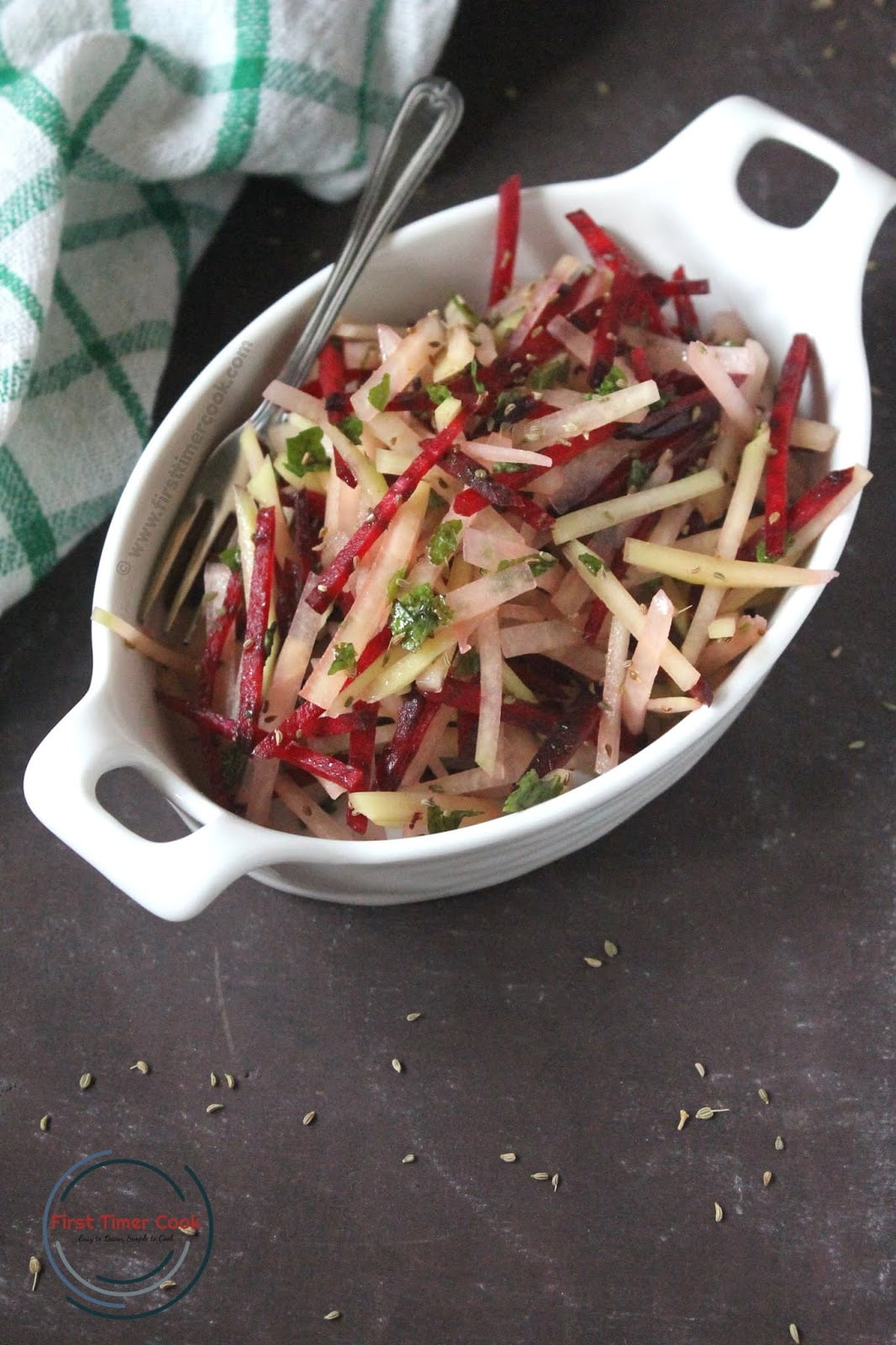 Here I have come up with a coleslaw using some root vegetables as Turnip Beetroot Radish Coleslaw. From the name itself it shows that three root vegetables are used like beetroot, radish and turnip. Some other choice-able vegetables can be opted here too. This is super simple one where neither mayonnaise nor yogurt is used. I love to put my coleslaw always in refrigerator before serving. As by refrigerating, the whole salad mixture gets marinated for a bit more time having the freshness intact which in results tastes so amazing. Still one can devour just after preparing the coleslaw without putting in the refrigerator. This completely vegan and gluten free coleslaw tastes a bit tangy with a crunchy texture. So do try.
Recipe Card for 'Turnip-Beetroot-Radish Coleslaw' :
Vegan, Gluten free, Salad, Coleslaw, Root vegetables, turnip, beetroot, radish, vinegar
Coleslaw
Author: SasmitaPin it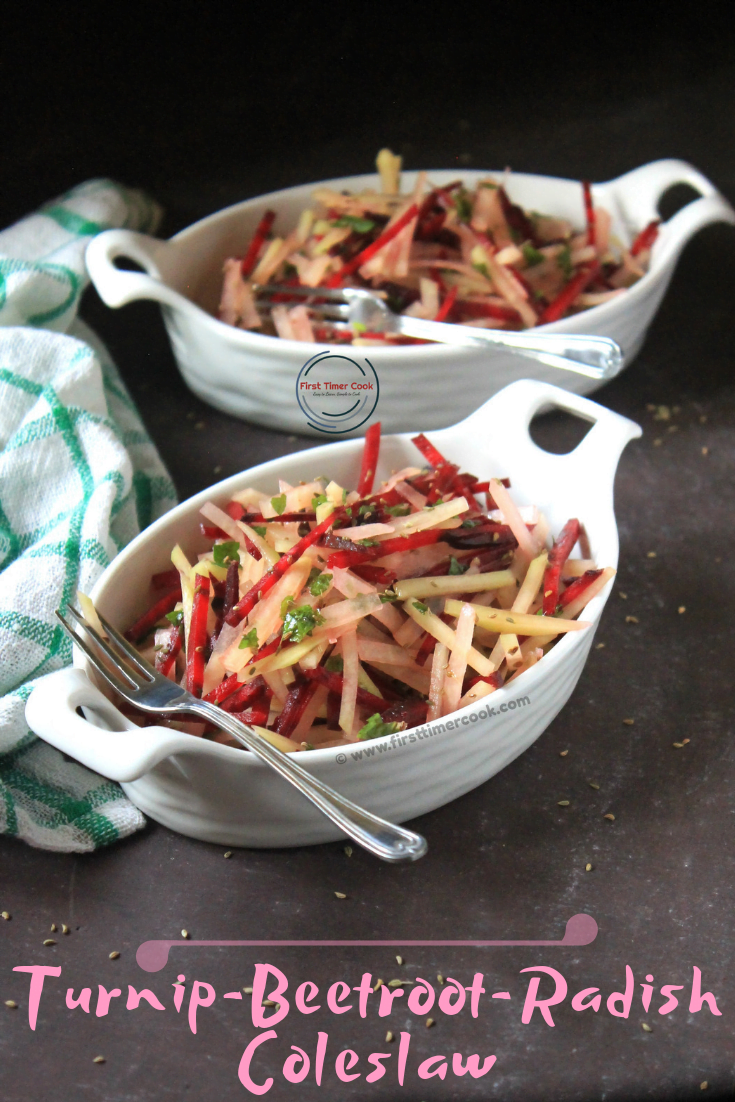 Turnip-Beetroot-Radish Coleslaw
completely vegan and gluten free coleslaw using root vegetables which tastes a bit tangy with a crunchy texture
prep time: 10 minscook time:total time: 10 mins
ingredients:
Kohlarbi (turnip) 1 no.
Radish 2 no.
Beetroot 1/2 no.
Vinegar (apple cider) 1 tbsp
Lime juice 1/2 tbsp
Sugar 1 pinch
Olive oil 1 tbsp
Celery seeds (ajwain) 1 pinch
Salt as needed
Parsley (finely chopped) 1 tbsp
instructions
Wash and clean all the three root vegetables turnip, beetroot and radish.
Peel each one and then make julienne.
In a mixing bowl put all the julienne, vinegar, freshly squeezed lime juice, salt, sugar, celery seeds (ajwain), finely chopped parsley and olive oil.
Mix everything using a spoon and keep the bowl in refrigerator with a cover.
At the time of serving, just take out from the refrigerator and serve !
NOTES:
By refrigerating for an hour or more, the flavors blend very well. Also it can be served without refrigerating.
Instead of ajwain / celery seeds, some sesame seeds also add a lovely crunch.
https://firsttimercook.com/2019/03/turnip-beetroot-radish-coleslaw.html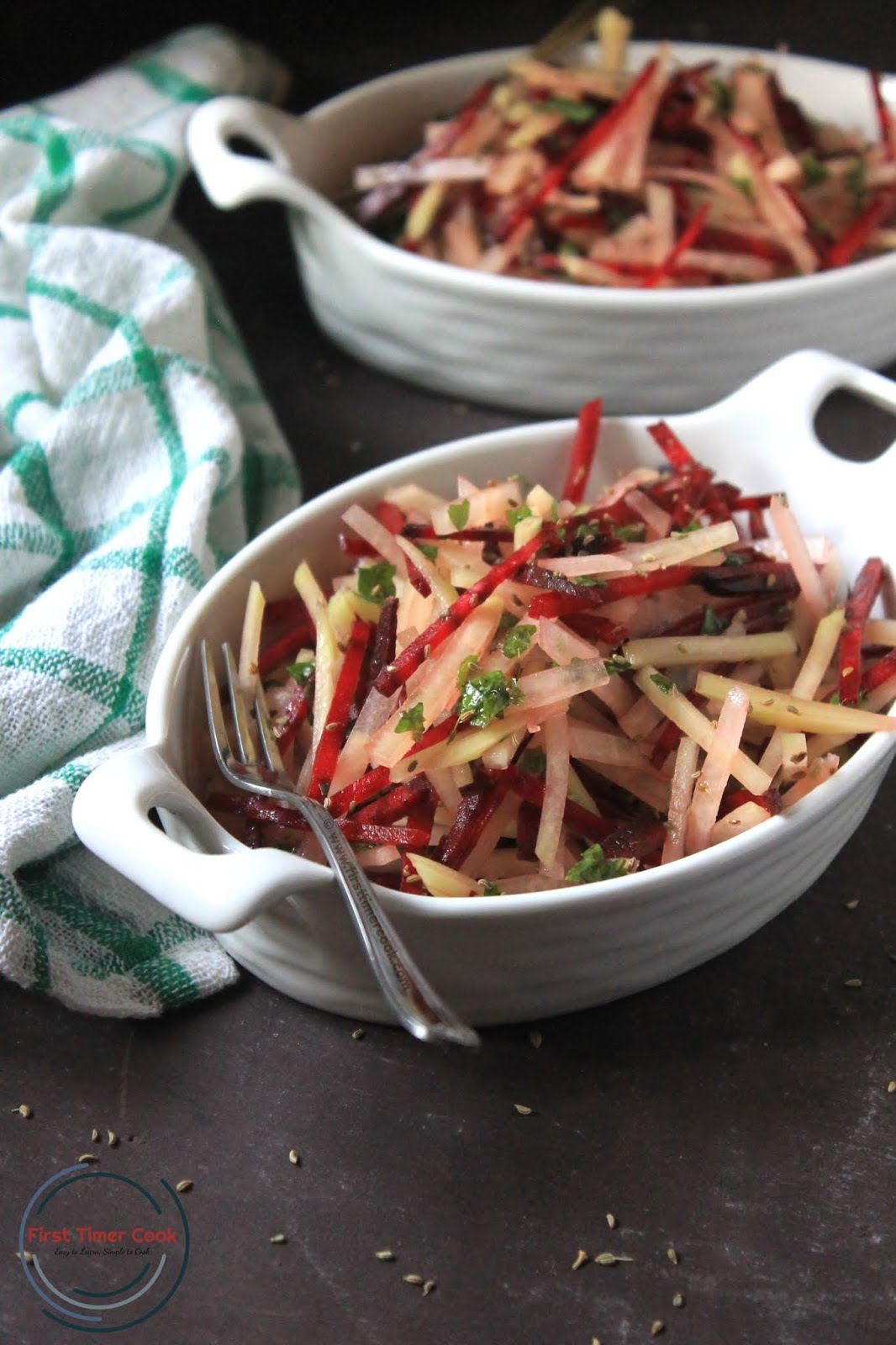 This post is for the current month's Food Bloggers Recipe Swap and I was paired with Ali who is a wonderful blogger at Fix Me a Little Lunch. She has a delectable collection of recipes and I was so tempted by so many recipes, but finally landed on Kohlrabi radish coleslaw. And here is my version of that with the addition of another root vegetable, beetroot as Turnip Beetroot Radish Coleslaw.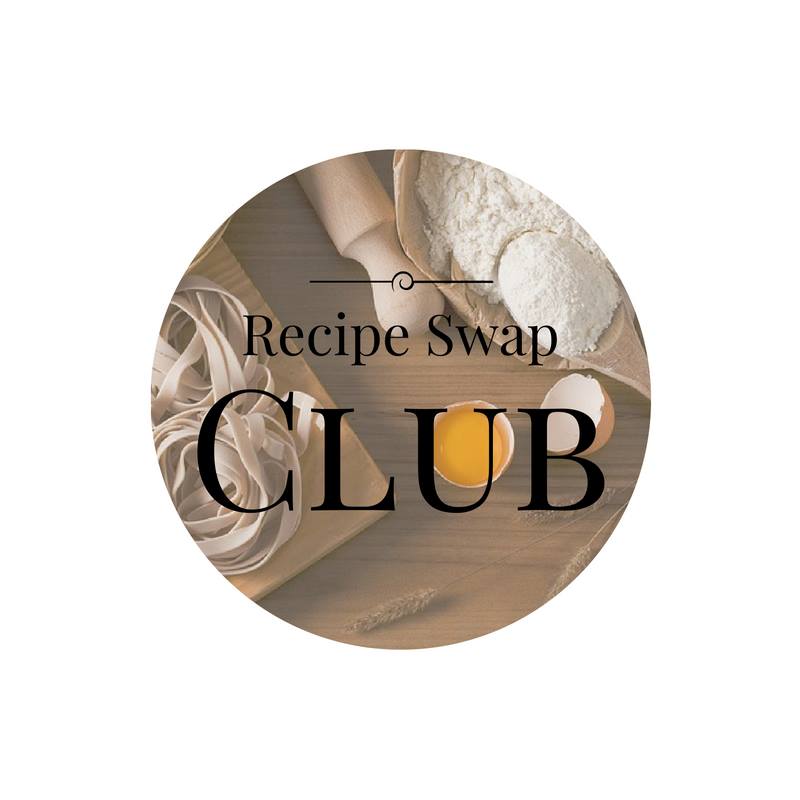 If you tried my recipe and enjoyed fully, then please share some pictures of your creation with me. Also kindly rate the recipe below, give your valuable feedback either in the comment box below or tag me as @firsttimercook on Instagram.
You may also follow me on Facebook, Pinterest, Twitter, Google+, Instagram and can subscribe for free to get new recipes directly into your inbox 😊
Please check out the other delicious Recipe Swap Recipes
PIN for later :