Festival of Colours, HOLI is finally approaching this week which is a major Hindu festival in Indian subcontinent. The festival is split into two events beginning with 'Holika Dahan' on the night before the main festivities and culminating with 'Rangwali Holi' on the next day. The timing of Holi depends on the moon which means the date of this festival can vary, although it usually occurs in March to mark the end of winter and beginning of spring. According to the Hindu Calendar, it is celebrated on the full moon night of the months of Phalgun.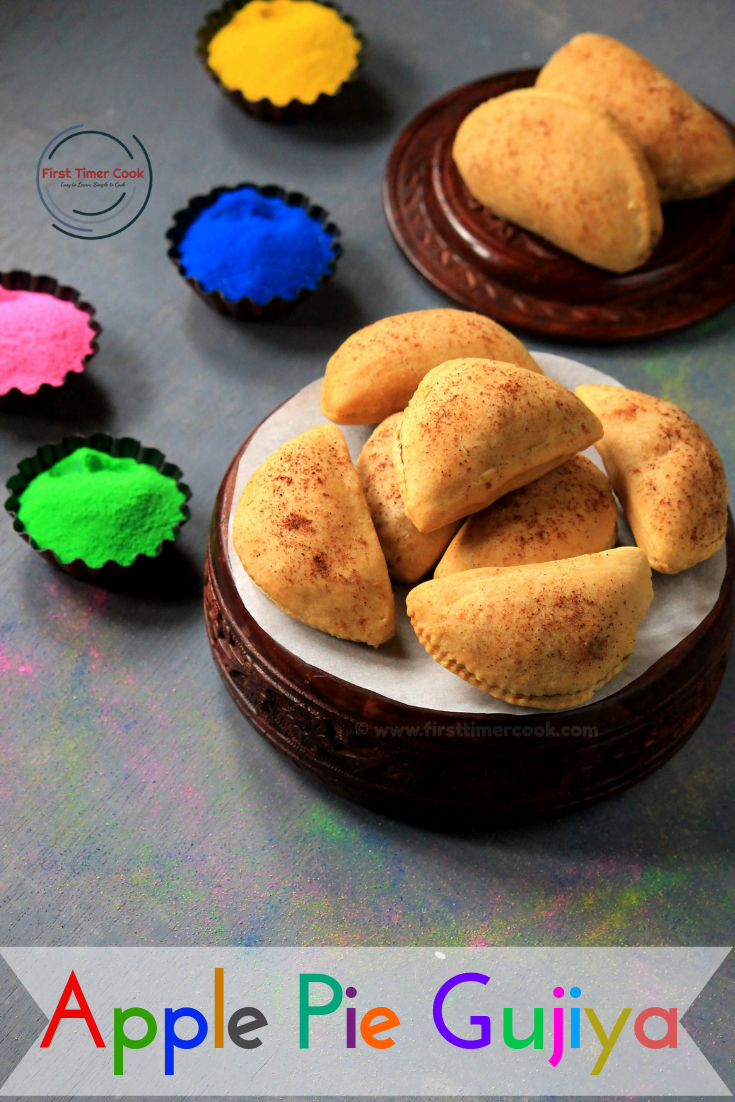 In exactly, Holi is a time when everyone throws off the gloom of winter and rejoices in the colors and liveliness of spring. Very simply, this is called as the festival of colors because colors are enormously used during this festival. Well, one can't imagine celebrations without some good foods. Especially, in India where the major highlight of every occasion happens to be some delicious and lip-smacking foods. And during Holi, there is no exceptions. Starting from the burst of vibrant colors to some heavenly gujiyas / karanjis, thandai, bhang pakoras; the festival is all about enjoying the good times with friends and family.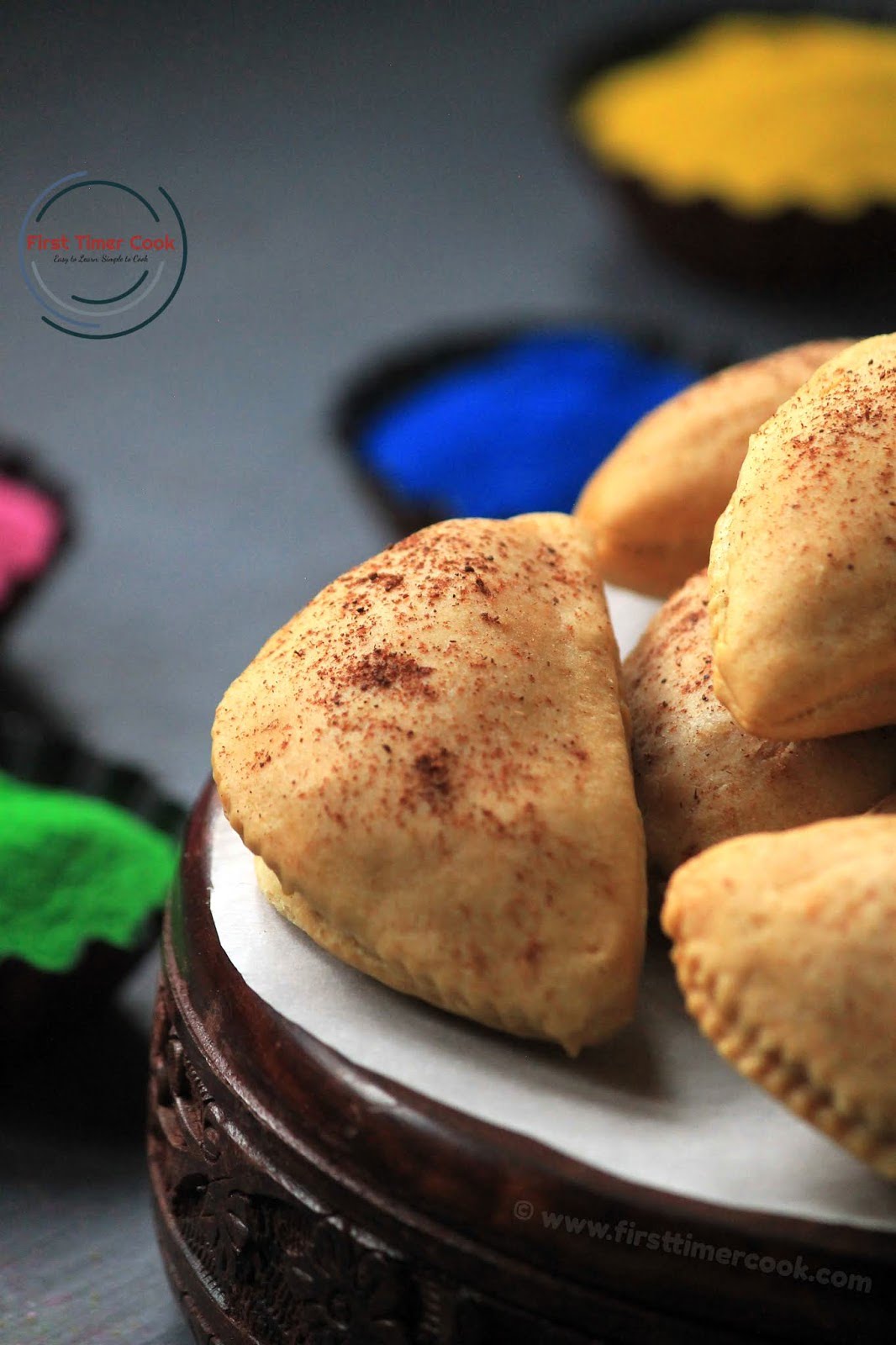 Well, karanji / gujiya is a flaky fried pastry cells stuffed with either coconut filling or mawa-dry fruits filling. In different parts of India depending upon the filling the name varies. These days, so many innovative karanji are being prepared. This sweet dish is one of the must-to-be-prepared dish during Holi as well as Diwali. Here I have come up with a firangi twist to this humble Karanji / Gujiya as Apple Pie Karanji / Gujiya.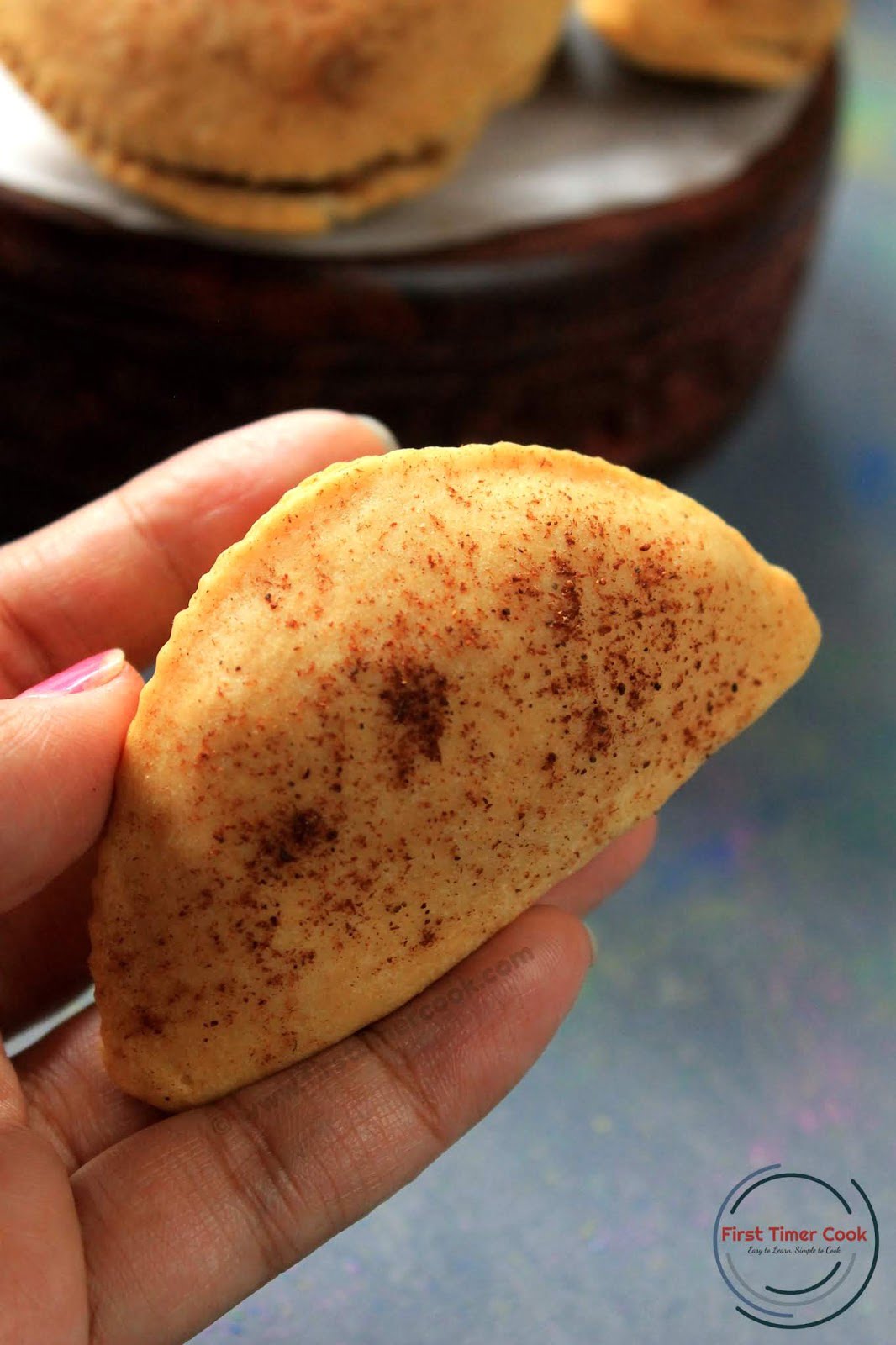 Particularly the filling here is similar to the filling of an apple pie. Simply chop the apples and coat with butter, cinnamon powder, brown sugar and also some all purpose flour to get rid of the juice while cooking the apples. The outer pastry shell is prepared using maida / all purpose flour, butter / ghee as the main ingredients. Although karanjis are traditionally prepared by using the deep frying method, but here I have followed the baked version. Some more Holi special recipes, I have shared already which you all can try for this upcoming Holi are
Recipe Card for 'Apple Pie Karanji / Gujiya' :
gujiya, karanji, apple pie, holi 2019, apple
sweet, baked dish
Fusion Indian
Author: SasmitaPin it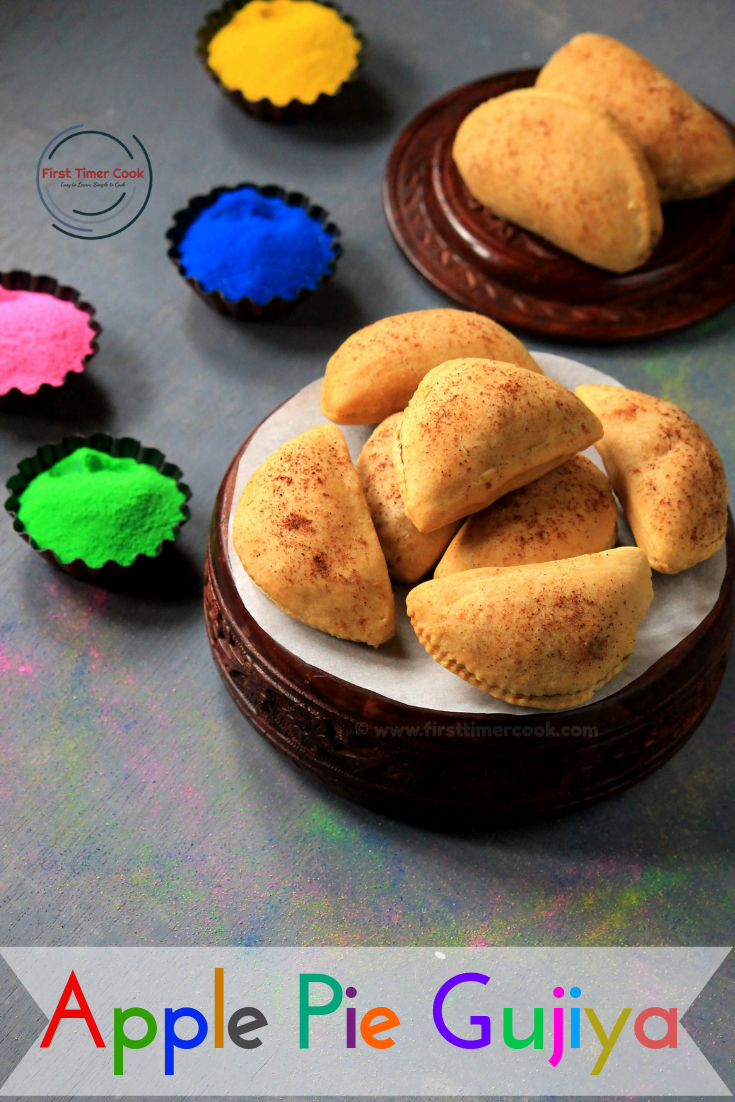 Apple Pie Karanji / Gujiya
a firangi twist to the humble Karanji / Gujiya as a filling of apple pie
prep time: 20 minsResting time: 1 hrscook time: 35 minstotal time: 55 mins
ingredients:
For the Pastry Shell:
All purpose flour 2 cup

Butter (unsalted) 3 tbsp + 1 tbsp

Baking powder 1 tsp

Baking soda ½ tsp

Salt ¼ tsp

Cold water 1/3 cup + 1-2 tbsp
For the stuffing :
Apple 2 no.

Brown sugar 3 tbsp

Cinnamon powder 1-2 pinch

All purpose flour 1 tbsp

Butter 2 tbsp
instructions:
In a mixing bowl first take all purpose flour, baking powder, baking soda, salt and mix everything well.

Then add 3 tbsp butter (unsalted) and start mixing using fingers till a breadcrumb texture obtains.

Pour cold water slowly and start kneading to make a smooth dough.

Cover the bowl and keep in refrigerator for at least 1 hour or overnight.

Now wash the apples, peel and chop into small cubes.

Heat butter in a pan.

Add all the chopped apples and saute.

Then add brown sugar, cinnamon powder and mix everything till sugar melts well.

Turn of heat and sprinkle the all purpose flour (maida).

Give a quick mix so that each apple cubes get well coated.

Transfer to a plate and keep aside to cool down completely.

Now take out the dough from refrigerator and make small dough balls (around 1-2 inch size balls).

Take one dough ball and using the rolling pin roll into approximately 3 mm thick circle.

In a gujiya / karanji mold, place the rolled dough and fill 2 tsp of the cool down stuffing.

Close the mold and gently un-mold the gujiya / karanji.

Meanwhile preheat the oven at 180 deg C.

Similarly prepare more gujiyas from rest dough balls and stuffings.

Place all the gujiyas on a baking tray lined with parchment paper.

Brush each gujiya with butter and sprinkle cinnamon powder.

Finally bake for 20-25 minutes.

Take out from oven and transfer to a wire rack to cool down.

Serve or keep in an air tight container to server later !
NOTES:
If the butter used for pastry shell is salted one, then just avoid the addition of salt from the ingredient list.
Use this gujiyas within 1-2 days by keeping in an air tight container.
https://firsttimercook.com/2019/03/apple-pie-karanji-gujiya.html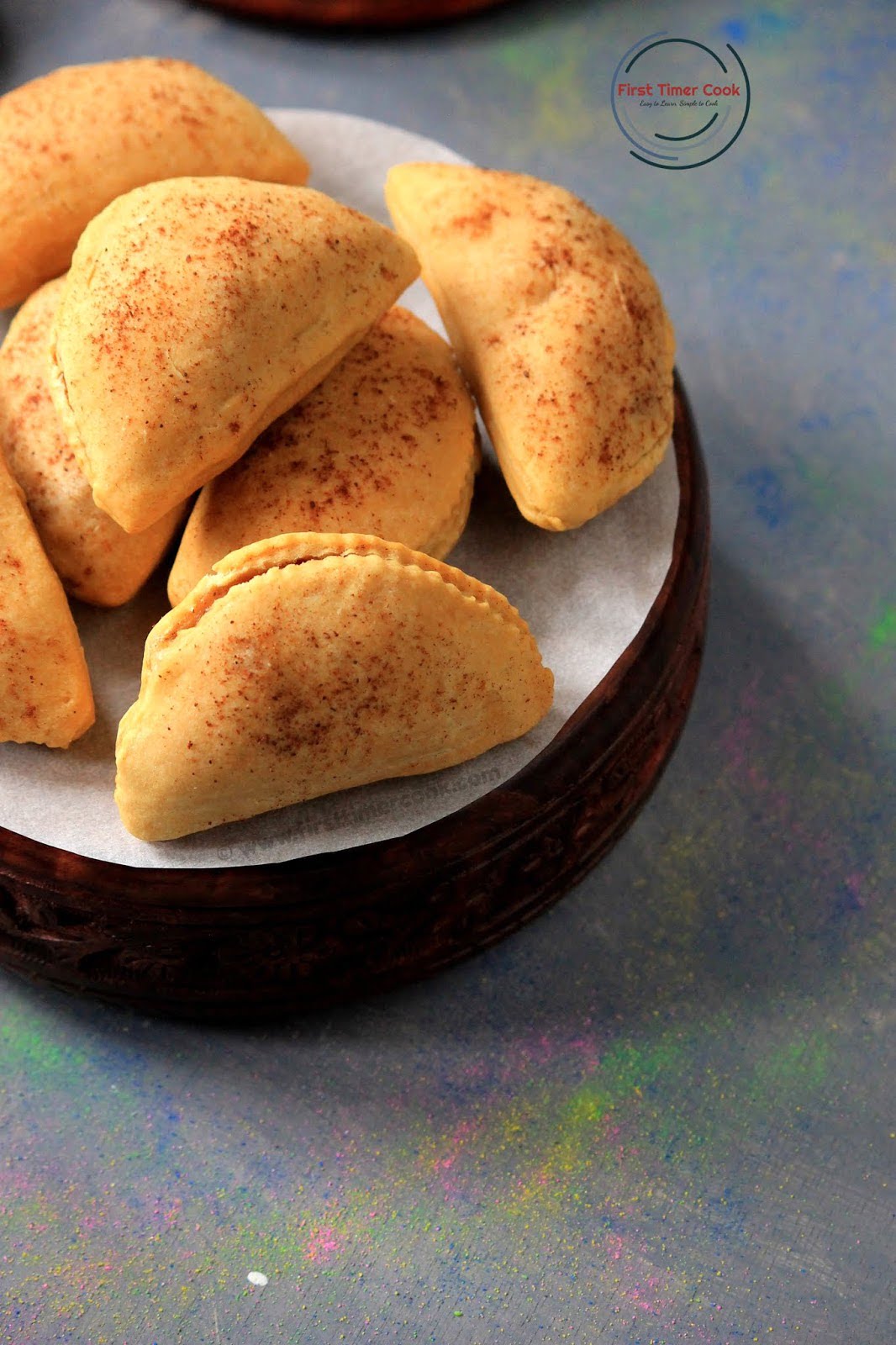 If you tried my recipe and enjoyed fully, then please share some pictures of your creation with me. Also kindly rate the recipe below, give your valuable feedback either in the comment box below or tag me as @firsttimercook on Instagram.
You may also follow me on Facebook, Pinterest, Twitter, Google+, Instagram and can subscribe for free to get new recipes directly into your inbox 😊

PIN for later :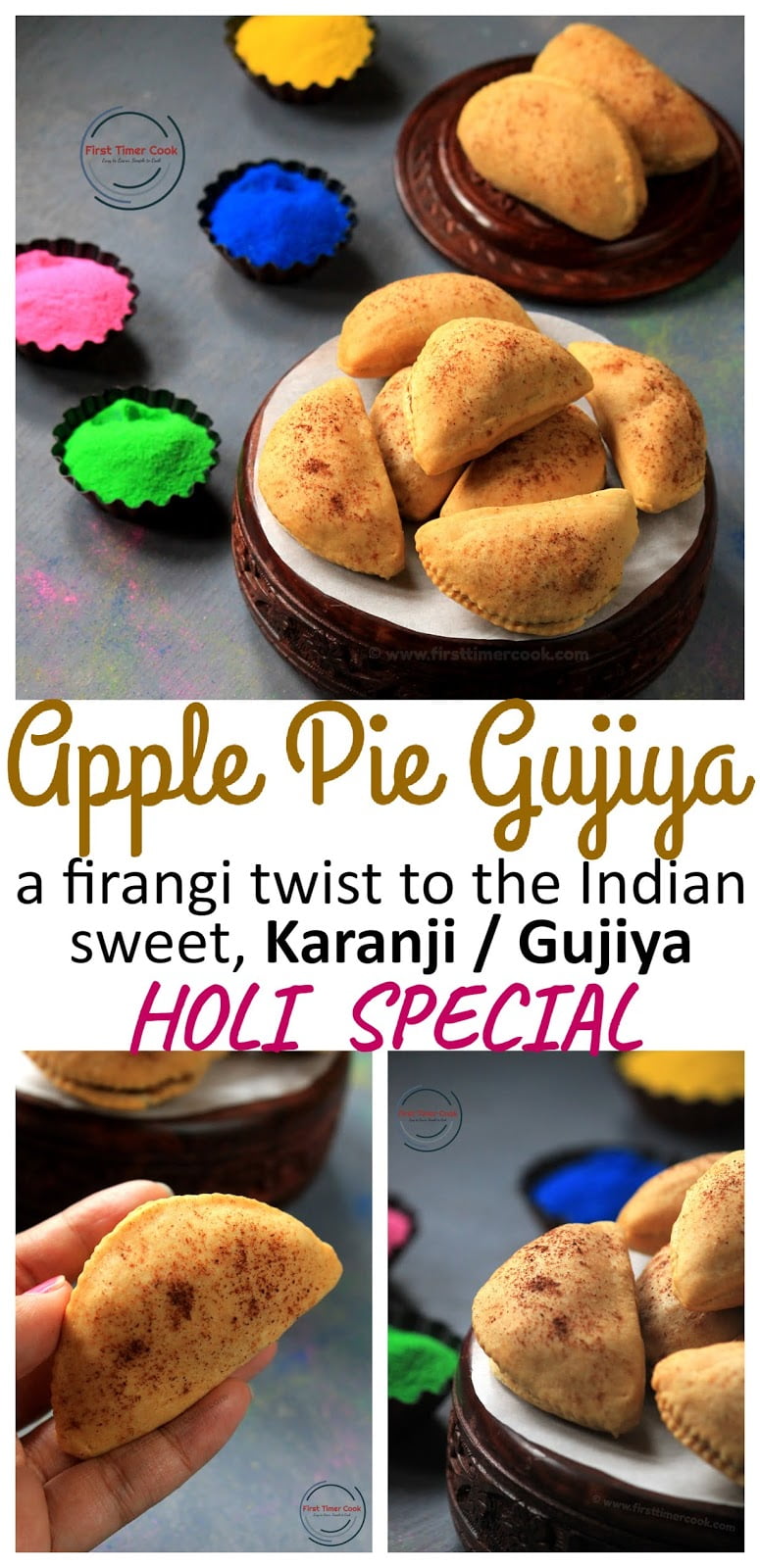 This 'Apple Pie Karanji / Gujiya' is contributed for the holi round up in Healthy Wellthy Cuisines where the theme is 'Gujiya Delight at HW'. Here are more similar recipes shared by our Healthy Wealthy Group members as Chocolate Gujiyas with Puff Pastry, Apple Gujiya, Karchikayi, Coconut Mawa Gujiya, Nutella and Nuts Gujiya.