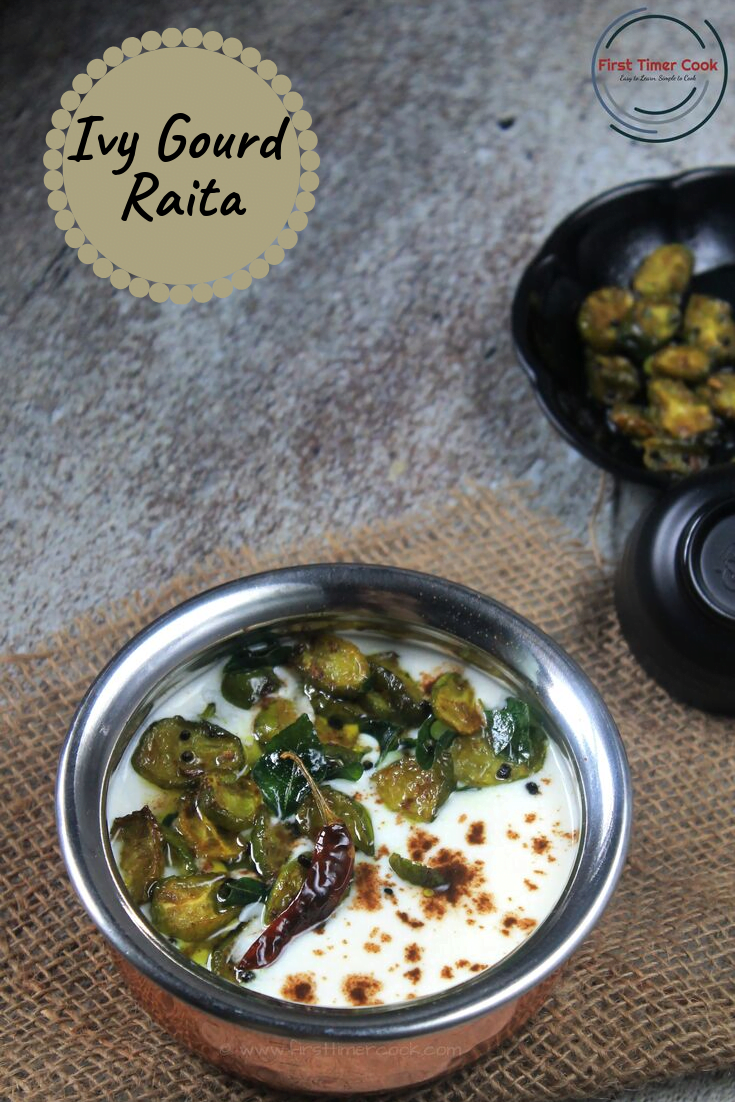 Ivy gourd is a popular vegetable in Asian and African countries. This vegetable is also known as Kovakkai in Tamil, Tendli in Marathi, Tindora in Hindi, Kundri in Odia, Dondakaaya in Telugu etc. Ivy gourd plant is an aggressive climber which can spread quickly over trees, shrubs, fences and any other supports. The vegetable, ivy gourd is said to have potent anti-inflammatory and antioxidant effects that may aid in the prevention or treatment of a diverse range of health conditions, from diabetes and high cholesterol to high blood pressure and obesity.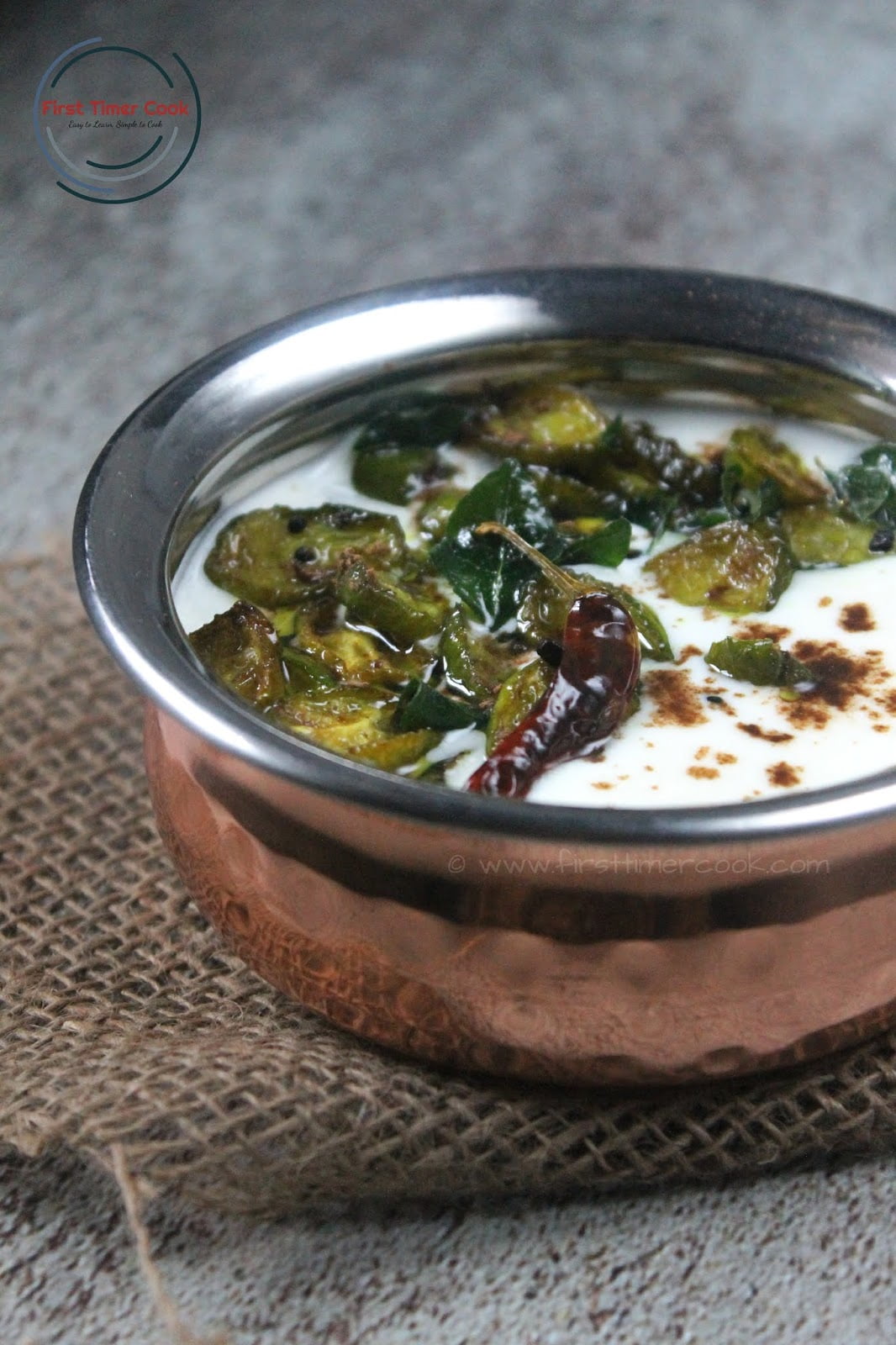 In culinary world also this is used in a variety way like fries, chutney, stuffed with masala and even many more. Today I am going to share a raita using this vegetable as Ivy gourd / Tindora Raita. The tindora before adding to the curd, can be either deep fried or pan fried simply. Then a tempering is prepared, both fried tindora and tempering is added to the curd. The whole thing is now mixed well and serve as an accompaniment. This raita is completely in gluten free category.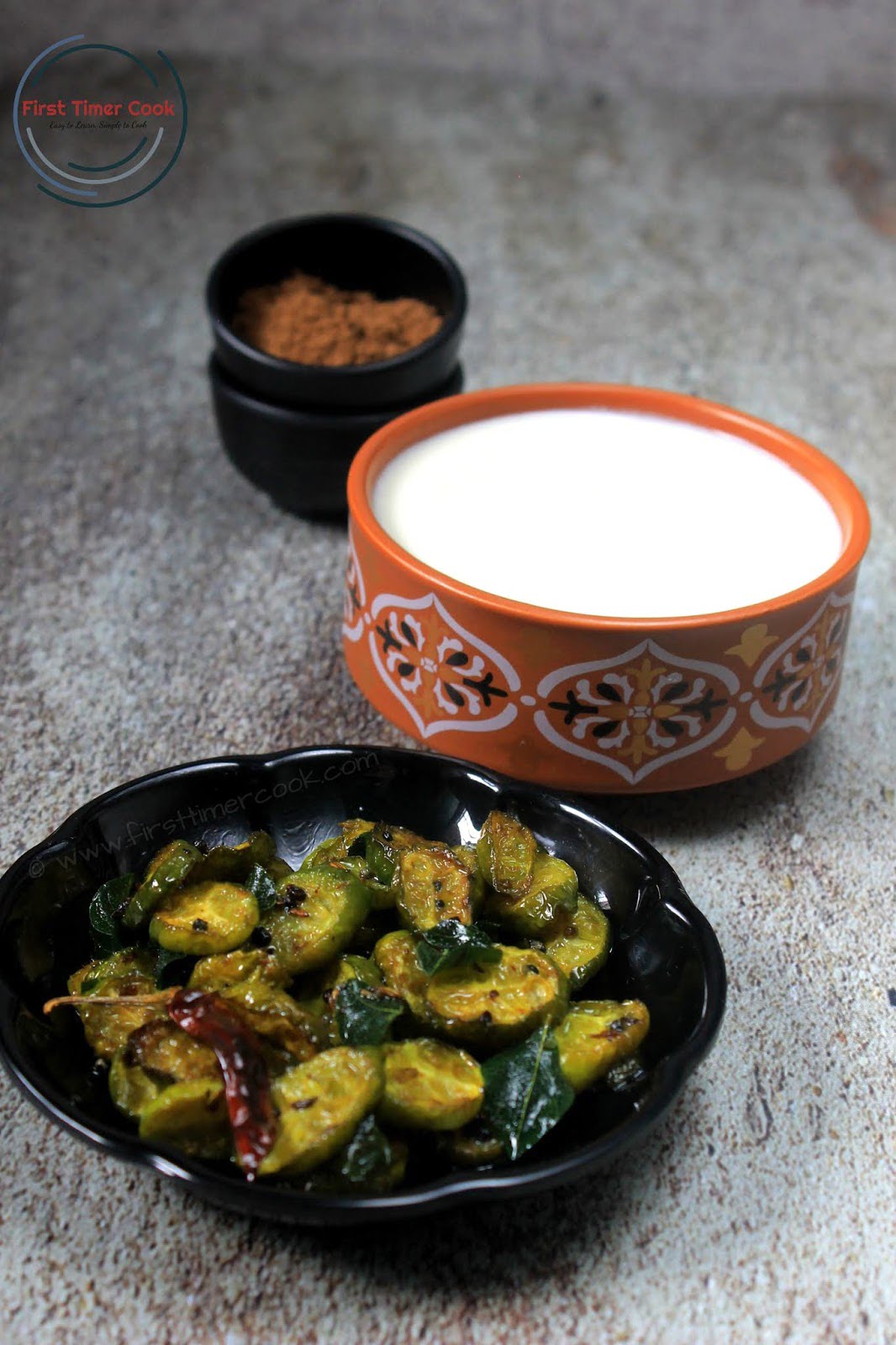 But I have fried the tindora along with the tempering. Although the ivy gourd wont be crisp in this way, still I like to make both in one. The raita masala powder I have used simply to the curd which enhances the flavor of the raita. If raita masala powder is not available, then one can use a mixture of equal amount of cumin powder, red chili powder and chat masala powder. This raita is totally onion-garlic free. It goes well as a perfect side dish with any Indian meal. So do try !
Some other raita recipes from this blog are :
Recipe Card for 'Tindora Raita | Tempered Ivy gourd in Curd' :

Accompaniment, Raita, Curd, yogurt, Gluten free dish, No onion no garlic dish, Tindora, Kundri, dahi
Side dish, Ivy gourd, Raita, Gluten free, Without onion-garlic
Indian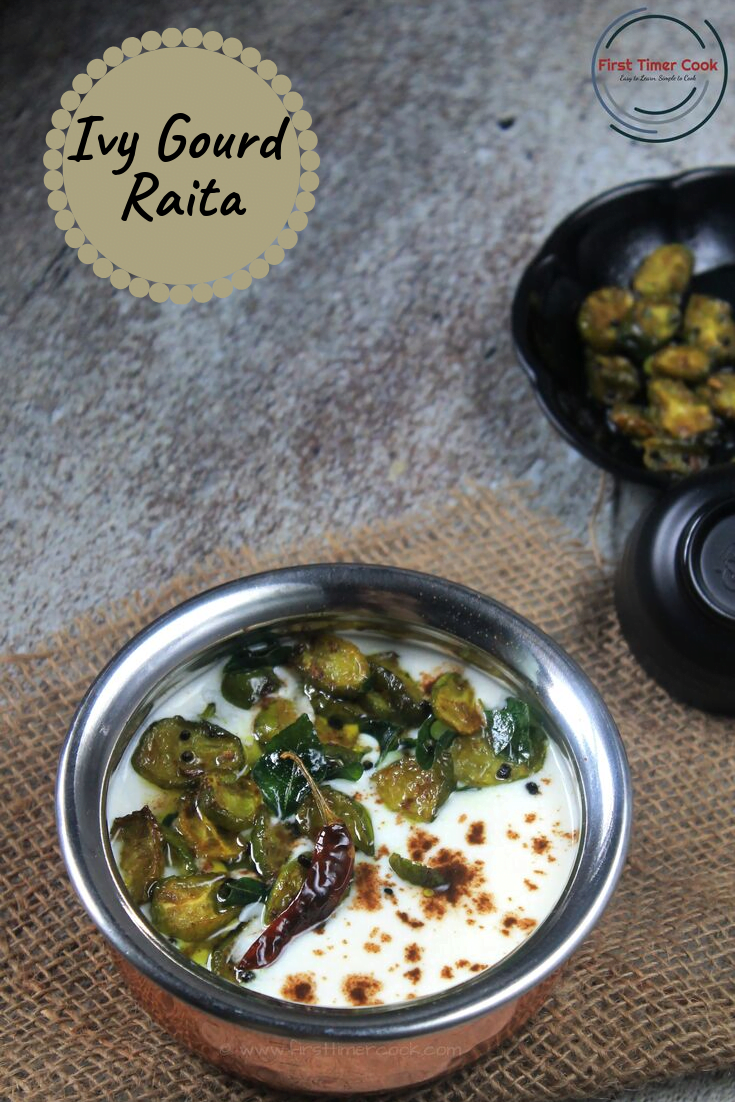 Tindora Raita | Tempered Ivy gourd in Curd
a delicious accompaniment made by adding tempered ivy gourd to the curd
prep time: 15 Mcook time: 15 Mtotal time: 30 M
ingredients:
Ivy gourd 10-12 no

Yogurt 2 cup

Cumin seed 1/2 tsp

Mustard seed 1/2 tsp

Curry leaf 1 sprig

Whole red chili 1 no.

Turmeric powder 1/4 tsp

Raita masala powder 2 tsp

Sugar 1/2 tbsp

Salt as needed

Oil 1 tsp
instructions:
How to cook Tindora Raita | Tempered Ivy gourd in Curd
Wash and clean the ivy gourds.

Then slice into either round or oval pieces.

Heat oil in a pan.

Add whole red chili, cumin seed, mustard seed and allow to crackle well.

Next add curry leaves and saute for 8-10 seconds.

Now add ivy gourd slices along with turmeric powder and salt.

Mix everything well and sprinkle 1-2 tbsp water.

Cover and allow to cook well.

Turn off heat and keep aside.

Then in a mixing bowl, take curd along with salt, sugar, raita masala powder and mix well.

Add the cooked ivy gourd to the curd mixture and gently mix.

Serve and enjoy !
NOTES:
If raita masala powder is not available then use a mixture of similar quantity of chat masala, red chili powder and cumin powder.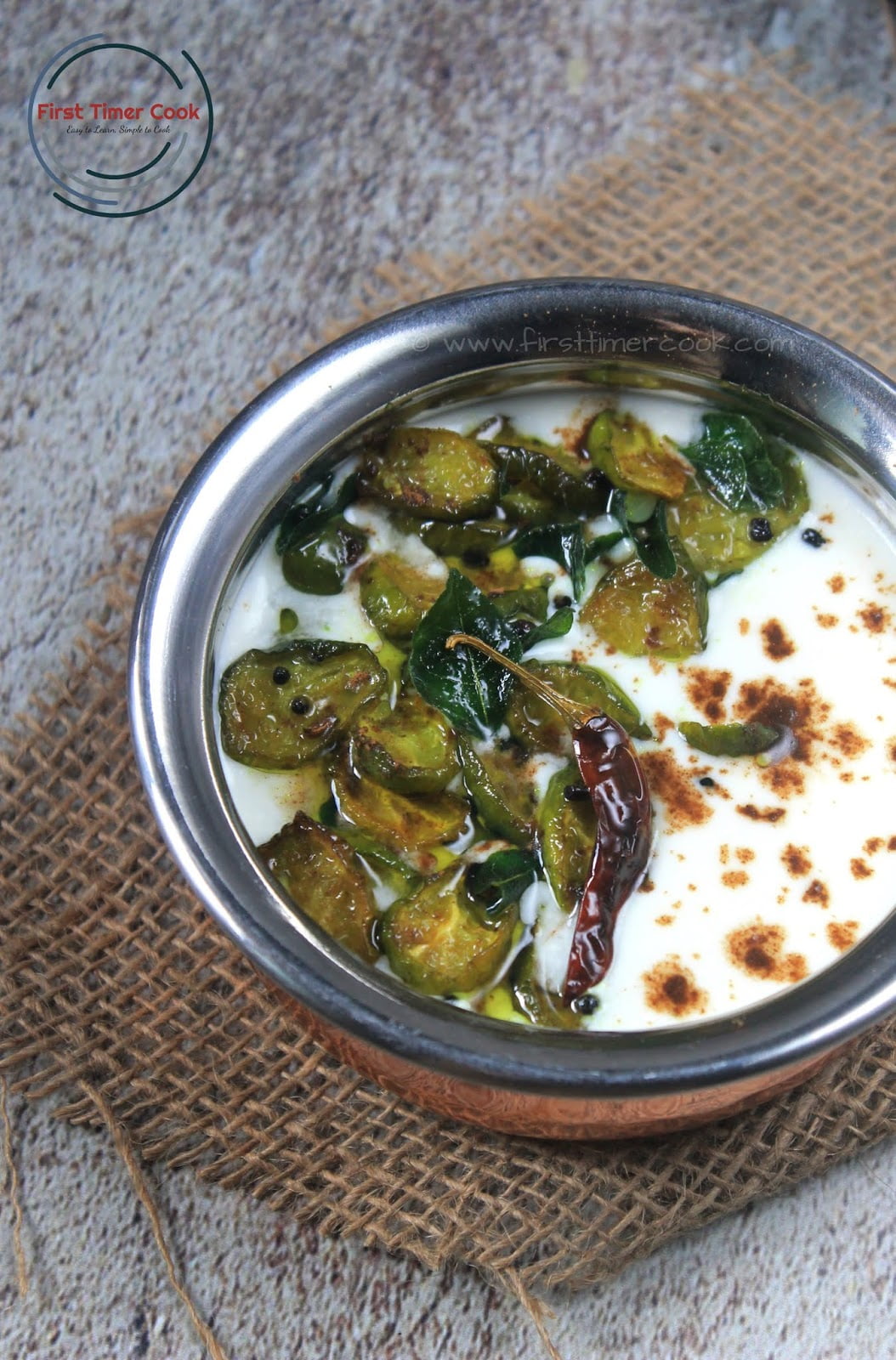 Well for current month the event 'A to Z Recipe Challenge' has come up with the alphabet 'I'. That means, there must be a recipe post having the main ingredient name starting with alphabet I. So I opted I for 'Ivy Gourd' and have prepared an accompaniment as 'Tindora Raita / Tempered Ivy gourd in Curd'.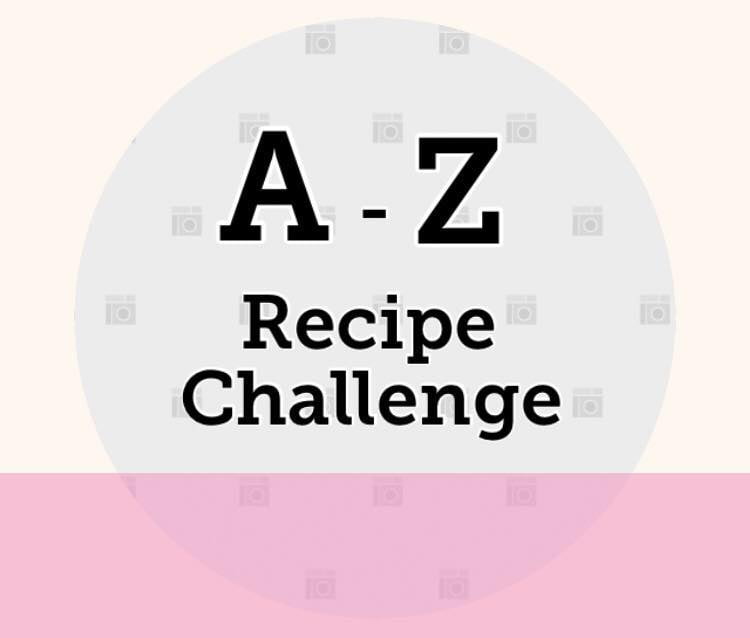 If you tried my recipe and enjoyed fully, then please share some pictures of your creation with me. Also kindly rate the recipe below, give your valuable feedback either in the comment box below or tag me as @firsttimercook on Instagram.
You may also follow me on Facebook, Pinterest, Twitter, Google+, Instagram and can subscribe for free to get new recipes directly into your inbox 😊
PIN for later :