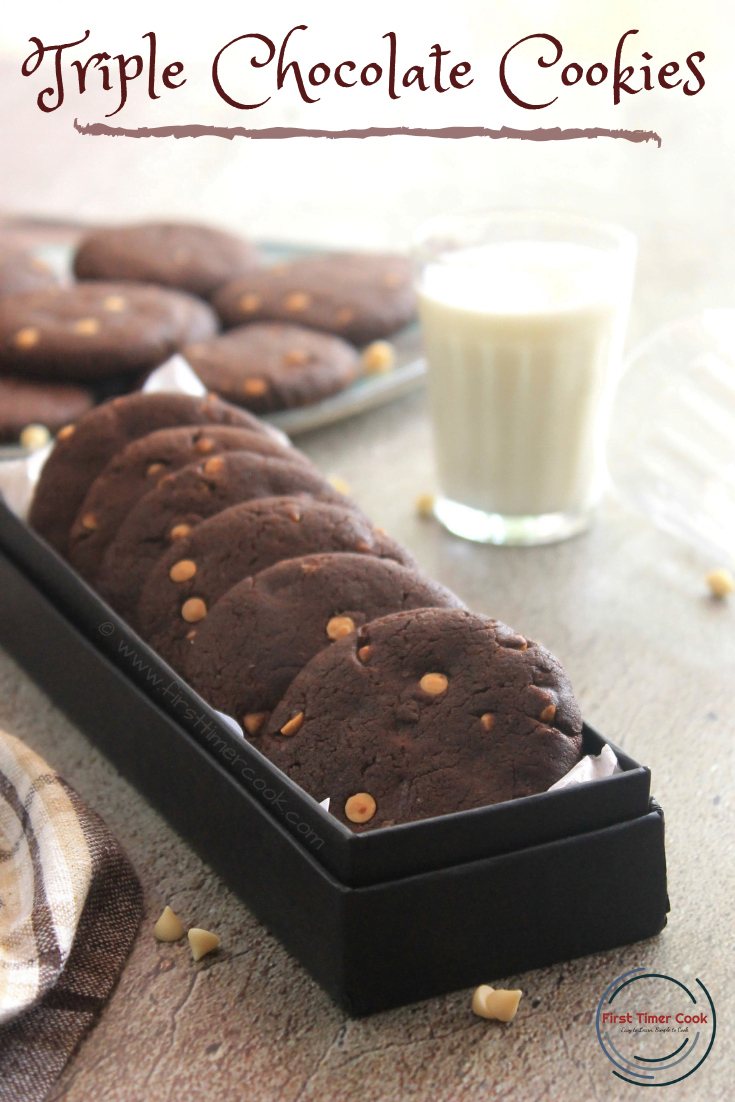 Chocolate is hugely popular all over the world. And do you know, World Chocolate Day is coming up which is on 7th July. For a die hard fan of chocolate, the day must not be specific one ;P still as the day for chocolate is there so all should celebrate that. It is said that this day has been first introduced in Europe on July 7, 1550. Chocolate comes in different flavors that includes milk, white & dark chocolate. Eating chocolate is heart-healthy, helps to prevent cancer and boosts our mood too if taken moderately. One can indulge the chocolate in many forms like hot chocolate, chocolate cookies, brownies, chocolate candy, chocolate milk, chocolate cakes and lots more. Some chocolate recipes which I have already uploaded in my blog are :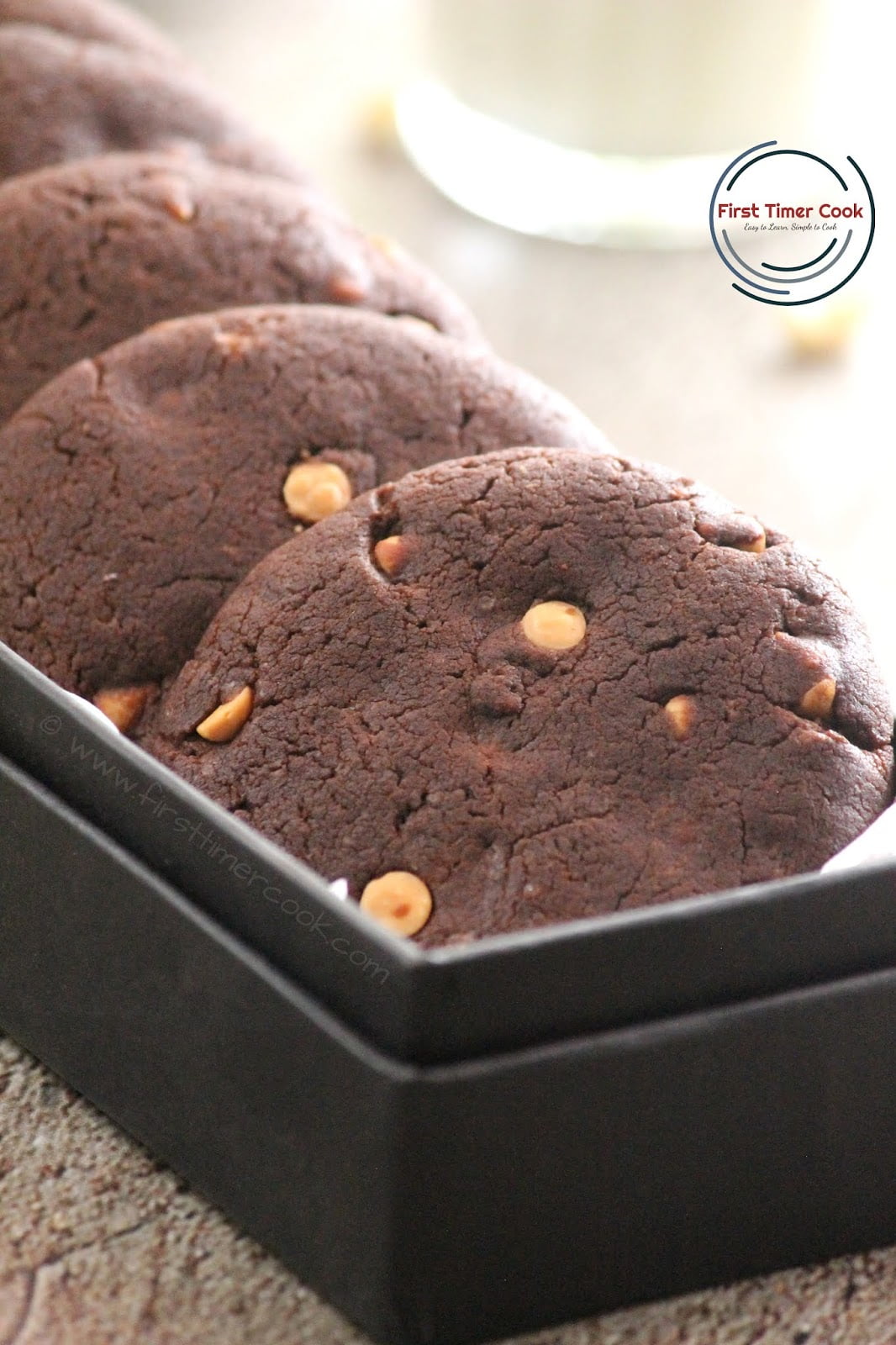 Well today I have a cookie recipe which is loaded with chocolates as Triple Chocolate Cookies. Triple means, here the chocolates are added in three forms as cocoa powder, melted chocolate chunks and chocolate chips which is either white or dark or even both. Keeping a healthy note, no maida or all purpose flour is considered here, instead of that wheat flour is used. Also I have kept the cookies completely vegan means No Egg, No butter, No milk are used.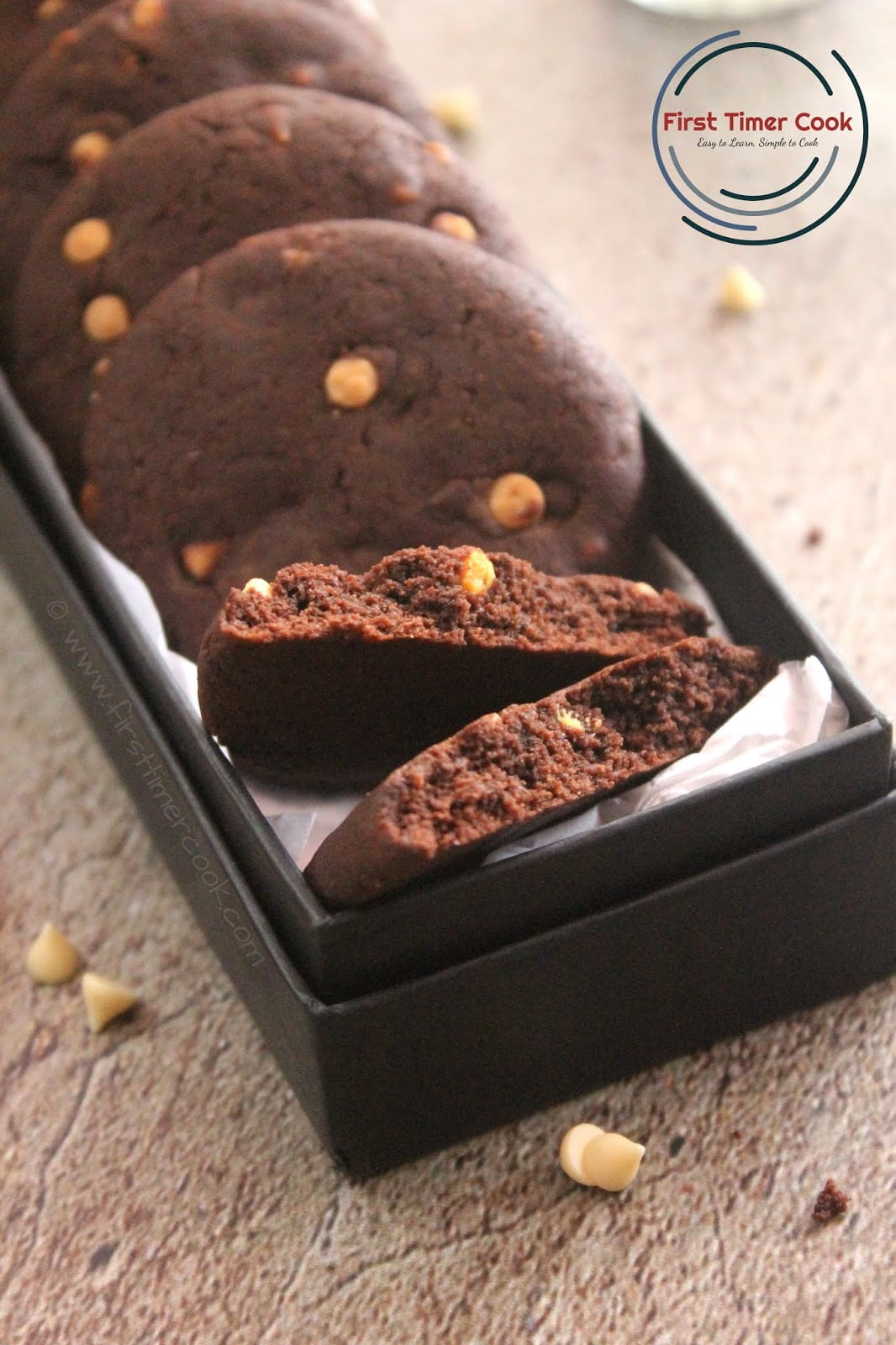 Recipe Card for 'Vegan Triple Chocolate Cookies' :

Chocolate, Vegan, Cookies, Triple chocolate, Dark chocolate, Chocolate chips, no maida, no egg, eggless, no butter, no milk, baking
Chocolate, Vegan, Cookies,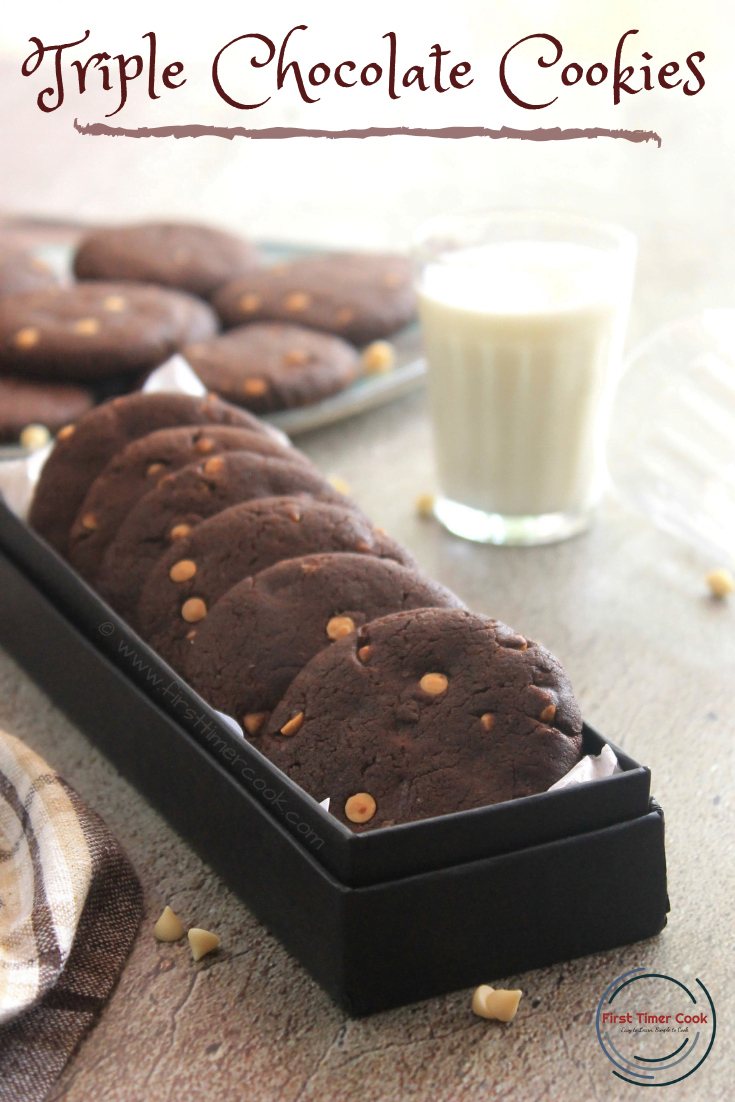 Vegan Triple Chocolate Cookies
a thick, rich and soft cookies loaded with chocolates for seriously chocoholics which are completely Maida free, Refined Sugar free and Vegan.
prep time: 10 Mcook time: 15 Mtotal time: 25 M
ingredients:
Wheat flour 1 cup

Cocoa powder 1/2 cup

Brown sugar 1/2 cup

Baking soda 1/2 tsp

Dark chocolate chunks 75 gm

White chocolate chips 1/4 cup

Olive oil 6 tbsp

Water 3 tbsp

Sat 1/4 tsp
instructions:
How to cook Vegan Triple Chocolate Cookies
First sieve the dry ingredients as wheat flour, salt, baking soda, cocoa powder in a bowl. Keep aside.

In another mixing bowl then take brown sugar, olive oil and water.

Using a hand / electric whisk, whisk until everything incorporate well.

Add the dry ingredients mixture and mix well to get a smooth dough.

Meanwhile melt dark chocolate chunks by using double boiler or just microwave for 1 – 1.5 minutes. Stir in between until smooth.

Then preheat the oven at 170 deg C.

Add the melted chocolate to the dough mixture and mix.

Finally add the white chocolate chips and again mix.

Scoop 1 tbsp of dough each time and place over a baking tray lined with parchment paper keeping space in between the cookies.

Bake for 10-12 minutes.

Remove from the oven and transfer all the cookies onto a wire rack to cool down completely.

Store in an airtight container and at the time of serving take out and serve with a cup of tea / glass of milk !
NOTES:
Dark chocolate chips or any other varieties of chocolates can be opted too.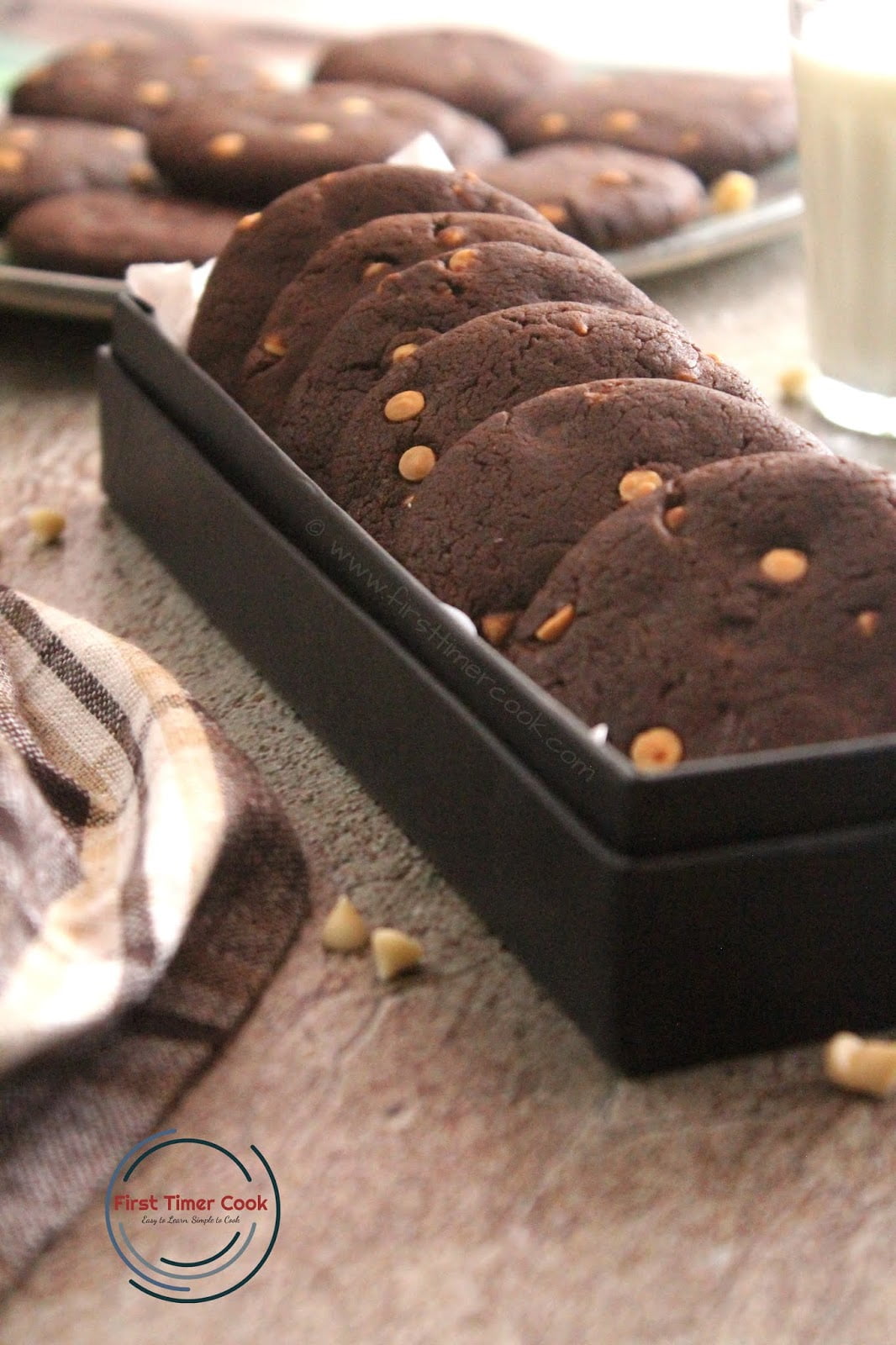 If you tried my recipe and enjoyed fully, then please share some pictures of your creation with me. Also kindly rate the recipe below, give your valuable feedback either in the comment box below or tag me as @firsttimercook on Instagram.
You may also follow me on Facebook, Pinterest, Twitter, Google+, Instagram and can subscribe for free to get new recipes directly into your inbox 😊
This Vegan Triple Chocolate Cookies is contributed for 202th theme of the Foodie Monday Blog Hop foodie group which is decided as 'Kuch Meetha Ho Jaye' and suggested by 'Renu' who blogs at Cook with Renu.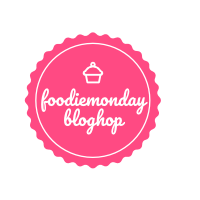 PIN for later :