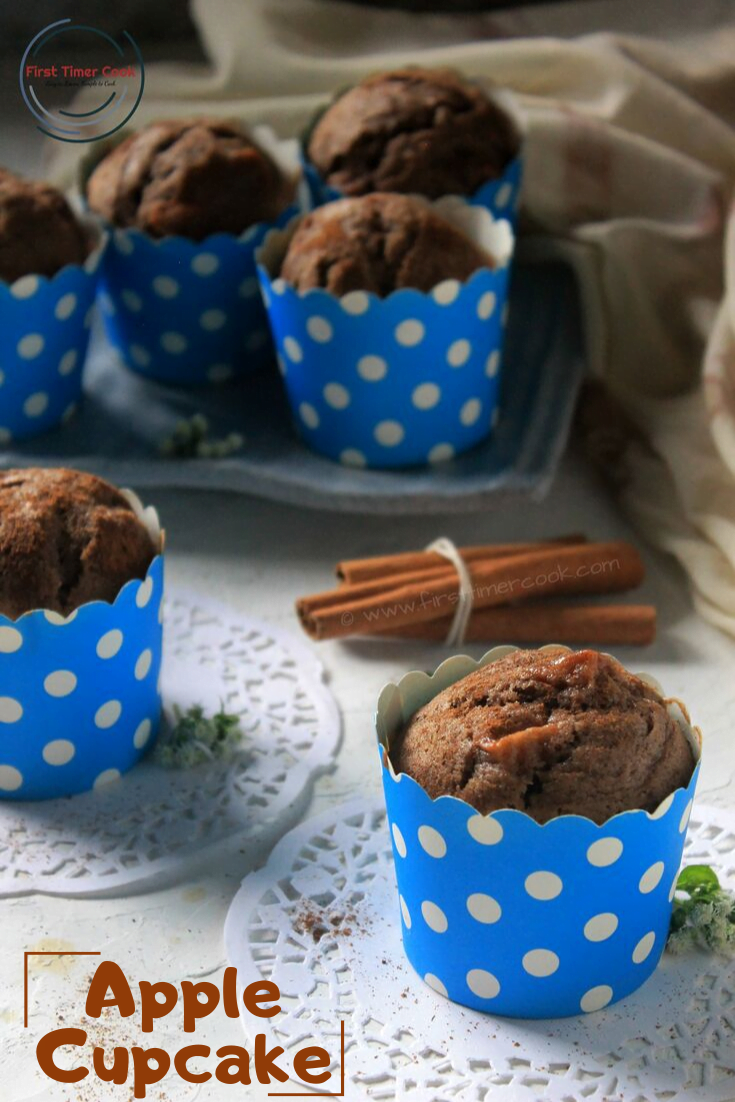 Today is again a Monday. As you all know, I have been associated with a foodie group as Foodie Monday Blog Hop where each Monday we, the group members fix a theme and as per theme we make a fresh post. This time, the 213th theme is decided as 'Let's Celebrate Fall' which is suggested by Poonam. She is such a sweet co-blogger of mine and I love her regional dishes, apart from that do check out her blog for some awesome whole wheat dishes particularly in baking.
So basically we have to make any dish using the ingredients that belong to fall season. And here I have prepared a baked dish using apple as Vegan & Healthy Apple Cupcake.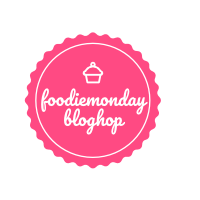 What is FALL Season ?
Fall season (in North America) or Autumn season is actually the intervening period between the warmest time of the year- summer and the coldest time of the year- winter. When we buy foods that are in-season, they are particularly healthier, have richer flavor and are generally more cost effective. That is because food is easier to grow in its proper season, also it is more abundant. Most importantly, the basic rule of thumb is about eating seasonally and locally. Well fall harvesting includes Root vegetables like carrots, squash, pumpkin, sweet potato etc ; Green vegetables like broccoli, spinach, kale, celery etc. ; Fruits like apples, pomegranates, citrus fruits, pears etc ; Herbs like ginger, turmeric, cinnamon, rosemary, thyme, basil, dill etc.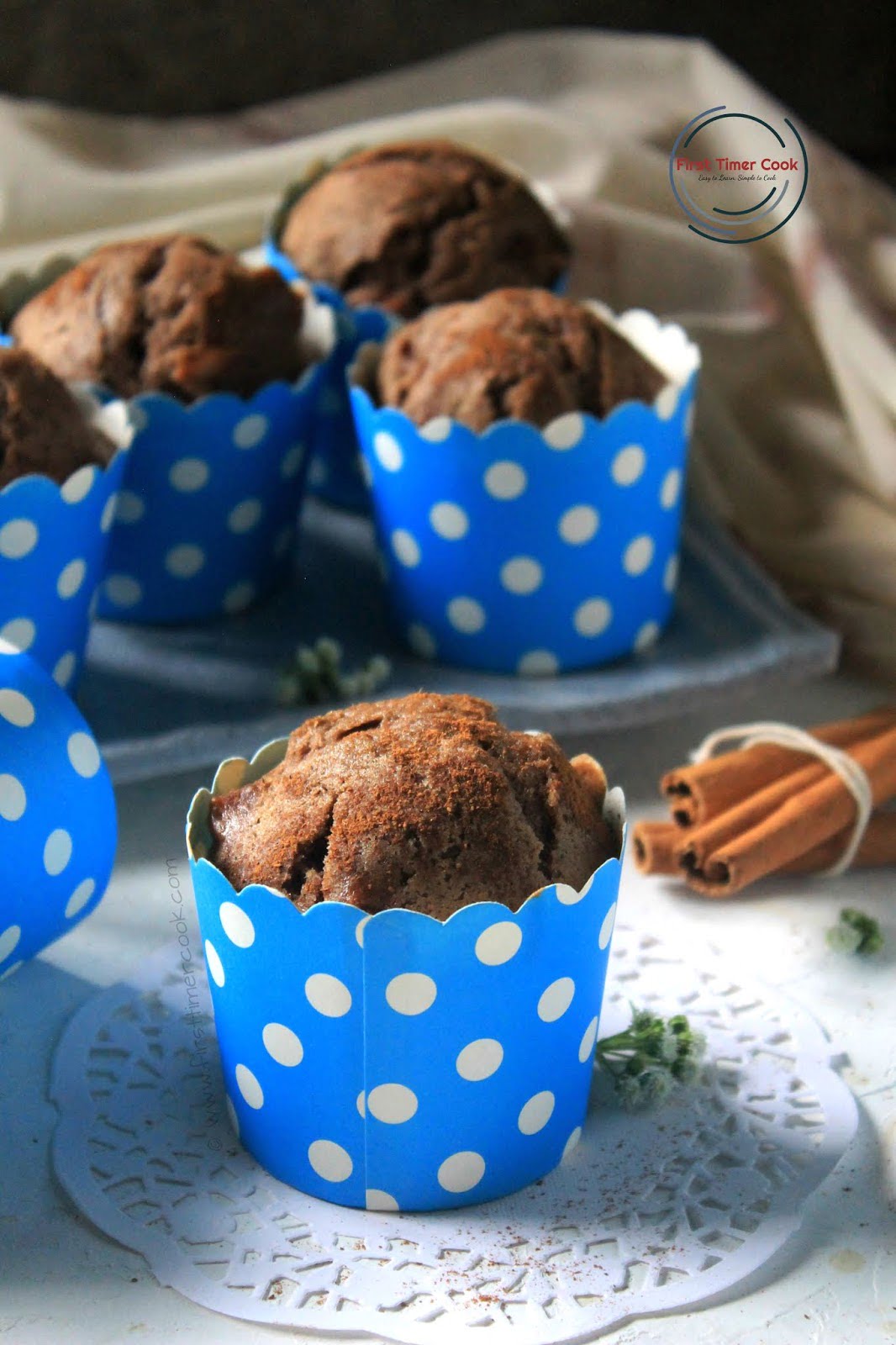 So as the theme indicates I have picked Apple here as my major fall ingredient in the dish. Apple although one can get through out the year still during this fall period, still the fresh ones seem and taste great. Other than pumpkins, apples are the trademark fruit of fall season. Apples are high in soluble fiber and vitamin C, so these are perfect for on-the-go snacking. Apart from that these are used in baking and many more dishes too, so there is a flavor for every palate (any age group). I have already prepared some dishes using apple as :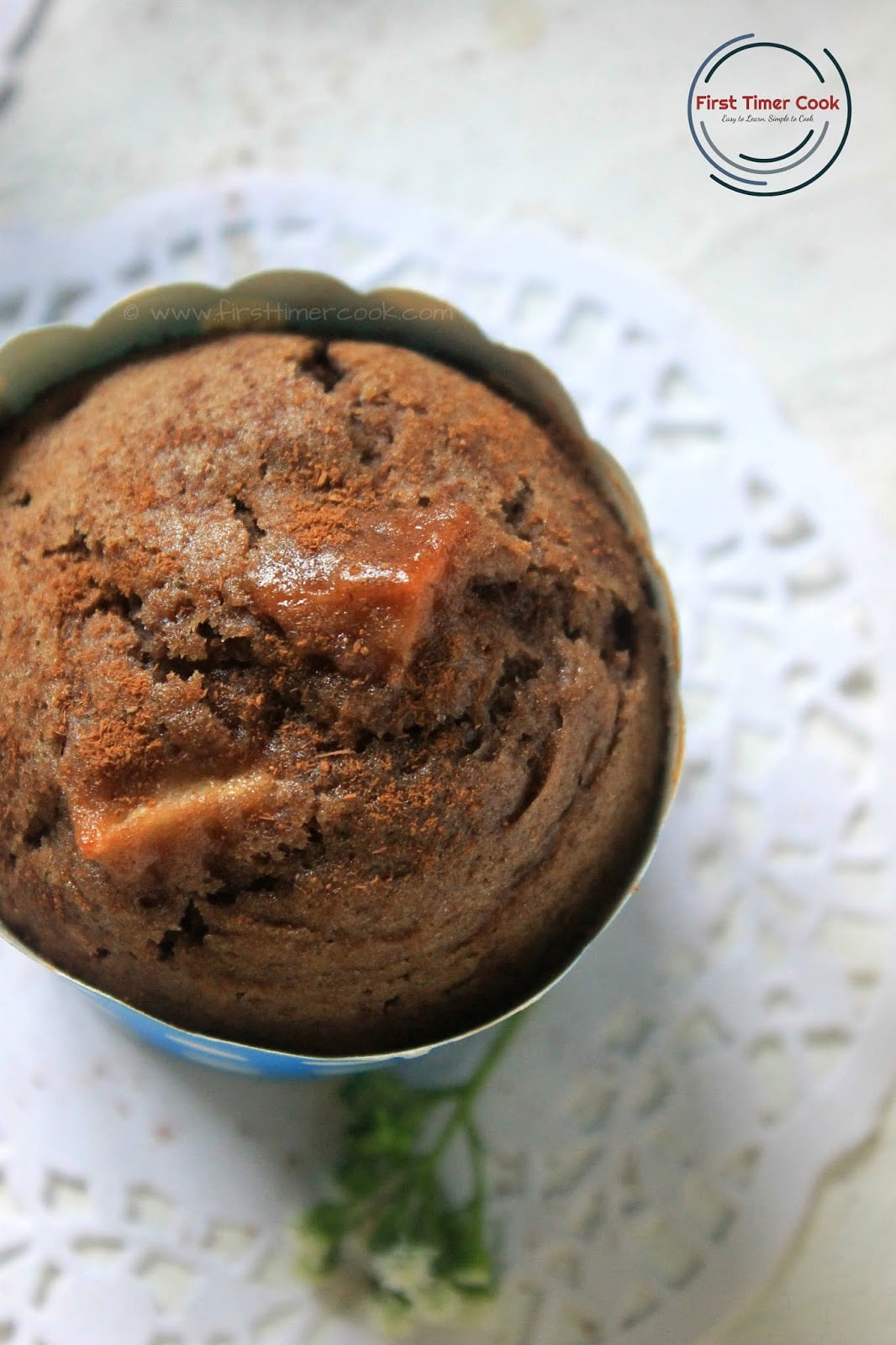 Well the cupcakes here is totally prepared keeping a healthy note. Wheat flour along with powdered jaggery in the cupcake is fully incorporating each other for that. These are so soft yet flavored with full of cinnamon and apple goodness. Well as we know, the apple and cinnamon are a match made in heaven and that reflect fully in the most famous apple pie. The procedure of preparing these cupcakes is quite simple and easy.Completely Vegan and APF freethese apple cupcakes are. And anyone'll surely enjoy these cute baked cups as it is or even along with milk, tea etc as evening snacks and also perfectly fit for kid's tiffin box.
Recipe Card for 'Vegan & Healthy Apple Cupcake' :

Apf free, egg free, vegan baking, cinnamon, olive oil, jaggery, Refined sugar free, Wheat flour, apple cider vinegar
Baking, Apple, Cupcake, Muffin, Egg free Baking, vegan
International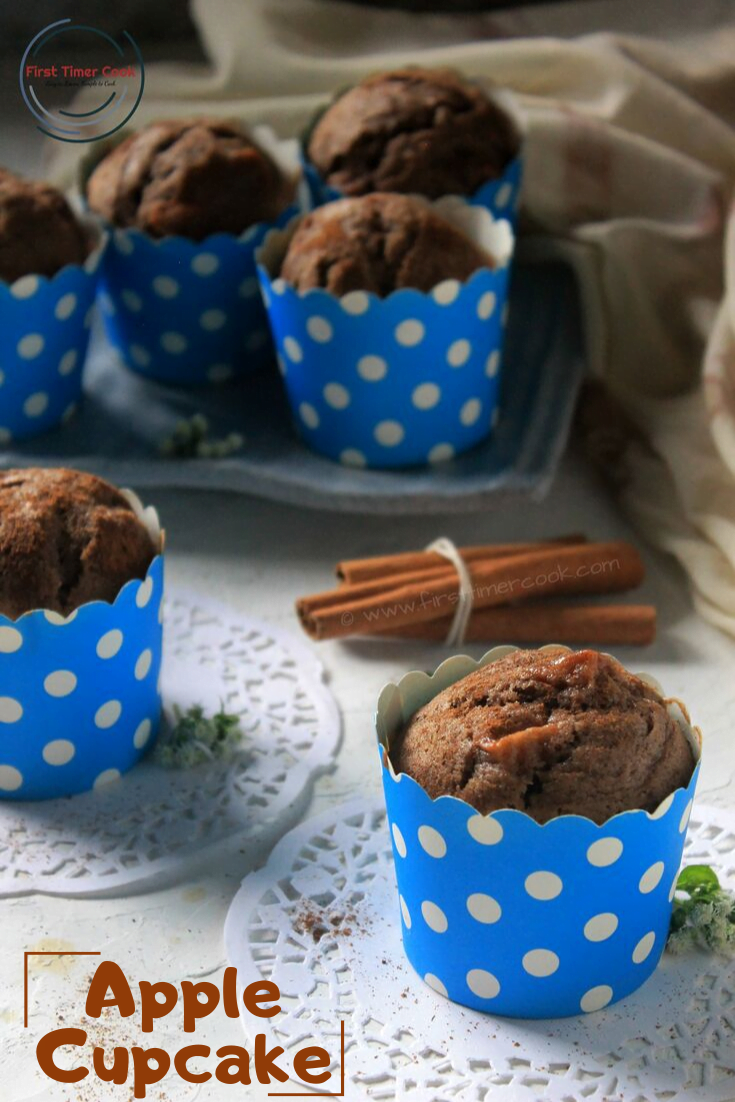 Vegan, Egg free & Healthy Apple Cupcake
egg free, all purpose flour free, refined sugar free and vegan healthy cupcakes loaded with apple and flavored with cinnamon
prep time: 15 Mcook time: 30 Mtotal time: 45 M
ingredients:
Wheat flour 2 cup

Apple (chopped) 2.5 cup

Powdered jaggery 2 cup

Apple cider vinegar 1 tbsp

Vanilla essence 1/2 tsp

Olive oil 1/4 cup + 2 tbsp

Cinnamon powder 1 tsp + for sprinkling

Baking soda 1 tsp

Salt 1/4 tsp

Water 1 cup
instructions:
How to cook Vegan, Egg free & Healthy Apple Cupcake
Preheat the oven to 180 deg C.

Line a muffin pan with cupcake liners and keep aside.

In a mixing bowl, first mix water and powdered jaggery until dissolve fully.

Then add olive oil, vanilla essence, apple cider vinegar and whisk everything.

Next sieve the dry ingredients as wheat flour, baking soda, cinnamon powder, salt and put into the mixing bowl containing the wet ingredient mixture.

Mix everything gently and then add the chopped apples.

Again mix till the chopped apples are well incorporated.

Then pour or spoon the batter into the liners to fill only 3/4th portion of the liners.

Bake for 28-30 minutes or until a toothpick inserted in the center comes out clean.

Take out from the oven and allow to cool completely.

Serve and enjoy as it is or even along with milk, tea etc.
NOTES:
If apple cider vinegar is not available then just use regular white vinegar.
Keep in refrigerator to stay fresh up to 2-3 days.
Instead of powdered jaggery one can grate the normal jaggery or even use same quantity of powdered sugar.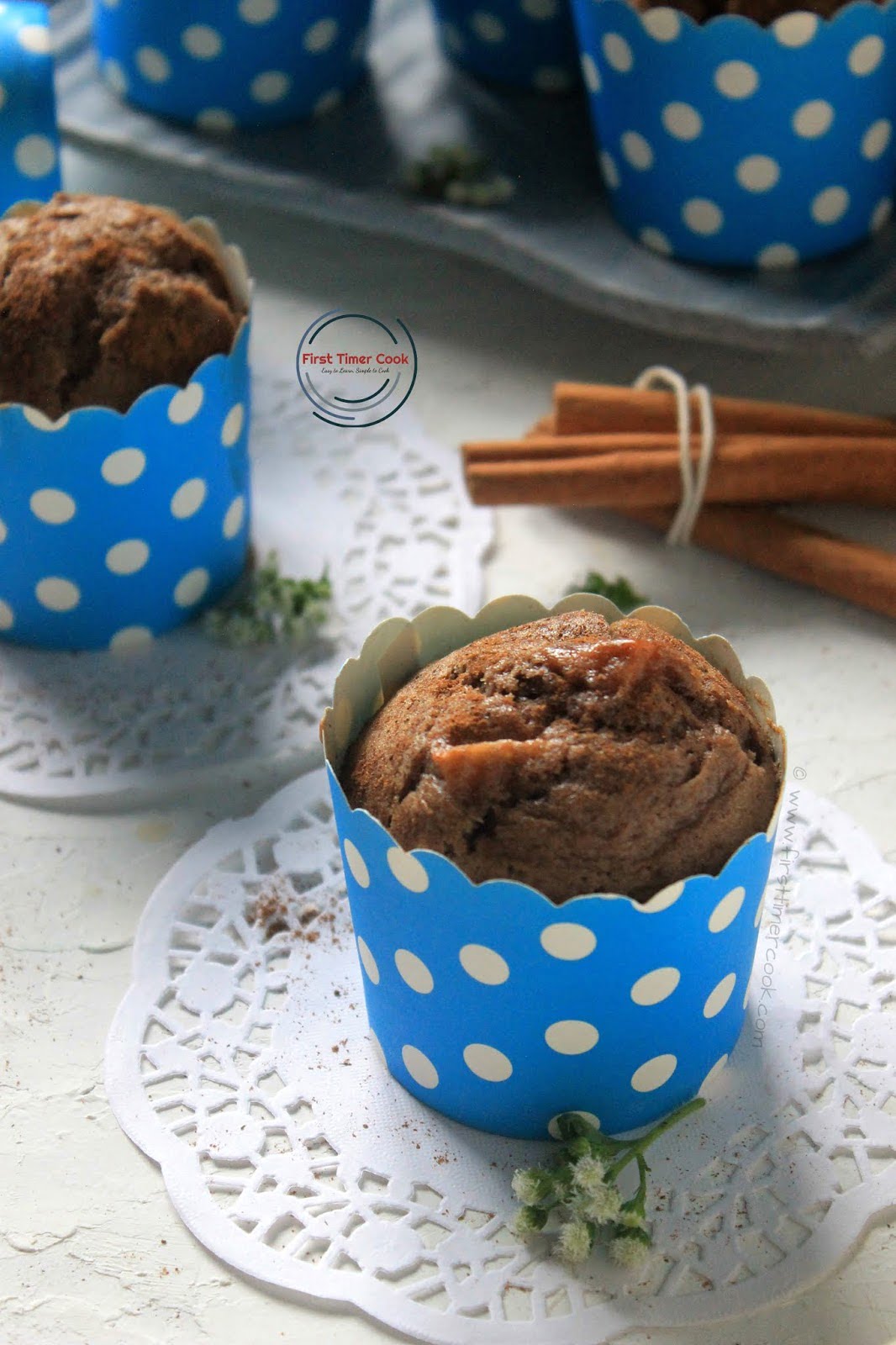 If you tried my recipe and enjoyed fully, then please share some pictures of your creation with me. Also kindly rate the recipe below, give your valuable feedback either in the comment box below or tag me as @firsttimercook on Instagram.
You may also follow me on Facebook, Pinterest, Twitter, Google+, Instagram and can subscribe for free to get new recipes directly into your inbox 😊
PIN for later :