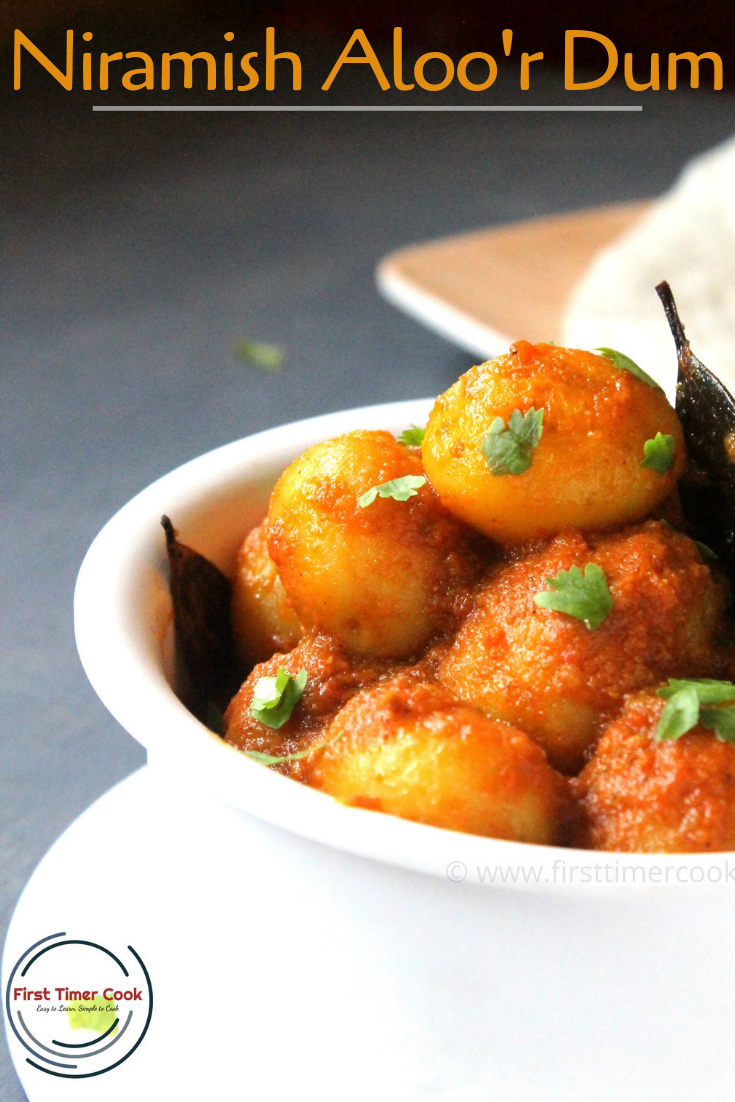 Do you know that, Luchi and Niramish aloo'r dum is one of the favorite breakfast option from Bengali cuisine for all most all Bengali foodies ? Well, it is true 🙂 Luchi here is a deep fried flatbread prepared using all purpose flour and niramish aloo'r dum is a semi gravy dish using baby potatoes. The name niramish literally in Bengali means a vegetarian dish. Particularly the baby potatoes are opted for making this. But one can make the dish using the regular potatoes but has to chop those into cube sizes. In India, there are many variations of aloo dum / dum aloo which belongs to Odia cuisine, Punjabi cuisine, Kashmiri cuisine, Bengali cuisine etc.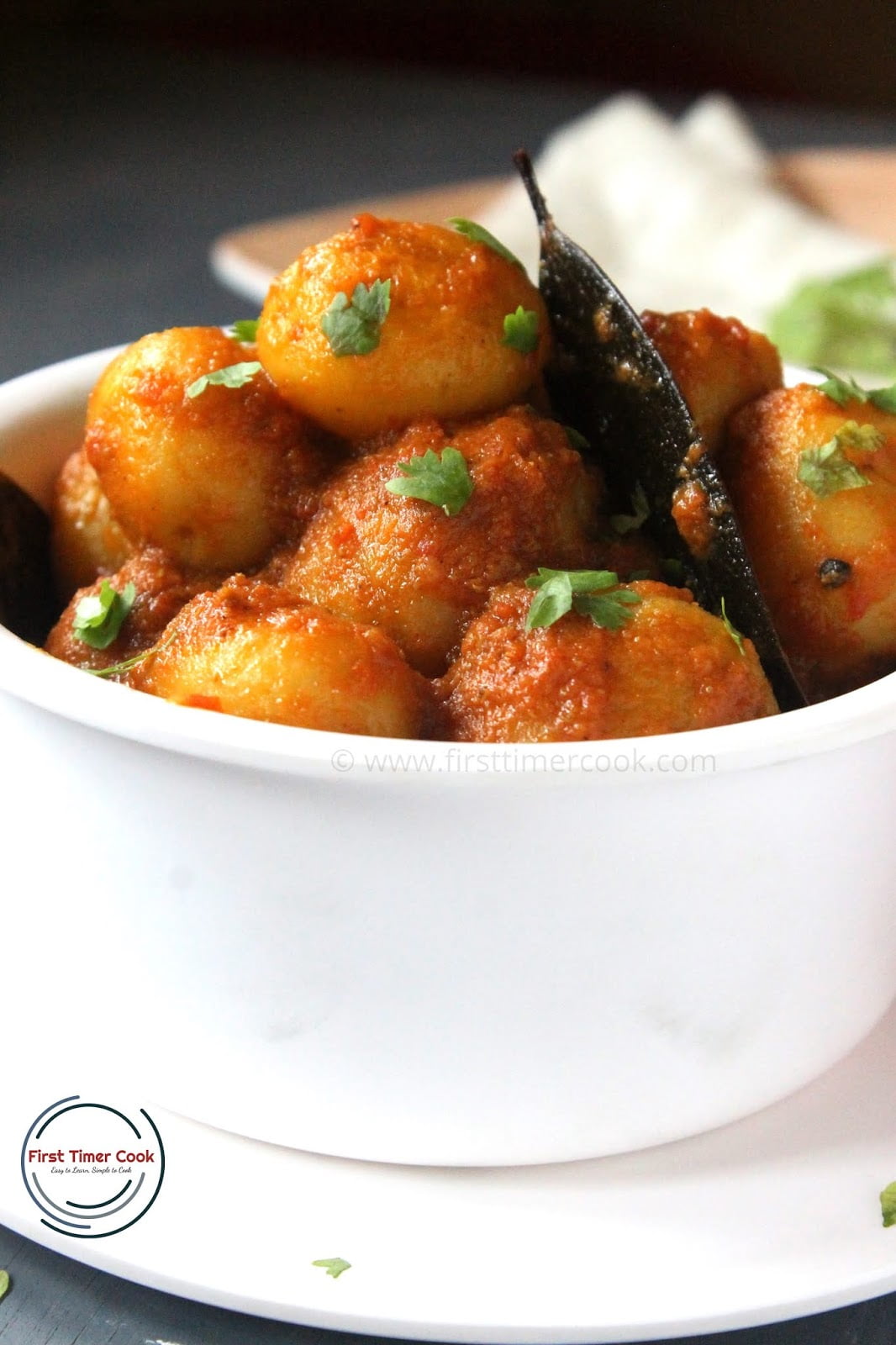 Although this can be prepared using onion and garlic, but I have not used those here which results into a satvik dish one can surely enjoy during festive time. The gravy of the dish is mostly due to the tomatoes, hence it tastes a bit tangy which can be adjusted with sugar and spice factor. Completely vegan and gluten free too this curry is. The mustard oil gives a most aromatic flavor to the whole dish. The baby potatoes are first boiled and then stir fried in mustard oil and finally cooked in a tomato and Bengali masala paste. Along with luchi this will taste best. As an Odia, my family loves these niramish aloo'r dum along with chakuli pitha (a crepe using fermented rice and lentil batter) (I will share that recipe soon on blog). And for now lets go in details method of preparation of this soul-satisfying dish.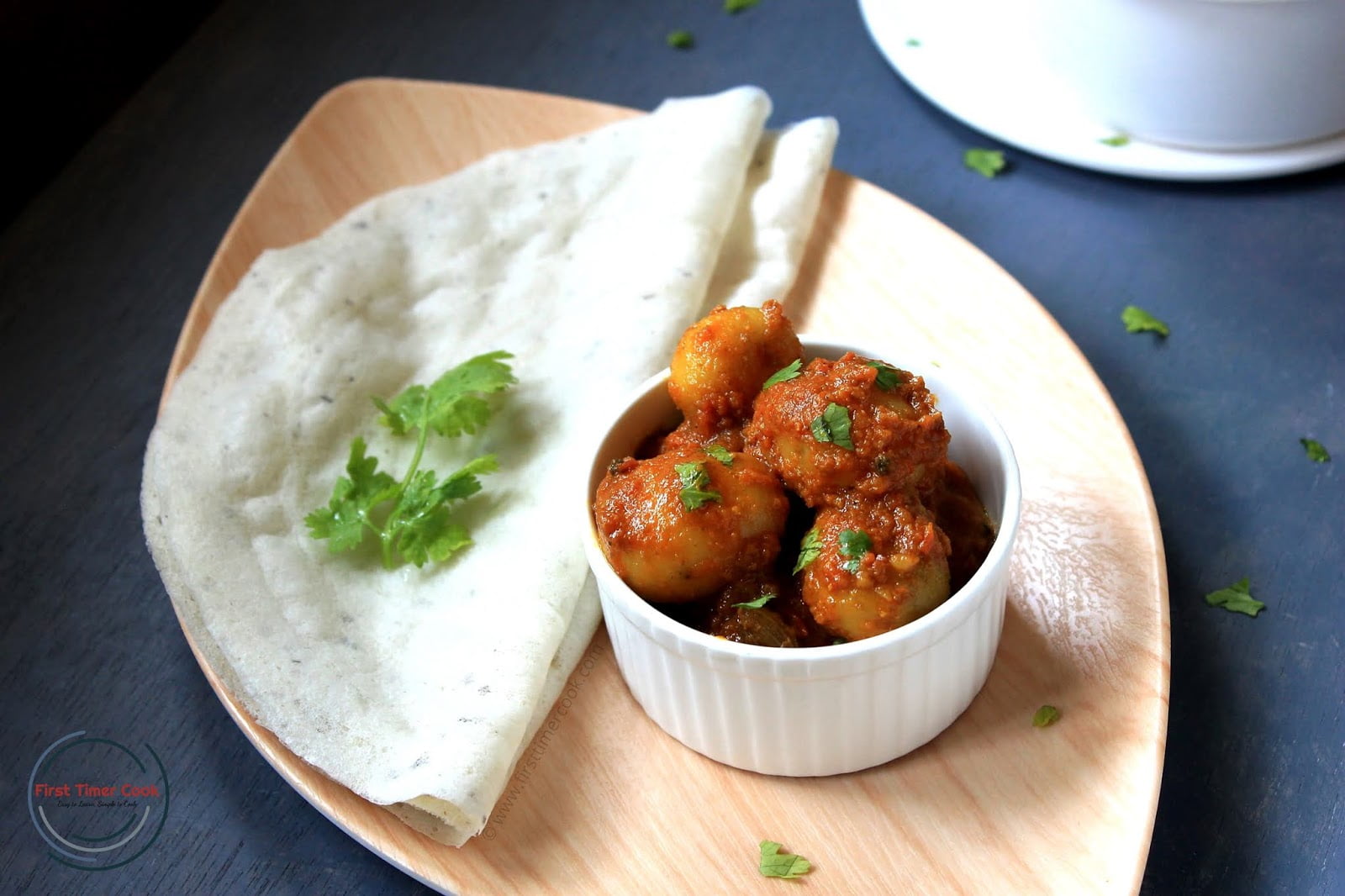 Recipe Card for 'Niramish Aloo'r Dum / Bengali Dum Aloo' :

vegan, gluten free,side dish, baby potatoes, No onion no garlic
Festive dish, Bengali dish, potatoes, without onion & garlic, vegan, gluten free
Bengali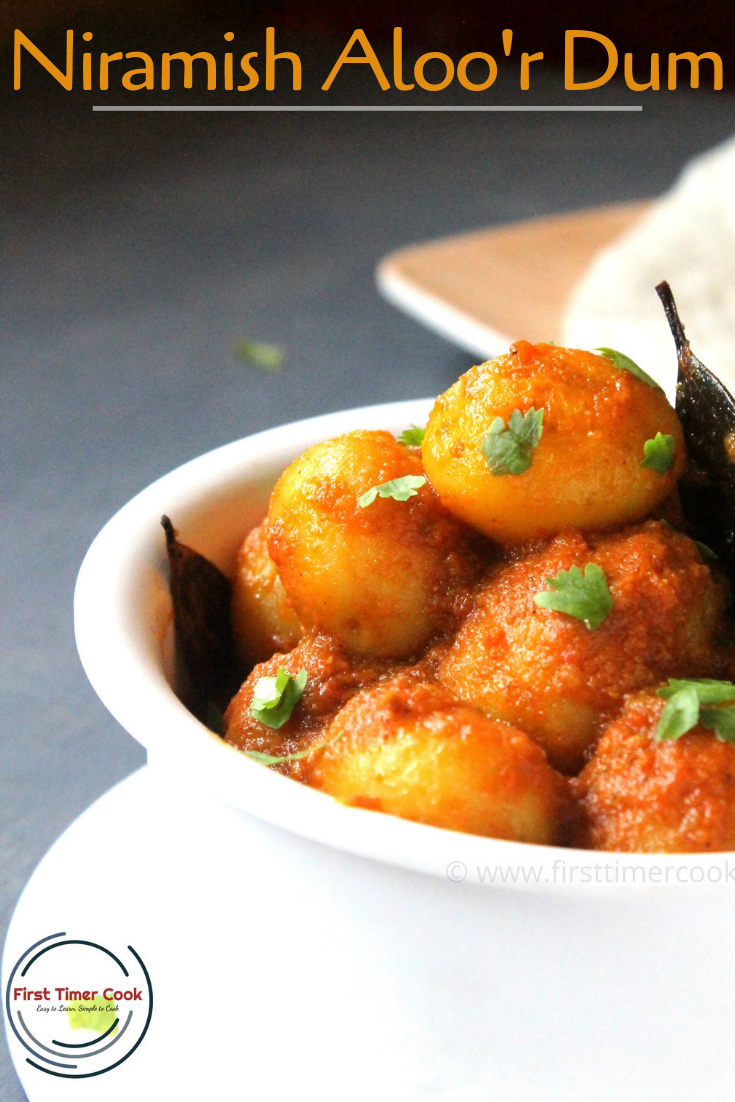 Niramish Aloo'r Dum / Bengali Dum Aloo
a signature Bengali dish using baby potatoes without Onion & Garlic
prep time: 10 Mcook time: 30 Mtotal time: 40 M
ingredients:
Baby Potatoes 500 gm
Tomato 2-3 no.
Ginger paste 1 tsp
Coriander powder 2 tsp
Cumin powder 1/2 tsp
Turmeric powder 1/2 tsp
Red chili powder 2 tsp
Garam masala powder 1 tsp
Bay leaf 2 no.
Cinnamon stick 1 inch
Clove 2-3 no.
Green cardamom 2-3 no.
Sugar 1/2 tsp
Coriander leaf (chopped) 1-2 tbsp
Roasted cumin-red chili powder for sprinkling
Mustard oil 4 tbsp
Salt as needed
Water as needed
instructions:
First wash and clean all the baby potatoes.
Pressure cook all the potatoes along with enough water and salt over medium heat till cooked well.
Turn off heat and allow the pressure to drop completely.
Take out all the cooked baby potatoes from the hot water and keep aside in a plate to cool down.
Gently remove the skin from each potato and using a fork pierce each potato.
Meanwhile roughly chop all the tomatoes, make a fine paste and keep aside.
Now heat mustard oil in a pan.
Add all the peeled baby potatoes and fry till they turn light brown in color.
Transfer to a plate and keep aside.
Next to the same pan add green cardamoms, cloves, cinnamon sticks, bay leaves and allow to splutter.
Add sugar and when sugar starts caramelizing, add ginger paste and ground tomatoes.
Fry until the raw smell goes away.
Next add coriander powder, cumin powder, turmeric powder, red chili powder, garam masala powder and salt.
Saute everything till oil comes out from the masala.
Now add all the baby potatoes and mix till each potato gets well coated with masala.
Pour 1-1.5 cup water and give a quick mix.
Cover the pan and allow to cook for 8-10 minutes more over low-medium heat.
Adjust the thickness of gravy as desired and add the roasted cumin-red chili powder.
Give a quick mix gently and turn off heat.
Sprinkle chopped coriander leaves and serve hot along with puri, parathas or with simple rotis or phulkas !
NOTES:
If baby potatoes are not available then the regular potatoes can be used by chopping into potato cubes.
Do not overcook the potatoes, otherwise the whole curry will turn mushy at the end.
Spiciness is totally as per choice.
https://firsttimercook.com/2019/04/niramish-aloor-dum-bengali-dum-aloo.html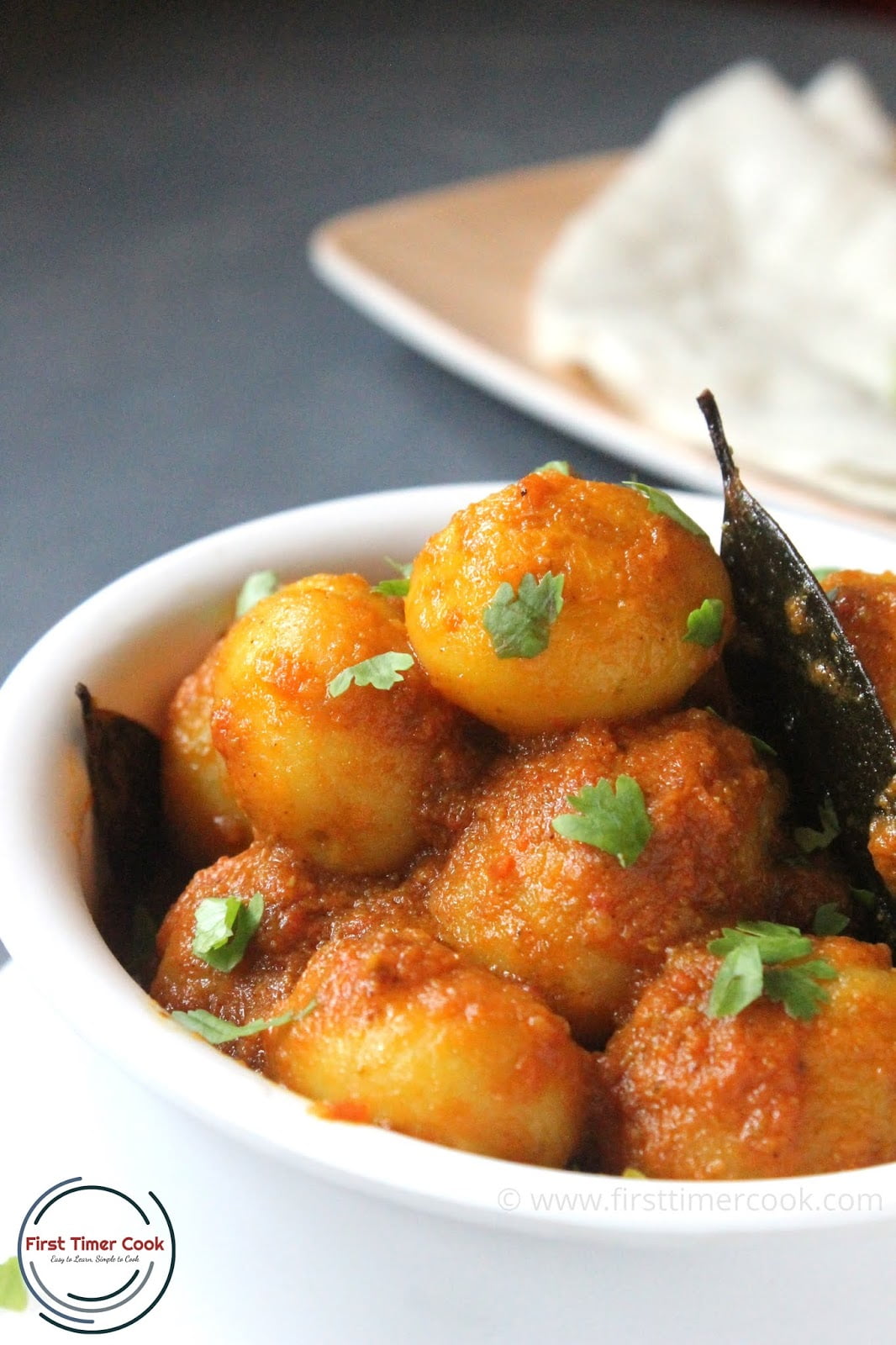 This post is for the current month's Food Bloggers Recipe Swap and I was paired with Priya who is a wonderful blogger at The World Through My Eyes. While browsing through her posts, I just loved this Bengali Aloo Dum recipe at first glance. And here is my version of that with slight changes as per my convenience as Niramish Aloo'r Dum / Bengali Dum Aloo.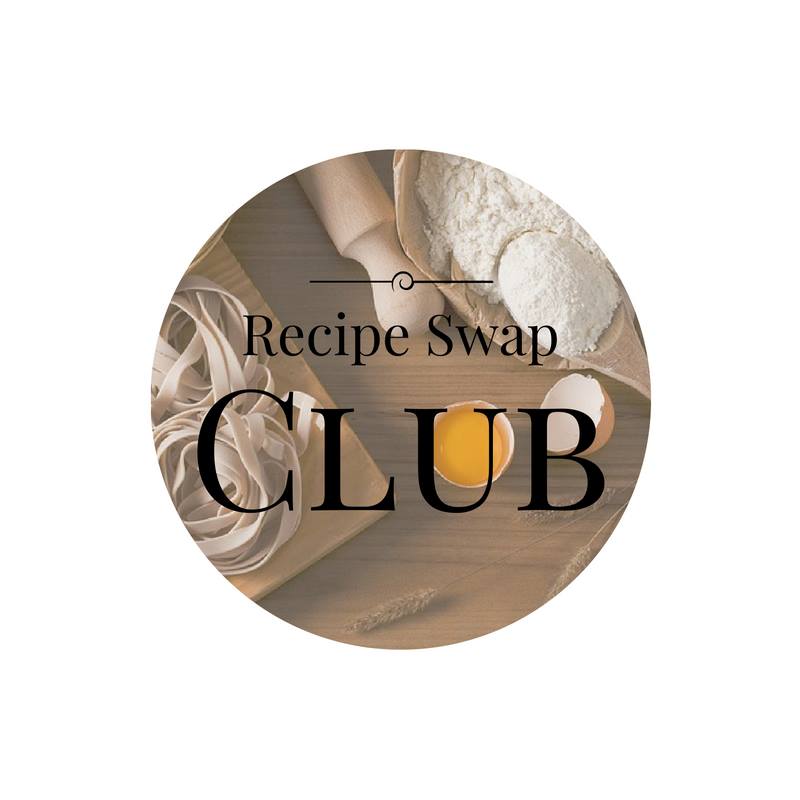 Please check out the other Recipe Swap Recipes !
If you tried my recipe and enjoyed fully, then please share some pictures of your creation with me. Also kindly rate the recipe below, give your valuable feedback either in the comment box below or tag me as @firsttimercook on Instagram.
You may also follow me on Facebook, Pinterest, Twitter, Google+, Instagram and can subscribe for free to get new recipes directly into your inbox 😊
PIN for later :