In India, Turmeric / Haldi has been used as the most powerful spice and a wonder ingredient since ages. It is a staple in most of all Indian cooking which gives a lovely yellow tinge to any delectable dishes. The incredible list of healing properties of this root include antioxidant, anti-viral, anti-bacterial, anti-fungal, anti-carcinogenic, anti-mutagenic, anti-inflammatory and many more as well. I particularly like to include the fresh turmeric in the diet chart for my family.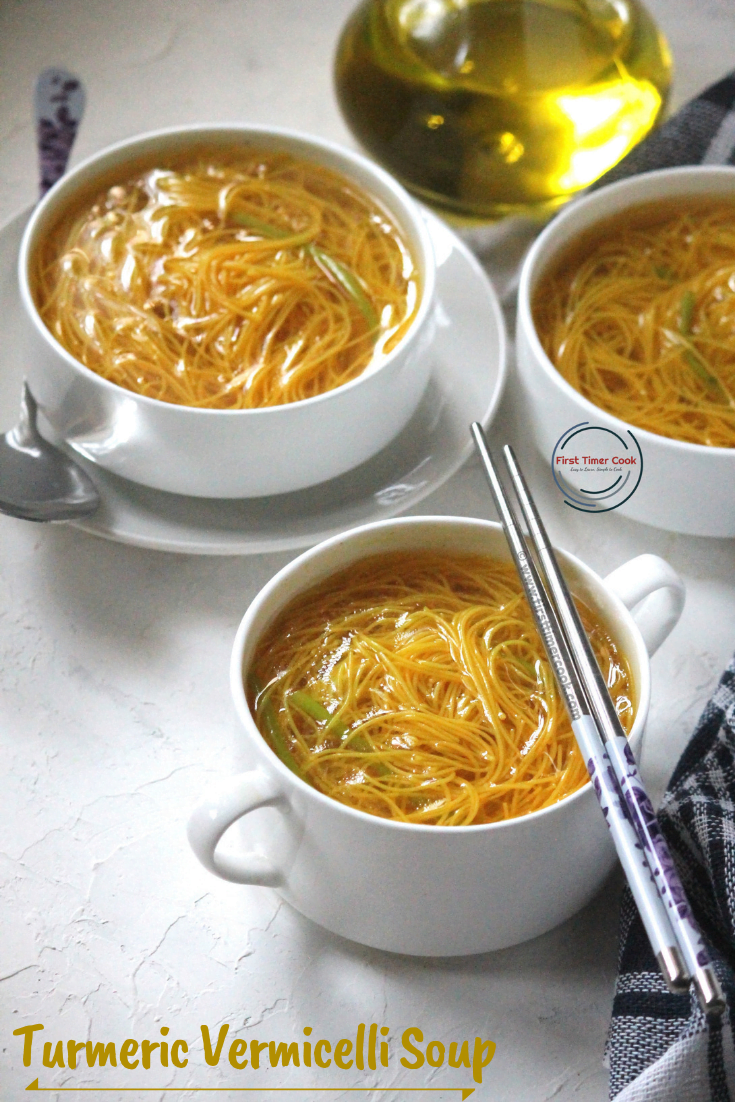 Fresh turmeric is less bitter than its dried form. Just wash and scrub the turmeric root for any dirt and then grate to use. It's that simple 😊 Here I have come up with a soup again using fresh turmeric although I have shared previously one soup as Carrot and Turmeric Soup, but this time its a kind of clear soup using some rice vermicelli which is named as Turmeric Vermicelli Soup.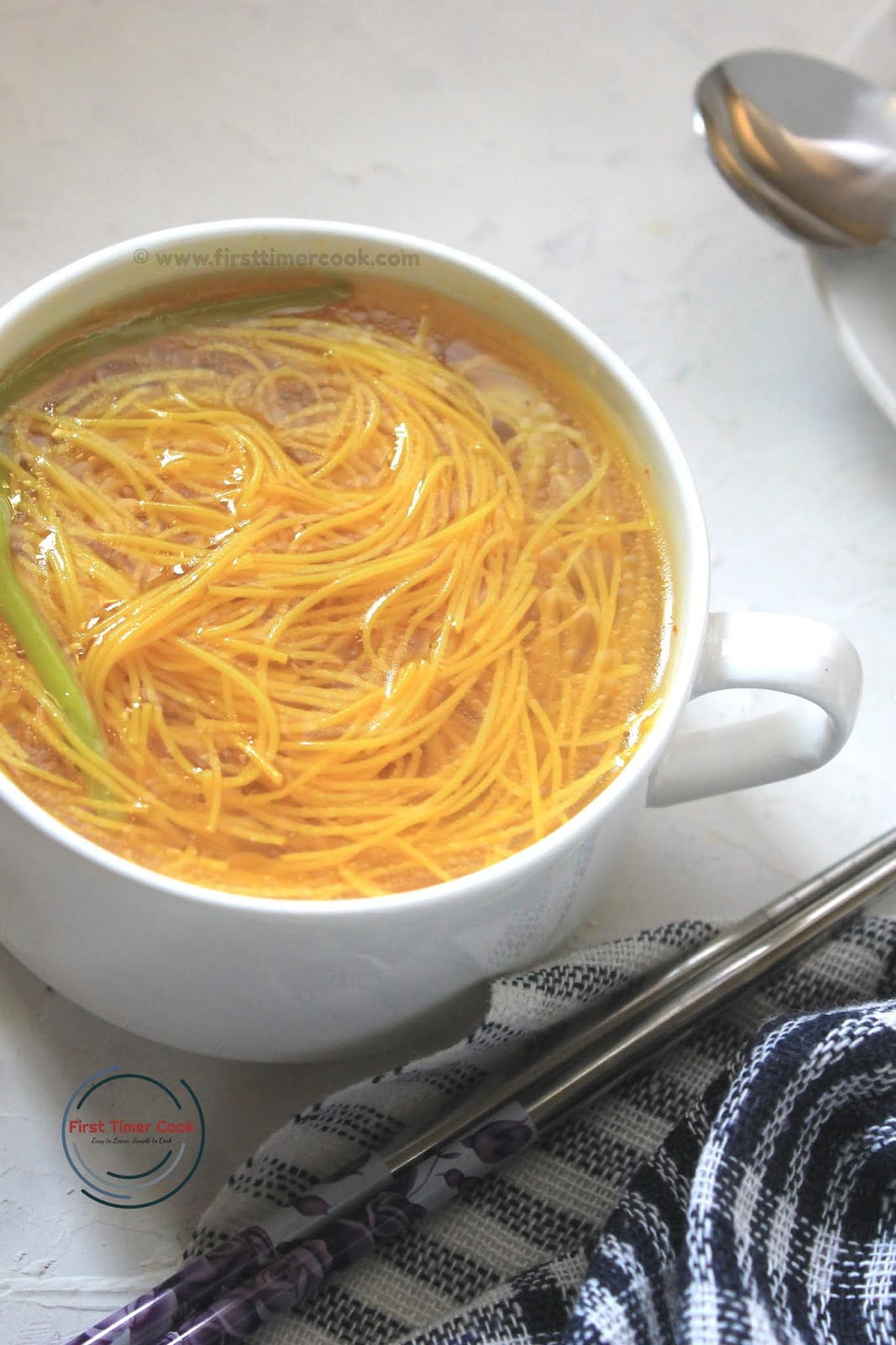 Rice vermicelli is a type of rice noodle used in many Asian cuisines like Chinese, Thai, Vietnamese and other Southeast Asian dishes. Nutritionally, the rice vermicelli is calorie-dense and high in carbohydrates, but fat-free and low in sodium particularly. These are prepared from ground rice. Rice vermicelli cooks really fast in about 2 minutes and are totally gluten-free and lactose free. They only need to be soaked in hot water to be used in any dish.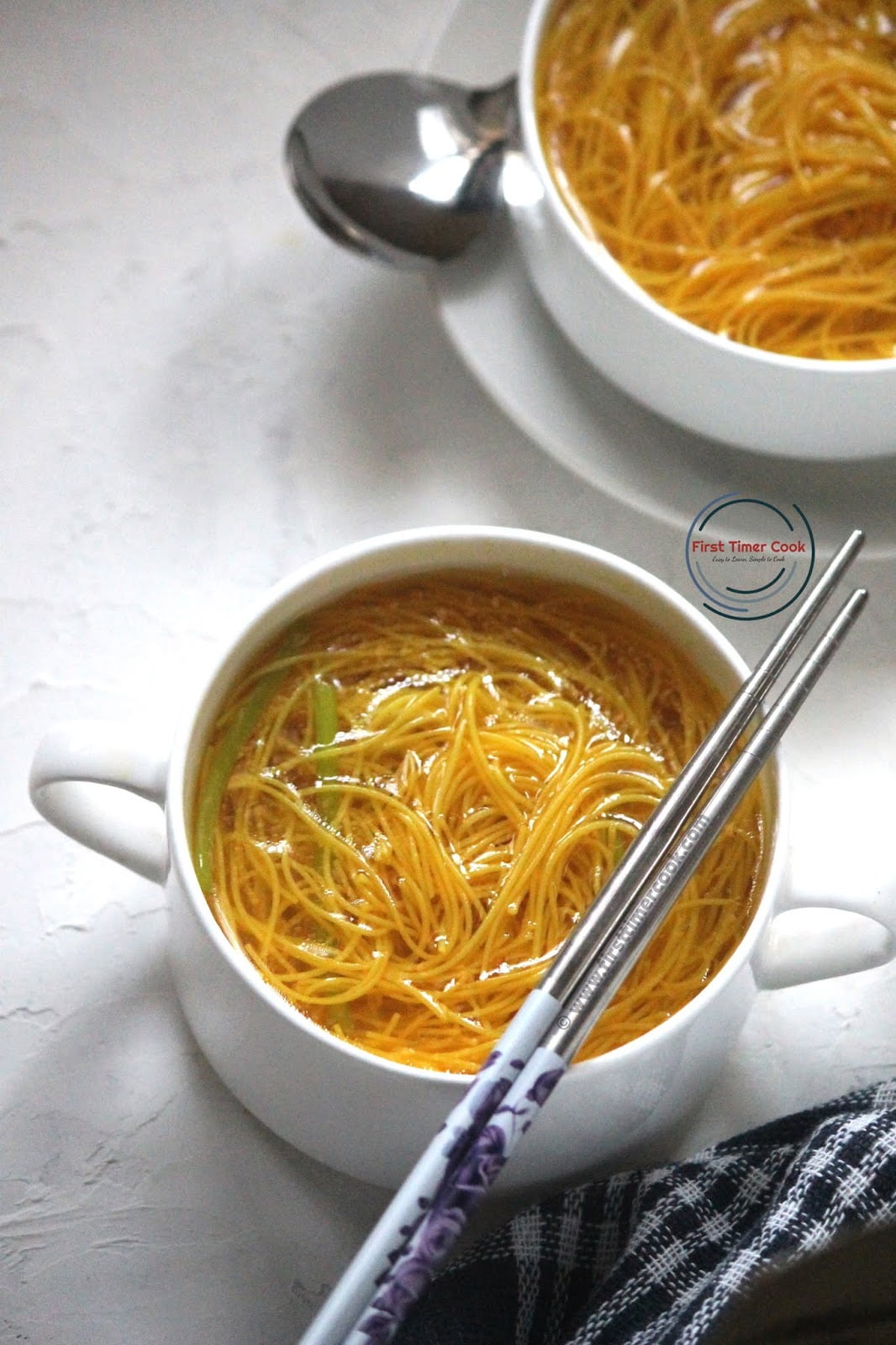 In this soup, but I have added the rice vermicelli directly to the boiled stock and allow to cook for 1-2 minutes or till they become al dente. The whole method of preparation is simple and easy. Although here i have not added any other vegetables (only Celery Stalk is used as I have that in my pantry) still one can surely add any other quickly cooked vegetables like spinach, kale or any other greens or even frozen veggies. The soup is completely vegan and gluten free as well. Also the addition of onion garlic can be skipped 😊
Recipe Card for 'Turmeric Vermicelli Soup – Vegan & Gluten free' :
Rice vermicelli, turmeric, vegan, gluten free, soup
Soup
Author: SasmitaPin it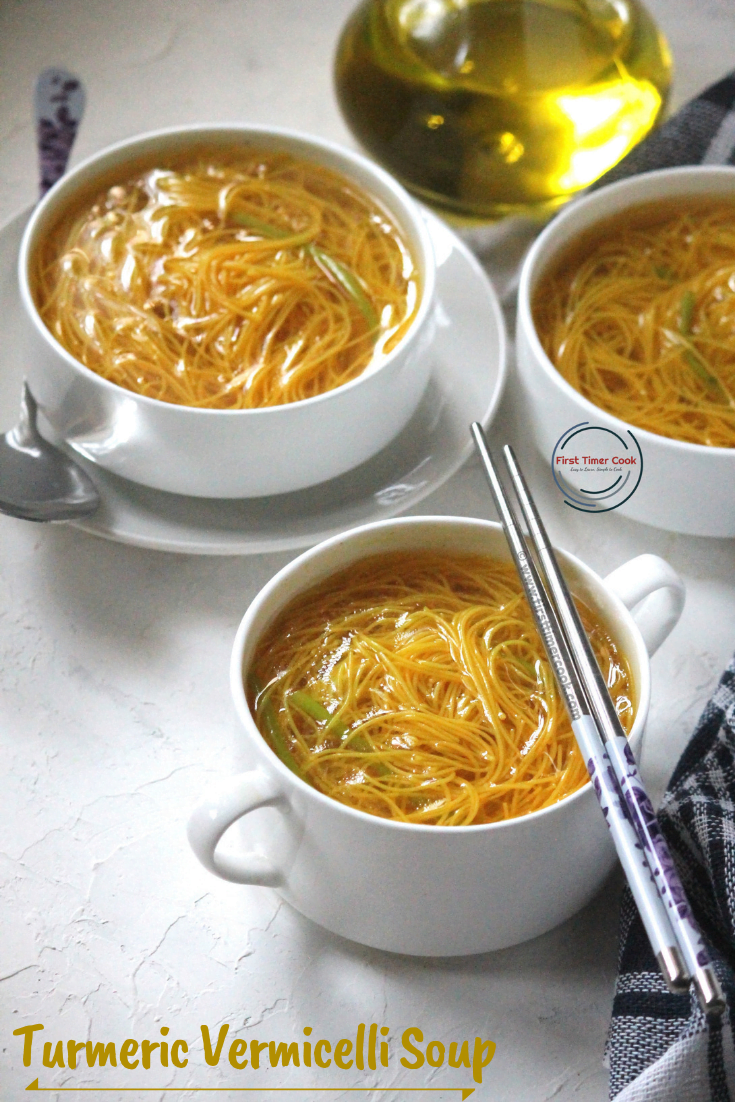 Turmeric Vermicelli Soup
a vegan and gluten free soup using rice vermicelli.
prep time: 10 minscook time: 10 minstotal time: 20 mins
ingredients:
Rice vermicelli 100 gm
Onion (finely chopped) 1 no.
Ginger (finely minced) 1/2 tbsp
Garlic (finely minced) 1/2 tbsp
Celery stalk (optional) 1-2 no.
Olive oil 1 tbsp
Turmeric (freshly grated) 3 tsp
Vegetable stock 6-7 cup
Black pepper powder as needed
instructions
In a pan over medium heat, drizzle olive oil.
Add in finely chopped onion and saute until transparent.
Next add freshly grated turmeric, finely minced garlic and ginger. Saute again for 1-2 minutes.
Then pour the vegetable stock, black pepper powder along with thinly sliced celery stalks.
Allow to get a boil over medium heat.
Now add rice vermicelli and cook for 1-2 minutes or till they become al dente.
Serve hot this Rice vermicelli Turmeric Soup !
NOTES:
Any other quickly cooked vegetables like spinach, kale or any other greens or even frozen veggies can be added to the soup.
The addition of celery stalk is optional here, but it gives a lovely flavor what I feel.
Here I have not added salt because the vegetable stock has salt in it already. Anyone can adjust this seasoning at-last also if desired.
https://firsttimercook.com/2019/03/vermicelli-turmeric-soup-vegan-gluten-free.html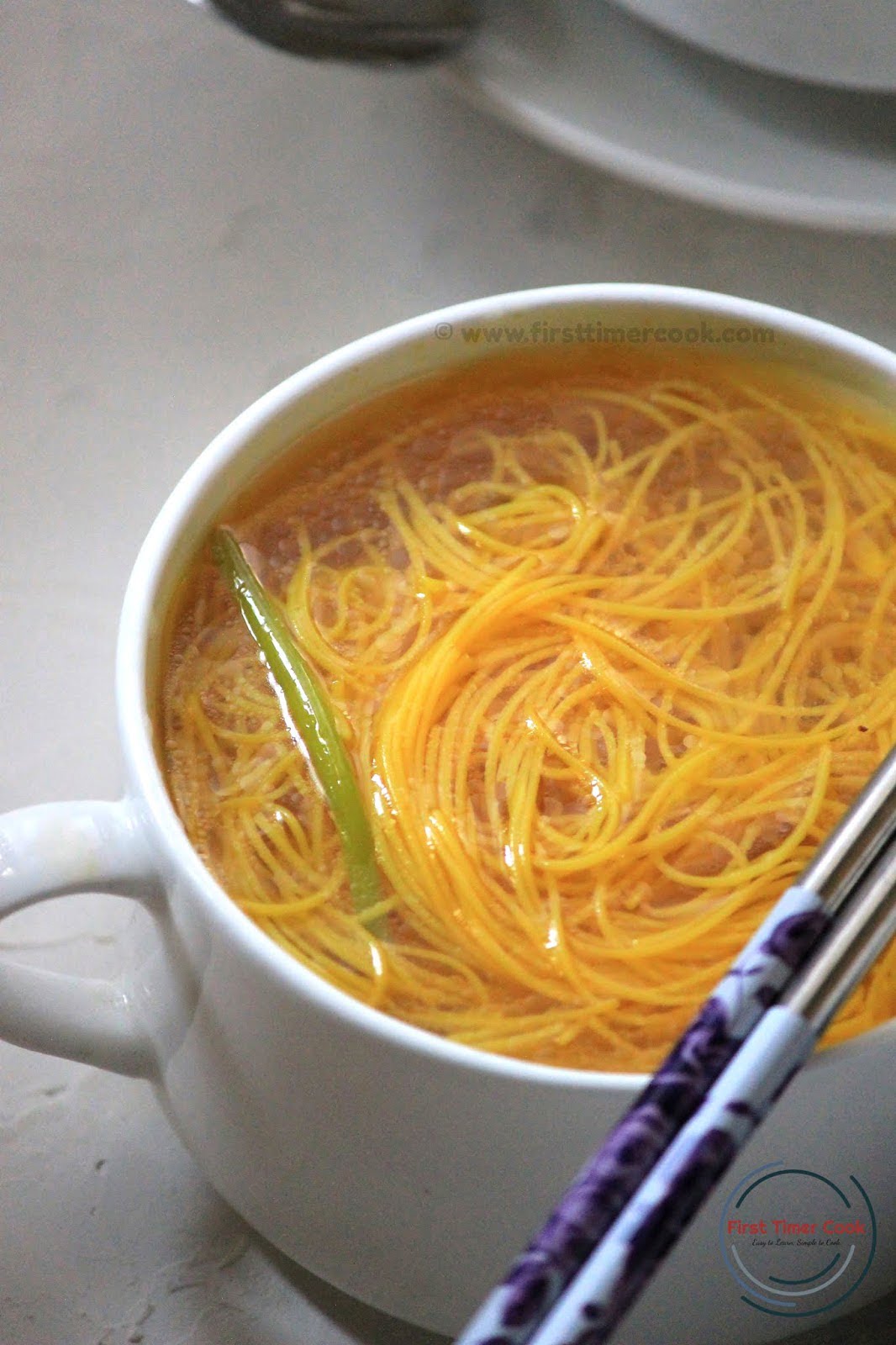 If you tried my recipe and enjoyed fully, then please share some pictures of your creation with me. Also kindly rate the recipe below, give your valuable feedback either in the comment box below or tag me as @firsttimercook on Instagram.
You may also follow me on Facebook, Pinterest, Twitter, Google+, Instagram and can subscribe for free to get new recipes directly into your inbox 😊

PIN for later :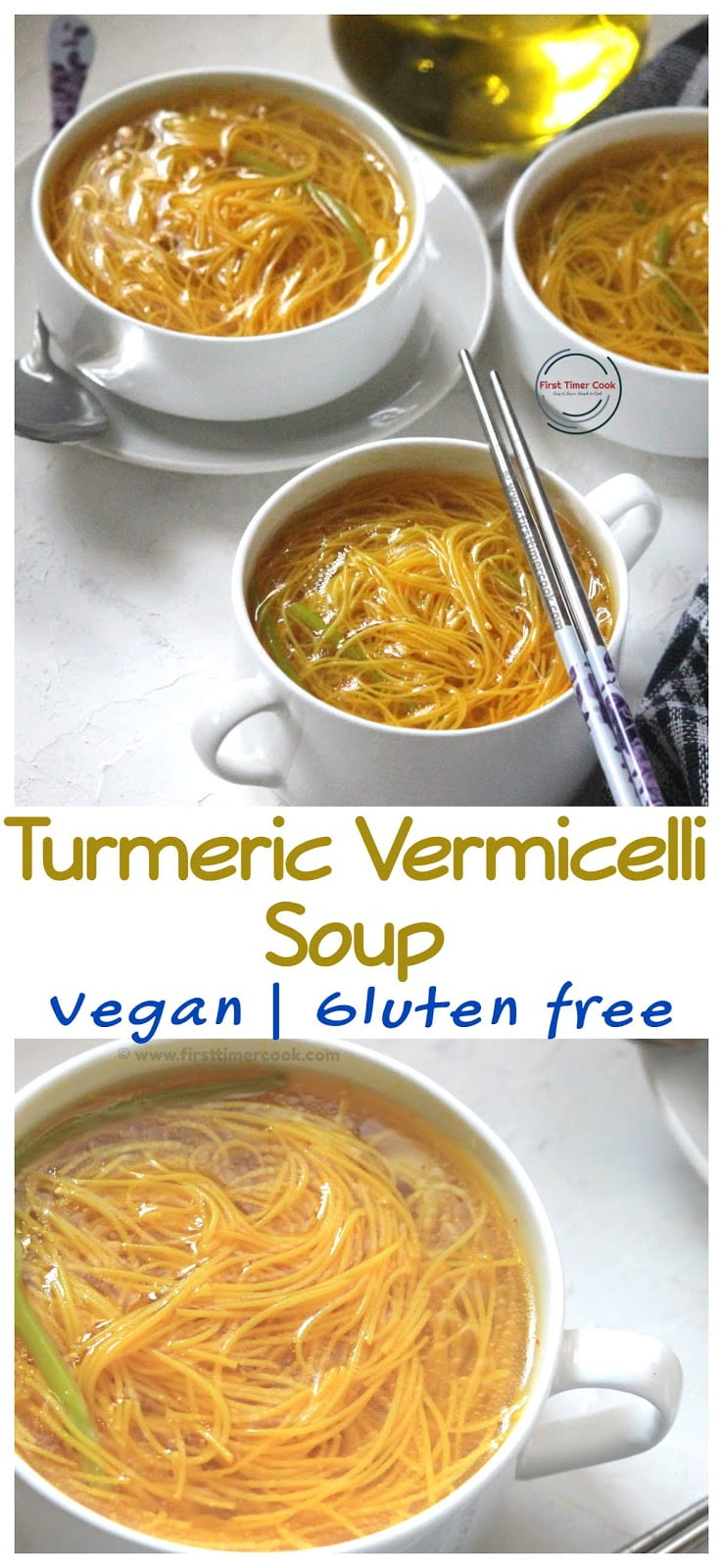 This 'Turmeric Vermicelli Soup' is contributed for 62th Healthy Wellthy Cuisines where the theme is 'Vermicelli Mania at HW'. Here are more similar recipes shared by our Healthy Wealthy Group members as Curd Semiya, Ragi Vermicelli Upma, Vermicelli Cup with Kesar Pista Shrikhand, Namkeen Jave, Vermicelli Pulao, Tomato Garlic Vermicelli, Shevayachi kheer, Semiya Payasam.