Almond fudge or badam burfi is a popular Indian sweet mainly prepared with powdered almond and sugar syrup. This is a quick and easy sweet which can be prepared with easily available ingredients. If you have ready made almond powder in hand, then within 15 minutes this sweet can be prepared.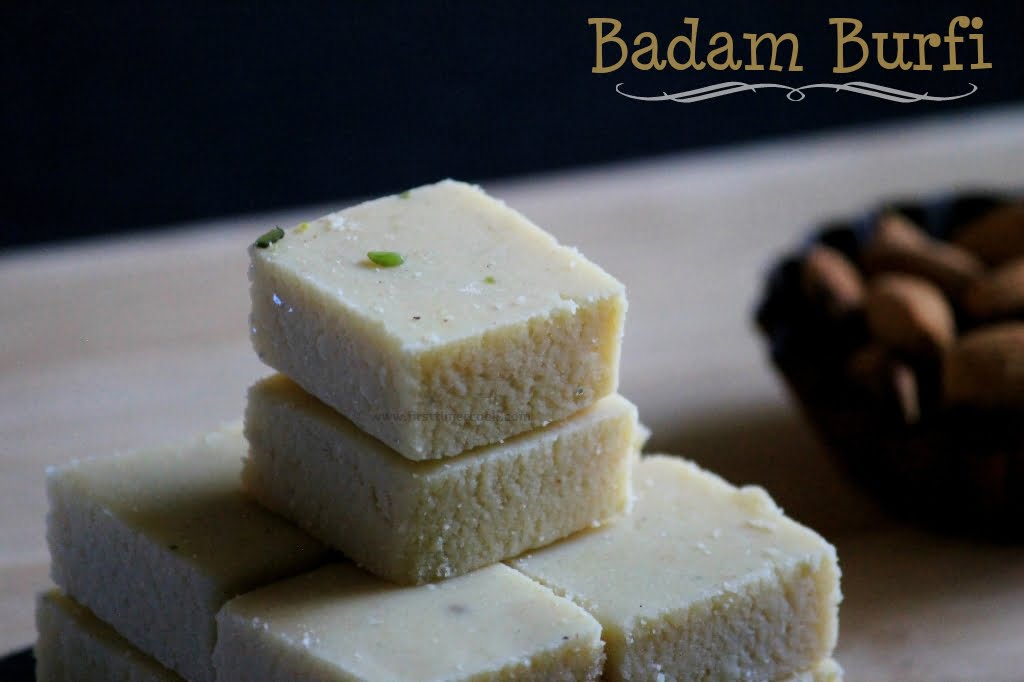 Here I have not used any milk and ghee. Only for greasing purpose, a little amount of ghee is used. And also here, there is no bothering of exact right consistency of sugar syrup. Instead of soaking the almonds, blanching can reduce the preparation time. One point to remember to get perfect smooth texture of the burfi is that there should not be any cracks in the dough after kneading.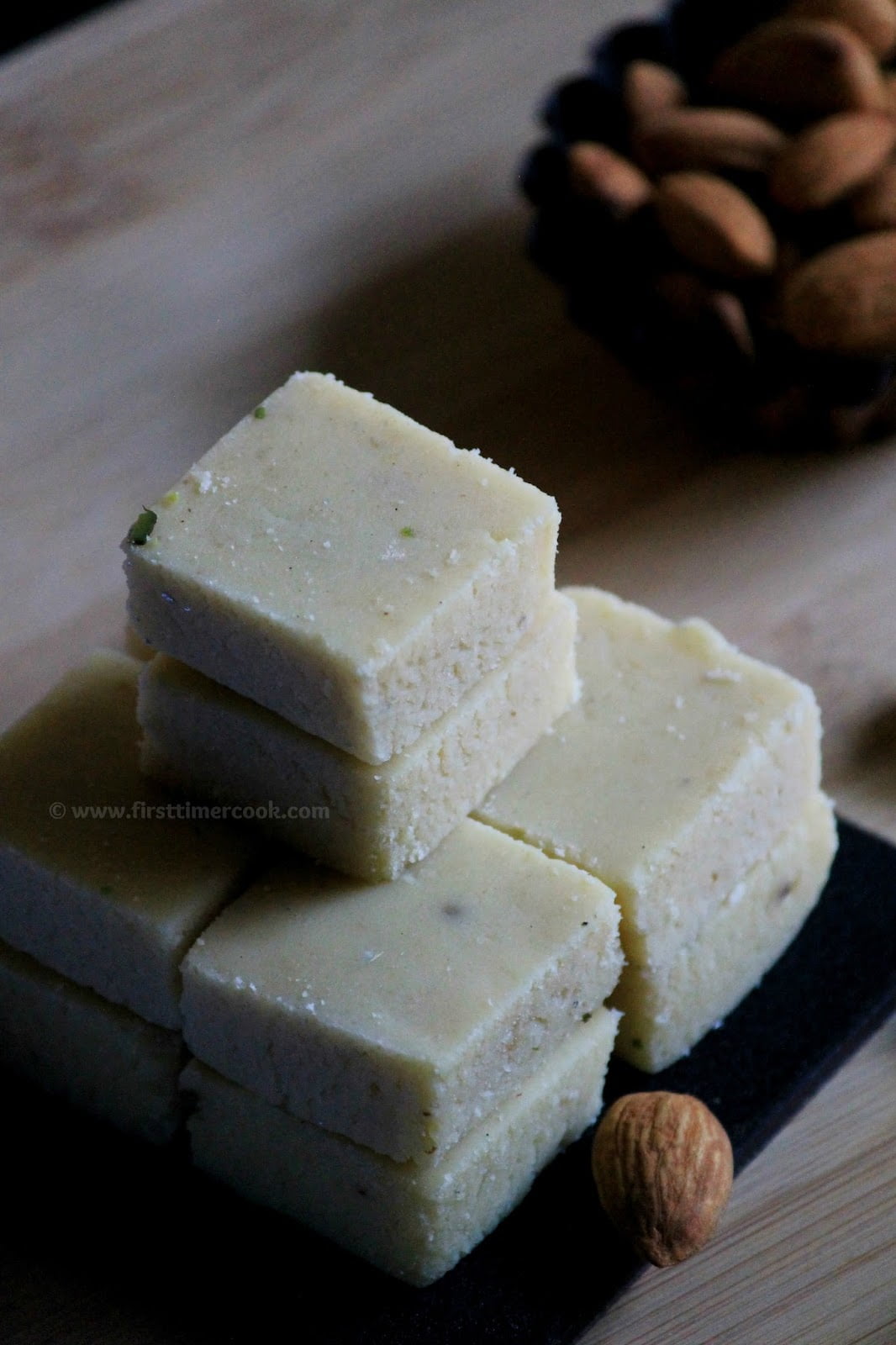 This popular Indian sweet, badam burfi anybody can use as a gift during any festive occasion especially during Diwali. Badam burfi is one of the favorite sweets of my father. This also can be served as dessert after a full main course meal. So below is the details method of preparation of this amazingly tasty, smooth and melt in mouth textured almond fudge or badam burfi.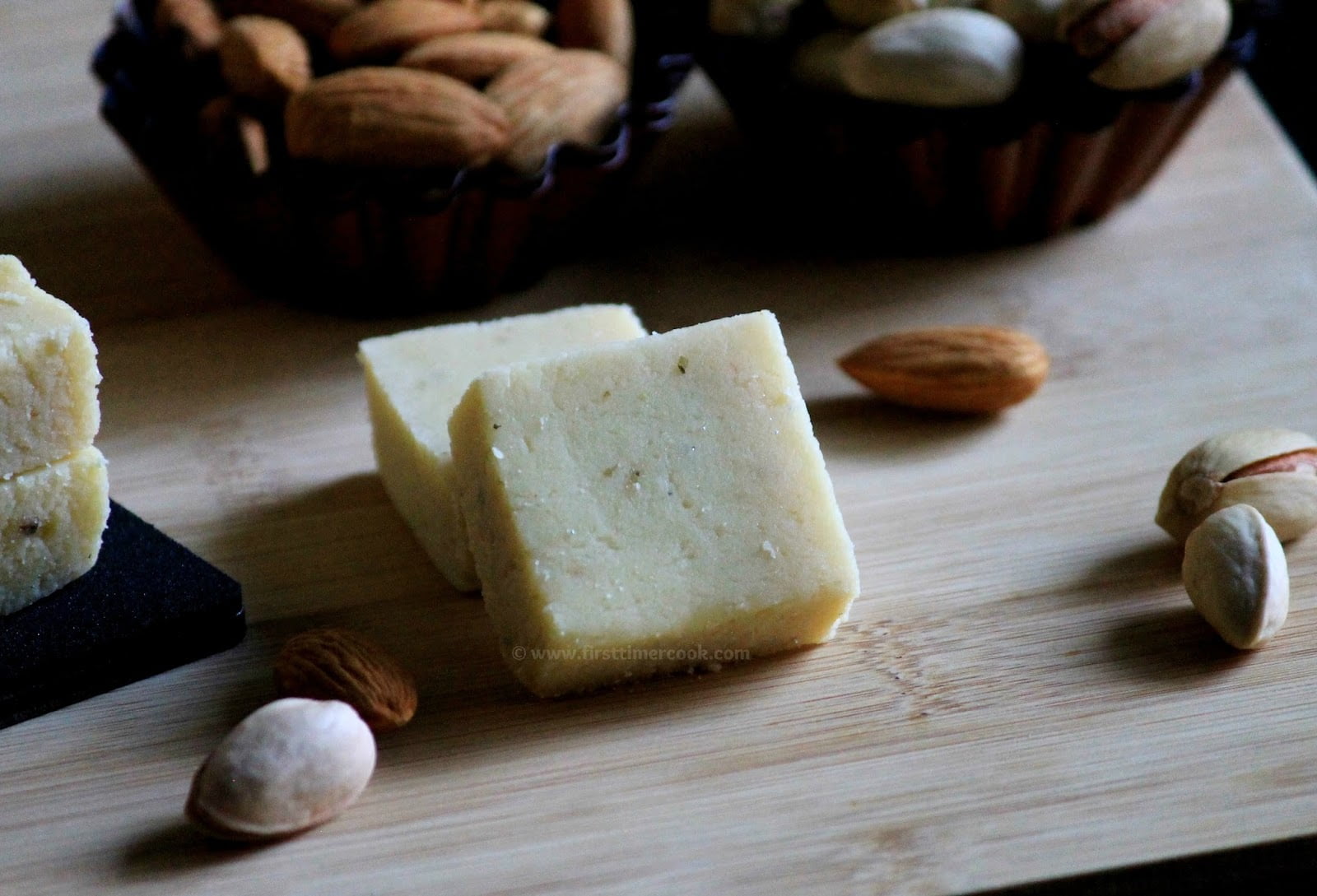 Preparation Time : 15 mins | Cooking Time : 10 mins
Ingredients :
| | |
| --- | --- |
| Ingredients | Measurements |
| Almond (badam) | ½ cup |
| Sugar | ¼ cup |
| Cardamom powder | 1 pinch |
| Water | ¼ cup |
Method :
First soak the almonds in sufficient water for at least 2 hours. Then drain all the water and peel the skin of almonds.
Dry roast all the peeled almonds to make free of any moisture.
Then in a blender put all the cooled and roasted almonds and make a powder (semi fine texture).
Next in a nonstick pan, take sugar and water. Turn heat on.
Add cardamom powder. Stir in till sugar dissolves completely over low-medium heat.
Once the mixture starts bubbling, add in the almond powder.
Stir continuously over low-medium heat scrapping the sides as well.
After sometimes, the mixture becomes thick and slightly sticky.
Turn off heat, transfer the mixture to a plate and allow to cool a bit.
When the mixture is still warm, knead for 1-2 minutes with greased (by ghee) hand or till a smooth texture of the dough appears. There should not be any cracks in the dough.
Then place the dough on a greased plate and make a rectangle or square of desired thickness.
Using a sharp knife, cut into desired shape.
Sprinkle some finely chopped pistachio and then separate each burfi.
Store in air tight container or serve !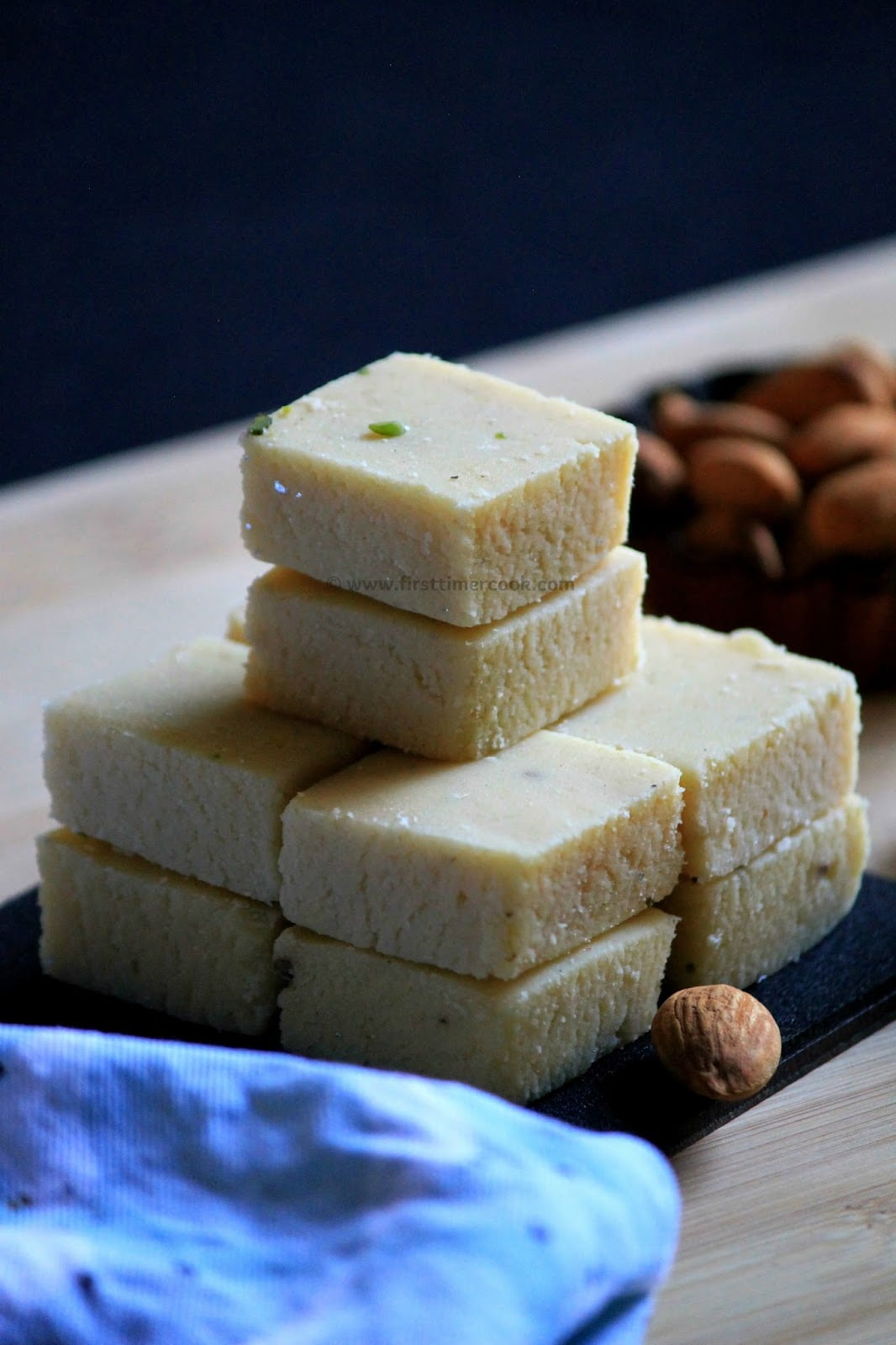 Notes :
Always prefer to use nonstick pan for making badam burfi easily.
The whole preparation process of badam burfi has to be prepared over low-medium heat.

If ready made almond powder is available, then use it directly to the sugar mixture.

PIN for later :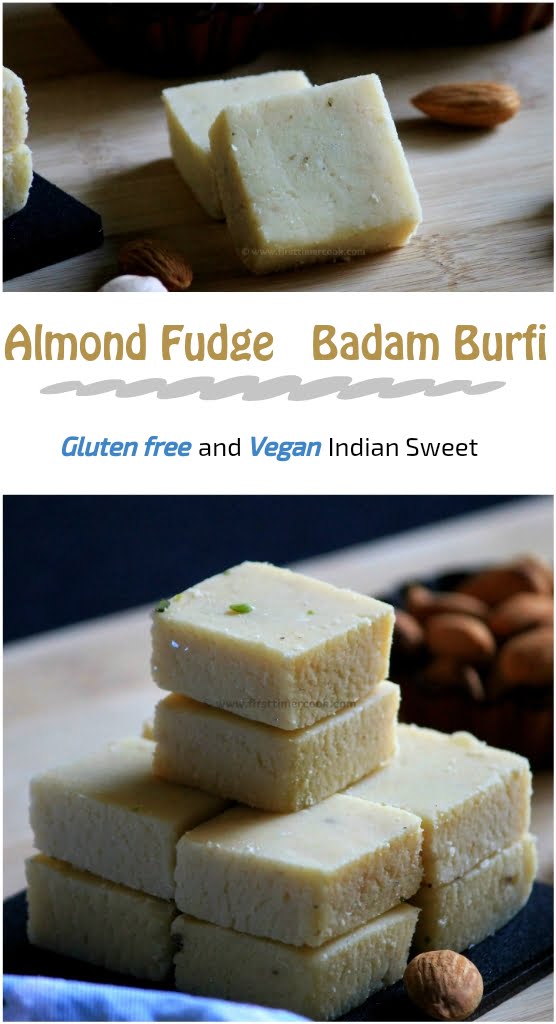 This 'Almond Fudge or Badam Burfi' is contributed for 39 Healthy Wellthy Cuisines where the theme is 'Parent Special'. Here are more similar recipes shared by our Healthy Wealthy Group members as Fruit Custard Trifle Pudding, Moong Dal Halwa, Carrot Halwa Mousse, Exotic Veggies in Teriyaki sauce.