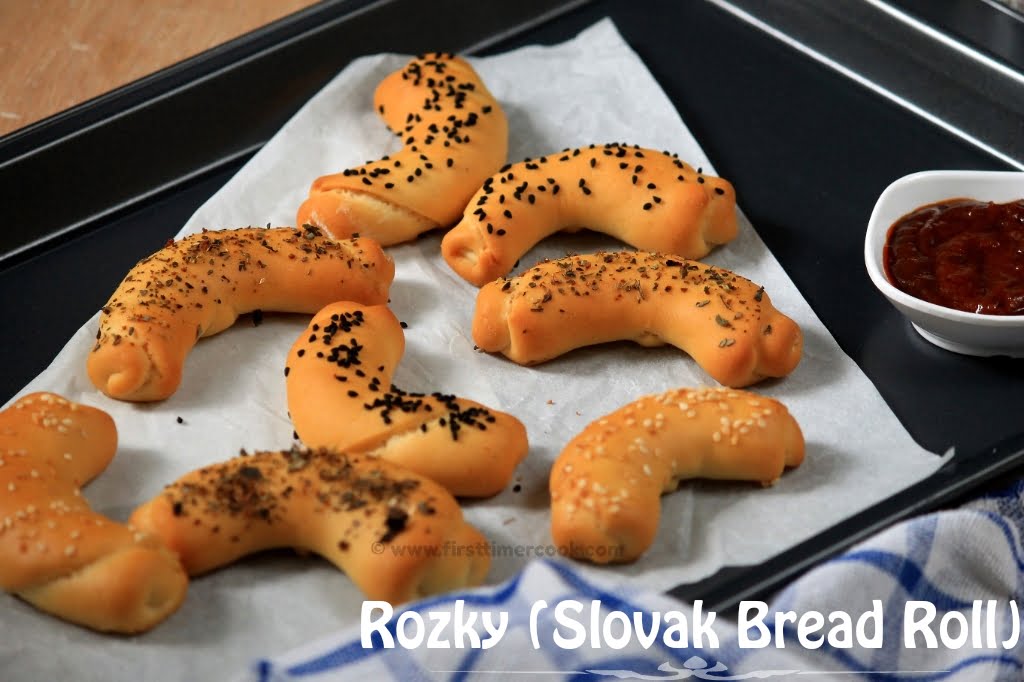 Once again I am back with my fellow food blogger, Jolly who suggested to start another event 'Recipe Swap Challenge' where two members'll pair and has to share a dish from their partner's blog. Isn't so interesting ?? For me it's a superb idea and I joined the group. Many-times what happens is, some dishes from our fellow food bloggers attracts all of us and we just bookmarked those ones to try later. But that is never happened for me, always my bookmark list fills. So by this group, I feel that I can prepare all those dishes if paired with that belonging member.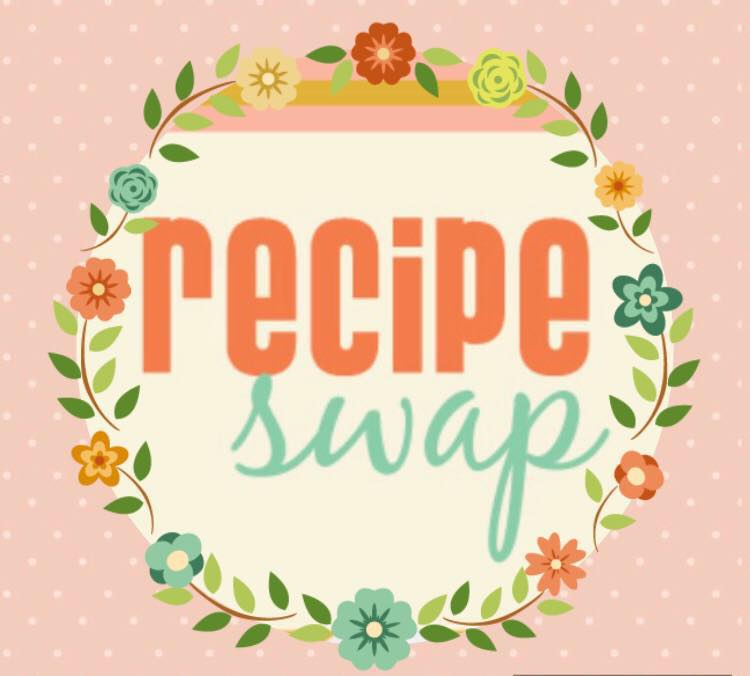 For the first challenge in that group, I have paired up with Mayuri di. She is such a kind person whom i know since a long time through another food group. I am just in love with all her baked goodies. When I came to know that I have been paired with di, then I started browsing first my bookmarked lists 😉 and came across the Rozky (Slovak Bread Rolls) which she had posted for Bread Bakers theme. So I have picked that recipe but made a vegan version of those mini baguette like rolls 😊.

In Slovakia, the most popular form of bread used is named as Rozky (Rozak is the plural form). These are basically some mini baguettes but slightly curved to give a crescent shape. The ingredients used are so basic ones. Also the process is really easy and there is no need of any fancy tricks to maintain. Simply make dough balls, roll and cut each ball into quarters, roll into shape as slightly curved. These baked rolls are the widely used dish in Slovak cuisine. Here I have prepared in totally a vegan version means no butter or no milk or no egg-wash 😉, yet the outcome is wow !! These can be served with some sauce or as an accompaniment with any soup or with evening tea.
So do try these Rozky or Slovak Bread Rolls. If you tried my recipe and enjoyed fully, then please share some pictures of your creation with me. Also give your valuable feedback either in the comment box below or tag me as #firsttimercook on Instagram. You may also follow me on Facebook, Pinterest, Twitter, Google+, Instagram and can subscribe for free to get new recipes directly into your inbox 😊
Preparation Time : 15 mins | Resting Time : 2 hrs | Cooking Time : 20 mins
Ingredients :
| | |
| --- | --- |
| Ingredients | Measurements |
| All purpose flour | 3 cup |
| Active dry yeast | 2 tbsp |
| Water (Luke warm) | 1 cup |
| Sugar | 1 tbsp |
| Olive oil | ½ cup |
| Salt | 1 ½ tsp |
| Sesame seed | For sprinkling |
| Mixed herb | For sprinkling |
| Carom seed | For sprinkling |
Method :
In a small bowl take warm water, sugar and yeast and mix everything.
Cover the bowl and keep aside for 10 minutes.
After 10 minutes, the whole mixture'll turn frothy.
Next in another mixing bowl take flour, salt, oil and the yeast mixture.
Mix everything gently and make a smooth and soft dough.
Cover the bowl and keep aside for 1-2 hours or till double in size.
Again knead the well risen dough a bit over a floured surface.
Make 2 inch balls from the dough.
Take one ball and over a floured surface roll into 5-6 inch size circle.
Now cut into 4 quarters.
Take one quarter placing the widest part towards you, fold inward the two corners of the widest part and press.
Next roll that quarter dough piece into a cylindrical shape.
Place on a baking tray lined with butter paper and after placing, bend the cylindrical shape slightly so that a crescent shape will form.
Similarly make all the crescent rolls from rest of the dough and place over the baking tray keeping some space in between.
Keep aside to rise again for 30-35 minutes.
Meanwhile preheat oven to 180 degree C.
After risen well, brush the rolls with olive oil gently and sprinkle either sesame seeds or mixed herbs or carom seeds or any toppings as desired.
Bake for 18-20 minutes at 180 degree C or until the tops are golden.
Take out from oven and allow to cool down completely.
Serve with some sauce or as an accompaniment with any soup !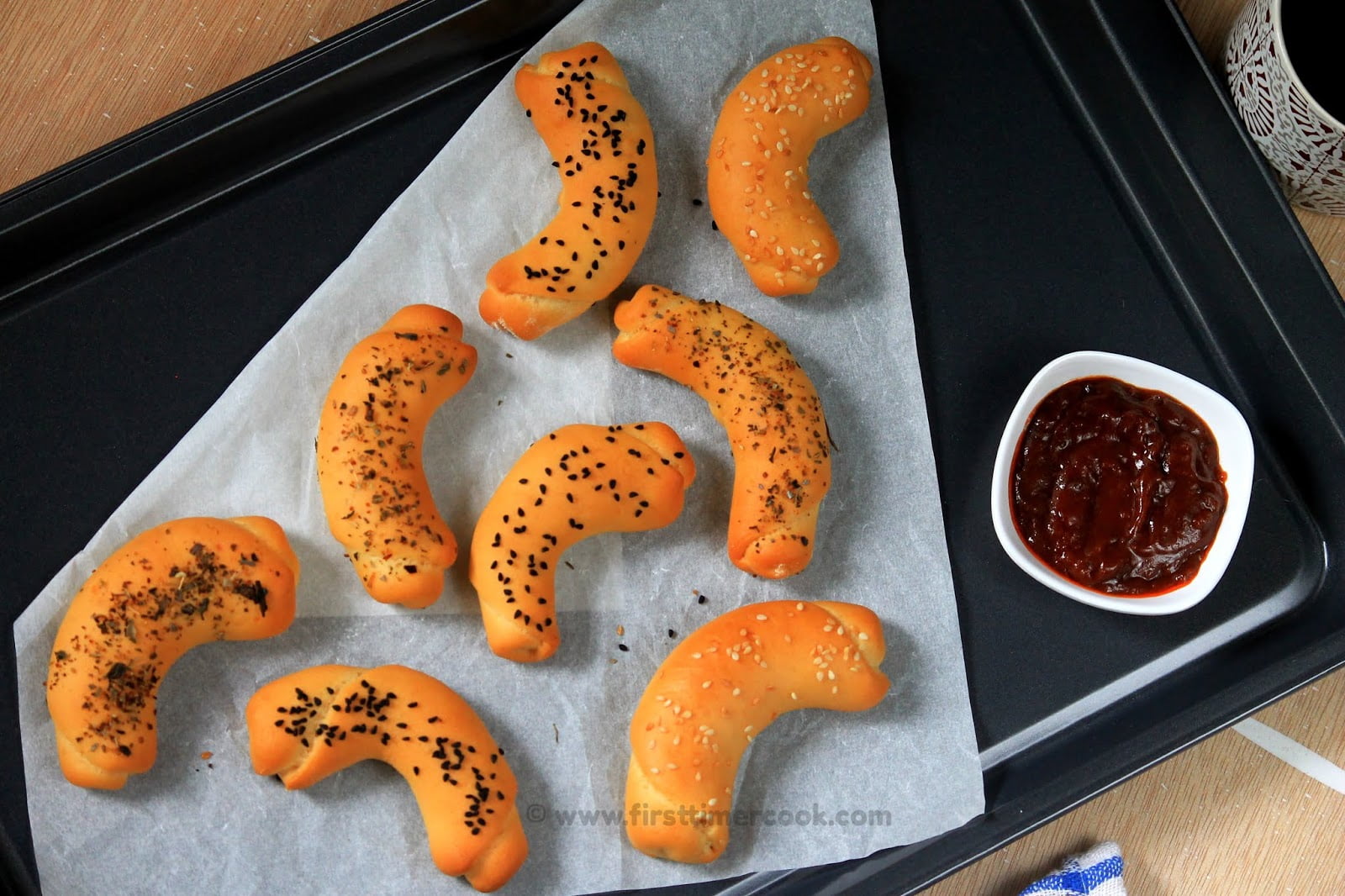 Notes :
Toppings totally depend upon choice.

PIN for later :