As you all know, preparation for Christmas has already begun 😊 So Christmas, without the fruit cake is incomplete totally. Though I always make fruit cake for Christmas each year, but this year I thought to make a healthy one and also a vegan version and that too in a bundt pan, isn't so much interesting !! Well It is😊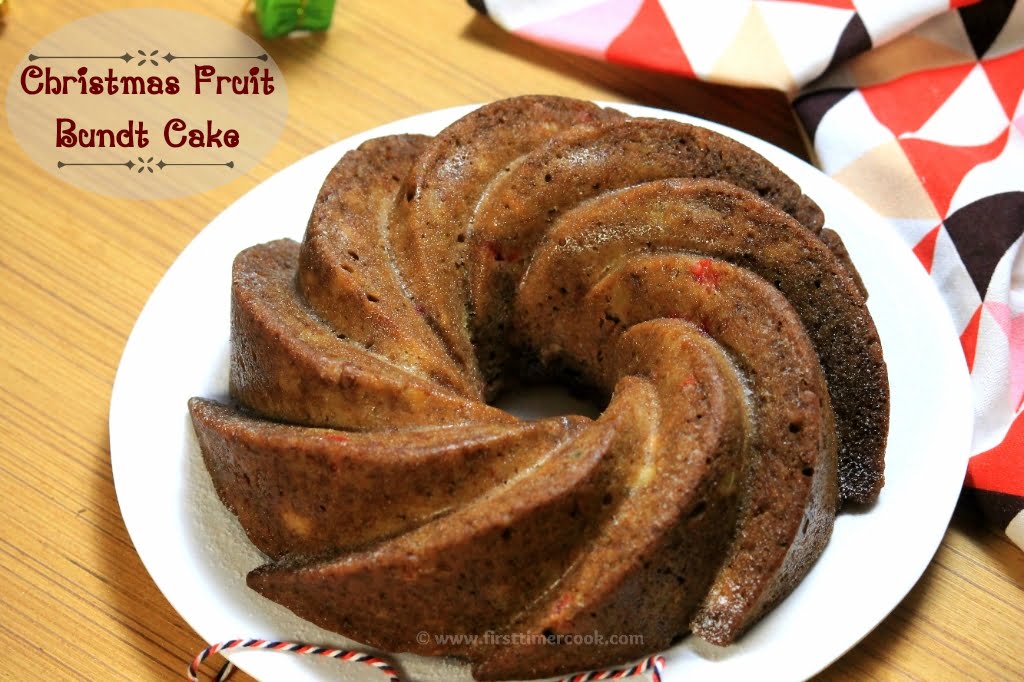 Basically a Christmas cake can be light / dark, crumbly-moist to sticky-wet, spongy / heavy, leavened / unleavened, shaped as round / square / oblong as whole cakes, cupcakes with icing / glazing / dusting with icing sugar or simply kept plain as it is. A particular favorite of many people is the traditional Scottish Christmas cake, 'Whisky Dundee'. As the name implies, the cake originated in Dundee and is made with Scotch whisky. This alcoholic fruit cake is a light and crumbly cake, loaded with fruits and candied peel (mainly currants, raisins, sultanas and cherries). This Christmas cake is particularly good for people who don't like very rich and moist cakes. In India, mostly Christmas cakes are traditionally a fruit cake with many variants.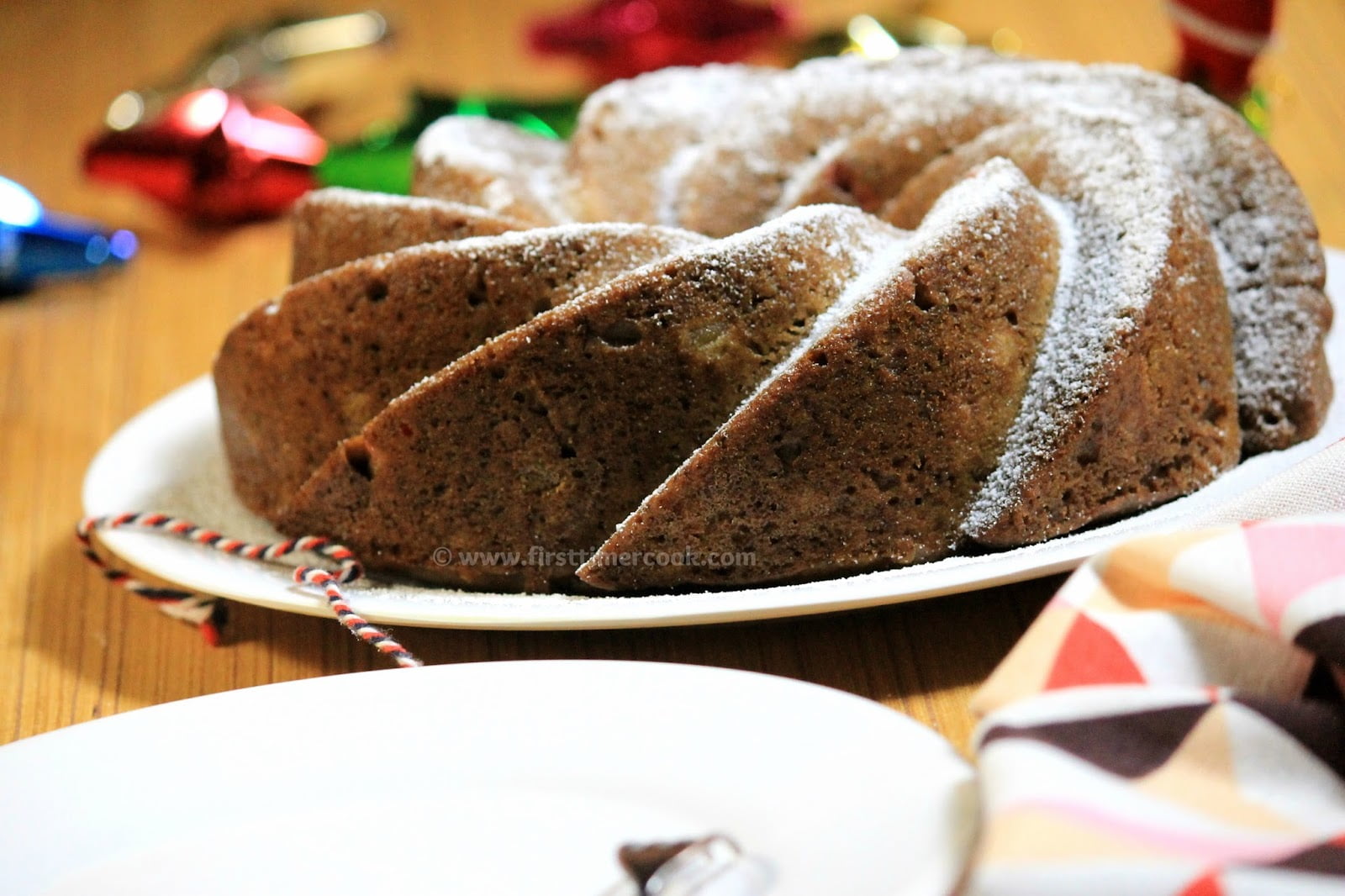 My version which I have prepared for this year Christmas celebration is totally a vegan fruit cake and also the flour used is whole wheat flour. Although the Christmas cakes call for soaking fruits in alcohol few days before the preparation, this vegan n healthy one is an simple and instant one, no long prior soaking is needed. So this is the cake for those are in hurry and just forgot to soak fruits in advance. Here I just go with the nuts and dry-fruits which are available in my refrigerator 😉, so for nuts I have used cashews, almonds, pistachios and for dry-fruits I have used raisins, cherries, dried apricot. You may use any other nuts and dry fruits of your choice. Also I just select a swirl bundt pan instead of regular loaf or round pan to bake this fruit cake. This vegan healthy fruit bundt cake is perfect for this holiday times and even kids will love it. So lets go in details as mentioned below.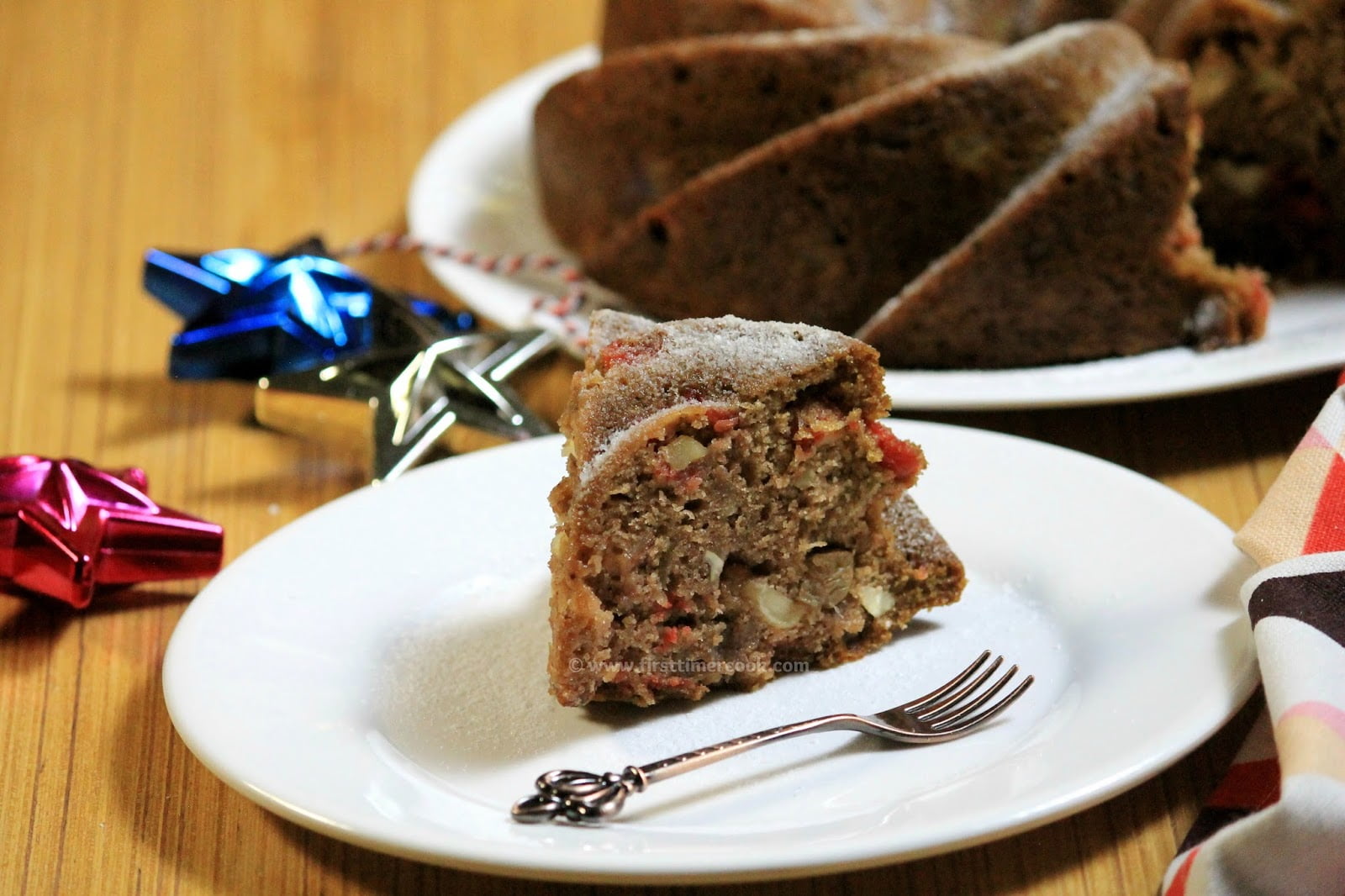 Preparation Time : 20 mins | Cooking Time : 50 mins
Ingredients :
Ingredients

Measurements

Wheat flour

1 & ¾ cup

Baking soda

1 tsp

Cinnamon powder

1 tsp

Orange juice

½ cup

Brown sugar

¾ cup

Apple cider vinegar

1 tbsp

Orange essence

2 tbsp

Oil

1/3 cup

Nut (finely chopped)

(cashew, almond, pistachio)

½ cup

Dry fruit (finely chopped)

(raisin, cherry, dried apricot)

2/3 cup

Hot water

¾ + 1/8 cup

Salt

¼ tsp

​
Method :
Preheat oven at 170 deg C. Grease the bundt pan well and keep aside.
In a medium mixing bowl, take all the chopped dry-fruits. Pour in hot water, stir using a spoon and keep aside to cool completely.
After completely cooled down, add oil, apple cider vinegar, orange juice, brown sugar, orange essence to the fruit mixture. Stir well.
Then in another mixing bowl, sieve wheat flour, cinnamon powder, baking soda and salt.
Next add the wet ingredients to the dry ingredients.
Gently mix everything well.
Now add all the chopped nuts and again gently mix till well incorporated.
Pour the batter into the greased bundt pan and bake for 45 – 50 minutes or till a knife or toothpick inserted into the cake comes out clean.
Take out from oven and allow to rest for 10 minutes.
Then invert and allow to cool completely.
Dust some powdered sugar over the entire cake, slice and serve !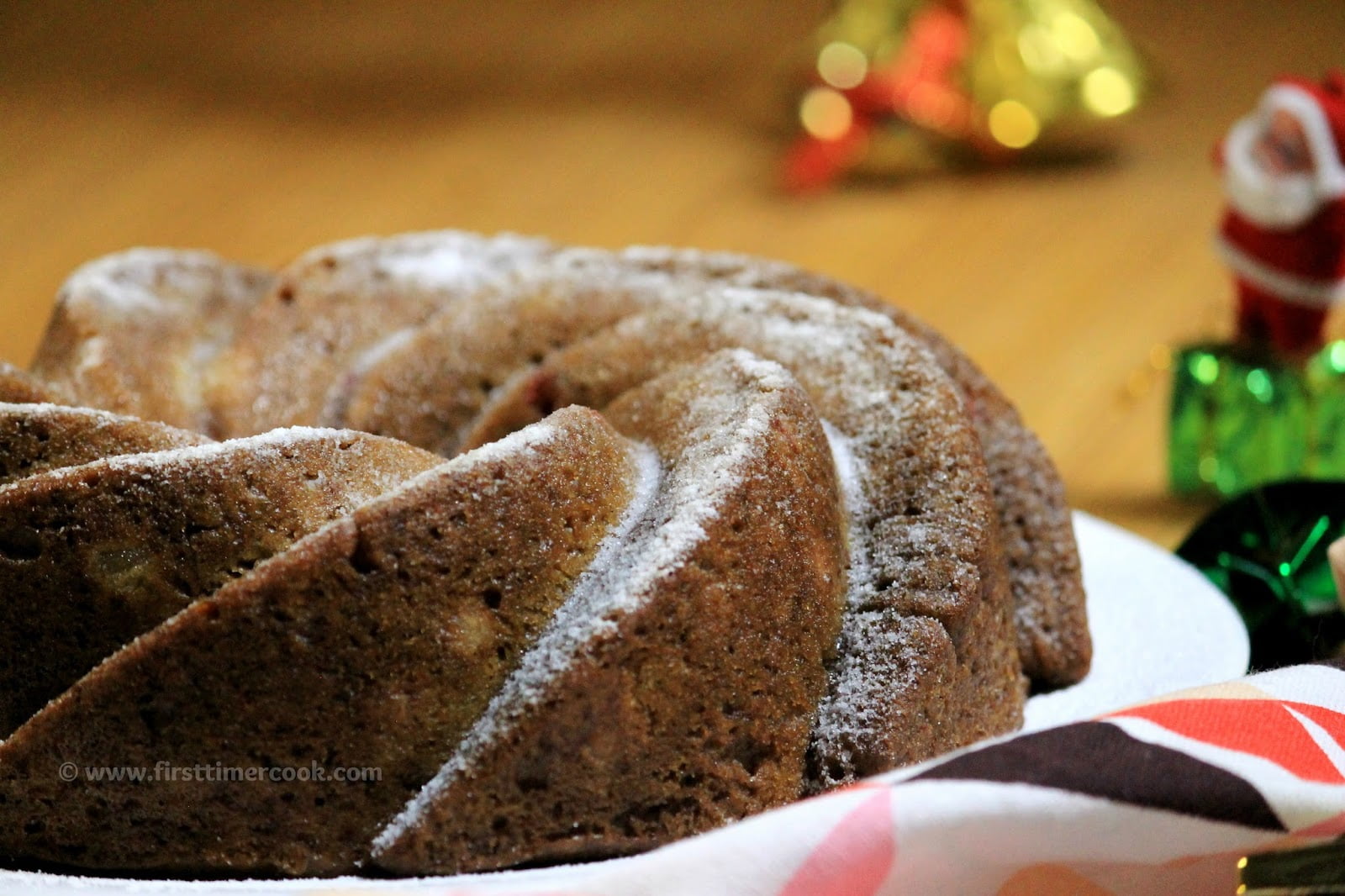 Notes :
The fruit mixture should be completely cooled before adding anything to this.
Any other dry fruits and nuts can be used.
Here only cinnamon powder is used which can be omitted or any other spice powder like clove powder or dried ginger powder can also be used.
This cake will taste best on the next day of baking.

PIN for later :
Sending this recipe to Fiesta Friday this week co hosted by Judi and Laurena.