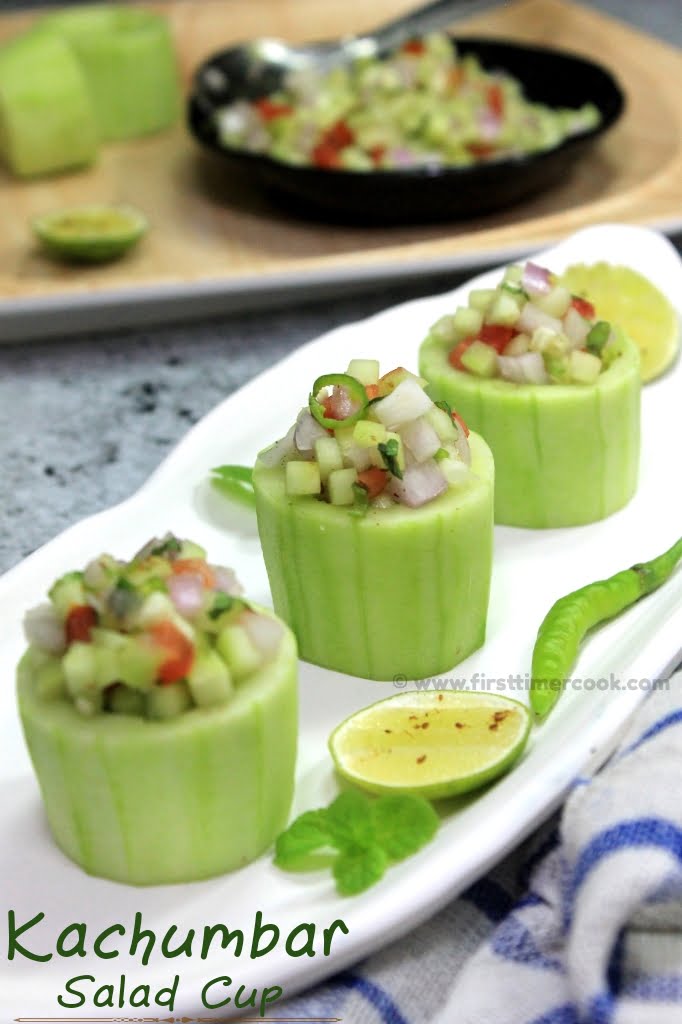 Summer is still going on. And there is nothing like a fresh salad on these hot summer days to beat the heat. Salads are ideal summertime meals as they are quick, nutritious and don't require much time to prepare. Salads are the mixtures of fresh fruits, vegetables with an array of different combinations of dressing. Actually eating a variety of textures keeps mealtime interesting. The ingredients used in salad can add a nice crunch which is much better than munching on any cookies or potato chips.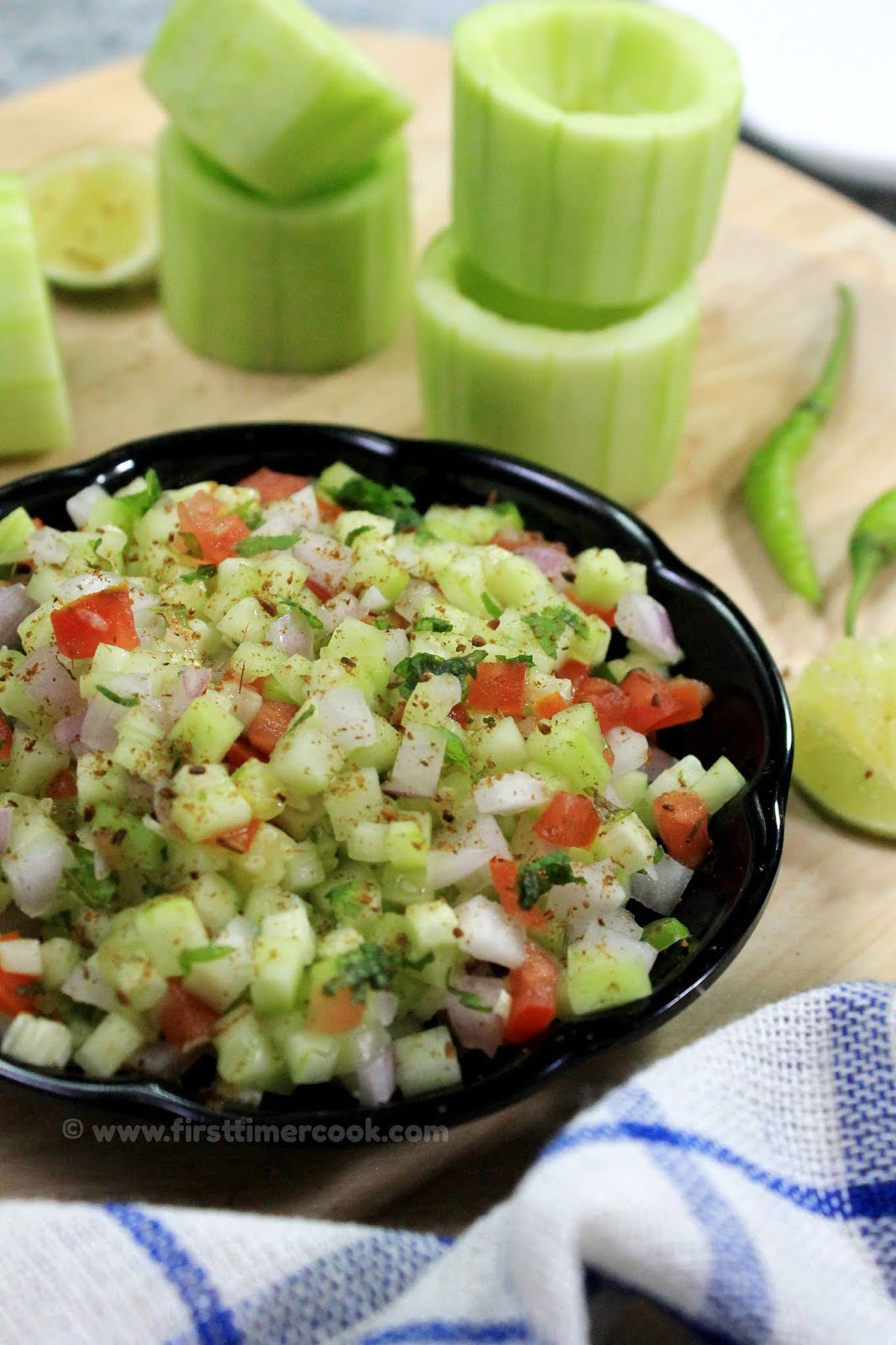 The perfect way to increase the number of vegetables in the diet is to eat a variety of salads often. Eating plenty of raw vegetables ensures to get all the benefit of the enzymes found in them. These enzymes enable the body to absorb the nutrients found in the food. So more nutrient absorption leads to better health. There are varieties of salads which means that even at the same table, just by adjusting the ingredients, dressings as per likes and dislikes many versions of salad can be prepared. And anyone can make salad even kids too. It is always a perfect way to motivate particularly kids towards eating a variety of vegetables. Always salads are cool, crunchy and fun to eat which has lots of textures, colors and flavors.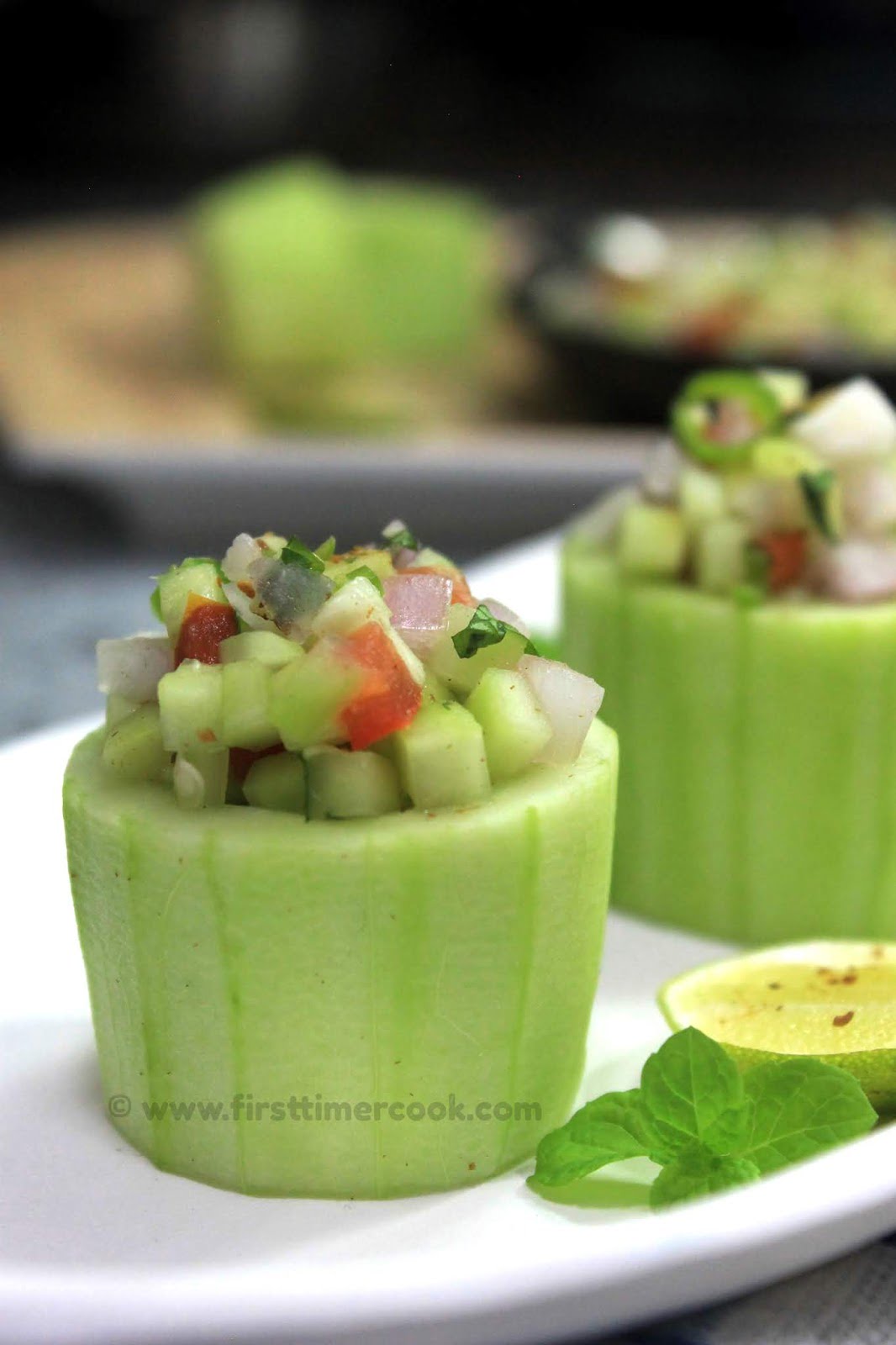 Monday is here again !! Hence the Foodie Monday Blog Hop team has decided the 149th theme as 'Salad'. Here I have prepared a salad cup using kachumbar as Kachumbar Salad Cup. Kachumbar is an Indian salad and mainly consists of freshly chopped cucumber, onion, tomato, cabbage (optional) seasoned with salt and pepper. Freshly chopped coriander leaves along with fresh lemon juice are also added to make the salad a bit more tangy and delectable.
Although I liked this salad throughout the year, but particularly during summer these are a big hit at my place. These salad provides a cooling effect when taken along with any meals or simply as it is. Cucumber, one of the main ingredient of the salad has high water content and hence eating this vegetable on a hot summer day can help to feel cool and stay hydrated. Kachumber salad can be easily prepared within few minutes. Also these are the much popular salad in most of the Indian households and Indian restaurants.
Well how about some salads to grab without taking any help of bowl, fork etc !!! Here is an easy and no-cook version where the kachumbar salad is served in the scooped out cucumber pieces. Interesting, isn't it ? Well it is. Just scoop out the middle portion of some cucumber piece (1-1.5 inches thick) leaving the sides and bottom intact so that a cup like shape will form with the help of a melon baller or normal spoon. Then fill those cucumber cups with kachumber and serve immediately to have the crunchy and a bit tangy dish. This easy and no-cook kachumbar salad cups are surely a big hit as party appetizer.
So do try these kachumbar salad cups in these hot summer days. If you tried my recipe and enjoyed fully, then please share some pictures of your creation with me. Also kindly give your valuable feedback either in the comment box below or tag me as #firsttimercook on Instagram. You may also follow me on Facebook, Pinterest, Twitter, Google+, Instagram and can subscribe for free to get new recipes directly into your inbox 😊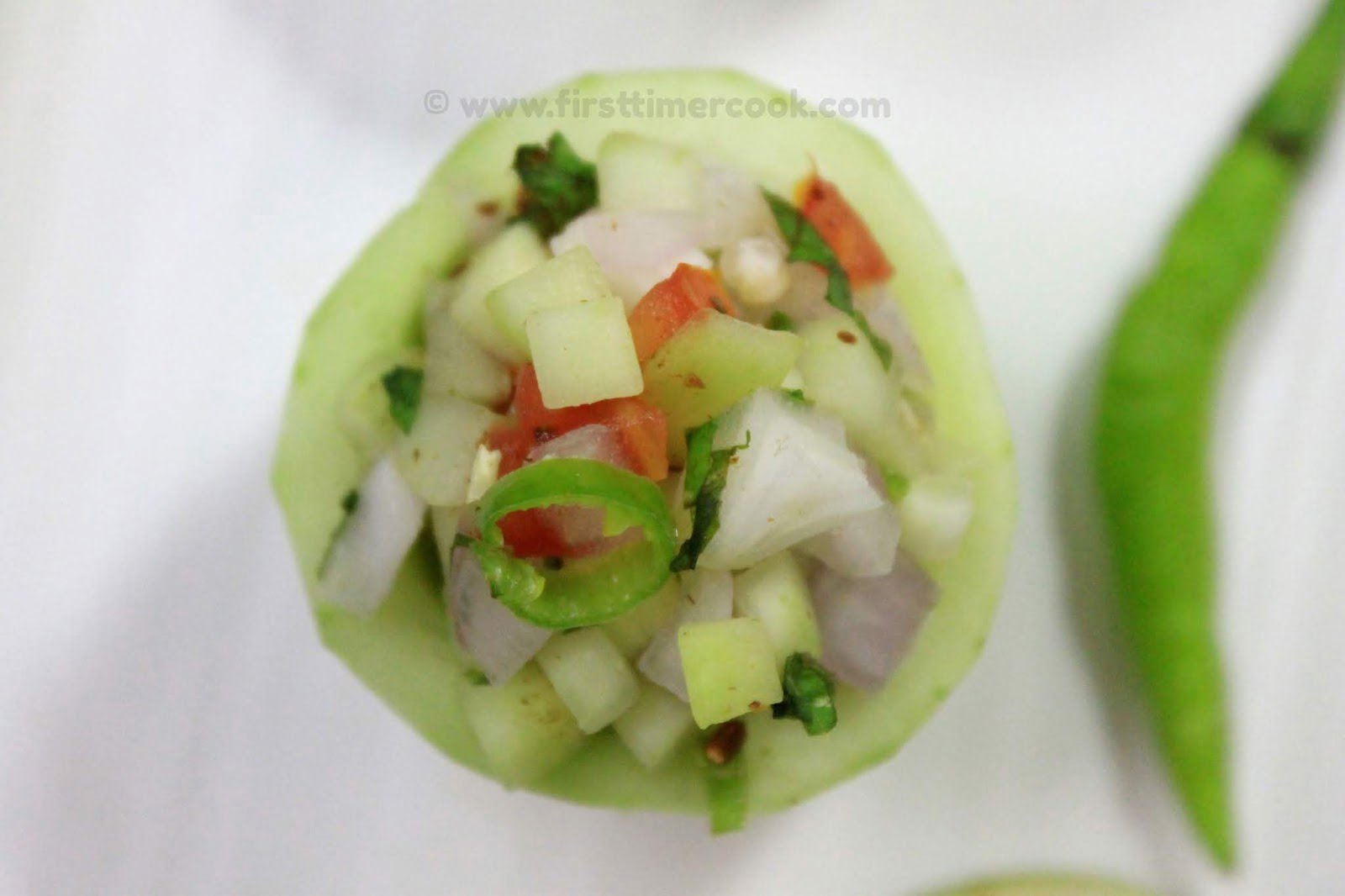 Preparation Time : 5 mins | Cooking Time : 0 mins
Ingredients :
| | |
| --- | --- |
| Ingredients | Measurements |
| Cucumber (chopped) | ¼ cup |
| Cucumber (large) | 2-3 no |
| Onion (chopped) | ½ cup |
| Tomato (chopped) | ½ cup |
| Green chili | 1-2 no |
| Coriander leaf (chopped) | 1-2 tbsp |
| Red chili powder | ¼ tsp |
| Black pepper powder | ¼ tsp |
| Lemon juice | 1 tbsp |
| Salt | As needed |
​
Method :
Peel the large cucumbers first and then cut into rounds of 1-1.5 inches thick.
Using a melon baller or normal spoon scoop out the middle portion of the cucumber rounds leaving the sides and bottom intact so that a cup like shape will form.
Keep aside all those cucumber cups.
Now in a mixing bowl take chopped cucumber, chopped onion, chopped tomato, finely chopped green chilies, chopped coriander leaves, red chili powder, black pepper powder, lemon juice and salt.
Mix everything well.
Fill this salad mixture in each cucumber cups and serve immediately !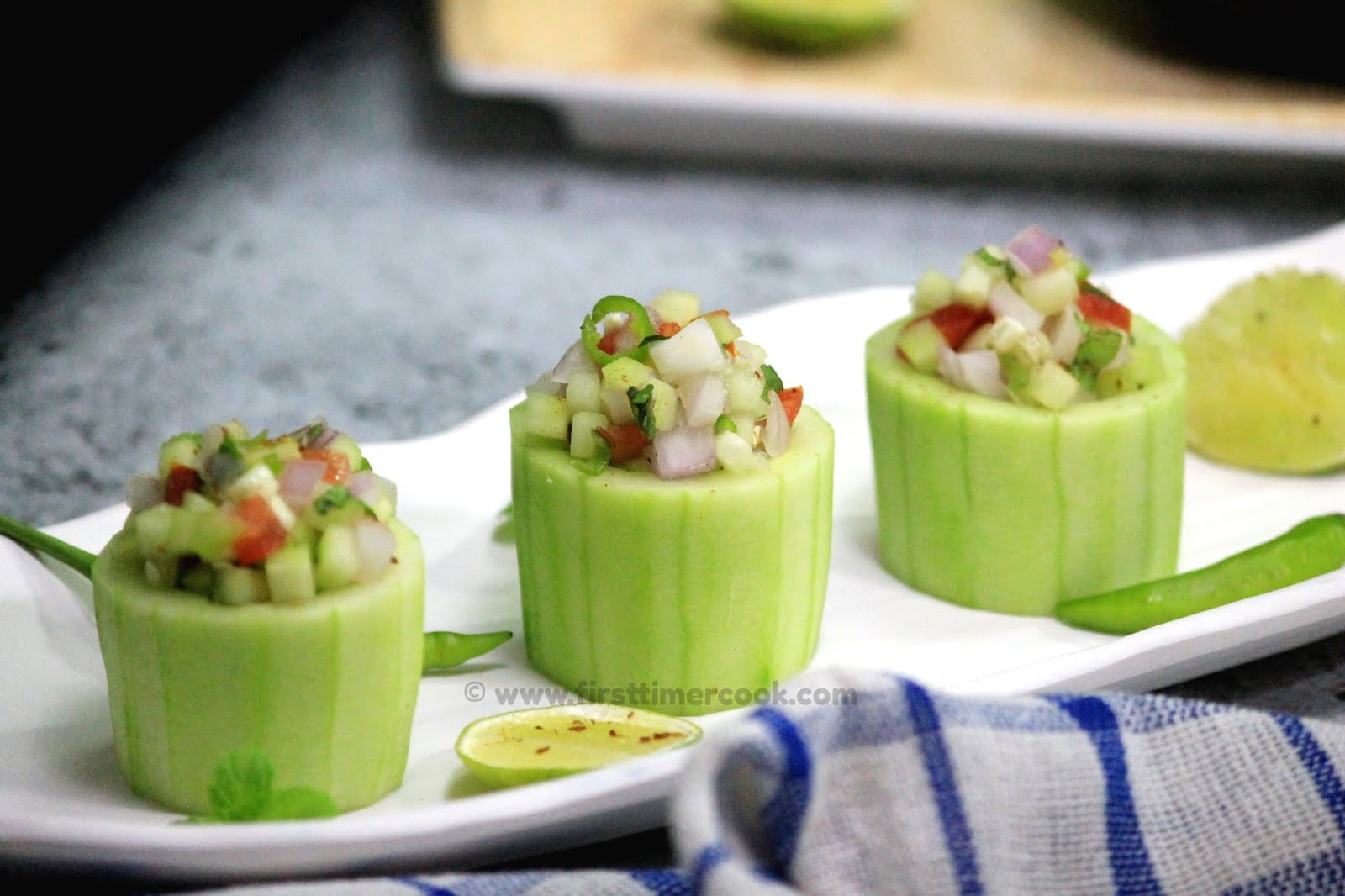 Notes :
Black pepper powder is optional.
Adjust the lemon juice as desired.
PIN for later :