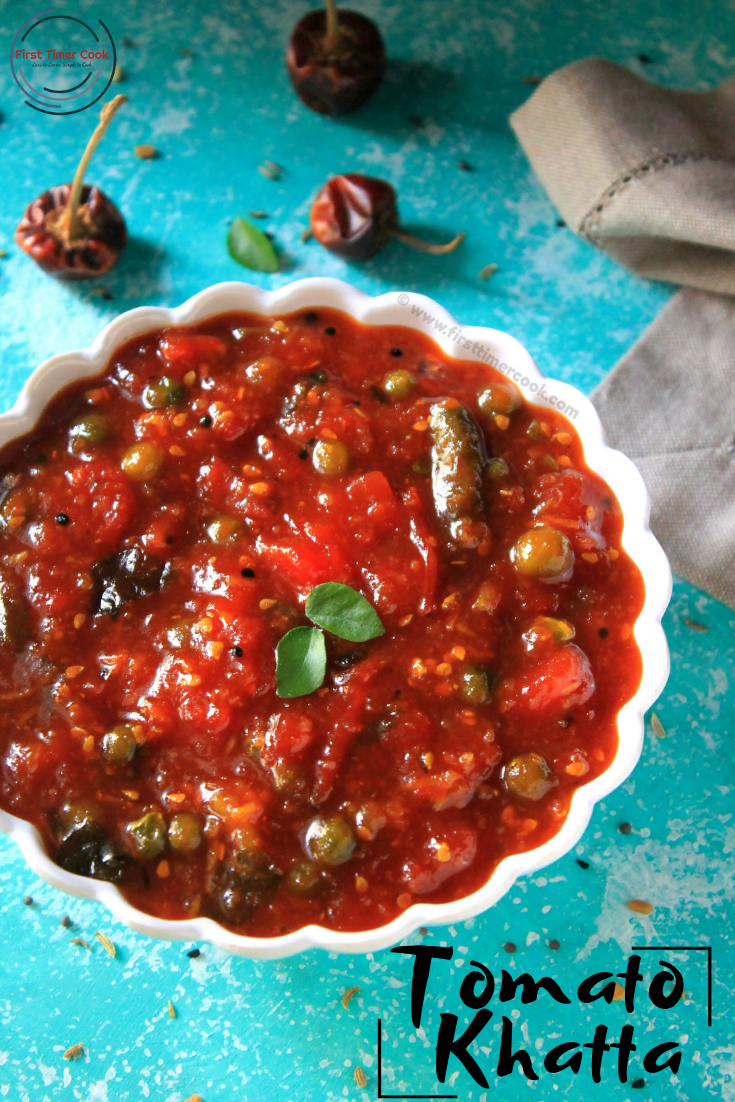 Monday is again here !!! And the theme no 182 of the Foodie Monday Blog Hop foodie group is decided as 'Down the memory lane' which is suggested by Swaty Mallick who blogs at Food Trails. After the theme got finalized, I had a dish on my mind which I had prepared in my tuition feast just after my secondary board exam. Some of my friends were participating in the cooking part, by knowing that I was so excited to join them. Usually I took only the salad preparation part 😛 of the tuition feasts as during those period of time, I didn't have much knowledge regarding cooking. So I noted all the procedures from my mother and prepared the authentic relish from Odia cuisine using tomatoes as Tomato Khatta / Sweet Tomato Relish.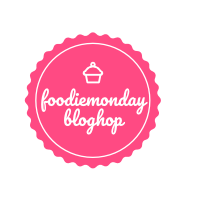 Usually the tomato khatta is a must to be in the list of any temple food / festival food / any special occasion of Odisha state of Indian subcontinent. The dish can be prepared using onion-garlic or without using onion-garlic. Here I have come up with the no-onion-garlic version. Also there are a no of variation in this relish. Some uses khajoor, some other uses fruits and dry fruits too, so accordingly the flavor of the relish varies.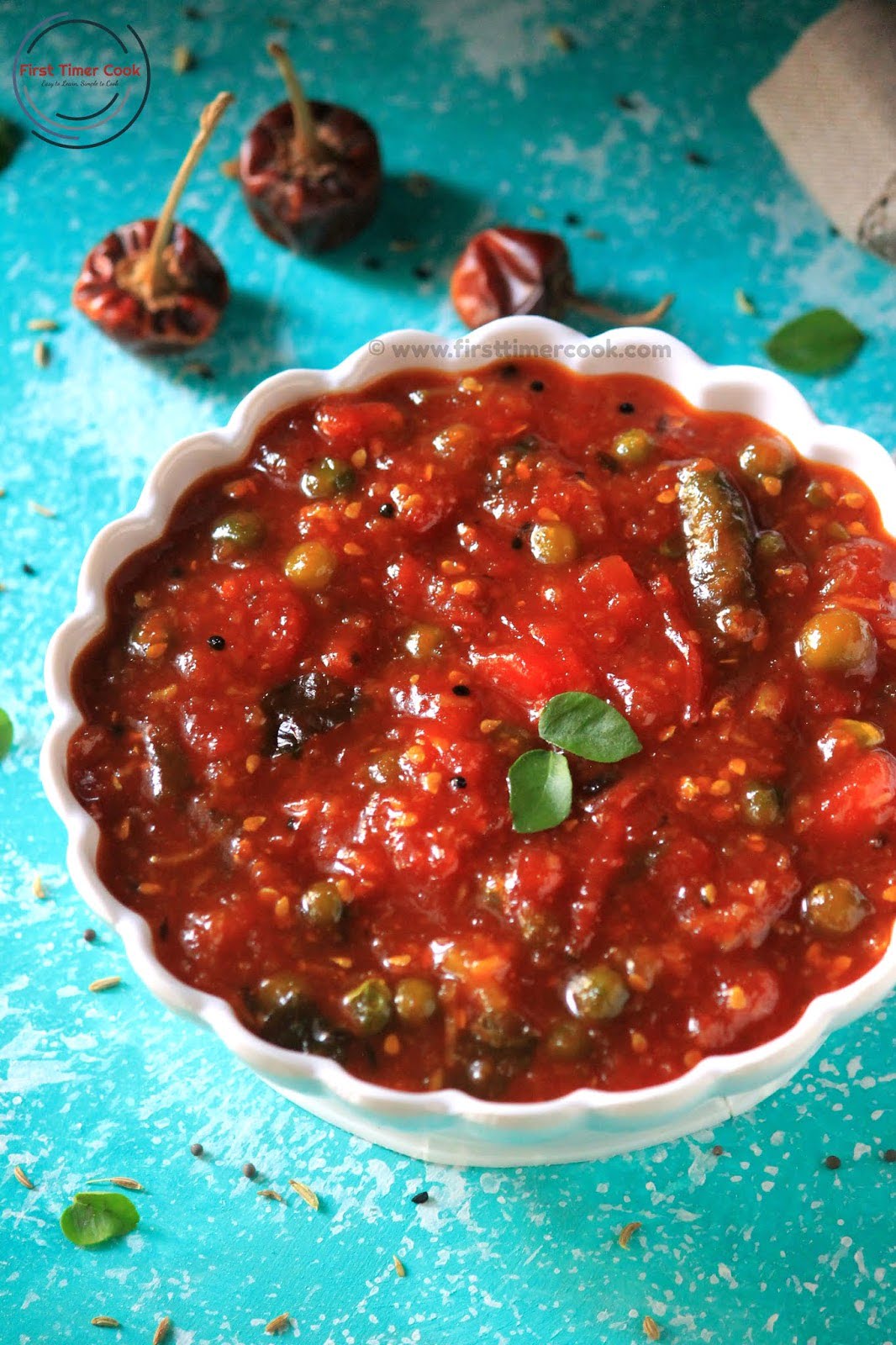 Here in this version I have simply prepared using tomatoes only. In addition to that, some fresh green peas I have added as my pantries are loaded with fresh green peas of the current season. Although sugar is used, still jaggery can be opted. The consistency of this relish is totally desirable like semi thick, thick or thin. And accordingly water is added to get the desired consistency. Since at my place the thick consistency are more preferable, so I have not added water while preparing the dish.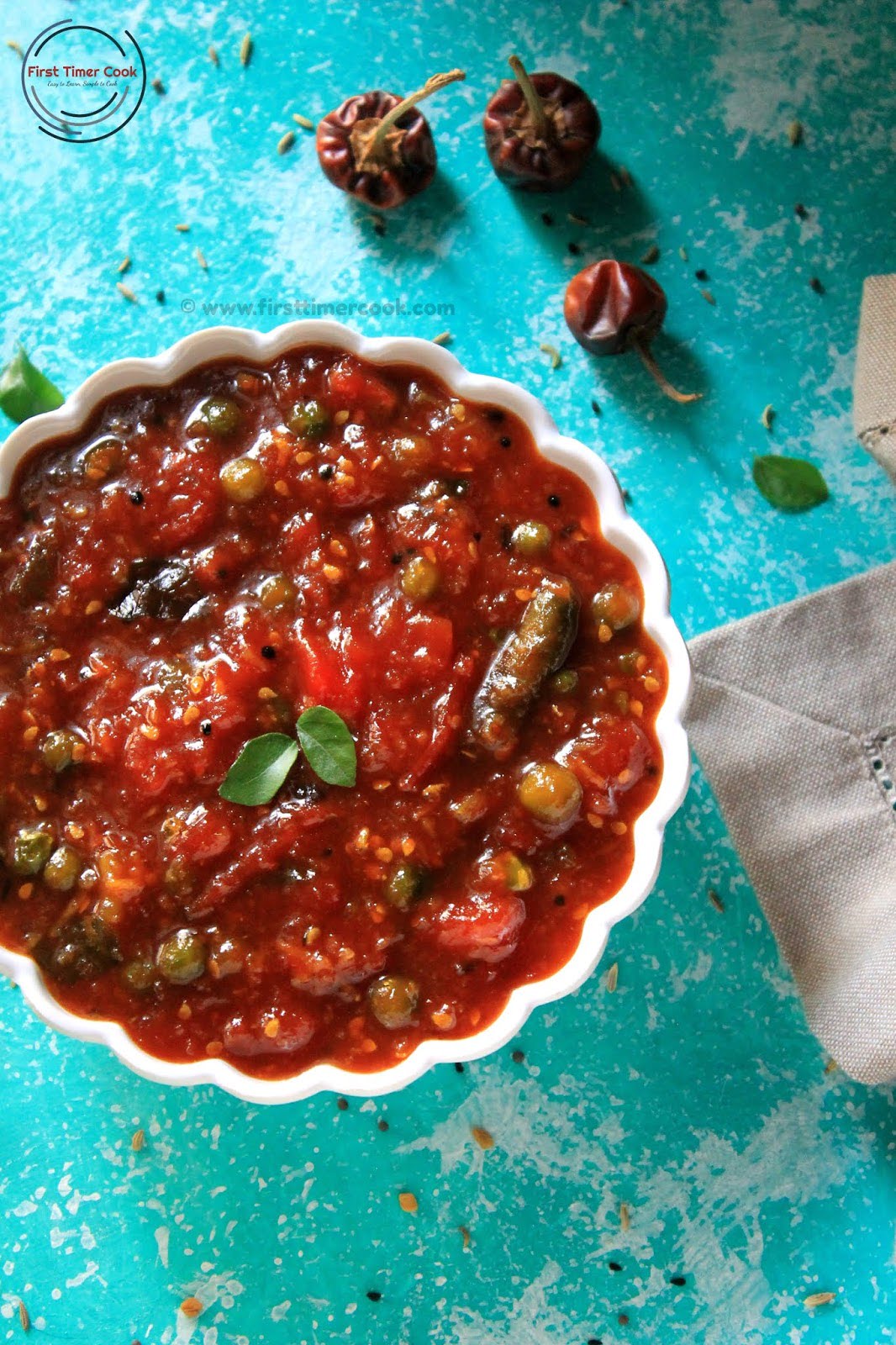 The grated mango ginger gives a lovely and aromatic taste to our pallet which I always choose to add at any cost. But that addition can be omitted if mango ginger is not available at your place. Also the roasted cumin-red chili powder (jeera lanka gunda in Odia) which is sprinkled over the relish just after the preparation adds an aromatic flavor to the whole dish and in turn, gives the odia touch to the relish. This relish can be thoroughly enjoyed with rice-dalma combo, rice-dal combo, roti / fulka, poori etc. So do include this traditional relish using tomatoes from Odia cuisine in your next any festival preparation.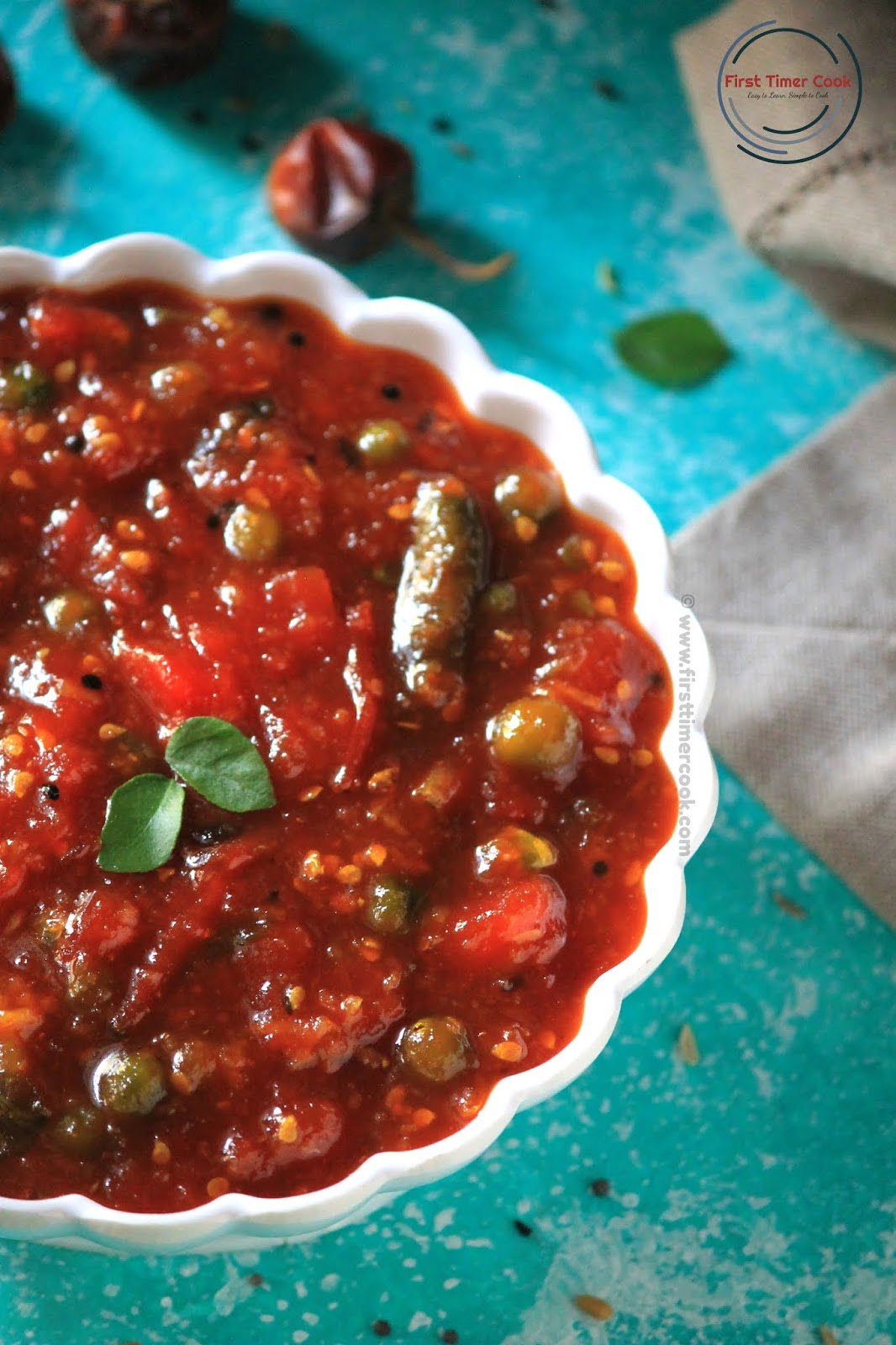 Recipe Card for 'Tomato Khatta / Sweet Tomato Relish' :
Tomato, Green Peas, Relish, Odia Cuisine
Condiment
Odia
Author: SasmitaPin it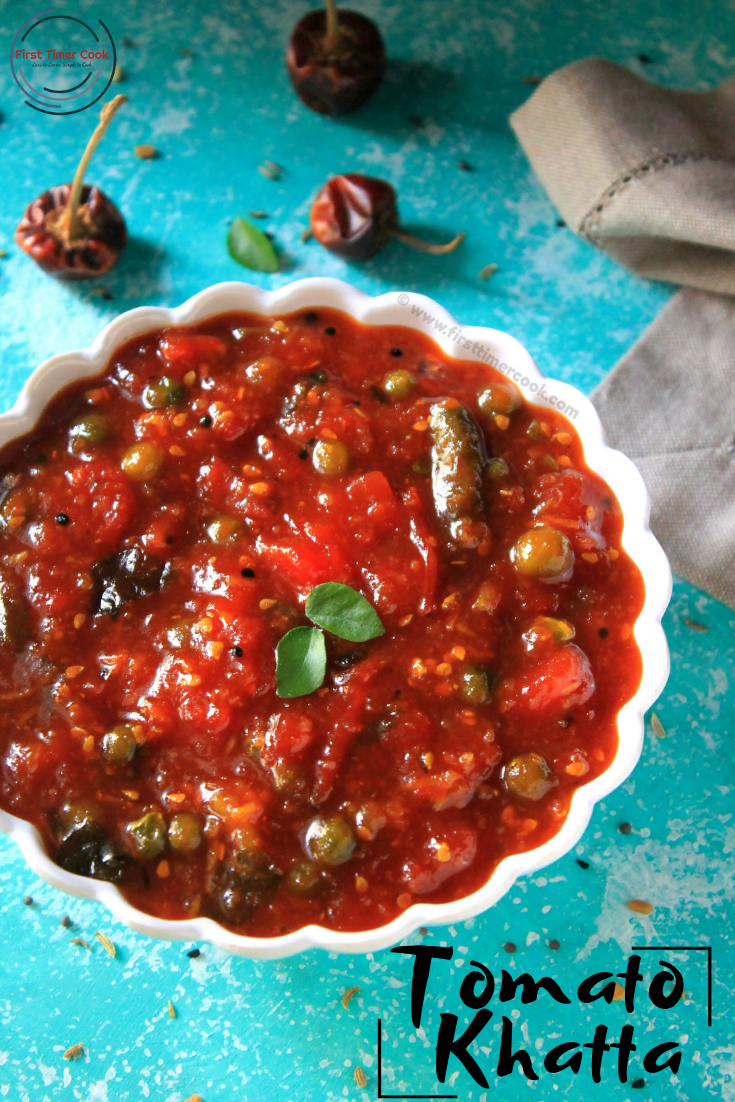 Tomato Khatta / Sweet Tomato Relish
a sweet relish from Odia Cuisine using tomatoes
prep time: 10 minscook time: 30 minstotal time: 40 mins
ingredients:
Tomato (medium) 8-10 no.
Green pea 1/4 cup
Green chili 2 no.
Dry red chili 1 no.
Ginger 1 inch
Mango ginger(optional)1/2 inch
Curry leaf 1 sprig
Sugar 1/2 cup
Coconut (grated) 1 tbsp
Turmeric powder 1/2 tsp
Panch phoron 1 tsp
Salt as needed
Roasted cumin-red chili powder 1 tsp
Water as needed
Oil 1 tbsp
Coriander leaves (finely chopped) 1 tbsp
instructions
Wash and chop roughly all the tomatoes first.
Heat oil in a pan.
Add in dry red chili, panch phoron and allow to crackle well.
Next add grated ginger, green chilies (cut into halves lengthwise) and saute for 1-2 minutes.
Now add roughly chopped tomatoes, fresh green peas, turmeric powder, salt and mix everything very well.
Cover the pan and allow to cook till the whole thing turns into a mussy and thick texture.
Then add sugar, grated coconut, grated mango ginger and mix well.
Cook till the sugar melts and the whole mixture again starts to thicken.
Turn off heat.
Sprinkle finely chopped coriander leaves and roasted cumin-red chili powder and serve !
NOTES:
Mango ginger is optional. But if you have, then donot skip adding as this gives a nice flavor in the dish.
Whole red chili can be omitted from the seasoning part.
Instead of sugar, jaggery is also used to make this relish.
https://firsttimercook.com/2019/02/tomato-khatta-sweet-tomato-relish.html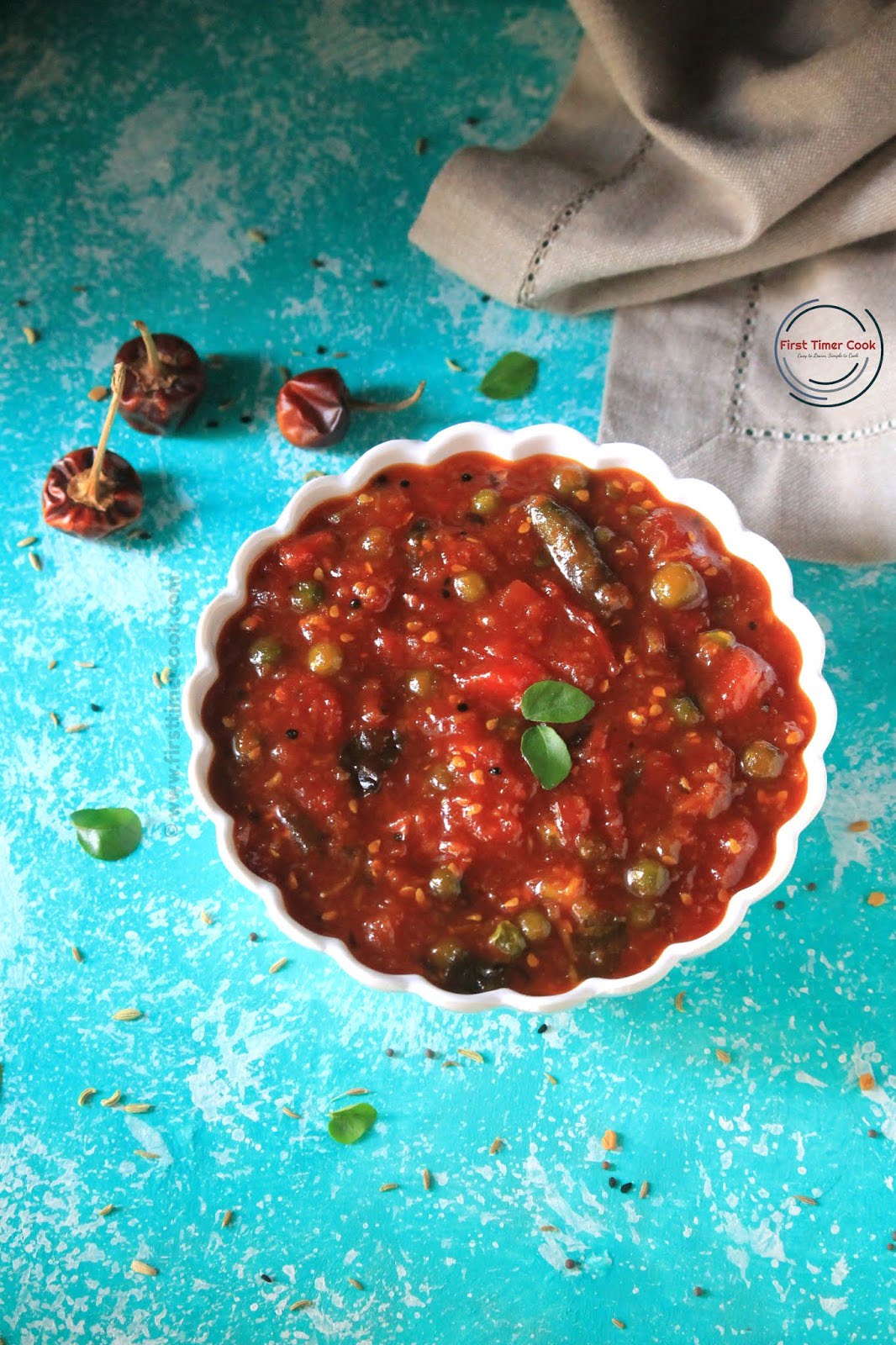 If you tried my recipe and enjoyed fully, then please share some pictures of your creation with me. Also kindly rate the recipe below, give your valuable feedback either in the comment box below or tag me as @firsttimercook on Instagram.
You may also follow me on Facebook, Pinterest, Twitter, Google+, Instagram and can subscribe for free to get new recipes directly into your inbox 😊

PIN for later :