20th March is celebrated as 'Universal Pakhala Day' aka 'Pakhala Dibasa'.
An Odia'll surely love to have pakhala / water rice on this day wherever he / she stays in the world. 'Pakhala' is an Odia word which means cooked rice in water or slightly fermented in water. And accordingly the dish is named as either Saja Pakhala (Fresh Water Rice) or Basi Pakhala (Fermented Water Rice). Hence the liquid part names are either Saja Torani / Basi Torani. Pakhala is widely eaten in the eastern part of the Indian subcontinent, particularly in Odisha as it is a part of the daily diet in most Odia households. Although the par-boiled rice is the main varieties of rice used to get much flavor as well as smooth pakhala, still any other rice still can be taken.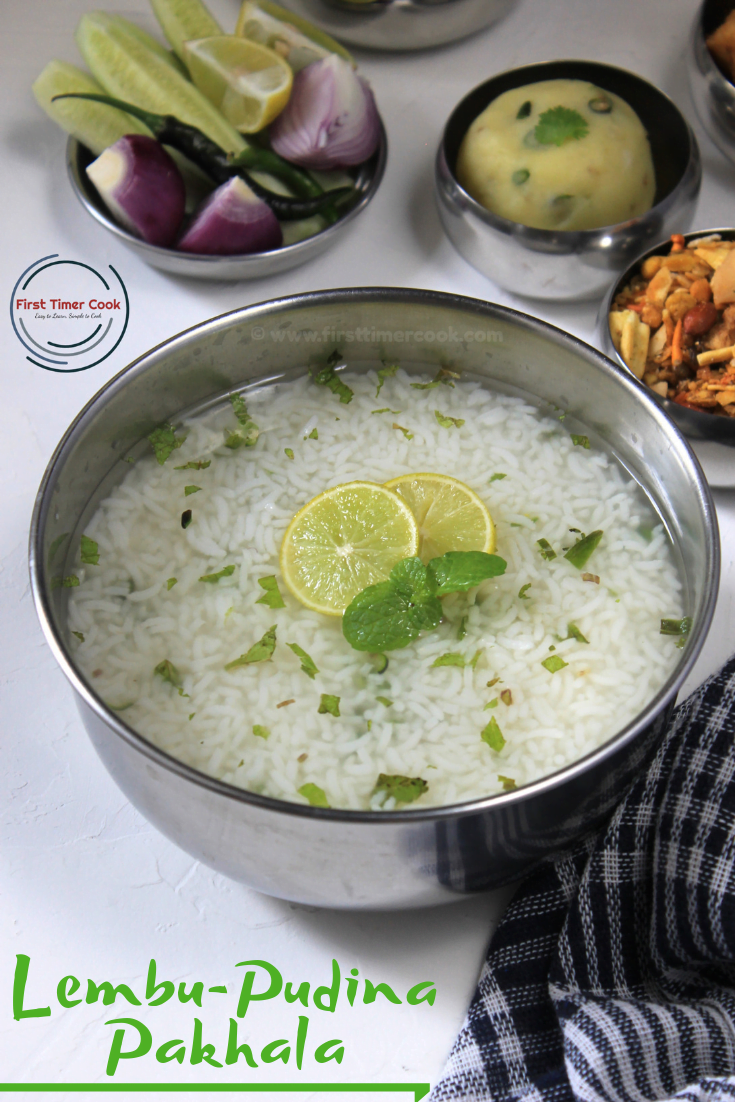 These days there are a lot of varieties of pakhala one can have like dahi pakhala, saja pakhala, paghara pakhala, basi pakhala etc. Today's post is all about a different kind of pakhala as Lembu Pudina Pakhala / Lemon-Mint flavored Water Rice. The base of this pakhala is the fresh pakhala, not the basi pakhala. That means one doesn't need the fermentation part like basi pakhala. Just cook the rice slightly softer than the normal cooked rice. Allow to cool a bit and then add drinking water. Then add finely chopped mint leaves and lemon juice along with some grated mango ginger. Mix and serve 😉 It is that much simple dish, but the flavor is just WOW !! This is also completely vegan and gluten free dish.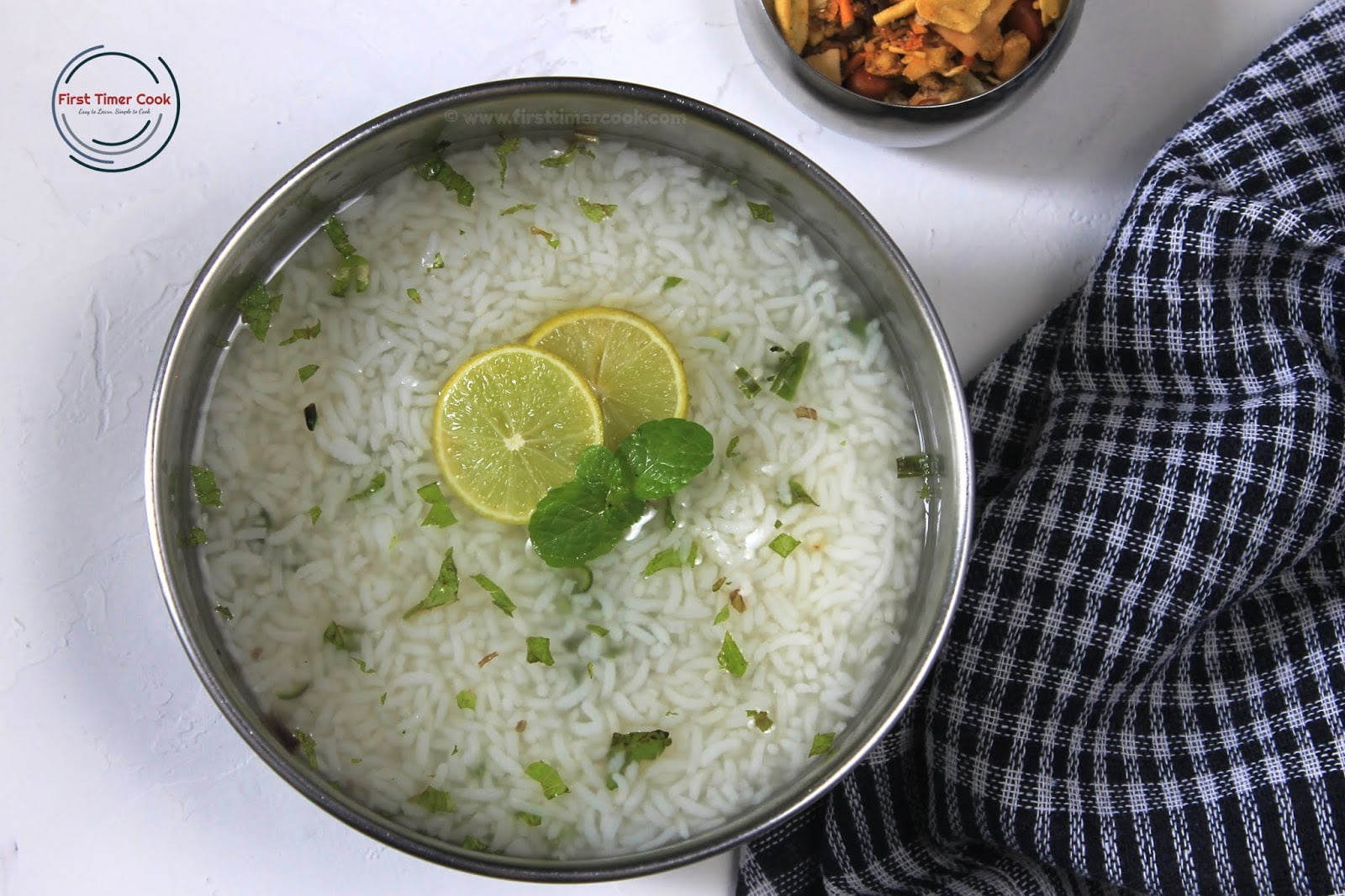 I have already shared another variety of pakhala, Dahi Pakhala. As the summer is approaching soon, I do make variety of pakhala at my place. And each member of my family thoroughly enjoy pakhala. The accompaniments for this water rice can be either vegetarian or non-vegetarian dishes particularly dried fish (sukhua), fried fish (fried slices of fish coated with turmeric and salt) etc. I have come up with some vegetarian side dishes as badi chura, aloo chakta, vada, mixture, gota bhendi bhaja. So do try this soul satisfying dish for upcoming hot days.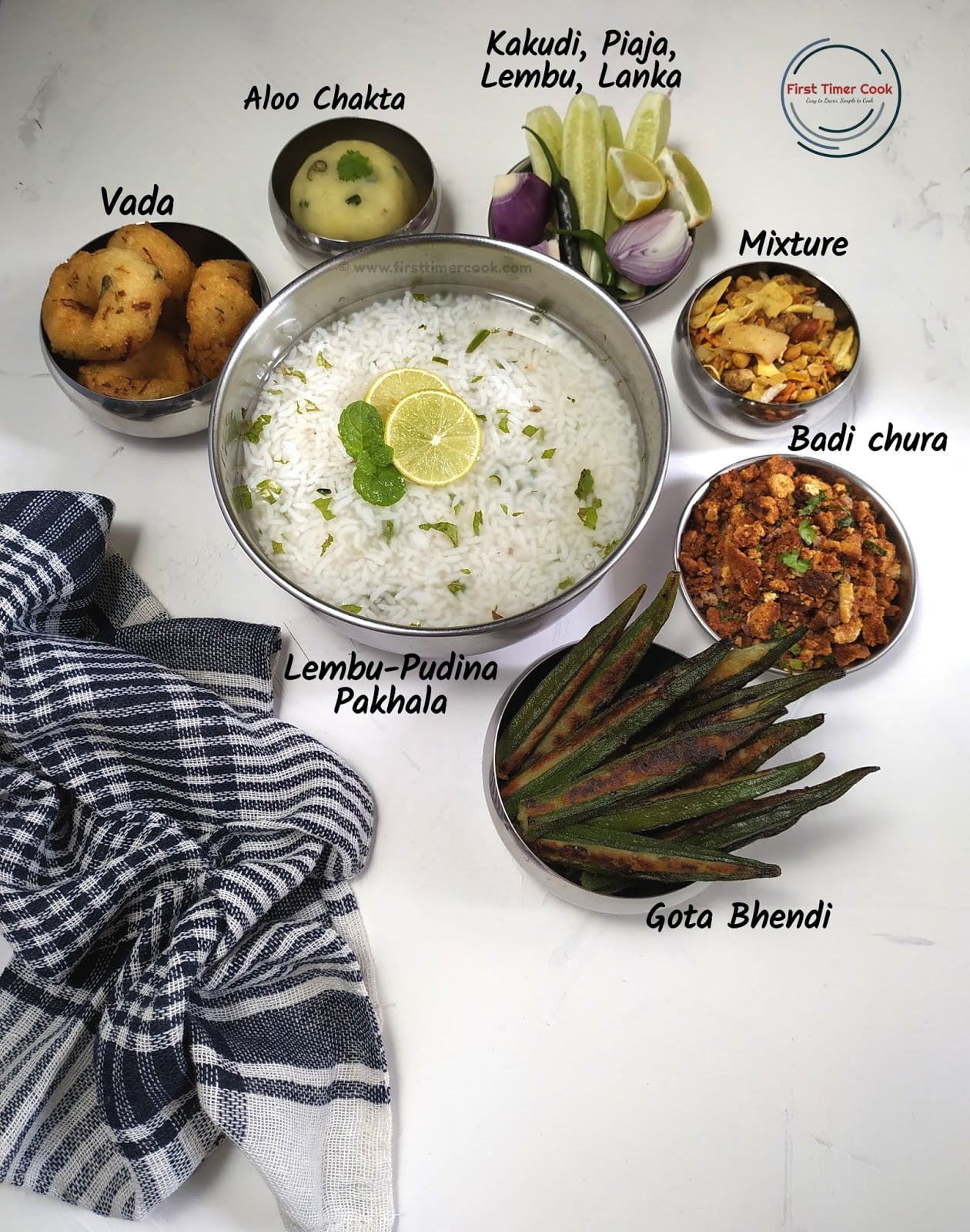 Recipe Card for 'Lembu Pudina Pakhala | Lemon-Mint flavored Water Rice' :
pakhala, lemon, mint, mango ginger, summer dish, Odia cuisine, Odia food, Authentic food
main dish, vegan, gluten free
Odia Cuisine
Author: SasmitaPin it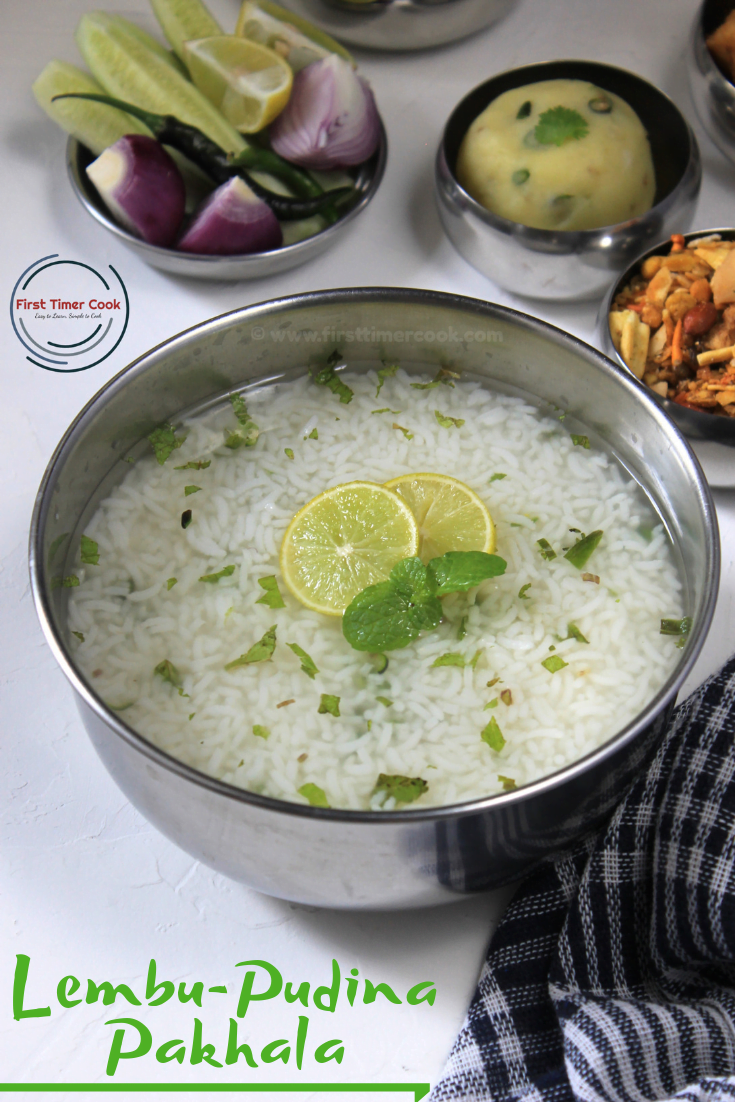 Lembu Pudina Pakhala / Lemon-Mint flavored Water Rice
a traditional dish from Odia Cuisine with the flavors of lemon, mint leaves along with mango ginger
prep time: 10 minscook time: 30 minstotal time: 40 mins
ingredients:
Par-boiled rice 2 cup
Mint leaf (finely chopped) 2 tbsp
Mango ginger (grated) 1/2 tsp
Lemon 1 no.
Salt as needed
Water as needed
instructions
In a bowl, take rice and wash properly using normal water.
Take sufficient water in a deep bottomed pan and start boiling.
Then add washed and clean rice to the boiling water.
Give a nice stir and allow to cook. Remember to cook this rice slightly more soft than the normal cooked rice.
When it is cooked perfectly, turn off heat.
Drain off extra water from the pan. Keep aside to cool a bit.
Now add normal water to the warm rice till 1-2 inch above the level of rice in the pan.
Keep aside for at least 30-40 minutes.
Meanwhile, in a small bowl take finely chopped mint leaves, grated mango ginger and the juice squeezed from the lemon.
Mix well and pour onto the cooled water rice.
Using a spoon, mix everything.
At the time of serving, transfer to the serving bowl, add salt and mix and then serve along with some accompaniments like badi chura, aloo chakta, vada, mixture, gota bhendi bhaja etc or some non-veg like fried fish, dried fish as well !
NOTES:
Mango ginger is optional, but it gives an aromatic flavor to the pakhala (whole water rice).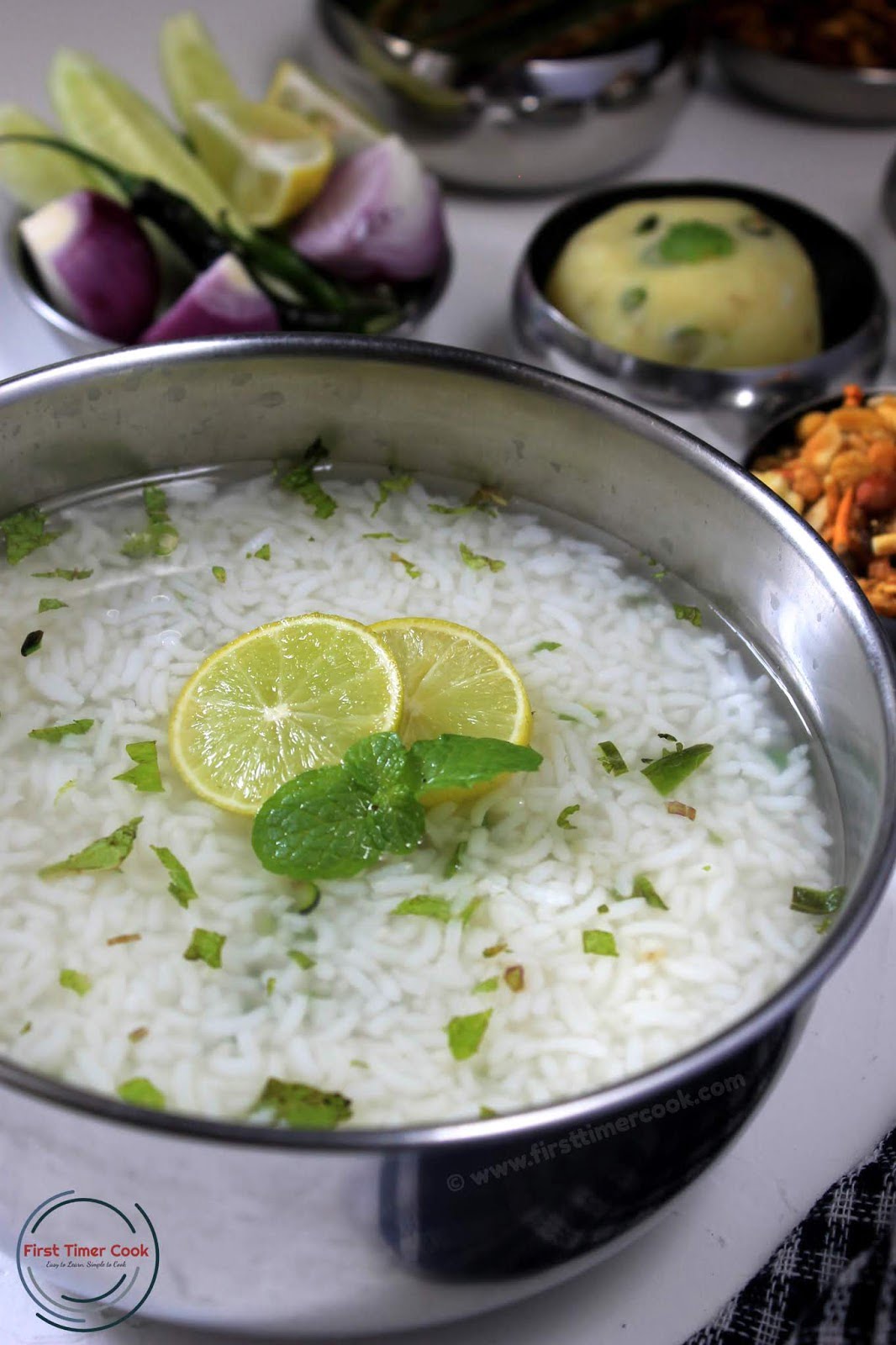 If you tried my recipe and enjoyed fully, then please share some pictures of your creation with me. Also kindly rate the recipe below, give your valuable feedback either in the comment box below or tag me as @firsttimercook on Instagram.
You may also follow me on Facebook, Pinterest, Twitter, Google+, Instagram and can subscribe for free to get new recipes directly into your inbox 😊

PIN for later :