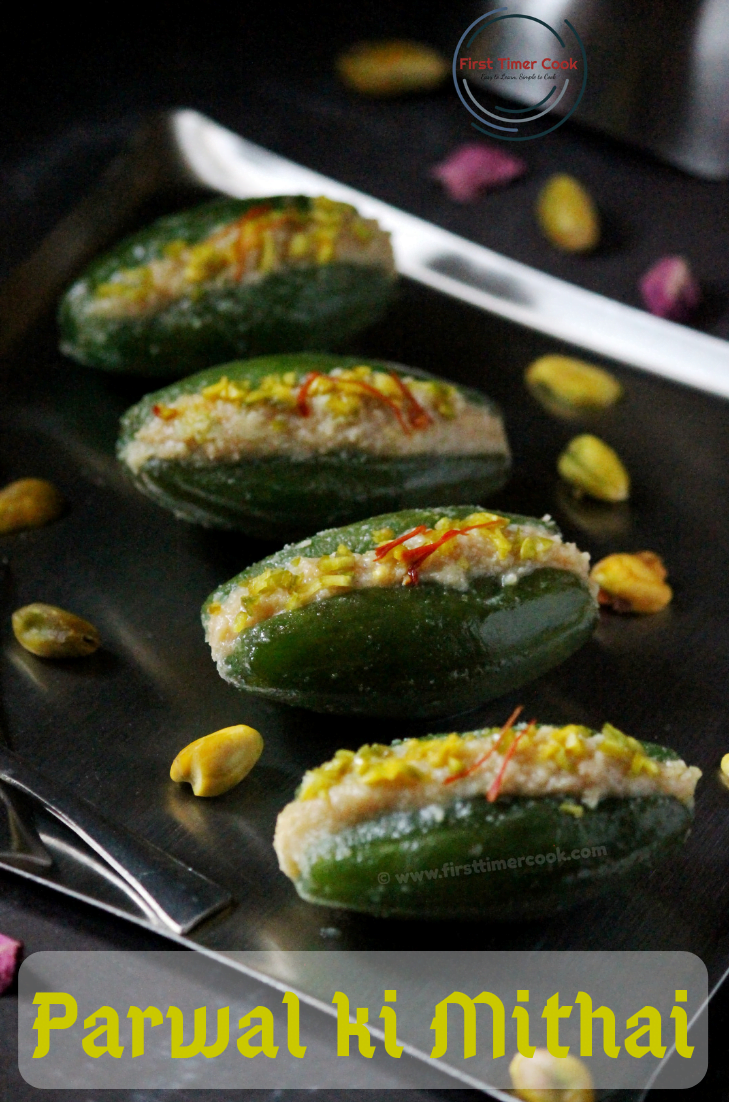 The festive season in India is going on these days. The navratri and Durga Puja has come to an end by now. Next the festival which is coming is Diwali. One of the important part of this festival celebration deals with mithai or sweets. A wide range of sweets are prepared which are then offered to the goddess Lakshmi, distributed with family members, the neighbors and guests as well. During this feasting time, there is no restriction of preparing sweets of a particular region, anybody can make any type of sweet dishes.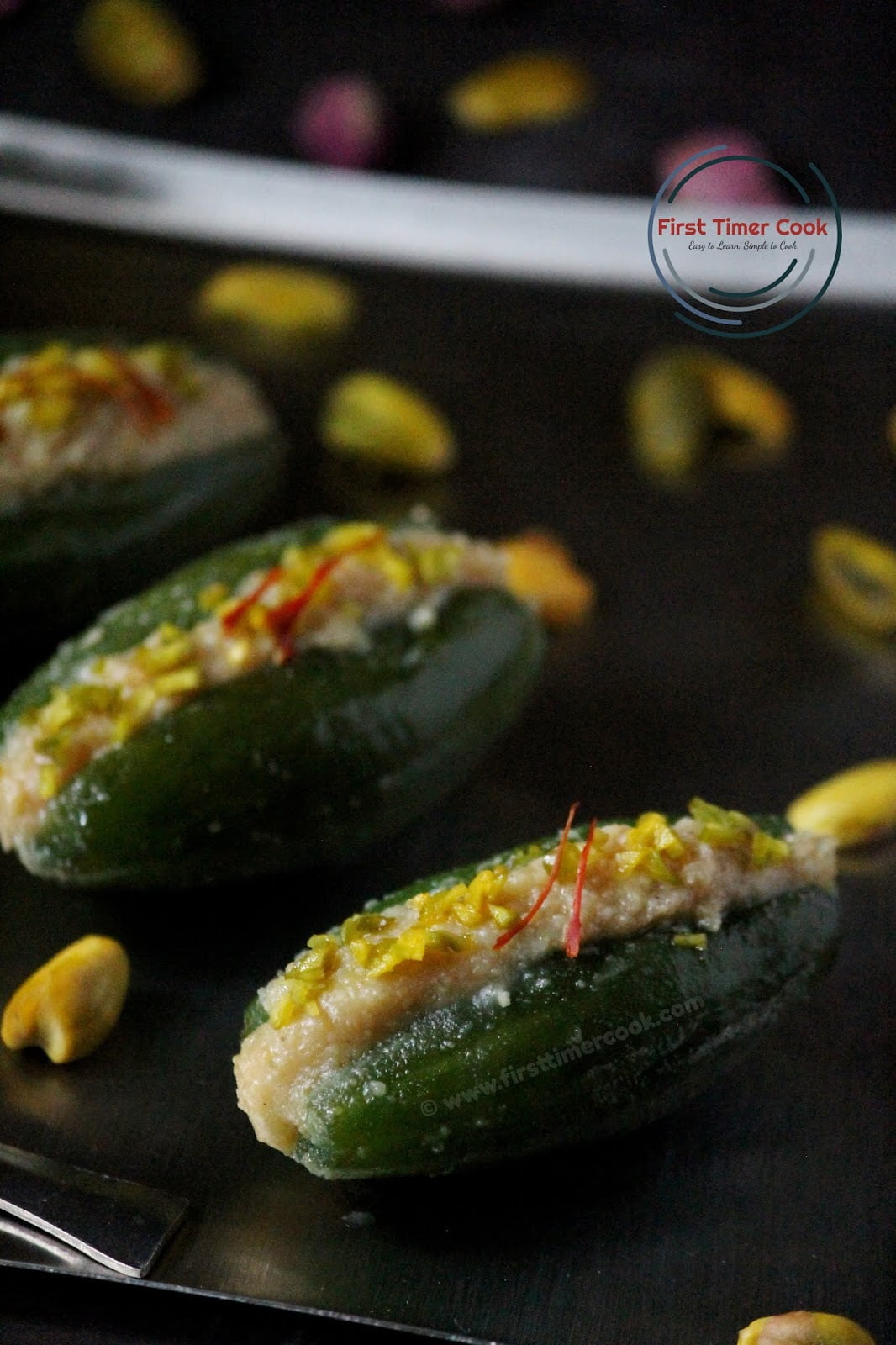 Here I have come up with a dish from Bihari cuisine using pointed gourd / parwal/ potala as 'Parwal ki Mithai' or 'Stuffed Pointed Gourd Sweet'. Basically the vegetable Parwal or Pointed gourd is cored and then stuffed with a rich filling of mawa / khoya and chopped dry fruits. Before stuffing, the parwals are well boiled in sugar syrup. This is the reason for which while having a bite, nobody can guess that these are prepared using the vegetable Parwal. The whole dish forms a divine bite of flavor. These can be easily made at home and tastes even more delicious if serve cold. I will definitely suggest to try this sweet dish if you want to give a new twist to the regular vegetable, Parwal or Pointed gourd for the upcoming Diwali festival.
If you tried my recipe and enjoyed fully, then please share some pictures of your creation with me. Also give your valuable feedback either in the comment box below or tag me as #firsttimercook on Instagram. You may also follow me on Facebook, Pinterest, Twitter, Google+, Instagram and can subscribe for free to get new recipes directly into your inbox 😊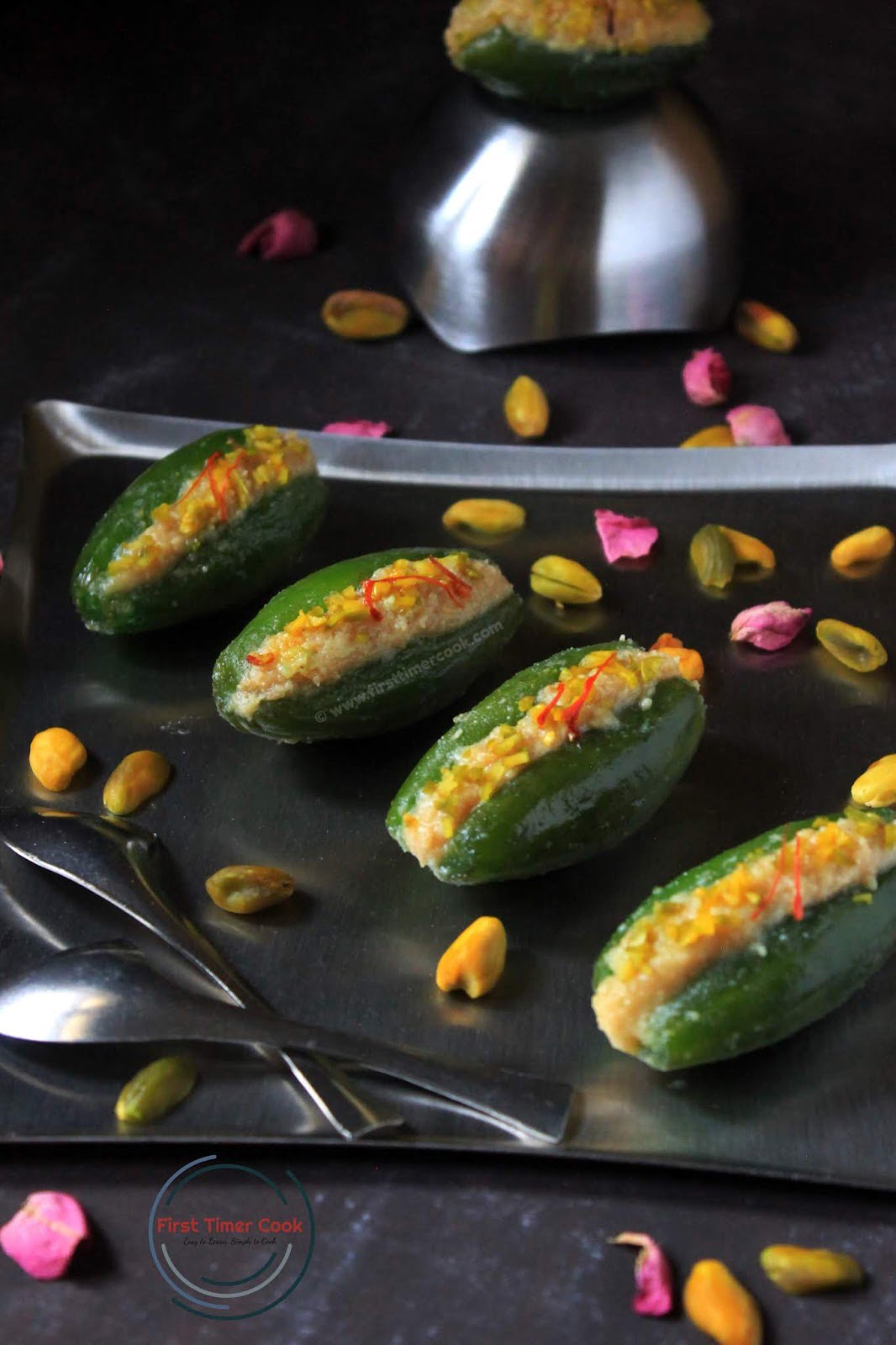 Preparation Time : 15 mins | Cooking Time : 35 mins
Ingredients :
| | |
| --- | --- |
| Ingredients | Measurements |
| Pointed gourd (parwal) | 12-15 no |
| Mawa (khoya) | 1 cup |
| Sugar | 1 cup |
| Powdered sugar | 1/3 cup |
| Dry fruit (roughly chopped) | ¼ cup |
| Pistachio (finely chopped) | 1 tbsp |
| Cardamom powder | ¼ tsp |
| Saffron strand | 1-2 pinch |
| Water | 1 cup |
Method :
Wash and clean the parwal first and then peel completely.
Slit each parwal lengthwise keeping the ends joined.
Using a small spoon, take out all the seeds very gently so that there shouldn't any more cuts in the parwals.
Now in a saucepan, start boiling some water.
Put all the parwals and boil for 3-4 minutes by covering with a lid.
Strain the parwals completely and keep aside.
Next in another pan, make a thin sugar syrup by taking 1 cup sugar and 1 cup water.
Add all the parwals and allow to boil till the color of the parwals change and these become soft.
Meanwhile take mawa, cardamom powder, 1 pinch saffron, powdered sugar in a pan and start roasting for 1-2 minutes.
Turn off heat and add the chopped dry fruits.
Mix well and keep aside this filling to cool.
When the parwals become soft, take out from the sugar syrup and keep in a plate to cool down.
Stuff each parwal with the filling gently pressing into the parwal.
Top each stuffed parwal with chopped pistachio and saffron strands.
Serve these Parwal ki Mithai cold !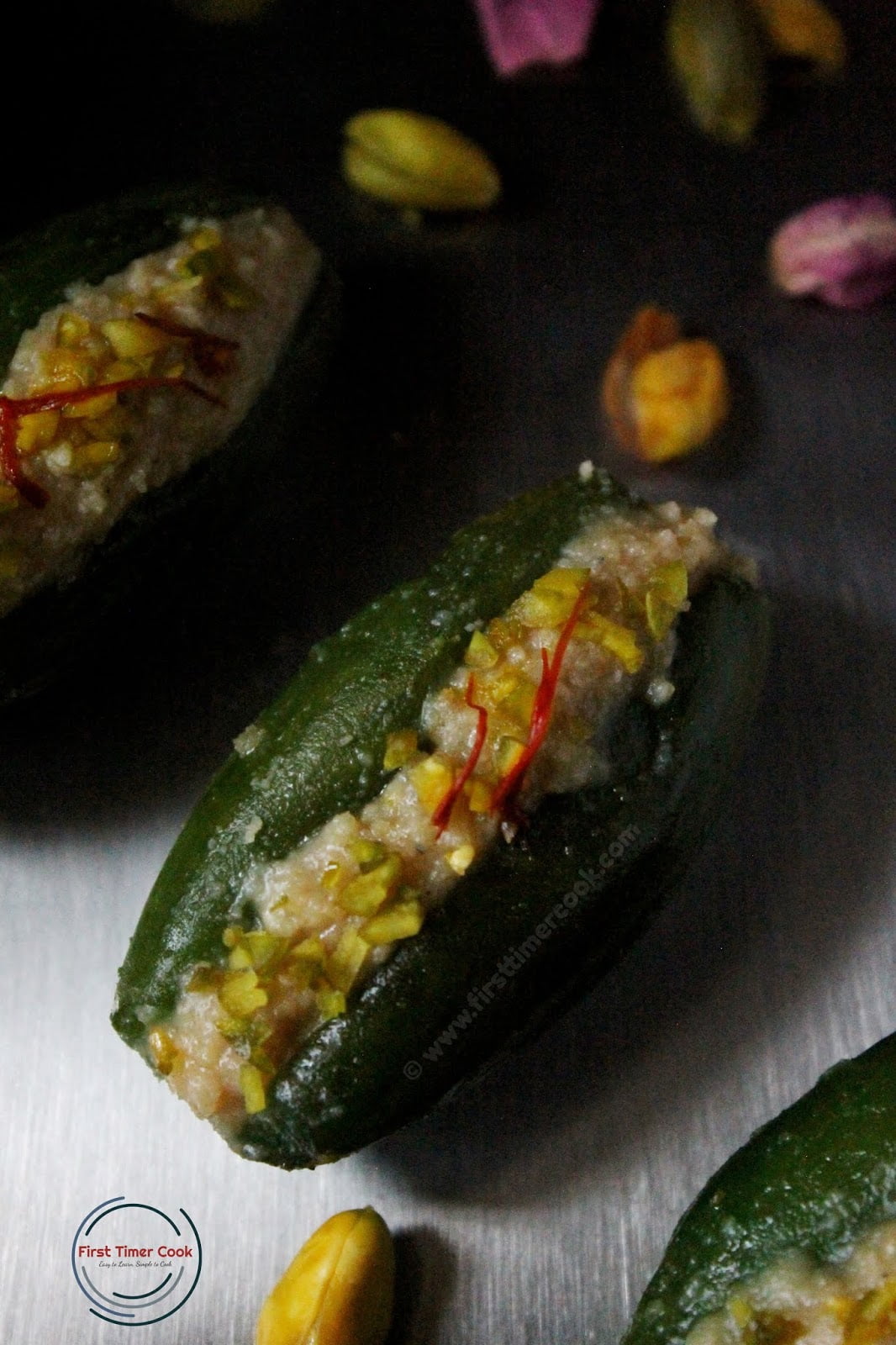 PIN to read later :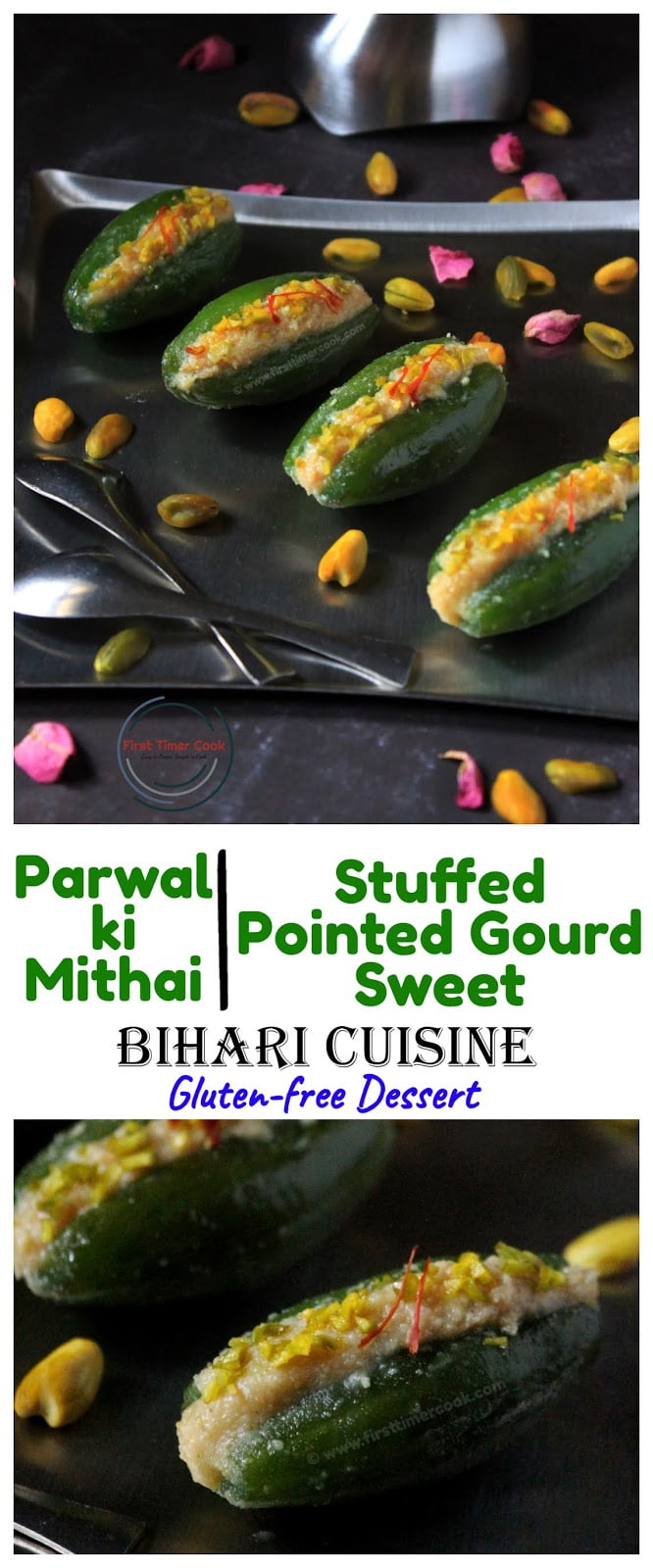 This 'Parwal ki Mithai' or 'Stuffed Pointed Gourd Sweet' is part of #DiwaliDhamaka at Desi Bloggers Connect.