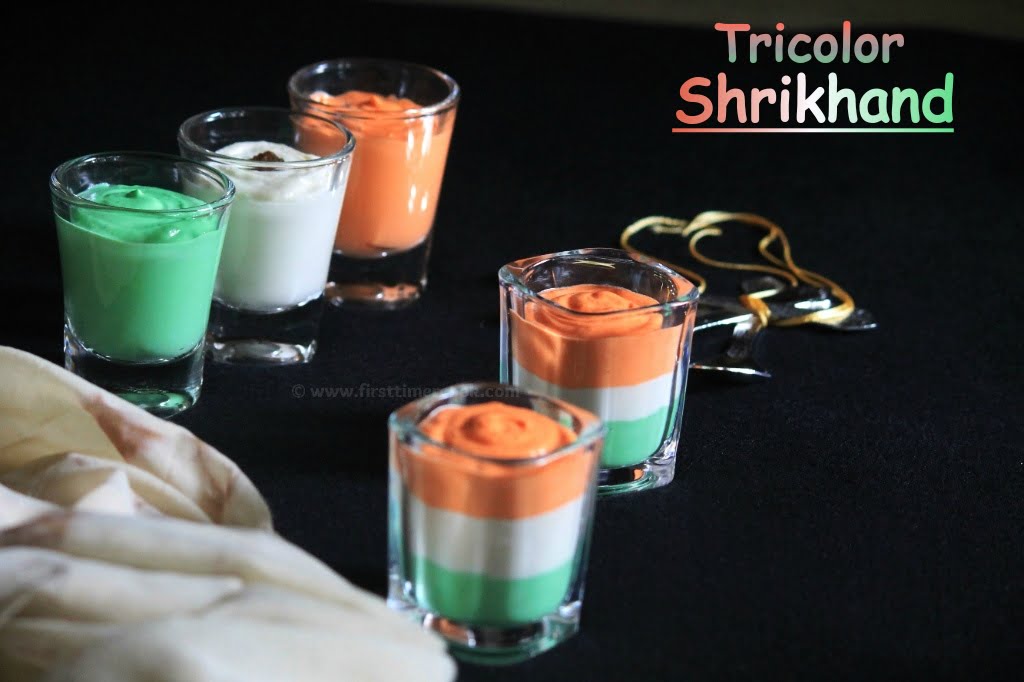 Shrikhand is an Indian sweet dish made of strained yogurt or hung curd. It is one of the main desserts in Gujarati Cuisine & Maharashtrian cuisine. The name shrikhand is derived from the Sanskrit word "Shikharini" which means a curd prepared with added sugar, flavoring agents, fruits and nuts. Basically to prepare shrikhand, curd is tied in a muslin cloth and left under pressure to drain. The hung curd or 'chakka' in Marathi language is then mixed thoroughly with sugar. Cardamom, saffron and any other flavors are then added and mixed well. It is then kept in the refrigerator. This is purely a no-cook dish and so easy to make.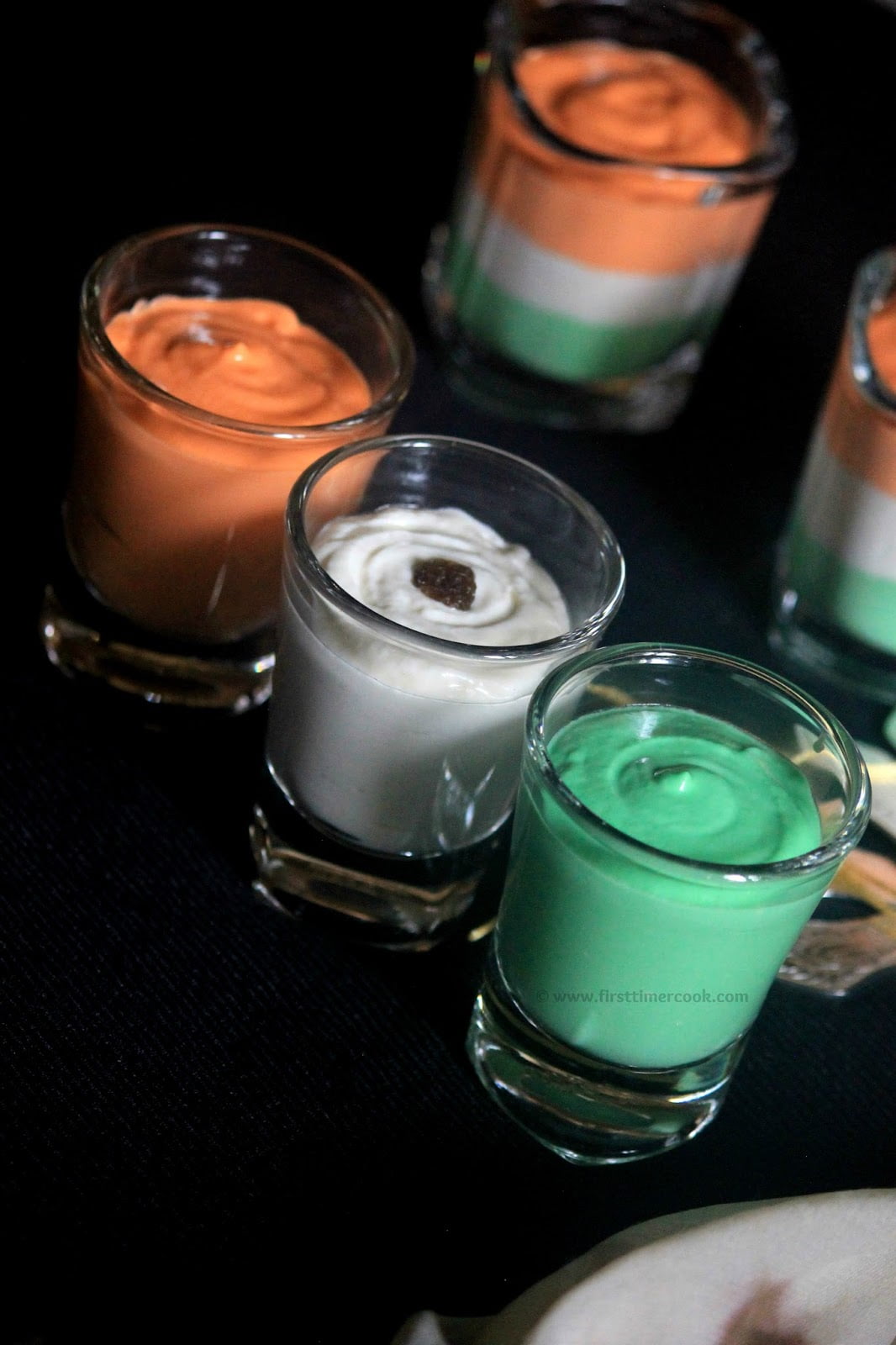 In Gujarati cuisine, shrikhand is eaten as either a side-dish with poori or simply as a dessert. It is commonly served as part of a vegetarian thali in Gujarati restaurants and also popular in weddings. It is preferably served chilled as a counterpoint to hot and spicy curries too.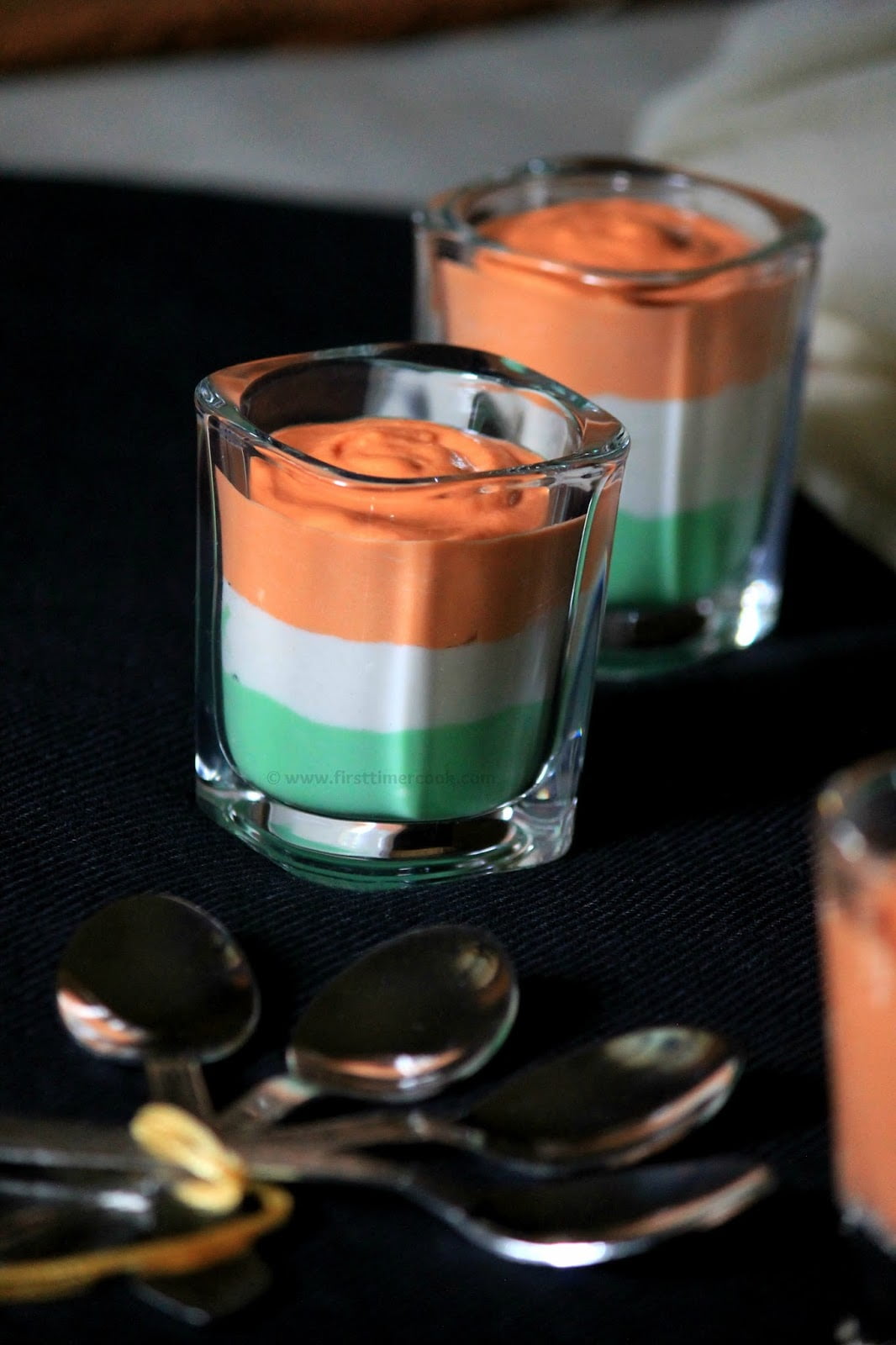 Tomorrow is Independence Day which marks 70 years of India being a free nation. Independence Day is a day of glory and pride for us Indians. Let's do something special on the 70 years of our independence. So I have prepared shrikhand in three color which will symbolize our national flag. One is plain kesar elaichi shrikhand, second one is pistachio flavored shrikhand or pista shrikhand, third one is mango shrikhand. So the step by step method of preparation of this tricolor shrikhand is mentioned below.
Preparation Time : 6 & 1/2 hrs | Cooking Time : 0 min
Ingredients :
| | |
| --- | --- |
| Ingredients | Measurements |
| Yogurt / Curd | 3 cup |
| Mango puree | ¼ cup |
| Cardamom powder | 3 tsp |
| Powdered sugar | ½ cup |
| Saffron strands | 1 pinch |
| Pistachio powder | 1 tbsp |
| Green food color (liquid) | 1 drop |
​
Method :
Take a broad deep bowl, place a large strainer over it.
Spread a thin muslin cloth a kitchen napkin over the strainer and then pour the curd in center of muslin cloth.
Wrap the muslin cloth from all sides and tightly tie it to drain whey.
Then place a heavy weight on top of the tied cloth or just hang the tied cloth keeping a bowl under it, so that excess whey will drain off completely.
After a few hours (5-6 hours), if any more whey is not dripping from the tied cloth, then it is ready to be used for shrikhand.
Then untie the muslin cloth and transfer thick strained curd to a bowl.
Add saffron, powdered sugar and cardamom powder.
Mix properly using a hand beater or in a blender until smooth.
Divide the smooth mixture into 3 parts and keep separately in 3 bowls.
Keep one bowl as it is.
Add mango puree to the second bowl and mix well. Mango shrikhand is ready.
Add pistachio powder, green food color to the third bowl and mix well too. Pista shrikhand is ready.
Take three piping bags and fill bags with three colored shrikhand.
Now take shot glasses or dessert bowls.
First pipe a swirl of pista shrikhand at base of the glass or bowl, then pipe a swirl of plain shrikhand and lastly pipe a swirl of mango shrikhand on top.
Refrigerate all layered glasses for at least an hour before serving. Serve chilled !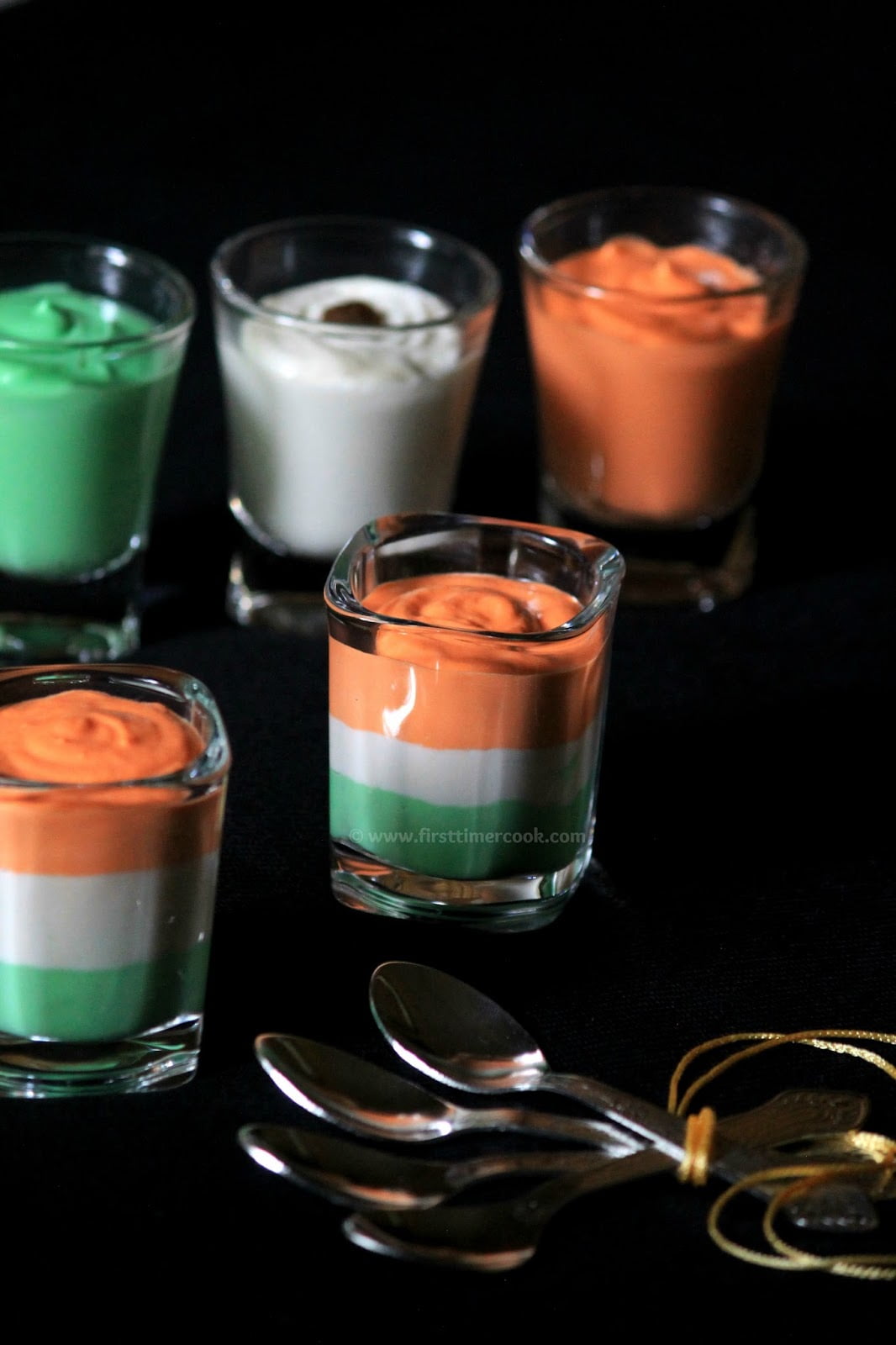 Notes :
Use the curd that is not sour otherwise, shrikhand will turn sour.
Do not throw away the drained whey, use it to knead chapti/paratha dough as it is very nutritional.
Pistachio powder can be homemade or store bought. Homemade method is first roast the pistachios 3-4 minutes at 170 deg C in microwave, allow to cool completely and then grind to a fine powder.