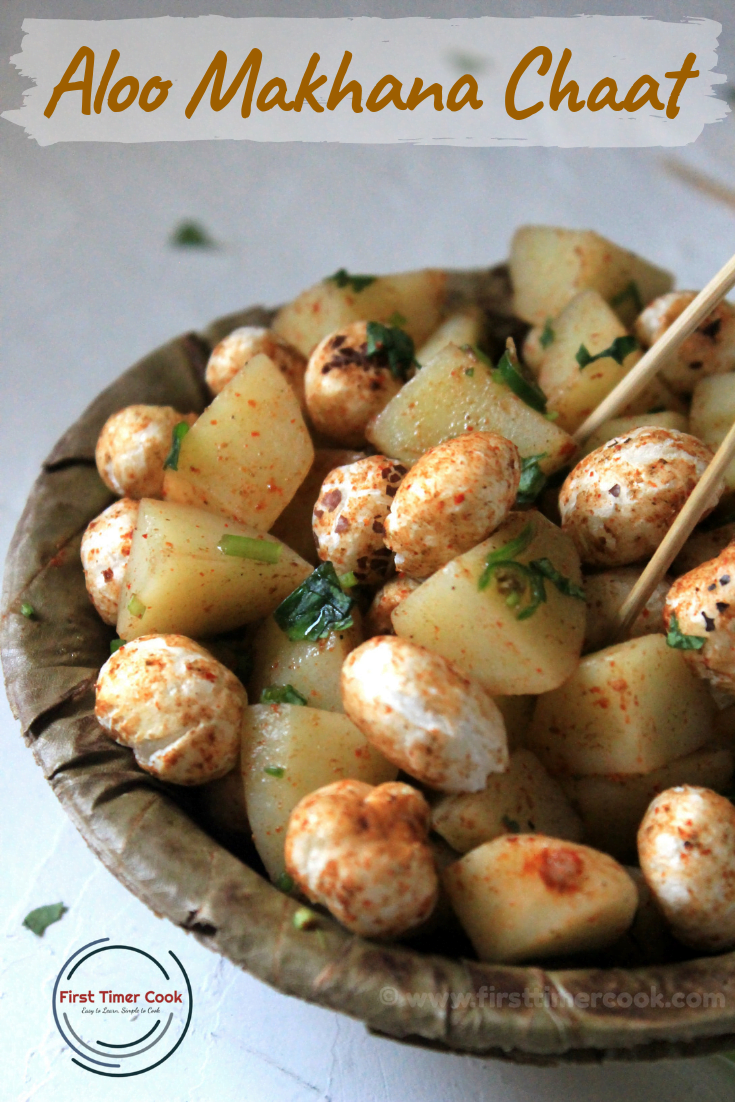 The Chaitra Navratri, a festival in which Goddess Durga is worshiped on all days in her nine avatars, normally falls in the month of March-April every year. This year, it will begin on 6th April and will continue till 14th April. This nine-day puja falls during the Chaitra month of the Hindu calendar. This particular Navratri holds special significance, since it heralds the transition from the season of spring to the summer. It is also named as Vasanta Navratri which is the most significant festival of Hindus. During these nine days, people stresses on sattvik food / fasting food items to consumed, which in turn allows the body to detox or fortify from within. This is particularly important because it is during the transition from spring to summer that our immunities are at their vulnerable best and we become prone to a number of diseases and illnesses.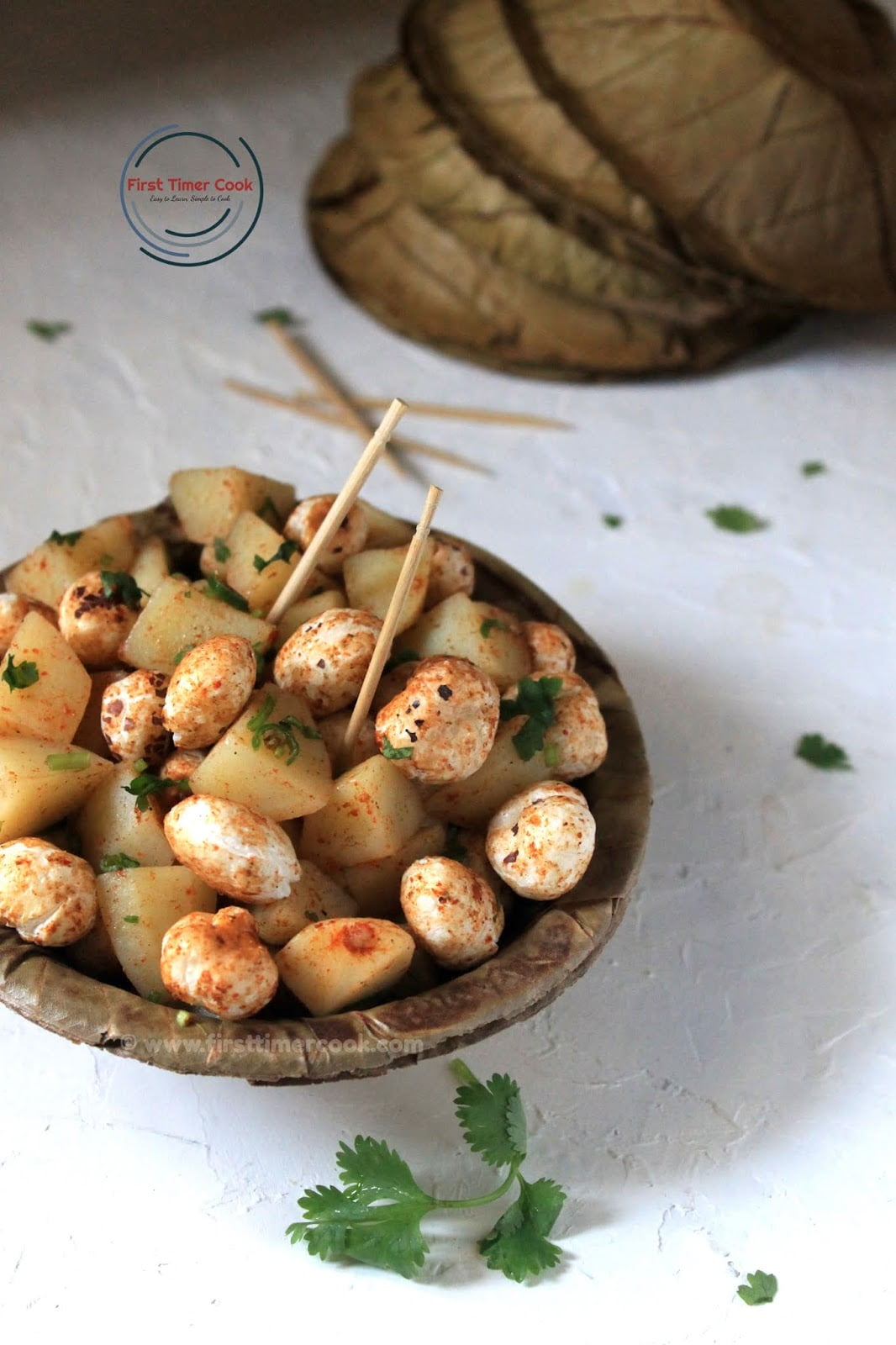 Most of these fasting foods are so easy and quick to make. Well, here is a quick and tongue tickling snack dish using makhana / fox nuts as Aloo Makhana Chaat / Potato Fox nut Chaat. This recipe doesn't use any oil and within 10-12 minutes one can surely munch on these crunchy snacks. First the makhana / fox nuts are dry-roasted and then mixed with some boiled potato cubes and spices. This is completely vegan and gluten free and also as it is for fasting, hence without onion & garlic too. Some other fasting dishes which you should try for upcoming Vasanta Navratri are
Recipe Card for 'Aloo Makhana Chaat | Potato Foxnut Chaat' :
snack, gluten free, vegan, fox nut, makhana, navratra recipe
Navratra dish, Fasting dish, Snack, Fasting snack,
Yield: 2Author: SasmitaPin it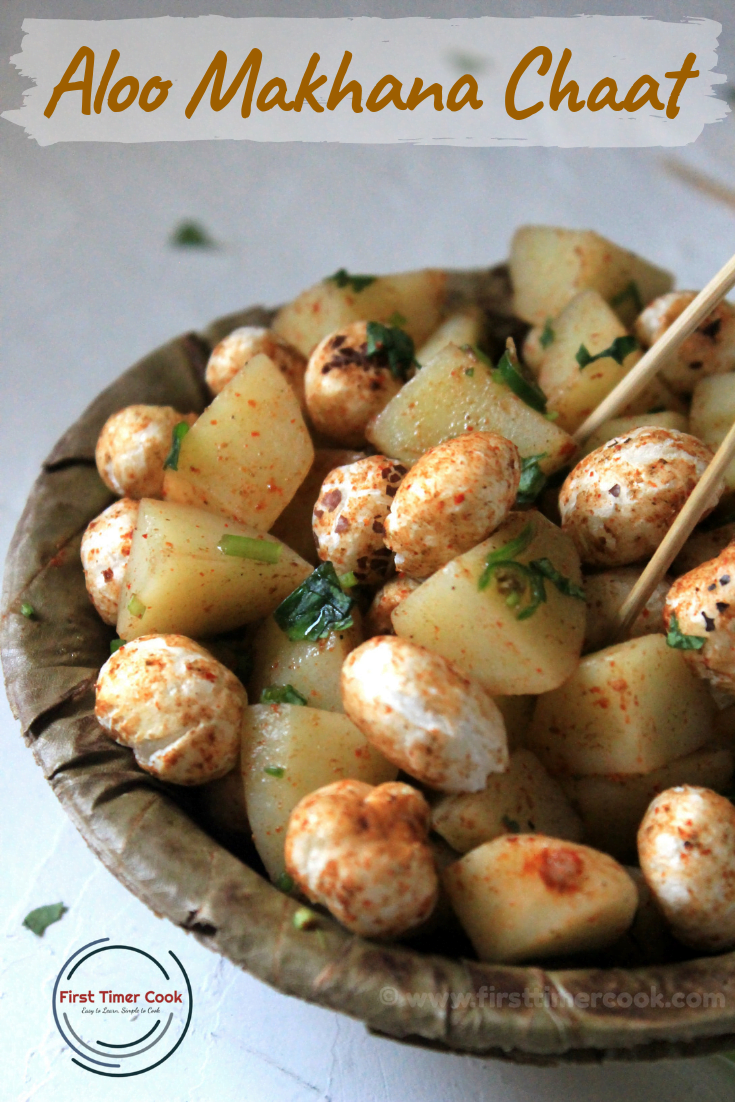 Aloo Makhana Chaat / Potato Foxnut Chaat
quick snack recipe for navratri using boiled potatoes, makhana (foxnuts) and some spices
prep time: 10 minscook time: 5 minstotal time: 15 mins
ingredients:
Fox nuts (makhana) 2 cup
Potato (boiled)(medium) 3 no.
Coriander leaf few
Green chili 1-2 no.
Cumin powder (roasted) 1 tsp
Chat masala 1/2 tsp
Lemon juice 1/2 tsp
Rock salt (sendha namak) as needed
instructions
First dry roast the fox nuts / makhana in a pan till becomes crunchy.
Transfer to a mixing bowl and allow to cool.
Then cut the boiled potatoes into small cubes and add into the mixing bowl.
Add in chopped green chilies, rock salt, roasted cumin powder, chat masala, finely chopped coriander leaves, freshly squeezed lemon juice.
Give a quick mix and serve immediately !
NOTES:
Adjust the spiciness as per taste.
Serve immediately, otherwise makhana becomes bit chewy.
https://firsttimercook.com/2019/04/aloo-makhana-chaat-potato-fox-nut-chaat.html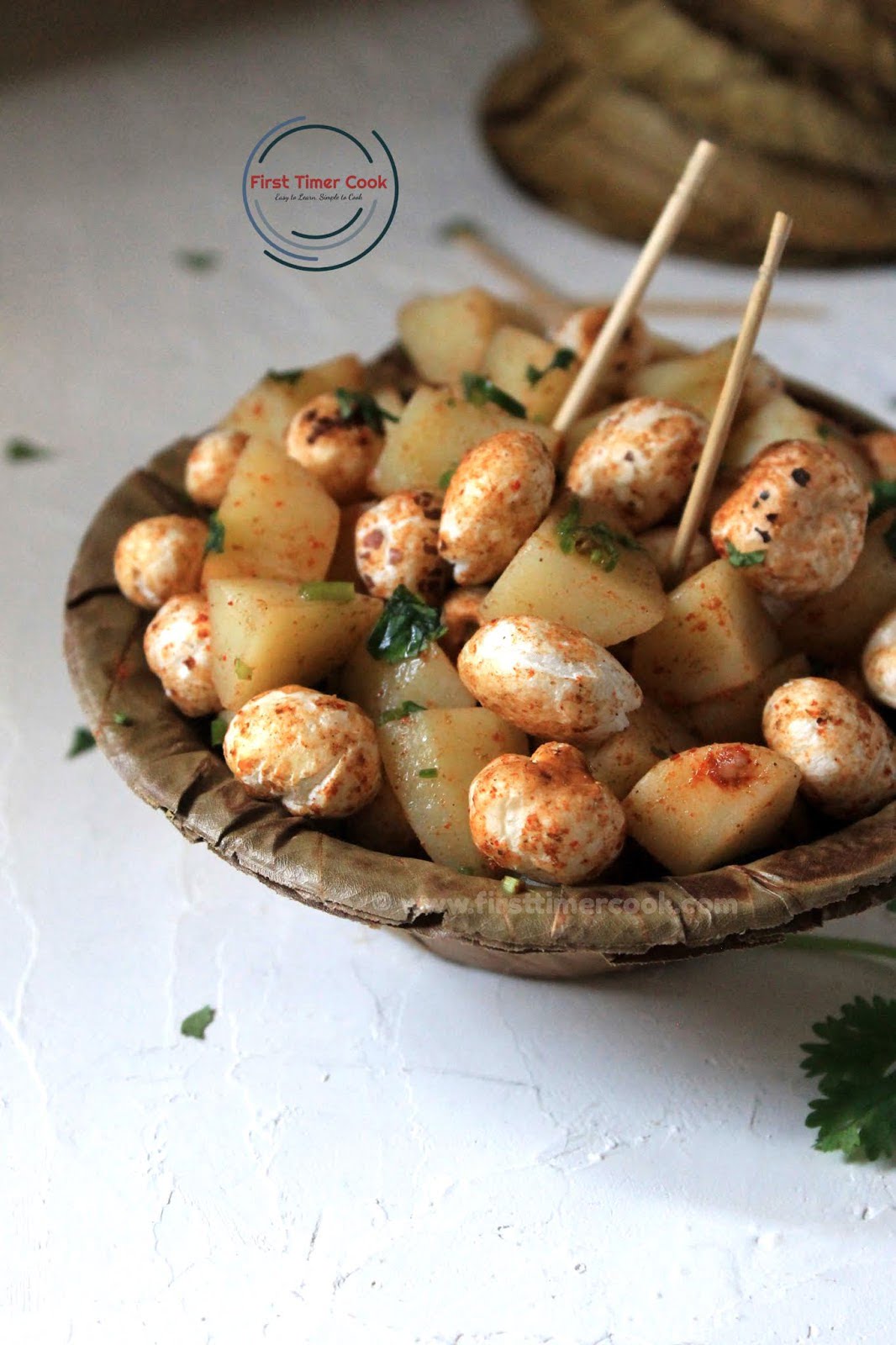 If you tried my recipe and enjoyed fully, then please share some pictures of your creation with me. Also kindly rate the recipe below, give your valuable feedback either in the comment box below or tag me as @firsttimercook on Instagram.
You may also follow me on Facebook, Pinterest, Twitter, Google+, Instagram and can subscribe for free to get new recipes directly into your inbox 😊

PIN for later :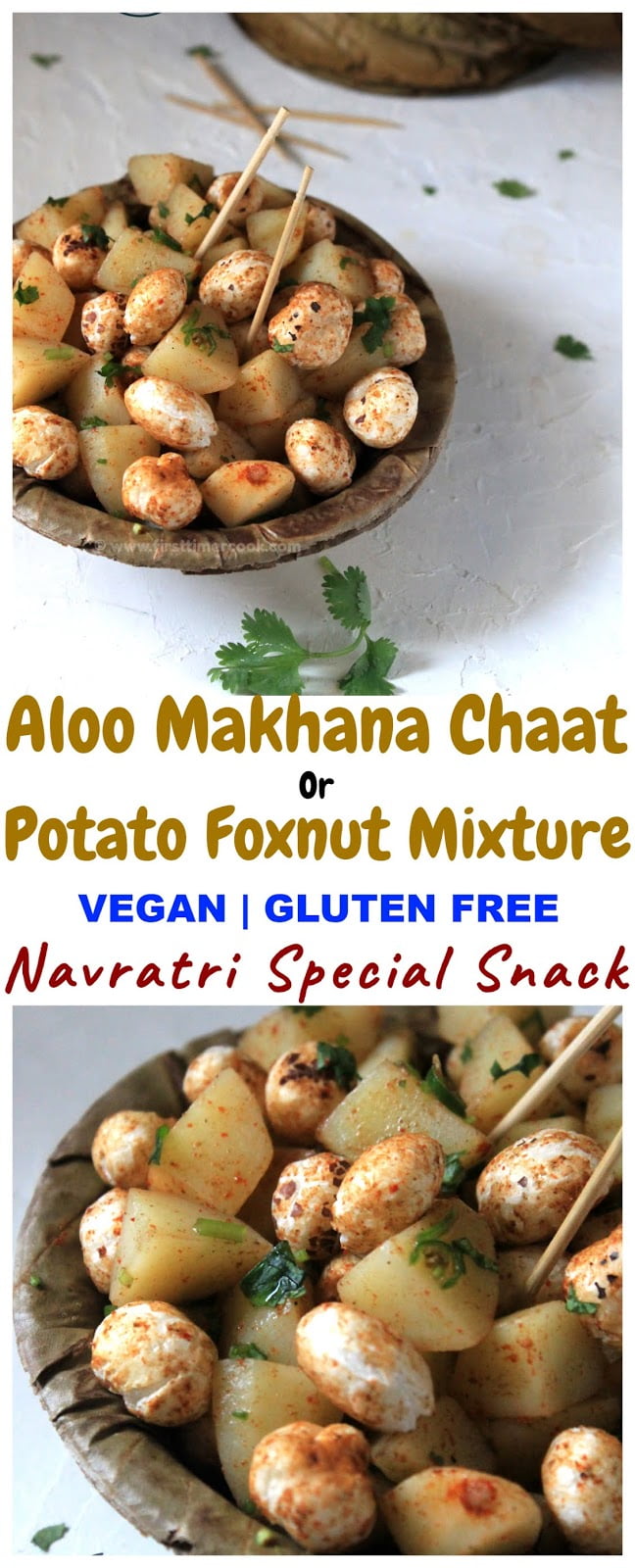 This post is contributed to the Facebook group "Desi Bloggers Connect" for Vasanta Navratri 2019. Do check out other's divine & delightful Navratri dishes :