The small western state of India, Goa is famous for three things as beaches, nature and food (Goan Cuisine). The Goan cuisine is an interesting mix of varied influences. As Goa had Portuguese rule for four centuries besides that of the Muslim and Hindu kingdoms, all of these has left an indelible influence on the original style of Goan cooking and this has led to an exotic mix of truly tasty and spicy cuisine.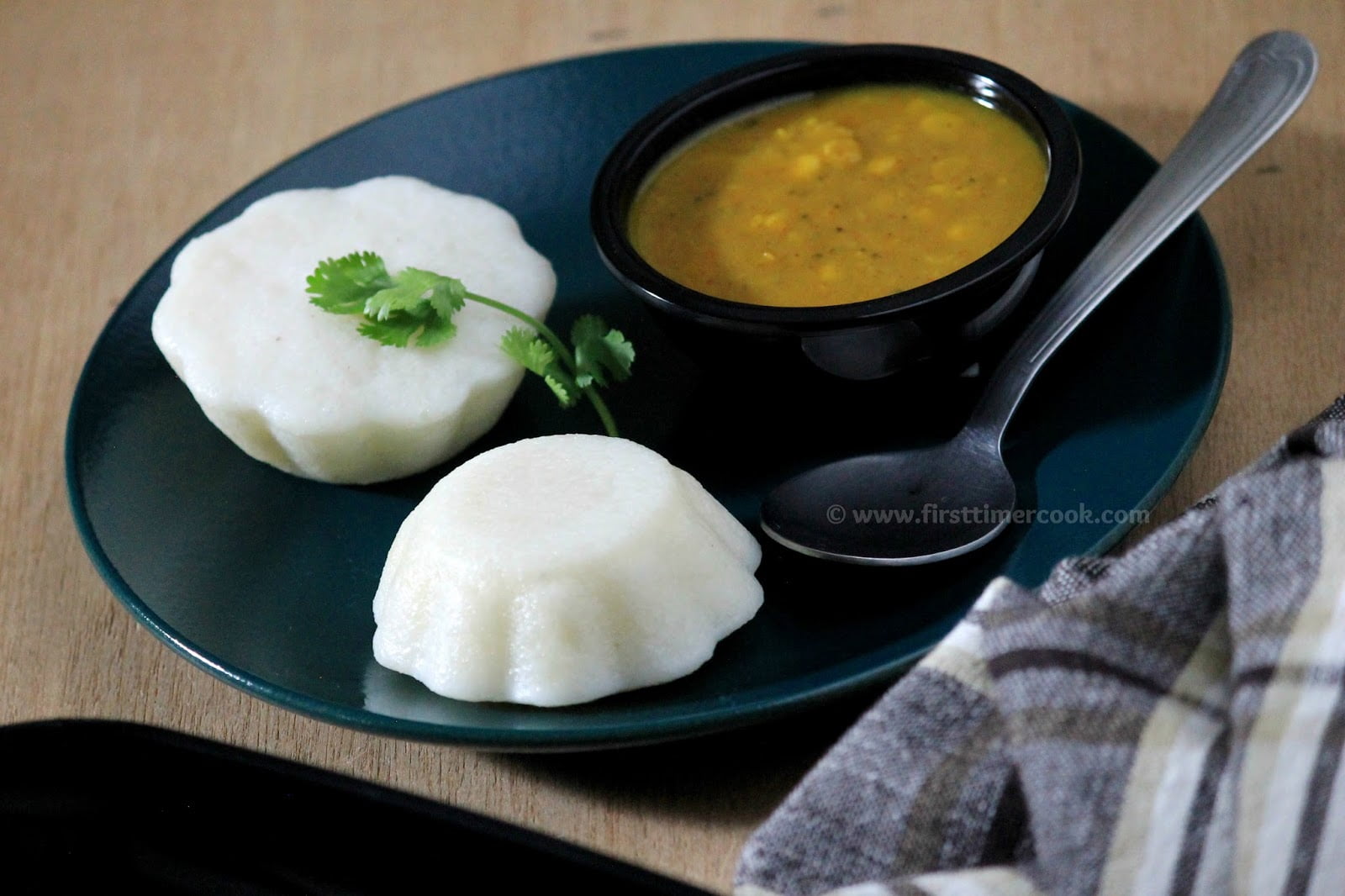 A Goan meal is incomplete without fish, rice and curry cooked with coconut. Goans tend to love cooking as much as they love eating. Although modern cooking methods have taken over, many Goan households still make use of traditional cooking methods which provide unique tastes and aromas. This time, means the February month challenge in Shhhhh Cooking Secretly Challenge group is 'Goan cuisine'. For this theme, my partner was Archana Gunjikar Potdar who gave me 2 secret ingredients as Rice and Coconut. So Using these two ingredients, one dish stroked my mind from Goan cuisine as Sanna or Steamed Rice Cake.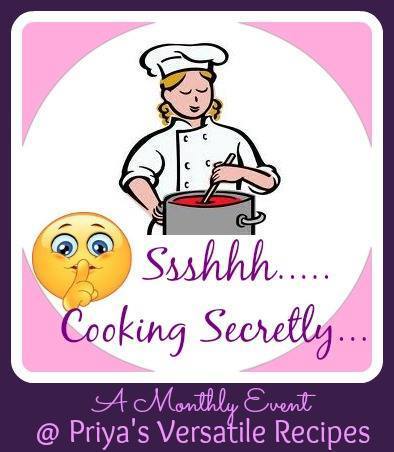 Sanna, also known as steamed rice cake is a specialty of Goan cuisine. Anyone might be confused about this sanna with an idli, however there are differences. Basically sannas have a mildly sweet in taste and also fermented using toddy or yeast where as idlis are fermented by the help of urad dal used in the batter only. Sannas are traditionally prepared using coconut toddy which acts as a fermenting agent. But in modern days, toddy-fermented sannas are rarely made. Instead, the batter is getting fermented by yeast.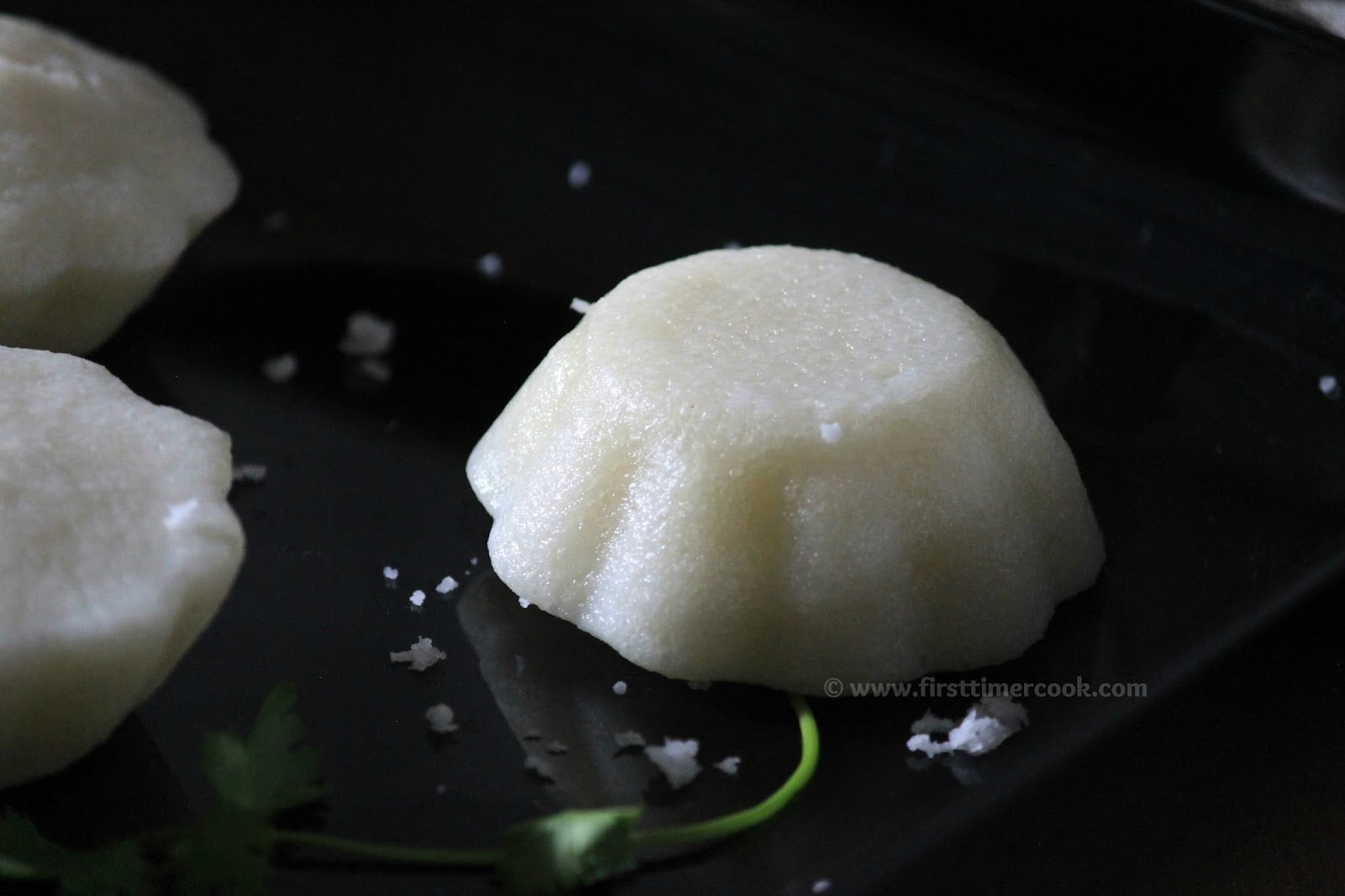 Basically soaked rice paste, coconut paste and some fermenting agent are mixed up into a neither thick nor thin batter and then steam in small molds. This steamed rice cakes are much fluffy and soft and can be enjoyed with any chutney, dip, vegetarian or non-vegetarian curry. The whole process is some simple and easy. For breakfast, lunch, dinner or anytime these sannas can surely take the place of main dish. Usually these are much relished with a popular dish in Goa known as sorpotel. So do try this Goan steamed rice cake- Sanna and give your valuable feedback either in the comment box below or tag me as #firsttimercook on Instagram. Lets go in details method of preparation of the deliciously soft & mildly sweet Goan steamed rice cakes aka Sanna.
Soaking Time : 8 hrs | Fermenting Time : 3 hrs
Preparation Time : 20 mins | Cooking Time : 15 mins
Ingredients :
| | |
| --- | --- |
| Ingredients | Measurements |
| Rice | 2 cup |
| Coconut (grated) | ½ cup |
| Dry yeast | 1 tbsp |
| Sugar | 3 tbsp |
| Salt | As needed |
| Water | As needed |
Method :
Wash the rice thoroughly and soak for at least 3-4 hours or preferably overnight with enough water in a bowl.
Then drain all the water from rice and keep aside.
In another bowl take 1/2 tbsp sugar, 4 tbsp warm water and 1 tbsp yeast. Mix well and keep covered for 10 minutes to rise.
Meanwhile in a blender jar, blend the soaked rice into a fine paste and transfer to a deep bowl.
Next blend grated coconut along with remaining sugar to a smooth paste.
Add this coconut paste, salt and yeast mixture to the rice paste.
Mix till everything incorporated well.
Cover the bowl with a lid, keep aside and allow the batter to ferment for 2-3 hours.
Once fermented well, the batter will rise around double in quantity.
Turn on the steamer with sufficient water.
Grease sanna molds or ramekins or silicon baking molds with oil.
Fill 3/4 of each mold with the batter.
Steam for 13-15 minutes or till a toothpick inserted in the center comes out clean over medium heat.
Carefully take out the molds from the steamer and unmold all the sannas.
Serve hot with any desired chutney or dip or curry !
Notes :
The sugar quantity can be less. I like a bit sweeter version of sannas, so use 3 tbsp sugar. But 2 tbsp sugar is enough.

After the fermentation, don't stir the batter. Otherwise the sannas wont be of floppy texture.

Use as little water as possible to grind.
The batter should be of neither thick nor thin consistency, so add water accordingly.
After fermentation, the batter can be stored in refrigerator for the next day use.