Bell peppers, also known as capsicum are basically peppers of less pungent varieties which are available in different colors such as yellow, red, green, purple and orange. All the varieties of bell peppers including the red ones are green in color when unripe. Green and purple peppers are slightly bitter in taste whereas red, yellow and orange have a sweeter and fruity taste. Among all the colors, red bell peppers are used in a variety of dishes due to their mild, sweet and crispy flavor. On ripening they turn into bright red in color with a core inside containing plenty of seeds.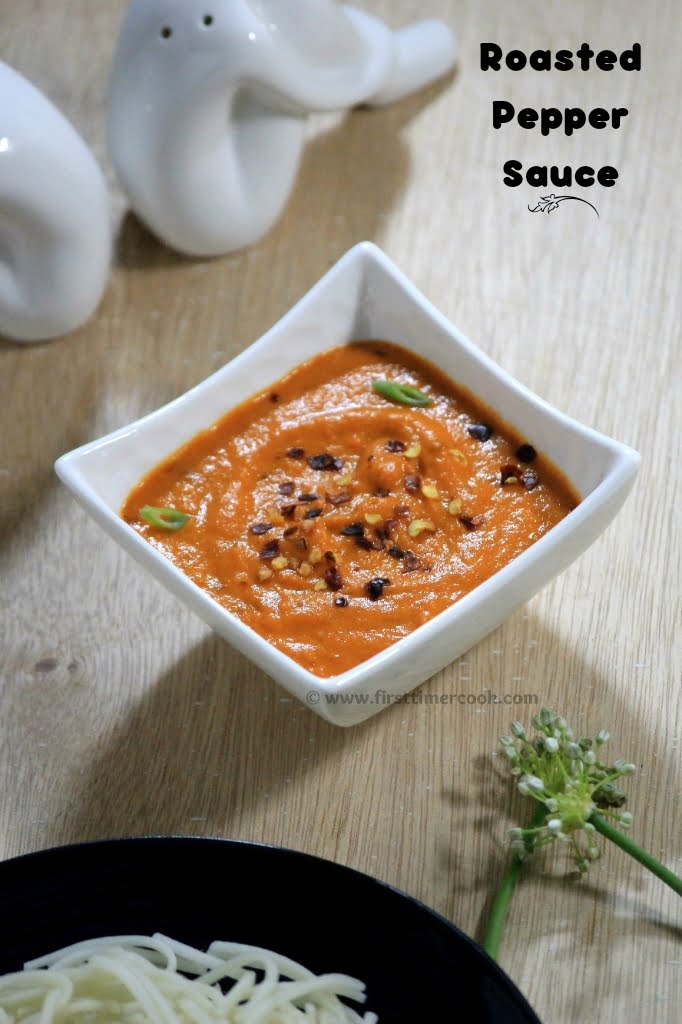 Red peppers are incredibly versatile in the kitchen and can be included in any food along with other veggies. Apart from making the dishes attractive and delicious, this bright and glossy veggie is a storehouse of nutrients. Though green bell peppers are widely consumed, red bell peppers are much more nutritious and have comparatively sweeter taste. Some of the health benefits of red bell peppers are
Contain more than 200 percent of our daily vitamin C intake.
A great source of vitamin B6 and folate which help to prevent anemia.
Helps in healthy night vision due to high in vitamin A.
Packed with antioxidants, so these become a top notch super-food.
One of the highest lycopene content veggie which in turn helps to prevent many cancers like lung and prostate.
Helps in weight loss by burning more calories.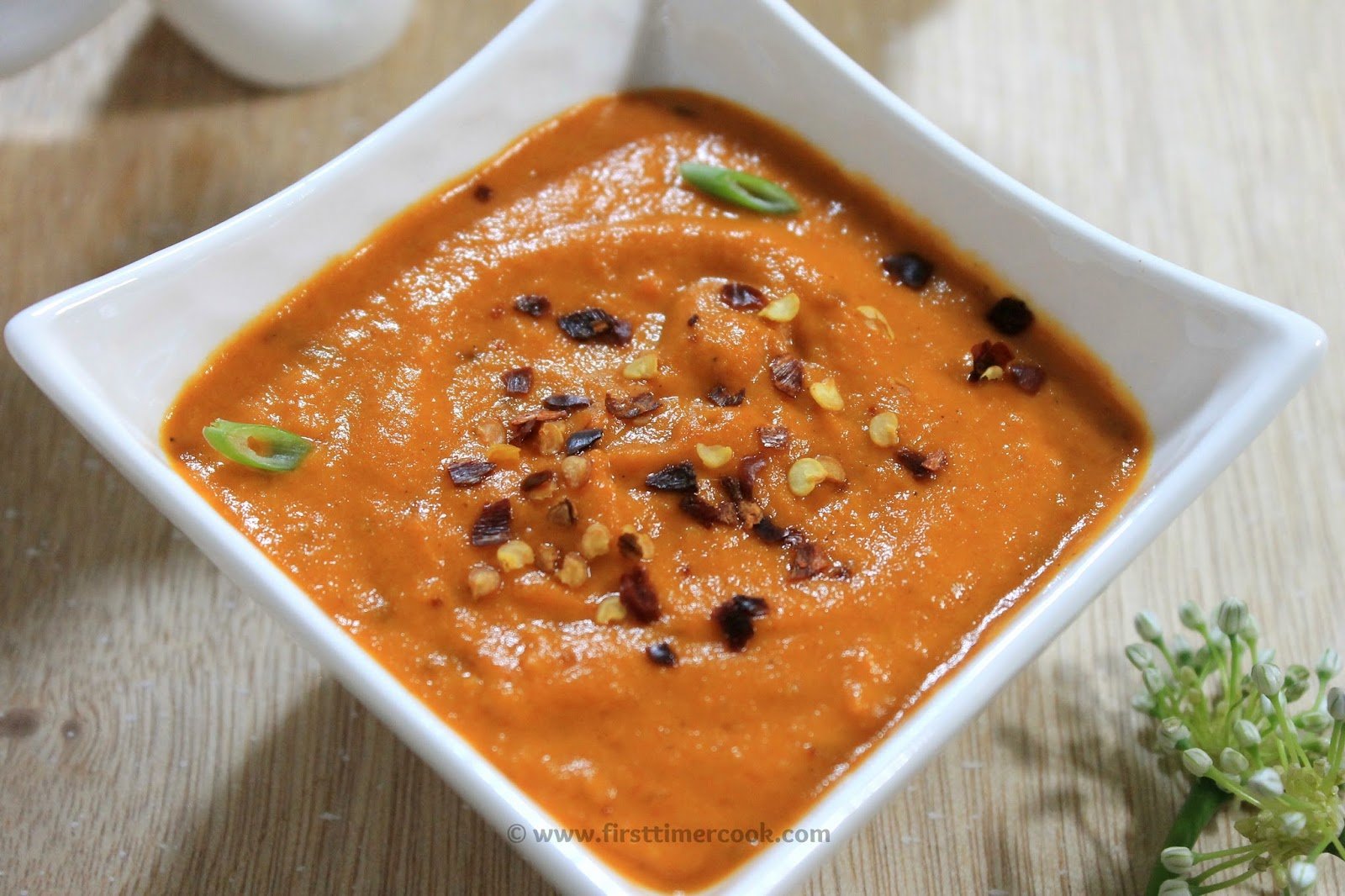 So with all the listed health benefits, I decided to make a sauce as Roasted Pepper Sauce using these red beauties. I can assure you that this is such a delicious sauce which can be the star of any dish. Basically, red bell peppers are roasted completely and then blend into a smooth texture along with some garlic, shallots and some seasonings. The roasting brings out the natural sweetness in the peppers, so no sugar is needed. But if the sauce tastes slightly bitter (bitterness depends upon the ripeness of red bell pepper, more ripe means less bitter), then some sugar can be added to the sauce for balancing the taste.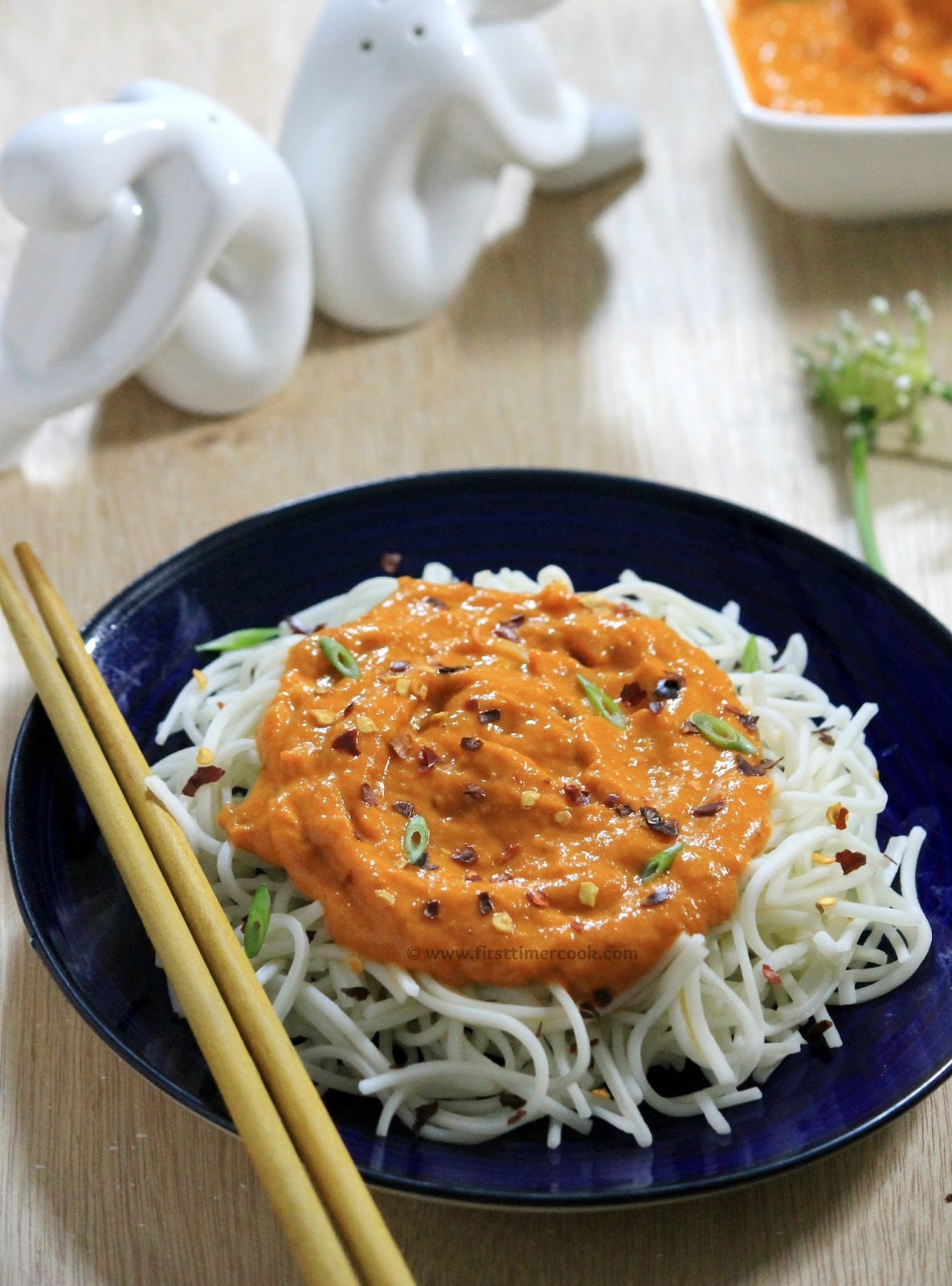 This roasted pepper sauce is a versatile sauce and can be used as pasta sauce, dip, pizza sauce, sandwich spread etc. The preparation method is so simple yet results in super flavorful sauce. The sauce once made can be stored in an air tight container and kept in the refrigerator for almost a week. So do try this roasted pepper sauce and give your valuable feedback either in the comment box below or tag me as #firsttimercook on Instagram. Lets go in details method of preparation of the simply delicious roasted pepper sauce.
Preparation Time : 5 mins | Cooking Time : 30 mins
Ingredients :
| | |
| --- | --- |
| Ingredients | Measurements |
| Red bell pepper | 4 no |
| Garlic clove | 2 no |
| Shallot | 3 no |
| Red chili flake | As needed |
| Olive oil | 2 tbsp |
| Salt | As needed |

​
Method :
Wash and clean the red bell peppers.
In a pan, first dry roast the peppers for around 15-20 minutes till charred all around.
Then pour some oil and again roast for 4-5 minutes.
Transfer the fully roasted peppers to a plate and keep covered for 10 times.
After 10 minutes or when the peppers cool enough to handle, then peel off the charred skins using fingers.
Slice the peppers into halves, discard all the seeds and membrane.
Roughly chop the peppers and keep aside.
Next in another pan heat oil.
Add chopped garlic, shallots and fry for few minutes.
Next add chopped peppers, red chili flakes and combine well.
Turn off heat and let the mixture cool for at least 10 minutes.
Transfer everything from the pan into a blender jar, add in salt and blend until smooth.
Refrigerate this roasted pepper sauce in an air-tight container for later use like pasta sauce, dip, pizza sauce, sandwich spread !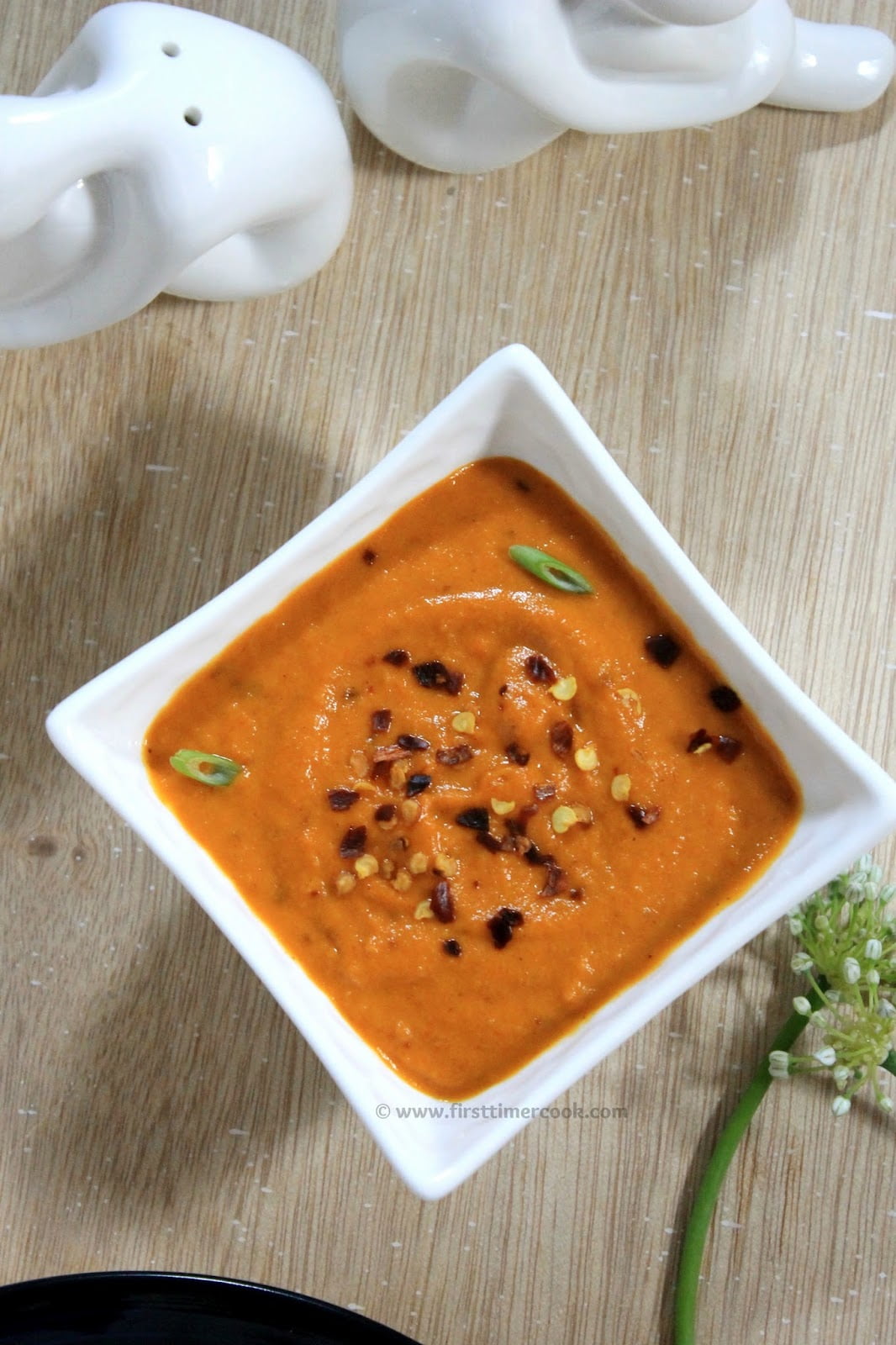 Notes :
I have not added any sugar here. But if the sauce tastes slightly bitter (bitterness depends upon the ripeness of red bell pepper, more ripe means less bitter), then add some sugar and blend again.

Any dry or fresh herbs seasoning can be added like oregano, basil. I do prefer the sauce flavor without adding the herbs.
PIN for later :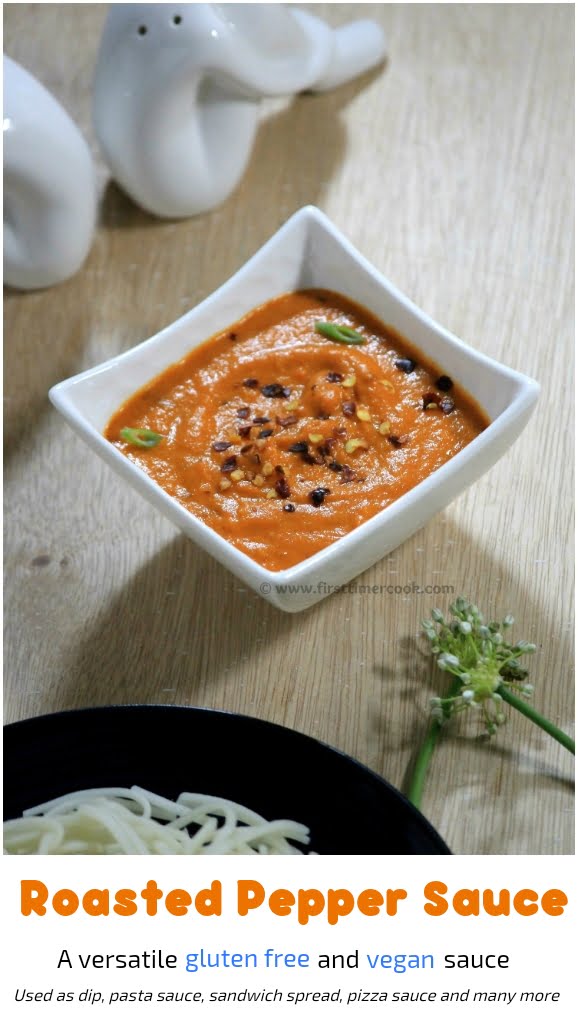 This Roasted Pepper Sauce recipe is contributed for 134th Foodie Monday Blog Hop where the theme is 'Pasta Sauces'.