a no-onion-no-garlic dalma which is the trademark of kartik month in Odia Cuisine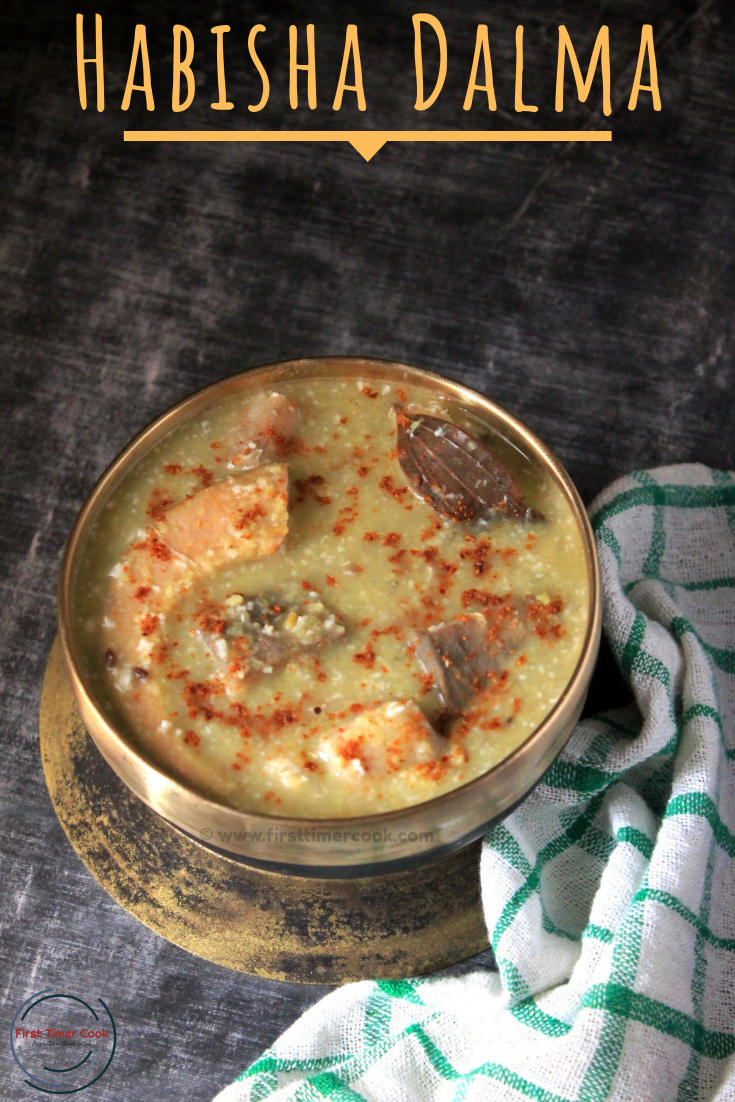 What is Dalma ?
Odisha is one of the eastern state in Indian subcontinent. Among all the odia cuisine, the dalma dish is the most popular one. Well dalma is a curry prepared using lentils and some vegetables and finally a tempering is added. There are many variation of this curry depending upon the use of onion-garlic, different varieties of dals and vegetables. Without onion-garlic version is the preferable version in temple and during festivals. I have already shared some dalma recipes in my blog previously like Muga Dalma with Panasa Katha, Without onion-garlic dalma. Today I have come up with a different kind of dalma as Habisha Dalma which is particularly prepared during the Kartik month of Hindu calendar in each and every Odia households.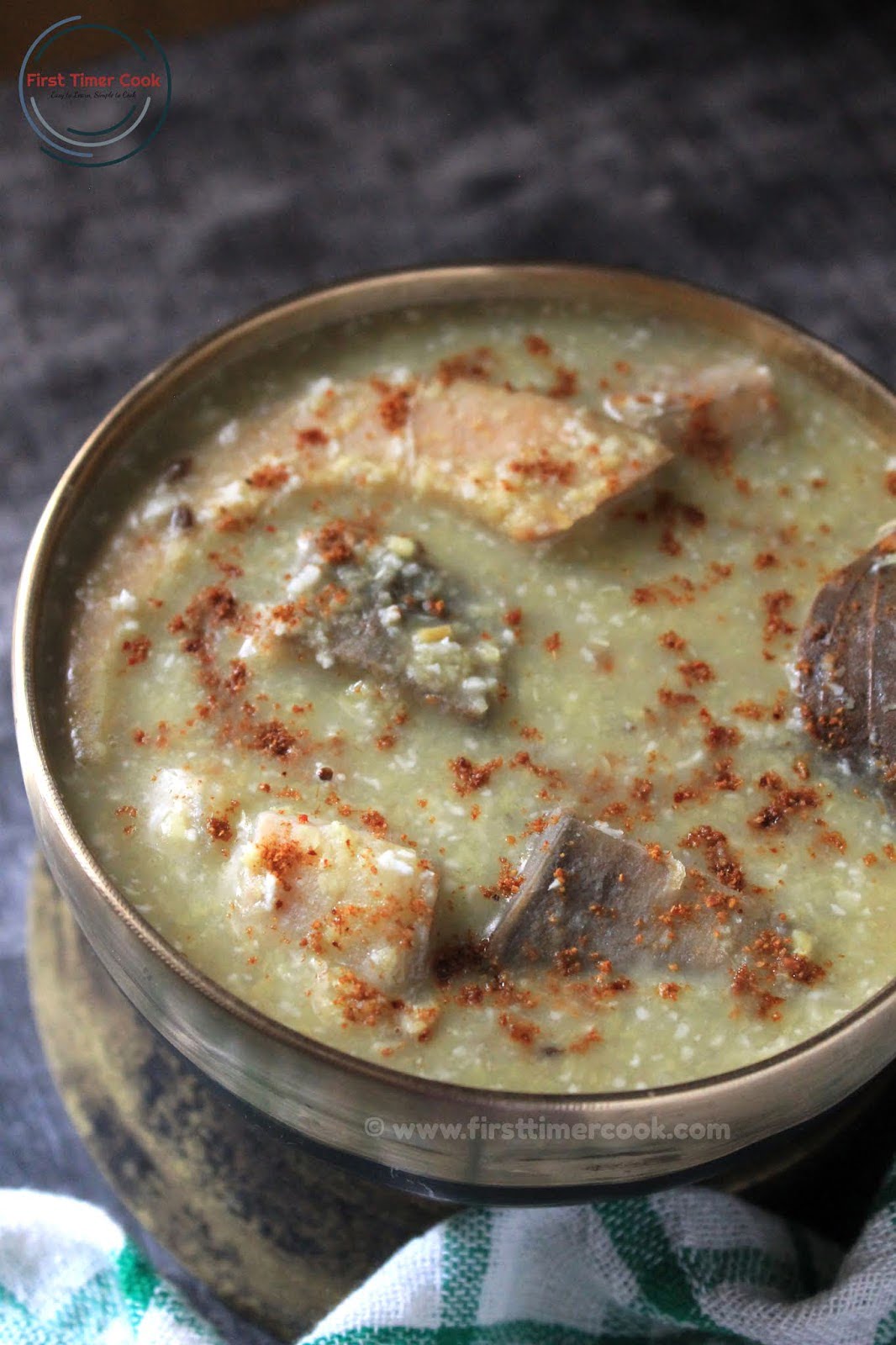 Kartik month specialty in Odia cuisine :
Kartik month is the most auspicious month among all 12 Hindu months. During this month most of odia people prefer to eat only vegetarian foods and particularly on each Monday of this month without onion-garlic foods are prepared. And the habisha dalma plays the vital role in most of the Monday lunch platters.
Difference between Habisha Dalma and a regular dalma :
This dalma varies totally different from rest others. Here onion, garlic, mustard oil, turmeric powder and potato are avoided in the ingredients list of the habisha dalma. Mostly the moong dal is picked up for preparing the dalma, but without roasting the moong dal. In this way (without roasting part of dal) the authenticity of the Habisha dalma is kept. Still anyone can use the roasted moong dal here if desired. One more authentic way here is the tempering part is followed at the beginning of the preparation unlike other dalma where the tempering is poured over the dalma after the dal and vegetables are cooked. During this month the elephant apple / oou is plentifully available in Odisha, so this sour vegetable is used in the habisha dalma to give a little tangy taste. But if this vegetable is not available at your place, then the tomatoes can be preferred.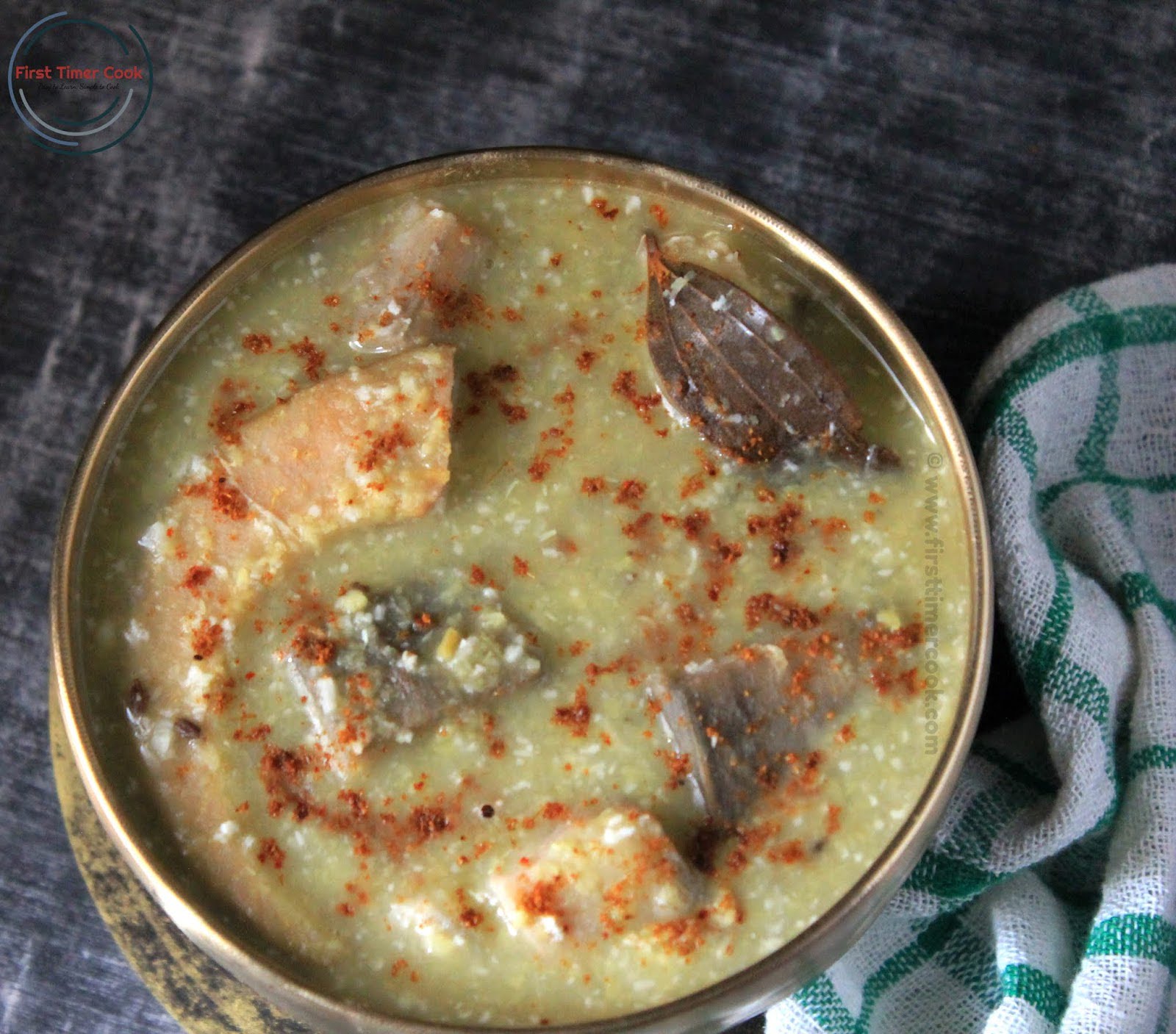 Serving suggestion :
The consistency of the dalma depends upon individual choice like either thin / semi thick. The combo of simple steamed rice topped with ghee, the habisha dalma and some relish like oou khata, tomato khata is a pure bliss. As the Kartik month of Hindu calendar is going on, so this dalma I love to make in each Monday of this month. And this habisha dalma is purely gluten free and without onion & garlic. Not only along with steamed rice, also one can enjoy with paratha or poori too.
Recipe Card for 'Habisha Dalma' :

Moong dal, Kartik Month, dalma, No-onion-no-garlic dish
Dalma, Side dish, Gluten free, lentil
Odia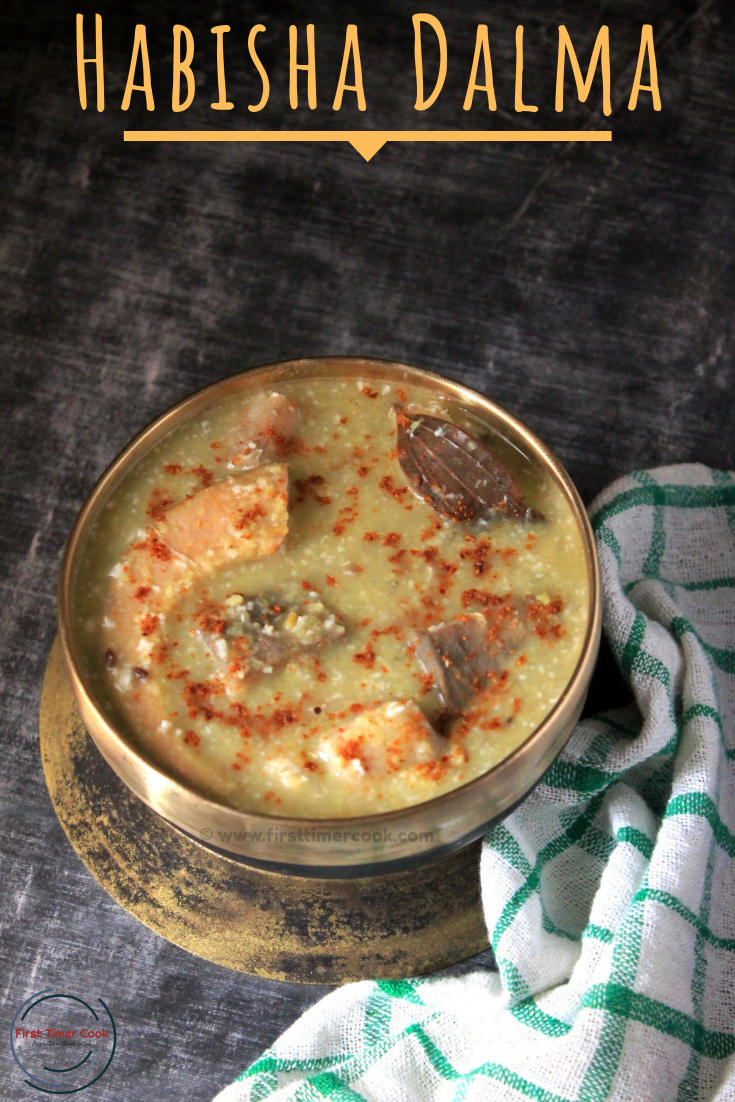 Habisha Dalma (Kartik Masa Speciality from Odia Cuisine)
an Odia delicacy particularly during the Kartik month of Hindu calendar using moong dal and some selected vegetables.
prep time: 15 Mcook time: 15 Mtotal time: 30 M
ingredients:
Moong dal 1 cup
Elephant apple / oou (1 inch slice) 2-3 pieces
Pumpkin (cube shape) 1/2 cup
Raw banana (cube shape) 1/2 cup
Colocasia (cube shape) 1/4 cup
Ginger 1 inch
Cumin seed 1/2 tsp
Whole red chili 2 no.
Bay leaf 1-2 no.
Roasted cumin-red chili powder 1 tsp
Coconut (grated) 2 tbsp
Ghee 1 tbsp
Salt as needed
instructions:
How to cook Habisha Dalma
First wash and drain the moong dal. Keep aside.
Next in a pressure cooker heat ghee.
Put in red chilies, bay leaves and saute for 1 minute.
Then add cumin seeds and allow to crackle.
After that put the drained moong dal along with all the cut vegetables, crushed ginger, salt and 2-3 cup water.
Mix everything using a spatula and cover the lid of the pressure cooker.
Cook for 1-2 whistles or till all the vegetables are done well.
Turn off heat.
Allow the steam to escape automatically and till then keep aside the pressure cook.
Next sprinkle grated coconut and roasted cumin-red chili powder and give a mix.
Serve hot with rice topped with ghee, tomato khata / oou khata !!!
NOTES:
The moong dal is used here as raw, means this dal is added without roasting to maintain the authentic way of preparation. But if you want, then roast the moong dal first, then wash and use in the dalma.
Did you make this recipe?
Tag @firsttimercook on instagram
and hashtag it #firsttimercook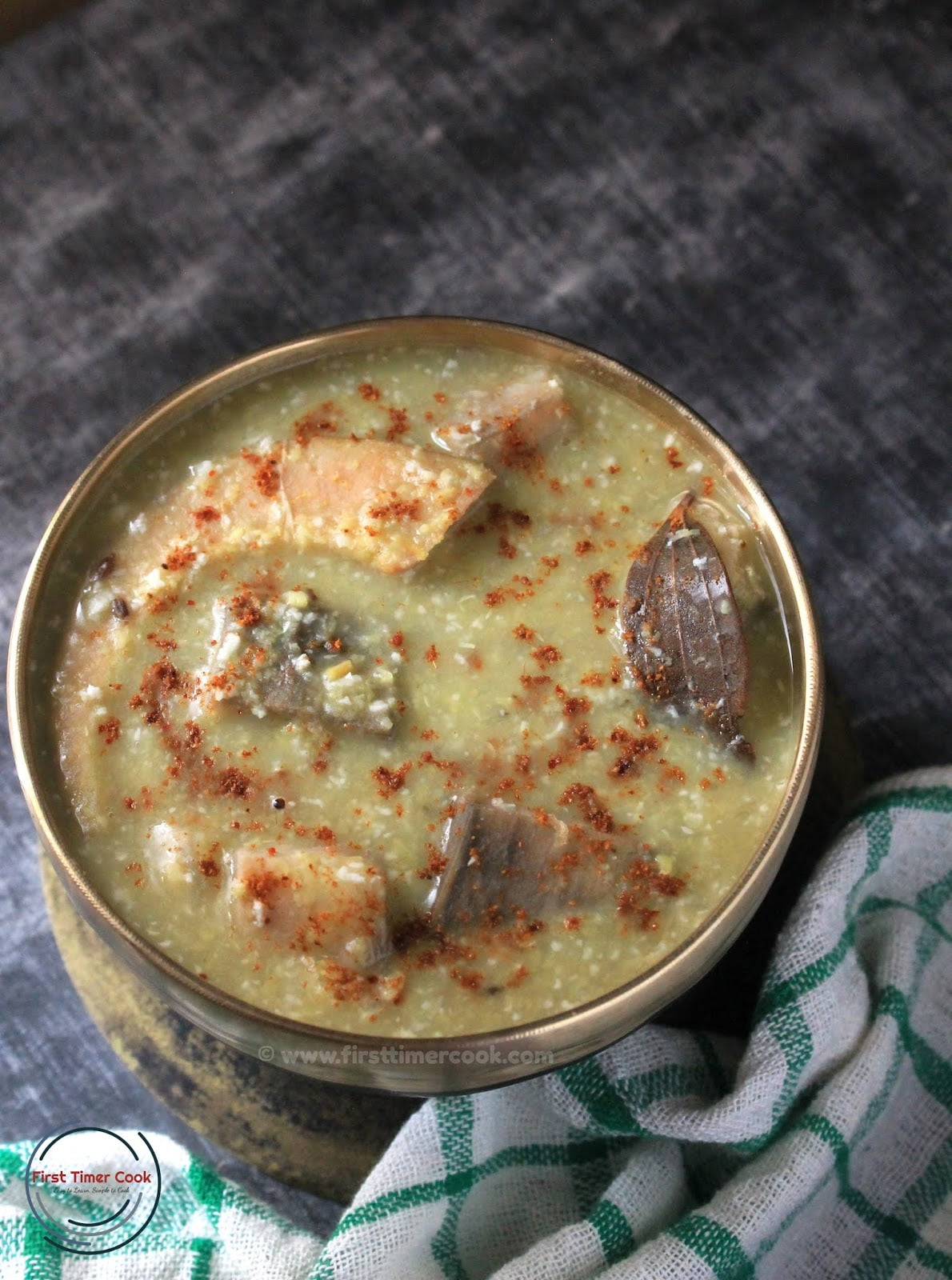 The event related to this post :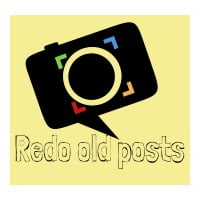 And this post is also related to Foodies Redoing Old Posts which is initiated by one of my fellow blogger Renu. The basic funda of this is to redo our old posts which need changes in picture, writings etc to get boost. Here I have modified the text and picture is kept same as before.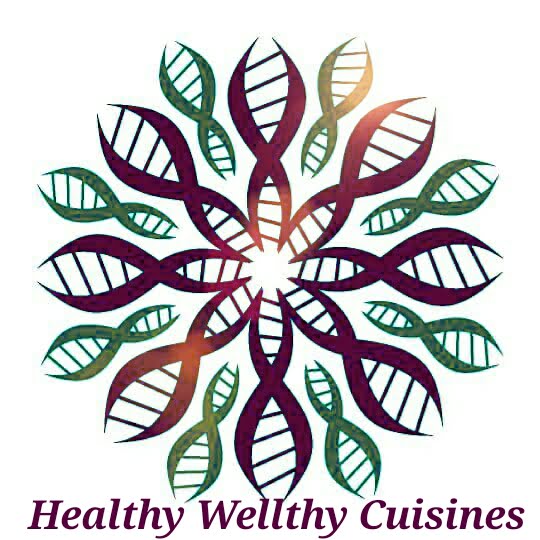 Also this 'Habisha Dalma' is contributed for Healthy Wellthy Cuisines where the theme is 'Legume Affair at HW'. Here are more similar recipes shared by our Healthy Wealthy Group members as Restaurant-Style Dal Tadka, Boondi Kadhi, Lehsuni Dal Palak, Home-Made Peanut Butter, Moong Dal Khichdi, Dhaba Style Kala Chana , Baingan Pakora, Rajma Masala, Dried Nightshade Berries Cooked In Tamarind.
You may also follow me on Facebook, Pinterest, Twitter, Google+, Instagram and can subscribe for free to get new recipes directly into your inbox 😊
PIN for later :