an quick, easy and healthy dish using poha / flattened rice and some vegetables from South Indian cuisine.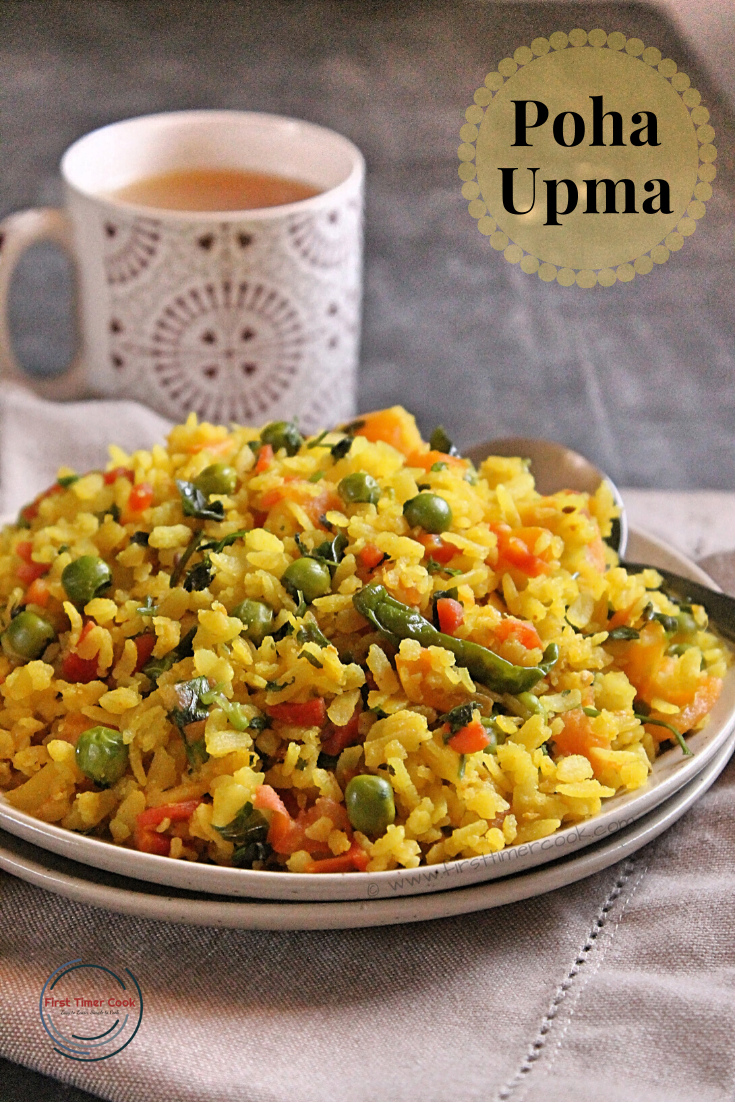 Poha ?
Poha is also called as aval or flattened rice or beaten rice. Basically this is a dehusked rice which is flattened into flat light dry flakes. It is a good source of healthy carbohydrates means its contains around 75% of carbohydrates and few calories, so there is no risk of weight gain. Poha has ample dietary fibers that make it a perfect choice for weight watchers. So, if weight loss is on your mind, then picking poha as breakfast, snack is an ideal healthiest option surely.
Some recipes from my blog using this Poha :
Coriander Poha with green peas

–

some flattened rice flakes along with green peas tossed with fresh, aromatic coriander

paste. This is a simple yet flavorful dish and best fit for breakfast, tiffin or even for kids tiffin box.
Poha Chivda / Mixture

–

a perfectly quick snack option using poha, nuts and spices. Super simple it is and easy to prepare

too. During festive time and mostly during diwali this is a must to be prepared as a festive delight.
Poha Ladoo with Chocolaty Coconut filling

–

all time favorite of kids (Chocolate) along with coconut stuffed inside the

powdered form of poha as an outer layer in these ladoos. This is a superb healthy snack for kids.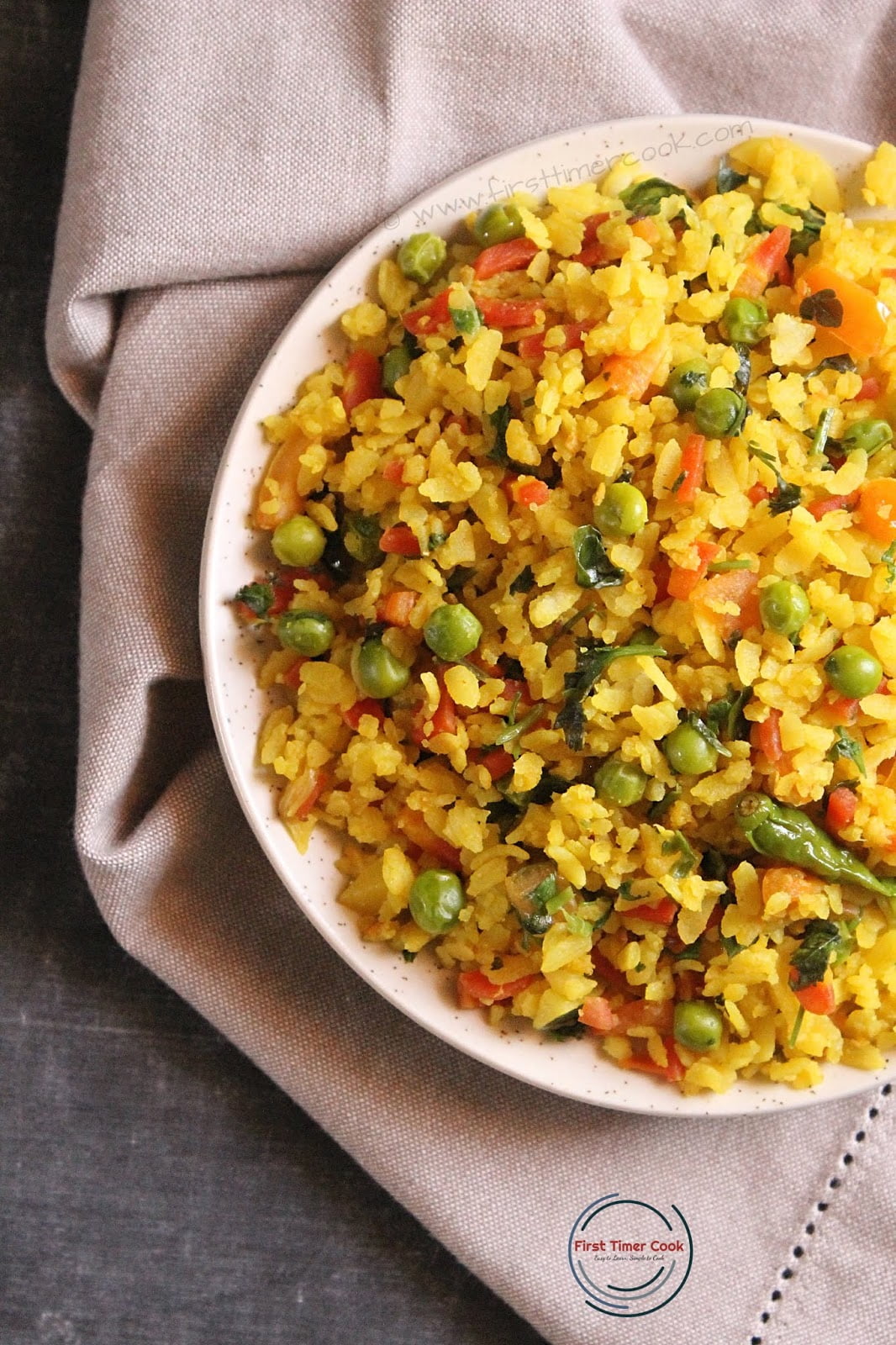 Well today's post is a variation to the South Indian Vegetable Upma using poha as Poha Upma / Aval Upma / Vegetable Poha Upma / Vegetable Aval Upma. Few points one has to keep in mind to get perfect texture of the Poha Upma.
Medium / thick poha should be chosen. As the thin poha becomes soggy when rinsed and after then while using in the pan, everything comes to a mushy.
Always rinse the poha gently else that may broke during rinsing and drain off the water completely after that.
For thicker version of poha, soak poha for few minutes, then drain completely.
After draining all the water, make sure to break all the lumps if any in the soaked poha.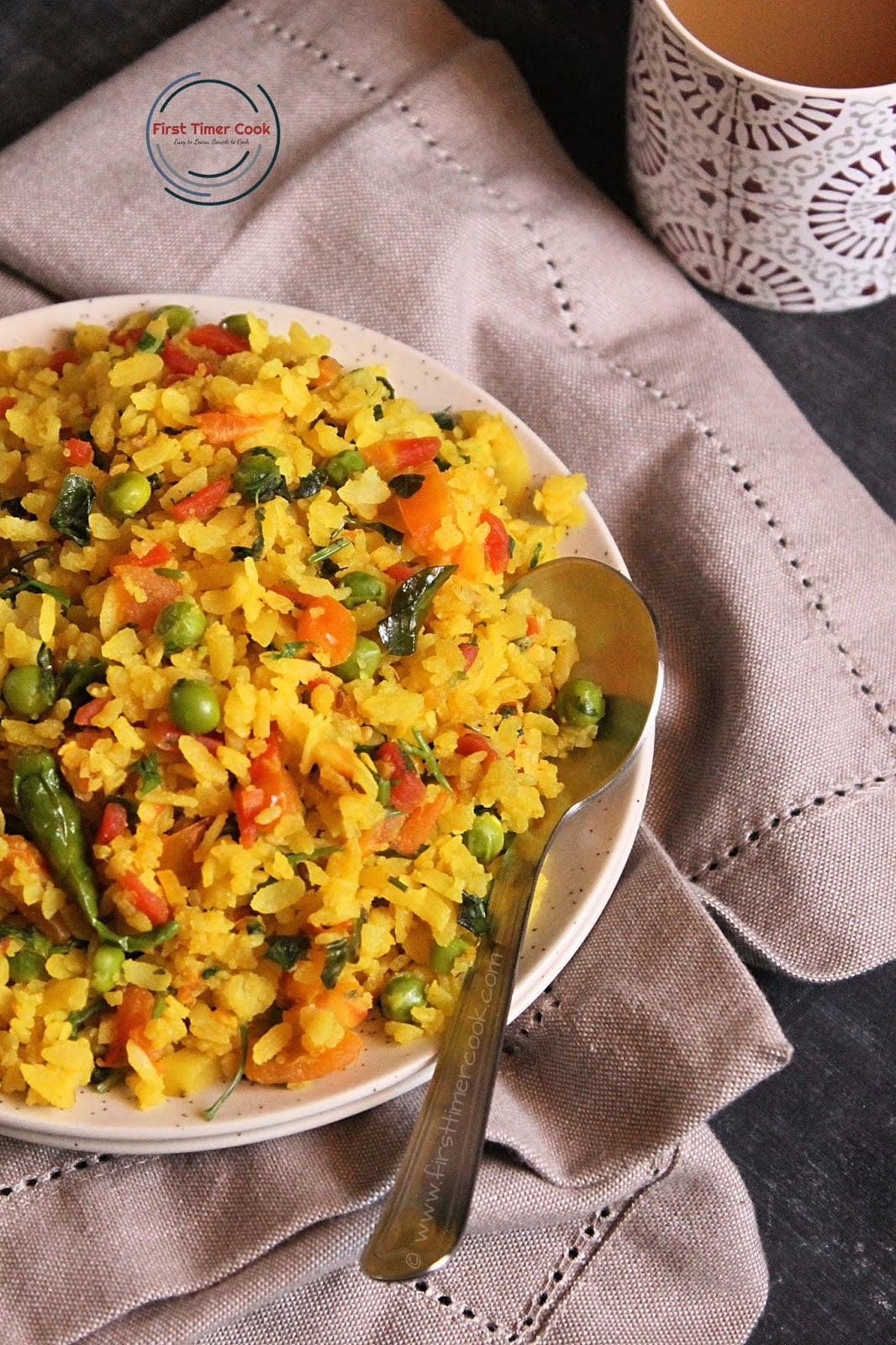 Ingredients to be selected :
This is kind similar to the regular South Indian Upma. Poha is the major ingredient, one can select medium or thick version. Any choice able vegetables one can pick or even one can skip this addition totally make a plain poha upma instead of vegetable poha upma. Here I have used carrots, peas, tomatoes, beans, potatoes. For the tempering part cumin seeds along with grated ginger, green chilies and curry leaves are used. One can add few mustard seeds too here and also some sliced onions (I have omitted to keep it no-onion-no-garlic dish). For crunchiness, some urad dal, chana dal and peanuts are used. Finally some lemon juice are mixed to get bit tangy taste in the upma. I always love to add little turmeric powder in the upma which results in a slight yellowish color. But it is optional too.
Preparation in details :
First the tempering part is done. Then fresh vegetables are added along with spices. The pan is covered and allowed to cook the vegetables. After that, soaked poha is added to the pan and everything is well mixed up. Finally few lemon juice along with peanuts and chopped coriander leaves are added to the upma. That's it ! Few people also love to add some steamed vegetables directly to the tempering. Means there is no need of cooking the vegetables in the pan. Just do the tempering, then add steamed vegetables along with soaked poha. Cook for 1-2 minutes over low heat to everything get well incorporated. By this method, cooking time will be little less as compared to the first method. But both methods result into flavorful poha upma and similar in taste too.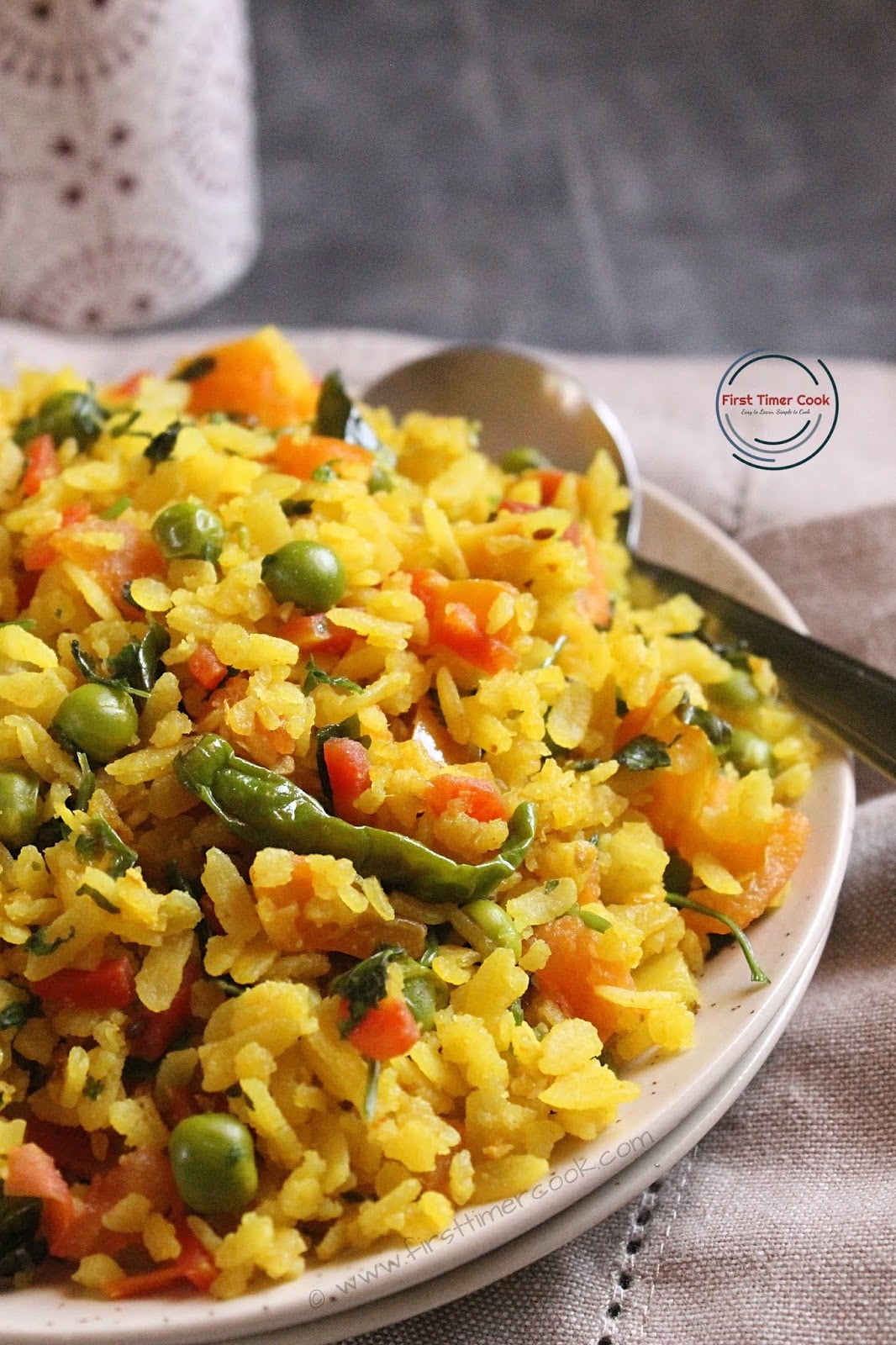 YouTube Video of Poha Upma :
Serving suggestion :
It is super simple, easy and quick to prepare. This healthy, delicious dish can be served as an evening snack / breakfast. Normally it is served with chutney / curd / pickle. It tastes divine by eating hot. I like to have as it is or with some tea. The addition of choice able veggies makes this poha / aval upma very colorful. I love to make this upma in winters when a varieties of fresh and colorful vegetables are plentifully available at local market. For kids tiffin box this is a best healthy option too. Also this poha upma is completely Vegan & Gluten free. Do try !
: Recipe Card :

Poha Upma / Aval Upma / Vegetable Poha Upma / Vegetable Aval Upma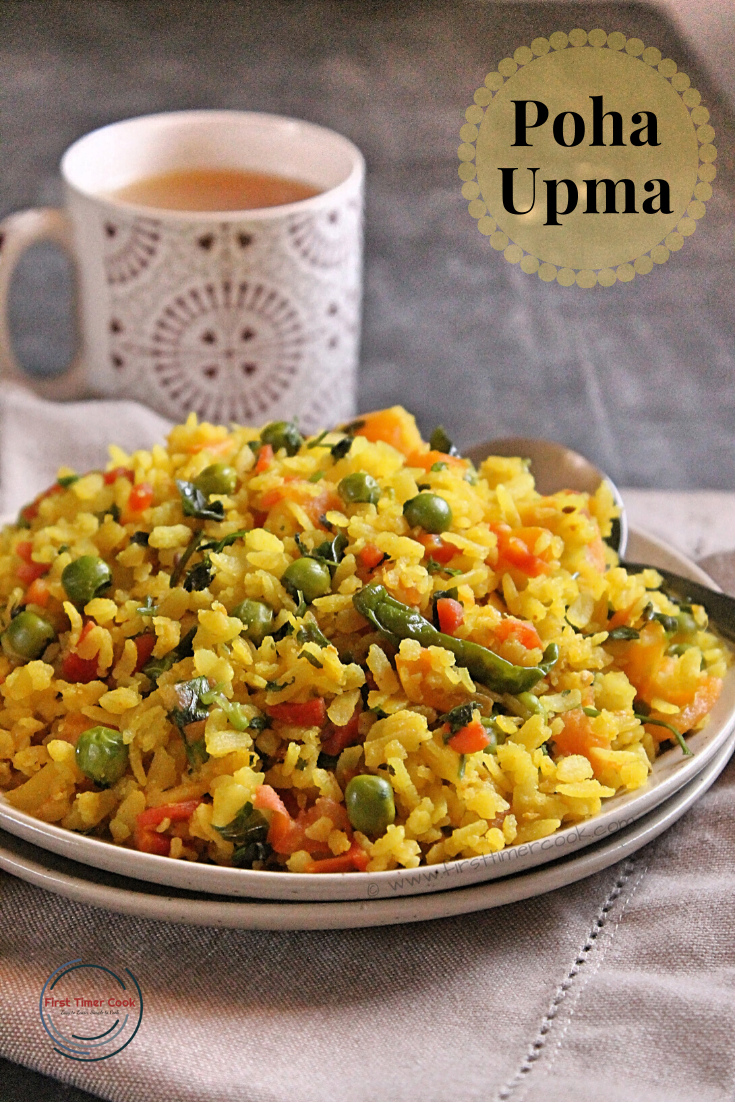 Poha Upmahttps://youtu.be/PD5PfO4Fyychttps://firsttimercook.com/wp-content/uploads/2016/08/poha2BUpma2B11.png
Prep time: 15 MCook time: 15 MTotal time: 30 M
an quick, easy and healthy dish using poha / flattened rice and some vegetables which is completely no-onion-no-garlic.
Ingredients:
Poha / Aval 2 cup
Potato (chopped finely) 1 no.
Carrot (chopped finely) 1 no.
Green peas 1/4 cup
Green beans (chopped) 1/4 cup
Cumin seeds 1 tsp
Peanuts 1-2 tbsp
Green chili 1-2 no.
Ginger (grated) 1/2 tsp
Curry leaves 8-10 no.
Tomato 1 no.
Turmeric powder 1/2 tsp
Oil 1 tsp
Lemon juice 2 tbsp
Water as needed
Salt as needed
Coriander leaf (finely chopped) as needed
Instructions:
How to cook Poha Upma / Aval Upma / Vegetable Poha Upma / Vegetable Aval Upma
Clean and wash poha / aval thoroughly in water for 2­-3 times.
Drain off the water completely by putting in a colander / strainer for 10-15 minutes, set aside. All the moisture will be absorbed by the time. Break up the lumps if any and set aside.
Heat oil in a pan.
Add peanuts and shallow fry them for 1-2 minutes over low flame. Drain them and transfer to a plate.
Add cumin seeds in same oil. When seeds begin to sputter then add grated ginger, green chilies, curry leaves. Saute few seconds.
Add chopped tomatoes, turmeric powder, salt and mix well.
Cook until tomatoes become soft for 2-3 minutes.
Add the veggies (carrot, potato, green peas & green beans) and stir very well. Cover & let the veggies cook well.
Then add the previously soaked poha, stir and mix gently.
Add shallow ­fried peanuts, mix well & ensure that everything gets mixed evenly. Cover and cook on a low flame for 3-4 minutes.
Lastly add lemon juice, chopped coriander leaves and mix gently.
Serve poha / aval upma hot or warm with lemon pickle or as it is simply or with some tea !
Notes:
If you are using the harder variety of poha / aval, then you need to soak them for a while. Then drain off and set aside.
Steam veggies can be added instead of adding chopped veggies (uncooked) directly with the tempering in the pan. By this method cooking time becomes less.
Veggies can be omitted also.
Adjust spiciness and for kids simply skip the addition of chili.
Vegetable Upma, POha Upma, Flattened rice, Beaten rice, Aval upma, Healthy Breakfast
vegan, gluten free, poha, Upma, Breakfast, No onion No garlic, Less oil, Snack
South Indian Cuisine
Did you make this recipe?
Tag @firsttimercook on instagram and hashtag it #firsttimercook
The event related to this post :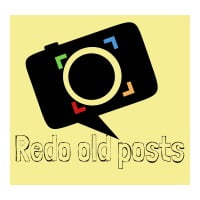 And this post is also related to Foodies Redoing Old Posts which is initiated by one of my fellow blogger Renu. The basic funda of this is to redo our old posts which need changes in picture, writings etc to get boost. Here I have modified both the text as well as pictures.
You may also follow me on Facebook, Pinterest, Twitter, Google+, Instagram and can subscribe for free to get new recipes directly into your inbox 😊
PIN for later :