Corn chat is a spicy chaat during monsoon time. This is an easy snack and prepared quickly. Corn is a versatile and healthy vegetable which can be used in preparation of soups, cutlets, tikkis, rice dishes and lots more. Here I have used sweet corn.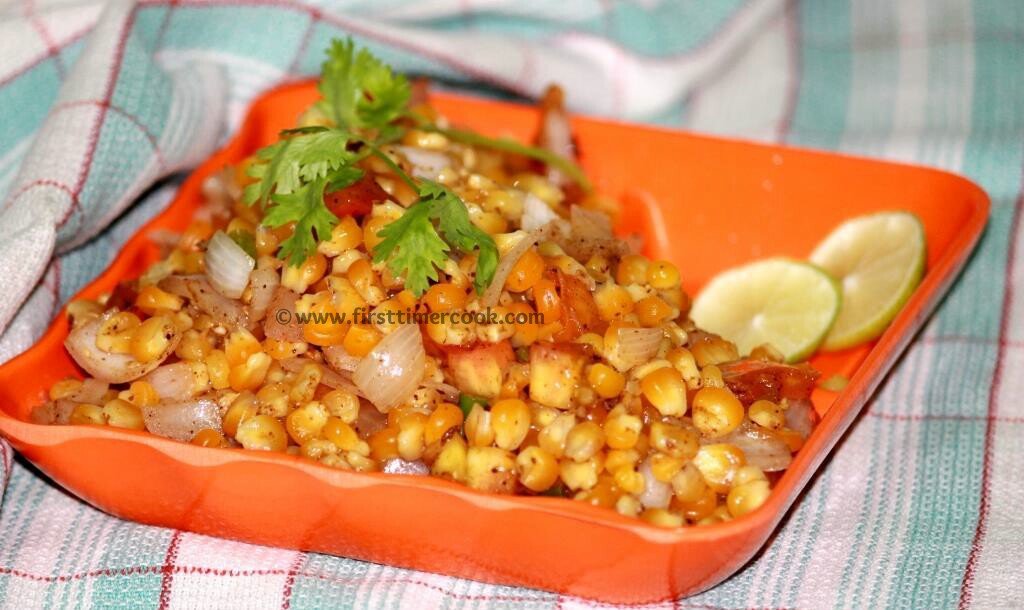 Preparation Time : 5 mins | Cooking Time : 10 mins
Ingredients :
| Ingredients | Measurements |
| --- | --- |
| Corn cob (medium) | 1 no. |
| Onion (finely chopped) | 1 no. |
| Tomato (finely chopped) | 1 no. |
| Green chili (finely chopped) | 1-2 no. |
| Lemon juice | 1-2 tsp |
| Boiled potato | 2 no. |
| Green coriander (finely chopped) | 1 tbsp |
| Red chilli powder | 1/4 tsp |
| Salt | as per taste |
| Chat masala | 1 tsp |
Method :
First boil the corn cob. Break the whole corn into two, so it fits into pressure cooker. Put into the cooker with water. There should be enough water, so that corn can be submerged into the water. Pressure cook it for 3-4 whistles on medium heat. Turn off the stove, let the pressure go down by itself. Then open the lid.
Remove the corn and let it cool to touch.
Once it is cool, Remove the corn kernels. (It can be done by hand or just hold the corn vertically and run the knife near the cob)
In a mixing bowl add everything and give a quick mix. Mix very well, so everything is incorporated.
Check the taste and add more salt or chat masala or lemon juice if required.
Immediately serve the corn chat warm !
​Notes :
Chopped cucumber can be added to give more crunch.
Roasting corn in butter gives a great texture and flavor. (After cool down, in a tsp of butter toast corn kernels for few mins until the edges start to turn brown)
Serve immediately after mixing everything.
Hope you have liked the above recipe 😊. If so, then please don't forget to share it with your friends. You can also keep in touch with me through Facebook, Google Plus, follow my posts on Twitter too. Try this dish at your home and share your experience with me in the comment box below 👇.