Tutti frutti also can be named as candied papaya. These are often used in custard pudding, ice-creams, bakery products like cakes, cookies and sometimes also in preparation of paan (beetle leaves). For garnishing purpose in any desserts, these can be used too. Basically there are two varieties of tutti frutti as western type and Indian type. Westerns are made from various chopped fruits which are then preserved in brandy, mainly the processing continues for several months as in different seasons / months there are different fruits. Indian types are made from finely chopped raw papaya, dipped in sugar syrup, soaked in a variety of coloring agents and finally dried.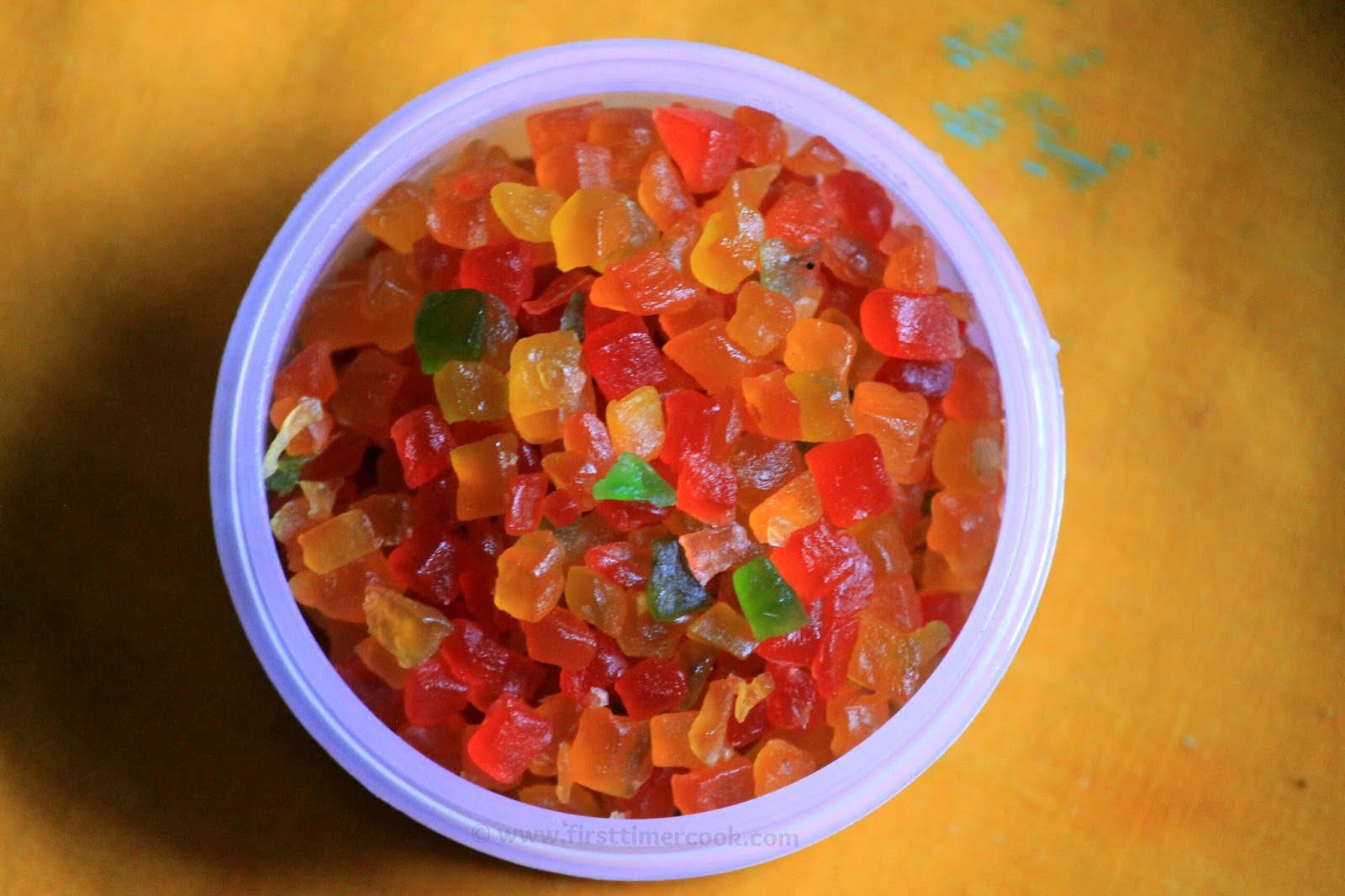 Here I'll go for the recipe of Indian type. Some of the other recipes where I have used these homemade trutti frutti are eggless tutti frutti cookie, eggless tutti frutti muffin. The area where I am staying these days, only one color (yellow) trutti frutti is available. So I decided to make these cute colorful beauties at home. If this type of issue, you are facing at your locality or if it gets hard to find out then just make it at your home simply by following below step by step instructions.
Preparation Time : 20 mins | Cooking Time : 30 mins
​Ingredients :
| | |
| --- | --- |
| Ingredients | Measurements |
| Raw papaya cubes (½ inch) | 2 cup |
| Vanilla essence | Few drops |
| Red food color | 1-2 pinch |
| Yellow food color | 1-2 pinch |
| Green food color | 1-2 pinch |
| Sugar | 2 cup |
| Water | As needed |
​Method :
Peel the outer skin of the raw papaya by a peeler. Slice the papaya, remove the seeds and inner tissues.
Wash the slices in running water to remove any milky sap sticking to the outer surface.
Cut the papaya slices into small cubes (½ inch cube size).
Boil water (approximately 4 cups) in a dip pan and blanch the chopped raw papaya for 2-3 minutes. Turn of the flame and keep them in hot water for 5 minutes more. Then strain and keep aside.
Again boil 3-4 cup water with 2 cup sugar. Once sugar dissolves completely, add the papaya cubes and cook for 15-20 minutes or until syrup reaches 1 string consistency.
Turn off the flame. Add few drops of vanilla essence and mix well.
Divide the whole mixture into 3 equal portions and put in 3 different bowls.
Add 1-2 pinch of red food color to 1st bowl, 1-2 pinch of yellow food color to 2nd bowl and 1-2 pinch of green food color to 3rd bowl. Mix well each bowl, cover and keep aside for 18-20 hrs at room temperature.
Then strain the papayas and allow them to dry for several hours or until no stickiness.
Mix all the three colors, store in an airtight container and use whenever needed !
Notes :
The amount of chopped papaya cubes and the sugar should always be same.
For longer use of trutti frutti, always try to dry completely the colored cubes before refrigerating.
Adding colors is purely optional, but it is preferable to add different colors as it looks more colorful and attractive.
These trutti frutti can be stored up to 1-2 months if refrigerated properly.
Hope you have liked the above recipe 😊. If so, then please don't forget to share it with your friends. You can also keep in touch with me through Facebook, Google Plus, follow my posts on Twitter too. Try this dish at your home and share your experience with me in the comment box below 👇.