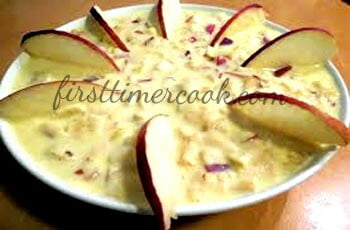 Preparation Time : 10 mins | Cooking Time : 10 mins
Ingredients :
Ingredients

Measurements

Milk
2 cup

Vanilla custard powder

(

homemade

)

2 tbsp
Sugar
4 tbsp
Essence (vanilla)

1 tsp
Apples (peeled & chopped)
1 cup

Elaichi powder

(Optional)

1 pinch


​​Method :
Take custard powder in a bowl. Add 5 tbsp of milk and dissolve it into a smooth liquid without any lumps.Then add essence to it.
Boil the remaining milk with sugar in a heavy bottomed / non stick vessel.

Add the

custard powder

dissolved in milk slowly & stir well continuously. It will get thick immediately, so be careful. After few minutes, remove from heat and cool down.

Refrigerate it and at the time of serving, add finely chopped apples, elaichi powder to the cold custard.
Mix well and serve cold !
Notes :
Custard powder can be homemade (Custard Powder) / bought from store.
Any fruit can be choosen in place of apple. Also mixed fruits can make it looking colorful (Mixed Fruit Custard).
The consistency can be varied by varying the amount of custard powder. Measurements given in the recipe will bring the correct consistency of custard.
Essence used depends upon the fruit used. Apple & vanilla essence combination makes the taste delicious.