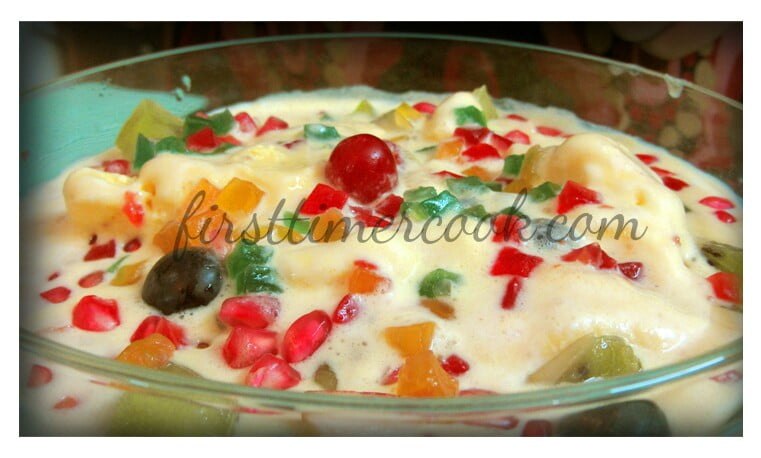 Preparation Time : 15 mins | Cooking Time : 15 mins | Chilling Time : 3 hrs
Ingredients :
Ingredients

Measurements

For custard

Milk
2 cup
Vanilla custard powder

(

homemade

)

2 tbsp
Sugar
4 tbsp
Essence (vanilla)

1 tsp

For fruits

Apples (peeled & chopped)
1/2 cup
Mango (peeled & chopped)
1/2 cup
kiwi (peeled & chopped)
1/4 cup
Pomegranate Seeds
1 cup
Grapes & Orange (chopped)
1/2 cup
Nuts (cashews, pista)
1/4 cup
Raisin
2-3 tbsp
Tutti Fruity
2-3 tbsp
Cherries (chopped)
2 tbsp
Powdered sugar
1/4 cup
​Method :
Take

custard powder

in a bowl. Add 5 tblsp of milk and dissolve it into a smooth liquid without any lumps.Then add essence to it.

Boil the remaining milk with sugar in a heavy bottomed / non stick pan.
Add the custard powder dissolved in milk slowly & stir well continuously. It will get thick immediately, so be careful.
After few minutes, remove from heat and pour this into a bowl & chill in fridge.
Now take all the ingredients given for fruits in a bowl and mix well. Set aside till sugar melted down.
While serving, take a small bowl & fill 75% of it with fruit mixture. Pour custard over & serve !
Notes :
Custard powder can be homemade (Custard Powder) / bought from store.
Fruits can be choosen as per choice (any seasonal fruits).
The consistency can be varied by varying the amount of custard powder.
Measurements given in the recipe will bring the correct consistency of custard.​