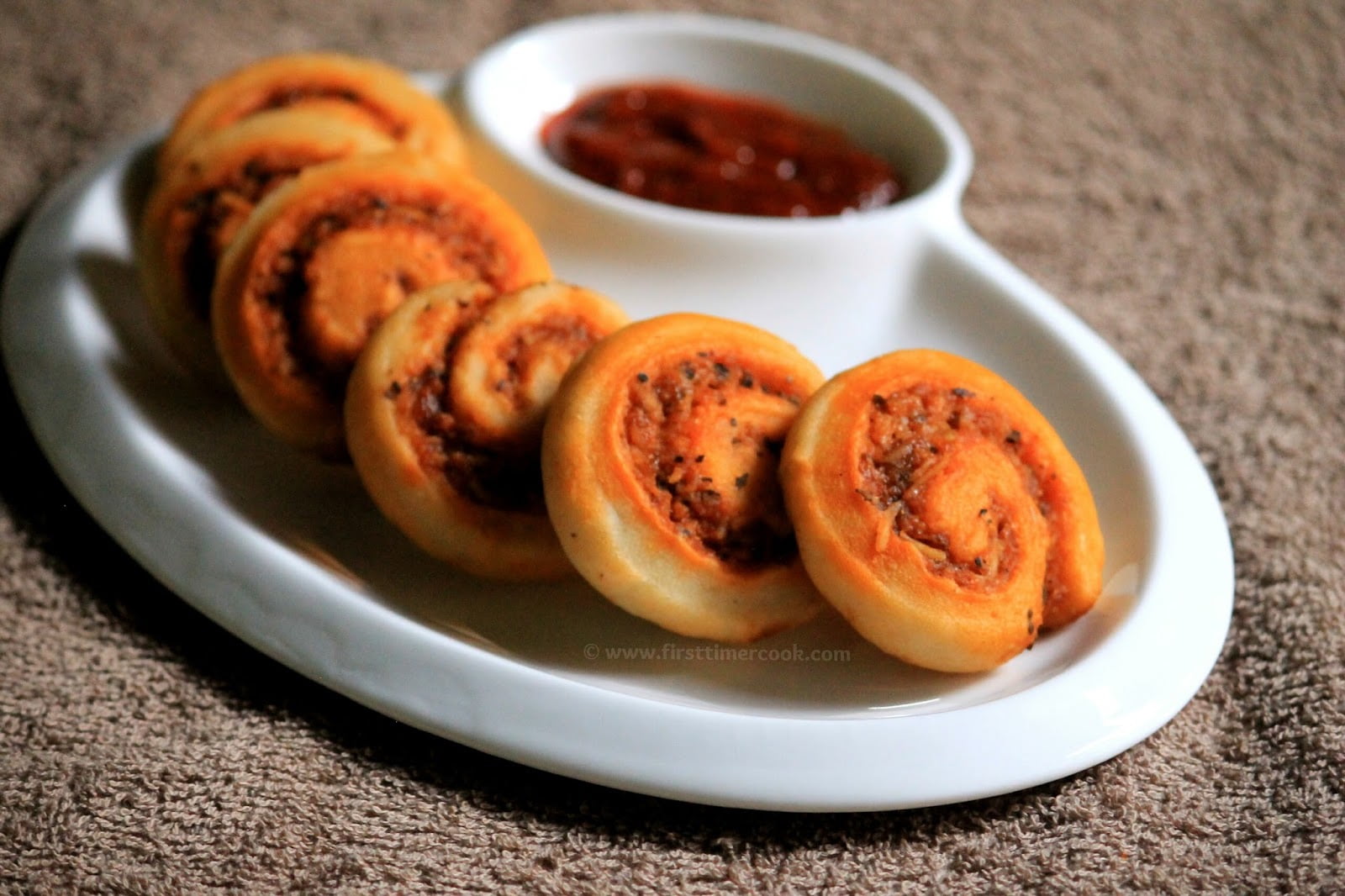 Pizza pinwheel – pizza dough rolls into shape of pretty pinwheels.
Who doesn't love pizza especially if made in bite size, no need to cut into triangular shape. Pizza pinwheels are so easy to make and easy to serve. These are best right after baking, while still piping hot and cheesy. Homemade pizza dough is filled with toppings, rolled into shape of small pinwheels. These pizza pinwheels make a great appetizer for any gathering or party. If there is any hurry, then just use store bought pizza or crescent roll dough instead of homemade dough. Let's go in details as mentioned below step by step.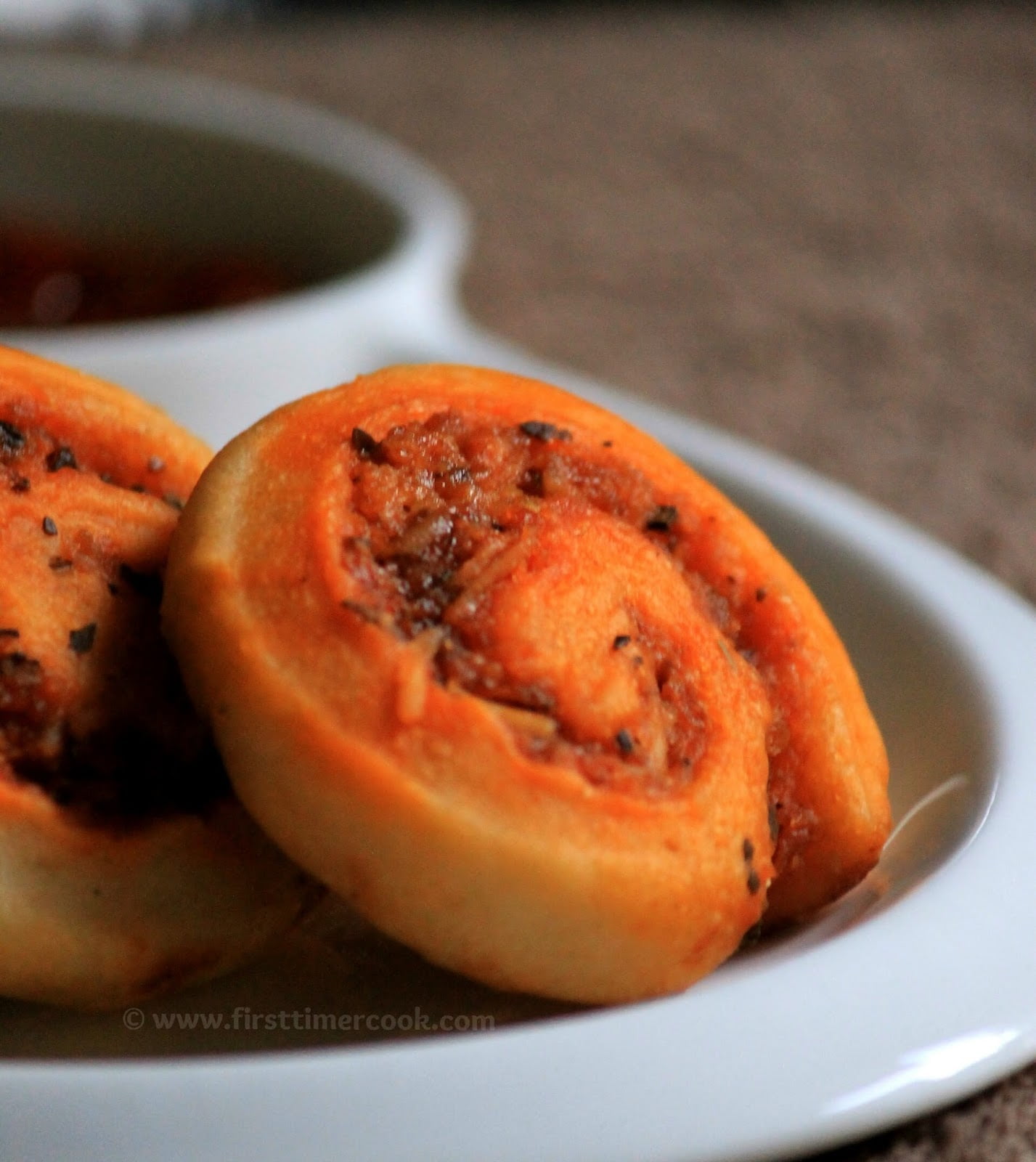 Preparation Time : 1 hr 50 mins | Cooking Time : 20 mins
​Ingredients :
Ingredients

Measurements

All purpose flour (maida)

1 & ½ cup

Instant yeast

Or active dry yeast

1 tsp

Or 1 tbsp

Milk

½ cup

Sugar

½ tbsp

Salt

¾ tsp

Oil

2 tbsp

Mozzarella cheese

6 tbsp

Oregano

As needed

Chili flakes

As needed

Pizza sauce

2 tbsp
​
Method :
I have used instant yeast here which has to be mixed with the flour as it is. But if you are using any other yeast then you have to first proof the yeast, whether the yeast is active or not. So dissolve the required amount of yeast with lukewarm milk in a small bowl. Keep aside for 8-10 minutes so that it will become frothy. This ensures that the yeast is active. If it has not become frothy even after 10 minutes, then the yeast is not good enough to use.
In a bowl mix all purpose flour, salt and instant yeast.
Dissolve sugar in lukewarm milk. Now add this milk along with oil to the flour.
Mix everything and knead to get a smooth dough. No need to knead so much.
Keep aside covered with a wet cloth, preferably in a warm place for at least an hour.
After an hour, it will be doubled in size. Knead again the dough in a well floured surface.
Then roll the dough into neither a thick nor a thin rectangular shape. Spread pizza sauce, sprinkle grated mozzarella cheese, chili flakes and oregano.
Starting with one short side of the rectangle, begin rolling up the dough and press edge to seal.
Now wrap the log shaped dough with a butter paper and refrigerate for 10-15 minutes.
Take out the dough from refrigerator, using a serrated knife cut the log into thick slices.
Transfer the slices to a baking tray lined with aluminium foil. Keep aside and let the slices rise a bit at room temperature for 30 minutes.
Preheat the oven at 180 deg C. Bake the pinwheels for 15-20 minutes or until the cheese is bubbly and the edges are golden brown.
Meanwhile warm up pizza sauce. Serve warm pinwheels with warm pizza sauce for dipping immediately !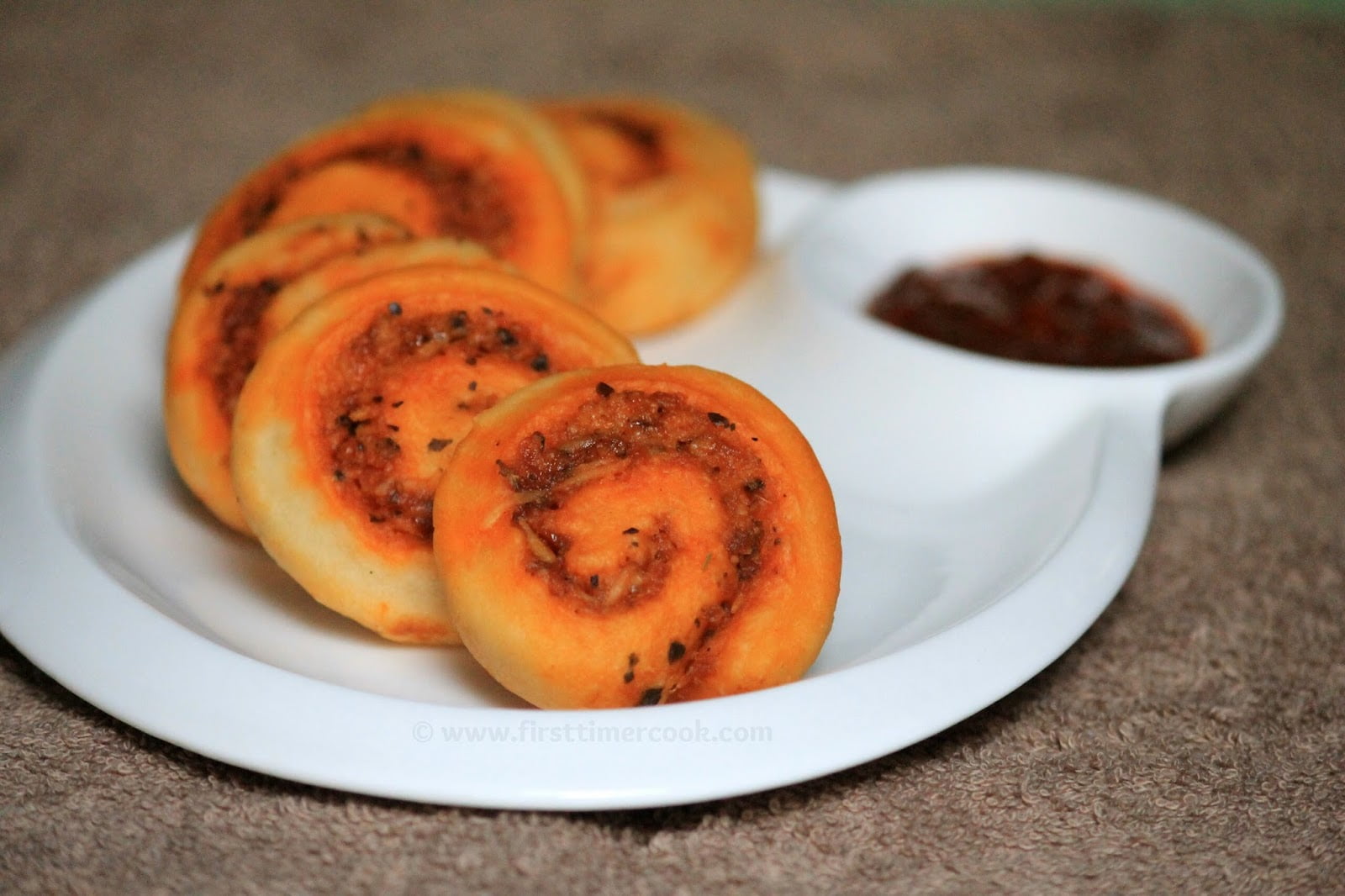 Notes :
While rolling into rectangular shape, roll tight else the filling may fall apart while slicing.
Refrigerating the dough is just to make it stiff, so that cutting'll be easy.
Tomato sauce can be used in place of pizza sauce.
Feel free to use your own toppings, but don't stuff in more quantity. Otherwise while cutting, neat slices cannot be formed.
If you are so much eager to have pinwheels, then instead of resting the slices on the baking tray for 30 minutes at room temperature just bake them as it is. But if you keep aside the slices for 30 minutes then the pinwheels become more puffier comparatively.
These pinwheels can be refrigerated in an airtight container. While serving just reheat for 30-60 seconds in microwave and serve.
Hope you have liked the above recipe 😊. If so, then please don't forget to share it with your friends. You can also keep in touch with me through Facebook, Google Plus, follow my posts on Twitter too. Try this dish at your home and share your experience with me in the comment box below 👇.