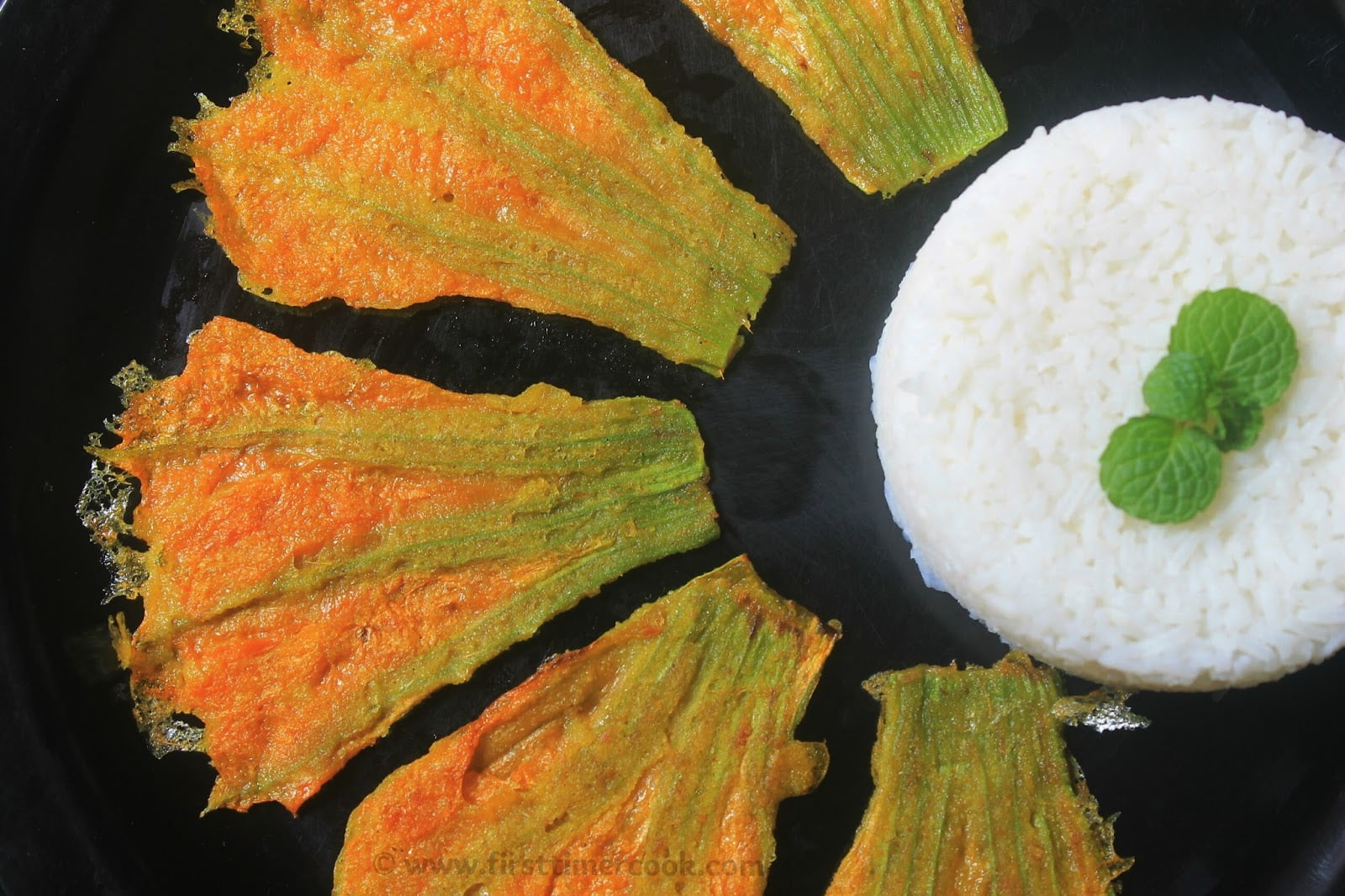 Pumpkin flower fritters aka kakharu phula bhaja (in odia) / kumro phool bora (in bengali) are very tasty and very popular in Odisha as well as West Bengal. These fritters can be easily and so quickly made at home. Basically the pumpkin plant has two variety of flowers : male and female. Only the male flowers are plucked for fritters and the female ones are left as they are capable of growing into pumpkins.
These fritters are mainly served with plain rice, dal combo or they can be served as snacks. So below are the step by step method of preparation of pumpkin flower fritters.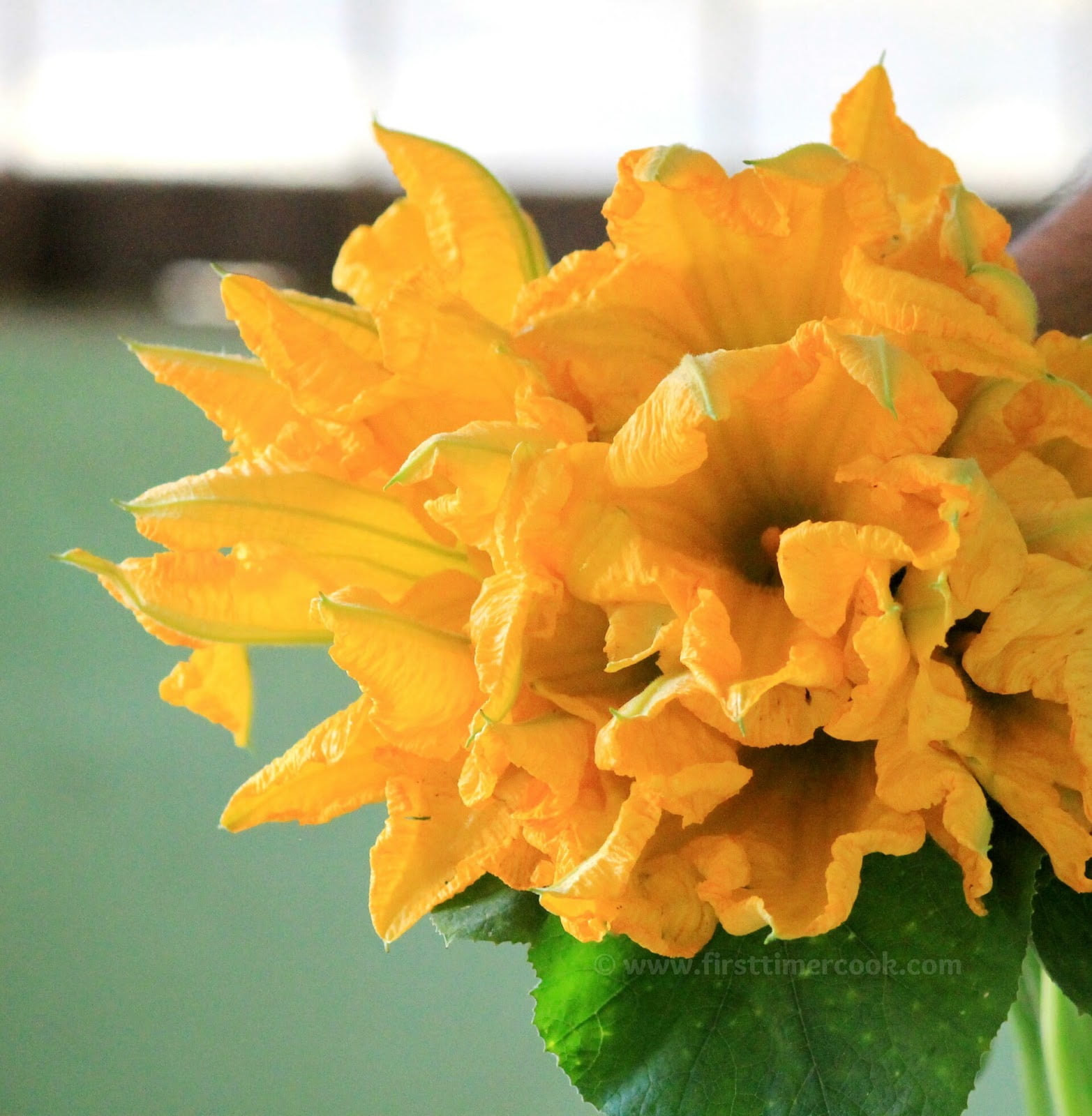 Preparation Time : 5 mins | Soaking Time : 30-40 mins | Cooking Time : 15 mins
​Ingredients :
| | |
| --- | --- |
| Ingredients | Measurements |
| Pumpkin flower | 10-12 no. |
| Rice | 4 tbsp |
| Red chili | 1 no. |
| Garlic cloves | 2 no. |
| Green chili | 2 no. |
| Chat masala (optional) | 2-3 pinch |
| Cumin seed | ½ tsp |
| Turmeric powder | 1 pinch |
| Mustard oil | For shallow fry |
| Salt | As needed |
| Water | As needed |
​Method :
First soak the rice for 30-40 minutes.
Meanwhile, cut out lower part / sepal (which contains a stalk, a bottom and at center a stigma (0.5-1 inch length and yellow in color)) of the flower except the petal.
Clean the flowers individually under slow running water and pat dry in paper napkin. Keep aside.
Then grind the soaked rice, garlic, green chili, red chili, cumin seeds in a blender and make a smooth batter, neither thick consistency nor thin / running consistency. Add salt, a pinch of turmeric powder and mix well.
Heat mustard oil in a nonstick pan / tawa on medium flame.
Now take one flower, dip in batter, shake off excess batter and finally put on pan. Do this step for rest of the flowers.
Cook for 2 minutes or till crisp on one side. Then flip and cook the other side by drizzling little oil.
Fry until both sides are crisp.
Serve hot with rice, dal combo as it is or just sprinkle some chat masala before serving !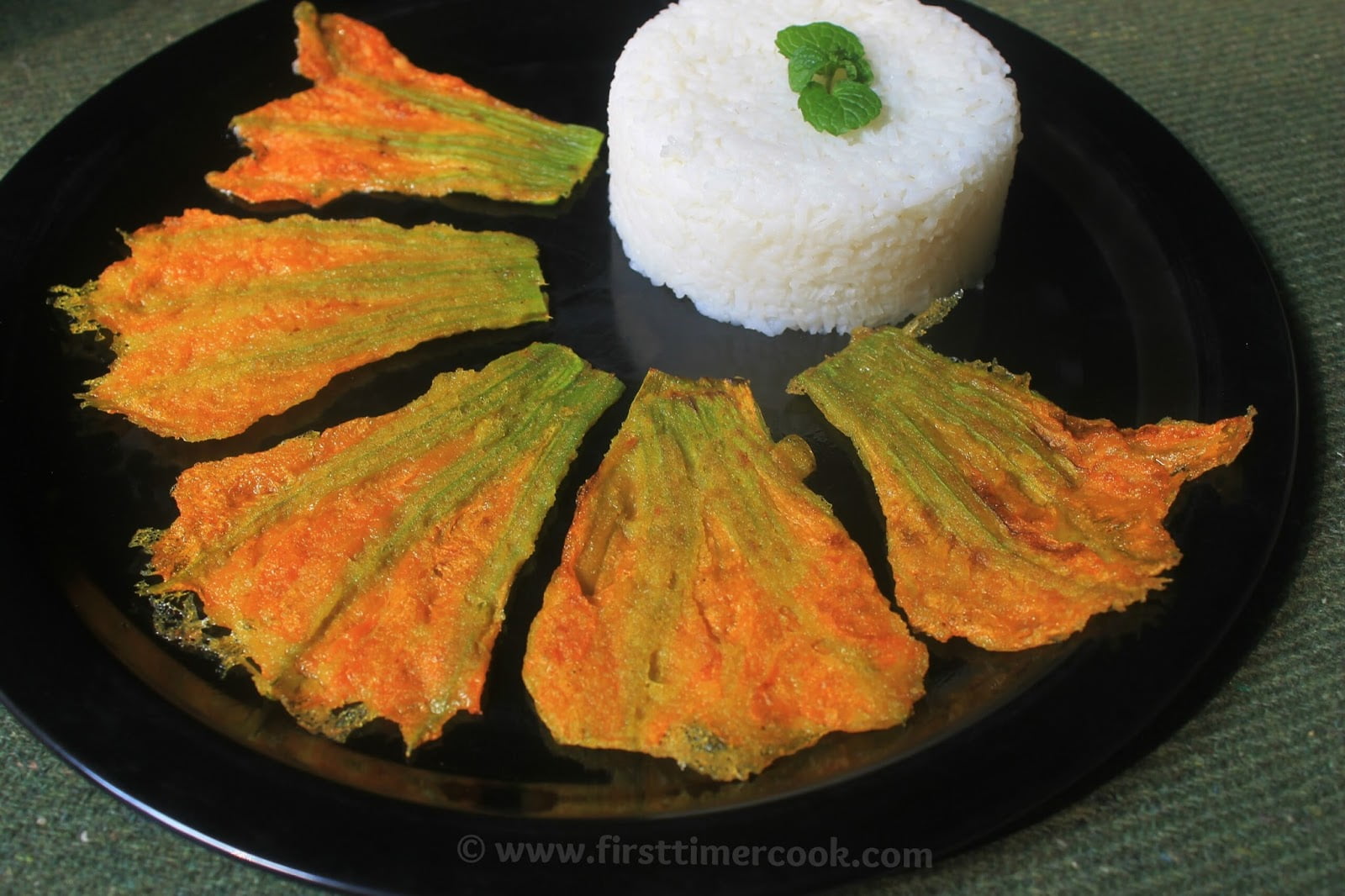 Notes :
If the batter is thick, then the coating around the flower'll thick and all you taste is the batter and hence the exact taste of the flower can't be felt. If the batter is too thin, then there can't be any coating on the flower. So be careful while making the batter, neither thick consistency nor thin / running consistency.
It tastes a great if fried with mustard oil than any other oil.
Wash the lower part which is cut out from the flower, chop finely except the stigma and stalk. If there is any left over batter, then add these chopped parts into the batter. Give a quick stir and put all batter at once on the pan and make a big pancake like structure. Drizzle some mustard oil and shallow fry till both sides become golden brown as well as crisp. This also tastes a great.
Always try to grab these fritters as hot as possible.
Hope you have liked the above recipe 😊. If so, then please don't forget to share it with your friends. You can also keep in touch with me through Facebook, Google Plus, follow my posts on Twitter too. Try this dish at your home and share your experience with me in the comment box below 👇.