I was thinking about making some savoury items in diwali. So I tried my hand in making the kara boondi / spicy boondi. This is most common item in every south indian house during diwali. Kara Boondi is a savoury version of boondi which can be had as such or can be used to prepare boondi raita or any Indian mixture. You can check sweet version of boondi (sweet boondi) also which I posted some days before in my blog. The preparation of kara boondi is very easy except for the batter consistency as it will lead to boondi with tail if the batter consistency is not perfect. With few tips and tricks as mentioned below in details, this recipe'll be easy to prepare at home even if you are a beginner in
making Diwali snacks.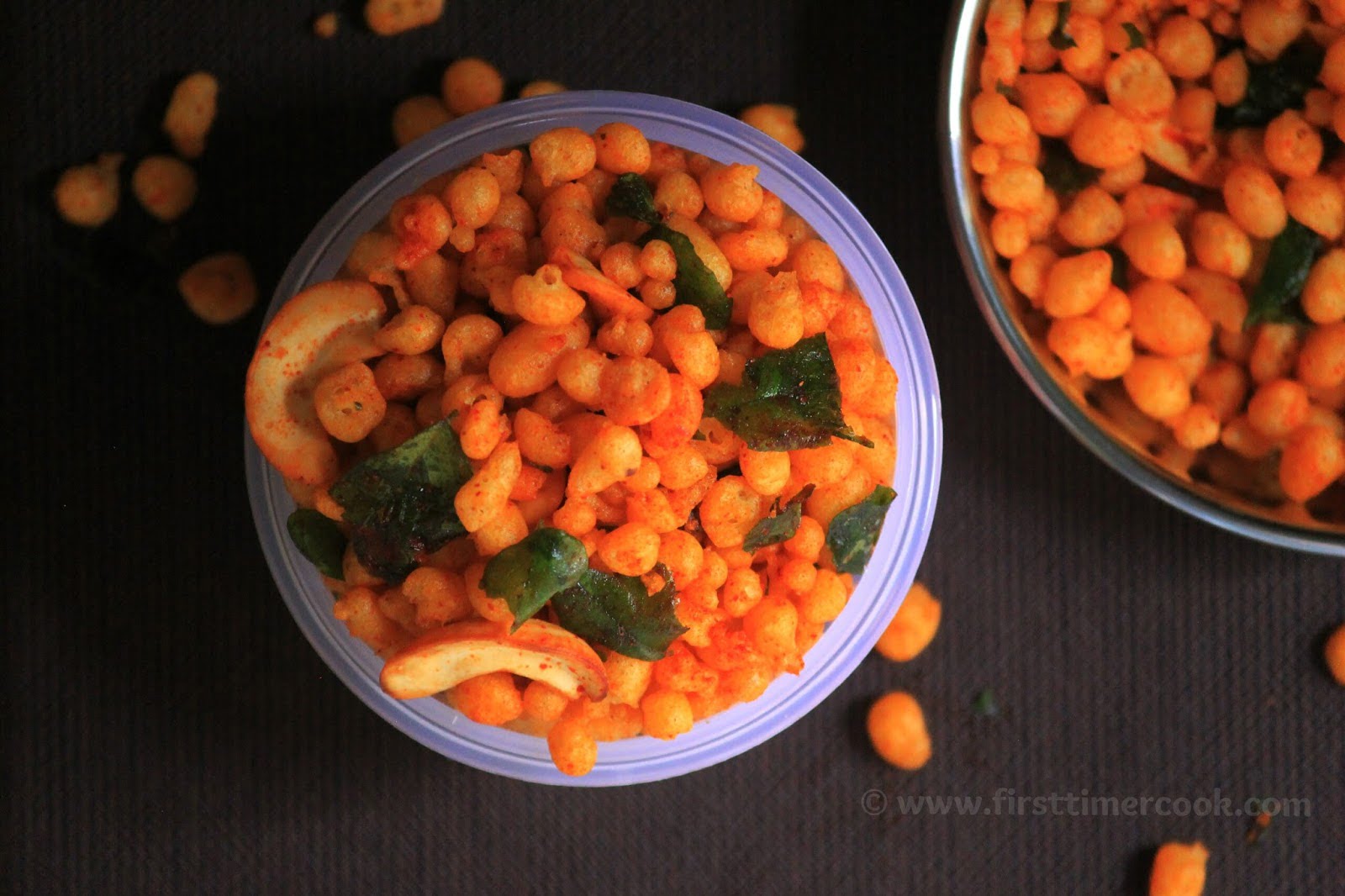 Preparation Time : 10 mins | Cooking Time : 15 mins
​Ingredients :
Ingredients

Measurements

Gram flour (besan)

1 cup

Baking soda

1 pinch

Red
chili powder

½ tsp

Curry leaves

1 sprig

Cashews (small broken pieces)

2 tbsp

Oil

For deep frying

Water

½ cup

Salt

As needed
​
Method :
Take gram flour / besan in a sifter and sieve it.
In a mixing bowl, mix gram flour, baking soda with water. The batter should be little thick, a bit thinner than normal bajji batter.
2 slotted ladles are needed for making boondi as one for making the boondi and another for draining them from oil.
Now heat oil for deep frying. Oil should be moderately hot. To test the oil drop a pea size batter in the oil, batter should rise immediately without changing color which means oil is ready for frying boondi.
Now hold one slotted ladle just over oil (neither too low nor too high). Use another deep ladle to pour batter over slotted ladle. Pour one ladle full of batter over the slotted ladle and spread in a circular motion by the back of the deep ladle. The batter will fall drop by drop.
Fry them till little crispy. Drain and place them on a paper towel to absorb excess oil.
Repeat the process with rest batter.
Now heat 1 tsp of oil in another pan. Fry cashews till golden, add curry leaves and saute till crispy.
Add red chili powder and salt. Mix well.
Turn off heat. Add fried boondi and mix well everything.
Now kara or spicy boondi is ready & store them in an airtight container !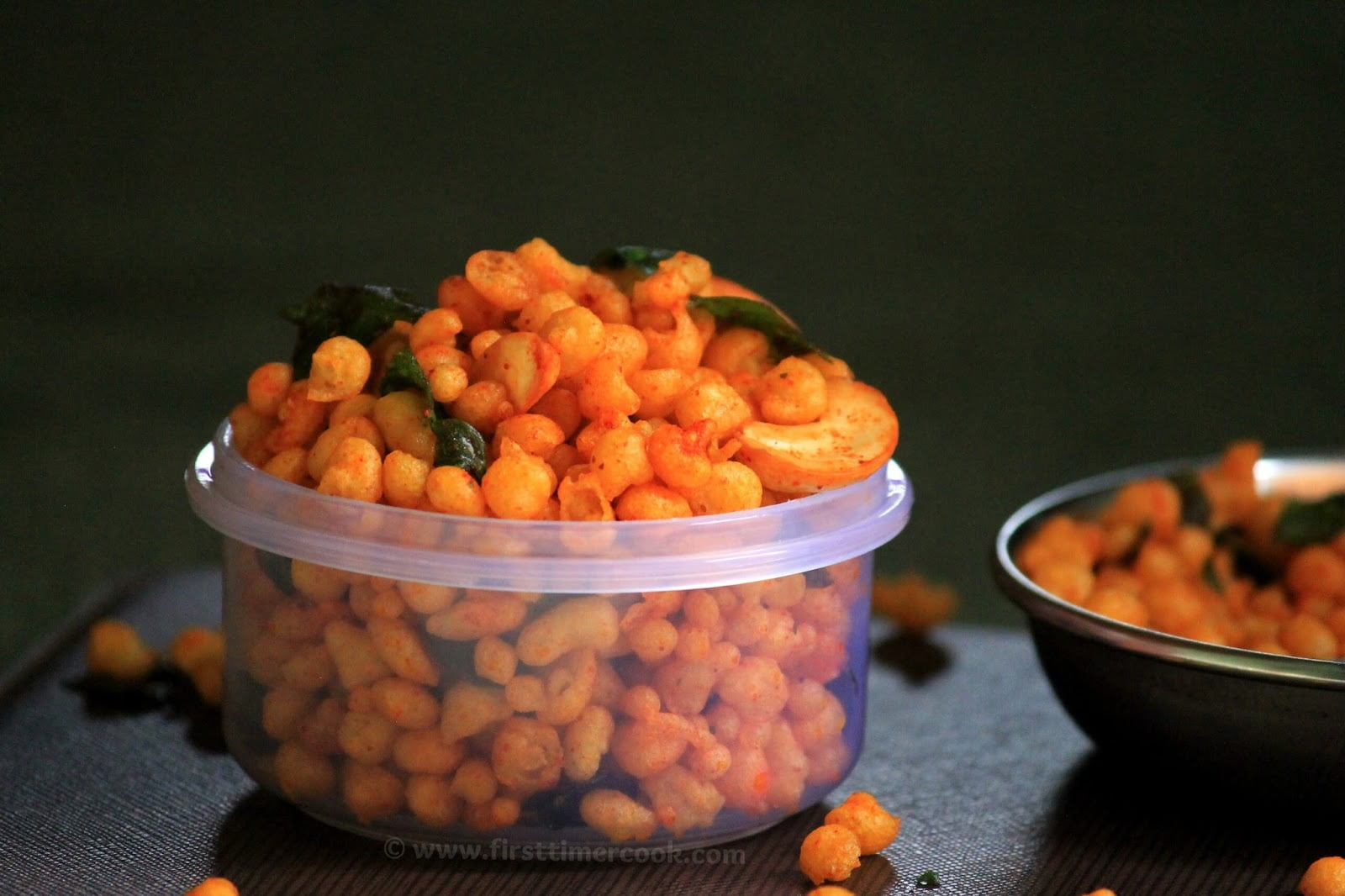 Notes :
Make the batter perfectly, then only round boondi will form. If the batter is too thick, then boondi will form with tail. If the batter is too thin / watery, then boondi may fall flat. So make accordingly & be very careful while adding water.
Hold the slotted ladle over hot oil well (neither too low nor too high), otherwise boondi will form with tail too.
Rice flour can be added in place of baking soda. Use 4 tbsp of rice flour.
Hope you have liked the above recipe 😊. If so, then please don't forget to share it with your friends. You can also keep in touch with me through Facebook, Google Plus, follow my posts on Twitter too. Try this dish at your home and share your experience with me in the comment box below 👇.