Christmas special perfectly spiced eggless cookies using wheat flour which are soft in the centers, crisp on the edges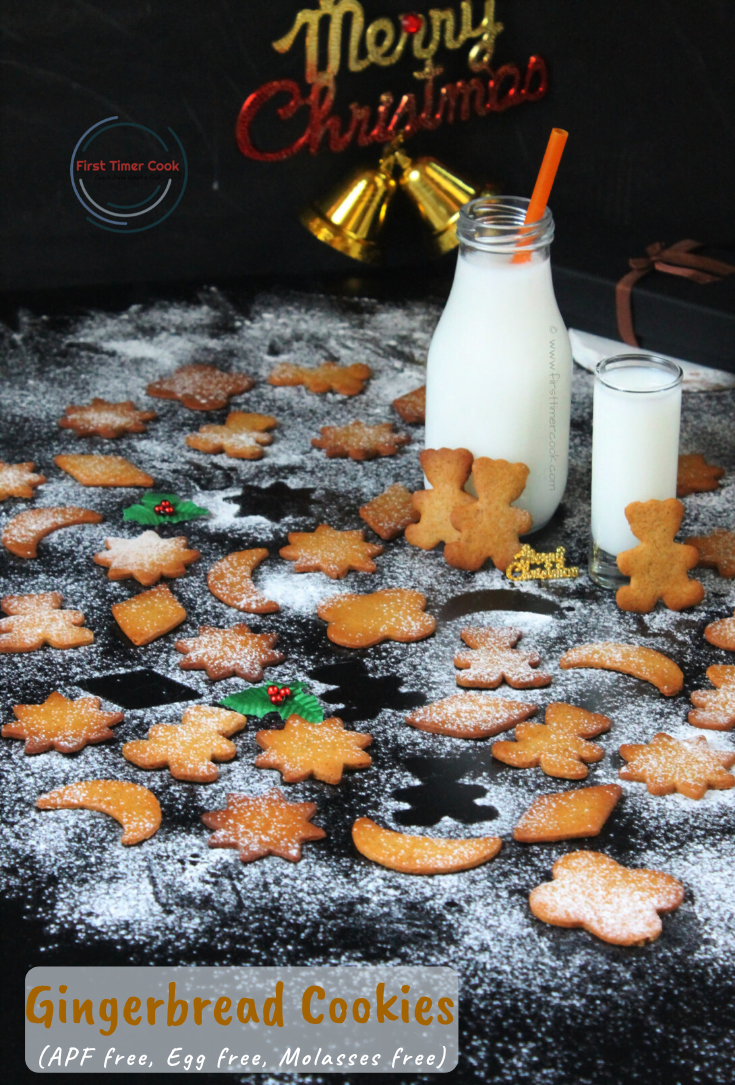 Christmas is a religious holiday celebrating the birth of Jesus as well as a cultural and commercial event. And this year ending celebration is only 4 days to go !! It is the most wonderful time of the year to gather the ones we love near and spread cheer with the most decadent, indulgent and unforgettable meals and sweet treats. Everyone is geared up to enjoy with own Christmas traditions starting from the humble Christmas cake to cookies to lots more.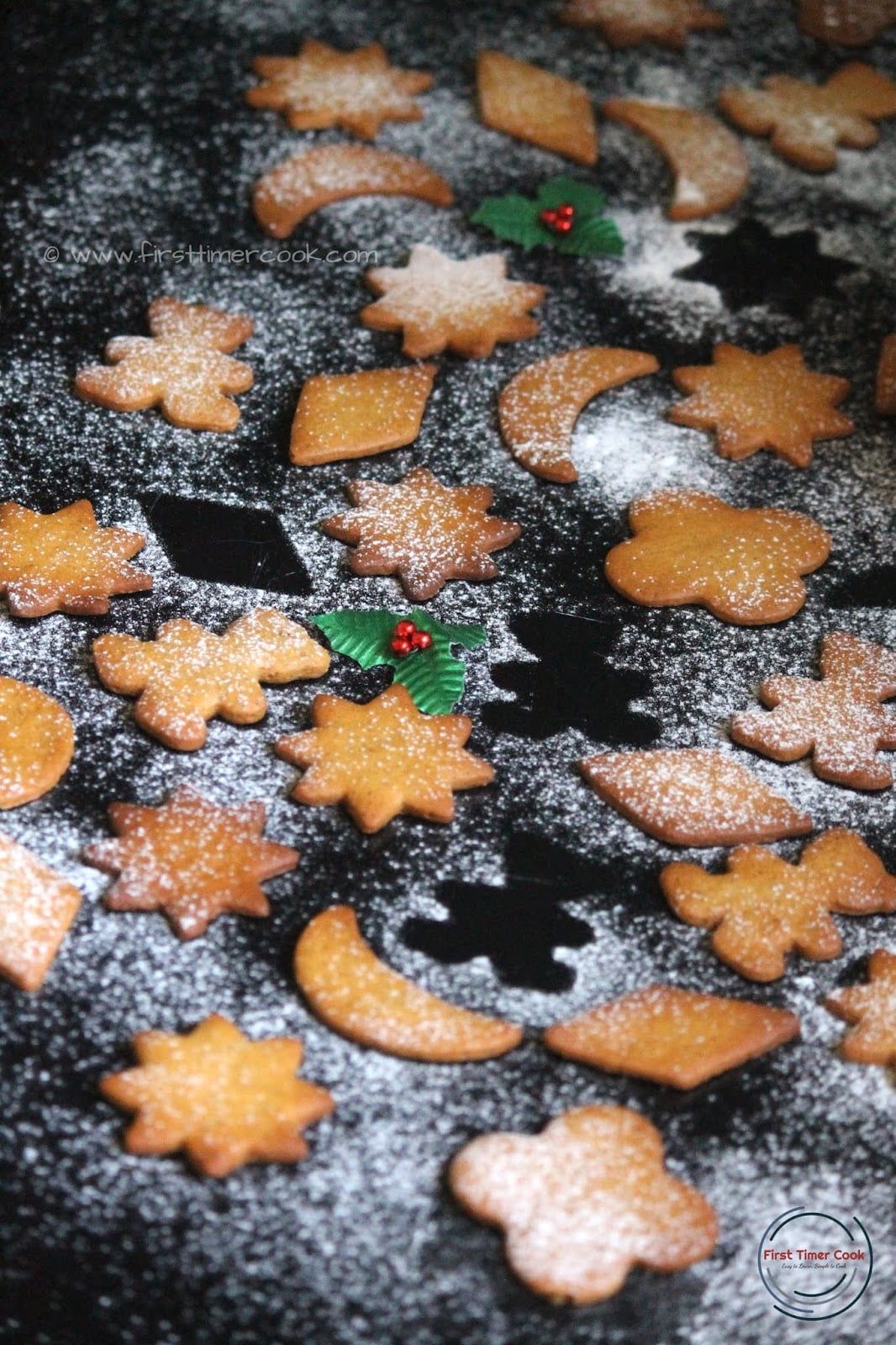 Recently in my previous post, I have shared a Swedish Christmas special baked dish as Saffron Sweet bun aka Lussebulle / Lussekatt. Those are completely vegan buns that are flavored with saffrons and dotted with raisins with the reversed 'S' shape. One can try also these :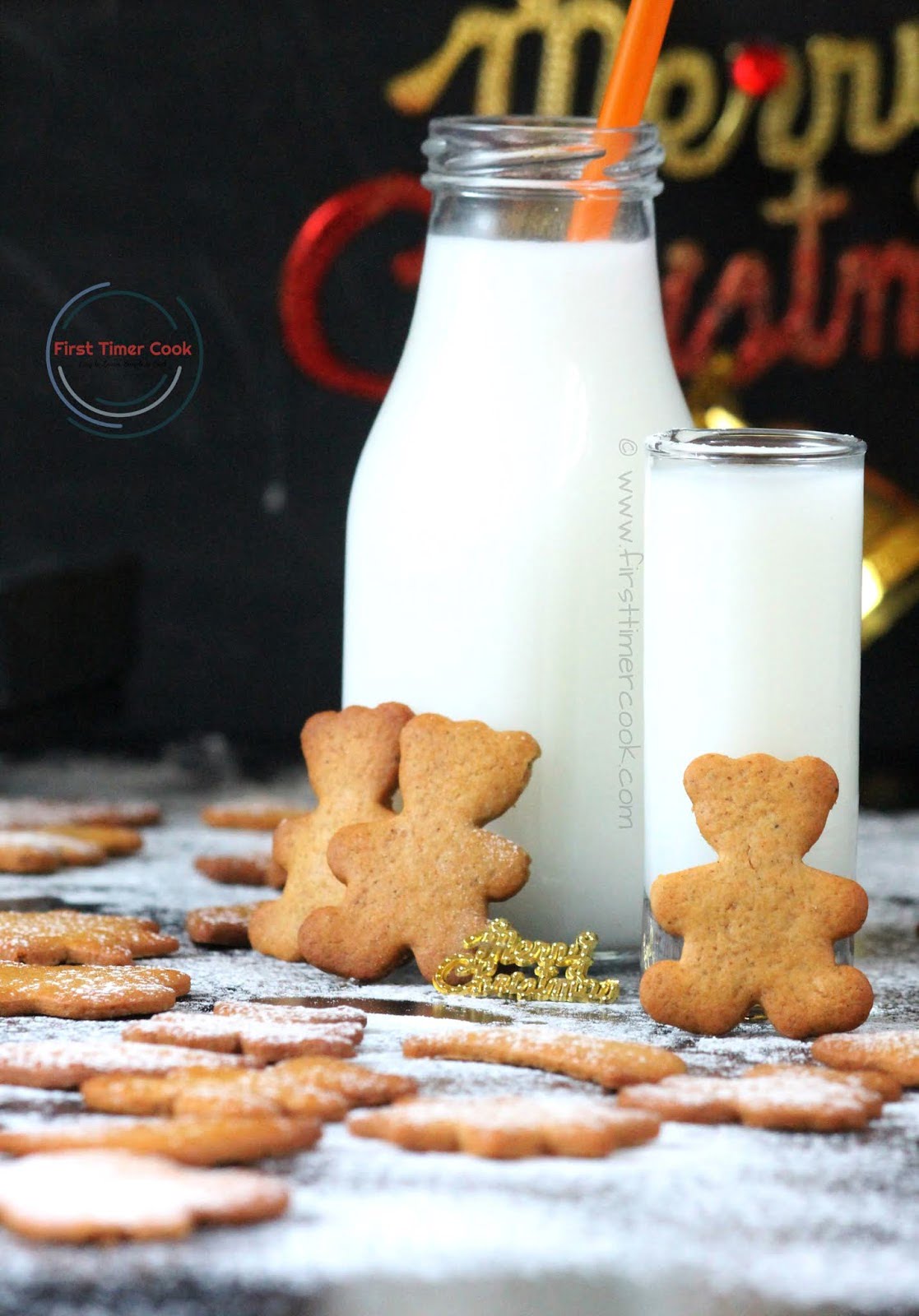 Although every year the gingerbread cookies I make during this period of the year, Still I have not added in my blog 😀 So today's post is all about that. Christmas seems incomplete without a big batch of gingerbread dishes at my place. We enjoyed this in many ways like cake, biscotti, cookies, drinks, etc. I have already shared the Gingerbread Biscotties on my blog last year on Christmas. Molasses, one of the main ingredient of gingerbread is not available at my place most of the time, so I always prefer to use either honey or jaggery syrup in these baked goodies. In these gingerbread biscottis I had used jaggery syrup and in today's post for gingerbread cookies, I am using honey.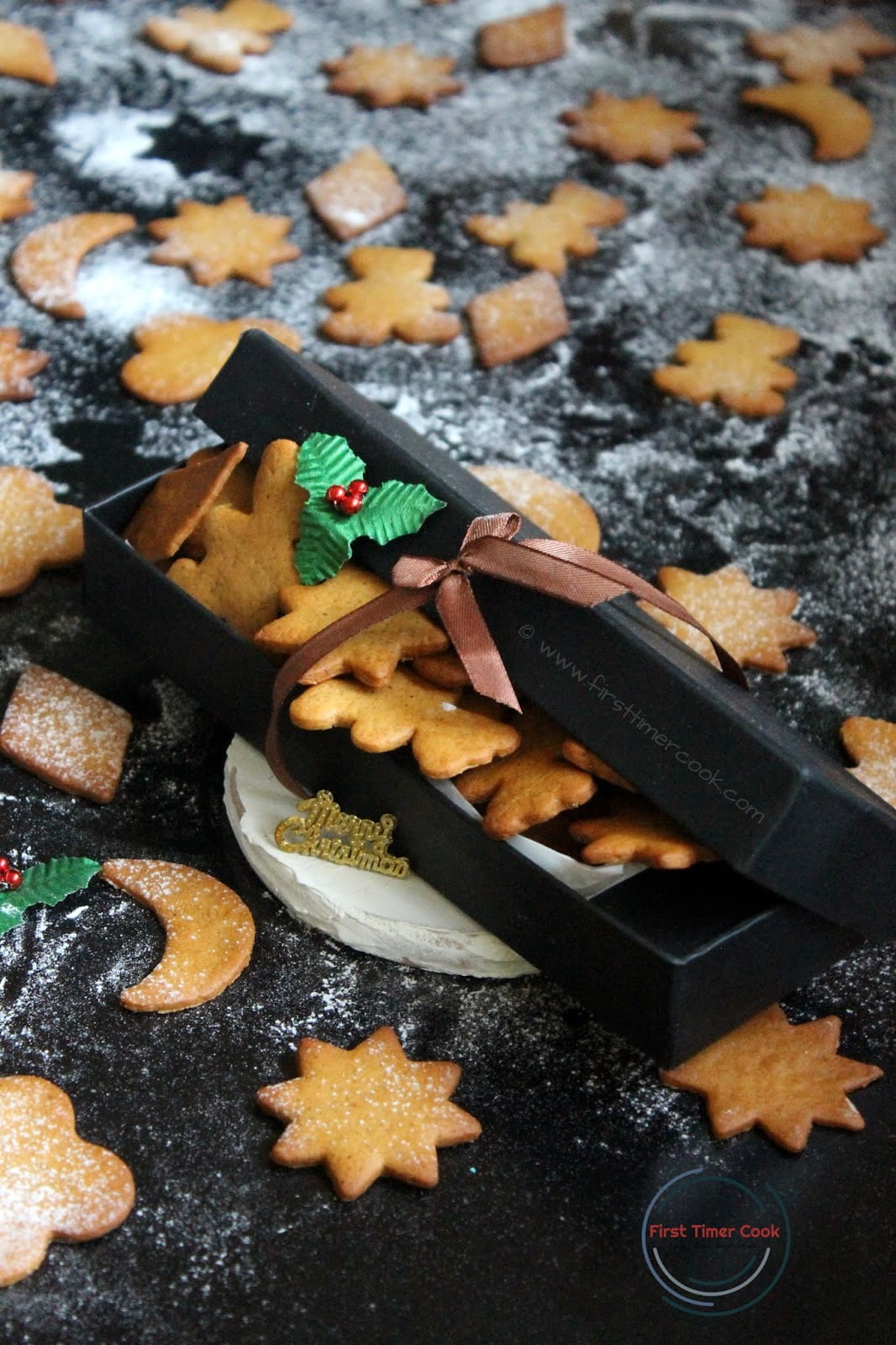 Basically, the recipe is quite easy, simple and one of the most popular Christmas cookies during this time of year all over the world. The spices used here gives the cookies a nice flavor and particularly during the baking, the aroma is just amazing !! The chilling part of the dough is fully recommended, else while baking the cookies will start to spread and the exact shape will vanish. Keeping a healthy note, I have used wheat flour instead of all-purpose flour/maida. In spices, mainly powder of cinnamon, dry ginger, nutmeg, and cloves are used. After baking the cookies, I love to have these as it is and my boy love to have with a glass of milk. But one can go for decorating these. The decorating part can be using quick powdered sugar icing, royal icing, or any other kind of frosting as per choice. The cookies are slightly crisp on the edges but the centers are soft and chewy. So do prepare these Christmas beauties as the celebration time is coming so fast!
: Recipe Card :

Gingerbread Cookies (Egg free, APF free, Molasses free)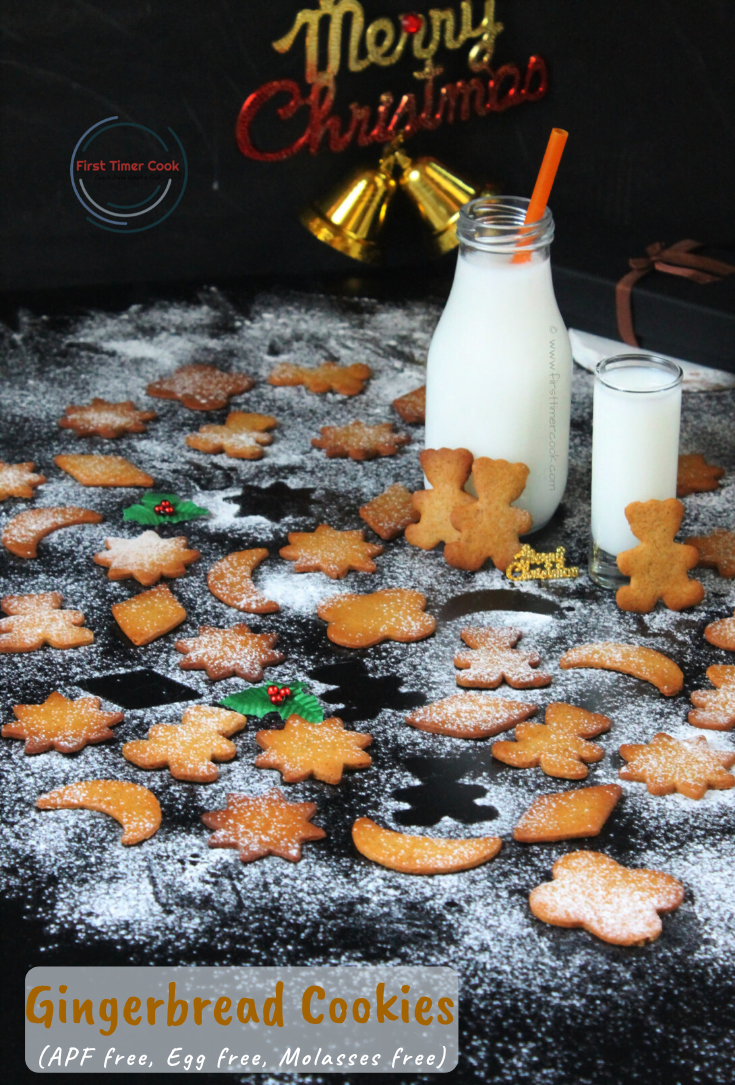 prep time: 10 Mcook time: 10 Mtotal time: 20 M
Christmas special perfectly spiced eggless cookies using wheat flour which are soft in the centers, crisp on the edges
ingredients:
Wheat flour 1 cup + 3 tbsp
Brown Sugar 1/4 cup
Honey 1/4 cup
Butter 1/4 cup
Baking Powder 1/2 tsp
Baking Soda 1/2 tsp
Salt 1/4 tsp
Dry ginger Powder 1 tsp
Cinnamon Powder 1/2 tsp
Nutmeg Powder 1/2 tsp
instructions:
How to cook Gingerbread Cookies (Egg free, APF free, Molasses free)
In a mixing bowl first take butter, brown sugar and mix well till a creamy smooth texture.
Then add honey and mix again.
Sieve wheat flour, baking soda, baking powder, dry ginger powder, cinnamon powder, nutmeg powder, salt and add to the butter-sugar mixture.
Mix everything to get a smooth and soft (little sticky type) dough.
Wrap the dough and keep it in the refrigerator to firm for at least 2 hours or overnight.
Then take it out from the refrigerator and let it stand for 5 minutes at room temperature so that it softens slightly and becomes easy to roll.
Meanwhile preheat the oven to 180 deg C.
Divide the dough into two parts first.
Place parchment paper on a work surface and put one part of the dough.
Cover the dough with another parchment paper and start to roll out the dough to a thickness of about ¼ inch.
Now peel the top parchment paper and using any cookie cutter, cut out the cookies.
With the help of a flat spatula, transfer the cookies onto a baking tray lined with parchment paper keeping about 1-inch space in between.
Collect all the scrapes after cutting with the cookie-cutter, shape into a dough, roll, and cut again in the above-mentioned steps.
If the baking tray is full, then put the tray in the oven and bake for 9-10 minutes.
Transfer to a wire rack and allow to cool.
Similarly, make cookies from rest dough.
After cooling to room temperature, decorate the cookies using icing if desired else store these gingerbread cookies in an air-tight container to serve later!
NOTES:
The dough will be a little sticky kind. If it is too sticky, then add a little amount of flour (add first 1 tbsp flour and more if needed). If it is too tight, then sprinkle a little amount of water at a time.
I have used honey here. One can use molasses or jaggery syrup instead of that.
Use salt if the butter used here is not a salty.
Wheat flour, No molasses, Honey, Christmas special, Baking time, Eggfree cookies, Brown sugar, Cinnamon, Nutmeg, Dry ginger
Baking, Christmas, Gingerbread cookies, Egg-free, Cookie
International
Did you make this recipe?
Tag @firsttimercook on instagram and hashtag it #firsttimercook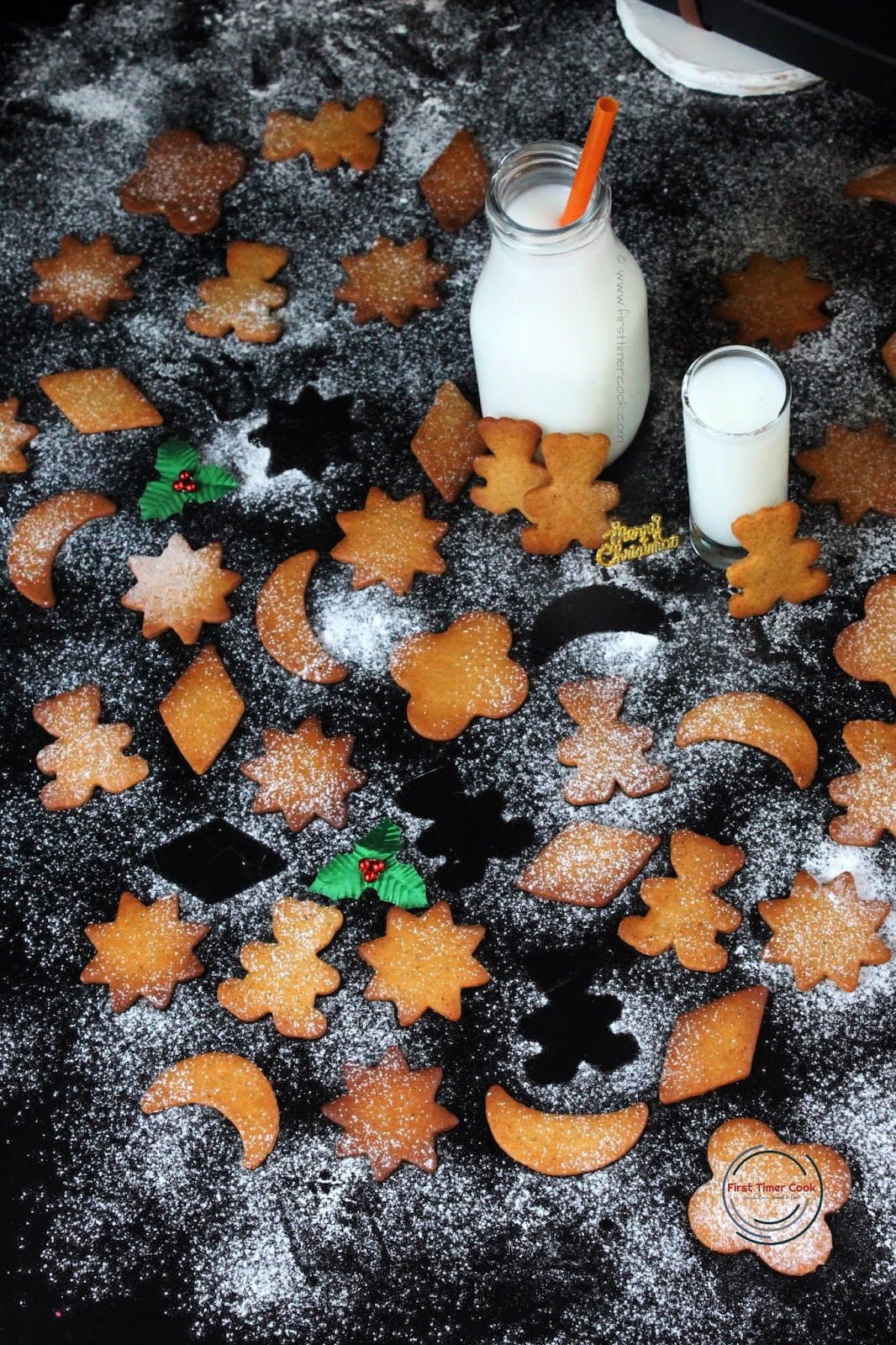 You may also follow me on Facebook, Pinterest, Twitter, Google+, Instagram and can subscribe for free to get new recipes directly into your inbox 😊
PIN for later :