a protein packed Mexican dish using tortilla & red kidney bean aka rajma with Indian touch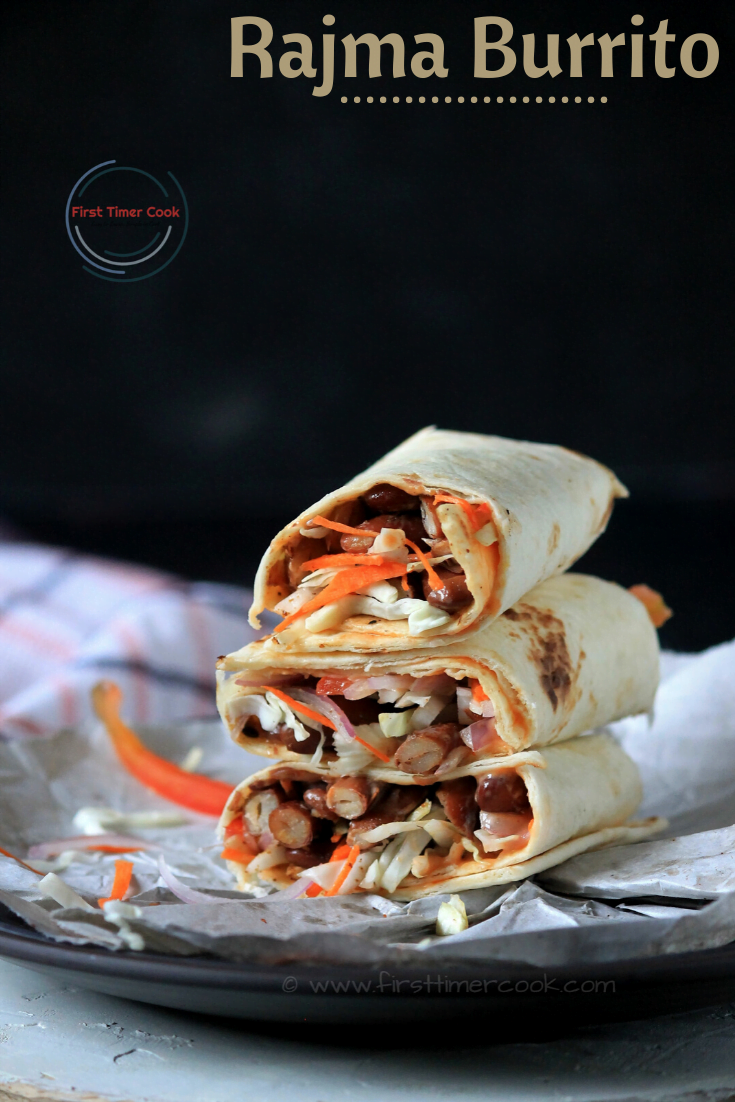 What is Kidney beans (red colored) aka Rajma ?
The name of this lentil is due to the visual resemblance in shape and color to a kidney. The red varieties of this kidney beans are called as Rajma in Hindi and mostly used in India although there are other variety of colors and patterns including white, cream, black, red, purple, spotted, striped and mottled. These are a major source of plant based protein and pack a number of health benefits. These are also rich in various minerals, vitamins, fibers, antioxidants and other unique plant compounds. Therefore these beans can aid weight loss, promote colon health, moderate blood sugar levels.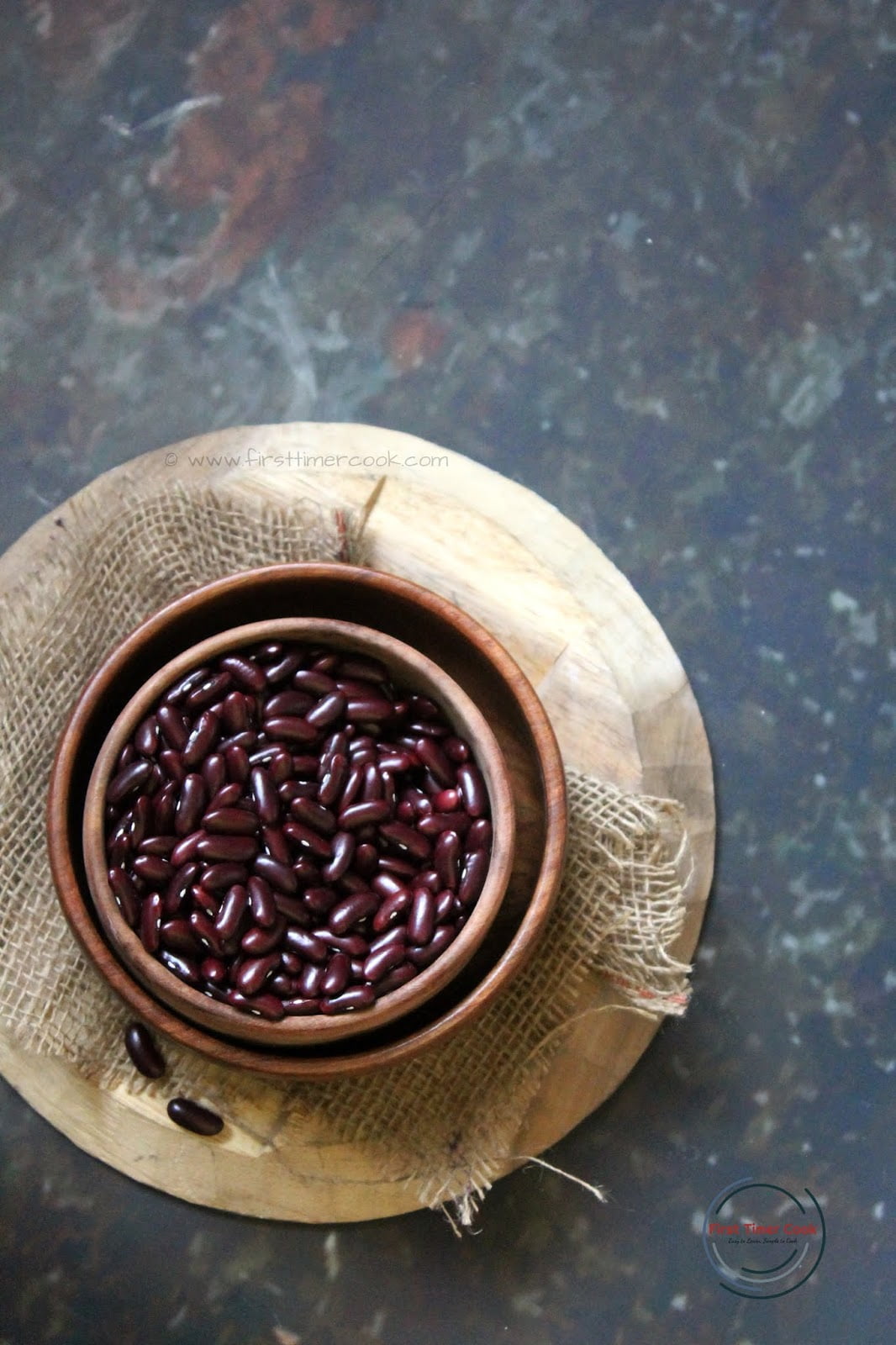 What type of dishes one can make using these beans ?
For an Indian, Rajma masala gravy with onion-tomato masala is one of the most comfort food. Along with a bowl of steamed rice this is a great combo. Apart from this one can make soup, snacks using these red kidney beans. Today's recipe is a Mexican dish using rajma as Rajma Burrito or Red Kidney Bean Burrito.
Burrito means :
These are the tortilla wraps with a filling from Mexican cuisine. Burritos are quick and easy tummy satisfying option which comes in a handy wrap.
Rajma Burrito in details :
Here the wrap is the wheat flour tortilla. I have used the store bought ones. The filling is a mixture of red kidney beans with some Indian spice powders. The tortilla is first smeared with some mayonnaise, tomato sauce and then the rajma mixture is placed in the center of the tortilla. Finally some shredded veggies like carrot, cabbage, tomato, onions are topped and then the tortilla is rolled into a cylindrical shape. After that one can serve it as it is or by cutting into halves. Even also after rolling the tortilla can be lightly grilled to soften a bit. I prefer to slightly warm both the sides of the tortilla before just before using for wrap. Particularly the spreads here one can use as desired.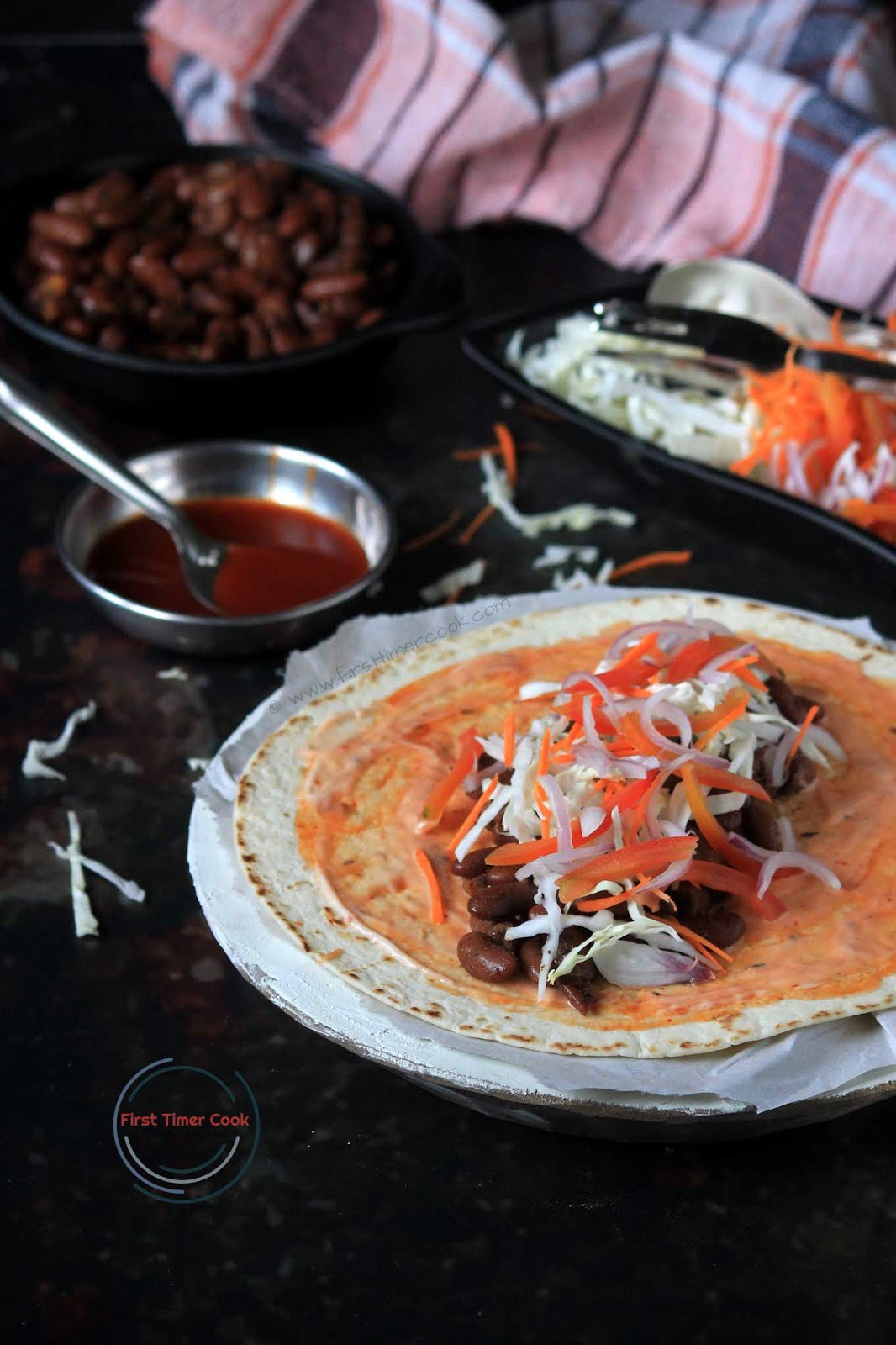 Serving suggestion :
These wraps are so nutritious with the goodness of rajma or red kidney beans inside. For kids lunch box or as an after school snack these are so perfect to satisfy them. Also while in a hurry this rajma wrap is so quick to assemble and have as a lip smacking breakfast or snack. So do try this protein packed Mexican dish with Indian touch !
The event related to this post :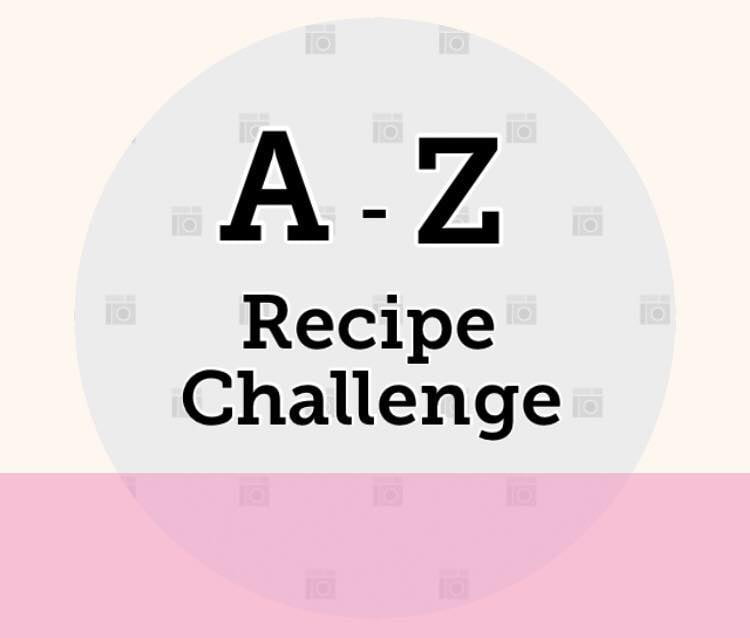 Well for current month the event 'A to Z Recipe Challenge' has come up with the alphabet 'K'. That means, there must be a recipe post having the main ingredient name starting with alphabet K. So I opted K for 'Kidney Bean' and have prepared Kidney bean Burrito / Rajma Burrito.
: Recipe Card :

Rajma Burrito / Red Kidney Bean Burrito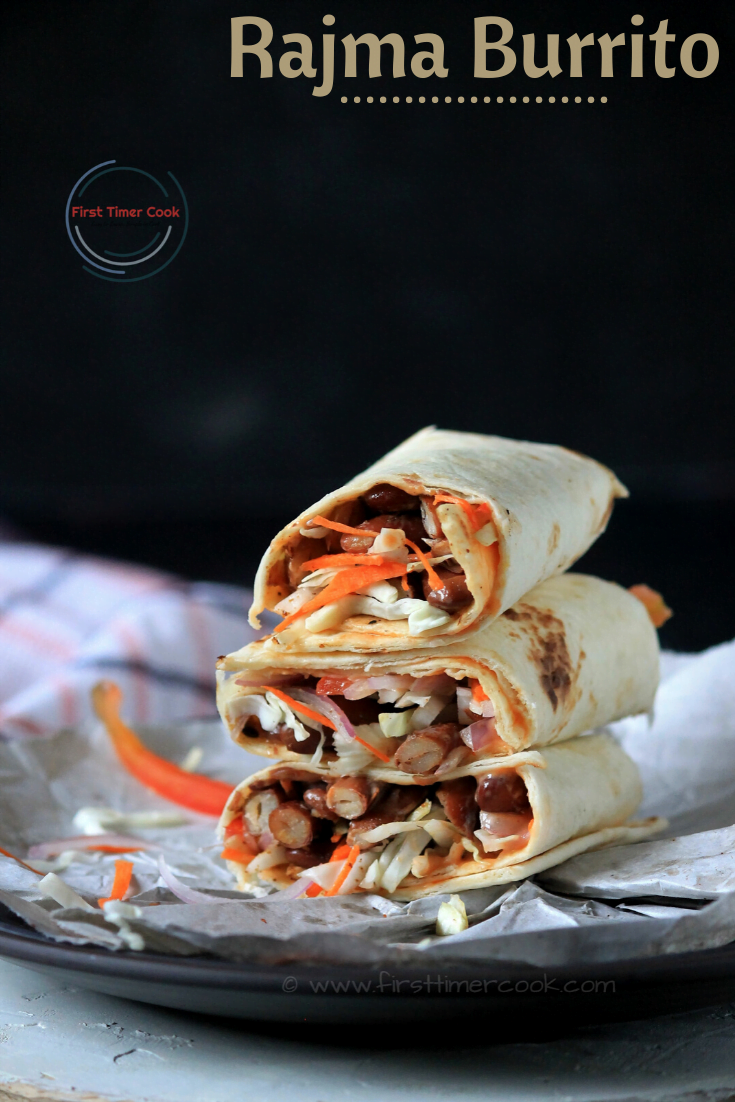 prep time: 15 Mcook time: 10 Mtotal time: 25 M
a protein packed Mexican dish using tortilla & red kidney bean aka rajma with Indian touch
ingredients:
Whole wheat tortilla 2-3 no.
Kidney beans (rajma) (boiled) 1 cup
Ginger garlic paste 1 tsp
Turmeric powder 1/2 tsp
Red chili powder 1 tsp
Coriander powder 1 tbsp
Onion (finely sliced) few
Cabbage (finely chopped) few
Carrot (finely shredded) few
Tomato (finely sliced) few
Tomato sauce for spreading
Mayonnaise for spreading
Salt as needed
Oil 2 tsp
instructions:
How to cook Rajma Burrito / Red Kidney Bean Burrito
Heat oil in a pan.
Add ginger garlic paste and saute for few seconds.
Next add turmeric powder, coriander powder, red chili powder and saute over low flame for few seconds.
Then add all the boiled rajma, salt and mix well.
Sprinkle 1 tbsp of water and cook over a low-medium flame for 2-3 minutes, stirring in between.
Turn off heat and keep aside the mixture to cool.
At the time of serving, heat a flat pan.
Place a tortilla over the pan and warm up from both sides.
Transfer to a plate.
Spread mayonnaise and tomato sauce evenly over the tortilla.
Put 2-3 tbsp of the rajma mixture in the middle, top it with the chopped onion-carrot-tomato-cabbage.
Then roll the tortilla tightly and serve as it is or by cutting into two halves.
NOTES:
The spreads and sauces in this rajma burritos can be of different flavor as desired.
Rajma, Red kidney beans, Mexican snack, Vegetarian Snack,
Snack, Burrito, Vegetarian,
Mexican
Did you make this recipe?
Tag @firsttimercook on instagram and hashtag it #firsttimercook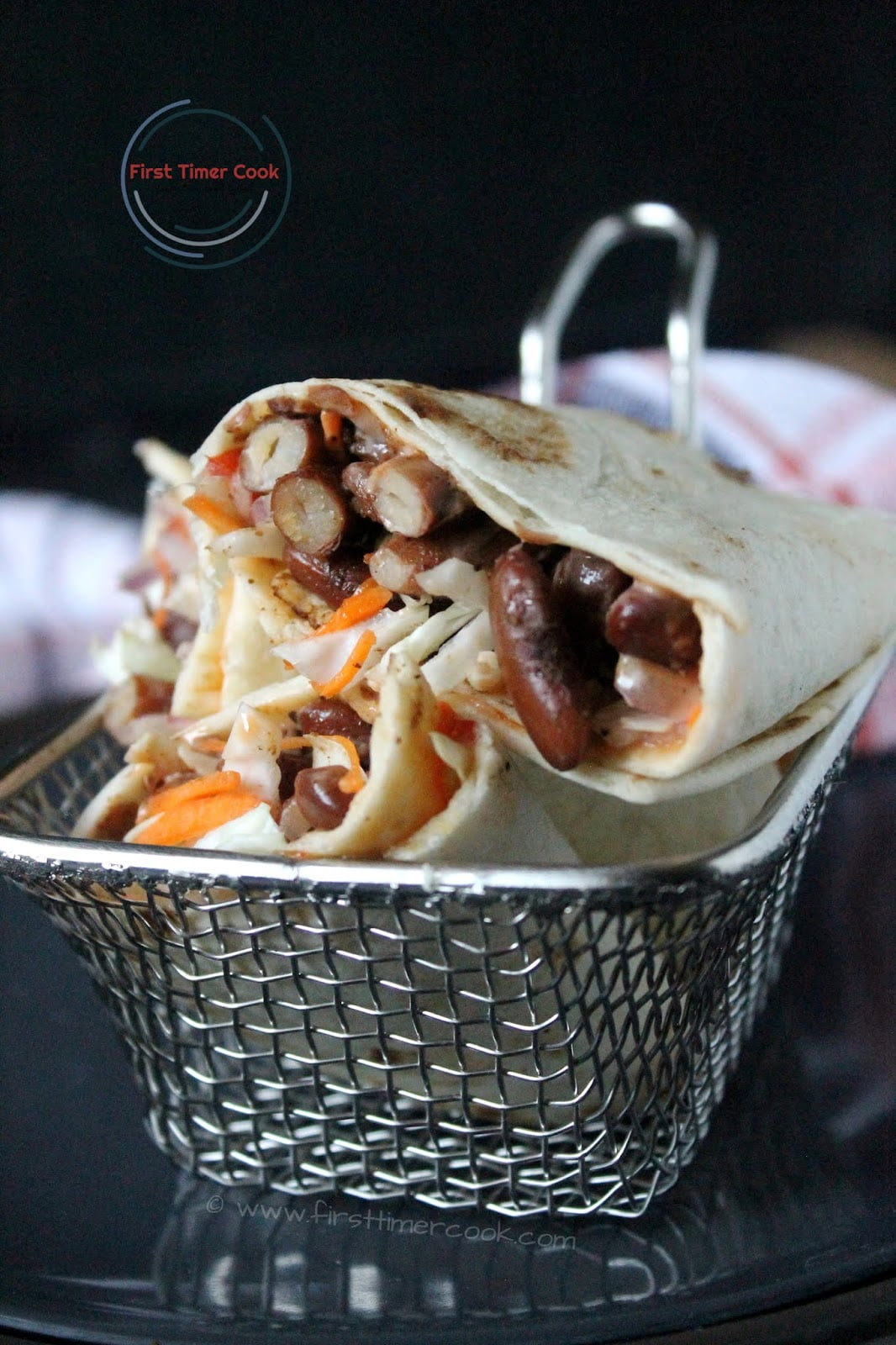 You may also follow me on Facebook, Pinterest, Twitter, Google+, Instagram and can subscribe for free to get new recipes directly into your inbox 😊

PIN for later :