We are now well and truly into winter season. The temperature has dropped, the days are shorter and yes, suddenly salad does not seem like such an appealing one 😉 Now it's time to bring on some soup ! Soup is very commonly made in every household during the winter. It is comforting, easy to prepare and filling too. Soup can warm the chill of a cool winter day and fill your kitchen with an inviting aroma.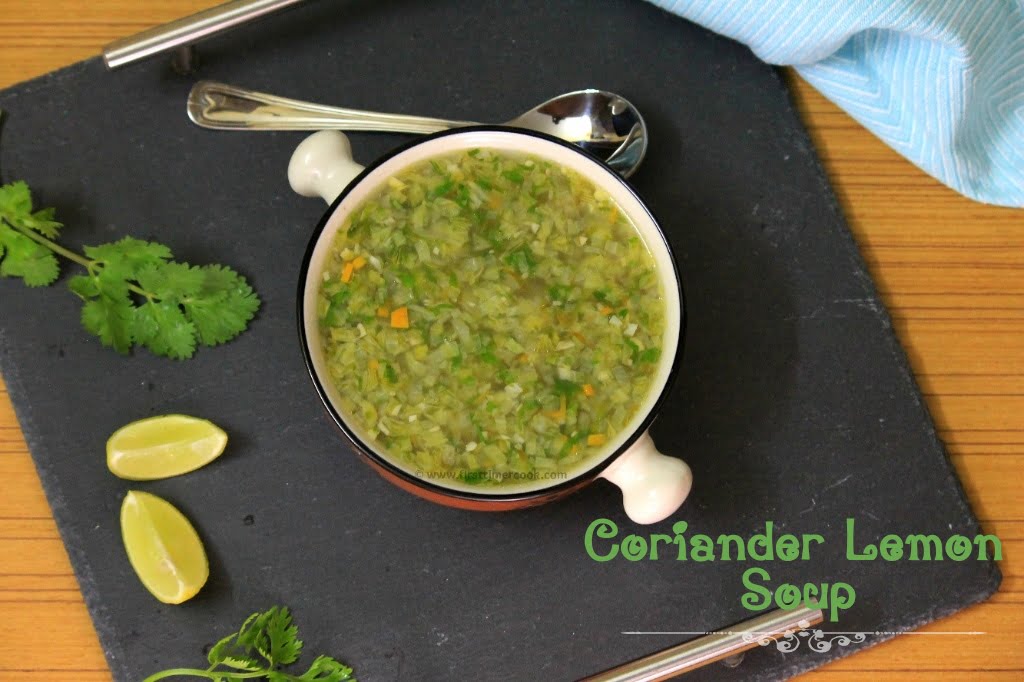 The most healthful, nutritional soup uses a basic stock, a lean protein source (lean meat, fish or legume) and a variety of vegetables. You may surprise to know that not only soups are a great option nutritionally, but certain types of soup have also been proven to help in weight loss. In particular, vegetable based soups are nutritionally great as we can get lots of key nutrients including vitamins and minerals for relatively few calories. Mainly homemade soups are the best option. As a result we can control the type and amount of vegetables that we use to make our soup as well as choose to use preservative free stocks.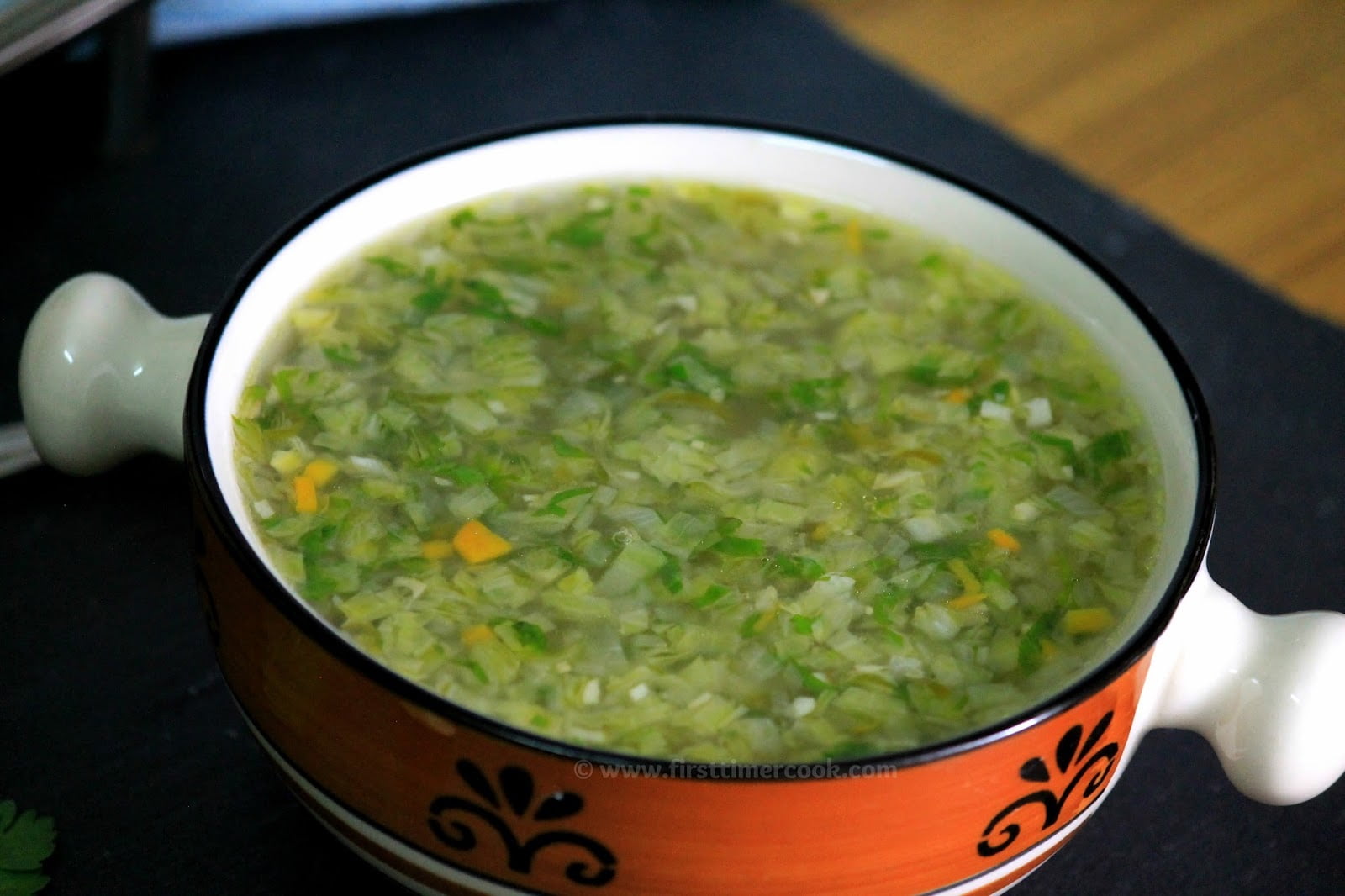 In winter season, we can easily get lots of green vegetables including leafy ones. So how about a soup using some leafy greens !!! yes, I am choosing the coriander leaves along with some tangy flavors from lemon to make a soup as Coriander Lemon Soup. It is very simple with easily available ingredients at home. This soup may look thick or clear. But I have opted for a medium consistency, neither too thick nor as a clear one. Basically this has a tangy flavor which comes from lemon juice and also I have used some finely chopped vegetables like cabbage and carrot. But these additions are totally optional.
The coriander lemon soup is a super healthy soup as it doesn't use any sauces. Only by addition of vegetable stock along with coriander and some nutritious vegetables this soup becomes so refreshing one. This tangy hot soup can be a filling afternoon snack or an entire lunch or light evening meal as well. So enjoy this winter season by preparing this coriander lemon soup to keep your body warm. Below is the step by step method of preparation of this delicious and tangy coriander lemon soup.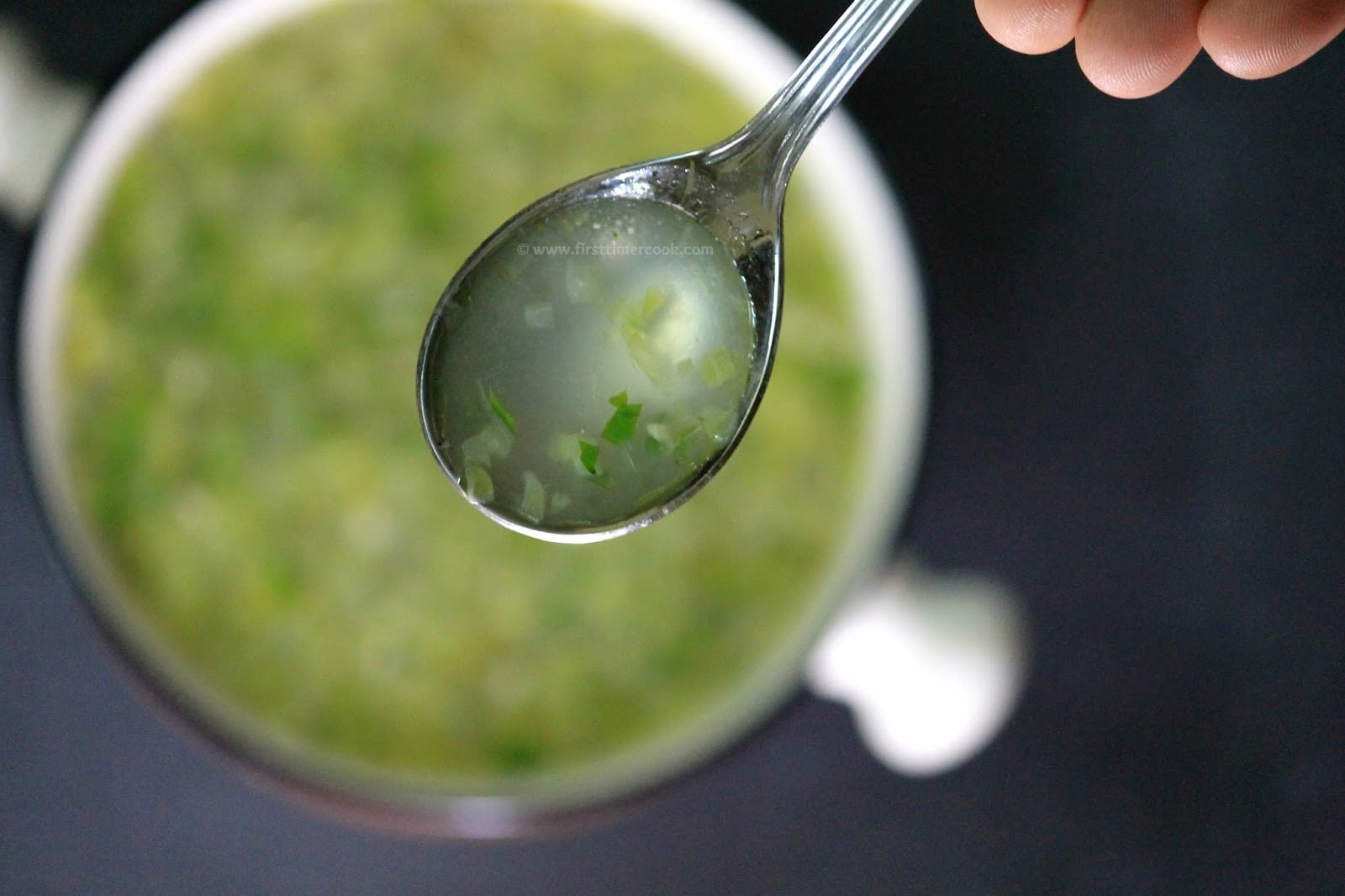 Preparation Time : 10 mins | Cooking Time : 10 mins
Ingredients :
| | |
| --- | --- |
| Ingredients | Measurements |
| Coriander leaves (finely chopped) | 3 tbsp |
| Cabbage (finely chopped) | 2 tbsp |
| Carrot (finely chopped) | 2 tbsp |
| Onion (finely chopped) | 2 tbsp |
| Garlic (finely chopped) | 1 ½ tsp |
| Green chili (finely chopped) | 1 ½ tsp |
| Vegetable stock | 2 ¼ cup |
| Cornflour | 1 ½ tsp |
| Lemon juice | ¾ tbsp |
| Oil | 1 tsp |
| Water | 2 tbsp |
| Salt | As needed |


Method :
In a wok, heat oil over medium heat.
Add chopped green chilies, garlic and saute a bit.
Next add chopped onion and saute till translucent.
Then add finely chopped carrots, cabbage and cook for 1 minute.
Next add 2 tbsp chopped coriander leaves, vegetable stock and salt. Mix everything well and cook for 3-4 minutes, stirring occasionally.
Meanwhile in a small bowl mix cornflour with water well and add to the pan. Keep stirring so that no lumps'll form.
Cook for another 2-3 minutes.
Finally add lemon juice, give a stir and turn off the heat.
Now take rest 1 tbsp chopped coriander leaves in the serving soup bowl, pour the soup over and serve immediately !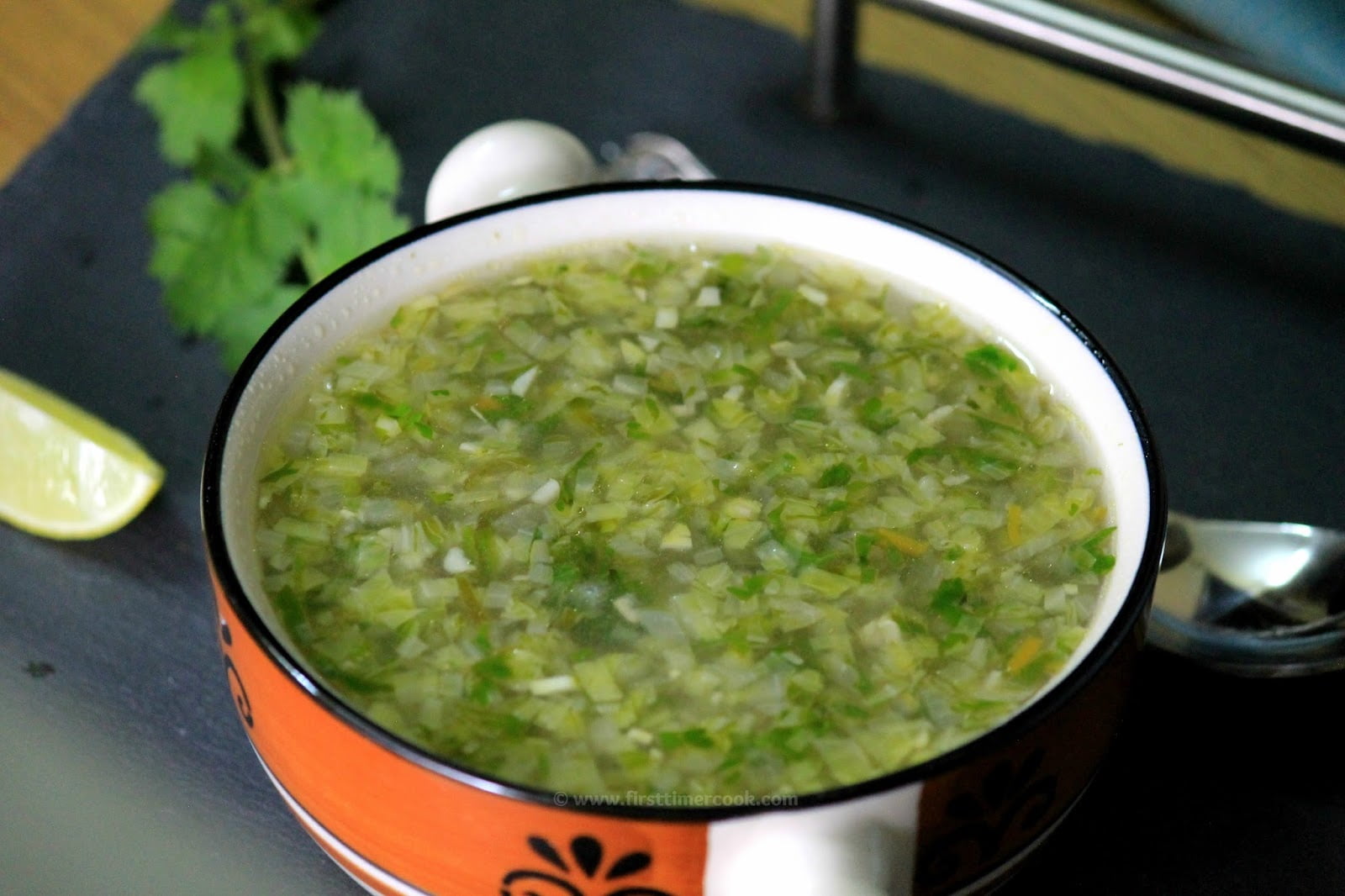 Notes :
Carrot can be omitted.

Depending upon the desired soup consistency, amount of cornflour-water mixture varies. You can also omit the addition of cornflour.
Normal water can be used instead of vegetable stock. If so, then you may add 1/2 tsp pepper powder along with salt.

PIN for later :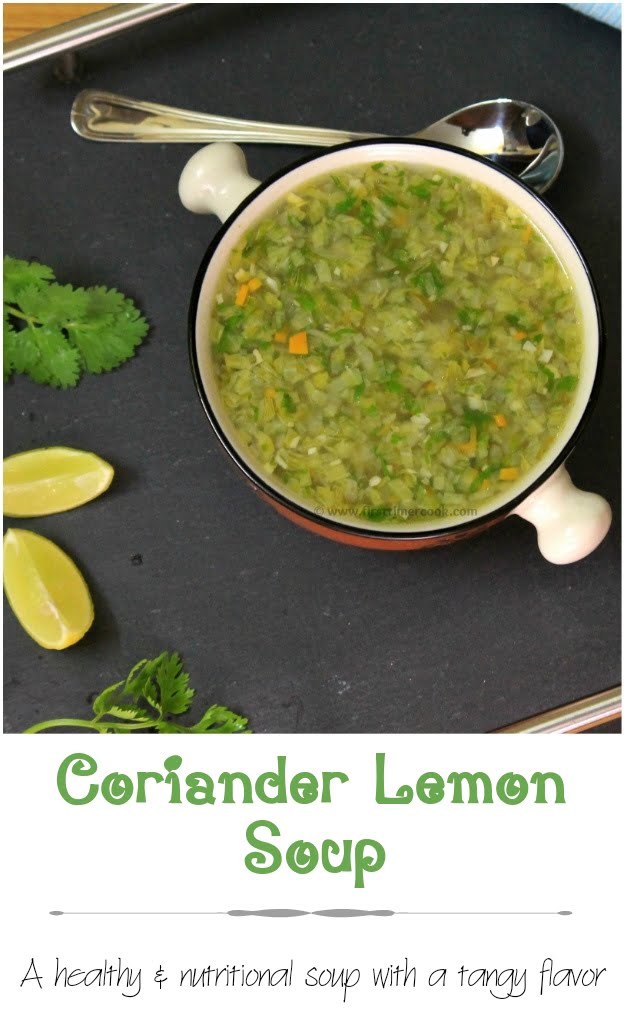 This Coriander Lemon Soup is contributed for 36 Healthy Wellthy Cuisines where the theme is 'Winter Soup'. Here are few more recipes contributed by our members as chicken chili bean soup, vietnamese noodle soup, raw papaya clear soup.