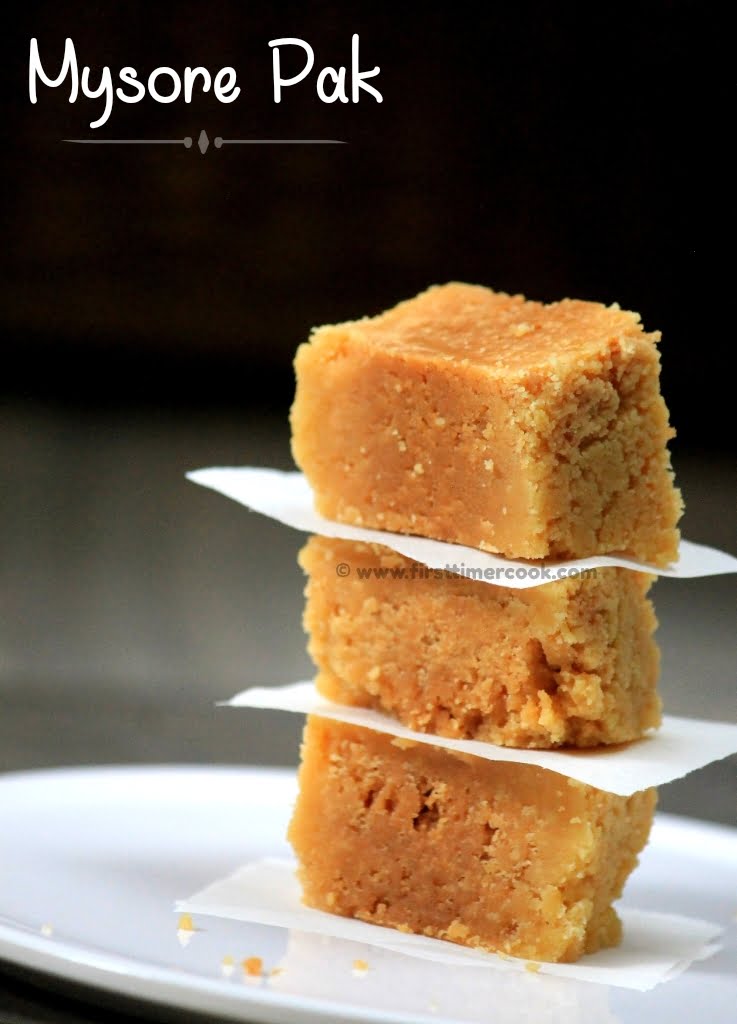 The August month came to an end and as you all know I am belonging to a monthly posting food group named as 'Shhhhh Cooking Secretly Challenge'. This month the challenge was from 'Karnataka Cuisine' and my partner was Priya Satheesh. She gave me 2 secret ingredients as Besan (gram flour) and Turmeric powder and I gave her as Tomato and Jaggery. Check her dish here. As usual, using mine two ingredients I had to prepare a dish from Karnataka cuisine. So I have come up with a royal delight using these two ingredients which is Mysore Pak.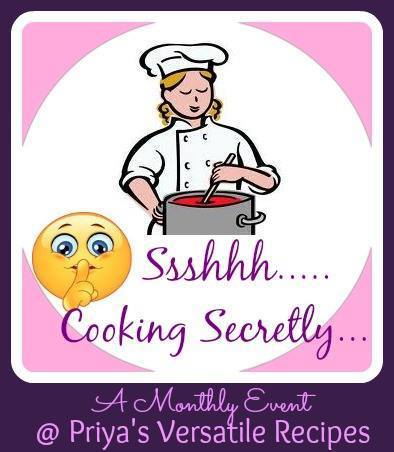 Well the taste, flavor and the ingredients of Karnataka cuisine are very versatile and unique. It is a distinctive combination of different non-vegetarian and vegetarian dishes. Ghee or clarified butter is used in cooking primarily. Some typical dishes include Akki rotti, Ragi rotti, Bisi bele bath, Vangi Bath, Khara Bath, Neer dosa, Rava idli, Mysore masala dosa etc. Also like other cuisine, Karnataka cuisine has a wide range of desserts. Some of the popular sweet dishes are Chiroti, Mysore pak, Puran poli / Obbattu / Holige, Seveyian payasa and many more. Among all, mysore pak is on my to-do list since a long. When the theme for August month was decided and my partner gave me the ingredients then only this dish, Mysore pak came to my mind to jump over.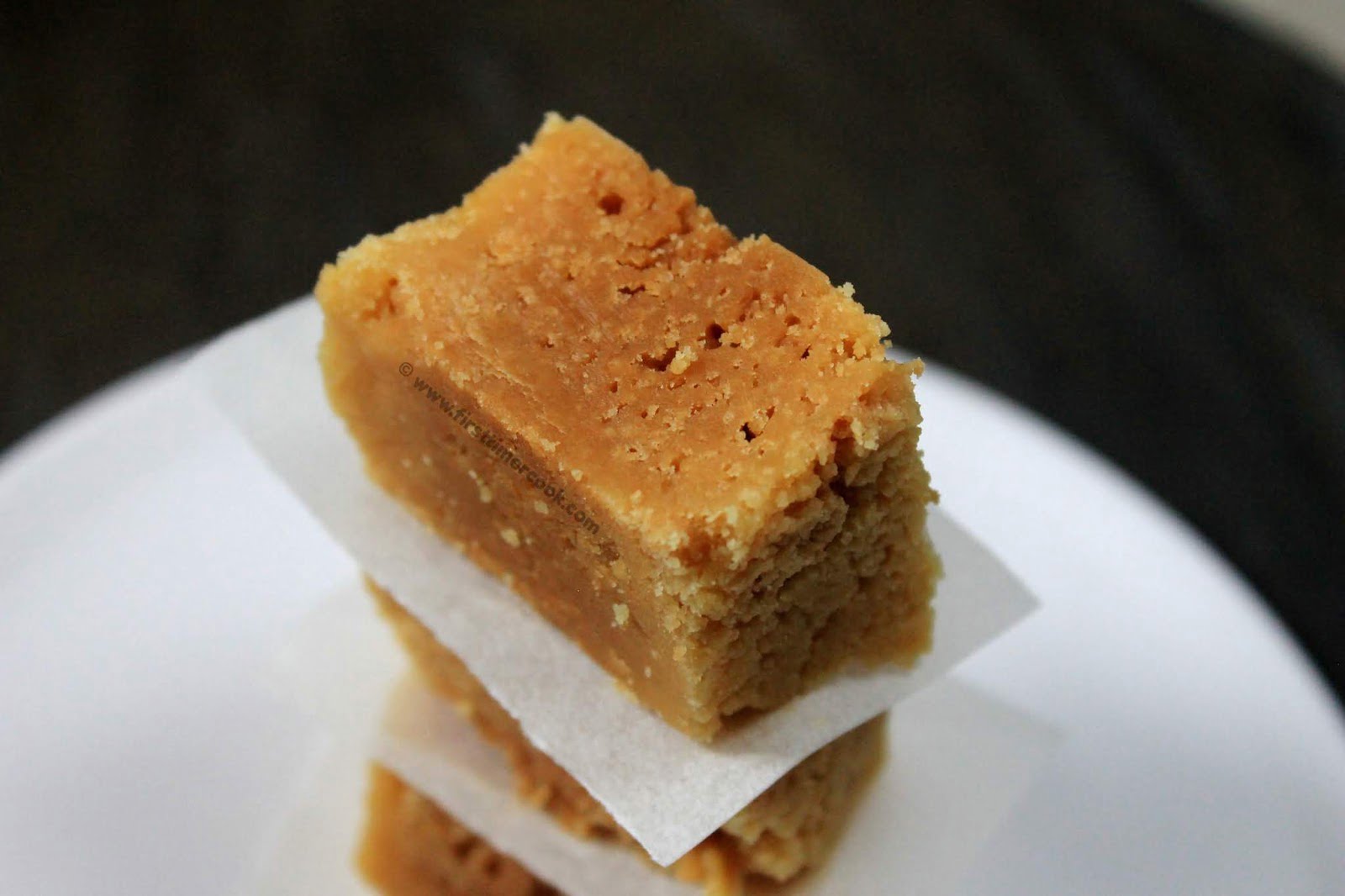 This sweet dish originated in Mysore city of the state of Karnataka in Indian subcontinent. The basic ingredients here are besan / gram flour, sugar and ghee or clarified butter. Though ingredients are only few, but the whole procedure is bit tricky. There is always a fraction of few seconds which has to be carefully handled in each stage. Mysore pak is found in two varieties : one is softer and other is porous and firm. But both forms have mouth melting texture. The ingredients mentioned below'll yield mysore pak pieces with slightly crunchy and porous texture, edges with crumbs. Though this is first originated in royal Mysore palace, day by day this aromatic and delicious sweet dish is becoming the most popular one.
So do try this royal delight Mysore Pak for upcoming festive days. If you tried my recipe and enjoyed fully, then please share some pictures of your creation with me. Also give your valuable feedback either in the comment box below or tag me as #firsttimercook on Instagram. You may also follow me on Facebook, Pinterest, Twitter, Google+, Instagram and can subscribe for free to get new recipes directly into your inbox 😊. Lets go in details.
Preparation Time : 5 mins | Cooking Time : 30 mins
Ingredients :
| | |
| --- | --- |
| Ingredients | Measurements |
| Gram flour (besan) | 1 cup |
| Turmeric powder(optional) | 1 pinch |
| Sugar | 2 cup |
| Ghee | 2 cup |
| Water | ½ cup |
Method :
First sieve the gram flour / besan and turmeric powder finely so that no lumps'll be there. Keep aside.
Then grease a rectangular or square deep tray very well with ghee and keep aside.
Next take sugar and water in a heavy bottomed pan and keep stirring till sugar dissolves almost.
Start cooking the sugar mixture over medium heat, stirring in between.
In another pan take ghee over medium heat. Once the ghee melts down completely, allow to be in simmer.
Keep stirring the sugar syrup and check for the 1-string consistency (if you take a drop of the sugar syrup between thumb and index finger, then you'll get one continuous string formed between fingers).
If there is 1-string consistency, then slowly add the sieved gram flour and keep stirring continuously so that no lumps'll form.
Add 1 ladle hot ghee to the gram flour mixture.
After adding the ghee, the whole mixture'll immediately turn frothy.
Stir continuously till all the ghee absorbs by the gram flour mixture.
Keep adding hot ghee (1 ladle full) at a time and stir well.
At a point, the gram flour mixture won't absorb any more ghee.
The whole mixture'll become porous lump and the ghee starts separating.
Immediately transfer the mixture to the greased tray.
Gently level the top surface and allow to get the warm stage.
Now using a sharp knife, just make cut-marks as desired.
When it cools down completely, separate the pieces.
Store these perfect texture mysore pak in an air-tight container and serve when desired !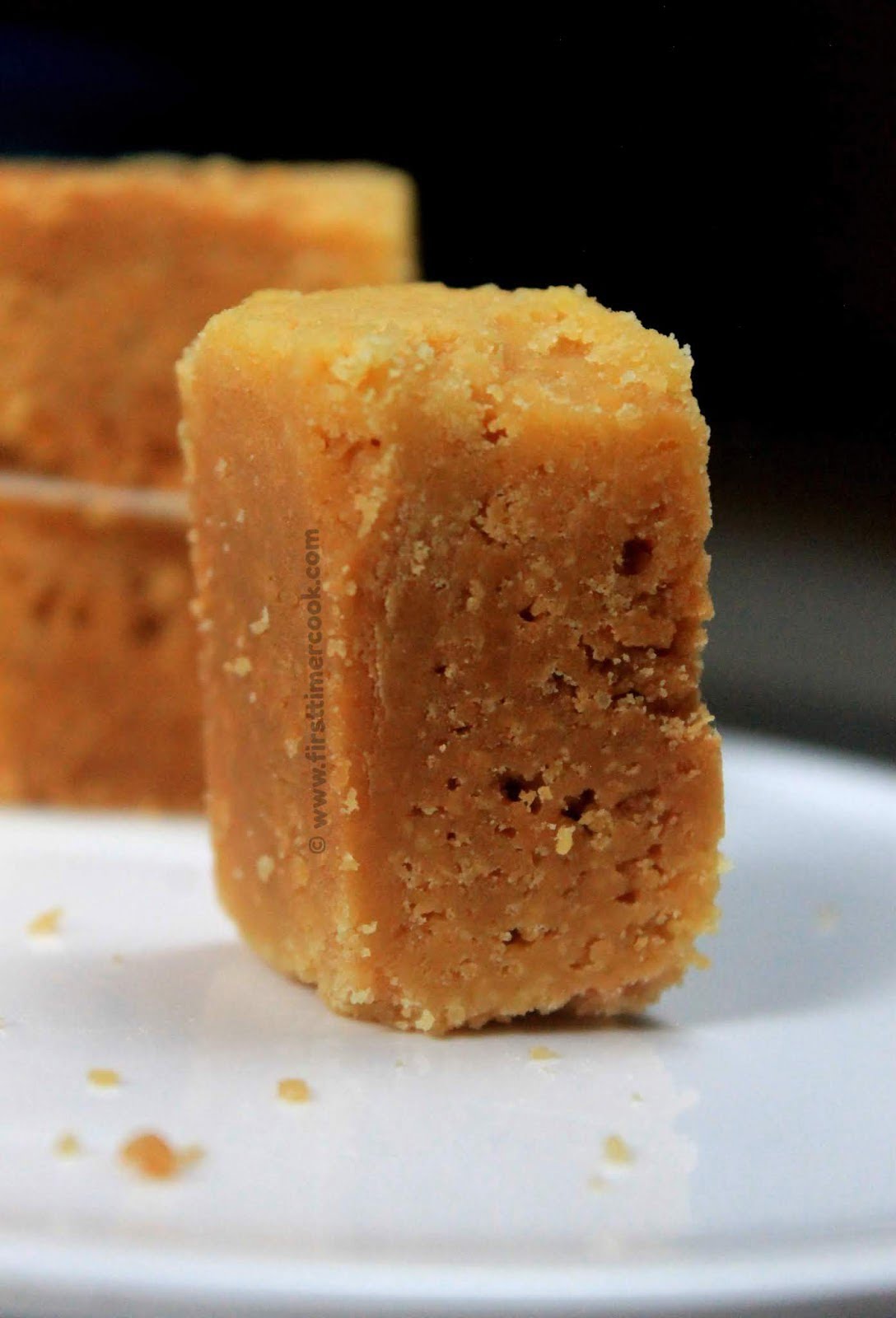 Notes :
It is advisable to keep the melted ghee pan on simmer, because while adding the ghee to the gram flour mixture the ghee must be hot enough.
The sugar and ghee amount may seem much, but this is the amount to get the perfect texture and aromatic mysore pak.
The 1-string consistency of the sugar syrup also plays a vital role. So keep an eye on the exact timing of the consistency.
When the gram flour mixture won't absorb any more ghee, then the whole mixture'll become porous lump and the ghee starts separating. Without wasting any time, immediately transfer the mixture to the greased tray. Otherwise the perfect shape of the mysore pak won't obtain.
The dissolving part of sugar before turning heat on is optional.
PIN for later :