Winter season is a certain period of time annually due to Earth's revolution around the sun which is marked by a distinct wind pattern, low temperature, low humidity, high amount of sunlight etc. This season is one of the favorite for many people in the world because entire land will be covered with a thick blanket of snow. In India, winter season starts during the period close to Diwali and comes to an end before the Holi festival. This season opens the cold wind everywhere which lowers the temperature of the environment during this season.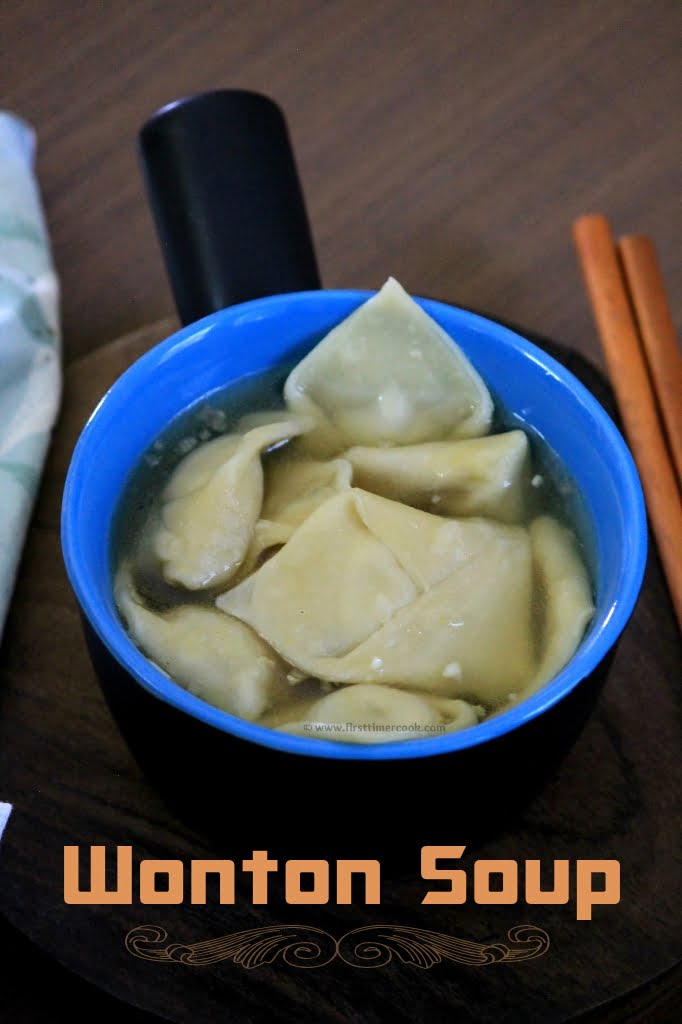 During this season, it is advisable to wear tight clothes and thick clothes. In many places, people cannot go without woolen clothes. The atmospheric temperature decreases much as compared to other seasons. This is almost that time of the year when everyone'll feel so tempted to warm their belly😉. So how about a warm cup of soup to warm up during these low temperatures !!!
Vegan Wonton Soup – Vegan version of a classic Chinese soup with cabbage and carrot as filling.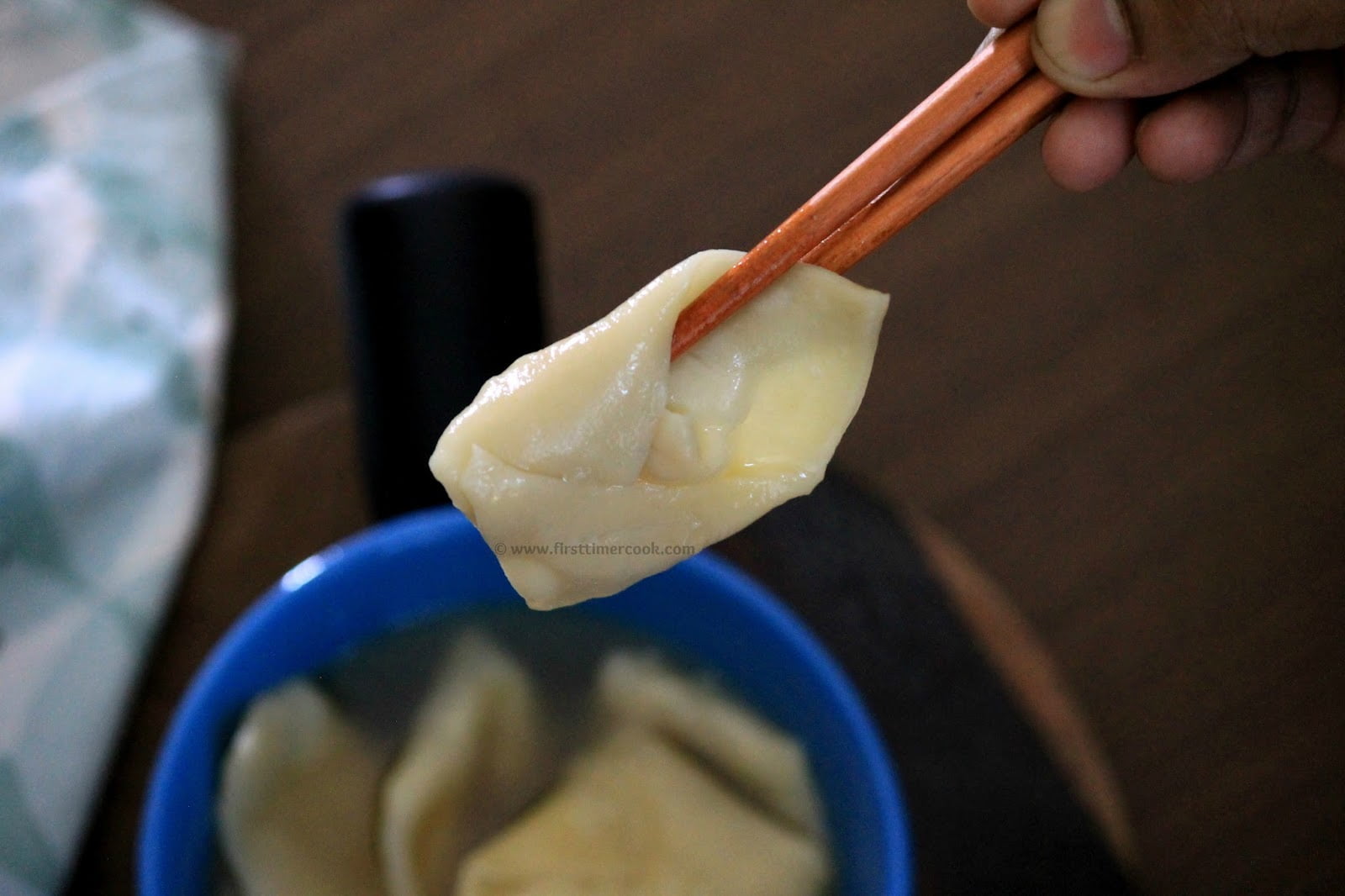 Traditionally wontons are made by spreading a square wrapper (a dough skin made of flour, egg, salt and water) flat in the palm of one's hand, placing a small amount of filling in the center, sealing the wonton into the desired shape by compressing the wrapper's edges (brushed by water) together with the fingers. Also all air pressed out before sealing the wonton to avoid rupturing of the wonton from internal pressure when cooked. The most common filling is ground pork and shrimp with a small amount of flour as binder. This filling is seasoned with salt, spices and often garlic. Wontons are commonly first boiled and served in soup. There are several variations of shape of the wontons in different region of China as well as other part of the world.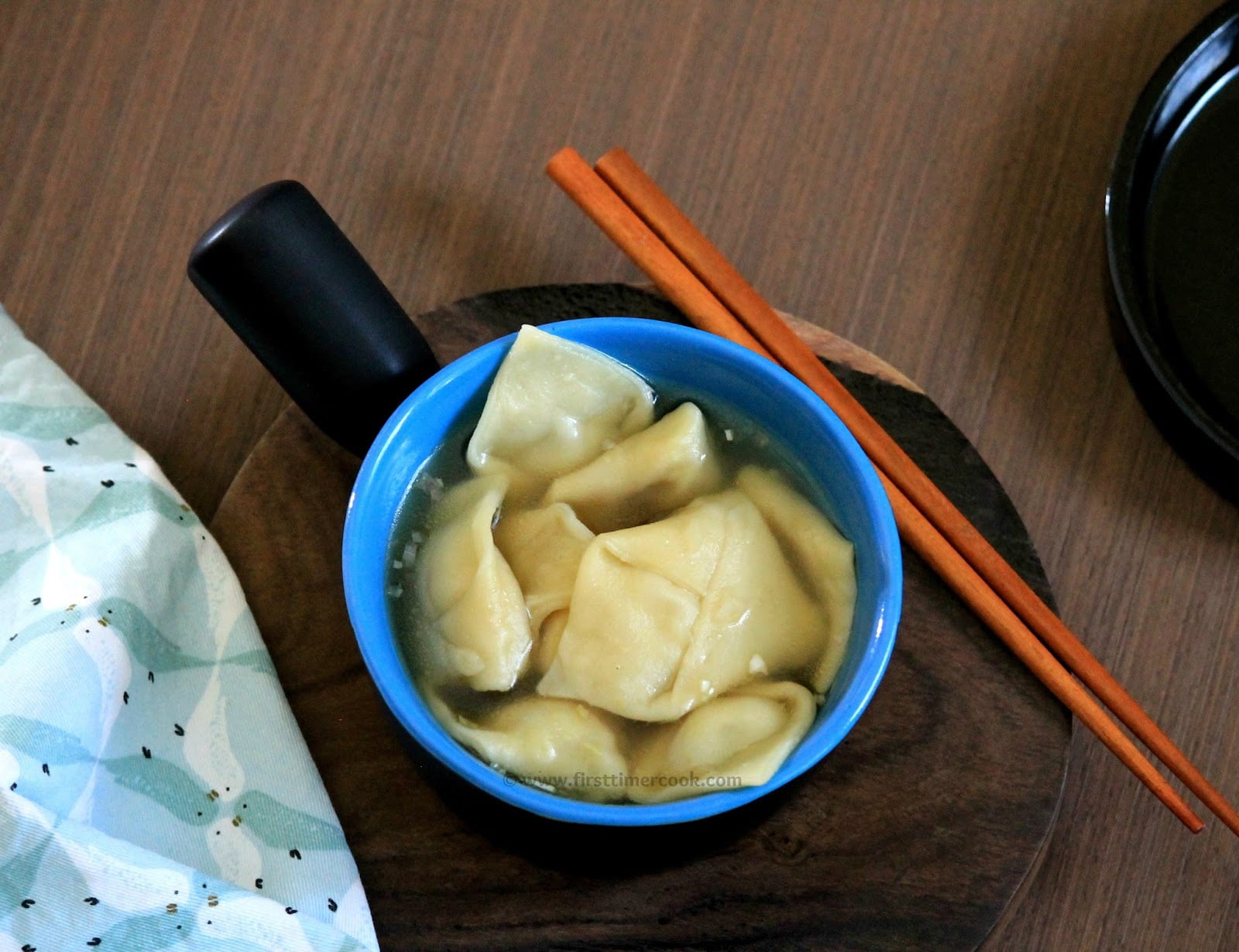 But here, this post is a completely vegan version of the wonton soup including the vegan wonton wrappers. The vegan wonton soup is so easy to make and quickly anyone can prepare this warm and comforting soup. The filling for the wontons are some finely chopped cabbage, onion, garlic along with some grated carrot. Tofu, mushroom can also be used as filling. The shape of the wontons here I have prepared in envelope style. But the shape of the wontons is totally desirable and needs some practice for perfect ones as well. Also the wonton wrappers used here is vegan version. Instead of boiling first the wontons and then serving in soup, here I have just prepared and kept the raw wontons and then cooked those along with soup. If the wontons are ready, then this vegan wonton soup is one of the easiest soup.
Monday is again here and this time the theme for Foodie Monday Blog Hop is finalized as 'Winter Recipes'. So I have prepared this vegan wonton soup as contribution of mine. Lets go in details method of preparation.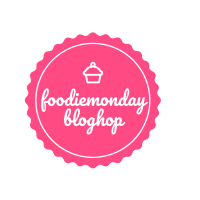 Preparation Time : 35 mins | Cooking Time : 20 mins
Ingredients :
Ingredients

Measurements

for Wonton

All purpose flour

1 cup

Cabbage (finely chopped)

4 tbsp

Carrot (grated)

4 tbsp

Onion (medium)

1 no.

Ginger

½ inch

Oil

½ tsp

Salt

As needed

Water

As needed

For Soup

Onion (small)

1 no.

Garlic clove

1 no.

Green chili

2 no.

Soy sauce

½ tsp

Oil

½ tsp

Vinegar

1 tsp

Pepper powder

As needed

Water

4 cup

​
Method :
In a mixing bowl, take all purpose flour and then slowly pour water while stirring till it becomes a dough.
Knead for 5 minutes to make a smooth dough. Keep aside for 10-15 minutes.
In another mixing bowl, take finely chopped cabbage, grated carrot, finely chopped onion, grated ginger, salt and oil. Mix everything till incorporated.
Divide the dough into small lemon size balls.
Roll the ball on a floured surface into a thin circle, then trim the sides of the circle to make a square shape wonton wrapper. Discard the sides.
Place 1 tsp of filling onto the center of the wonton wrapper. Lightly brush the edges with water and then diagonally fold the wrapper squeezing out all the air inside so that a triangular shape will form. Press and seal the edges.
Then place the wonton on the work surface putting the filling side towards you. Brush the left and right corner of the triangle with water and fold the two corners on top of the filling. Press again to seal and this results in an envelope style wonton.
Similarly make envelope style wontons from rest of the dough balls.
Keep aside all the wontons covered by a wet kitchen napkin or muslin cloth.
Now in a wok, saute finely chopped onion, garlic and green chilies in oil over low-medium heat.
Next add salt, water, soy sauce, vinegar and pepper powder. Give a stir and simmer for 10-12 minutes.
Then slowly drop wontons one by one in simmering broth.
Cook over medium-high heat for 5 minutes or until wontons are tender and translucent.
Turn off heat and serve immediately this vegan wonton soup hot !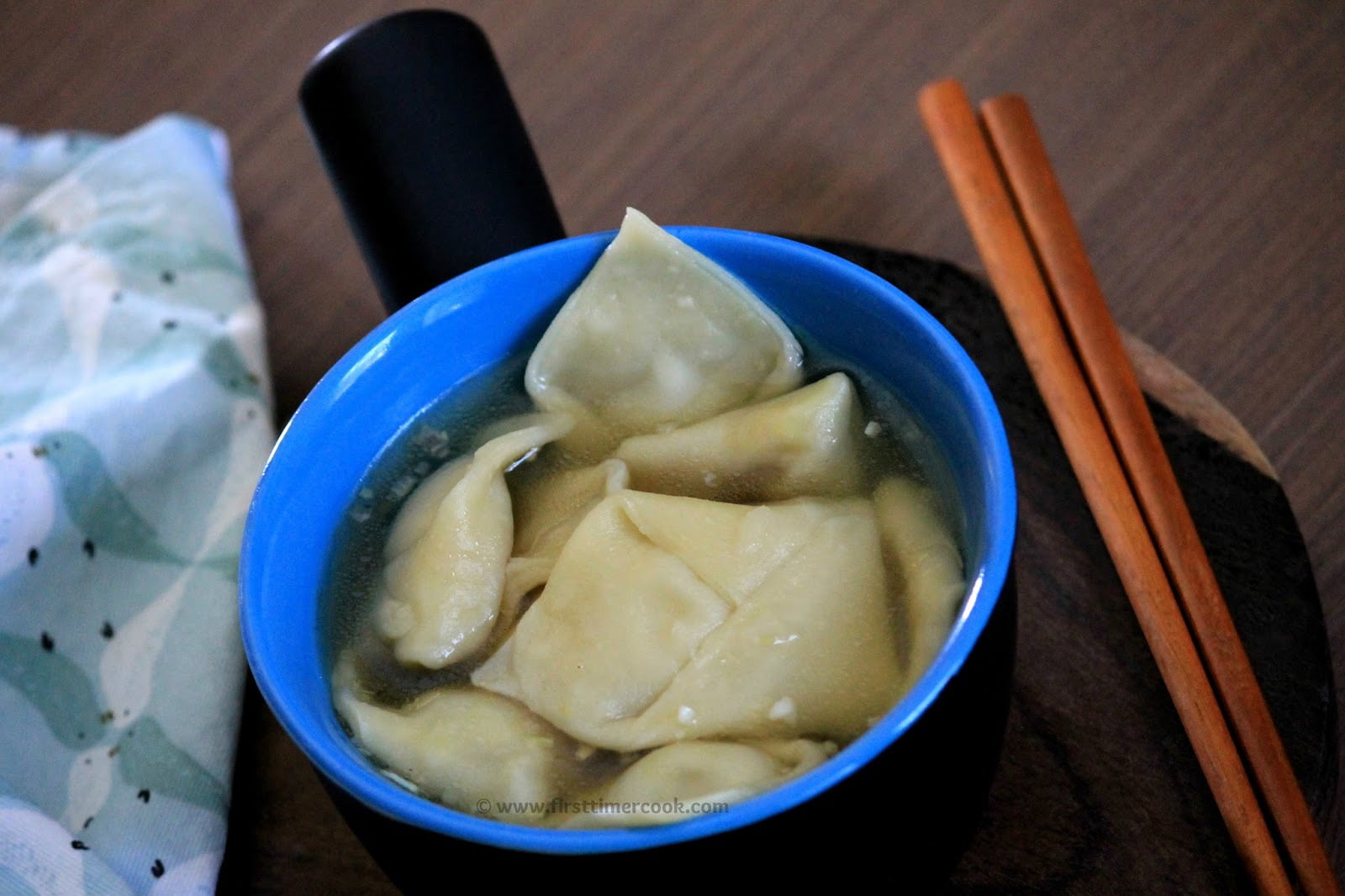 Notes :
Pepper powder can be added more depending upon the spiciness desired.
Here I have shaped all the wontons as envelope style. Any other shape of wonton can be formed.
Other fillings like tofu, paneer, mushroom can be included.
Without making broth here, vegetable stock can be used directly.


PIN for later :