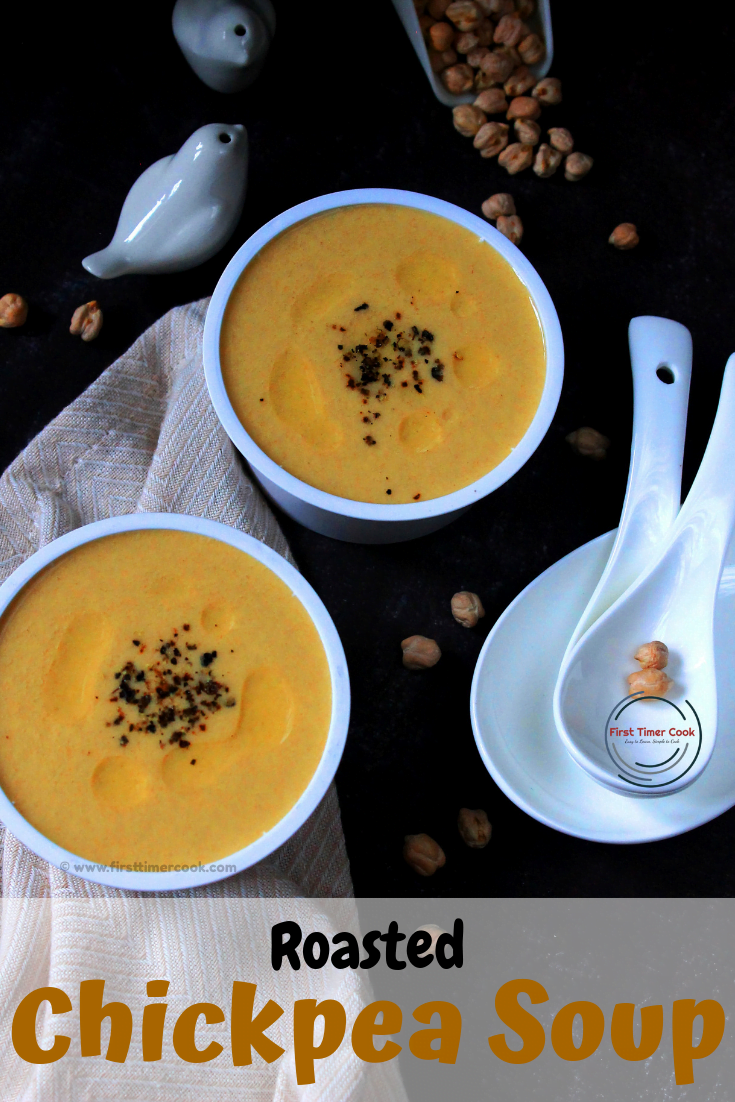 Beans are among the most versatile and commonly eaten foods throughout the world. These are the seeds from flowering plants and mainly classified as legumes. Usually all variety of beans grow in pods which are capsules with several beans inside. Some of the most popular bean varieties include kidney beans, garbanzo beans (chickpeas), lima beans, black beans, black-eyed peas, soybeans, red beans etc. Beans are a very good source of protein, vitamins and fiber. The amino acids present in the beans are the chemicals that combine to form protein.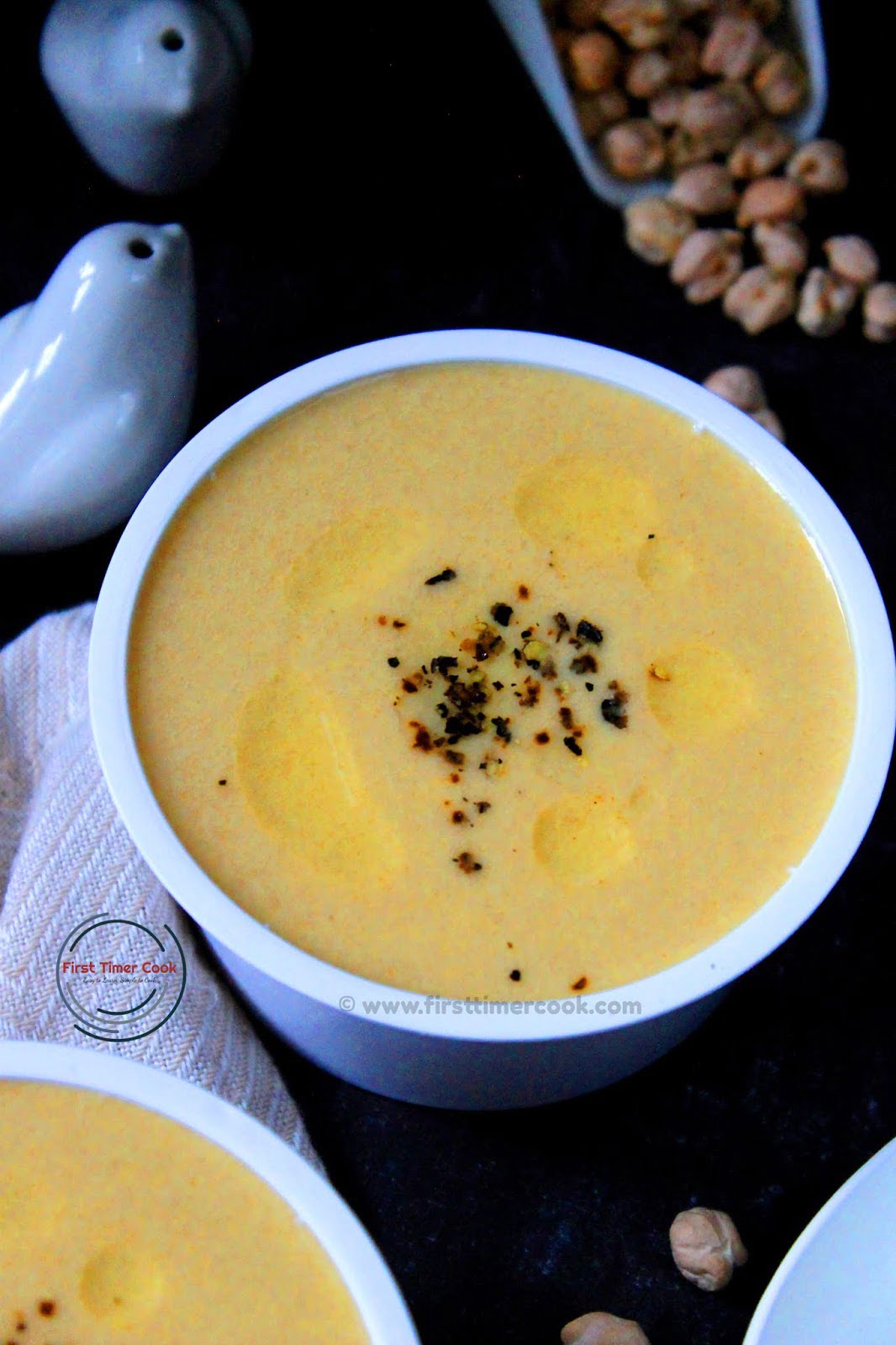 Well, the 164th theme of the Foodie Monday Blog Hop team has been decided as 'Beans Power'. That means we have to post a dish having bean as the main ingredient. So I have picked the chickpeas / garbanzo beans as the main ingredient and prepared a soup out of it as 'Roasted Chickpea Soup'.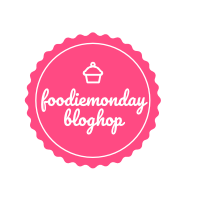 Chickpeas are actually the most oldest & widely consumed bean in the world. Chickpeas are also known as garbanzo beans or kabuli chana. Whether these beans appear in a creamy hummus or a hot soup or even a spicy Indian curry, the chickpeas don't help in weight gain as only loaded with protein, carbohydrates and fiber. So coming to the recipe, here I have used some roasted chickpeas, not the normal chickpeas. First some boiled chickpeas are roasted well in oven. And then those chickpeas are added to the soup which finally blended to get a smooth consistency in the soup. This thick soup is hearty enough to have as a main course along with a loaf of good bread. The soup is high in protein and completely gluten-free, vegan and even have a solid amount of protein and fiber.
So do try this roasted chickpea soup. If you tried my recipe and enjoyed fully, then please share some pictures of your creation with me. Also kindly give your valuable feedback either in the comment box below or tag me as #firsttimercook on Instagram. You may also follow me on Facebook, Pinterest, Twitter, Google+, Instagram and can subscribe for free to get new recipes directly into your inbox 😊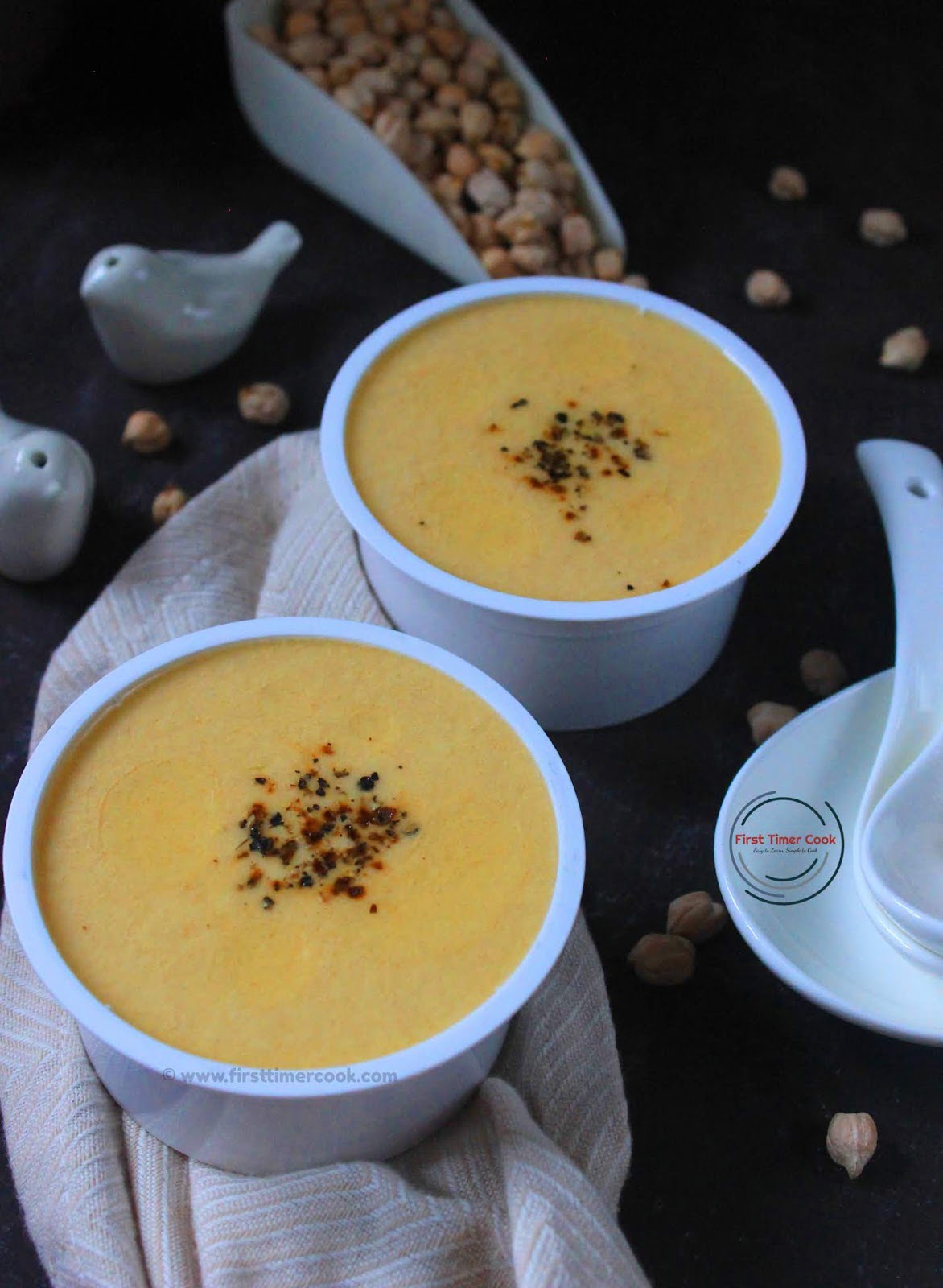 Preparation Time : 20 mins | Cooking Time : 45 mins
Ingredients :
| | |
| --- | --- |
| Ingredients | Measurements |
| Chickpea (boiled) | 2 cup |
| Onion (medium) | 1 no |
| Garlic clove | 3-4 no |
| Tomato puree | 2 tbsp |
| Red chili powder | 1 & ½ tsp |
| Cumin powder | 2 tsp |
| Black pepper (crushed) | For sprinkling |
| Vegetable stock | 4 cup |
| Salt | As needed |
| Olive oil | 2 tbsp |
​
Method :
Preheat oven to 200 deg C.
Pat dry all the boiled chickpeas using a paper towel until completely dry.
In a mixing bowl toss all the boiled chickpeas with 1 tbsp olive oil, salt, 1/2 tsp red chili powder very well.
Next transfer the chickpeas onto a baking tray and roast for 15 minutes in the preheated oven.
Take the tray out of the oven, toss and again roast for 10 minutes or till the chickpeas looks crunchy and golden in color.
Turn off the oven and keep aside the roasted chickpeas.
Now heat 1 tbsp olive oil in a pan.
Add chopped onion and saute for 2-3 minutes or until onion turns transparent.
Next add minced garlic and saute for 1-2 minutes.
Add tomato puree, remaining red chili powder, salt, cumin powder.
Mix well and cook for 4-5 minutes.
Next add vegetable stock, roasted chickpeas and allow to boil first.
Then over low-medium heat, cook for 8-10 minutes.
Turn off heat and allow to cool.
Put everything in a blender jar and blend into a puree consistency.
Taste and adjust the seasoning as desired.
Then transfer the soup back into the pan and reheat to a boil.
Finally ladle into the serving bowl, garnish with a drizzle of olive oil and a pinch of freshly crushed black pepper.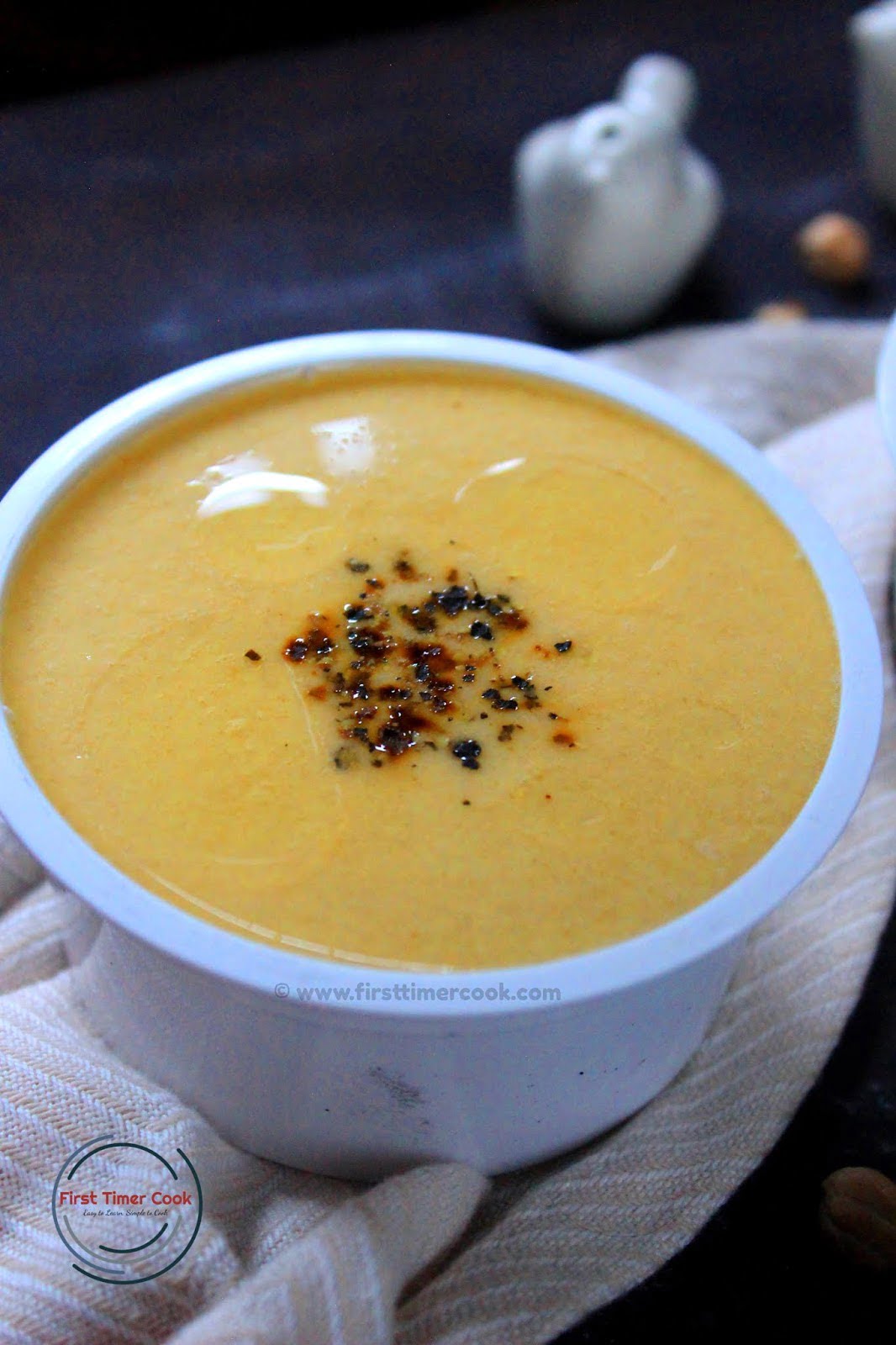 Notes :
Canned chickpeas (garbanzo beans) can be used here. But I have boiled chickpeas at home.
PIN for later :