Millet is one of the oldest human foods and believed to be the first domesticated cereal grain. Among all the varieties of millet, Finger millet / Ragi / Mandia / Nachni is an important staple food in India. It has a slightly higher water requirement than most other millet. The plant carries several spikes / fingers at the top of the stem. The grain is so small, around 1-2 mm in diameter. This is really an amazing 'super cereal' which has many benefits like
loaded with high content of protein
a rich source of minerals
controls diabetes
anti-microbial properties
high anti-cancer potential
helps to reduce bad cholesterol as well as prevent cardiovascular disease and lots more.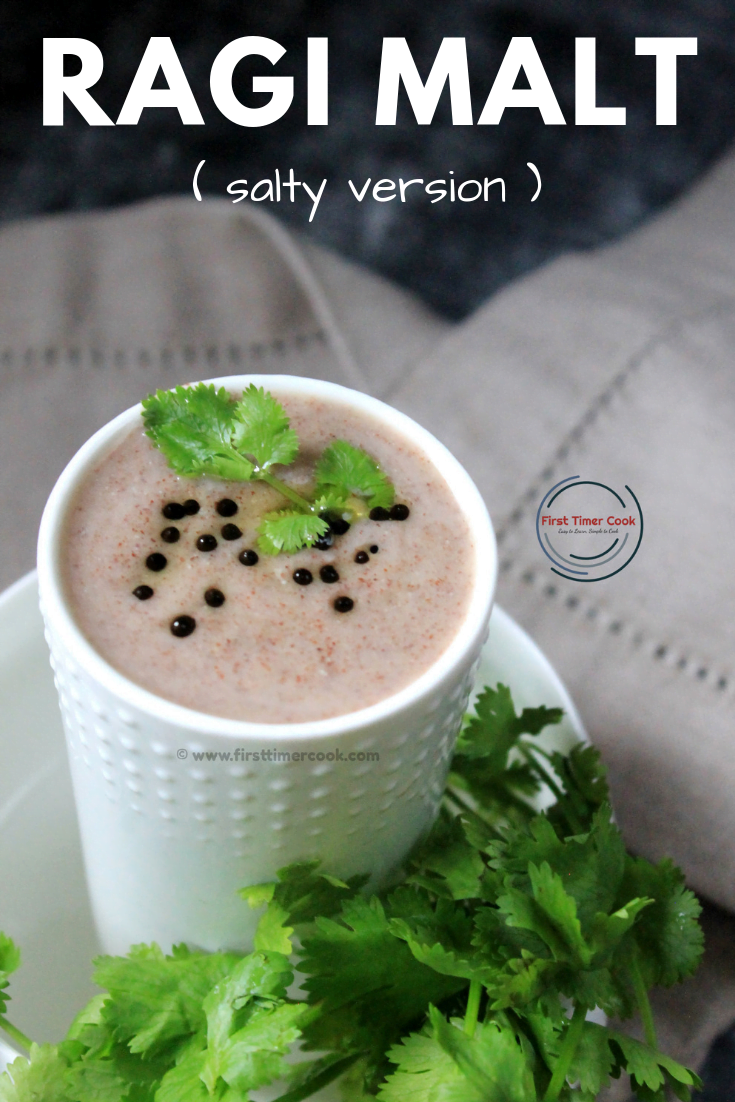 Many recipes can be prepared using this millet. Particularly this millet is used in powder form, means the ragi flour. Here I have come up with a salty drink using this healthy millet flour as 'Salty Ragi Malt'. The whole process is so simple and hardly it takes few minutes to complete. The buttermilk is added here to adjust the consistency of the drink. If you want you can go with normal water as well. I have used some homemade buttermilk just by mixing curd and water in 1:2 ratio. This salty drink is an amazingly healthy and nutritious choice for people of all age group. If trying for babies, then the seasoning part has to be omitted.
So do try this salty version of Ragi Malt. If you tried my recipe and enjoyed fully, then please share some pictures of your creation with me. Also give your valuable feedback either in the comment box below or tag me as #firsttimercook on Instagram. You may also follow me on Facebook, Pinterest, Twitter, Google+, Instagram and can subscribe for free to get new recipes directly into your inbox 😊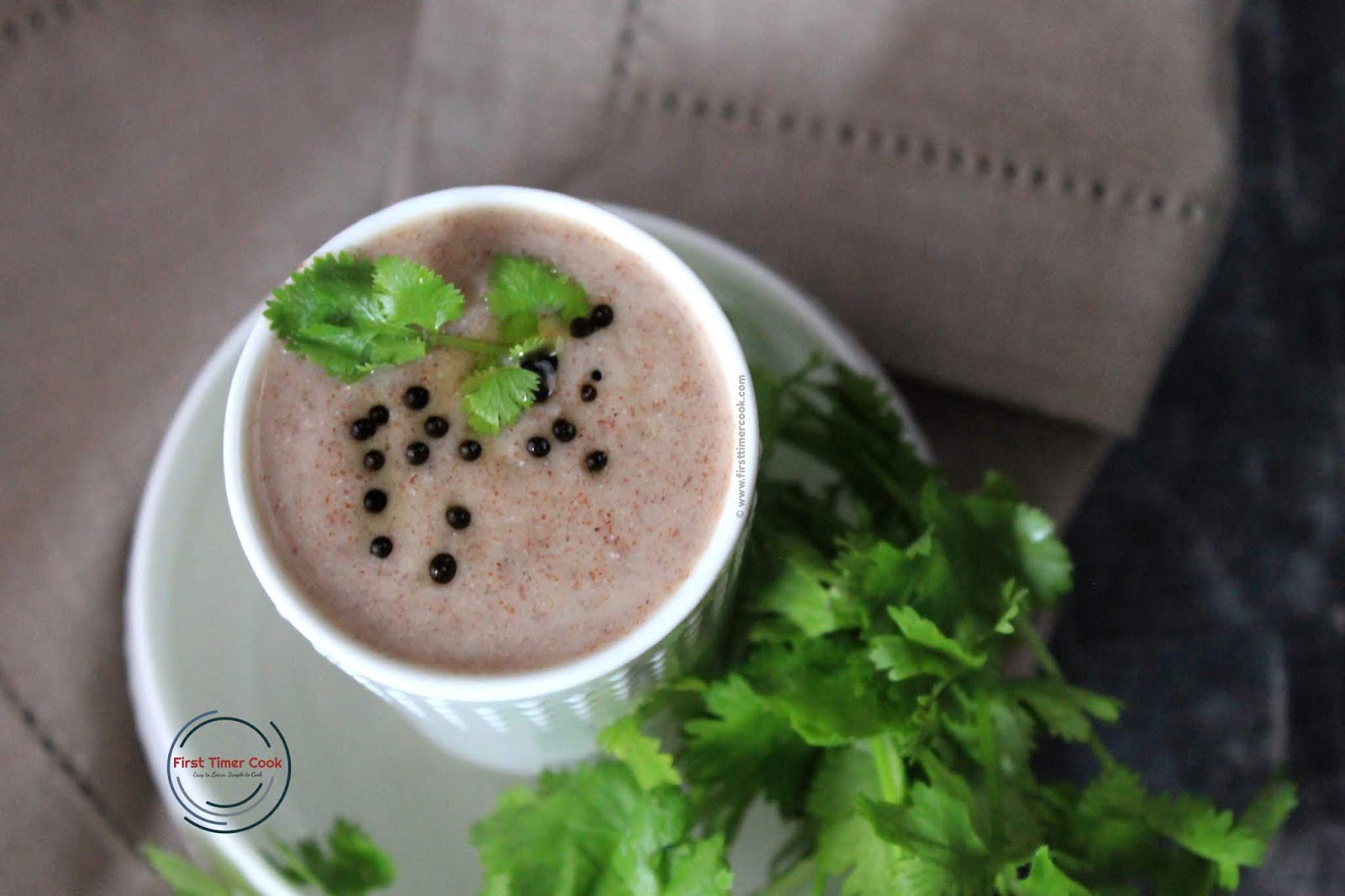 Preparation Time : 2 mins | Cooking Time : 5 mins
Ingredients :
| | |
| --- | --- |
| Ingredients | Measurements |
| Ragi flour | ¼ cup |
| Buttermilk | 4 cup |
| Mustard seed | ¼ tsp |
| Hing | 1 pinch |
| Water | As needed |
| Salt | As needed |
| Coriander leaf | few |
Method :
In a saucepan, first mix the ragi flour and water till no lumps are there.
Then cook the ragi mixture for 3-4 minutes.
When the mixture is heated, it always starts to form lumps immediately, so its always important to keep stirring the mixture continuously.
Then turn off heat and allow the whole mixture to cool down completely.
Next add the buttermilk, salt and mix till everything incorporated well.
Now heat oil in a tadka pan.
Add hing, mustard seed and allow to splutter.
Pour this seasoning over the ragi mixture.
Also add some finely chopped coriander leaves. I don't prefer to add coriander leaves here, so I have not added.
Mix everything well and adjust the consistency of the whole drink by adding more or less water / buttermilk.
Serve this salted ragi malt chilled or as it is !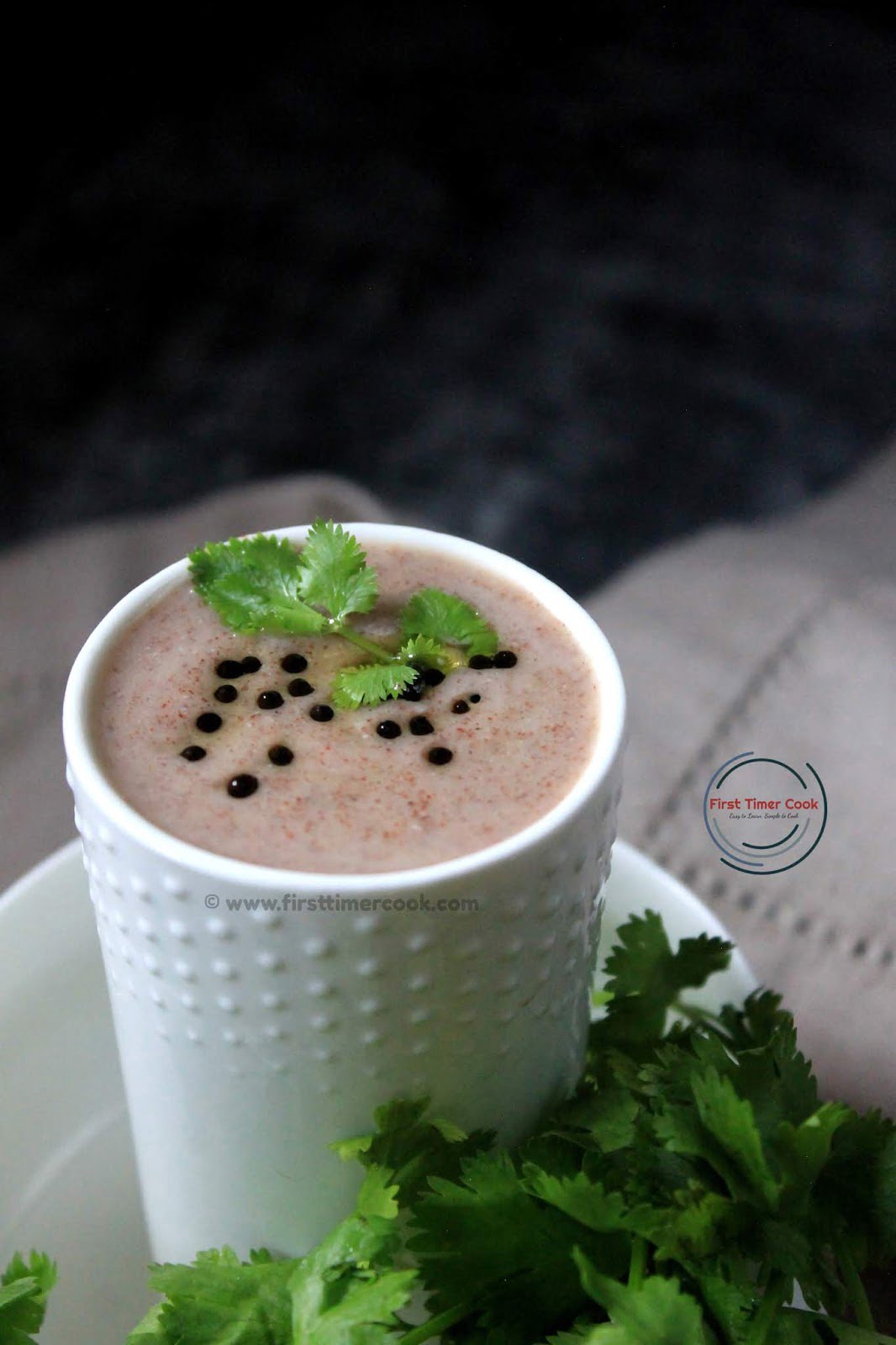 Notes :
Here i have used homemade buttermilk. Just in a bowl, mix curd and water in 1:2 ratio until smooth. And the buttermilk is ready.
Few curry leaves can be added to the seasoning.

PIN for later :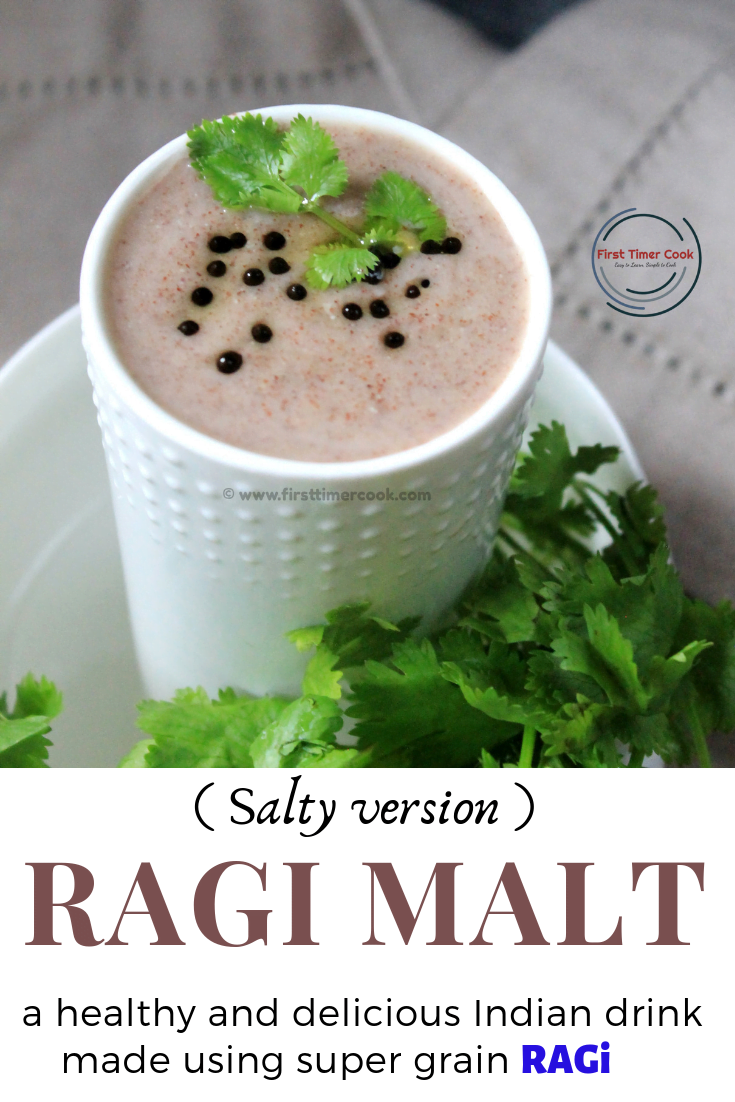 This 'Ragi Malt (salty version)' is contributed for 53th Healthy Wellthy Cuisines where the theme is 'Ragi Fest at HW'. Here are more similar recipes shared by our Healthy Wealthy Group members as Ragi Halbai, Ragi wheat snackers, Ragi Dates Laddu, Chutney stuffed ragi idli, Ragi Pakoda.