an Indian pudding, Kheer with the flavor of the queen of fruit, Lychee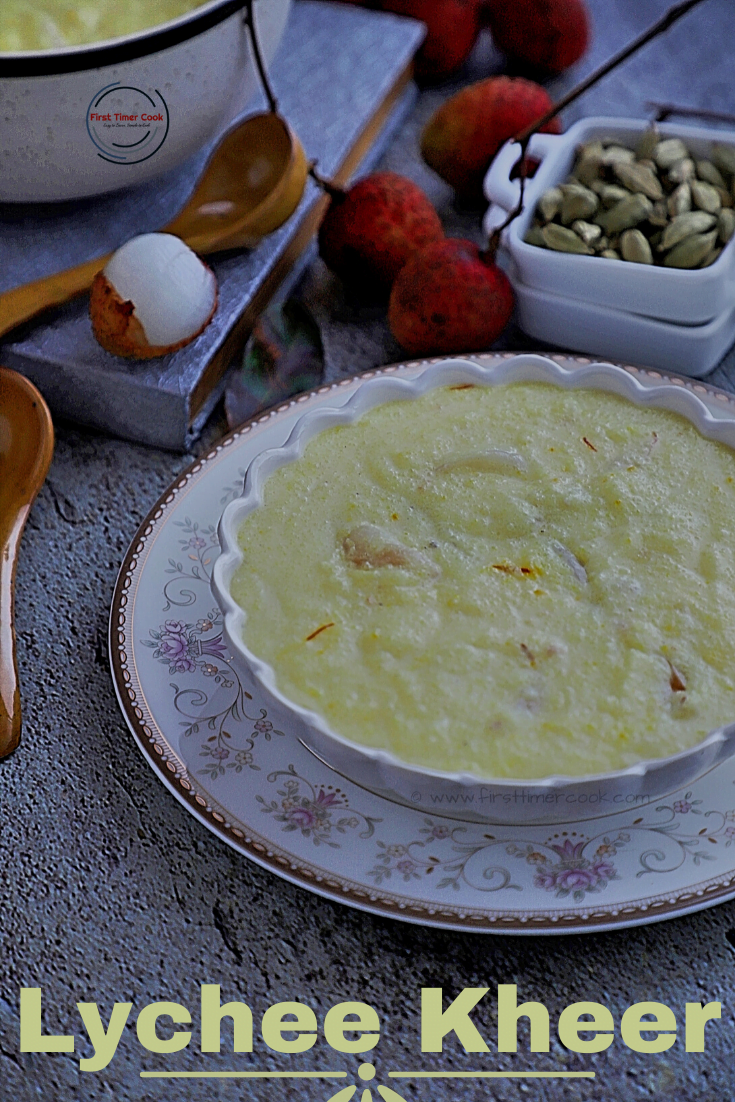 The perfect blend of sweet and tart, lychee is the tropical summer fruit one need to try when summer time is ON. Like the rambutan and dragon fruit, lychee has a bumpy skin which covers a translucent white flesh that is a good source of Vitamin B, Vitamin C and potassium. Peeling the outer part and enjoying this fruit is a perfect refreshing summer treat. It has a sweet, aromatic taste to it. I can describe it like a grape with a hint of rose. Beside summer, one can enjoy these as the super markets are loaded with canned lychee these days.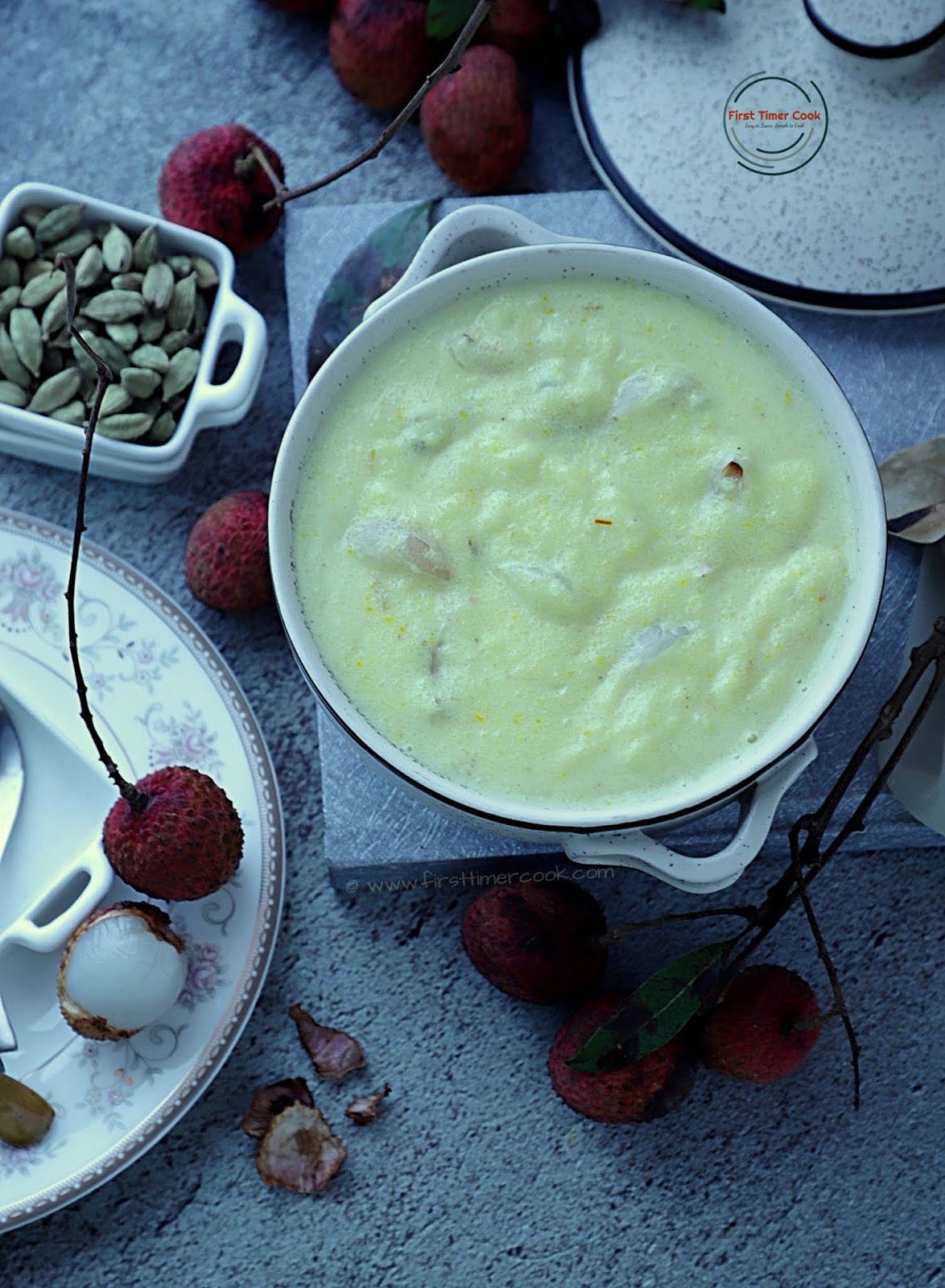 What can be prepared using this Lychee ?
The delicate flavor of lychee can be lost when cooked, so it is best to eat these raw. These are great additions to fruit salads, ice cream ( check this Lychee Coconut Ice-cream (Vegan & no-Churn) ), drinks like smoothies, mojitos (check this Virgin Lychee Mojito) etc. Well, today I have come up with a kheer recipe using this queen of fruit, Lychee and hence the name of the dish is Lychee Kheer / Lychee Payasam.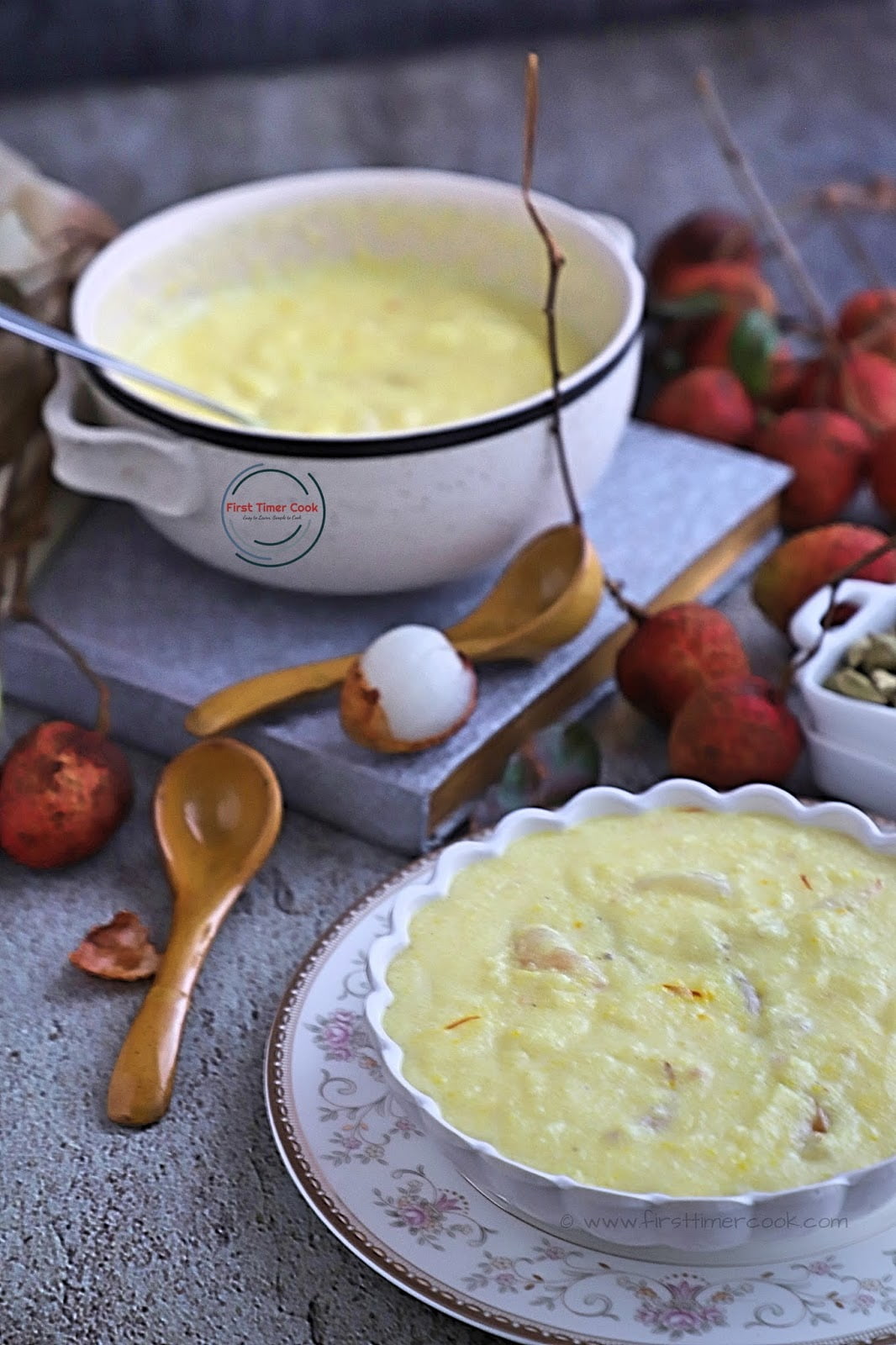 Now let's go through how to make "Lychee Kheer | Lychee Payasam" at home 👇
Video procedure of this "Lychee Kheer | Lychee Payasam" :
: Recipe Card :

Lychee Kheer | Lychee Payasam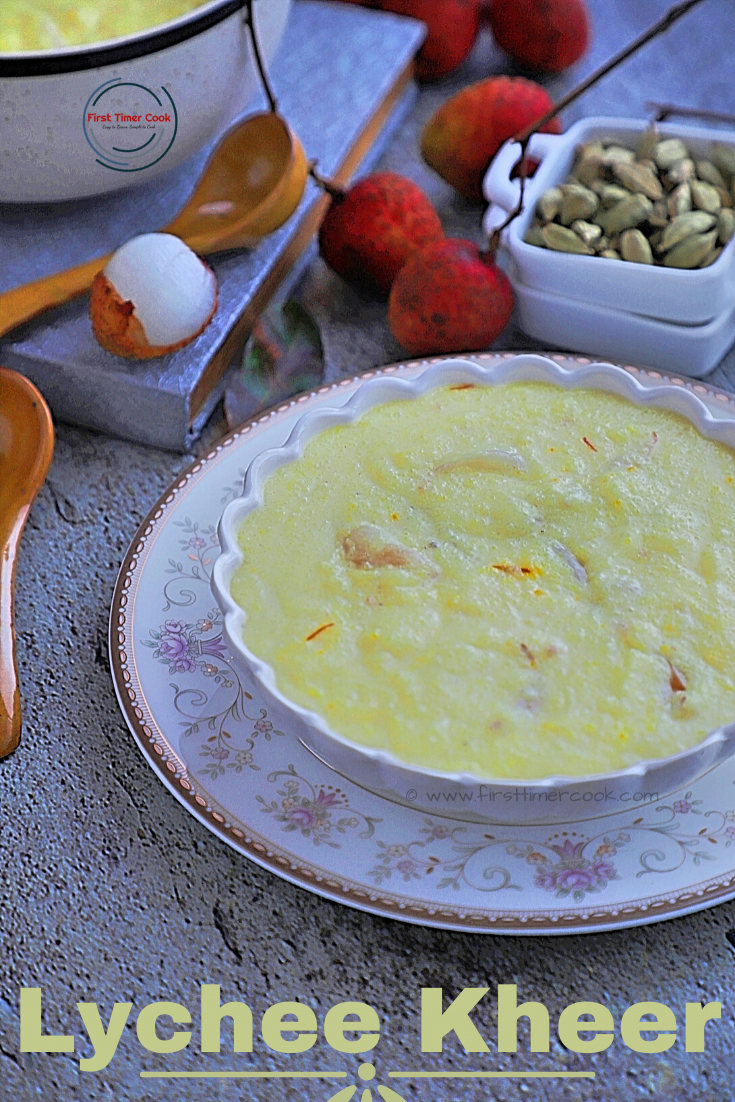 Prep time: 20 MCook time: 30 MTotal time: 50 M
an Indian pudding, Kheer with the flavor of the queen of fruit, Lychee
Ingredients:
Lychee (chopped) 1/2 cup
Milk 1/2 lt
Rice (basmati) 1 tbsp
Sugar 1/4 cup
Cardamom powder 1/4 tsp
Saffron 1/4 tsp
Salt 1 pinch
Instructions:
In a pan, start boiling milk.
Meanwhile, wash and drain the rice and grind to a coarse texture. Keep aside.
When milk comes to boil, lower the heat and add the coarse mixture of rice.
Stir continuously for 1-2 minutes.
Then allow to cook the rice completely, stirring in between.
When rice seems soft, add sugar and mix well.
Soon the whole mixture'll look like a slightly thinner consistency as the sugar starts to melt.
Allow to cook for 1-2 minutes.
Add cardamom powder and saffron, mix well.
By the addition of saffron the kheer color'll start to change.
Finally add chopped lychee, mix and simmer for 1-2 minutes (not more than that).
Turn off heat and allow to cool down.
Serve either warm / chilled !
Notes:
I have first removes the skin and seeds of lychee. Then simply cut the lychee pulp lengthwise 5-6 pieces. I love this kind of lychee pieces while having the kheer. If you want you may chop further more into small size.
Adjust sweetness as desired by adding less / more sugar.
I always recommend to add salt in the kheer if rice is used.
1 drop of rose water can be added here, but it is optional.
Add some chopped dry fruits if desired.
I have picked fresh lychee as the summer is here and the fruits is easily available at my areas. But if you are using canned lychee then adjust the amount of sugar as the canned lychees are already dunked in sugar syrup.
For 500 ml milk, 1 tbsp of rice I am using to get neither thick nor thin consistency of the kheer. If you like slightly thick consistency then use 1.5-2 tbsp rice.
Don't cook for long time after adding the lychee, else the fruit will loss its aroma.
https://firsttimercook.com/2020/06/lychee-kheer-lychee-payasam.html
Summer delight, Sweet, Kheer, Payasam, Lychee Kheer, Lychee Payasam, Cardamom powder
Dessert, Indian Pudding, vegetarian, Gluten free, Lychee
Indian
Did you make this recipe?
Tag @firsttimercook on instagram and hashtag it #firsttimercook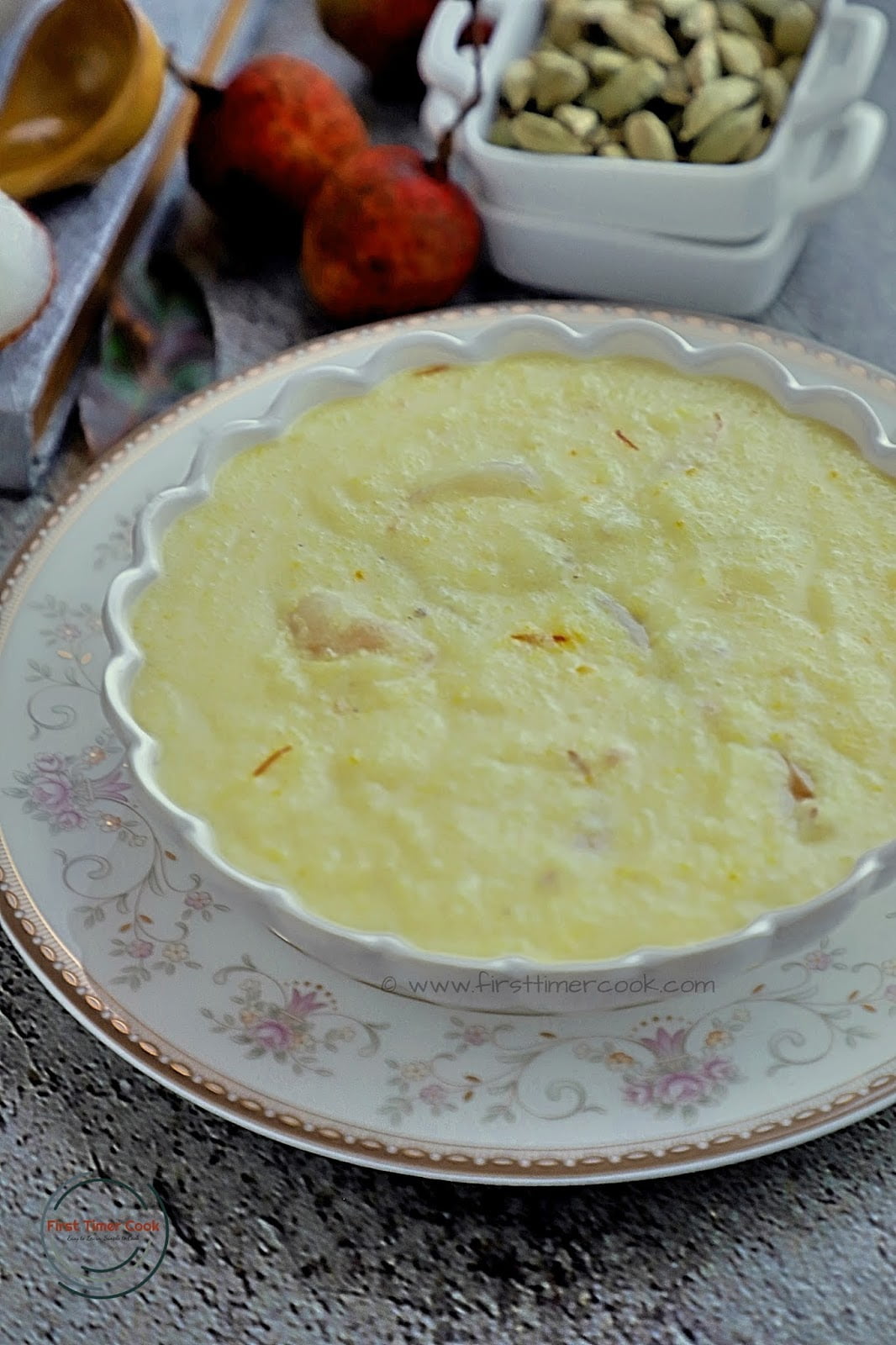 You may also follow me on Facebook, Pinterest, Twitter, Google+, Instagram and can subscribe for free to get new recipes directly into your inbox 😊
PIN for later :