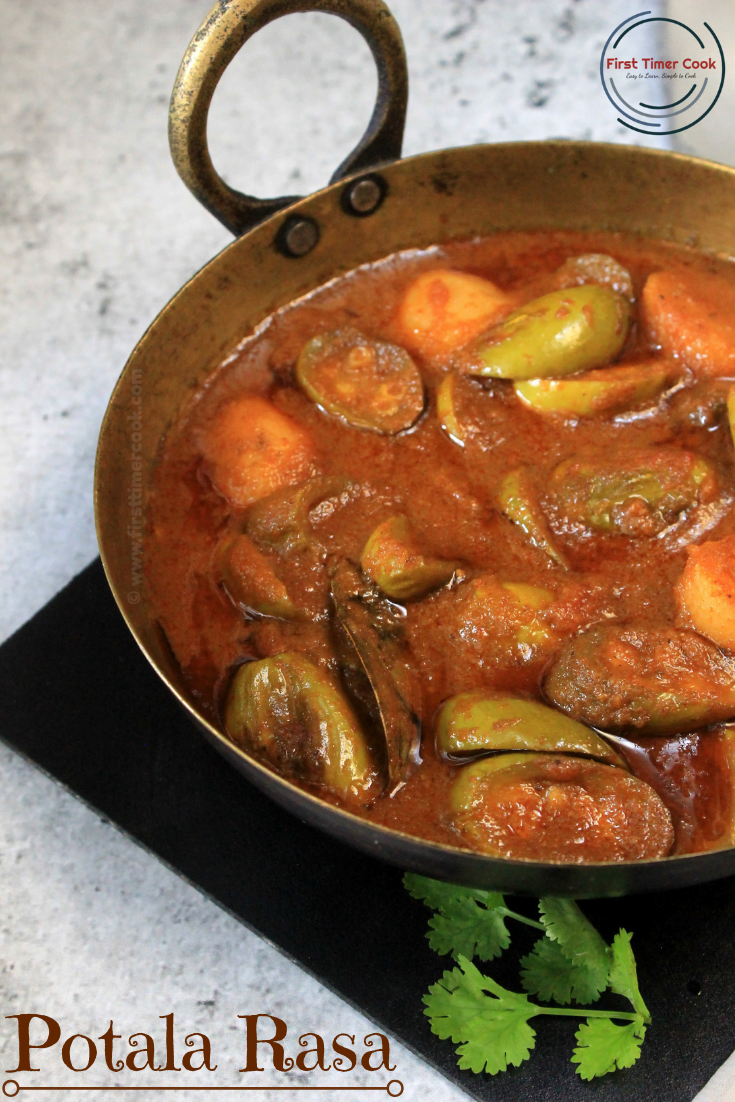 The May month came to an end and as you all know I am belonging to a monthly posting food group named as 'Shhhhh Cooking Secretly Challenge'. This month the challenge was from 'Odia Cuisine' and my partner was Narmadha. She gave me 2 secret ingredients as Mustard Oil and Sugar and I gave her as Raw Papaya and Mustard Oil. Check her dish here. As usual, using mine two ingredients I had to prepare a dish from Odia cuisine. So I have come up with my most favorite curry particularly during summer season using these two ingredients which is Potala Rasa / Odia style Pointed Gourd Gravy.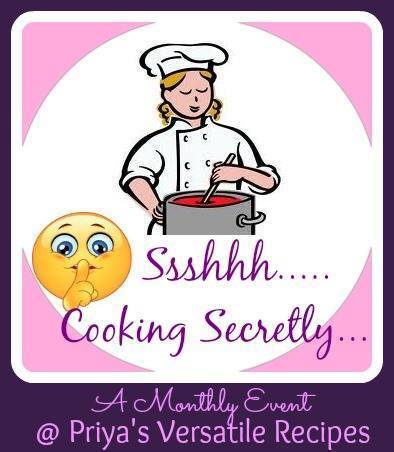 As I belongs to this state, so when the theme was decided, I was super excited. Odisha, the land of Lord Jagannath is one of the coastal state of Indian subcontinent in the eastern part. This state was previously known as Orissa and the people here speak in the Odia language. The odia cuisine here mostly uses less oil and less spices still the end result is so flavorful. Most common oil is the mustard oil and a spice mixture is widely used in most odia dishes as Panch Phoron (mix of seeds of mustard, cumin, fenugreek, saunf and kalonji). Rice in both sun dried and par-boiled varieties is the staple food of the people here. Starting from normal steamed plain rice, water rice (pakhala) etc to side dishes like dalma, saga bhaja etc. to desserts like chhenapoda, rasabali etc. there are lots of mouthwatering dishes which falls under this Odia cuisine. I have so many Odia dishes which are already posted in my blog, do check.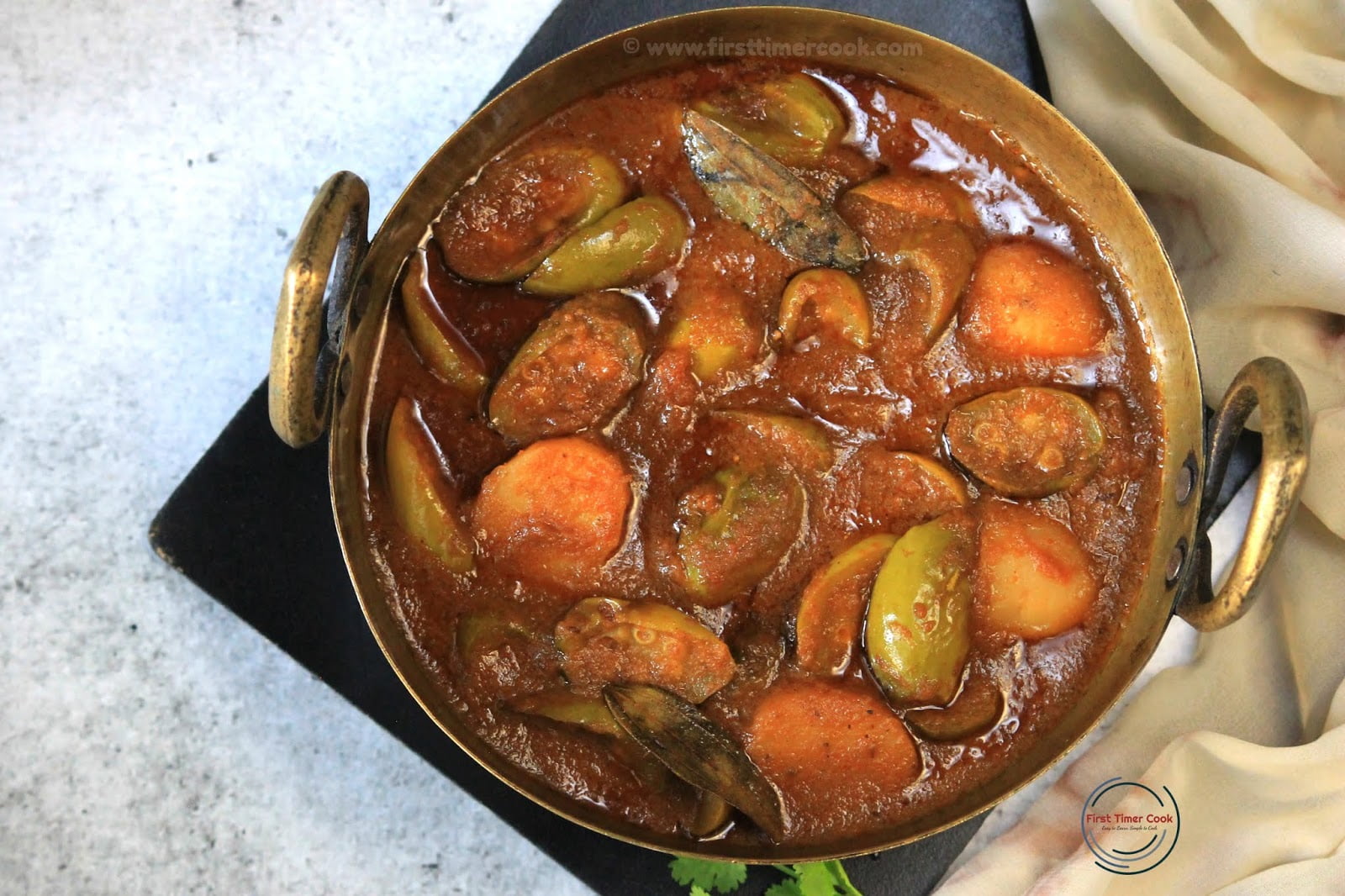 Well, as the summer season is here in India so the vegetable Pointed Gourd / Parwal / Potala are plentifully available in local market. These are used in preparing several Indian dishes which are both dry and with gravy. At the same time in some parts of India, pointed gourd is also used for making sweet dishes (Parwal ki Mithai – from Bihari cuisine). This vegetable has many health beneficial properties, a rich source of many micro nutrients and loaded in fiber as well as low in calories. Today's post is a gravy dish using this humble vegetable,Potala Rasa.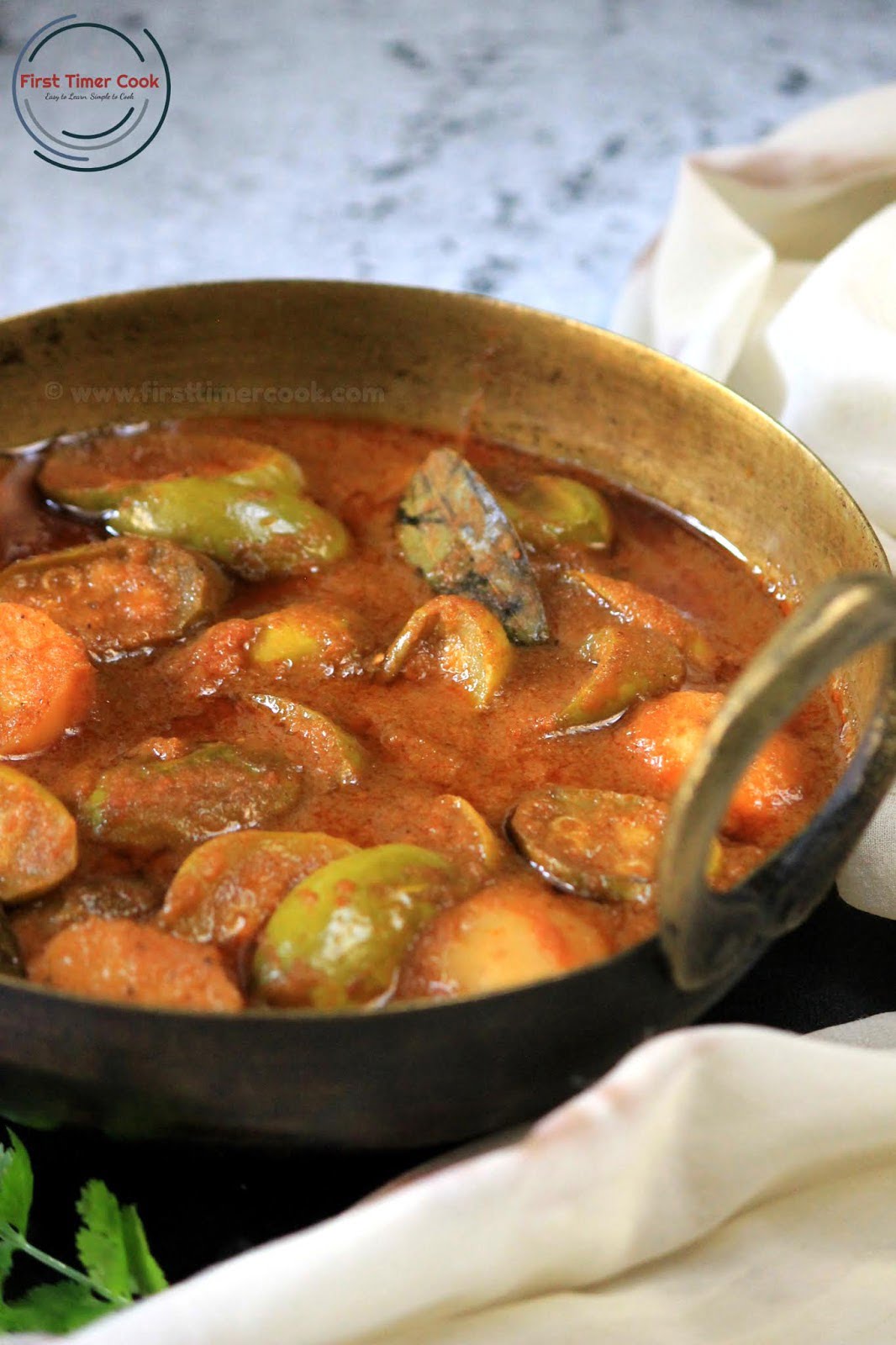 The odia word 'Potala' means Pointed Gourd and 'Rasa' means Gravy. This is a pure vegetarian curry from odia cuisine which can be prepared using Onion-Garlic or without using Onion-Garlic. Here I am going to share the onion-garlic version and the without Onion-Garlic version I will share in another post. The rasa / the gravy here has a very smooth consistency, so the onion along with ginger & garlic as well as the tomatoes must be grounded into very fine paste.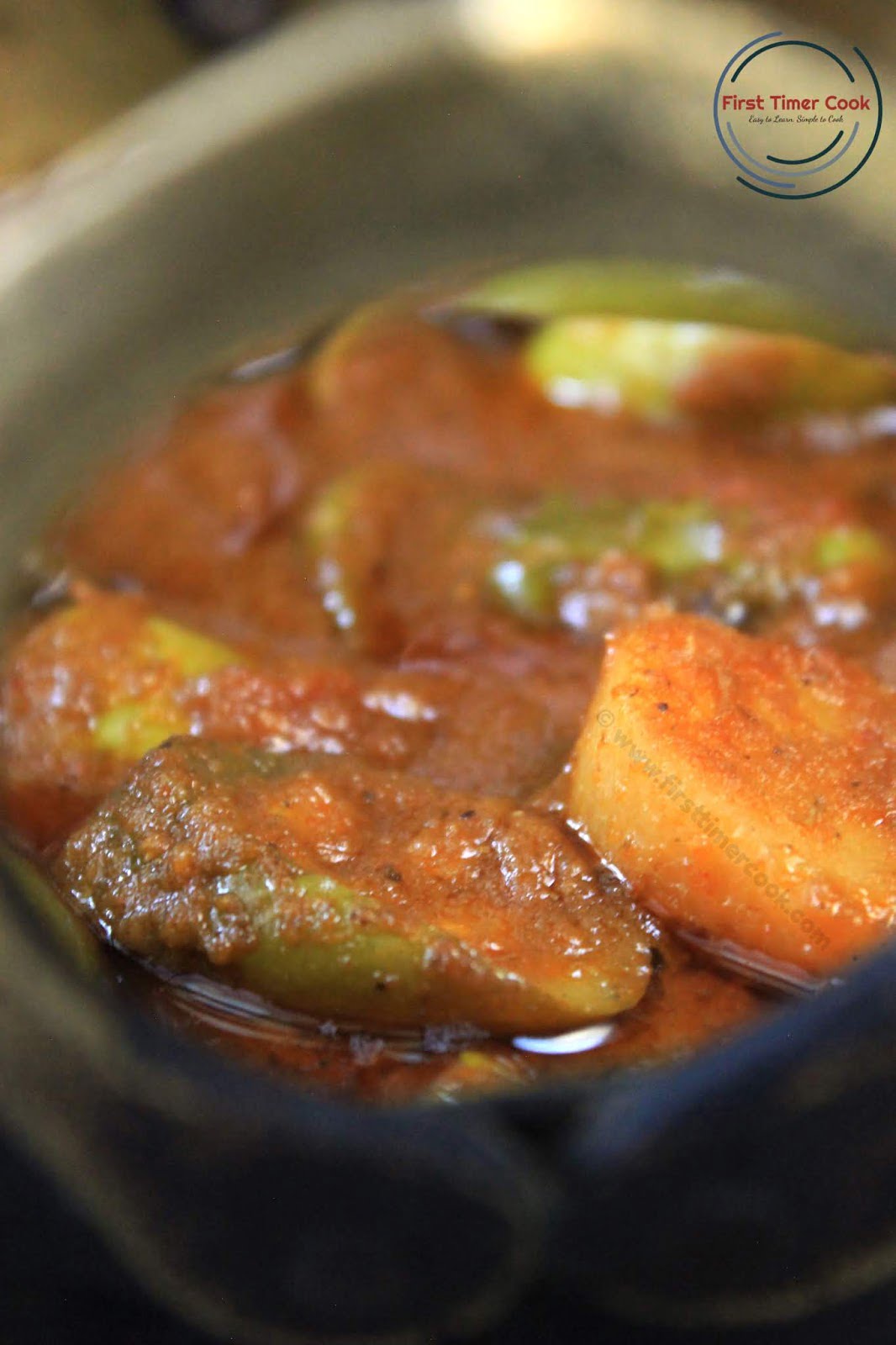 This is one of the most popular curry dish which goes very well with steamed rice, roti or even paratha. The color of the gravy here comes by the sugar caramelization as well as by the use of the red chili powder. Some people love to add potato cubes in this curry whereas some doesn't. So this addition is totally optional. Completely vegan and gluten free side dish is this. Mustard oil is used here to get the most authentic flavor in the dish, still one can use any other vegetable oil here. So do try this very delicious Potala Rasa from odia cuisine.
Recipe Card for 'Potala Rasa | Odia Style Pointed Gourd Curry' :

Parwal, Potala, Vegan, Gluten free, Vegetarian, Side dish, Curry, Gravy dish, Pointed gourd,
Vega, Gluten free, Vegetarian, Side dish, Curry, Gravy dish, Pointed gourd
Odia cuisine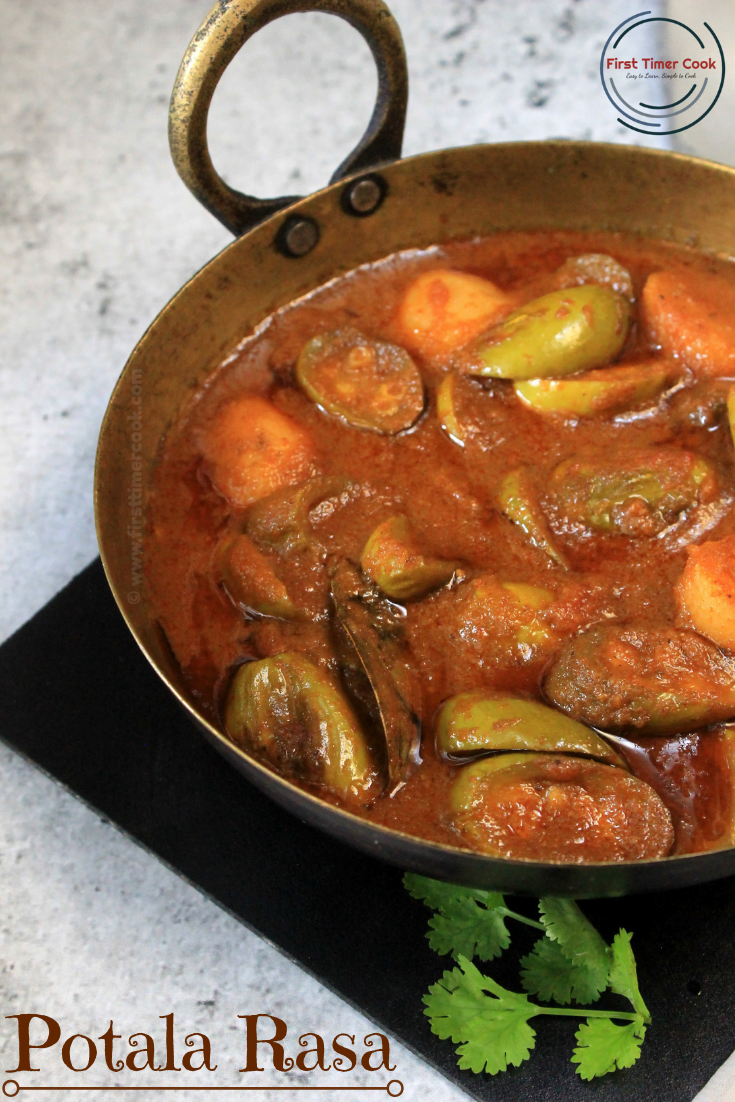 Potala Rasa | Odia Style Pointed Gourd Curry
a most popular curry using Pointed Gourd from Odia Cuisine
prep time: 15 Mcook time: 40 Mtotal time: 55 M
ingredients:
Pointed gourd (Parwal / Potala) 7 no.
Potato (medium) 3 no.
Onion (roughly chopped) (medium) 2 no.
Garlic clove 6-7 no.
Ginger 1 inch
Tomato (roughly chopped) (medium) 1 no.
Red chili 1 no.
Bay leaf 2 no.
Green cardamom 1 no.
Cumin seed 1 tsp
Turmeric powder 1 tsp
Coriander powder 1/2 tbsp
Cumin powder 1/2 tsp
Garam masala 1/2 tbsp
Red chili powder 1 tbsp
Mustard oil 6-8 tbsp
Sugar 1/2 tsp
Salt as needed
instructions:
How to cook Potala Rasa | Odia Style Pointed Gourd Curry
First wash and clean all the potatoes and pointed gourds.
Then trim off both the end parts of pointed gourds and just gently scrape out the outer skin of these, but this scraping part isoptional.
Cut each parwal / pointed gourd diagonally into two halves and keep in a mixing bowl.
Next peel all the potatoes and cut into two halves or even quarters (the size of parwal and potatoes must be equal approximately) horizontally.
Transfer these potato pieces into the bowl and then add 1/2 tsp turmeric powder and 1/2 tsp salt.
Mix everything and keep aside.
Then in a blender jar take roughly chopped onion, red chili, ginger, garlic cloves and blend into a very fine paste without adding any water.
Transfer to a bowl and into the same blender jar add roughly chopped tomatoes.
Blend into fine puree and transfer to another bowl.
Now take a kadhai / pan and heat mustard oil.
Gently put first the parwal pieces and fry until they become light brown in color.
Transfer to a plate and again fry the potato pieces until brown in all side.
Take out from the pan and again heat the pan having left over mustard oil.
Then add sugar and allow to melt.
Add whole green cardamom, bay leaves, cumin seeds and allow to splutter.
Add the onion-ginger-garlic-red chili paste, stir and cook over low-medium heat till the raw smell goes away.
Then add tomato puree and give a stir.
Next add 1/2 tsp turmeric powder, coriander powder, cumin powder, red chili powder, salt and mix everything well.
Cook these masala by stirring in between till oil starts leaving from the masala.
Now add all the fried parwals and potato pieces.
Mix everything well and cook for 1-2 minutes.
Then add around 1-1.5 cup water, give a nice stir and wait till a boil comes.
Cover and allow to cook till all the vegetable pieces are well cooked over low-medium heat.
Sprinkle the garam masala powder, give a stir and cook for 1 minute more.
Turn off heat and serve as a side dish with steamed rice, roti or paratha !
NOTES:
Mustard oil is the recommended oil to get the authentic taste in potala rasa. Instead of that, any other vegetable oil can be also used.
Potatoes here in the recipe is loved by all in my family, so I always add. But this addition is also optional. One can make potala rasa without any potato.
Sugar here gives a lovely color to the whole dish, so I never recommend to skip this addition.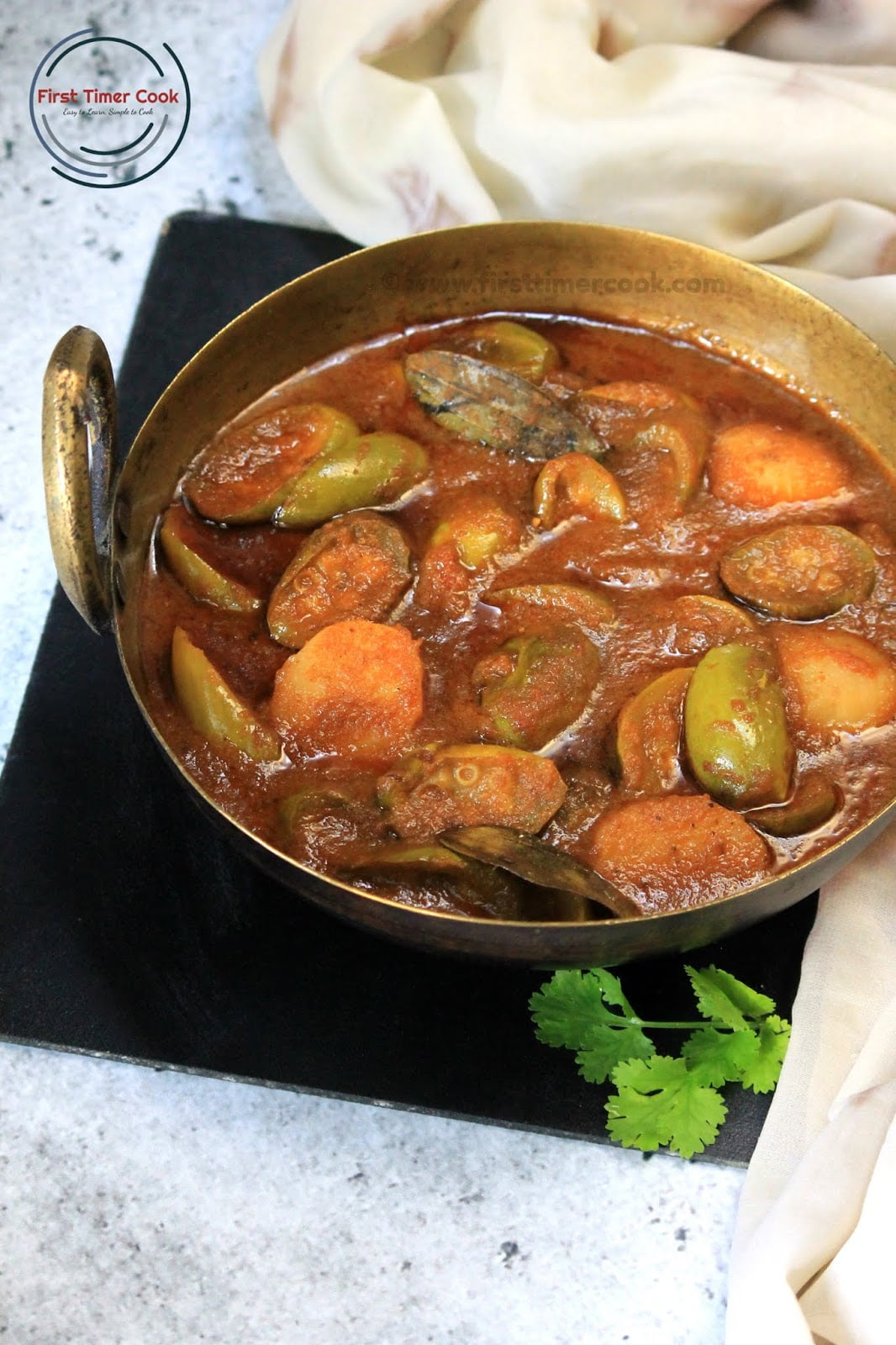 If you tried my recipe and enjoyed fully, then please share some pictures of your creation with me. Also kindly rate the recipe below, give your valuable feedback either in the comment box below / tag me as @firsttimercook on Instagram.
You may also follow me on Facebook, Pinterest, Twitter, Google+, Instagram and can subscribe for free to get new recipes directly into your inbox 😊
PIN for later :