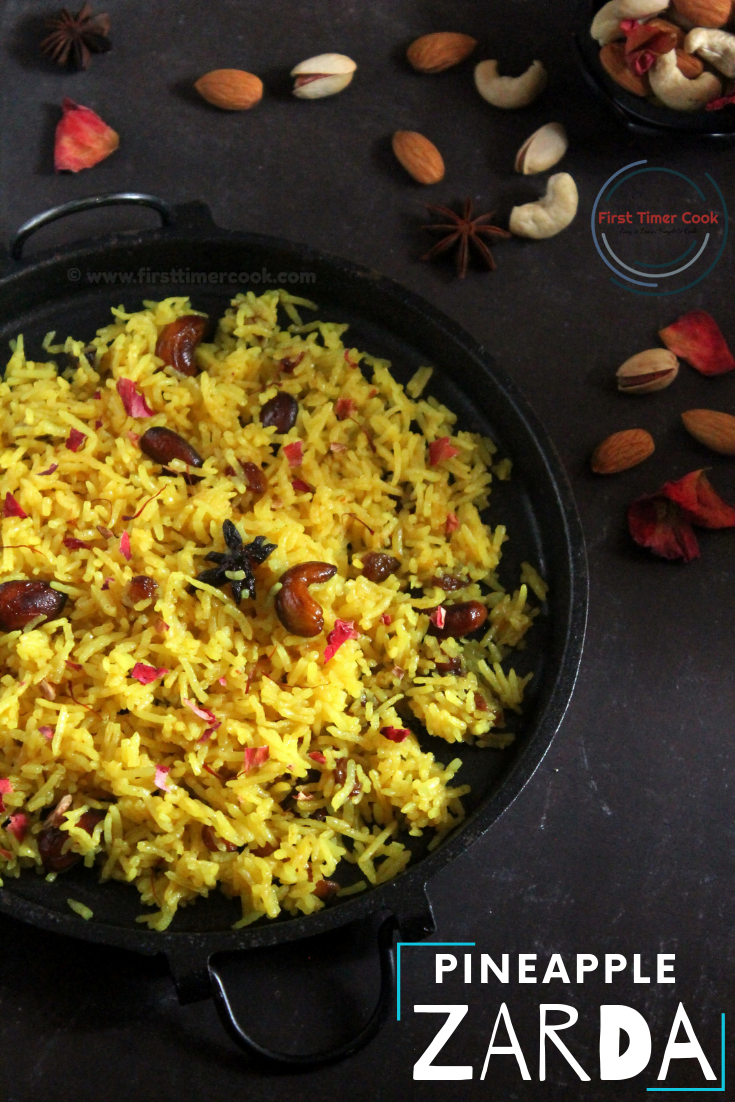 In Islam, there are 2 Eids : Eid al-Fitr which marks the end of Ramadan – the Islamic holy month of fasting and Eid al-Adha just after the hajj. Well, Eid-Al-Fitr is right on the corner and its real fun thinking about all the good food, the best wishes from friends and relatives. No Eid, especially Eid-Al-Fitr is complete without these things. The family time spent together making the dishes like Sheer Khurma, Zarda Pulao, Shahi Tukda, Mutton Biriyani etc. Everyone is on a mood to enjoy particularly after a whole month of fasting.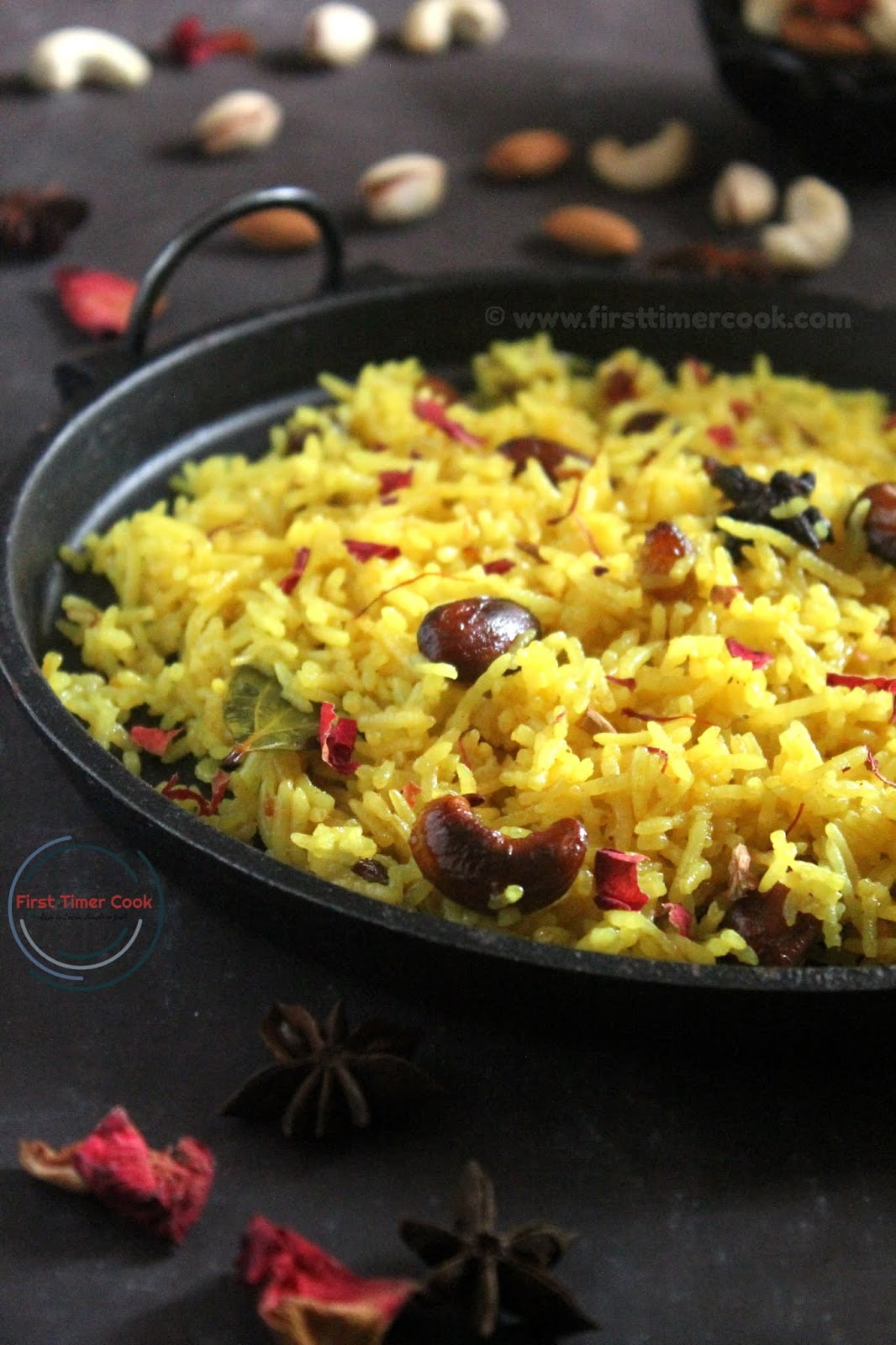 Today here I am going to share the Vegan Zarda Pulao / Sweet Saffron Rice. The name Zarda comes from a Persian word 'zard' which means 'yellow'. The rice is colored yellow either by food coloring or by using saffron strands. Zarda is a traditional South Asian sweet dish which is made by cooking rice with yellow food color or saffron, sugar, aromatic spices & dry fruits. Typically zarda is served after a meal as a dessert. This rich dessert is said to be a part of Mughal cuisine too.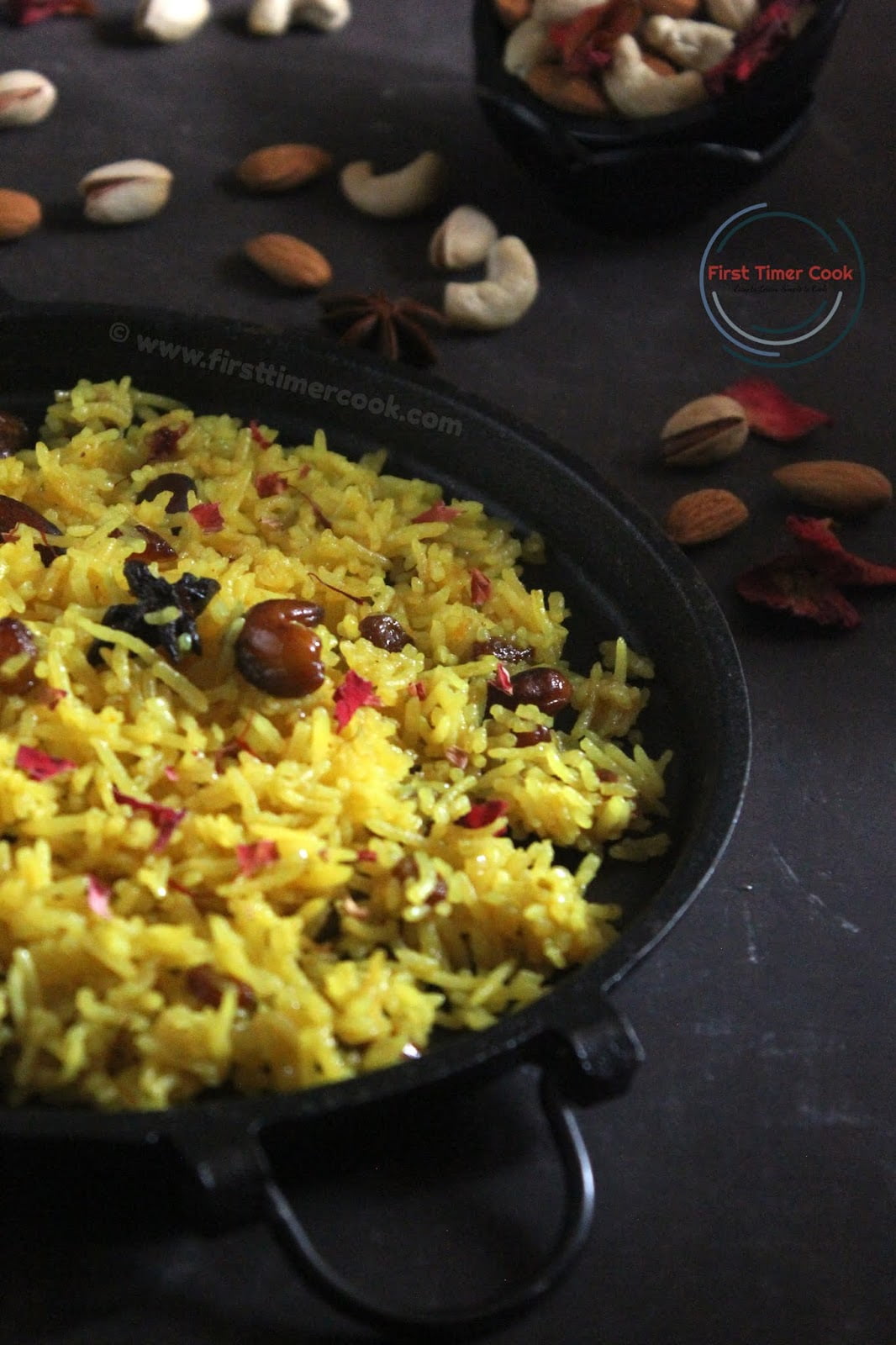 In zarda some also add some khoya to make it even more richer. And in that case the khoya has to first grate well to get added with the rice. The most important part in zarda pulao is the cooking procedure of rice. First the rice has to be cooked up to 90% with some aromatic spices and after that only the cooked rice is added to the sugar-nuts mixture. These days also the food coloring are easily available and becoming more cheaper and quicker way to get the color in the pulao. But here I have prepared without using any food color and also no khoya is used.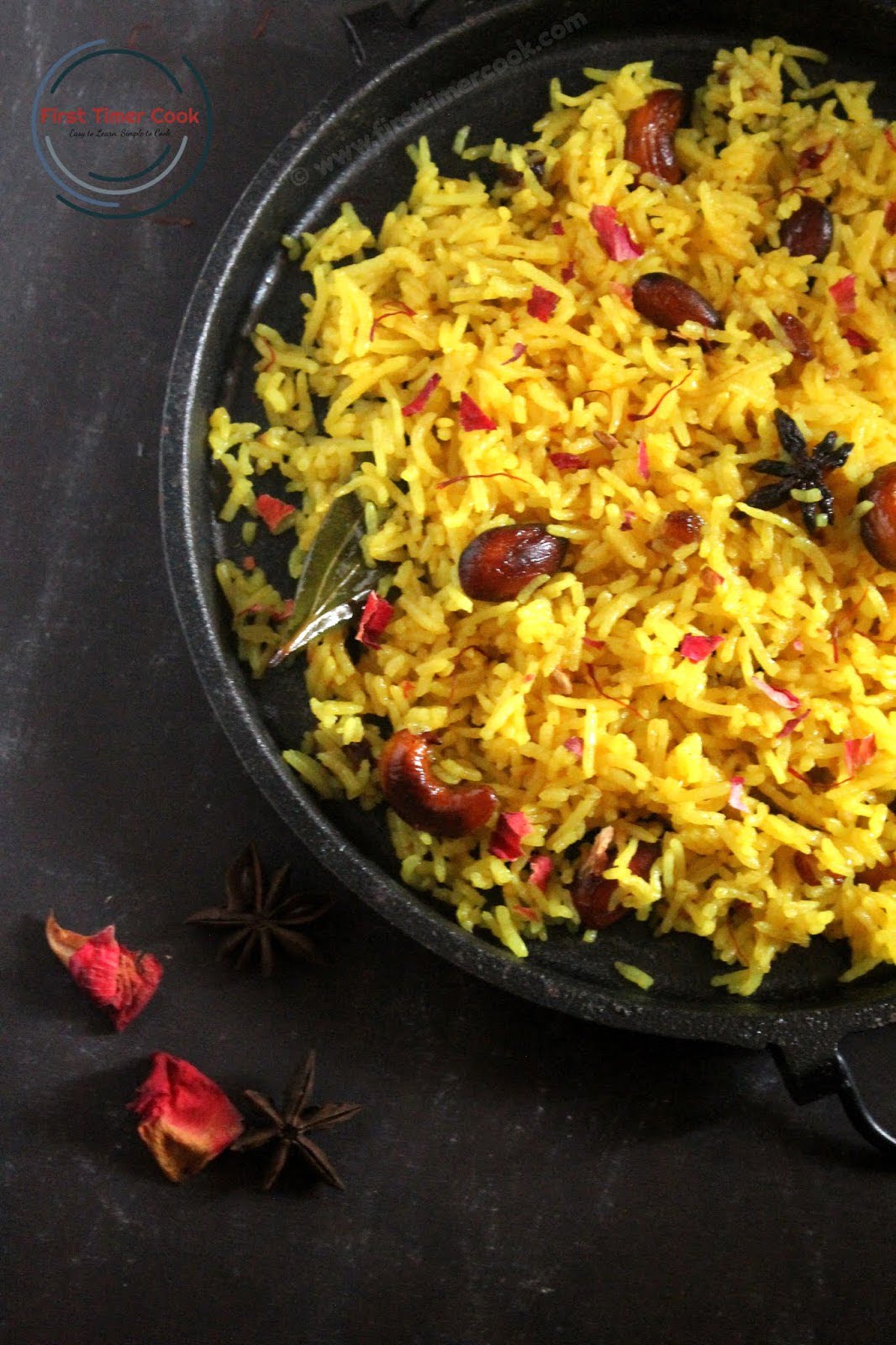 I have flavored the zarda pulao using a tropical fruit, Pineapple and hence the dish is Pineapple Zarda Pulao. Some thoroughly fine chopped pineapples are added here. The dish gets a totally different flavor for this tropical fruit. So deliciously rich and much fragrant this sweet rice is perfect option of dessert for any festive as well as wedding celebrations.Completely vegan and gluten free is this dish. So do try this Pineapple Zarda Pulao for upcoming Eid surely to impress your family members and relatives.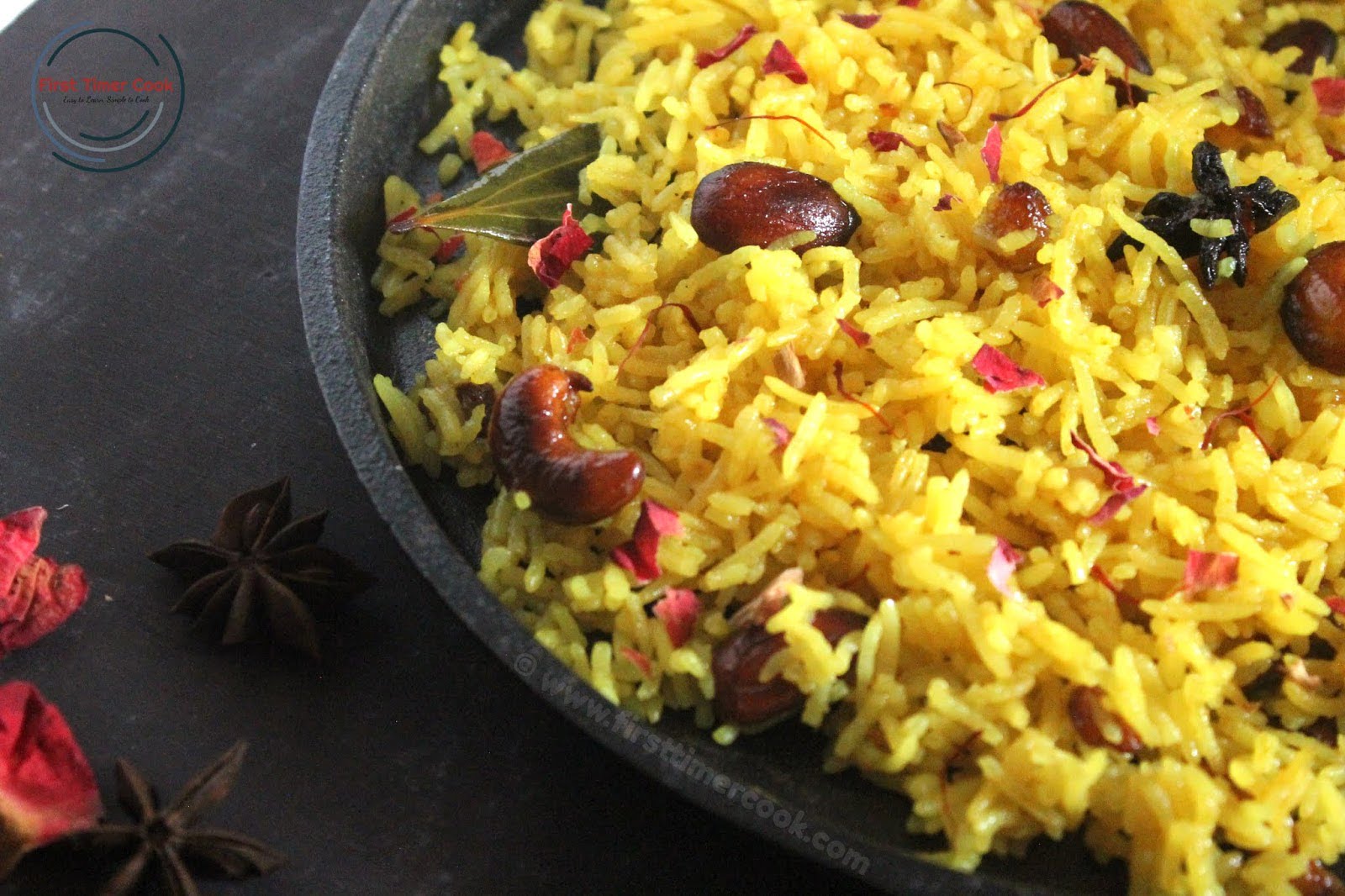 Recipe Card for 'Pineapple Zarda Pulao – a Tropical Sweet Saffron Rice' :

rice, gluten free, sweet rice, saffron strand, vegan, dessert, dryfruits, pineapple
Dessert, Vegan, Gluten free, Eid special
Mughlai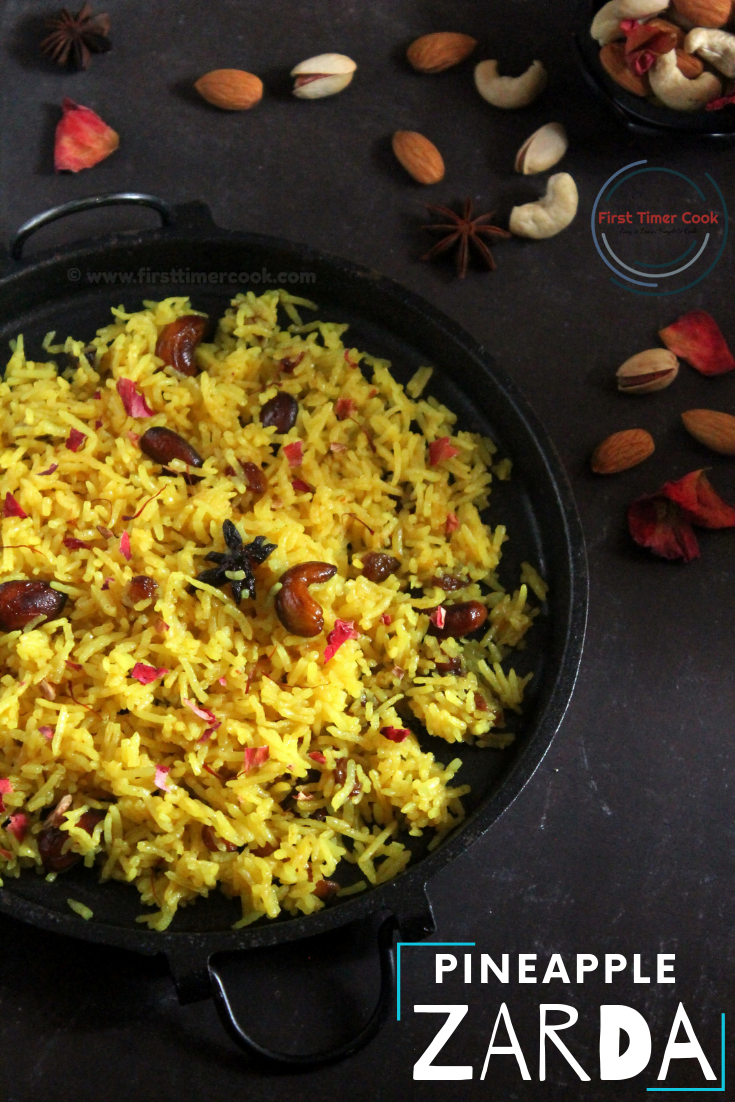 Pineapple Zarda Pulao / Tropical Sweet Saffron Rice
a deliciously rich and much fragrant Sweet Saffron Rice for festive celebrations like Eid, Holi etc.
prep time: 20 MSoaking time: 2-3Hcook time: 30 Mtotal time: 50 M
ingredients:
Basmati rice 2 cup

Pineapple (finely chopped) 3/4 cup

Sugar 1 & 1/2 cup

Saffron generous pinch

Cashew 10-12 no.

Raisin 4 tbsp

Almond 6-8 no.

Chironji 2 tbsp

Green cardamom 3 no.

Bay leaf 2 no

Cinnamon stick 2 inch

Star anise 2 no.

Rose petal (dried) few

Oil 4 tbsp

Water as needed
instructions:
How to cook Pineapple Zarda Pulao / Tropical Sweet Saffron Rice
First in a small bowl take 1/4 cup of warm water, saffron strands and keep aside to get soaked for at least 2-3 hours or even overnight by placing in refrigerator.

Next wash and clean the basmati rice and soak in enough water in a mixing bowl for at least 1 hour.

Then drain the rice and keep aside.

In a deep pan, take 5-6 cup of water along with green cardamom, cinnamon stick, star anise, bay leaf and allow to boil.

Then add all the drained rice and cook till the rice is 90% done.

Turn off heat and strain the rice along with all the whole spices. Keep aside.

Now heat oil in another pan.

Fry all the cashews, almonds, chironjis, raisins till golden brown in color.

Next add finely chopped pineapples along with saffron mixture.

Give a nice stir and allow to cook the pineapples till become soft.

Add sugar and stir till sugar melts.

After that lower the heat, add rice and gently mix till everything get well incorporated.

Cover the pan and allow to cook for 10 minutes more on simmer.

Then turn off heat.

Using a fork gently fluff up the zarda pulao and serve !
NOTES:
I have not used ghee here to keep the dish purely vegan. But one can surely use ghee to make the zarda pulao.
Also some khoya in grated form'll make the dish even more richer in addition to nuts. At my place zarda pulao is loved by all without adding khoya, so i have skipped here.
If adding khoya, the add these just after adding rice to the sugar mixture.
It is recommended to cook the rice till 90% and then that can be added to the sugar mixture.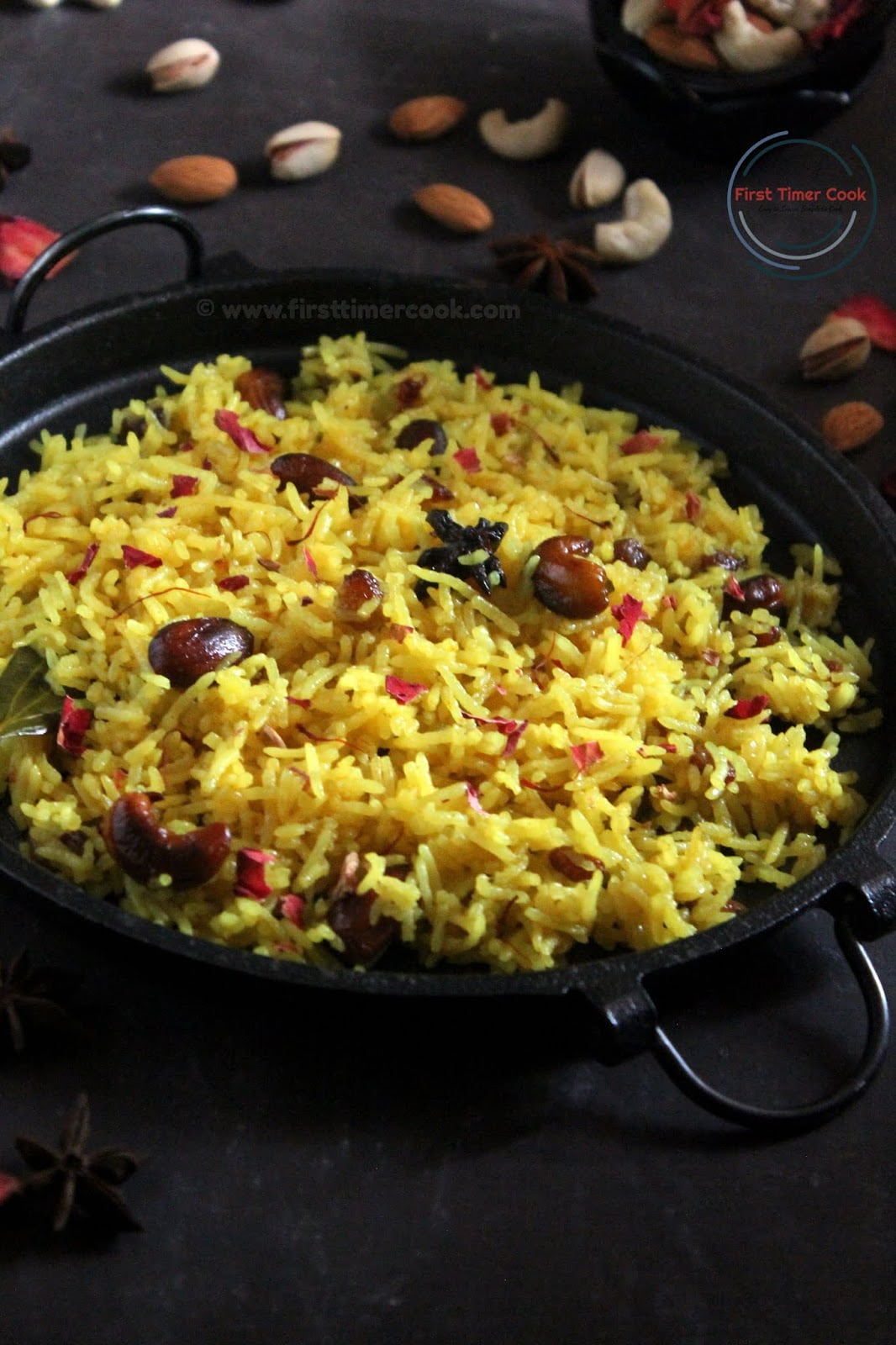 If you tried my recipe and enjoyed fully, then please share some pictures of your creation with me. Also kindly rate the recipe below, give your valuable feedback either in the comment box below or tag me as @firsttimercook on Instagram.
You may also follow me on Facebook, Pinterest, Twitter, Google+, Instagram and can subscribe for free to get new recipes directly into your inbox 😊
This Pineapple Zarda Pulao is contributed for 198th theme of the Foodie Monday Blog Hop foodie group which is decided as 'Eid with Foodies'.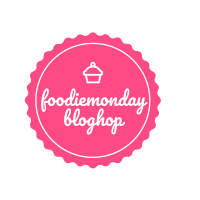 PIN for later :