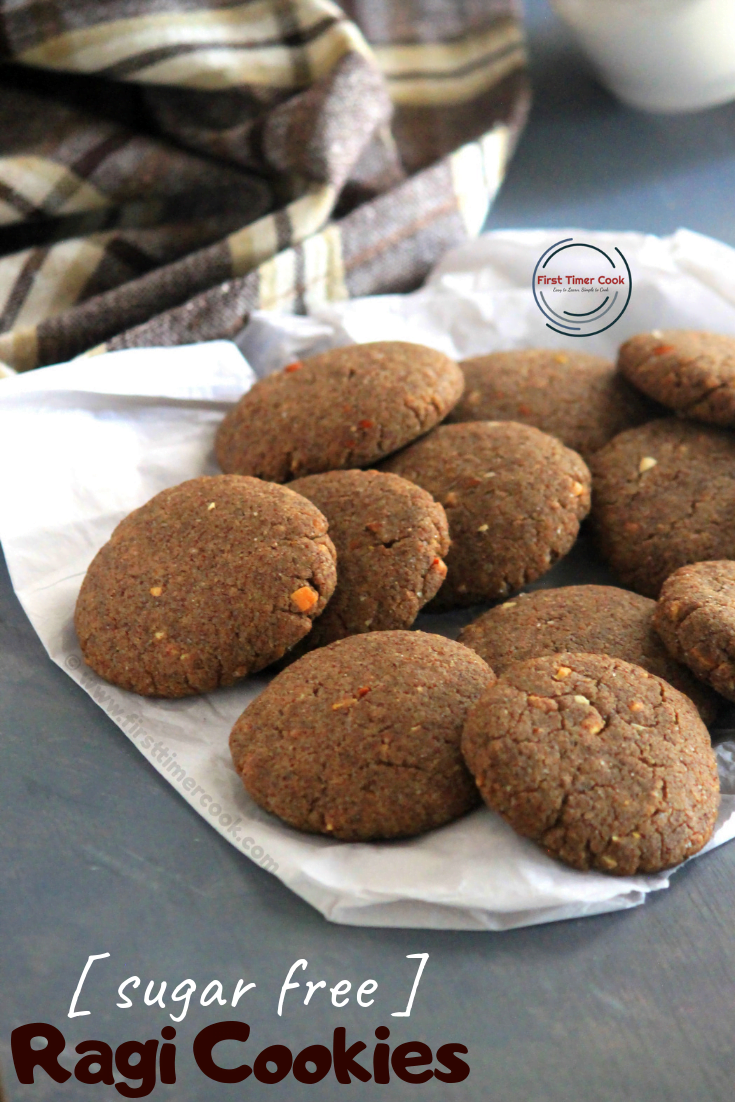 Finger millet / Ragi / Mandia / Nachni is a wonderful ingredient that was lost as compared to the popularity of wheat and rice has grown. One of the forgotten ancient millets, ragi is slowly attracting as the latest desi super food. The grain is a rich source of calcium, protein, iron and more. Ragi grain is very small so that it cannot be polished all that much, which means it basically retains all the good stuff. Ragi has thirty times as much calcium as rice, more then ten times as much fiber and its nutrients are easily absorb-able. It is gluten free, cheap and easily accessible as well. India is the world's largest producer of ragi. Using this natural wonder either in grain or powder form, one can make a no of dishes starting from breads to bakes to pilaf or even beverages. I have already shared 2 beverages using the ragi as Salty Ragi Malt and Ragi Malt using Date & Almond which is the sweet version.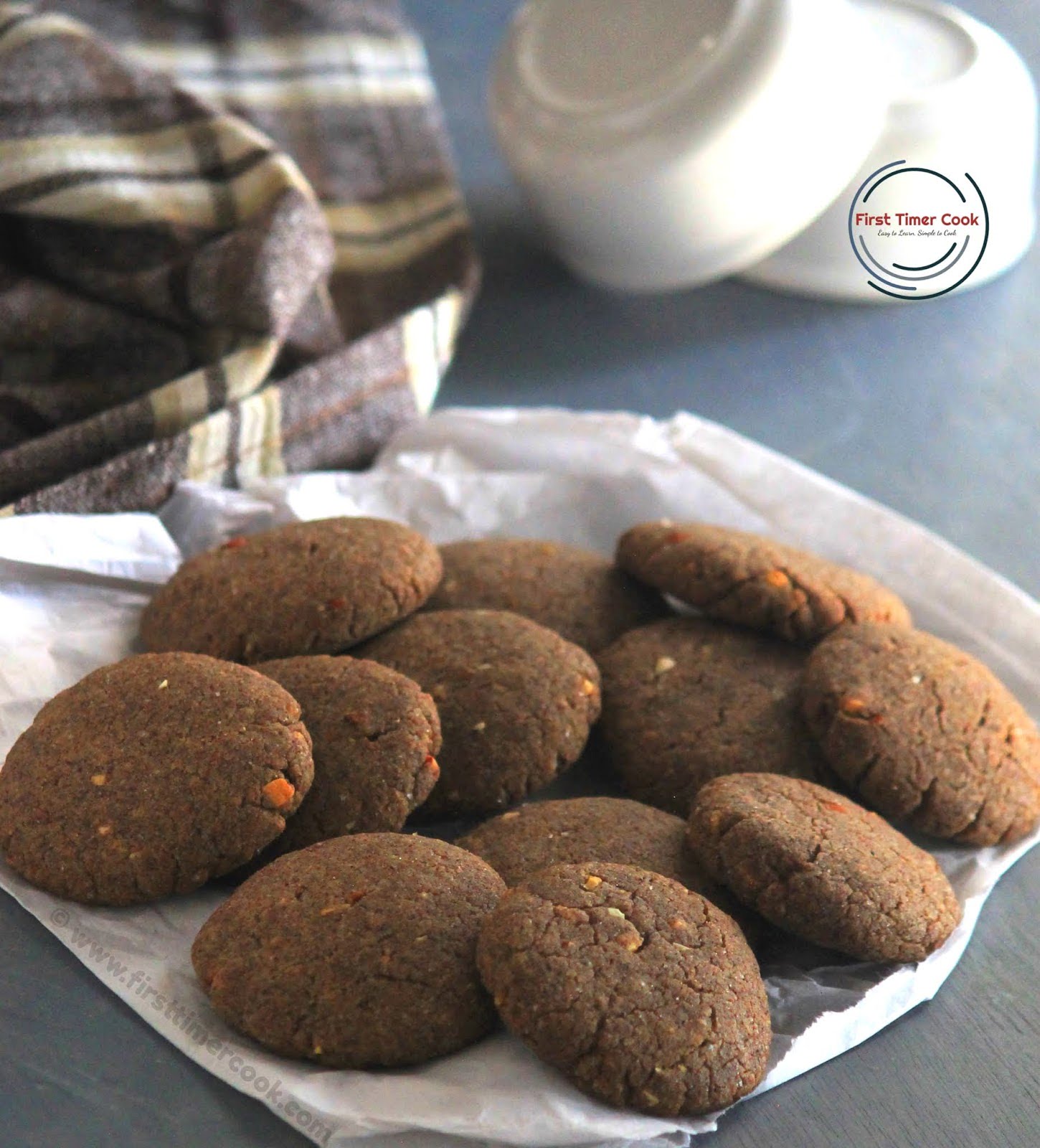 Today's post is a cookie recipe using this wonderful finger millet / ragi as Sugar free Ragi cookies. One can use the powder form of this millet. Just roast a bit the ragi and then make a powder in blender jar. Else use the store bought ragi flour and in that case before using in the cookie recipe, just dry roast the flour for 2-3 minutes or till the color gets a wee bit darker then use.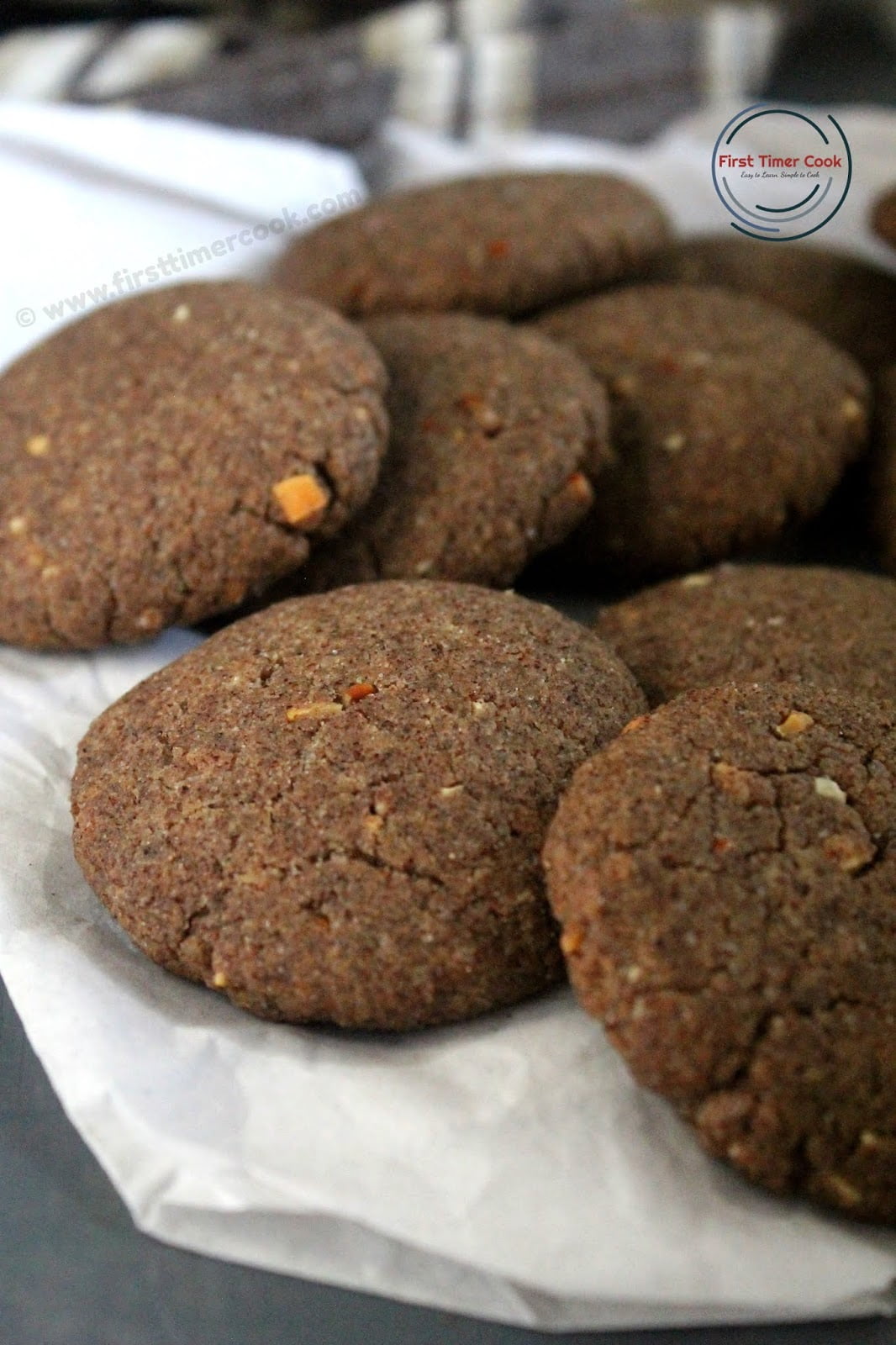 Well the process here is quite easy and the end result is very healthy and tastes very delicious too. Completely sugar free these cookies are, as I have used jaggery in powder form. Along with ragi flour some wheat flour is also used. Instead of butter olive oil is used to keep the cookies as Vegan, but it is optional. If desired, the 1/2 cup butter can be replaced with olive oil. To get some crunch some chopped dryfruits are also added to the cookies. These cookies are perfect for evening snacks, kids tiffin box without any guilt feelings. So do try these calcium rich cookies loaded with the goodness of ragi and
jaggery.
Recipe Card for 'Sugar free Ragi cookies | Finger Millet cookies' :

Vegan baking, Cookies, Ragi, Finger millet, Jaggery, No sugar cookie, Olive oil, Dry fruits, wheat flour
Cookies, Baking, Vegan, Finger millet, Ragi, Jaggery
Indian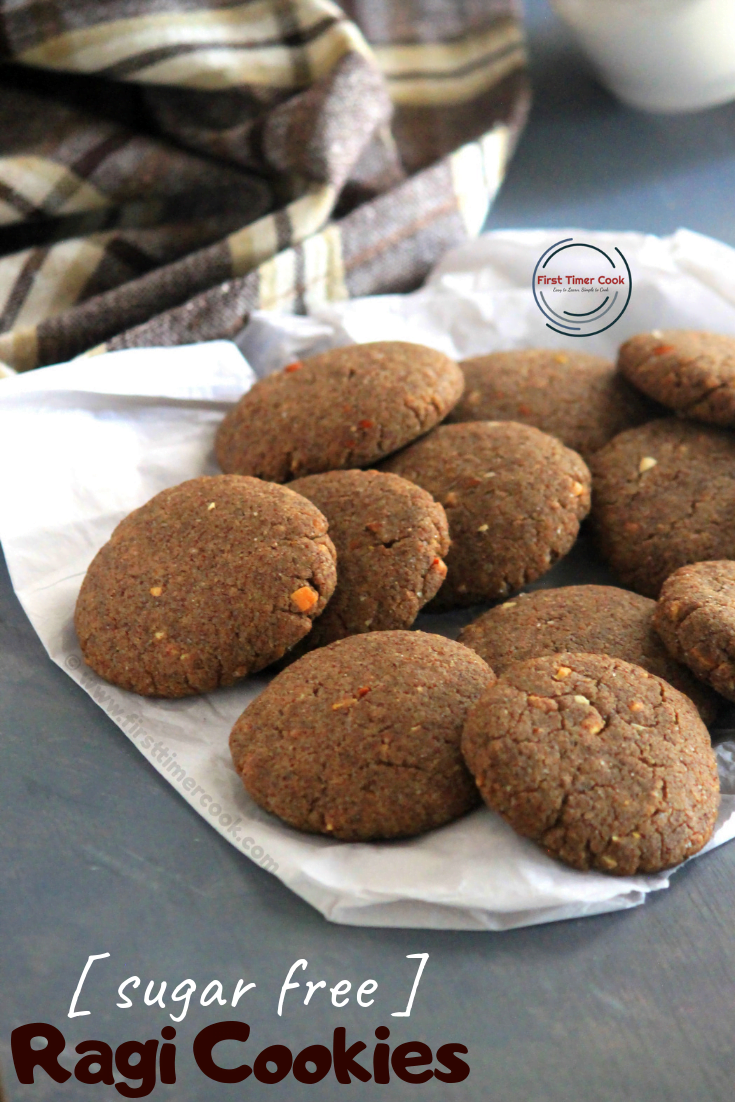 Sugar free Ragi cookies / Finger Millet cookies
calcium rich vegan cookies loaded with the goodness of ragi and jaggery
prep time: 10 Mcook time: 25 Mtotal time: 35 M
ingredients:
Ragi flour (finger millet flour) 2/3 cup

Wheat flour 1/3 cup

Jaggery powder 1/2 cup

Dry fruits (finely chopped) 3 tbsp

Olive oil 1/4 cup

Baking powder 3/4 tsp

Cardamom powder 1/2 tsp

Water 2-3 tbsp
instructions:
How to cook Sugar free Ragi cookies / Finger Millet cookies
Preheat the oven at 180 degrees C.

In a pan roast the ragi flour for 2-3 minutes or till the color gets a wee bit darker.

Transfer to a plate and allow to cool down properly.

Mix together all the dry ingredients as wheat flour, ragi flour, baking powder and jaggery powder in a mixing bowl. Keep aside.

Next add vanilla essence, olive oil and mix well to get a dough structure.

Then add all the chopped dry fruits and gently mix till well incorporated in the dough.

Scoop up 2 tbsp of the mixture and shape into ball.

Flatten slightly and place over a baking tray lined with parchment paper.

Similarly make balls from rest dough and arrange on the baking tray keeping some space in between.

Bake for 18-20 minutes.

Take out the baking tray from oven and keep aside for 5-10 minutes.

Next transfer the cookies onto a wire rack and allow to cool down completely.

Store in an airtight container and serve when desired !
NOTES:
I have used olive oil, any other vegetable oil can be preferred.
Any other essence one can add here instead of cardamom also.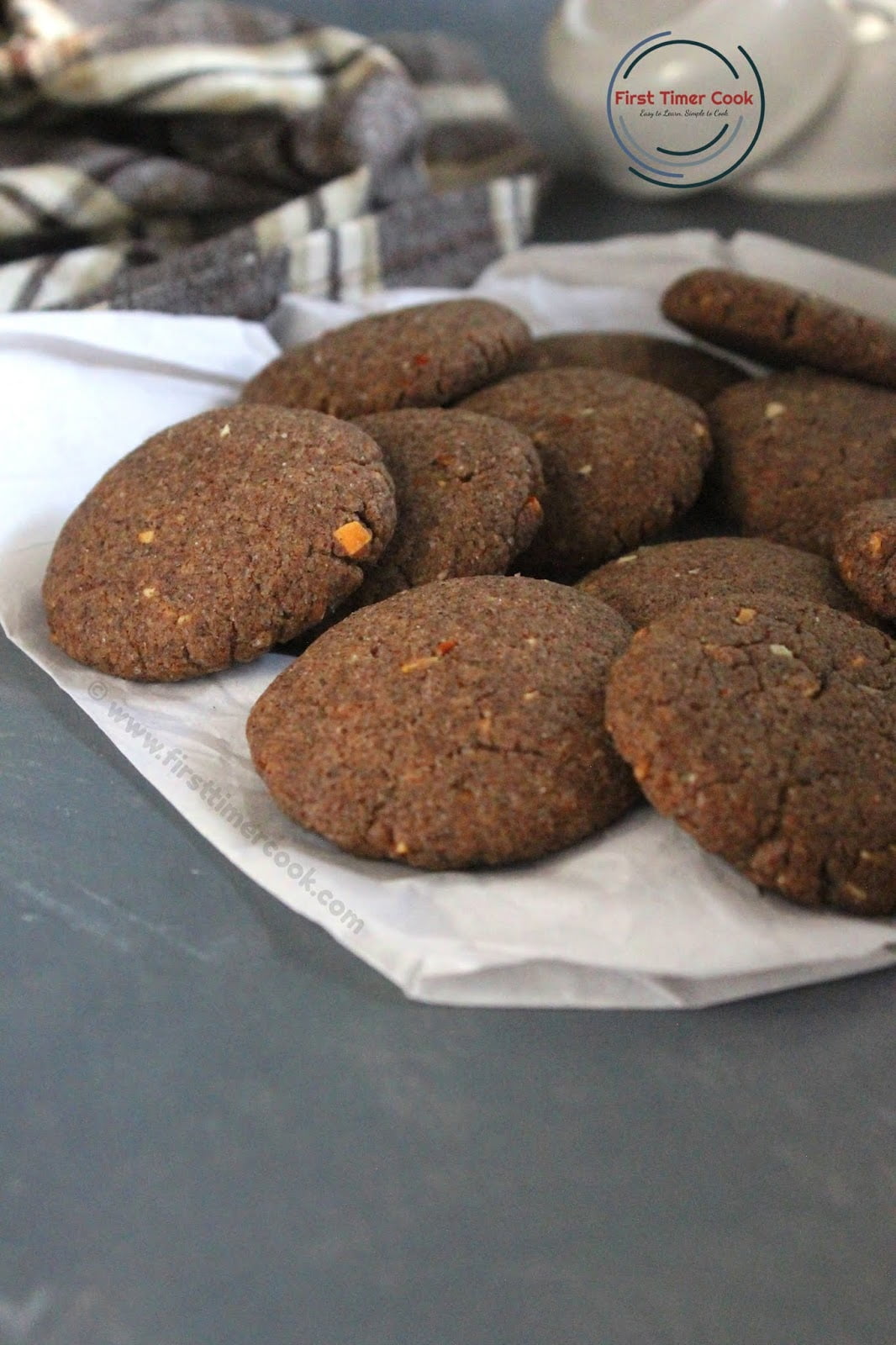 If you tried my recipe and enjoyed fully, then please share some pictures of your creation with me. Also kindly rate the recipe below, give your valuable feedback either in the comment box below or tag me as @firsttimercook on Instagram.
You may also follow me on Facebook, Pinterest, Twitter, Google+, Instagram and can subscribe for free to get new recipes directly into your inbox 😊
This Sugar free Ragi cookies / Finger Millet cookies is contributed for 199th theme of the Foodie Monday Blog Hop foodie group which is decided as 'Ragi Tales' and suggested by 'Poonam' who blogs at Annapurna.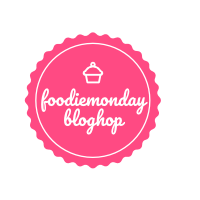 PIN for later :