a vegetarian creamy, mildly sweet and spicy side dish using kabuli-chana / chickpeas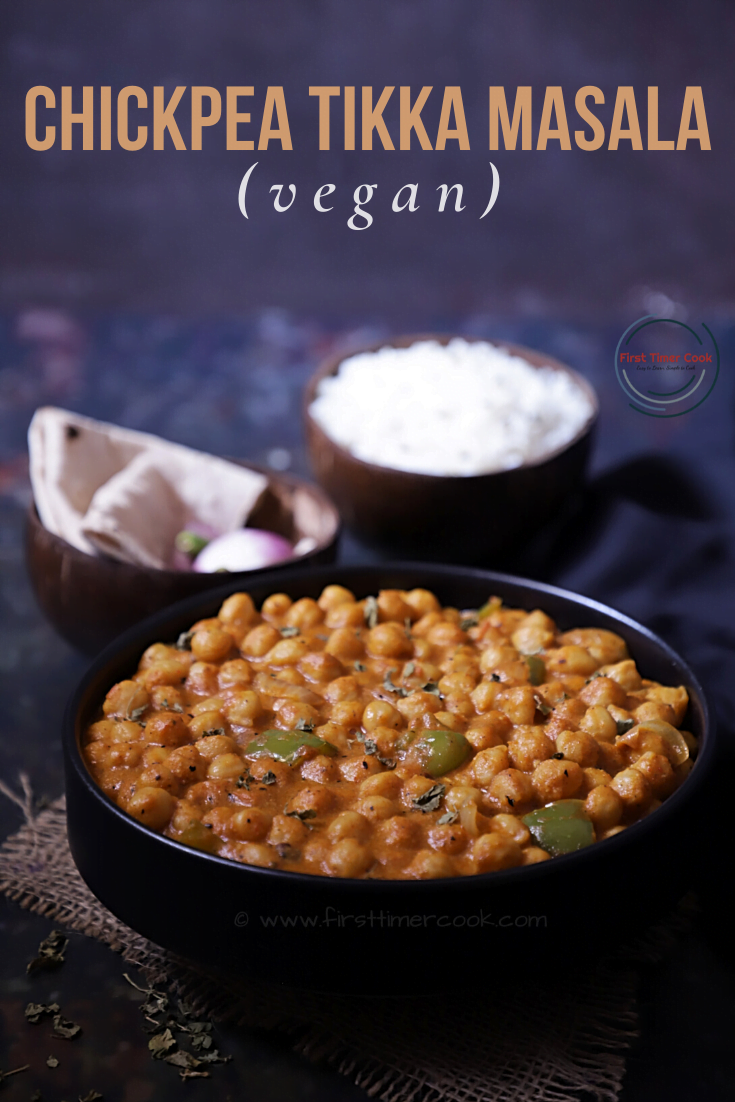 Chickpea (kabuli-chana) is the second common lentil apart from toor dal (split pigeon pea) at my place. I use this 2-3 times in a week to make a varieties of dishes. Among them, the chole capsicum masala is one of our favorite gravy. This is a north Indian style chickpea preparation with capsicum where the chickpea / chole / kabuli-chana and capsicum are cooked deliciously in a cashew-based curry.
And today I have come up with a similar kind of recipe using chickpea as Chickpea Tikka Masala 😊 Tikka masala that too chicken tikka masala is quite common and a popular non-vegetarian side dish in restaurants. In vegetarian version we often use paneer to make paneer tikka masala. But here, the tikka masala is using some chickpeas.
Chickpeas !!!
Chickpea is also named as garbanzo beans, chana, kabuli-chana and so on. It has a buttery, nutty flavor and creamy texture for which it pairs well with several other foods and ingredients. As a rich source of vitamins, minerals and fiber, chickpeas offer a variety of health benefits such as improving digestion, aiding weight management and reducing the risk of several diseases. Additionally, chickpeas are high in protein and make an excellent replacement for meat in vegetarian and vegan diets.

There are two types of chickpeas as desi and kabuli. Desi contains smaller, darker seeds and has more of a rough coat. Kabuli is a larger, lighter colored bean with a smoother coat. The color of the chickpeas also varries. These come in a variety of colors like green, brown, though the most popular and recognized color is beige.Do you know, green chickpeas are the younger chickpeas with a sweet flavor, almost like green peas. I love to make this Green Chickpea Salad in Mustard Vinaigrette in summer hot days. Chickpeas can be bought in both dried or canned form.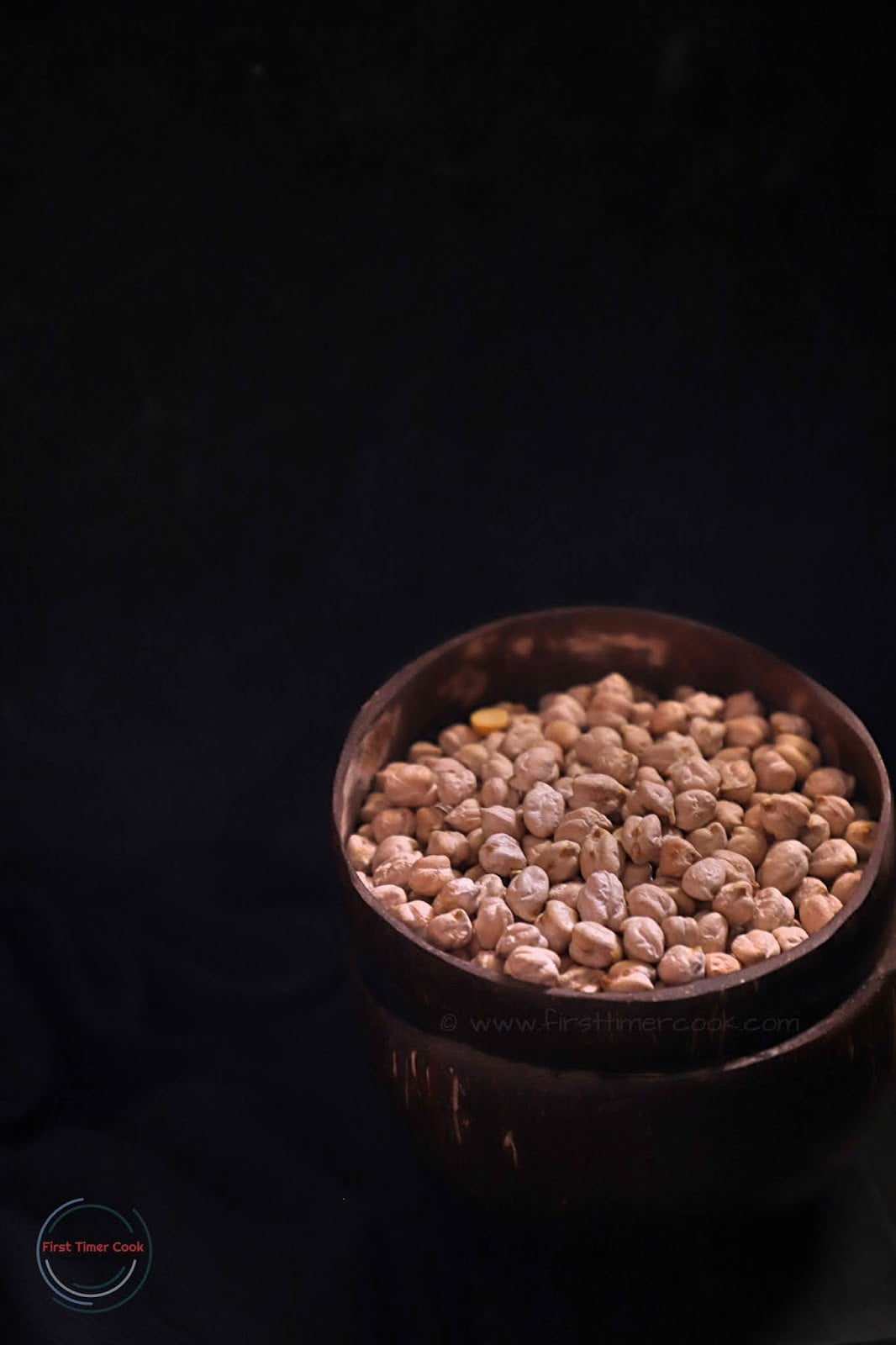 These days, chickpeas are used in a large variety of recipes. They can be used in salads, soups or stews, or as a quick snack. In India, a large number of recipes particularly curry (gravy kind) are based on the chickpea. The chickpeas are also the main ingredient in many Middle Eastern dishes like falafel (fried ball shaped snack), hummus(a dip) etc. Aquafaba, the liquid from the canned chickpeas has similar properties to egg whites and hence is a perfect egg substitute in vegan diet.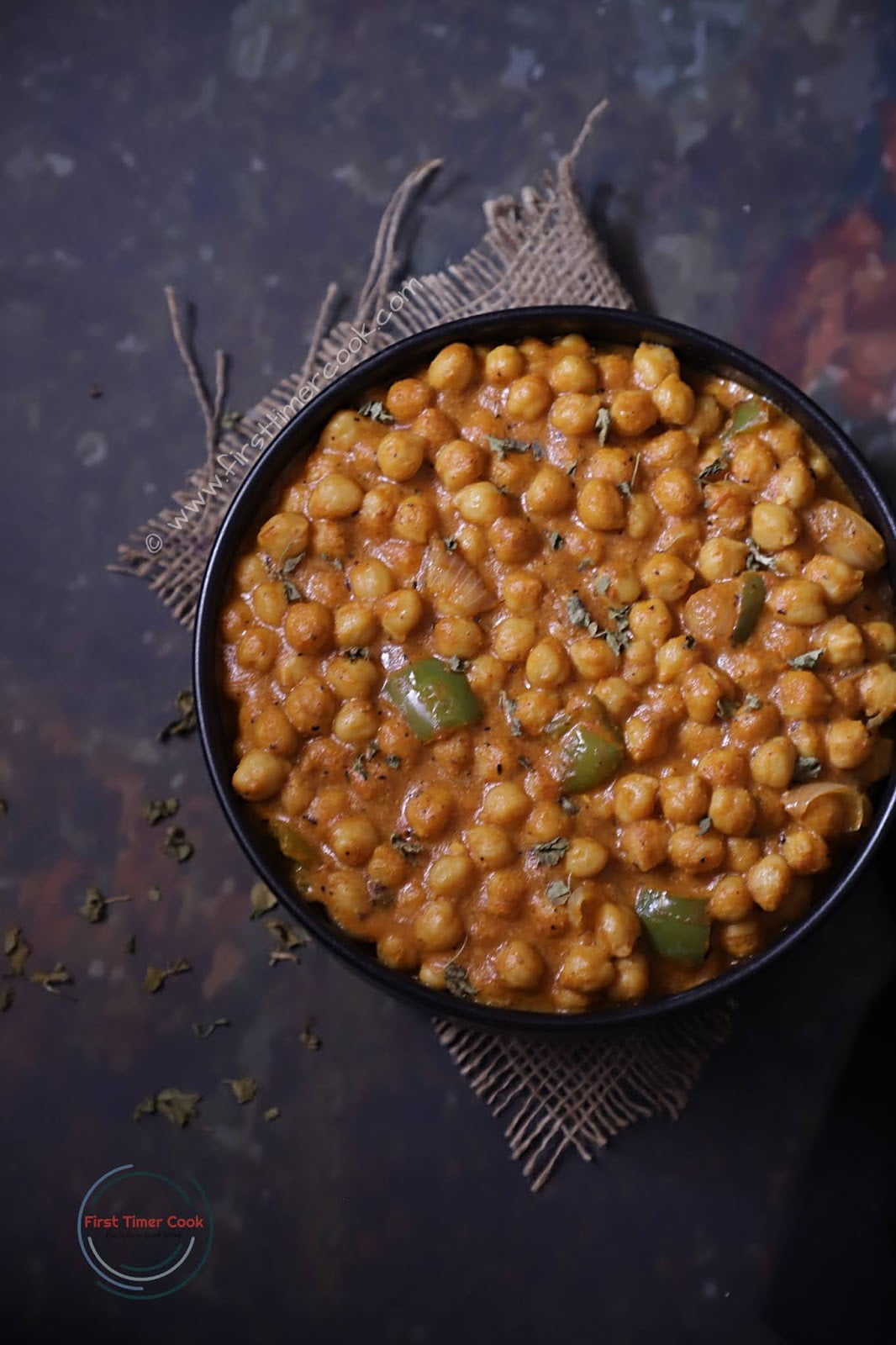 HOPE YOU WILL LIKE THIS Vegan Chickpea Tikka Masala 😊! WHY NOT TRY some more chickpea BASED RECIPES 👇 AS WELL :
The event related to this post :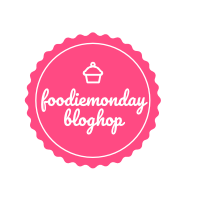 Monday is here again and the Foodie Monday Blog Hop team has decided the 252th theme as 'Chana Time' which is suggested by Mayuri di this time. She suggested that we showcase some recipes using chickpea / chana as the star ingredient. One could pick the black / brown variety or the white one (kabuli-chana) as well, but not its flour (Besan). So here this Vegan Chickpea Tikka Masala is contributed for the theme. And yes, don't forget to hop into her space where she shares a varieties of dishes. I like her Chickpea Quinoa Burger where chickpeas are used to make the filling.
Now let's go through how to make "Vegan Chickpea Tikka Masala" at home 👇
: Recipe Card :

Vegan Chickpea Tikka Masala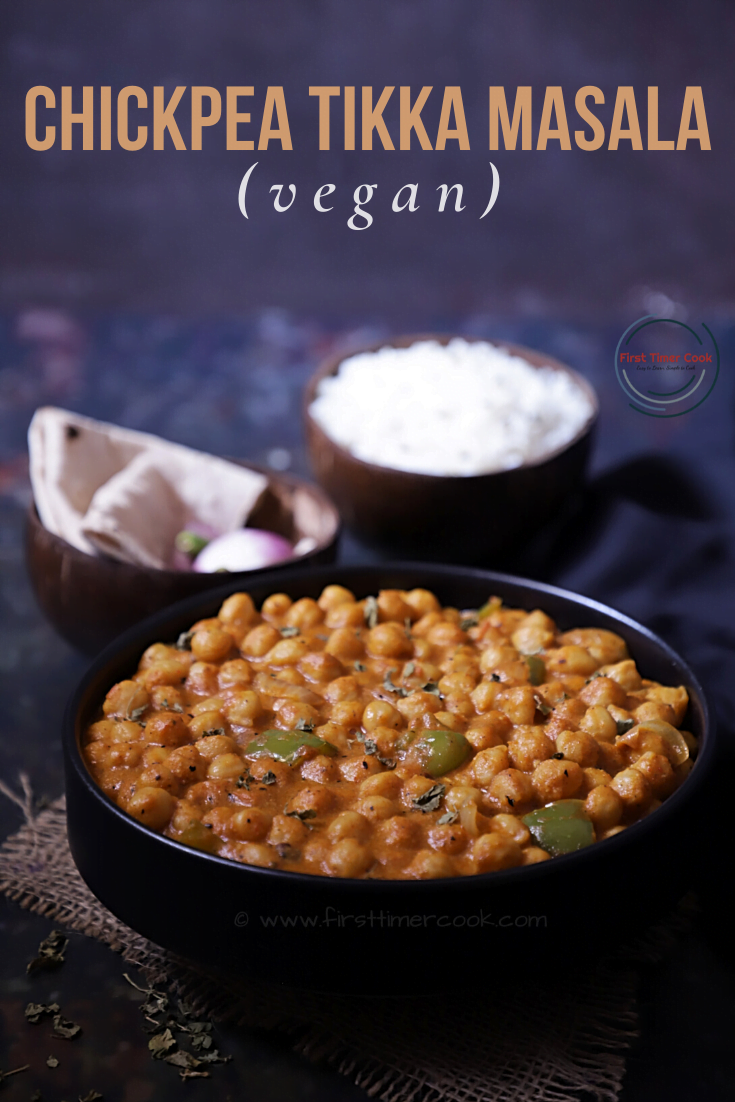 Prep time: 25 MCook time: 45 MTotal time: 70 M
a vegan version of the tikka masala recipe using chickpeas / kabuli-chana
Ingredients:
for Chickpea tikka
Chickpeas (boiled, not overcooked) 2 cup
Onion (1 inch cube) 1/3 cup
Capsicum (1 inch cube) 1/3 cup
Ginger-garlic paste 1 tsp
Lemon juice 1 tbsp
Garam masala powder 1/2 tsp
Red chili powder 1/2 tsp
Salt as needed
Oil 1/2 tbsp
for Tikka masala gravy
Onion (medium) 2 no.
Tomato (medium) 2 no.
Cashew 5-6 no.
Ginger 1/2 inch
Garlic clove 3-4 no.
Coriander powder 1 tsp
Turmeric powder 1/4 tsp
Red chili powder 1/2 tsp
Garam masala powder 1 tsp
Kasuri methi (dried fenugreek leaves) 1/2 tsp
Tomato sauce 1 tbsp
Bay leaf 1 no.
Clove 2 no.
Green cardamom 1 no.
Sugar 1/2 tsp
Salt as needed
Oil 2.5 tbsp
Water as needed
Instructions:
Chickpea Tikka in Oven :
In a mixing bowl take boiled chickpeas, onion and capsicum cubes first.
Into that add ginger-garlic paste, garam masala powder, red chili powder, lemon juice and oil.
Mix well till everything well coated and keep aside for 10-15 minutes.
Meanwhile line a baking tray with aluminium foil and preheat the oven at 180 deg C.
Transfer all the chickpea mixtures onto the pan and spread evenly.
Bake in a preheated oven for 15-18 minutes, flipping in between.
Take out from the oven and keep aside.
Tikka Masala Gravy on Gas stove :
Heat 1/2 tbsp oil in a pan.
Add bay leaf, onion chunks and cook until they become translucent.
Add roughly chopped gingers, garlic cloves, tomato chunks and cook for 1-2 minutes.
Add cashews and toss for a minute.
Next allow these onions, tomatoes, cashews to cool down.
Once these cool down, transfer to a grinder jar and grind into a fine paste. Keep aside.
Now heat 2 tbsp of oil in the same pan.
Add cloves, cardamom and saute for few seconds.
Then add the masala paste along with turmeric powder, red chili powder, coriander powder, garam masala powder, salt.
Mix well and allow to cook by covering the pan over low heat for 4-5 minutes or until oil starts leaving the pan, sauteing in between.
Then add tomato sauce, crushed kasuri methi, sugar and saute well.
Pour 1/4 – 1/2 cup water and allow to boil over low heat.
Next add the chickpeas with onions, capsicums and mix well everything.
Let this simmer over medium heat for 2-3 minutes and then turn off the heat.
Serve along with any Indian flatbread or even with jeera rice !
Notes:
Add water as per the desired consistency of the tikka masala. I have kept slightly thin consistency.
Some fresh cream can be added towards the end, I have not added. For vegan tikka masala, simply use vegan cream if interested to add cream.
Instead of garam masala, use tandoori masala if you have.
Always pick slightly boiled chickpeas, else there will be a mushy in the whole masala gravy.
https://firsttimercook.com/2020/06/vegan-chickpea-tikka-masala.html
Chole, Kabuli chana, Chickpea tikka masala, onion, capsicum, gluten free, Gravy,
Chickpea, Tikka Masala, Vegan, Side dish, Vegetarian
Indian
Did you make this recipe?
Tag @firsttimercook on instagram and hashtag it #firsttimercook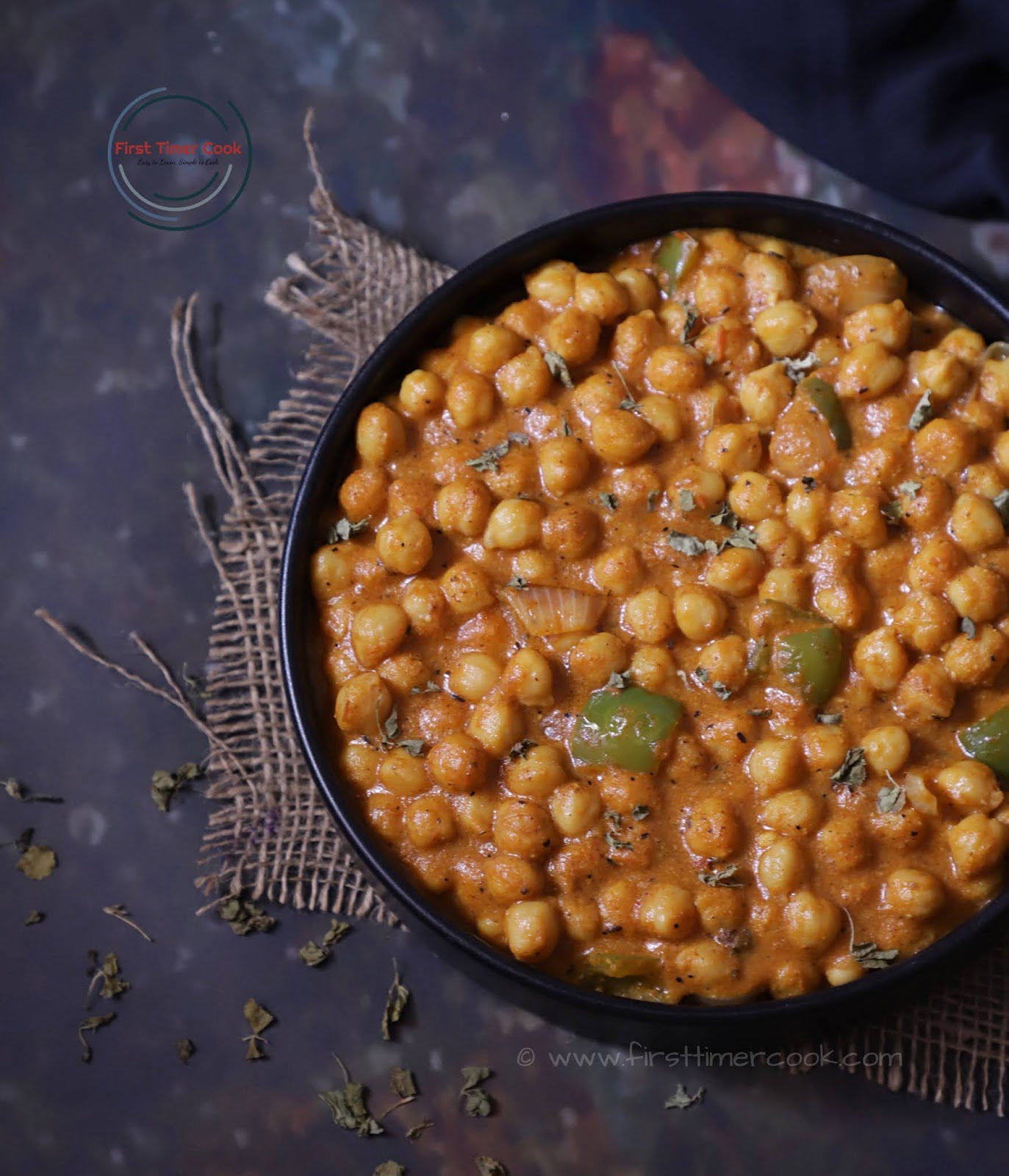 You may also follow me on Facebook, Pinterest, Twitter, Google+, Instagram and can subscribe for free to get new recipes directly into your inbox 😊
PIN for later :