a healthy savory cake using semolina (sooji) and some vegetables without any egg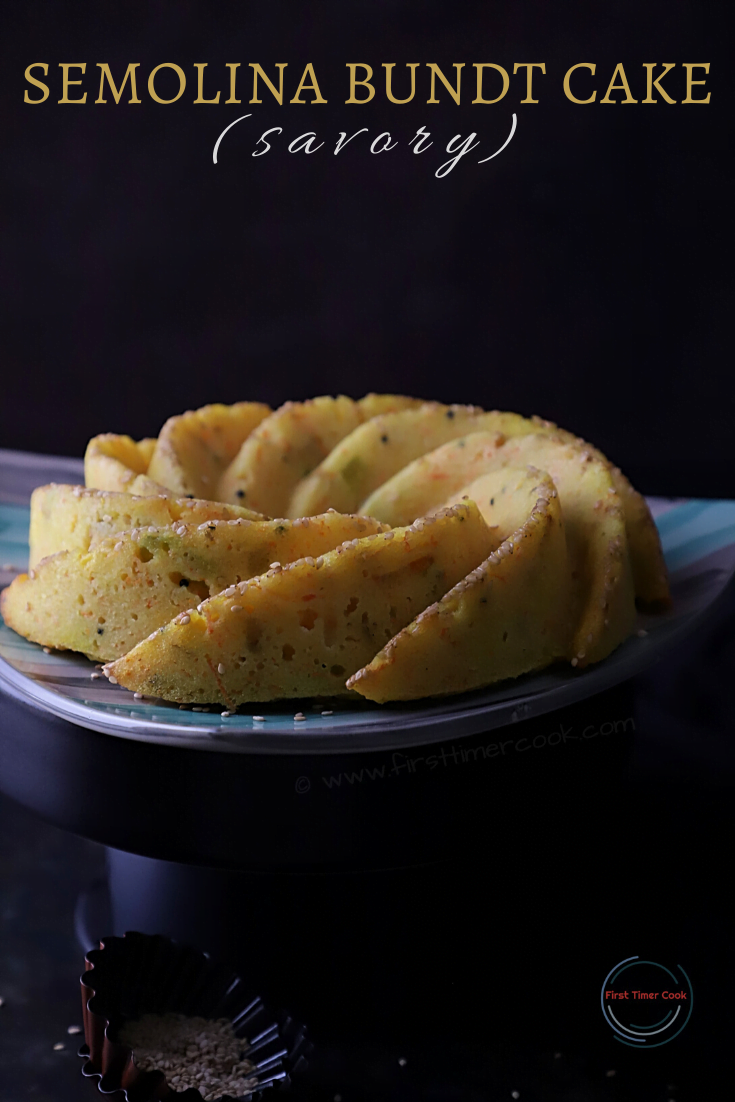 While preparing the batter today, my boy came to the room wondering what Mama is doing 😉 When he saw that I am adding corn, carrots to the batter then his expression is like 😮 Mama is making something different what he guessed and came out from that room. But no, he couldn't stay in his room and in 5-10 minutes interval he was just coming and checking when the final result will out, I mean when the baked dish will come out from the oven and he can taste after that 😁 and believe me, compared to the sweet cakes this savory cake is totally loved by him and I was happy as he liked each bite with ketchup. Yes the cake is the savory one in a bundt pan using semolina.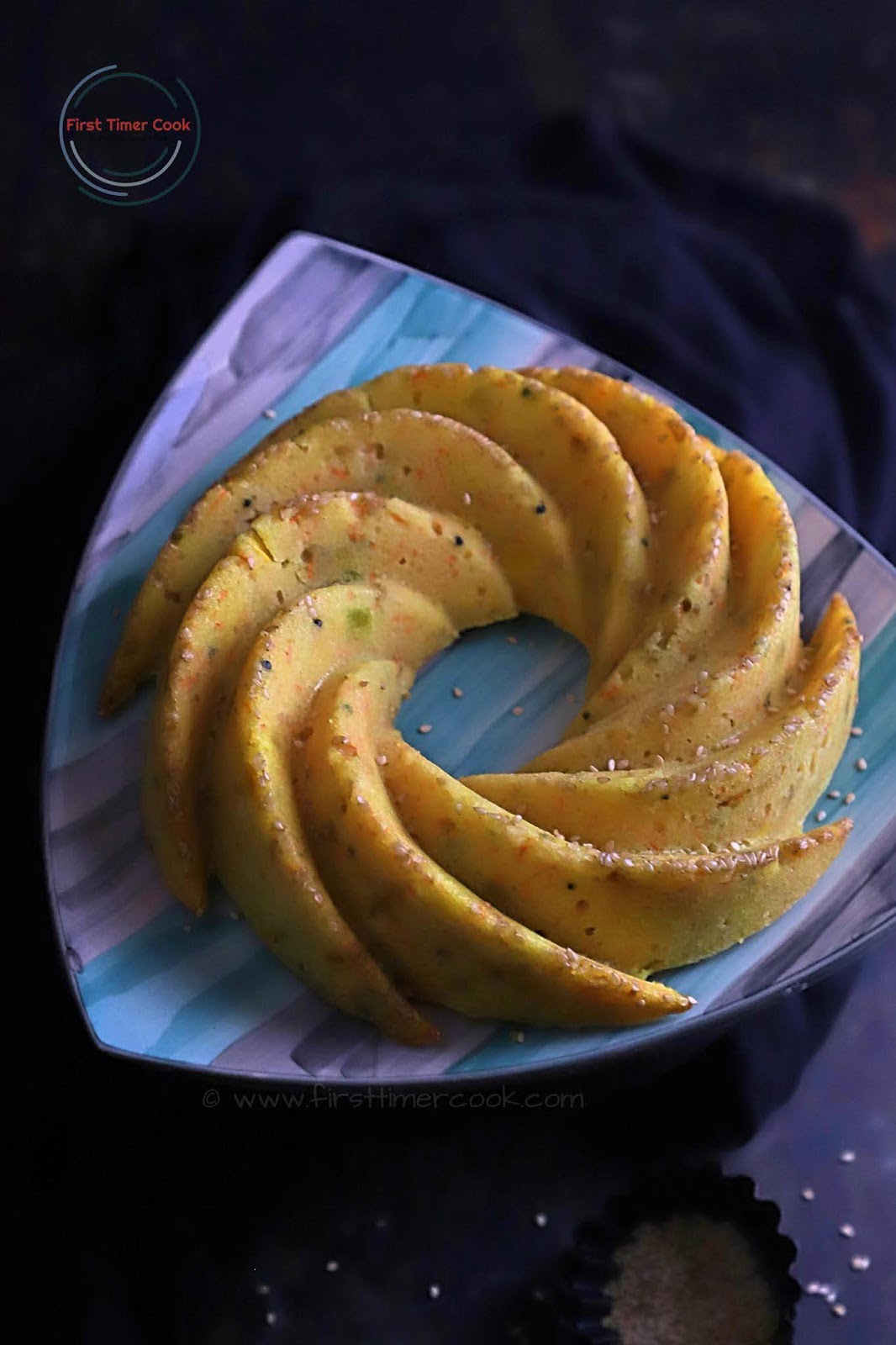 What is Semolina, is it healthy ?
Semolina is actually just a coarse flour made from durum wheat. Semolina (sooji / rava), wheat flour (atta) and all purpose flour (white flour / maida) are simply differ from their coarseness. Sooji grains are the largest among these as the most coarse ones and then comes atta and finally maida.
Wheat flour is prepared by grinding the whole wheat grain (both Bran (outer brown coating) and Endosperm (inner white material) are ground).
Using machine, the whole wheat grains are broken and after that the Bran is removed and the broken Endosperms are ground into a coarse texture. And that is the semolina / sooji. When the sooji is further ground several times in machines then very fine powder comes and that is maida.
Semolina is rich in gluten and has some amount of complex carbohydrates, proteins and fiber. On the other hand, all purpose flour is rich in simple carbohydrates and without fiber and protein. Hence semolina is the healthier choice as compared to white flour / maida. But one thing to remember that as semolina is rich in gluten, so avoid if you prone to gluten. Semolina is also rich in protein, fiber, vitamin B-complex and also supports in weight loss, heart health, improves digestive health etc.
Semolina is quite a versatile food grain that can be used in a number of dishes from pancakes to cakes and is also frequently used in pastas and porridges. Well today I have baked a cake using semolina as Savory Semolina Bundt Cake.
The savory cake in details !
Instead of sweet cakes, here is a version which is savory. Using semolina this is great healthier option as compared to all purpose flour. Any baking pan one can pick to bake this cake, but I have opted a bundt pan and hence the name of the cake is like that as mentioned above. The cake is completely egg free and loaded with vegetables. If your kid is a picky eater, then this cake is the perfect one to feed them vegetables in the form of cake.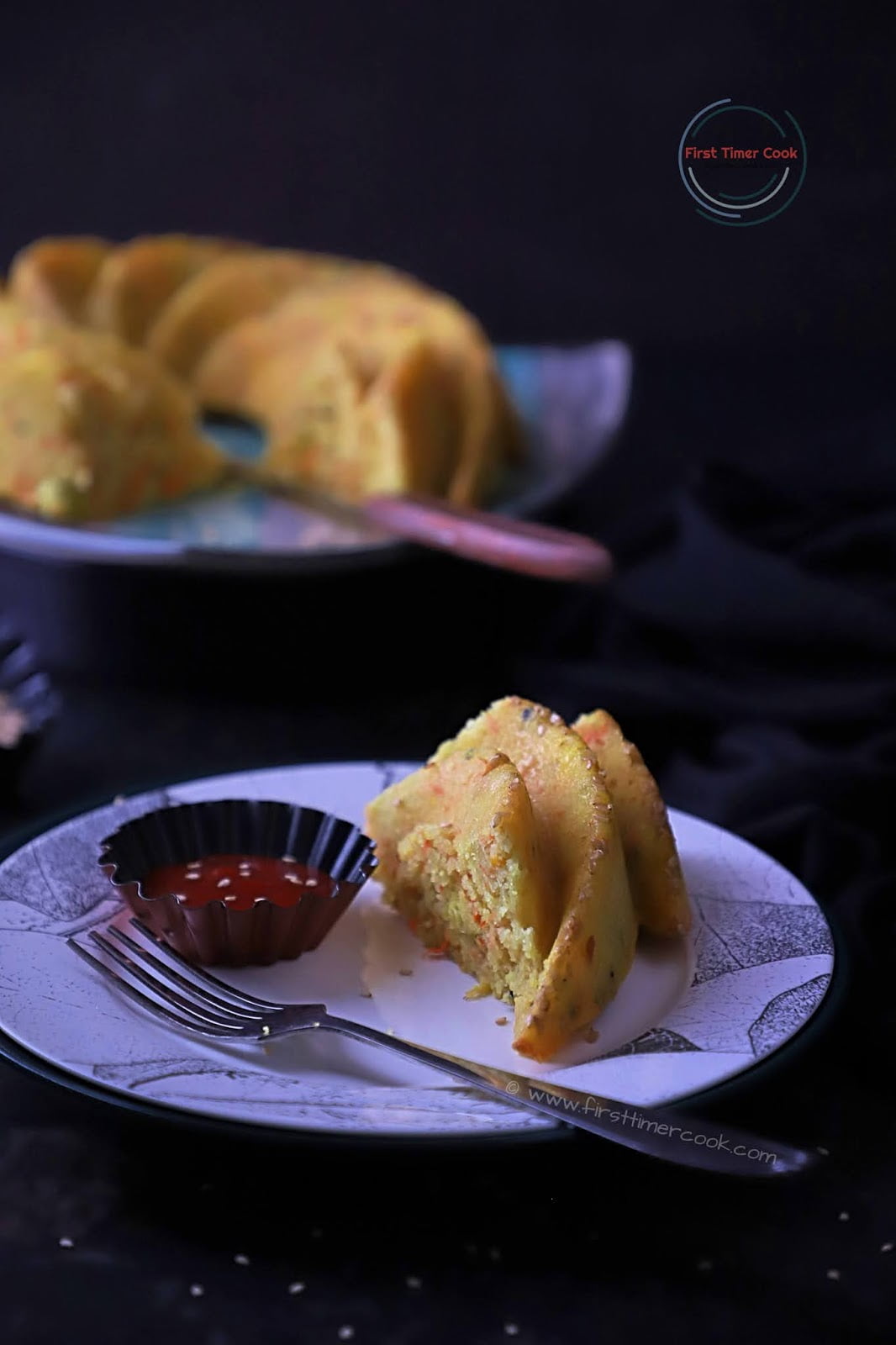 How to make this savory cake :
As the name says, the main ingredient is the semolina here. I have picked the fine variety semolina, if you do not have fine variety then simply grind a bit the regular semolina in a grinder jar. The curd along with baking soda make the cake soft and moist here. I have used few vegetables like carrot, corn, bell pepper in this cake and also saute these for few minutes before adding to the batter. For the tempering mustard seeds, ginger, onions, green chilies are added. Also a bit of turmeric powder is also added here to give a nice color to the cake. Few sesame seeds here I have used which give nice crunch to the cake.
First the semolina is mixed with curd and water and allowed to set aside for 15-20 minutes. Meanwhile in a pan the vegetables are saute for few minutes. Then these saute vegetables are added to the semolina mixture (i have directly added the grated carrots to the batter without sauteing). Everything is mixed and a batter is prepared neither thick nor thin (adjust the thickness by adding 1-2 tbsp of water if it seems bit thick). After that the baking soda is added and the batter is mixed again. After greasing the bundt pan I have sprinkled some sesame seeds and after that the batter is transferred to pan the and spread evenly. Finally the cake is baked in a preheated oven at 180 deg C for 25-30 minutes or till a knife or toothpick inserted into the cake comes out clean. The cake is then allowed to cool down and it is ready to serve !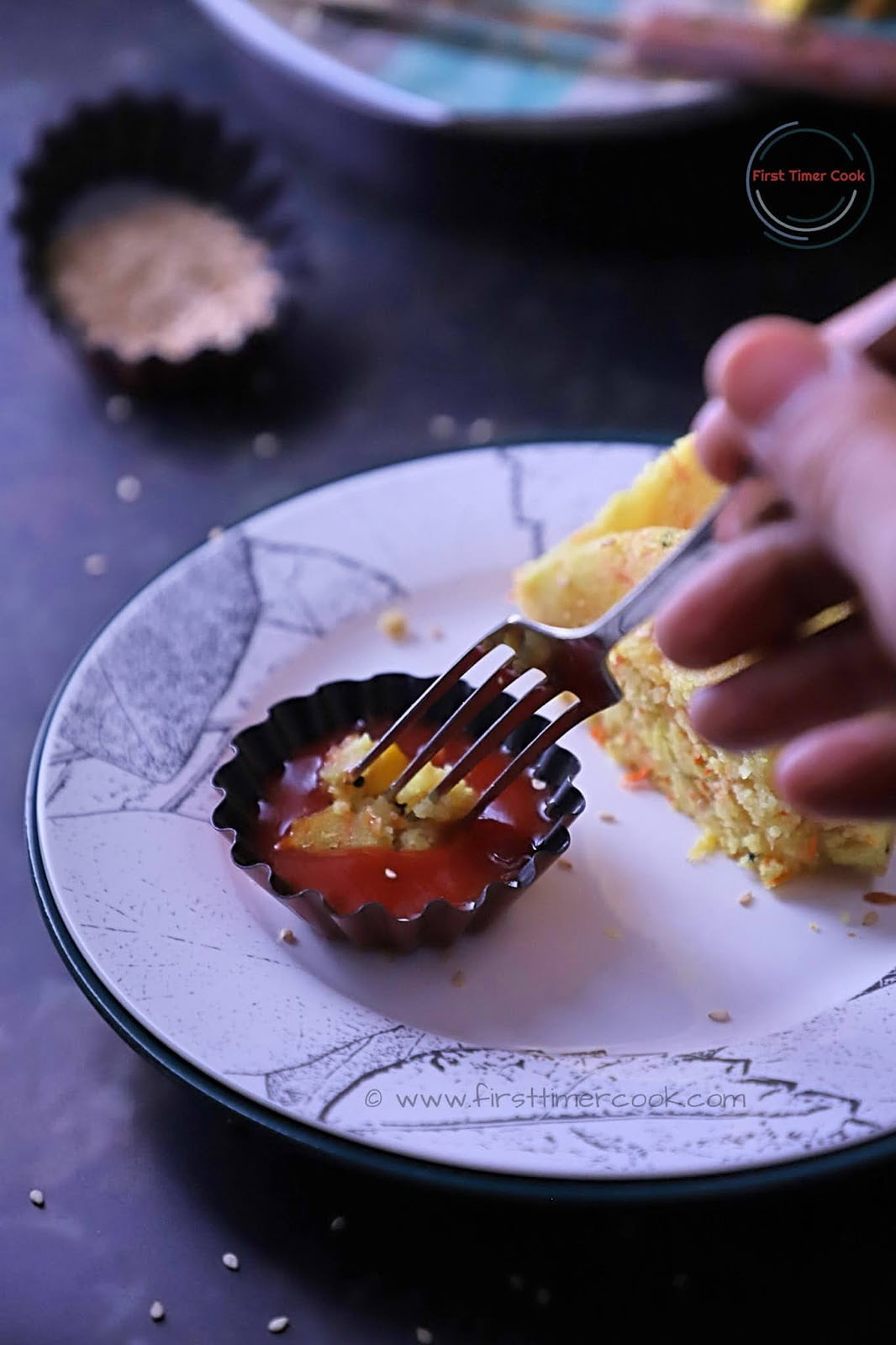 This savory cake is perfect for a healthy breakfast / snack option. With some chutney or sauce this pairs pretty well. Just use any choice-able vegetables and the cake will be enhanced by those flavors. For kids tiffin box, this savory semolina cake fits too. Adjust the spiciness while serving to kids simply 😊 Some cheese can also be added to the cake which is much loved by all the kids. Not only kids, any age group can enjoy this mouth-watering savory cake. Also simply skipping the onions here the dish becomes completely no-onion-no-garlic category. When no mood to have sweet cakes, do make this healthy slightly spicy, savory cake using semolina.
HOPE YOU WILL LIKE THIS SAVORY Semolina Bundt Cake 😊! WHY NOT TRY THESE semolina based recipes 👇 AS WELL :
The event related to this post :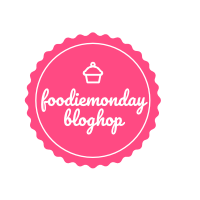 Monday is here again and the Foodie Monday Blog Hop team has decided the 251th theme as 'Rava Raga' which is suggested by Aruna this time. Her blog is loaded with many traditional South-Indian recipes as well as others from around the globe, do check her healthy Rava Pizza which is one of my recent fav. well for the theme she suggested to make any dish using semolina / rava / sooji as the star ingredient, sothis Semolina Bundt Cake (Savory & Eggless) I have contributed for the theme.
Now let's go through how to make "Semolina Bundt Cake (Savory & Eggless)" at home 👇
Video procedure of this "Semolina Bundt Cake" :
: Recipe Card :
Semolina Bundt Cake (Savory & Eggless)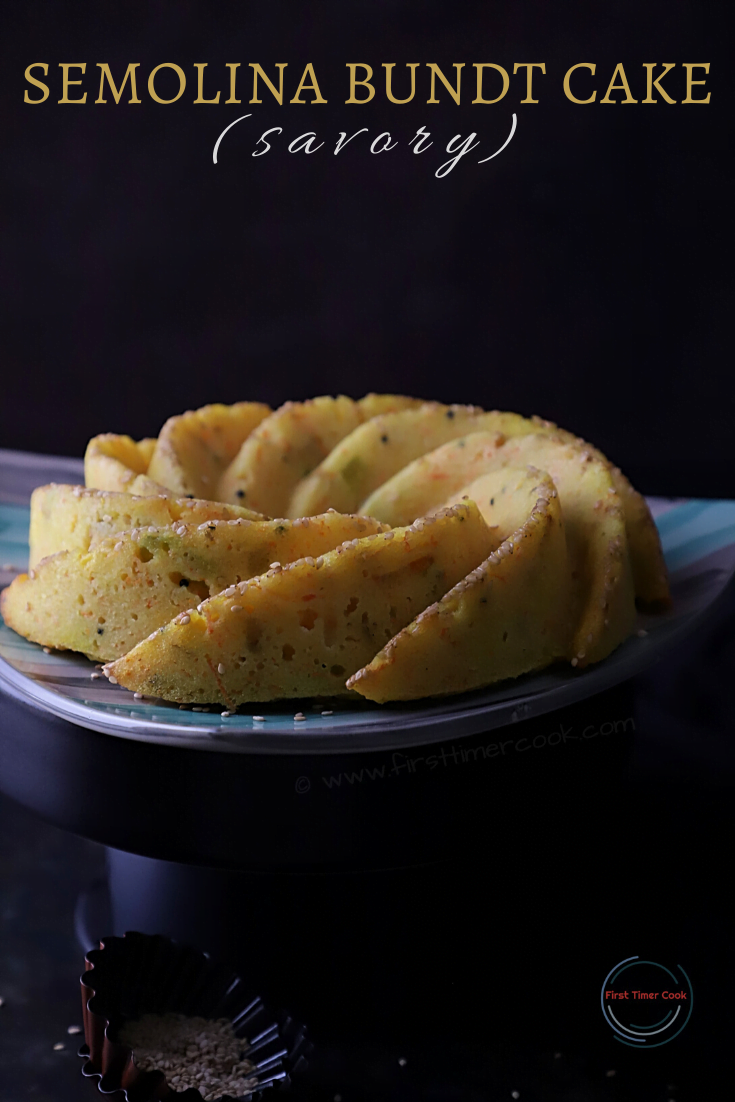 Prep time: 10 MResting time: 20 MCook time: 30 M
a healthy savory cake using semolina (sooji) and some vegetables without any egg
Ingredients:
Semolina 1 cup
Yogurt (curd) 1/2 cup
Onion (medium) (finely chopped) 1 no.
Bell pepper (finely chopped) 1/4 cup
Corn (boiled) 1/4 cup
Carrot (grated) 1/4 cup
Ginger (grated) 1 tsp
Green chili (chopped) 1 tsp
Turmeric powder 1/4 tsp
Mustard seed 1/2 tsp
Sesame seed for sprinkling
Oil 1/2 tsp + for greasing
Baking soda 1/2 tsp
Salt as needed
Water 1/2 cup + 1-1 tbsp more
Instructions:
Preheat the oven at 180 deg C and grease a bundt pan with oil. Keep aside.
Now in a mixing bowl take semolina (sooji), curd and water.
Mix well and keep aside covered for 15-20 minutes.
Meanwhile heat oil in a pan.
Add mustard seeds and allow to crackle.
Add chopped onions and saute for 1-2 minutes.
Then add chopped bell pepper, grated ginger, chopped green chilies, corn and saute a bit.
Add turmeric powder, salt and saute for 1-2 minutes more.
Turn off heat and allow to cool.
By the time, the semolina must have soaked all the liquids in the bowl.
Add the grated carrots and the saute vegetables into the bowl.
Mix everything well, if the batter seems thick then add 1-2 tbsp water.
Finally add baking soda and give a quick mix.
Sprinkle few sesame seeds in the greased bundt pan and then transfer the batter into the pan.
Bake for 25-30 minutes or till a knife or toothpick inserted into the cake comes out clean.
Take out from the oven and allow to rest for 10 minutes.
Then invert onto a wire rack and allow to cool completely.
Sprinkle some more sesame seeds (if desired) over the entire cake, slice and serve with any kind of sauce / chutney !
Notes:
Adjust spiciness as per choice.
Any other vegetables like green peas, chopped cabbage, beans etc can be added.
Batter should not be of thick consistency. So adjust by adding little more water (1-2 tbsp more).
After adding baking soda, immediately proceed for baking.
Eggfree baking, Semolina cake, Savory Semolina CAke,corn, bell pepper, yogurt, baking soda,carrot, sesame seed
Semolina, Savory Cake, Eggless, Baking,
International
Did you make this recipe?
Tag @firsttimercook on instagram and hashtag it #firsttimercook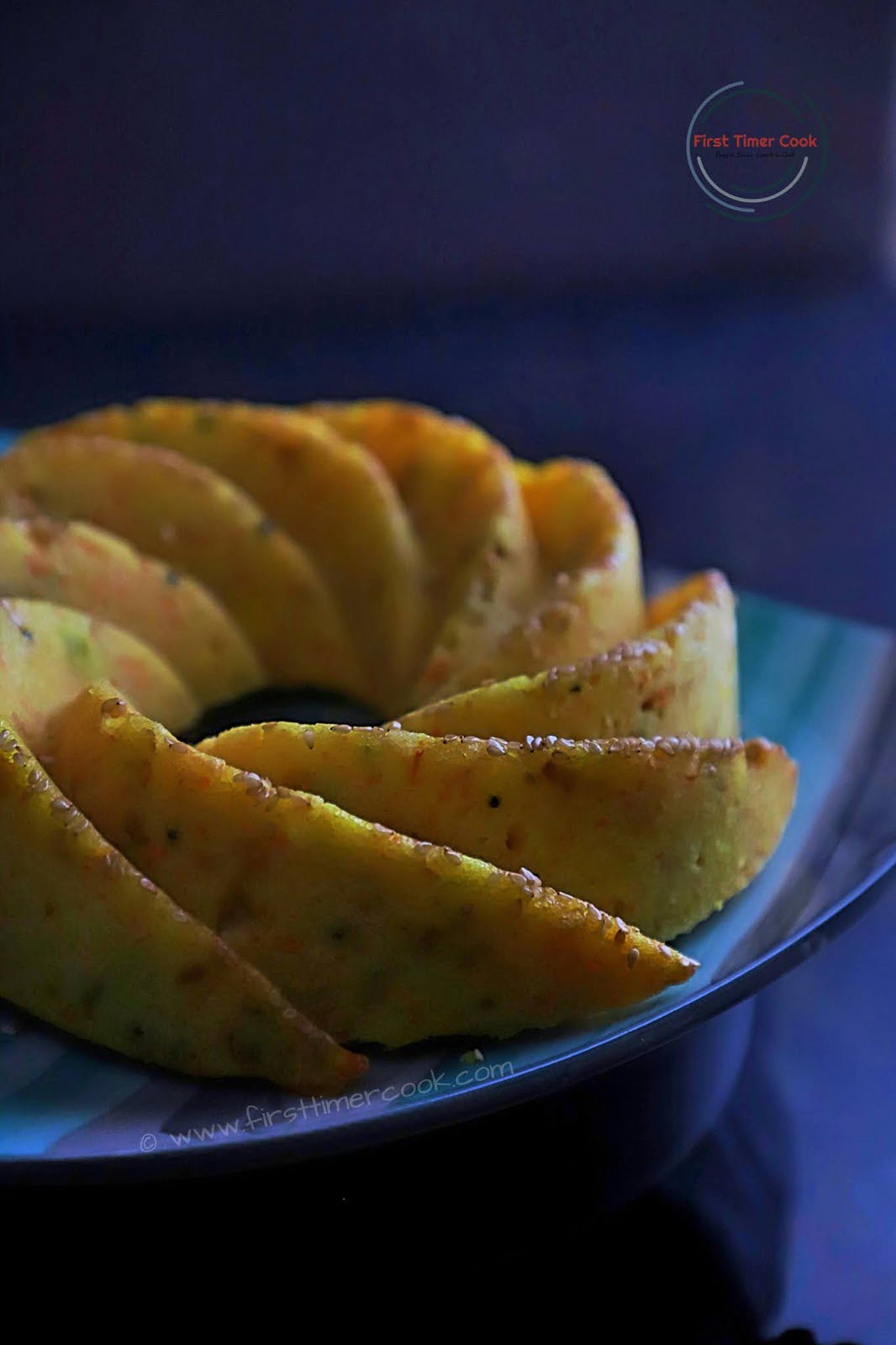 You may also follow me on Facebook, Pinterest, Twitter, Google+, Instagram and can subscribe for free to get new recipes directly into your inbox 😊
PIN for later :