Lachha paratha is quite different from other plain or stuffed paratha both in taste and the way of making.
Literally the word 'lachha' means layers in hindi and hence the 'lachha paratha' is layered paratha. This type of paratha is basically made by pleating a disc, rolling the pleated disc like swiss roll into a flat ball and finally rolling into a circle. So in this way, many layers are formed. These parathas are quite crispy as well as delicious.
Many times before I have prepared the lachha paratha. When again I was thinking of lachha paratha to make yesterday, I just came across the methi or fenugreek leaves in my refrigerator. So the plan for making plain lachha paratha changed to methi lachha paratha. Also here in this recipe post, I'll share two types of preparation method of this Indian multi layered flat bread. Whole wheat flour is used here. Instead of wheat flour, all purpose flour (maida) also be used or you can use both of the flour in 1:1 proportion. So lets go in details as mentioned below.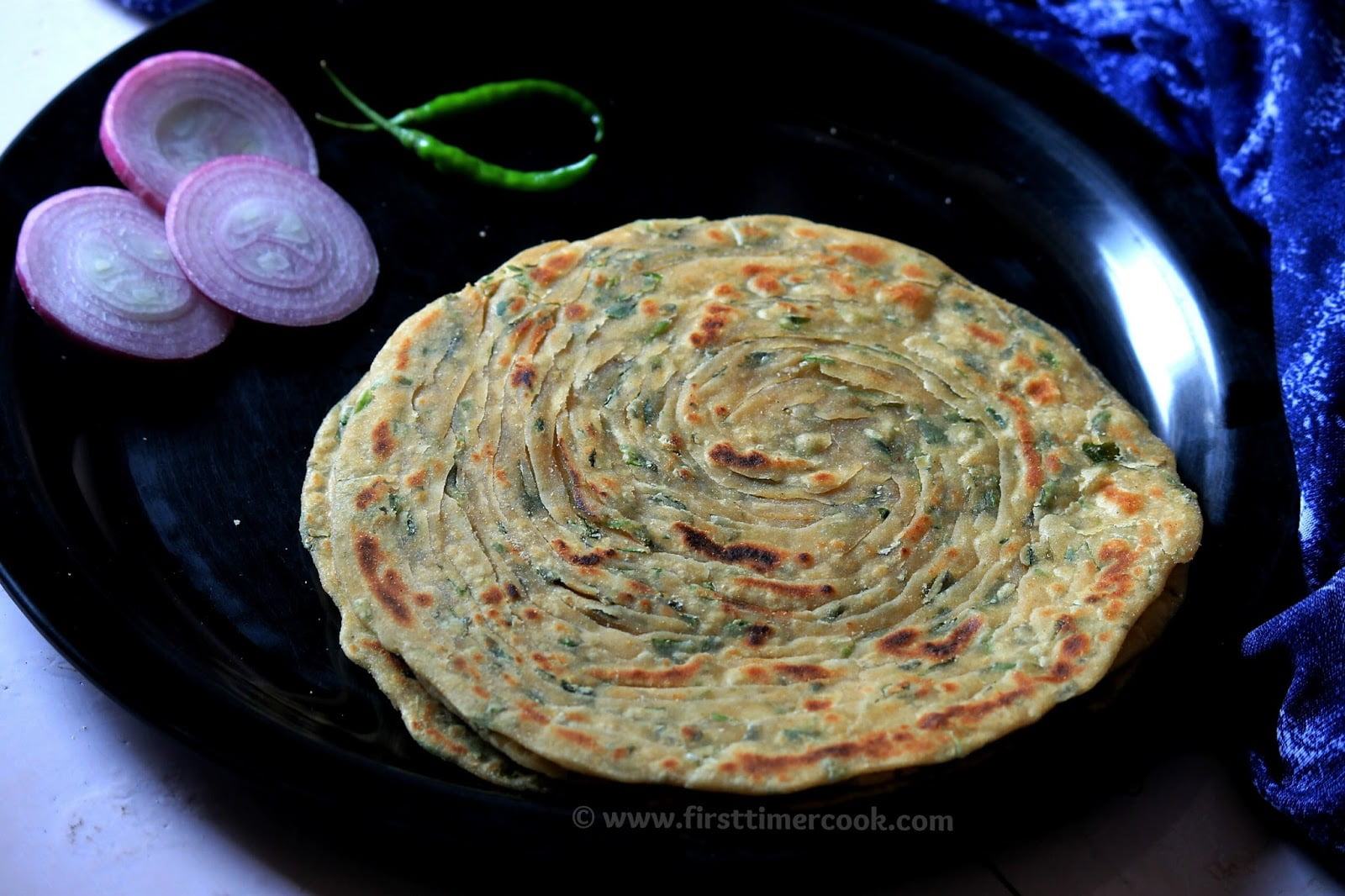 Preparation Time : 40 mins | Cooking Time : 20 mins
Ingredients :
| | |
| --- | --- |
| Ingredients | Measurements |
| Whole wheat flour | 2 cup |
| Methi / fenugreek leave | 1 cup |
| Ginger | 1 inch |
| Green chili | 2 no. |
| Water | As needed |
| Salt | As needed |
| Ghee | As needed |
​Method :
First rinse the methi leaves with enough water and then drain water completely.
Finely chop all the methi leaves and keep aside.
In a mixing bowl take wheat flour, 1-2 tbsp ghee, chopped green chilies, grated ginger, chopped methi leaves and salt. Mix everything well.
Now add water and knead to a smooth dough. Cover by a moist cloth and keep aside for 30 minutes.
Then divide the whole dough into 6 no. of equal balls.
On a dusted rolling board, roll one dough ball into as thin as possible (approximately 7-8 inches diameter disc).
Apply some ghee and spread evenly over the entire surface using brush or by hand and then sprinkle some wheat flour over it evenly.
FIRST WAY : From one edge of the rolled dough, start making pleats (1/2 inch width) till opposite edge reaches. Stretch the pleated dough gently and then twist the whole pleated dough a bit. Roll the twisted dough like a swiss roll and secure the end and the result is a spiral flat ball. Repeat for rest of the dough. Again cover all flat balls by a moist cloth and keep aside for 5 minutes.
SECOND WAY : Using a knife or pizza cutter, cut the rolled dough into thin strips. Roll one strip like a swiss roll, then merge another strip at the end of first strip. Again roll like a swiss roll. Repeat till all the strips are rolled up and finally there will be a spiral flat ball. Repeat for rest of the dough. Again cover all flat balls by a moist cloth and keep aside for 5 minutes.
Now take one spiral flat ball on the dusted rolling board and roll carefully into a circle (5-6 inches diameter approximately) without applying too much pressure.
Heat a tawa on medium heat, put the rolled circle on hot tawa and cook from both sides.
When the golden brown spots start appearing, then apply some ghee on both side.
Use a spatula and gently press all over while cooking to ensure even cooking. Transfer to a plate.
Repeat for rest of the flat sprial balls.
Serve these methi lachha paratha or methi lachedar paratha hot with any preferred side dish.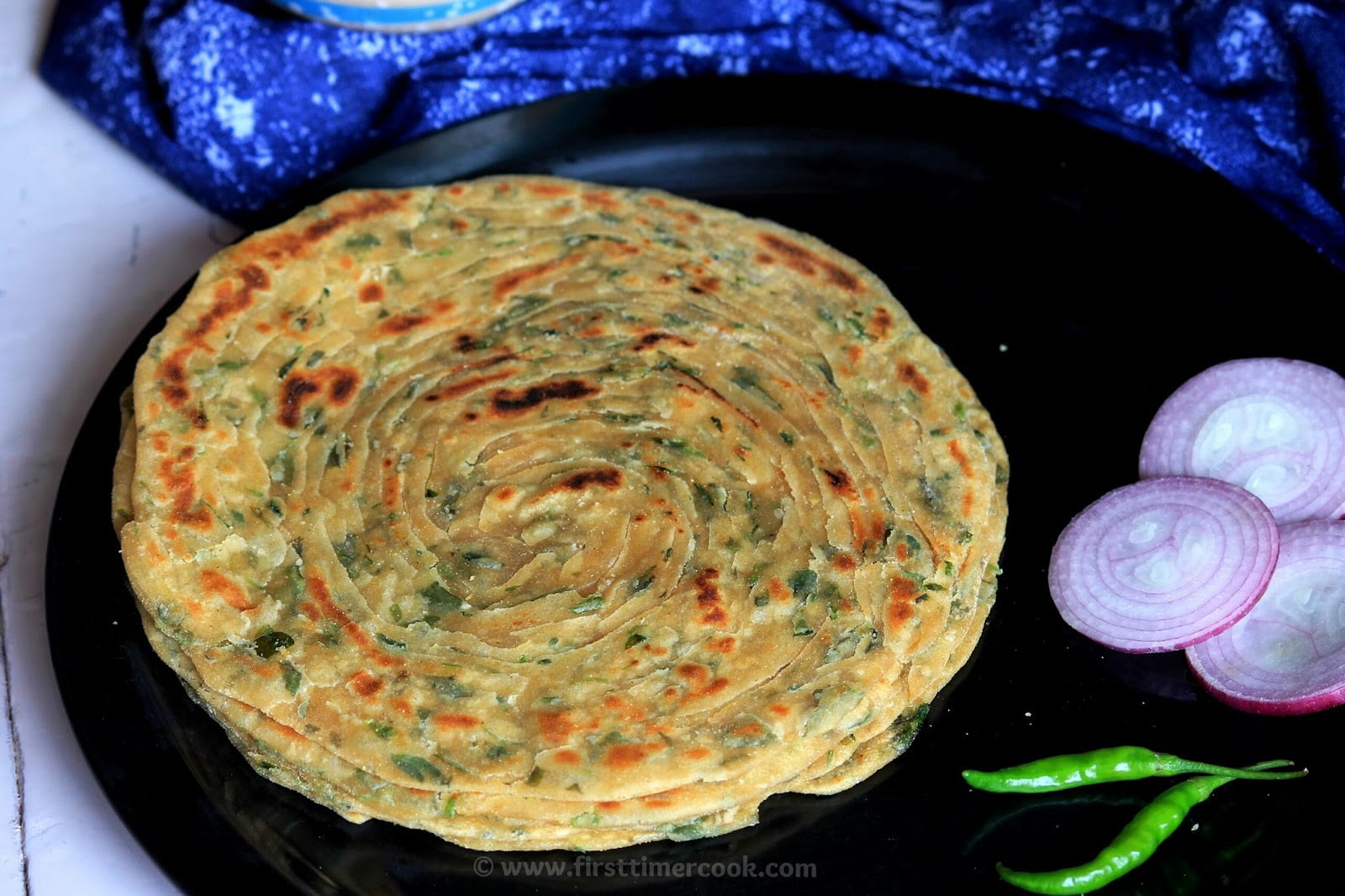 Notes :
Don't apply much pressure while rolling the flat spiral balls, just roll them gently.
Always cook in medium flame with constant pressing with the laddle to ensure even cooking.
Adding ghee makes the paratha more tastier, instead of ghee oil can be used.