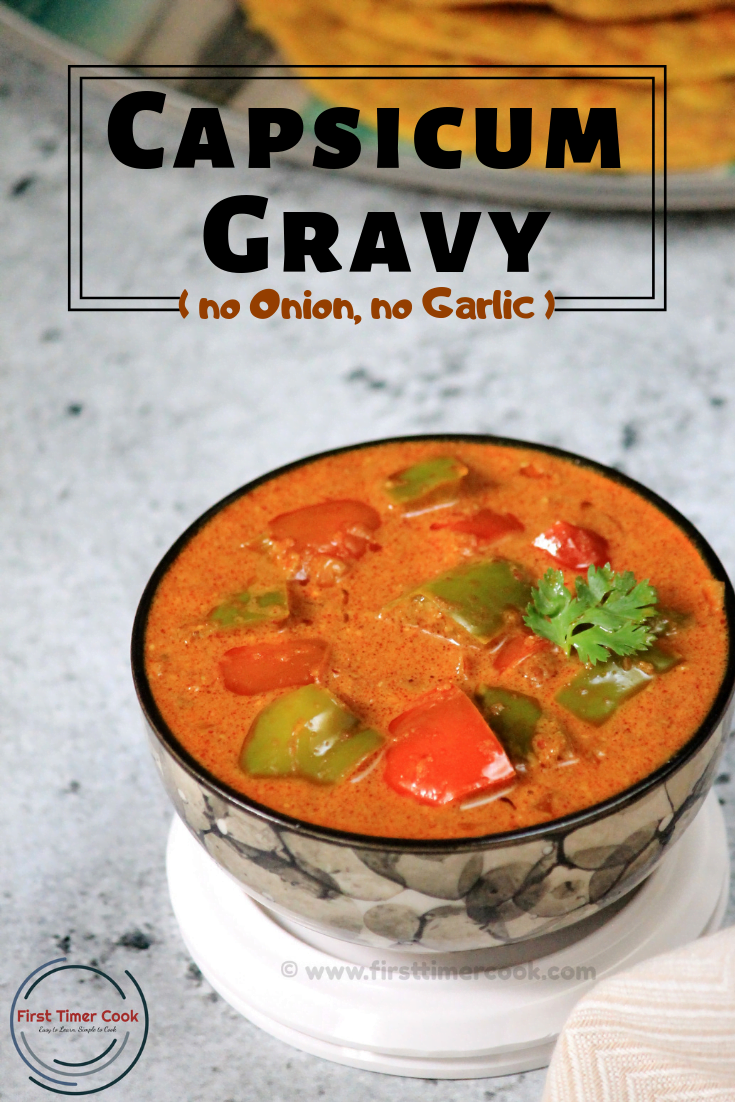 Capsicums also known as bell peppers are basically peppers of less pungent varieties which are available in different colors like yellow, red, green, orange and even in purple. Green and purple peppers are slightly bitter in taste whereas red, yellow and orange have a sweeter and fruity taste. The less pungent nature of these pepper means these are not too strong in smell and taste, but that doesn't mean that these are not good for our health. Capsicums are used as spices, vegetables and medicinal purposes because of the numerous health benefits provided by them like helps in iron deficiency (Anemia) in our body, helps in removing toxins, good source of Vitamin B6 & magnesium, increases metabolism etc.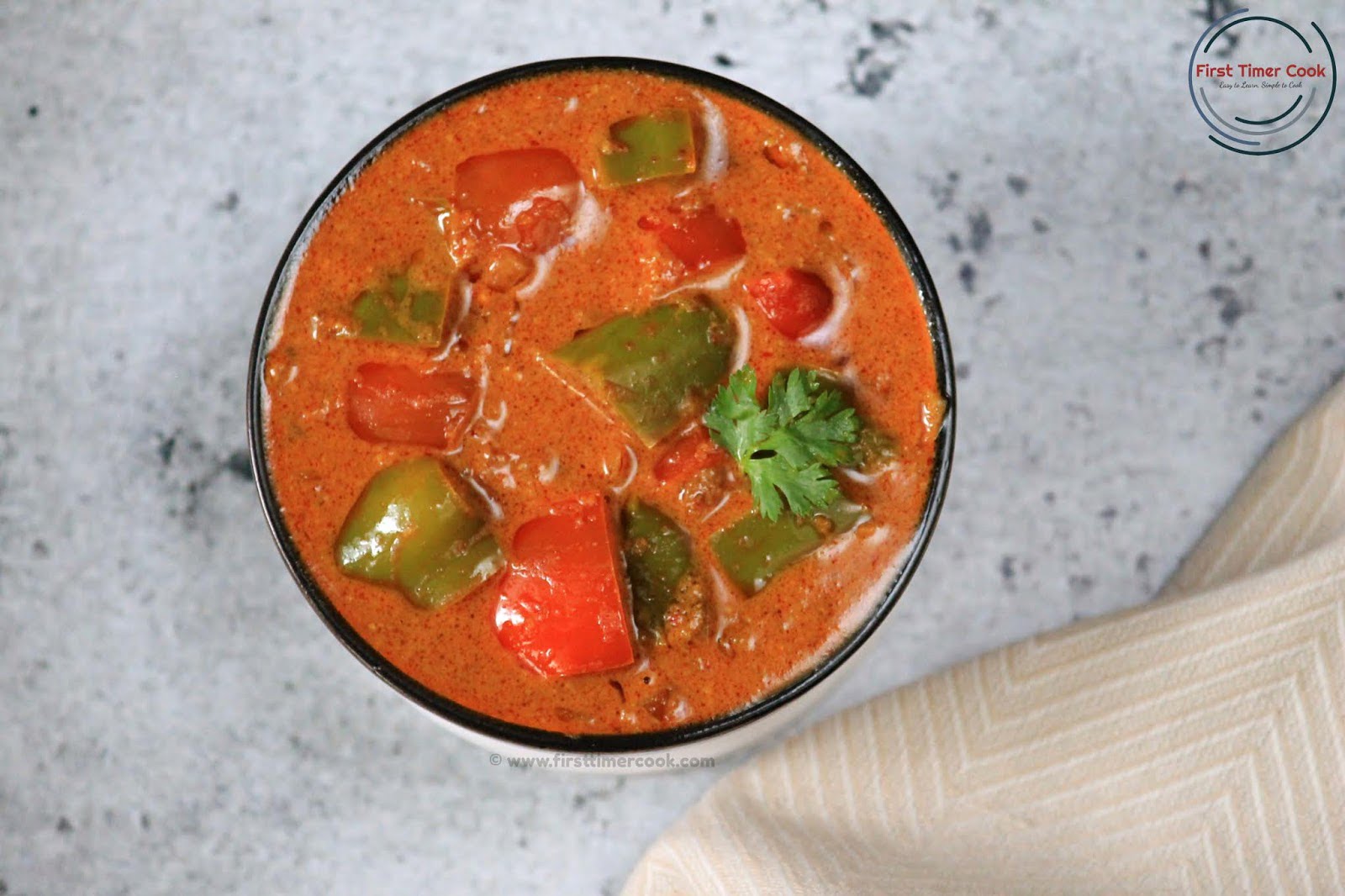 Here I have come up with a curry or gravy type dish using these bell peppers or capsicum as Bell Pepper Curry / Capsicum Gravy. Two colors of capsicum like red and green are used for this gravy based dish here, any other color varieties can be chosen as per availability. The dish is so easy and quick to prepare. The use of peanuts and coconut give the curry a rich and creamy base which in result tastes so delicious. I have prepared without using onion and garlic. Since here no milk or cream are used for making the gravy creamier so the dish is vegan completely. This capsicum gravy perfectly fit as a combo with roti / paratha. So do try these colorful deliciously creamy and healthy Bell Pepper Curry.
Recipe Card for 'Bell Pepper Curry / Capsicum Gravy' :
Author: SasmitaPin it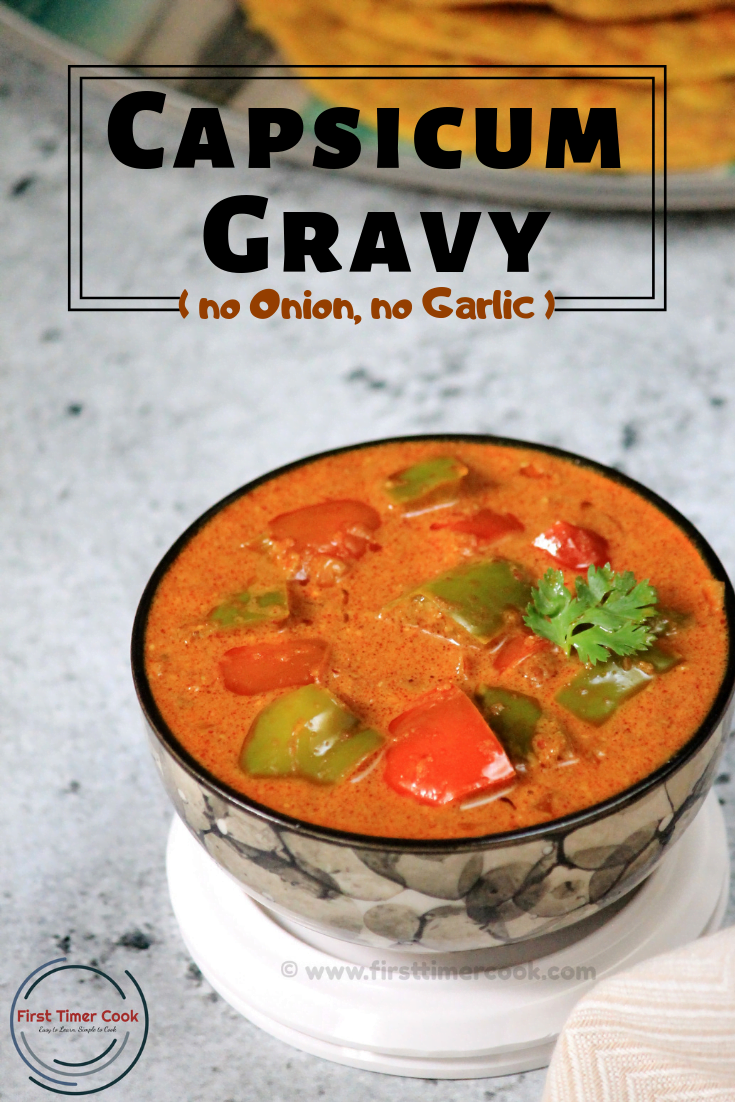 Capsicum Gravy (no-Onion-no-Garlic)
So flavorful as well as delicious vegan & no-onion-no-garlic curry using bell peppers
prep time: 10 minscook time: 20 minstotal time: 30 mins
ingredients:
Green Capsicum (medium) 1 no
Red Capsicum (medium) 1 no
Tomato 1 no.
Coconut (grated) 1 tbsp
Peanut 1/4 cup
Coriander seed 2 tsp
Cumin seed 1/2 tsp
Bay Leaf 1 no
Red chili powder 1/2 tsp
Turmeric powder 1/4 tsp
Garam Masala powder 1/4 tsp
Oil 2 tbsp
Salt as needed
Water 1 cup
Kasoori Methi as needed
instructions
In a pan first start dry-roasting the peanuts over medium heat.
After 1 minutes add coriander seed and grated fresh coconut and continue to stir for 3-4 minutes over low-medium heat.
Transfer to a plate and allow to cool down completely.
Now cut the capsicums into cube size (1 inch), remove all the seeds and Keep aside.
Put all the roasted ingredients into a blender jar along with chopped tomato and make a fine paste.
Heat oil in the same pan and add in cumin seed and bay leaf.
When cumin seeds start to splutter add capsicum pieces.
Saute for 3-4 minutes over medium heat.
Then add the masala paste, red chili powder, turmeric powder and salt.
Mix well everything and cook for 1-2 minutes.
Next add 1 cup water, stir and allow to boil.
Cook until the desired consistency of the gravy reaches.
Add in garam masala powder , give a mix and turn off heat.
Sprinkle some kasoori methi and serve this no-onion-no-garlic capsicum curry hot with phulka or paratha !!!
NOTES:
Desiccated coconut can be used if fresh coconut is not available.
https://firsttimercook.com/2019/01/bell-pepper-curry-capsicum-gravy-vegan.html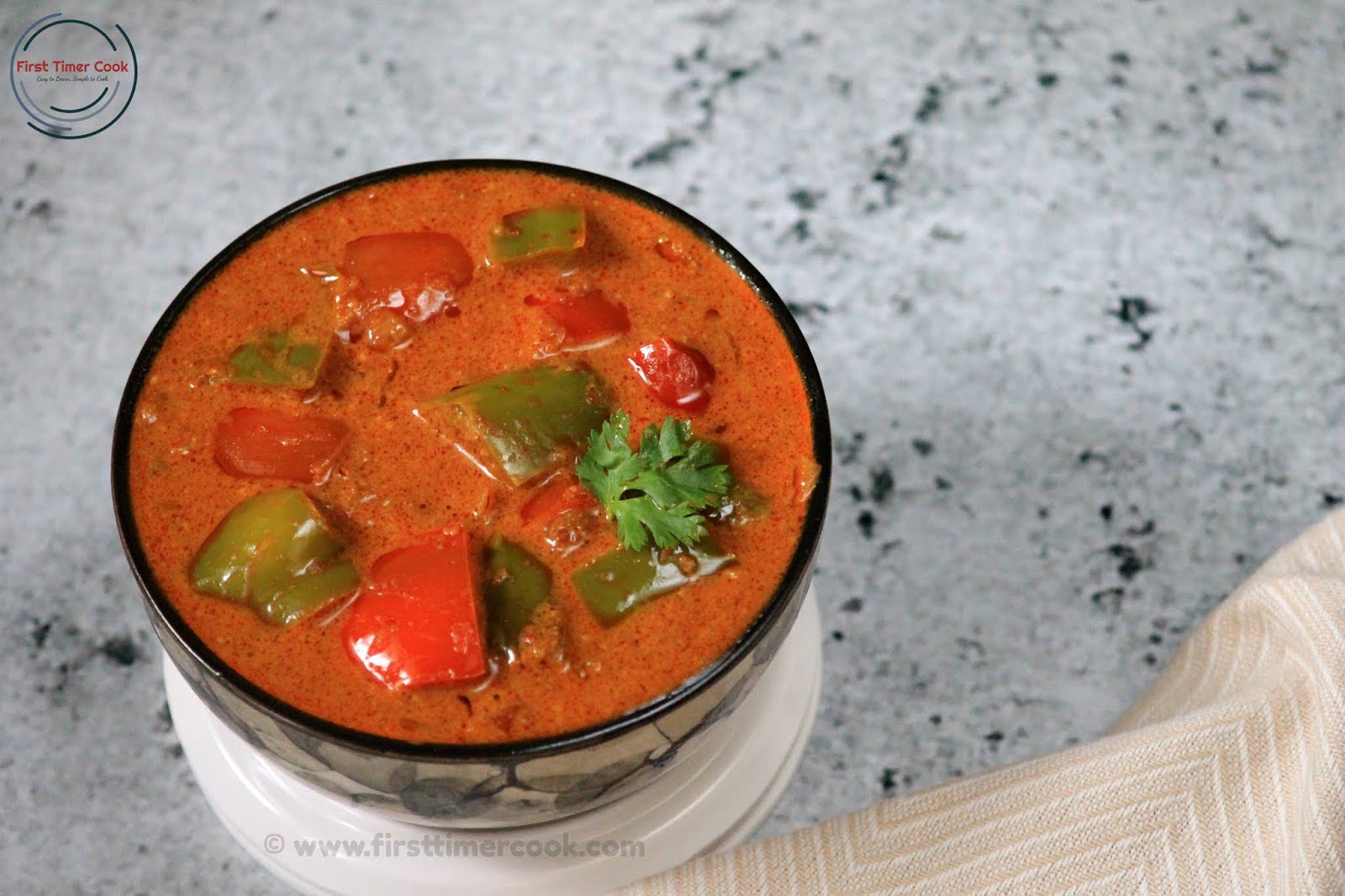 If you tried my recipe and enjoyed fully, then please share some pictures of your creation with me. Also kindly give your valuable feedback either in the comment box below or tag me as #firsttimercook on Instagram. You may also follow me on Facebook, Pinterest, Twitter, Google+, Instagram and can subscribe for free to get new recipes directly into your inbox 😊

PIN for later :