Winter is on full phase these days in Indian subcontinent. And particularly during this time period, a no of green leafy vegetables like spinach leaves (palak saag), fenugreek leaves (methi saag), radish leaves (mooli saag), amaranth leaves (cholai saag) and many mores are the fresh seasonal produces those would pave their way through our kitchens. Among these, it is true that particularly the fenugreek leaves are the bitter pungent leaves which are not so popular among kids and as well as fussy-eaters. But methi leaves / fenugreek leaves are a storehouse of health benefits. These are packed with galactomannan, which plays an instrumental role in combating the risk of heart disease as well diabetes. This compound helps in slowing down blood sugar absorption. It is also a good source of soluble fiber and is excellent for digestion. So we should develop a taste for these green leaves. From parathas to pakodas to saag, there are so many places we can sneak in these lovely winter greens.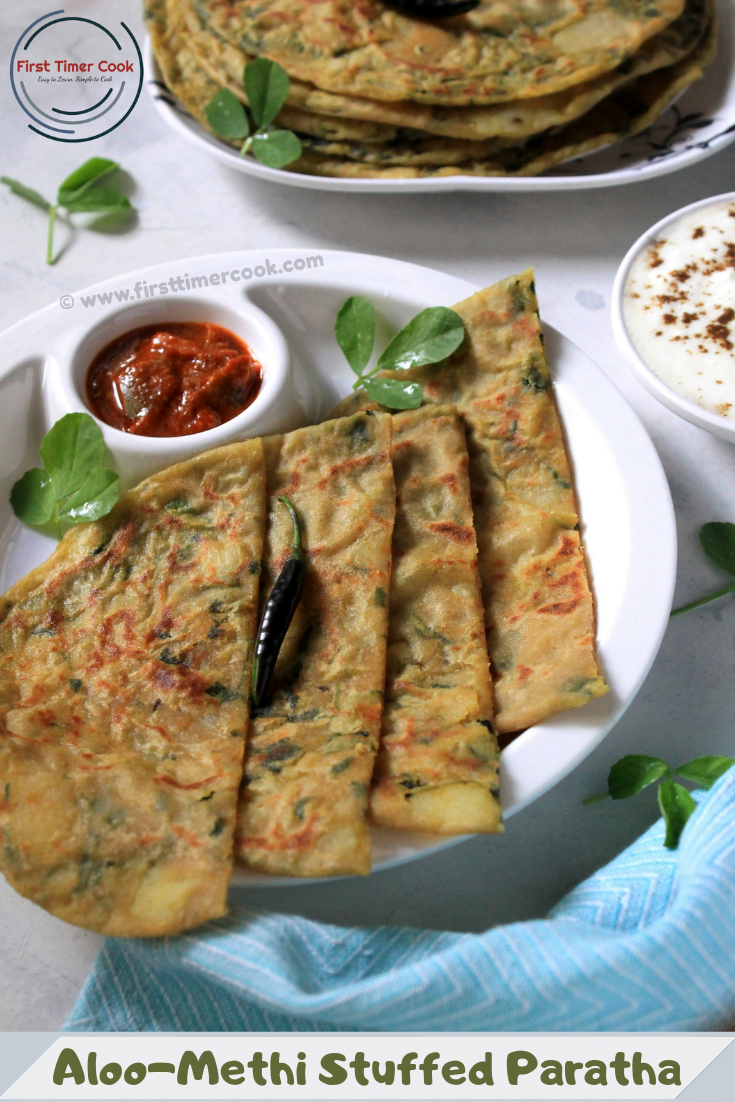 Well today is the first Monday of this new year and the Foodie Monday Blog Hop team has decided the 177th theme as 'Magic of Fresh Methi Leaves' that means we have to prepare a dish using fresh methi / fenugreek leaves, not using the dried version (kasoori methi). I have already shared an Indian flatbread using these methi leaves as 'Methi Lachhaa paratha' and today I am again back with another stuffed Indian flatbread using these leaves as 'Aloo-Methi Stuffed Paratha' or 'Potato-Fenugreek Leaves Stuffed Indian Flatbread' for the theme contribution.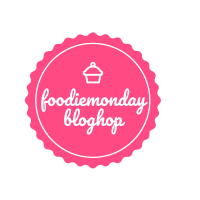 Aloo-methi is an everyday affair in my kitchen during these days which is so easy, tasty as well as loaded with softness of potatoes and the pleasing bitterness of methi.
For most of Indian also, this is a much appreciated dry dish for the accompaniment with chapati / roti. Well, how about the idea of stuffing this awesome dish in paratha 😉 Interesting, isn't it ?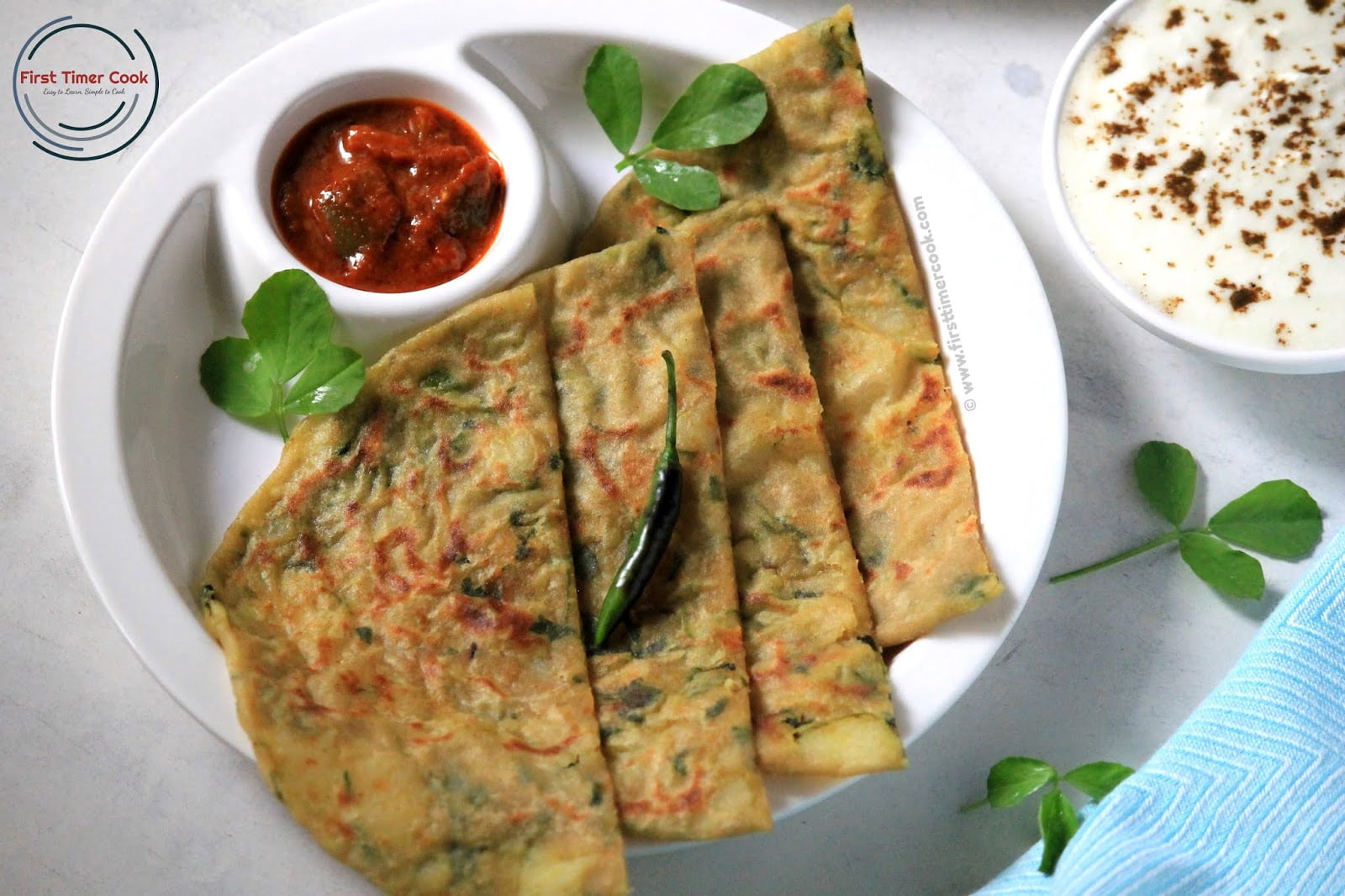 Yes, here I have come up with some stuffed paratha with stuffing as 'aloo-methi'. The dish is completely prepared without using Onion & Garlic. Even I have not opted ghee to smear the paratha, instead used normal cooking oil. These stuffed flat-breads which are so soft and delicious, shall definitely attract by all age group on the breakfast table. Just with some curd and pickle, the combo will be a bang-on type.
Recipe Card for 'Aloo-Methi Stuffed Paratha' :
Author: SasmitaPin it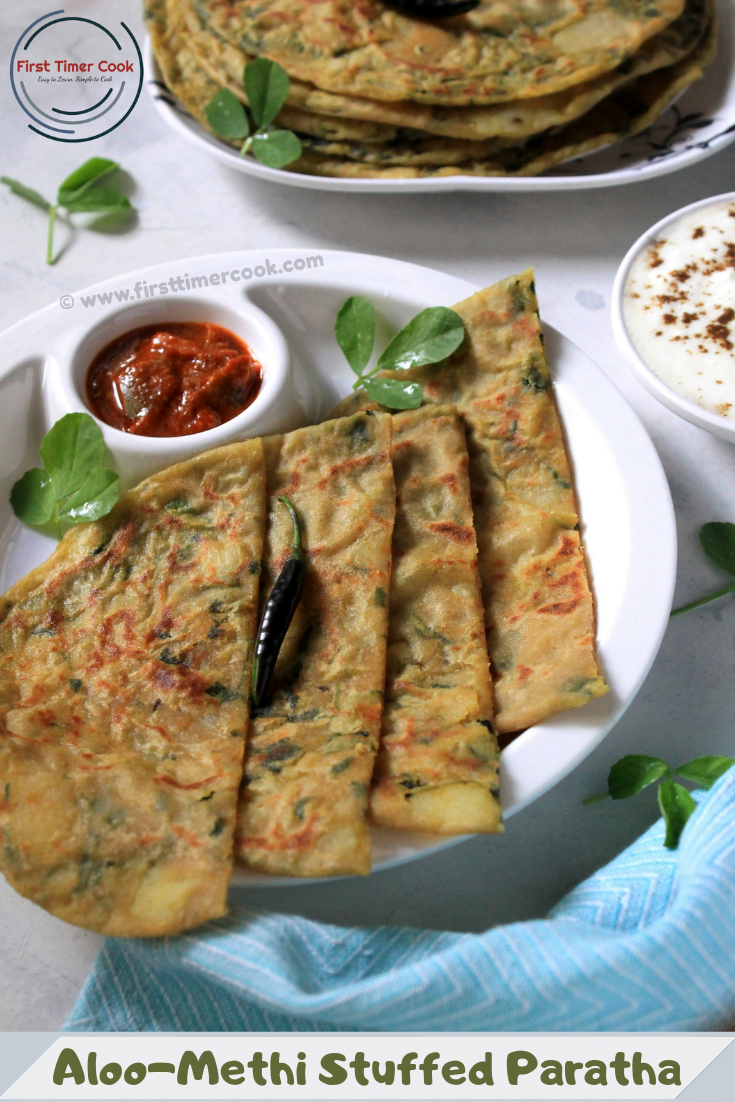 Aloo-Methi Stuffed Paratha / Potato-Fenugreek Leaves Stuffed Indian Flatbread
Indian flat-bread stuffed with the much tempting dish aloo-methi which is completely vegan and without onion-garlic
prep time: 15 minscook time: 30 minstotal time: 45 mins
ingredients:
Wheat flour 1.5 cup
Potatoes (boiled) 2 no.
Methi leaf (washed and chopped) 1.5 cup
Cumin seed 1 tsp
Green chili (finely chopped) 2 no.
Ginger (finely grated) 1/2 inch
Coriander powder 1/2 tsp
Cumin powder 1/2 tsp
Turmeric powder 1/4 tsp
Amchur powder 1/2 tsp
Salt as needed
Sugar 1 pinch
Oil as needed
Water as needed
instructions
Take wheat flour, salt in a bowl.
Mix well, then start adding water little by little and knead into a soft, smooth dough.
Cover it and let it rest for 15-20 min.
Meanwhile heat oil in a pan.
Add cumin seed and allow to crackle.
Next add grated ginger, finely chopped green chilies and saute.
Then add chopped methi leaves, turmeric powder, cumin powder, coriander powder, amchur powder, salt, sugar and mix well.
Mash the boiled potatoes very well without having any lumps and then add into the pan.
Give a nice mix in the pan and allow to cook for 2-3 minutes over low-medium heat.
Remove from heat and keep aside the aloo-methi to cool down completely.
Now make small-medium balls of the dough.
Pick one ball and roll out into 3 to 4 inch circle.
Put 1 tbsp of aloo-methi filling in the center.
Seal the dough and make a round ball again using fingers.

Dust the work surface with flour and roll the stuffed ball into round paratha by the help of a rolling pin keeping in mind to press very lightly while rolling so that the mixture does not come out.

Similarly roll parathas from rest of the dough balls and aloo-methi filling.
Heat a girdle or tawa and roast each paratha on both the sides over low flame.
When each paratha looks slightly crispy, then apply oil with brush on both the sides.
Serve these piping hot aloo-methi stuffed paratha with yogurt or pickle !
NOTES:
Butter can be preferred in place of oil.
Spiciness is adjusted here as desired. Even red chili powder can be added while adding rest of the spice powder.
https://firsttimercook.com/2019/01/aloo-methi-stuffed-paratha-potato-Fenugreek-leaves-Stuffed-Indian-Flatbread-VEGAN.html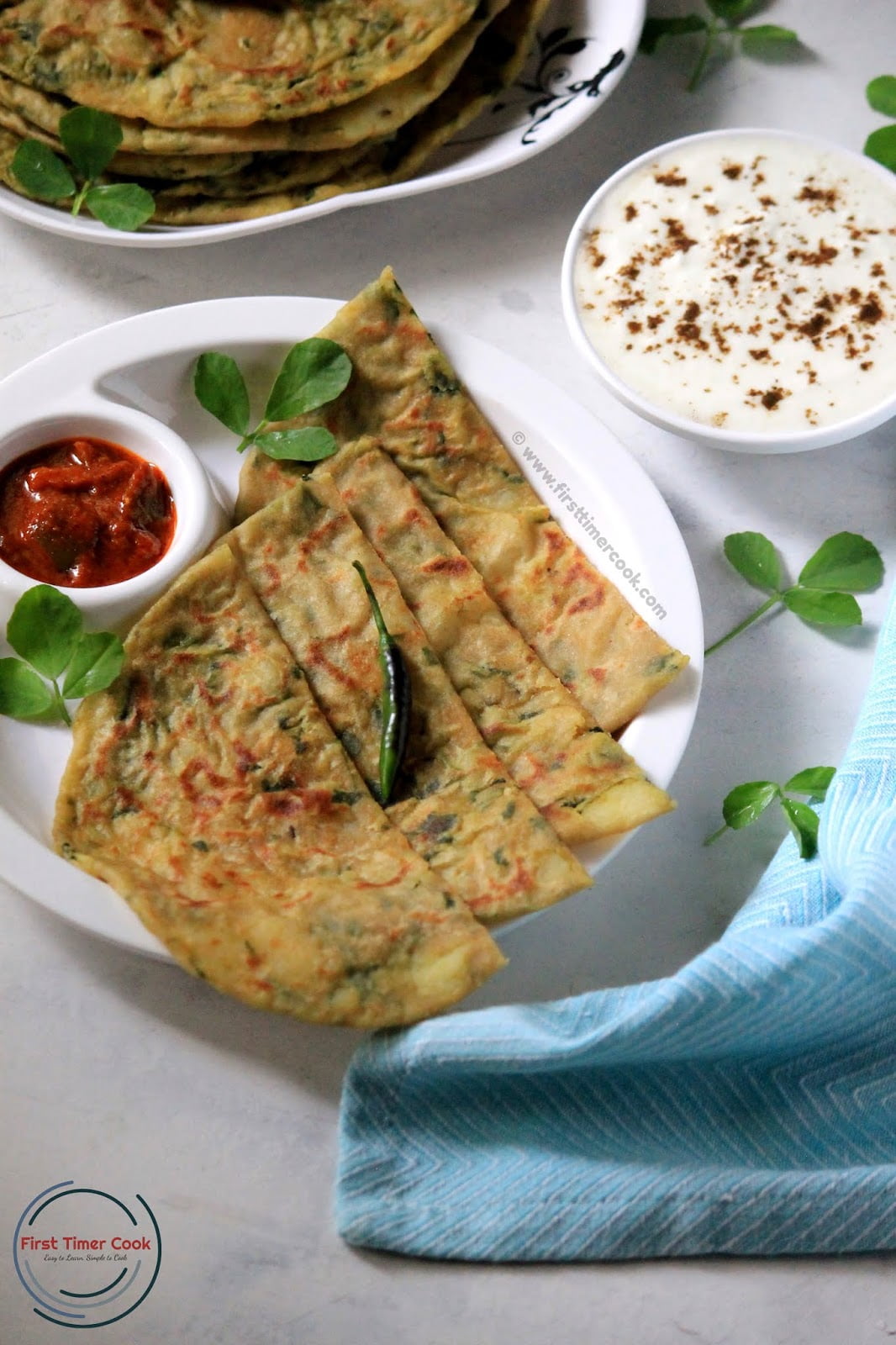 If you tried my recipe and enjoyed fully, then please share some pictures of your creation with me. Also kindly give your valuable feedback either in the comment box below or tag me as #firsttimercook on Instagram. You may also follow me on Facebook, Pinterest, Twitter, Google+, Instagram and can subscribe for free to get new recipes directly into your inbox 😊

PIN for later :