sweet buns flavored with saffrons and dotted with raisins with the reversed 'S' shape from Swedish Cuisine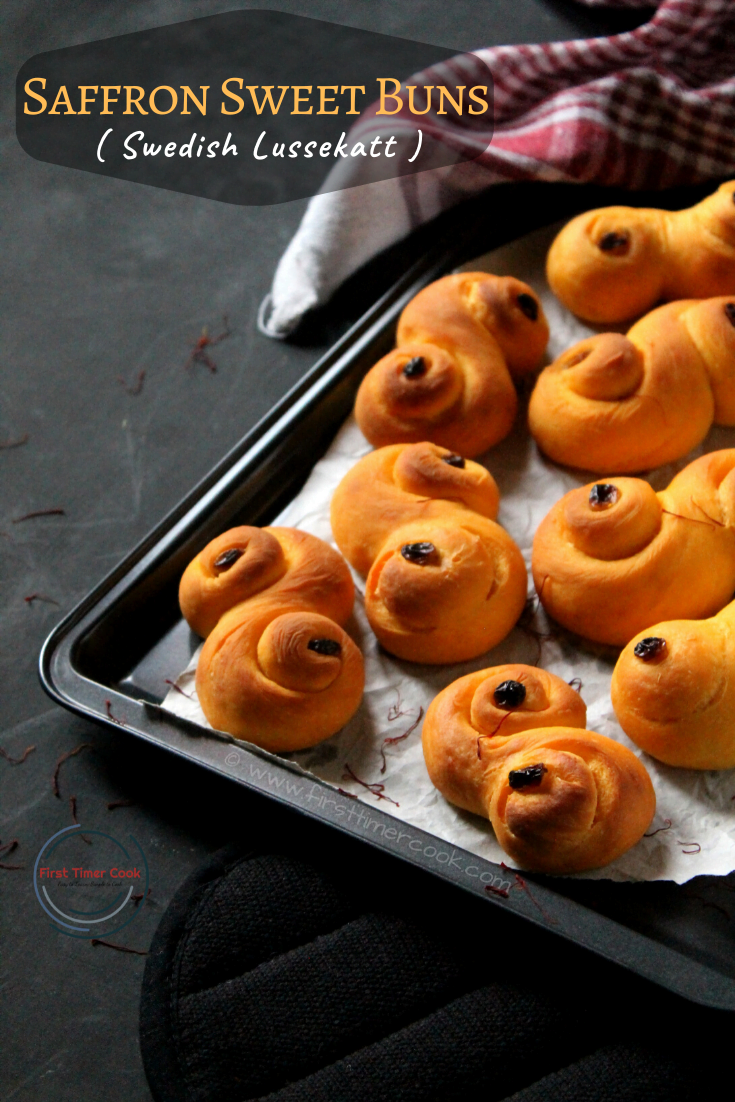 The year 2019 is finally come to an end. And in the last month means December the great celebration, Christmas is celebrated through out the world. Although it is on 25th December but most starts the celebration from the starting of the month. Around Christmas time in Sweden, one of the biggest celebrations is St. Lucia's (Lucy's) Day which is on 13th December. The celebration comes from many stories that were told by Monks who first brought Christianity to Sweden. The popular food eaten at St. Lucia's day are 'Lussekatts' or 'Lussebulle'.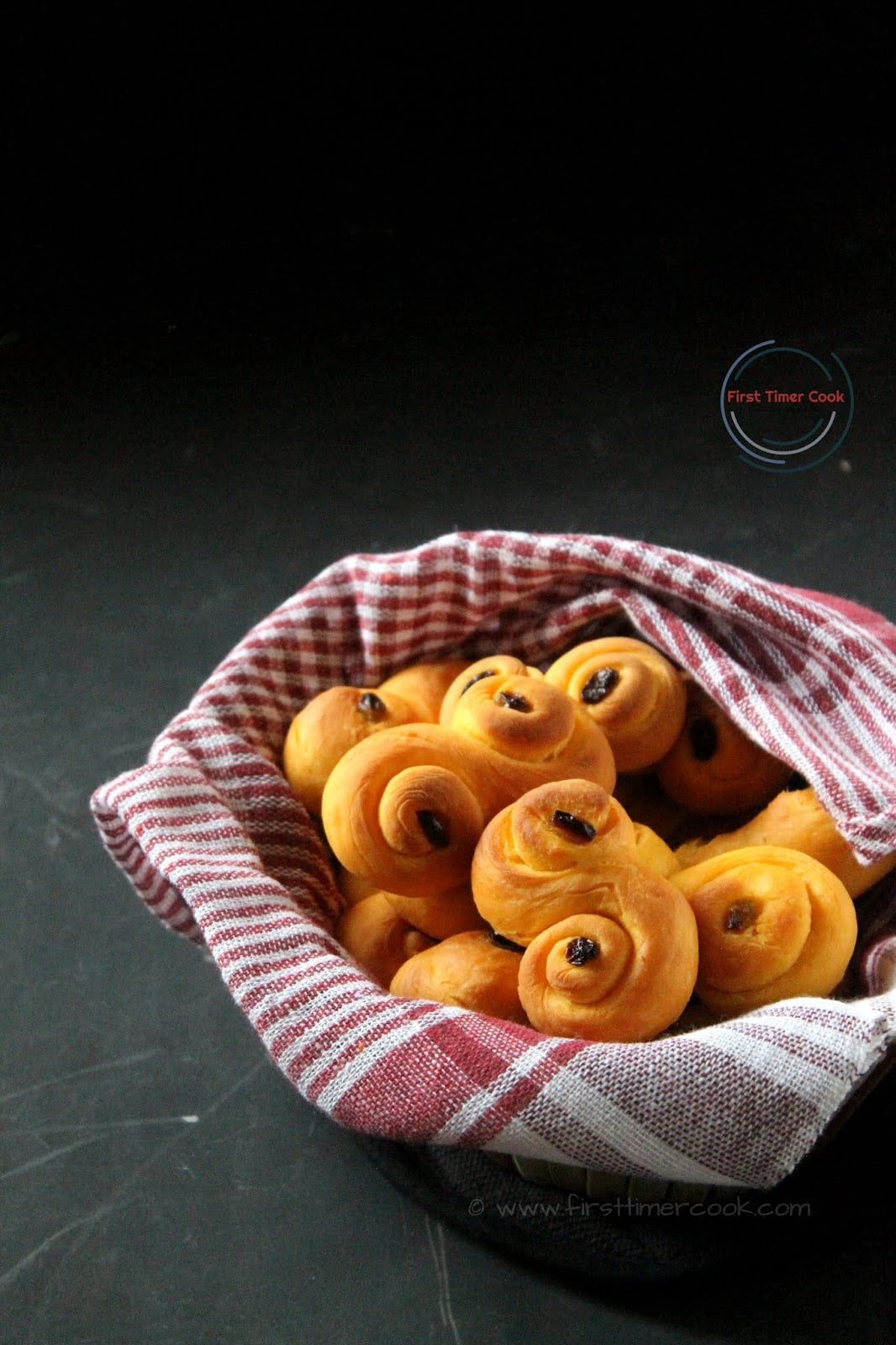 What is Lussekatt ?
Lussekatts or Lussebulle are the traditional Swedish sweet buns. Lussekatt is also named as Lucy Cats. Basically the buns are here flavored with saffrons and dotted with raisins. The shape of these buns are like the reversed letter 'S', which is supposed to resemble a curled up cat. Raisins are placed in the curls (at the two ends) are meant to recall the eyes, as Lucia is the patron saint of the blind and eyes are her attribute (she was blinded during her martyrdom). These days Catholics still pray to Lucy for assistance with eye problems and finding lost items, invocations that date to her highly popular cult in the Middle Ages. Although these are eaten for breakfast, but continues to enjoy throughout the Christmas season.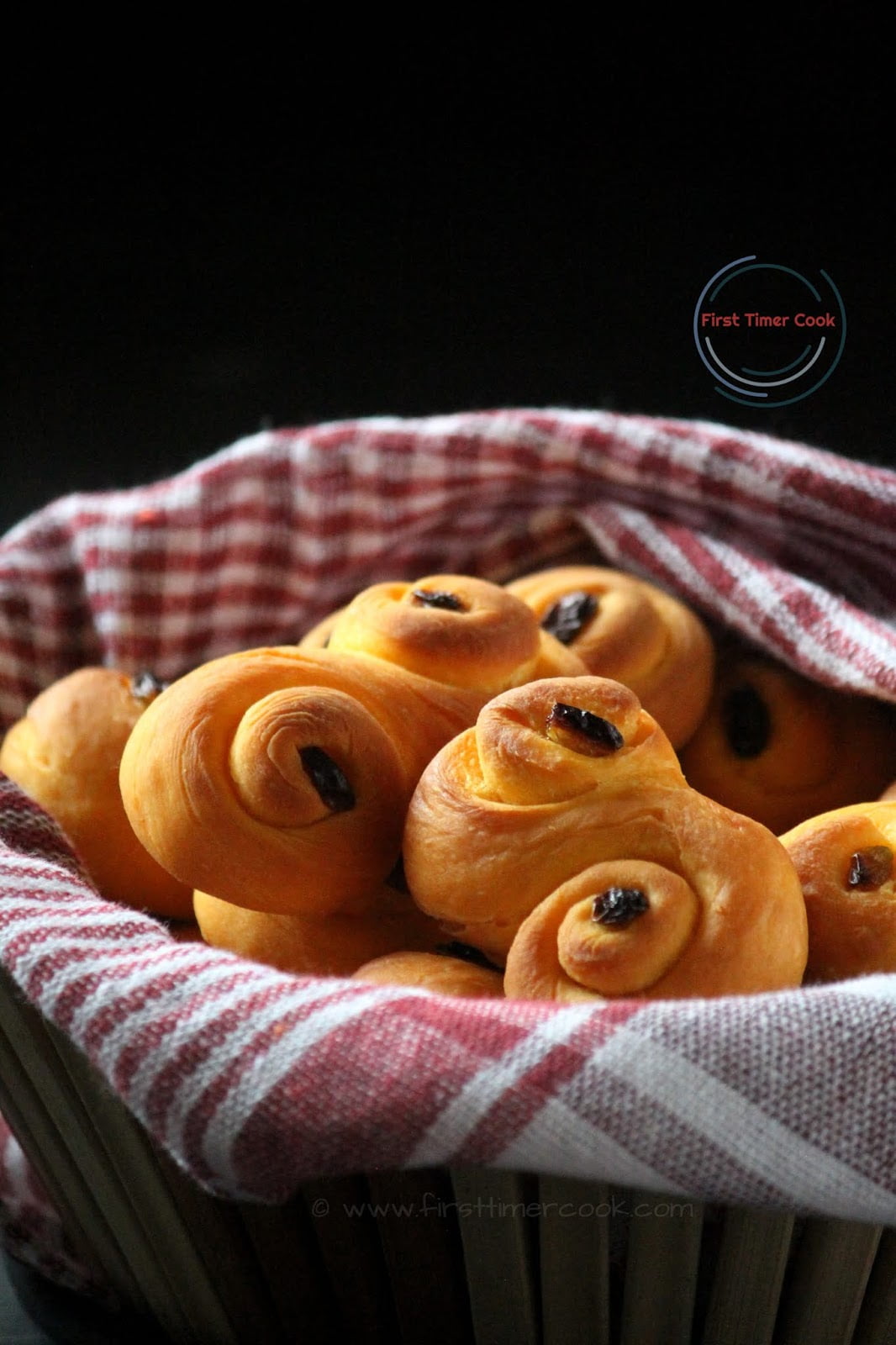 Ingredients of these Swedish Buns :
These buns which has sweet taste are yeast-leavened buns flavored with saffron and contain raisins on it. The dough is prepared using flour, yeast, butter, milk, sugar, saffrons. But I have kept this purely vegan. So in the recipe of mine, no butter and milk are used. Some also add the cinnamon or nutmeg powder to these buns. But in Sweden and Norway no cinnamon or nutmeg is used in the bun and also raisins are particularly used instead of currants.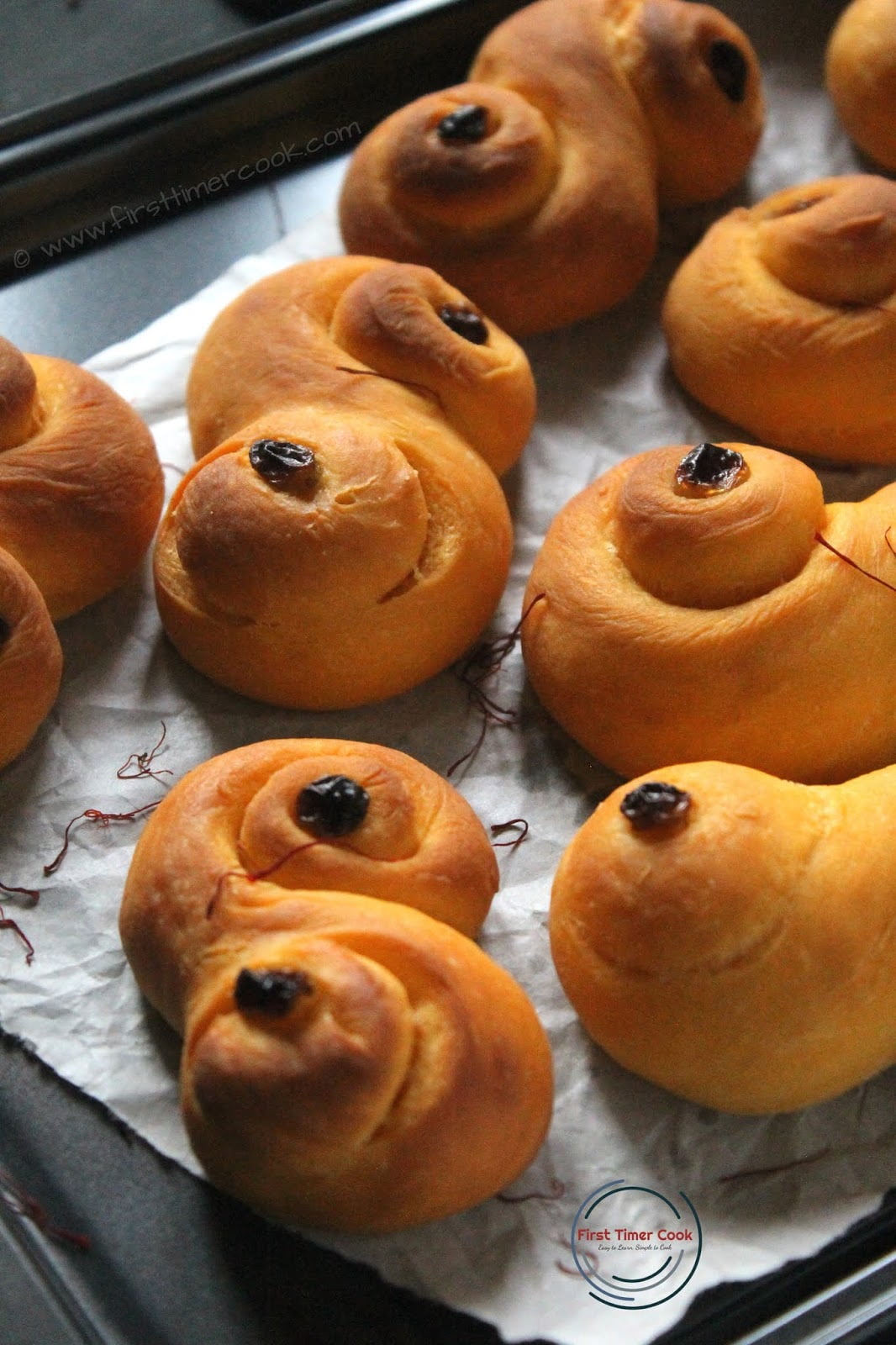 How these sweet buns are prepared ?
The dough is first prepared and kept aside to proof. After becoming double in shape, the dough is cut into many equal parts. Each part is then rolled over a floured surface like rope with the thickness like a finger. Each end of the rolled dough is again curled towards center in opposite direction so that it will finally make a reversed S-shape. Then these buns are placed on a baking tray and raisins are put in the center of both curls in each bun. Again the buns are allowed to proof for 10-15 minutes. Finally these are brushed with oil / sugar-water and baked in a preheated oven until slightly brown on top.
Using saffron in sweet buns is common in Sweden and during advent and Christmas this is very very common baked dish. The buns are baked into many traditional shapes. The simplest is the reversed S-shape. These are a very tasty and lovely tradition too. Once the dough is ready the most fun part is making the shape. So do try as the celebration time is coming up to enjoy these cute looking sweet saffron buns.
The event related to this post :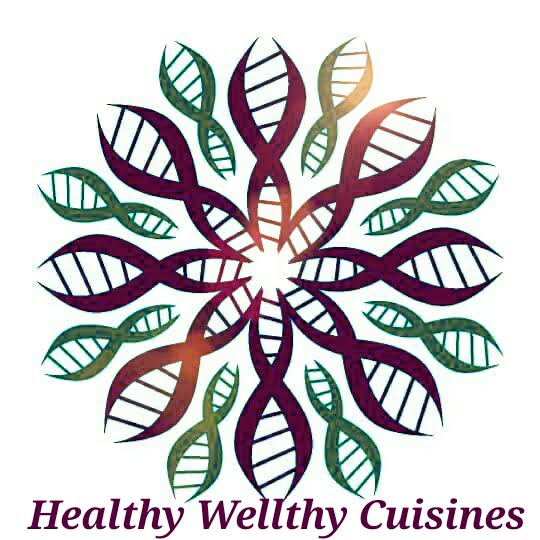 Well this time our fortnight foodie group named as Healthy Wellthy Cuisines is decided to select 78th theme : 'Its Christmas Time' and is suggested by Archana di. So for the theme contribution, I have come up with these Saffron Sweet Buns (Swedish Lussebulles or Lussekatts). Meanwhile do check her space for some interesting recipes particularly Goan dishes. Here are some similar recipes shared by our Healthy Wealthy Group members as Chocolate Peanut Butter Crackers by Vanitha, Popcorn Rocky Road Dessert by Archana, Pecan Goji Berries Coconut Cookies by Shalu di, Vegan Figgy Pudding by Poonam, Eggless Sugar Cookies by Narmadha, Hot Chocolate by Swaty.
: Recipe Card :

Saffron Sweet Bun (Swedish Lussebulle or Lussekatt)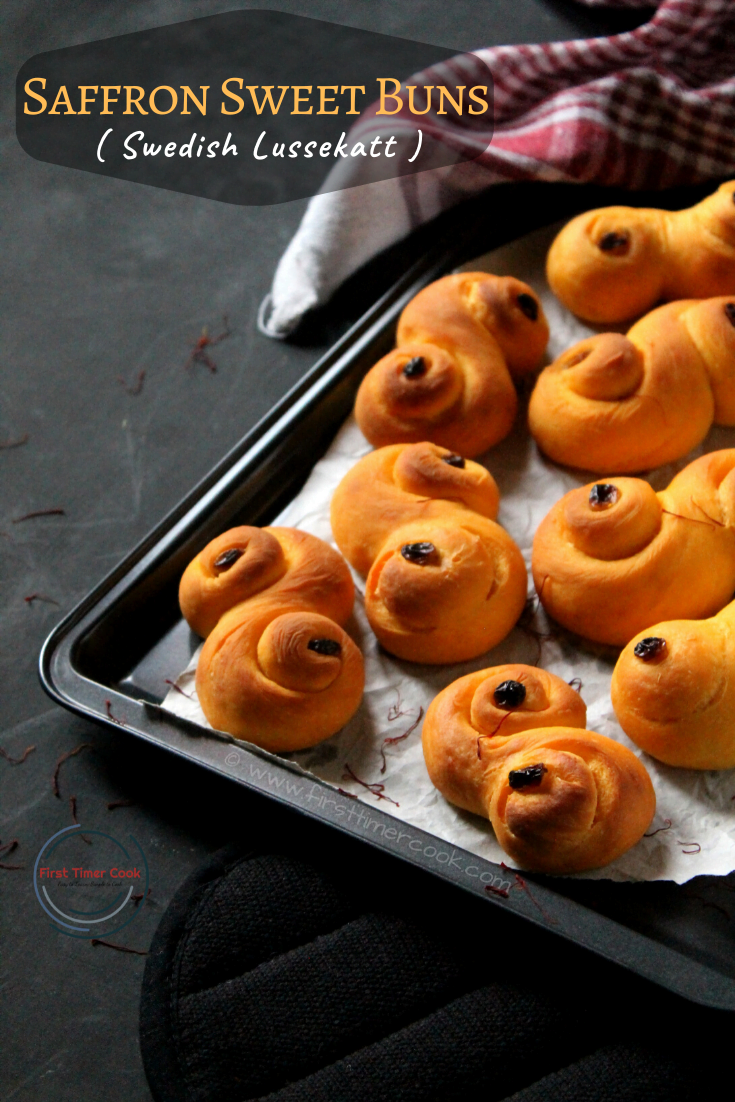 prep time: 15 Mcook time: 12 Mtotal time: 27 M
sweet buns flavored with saffrons and dotted with raisins with the reversed 'S' shape from Swedish Cuisine
ingredients:
All purpose flour (maida) 2 cup
Instant yeast 1.5 tsp
Sugar (powdered) 2 tbsp
Salt 3/4 tsp
Olive oil 1.5 tbsp + more
Saffron strand 1 tsp
Raisin few
Water 3/4 cup
instructions:
How to cook Saffron Sweet Bun (Swedish Lussebulle or Lussekatt)
In a small bowl first take saffron strands, crush using fingers and then add hot water. Mix using a spoon and keep aside.
When the water comes to warm stage, add the sugar and yeast.
Mix again and keep aside covered for 8-10 minutes or till the yeast starts frothing.
In another bowl take flour, salt, oil and start mixing using fingers.
Then add the yeast mixture and mix everything well to make a soft yet sticky dough.
Knead a bit by sprinkling little more flour and keep aside to proof in a greased bowl by covering the bowl.
After 1-2 hours or depending upon the warm atmosphere, the dough will rise and become double in size.
Again knead a bit and cut into 12 equal parts.
Take one part and roll into 11-12 inch length rope like shape (thickness must be like a finger).
Then roll one end towards center of the rope in circular way and roll the other end in the opposite direction towards the center and that will make a S shape. This S shape is the shape of authentic lussekatt, but any other shape one make as a variation.
Gently transfer this S shaped bun onto a baking tray lined with parchment paper.
Place two raisin in each circle of the S bun.
Similarly make buns from the rest dough and place on the baking tray keeping 1 inch space in between.
Keep aside to proof again for 10-15 minutes.
Meanwhile preheat the oven at 200 deg C.
Gently brush oil on top of each bun and bake for 8-10 minutes or until slightly brown on top.
Transfer to a wire rack and allow to cool down.
Serve or store in an air-tight container to serve later !
NOTES:
Do not add yeast when the saffron water is hot. That will kill the yeast and it will not froth.
Any shape one can give to these buns. But the S shapes are the shape of authentic lussekatt.
Use the exact mentioned amount of saffron to get the perfect color. If that is decreased, then the color of the buns'll slightly change.
Some cinnamon powder or nutmeg powder one can add to the bun while adding the flour. But I have skipped that.
Vegan baking, BAking, eggfree, saffron buns, sweet buns, Swedish cuisine, Christmas Baking
Vegan, yeast buns, Saffron sweet buns, Swedish Lussebulle, Lussekatt, Swedish Buns
Swedish
Did you make this recipe?
Tag @firsttimercook on instagram and hashtag it #firsttimercook
You may also follow me on Facebook, Pinterest, Twitter, Google+, Instagram and can subscribe for free to get new recipes directly into your inbox 😊
PIN for later :